I view the closed end portfolio to be a balanced worldwide portfolio within a larger portfolio that includes individual stock and bond selections.
I place an emphasis on income generation and own a number of CEFs that pay monthly dividends.
I will change the weightings in the CEF portfolio based on my opinions about the balance between risks and rewards.
One aspect of a potential reward may occur when I elect to purchase a CEF at a substantially higher discount to its net asset value than the historical norm. That can potentially create a profit opportunity when and if the discount shrinks to more normal levels, hopefully when the net asset value per share is increasing at the same time. That is what I call a twofer. That kind of profit opportunity can not occur with a mutual fund priced at net asset value per share day after day ad infinitum. However, as with most things, there are risks tied inextricably tied to this potential CEF benefit including an expansion of the discount after purchase which has happened repeatedly to me over the last two years.
Generally, realized gains from CEF bond funds will be substantially lower than for CEF stock or balanced funds. I am simply trying to harvest dividends in bond CEFs and to hopefully escape with small profits on the shares. Fortunately, I have built up a nice reservoir of bond CEF profits over the past several years. Several current bond CEF positions are in a price hole, with the largest dollar amounts being in ERC and GDO, though even those positions are close to a positive total return given their high monthly dividends.
I will also be referring to prior posts where I discussed a CEF in more detail than in this general update.
I was nicked some by my bond CEFs today (8/14/15). Most of them went ex dividend for their monthly distributions this past week and have a tendency to decline in price adjusted for the ex dividend amount shortly thereafter.
CEF Basket as of 8/14/15: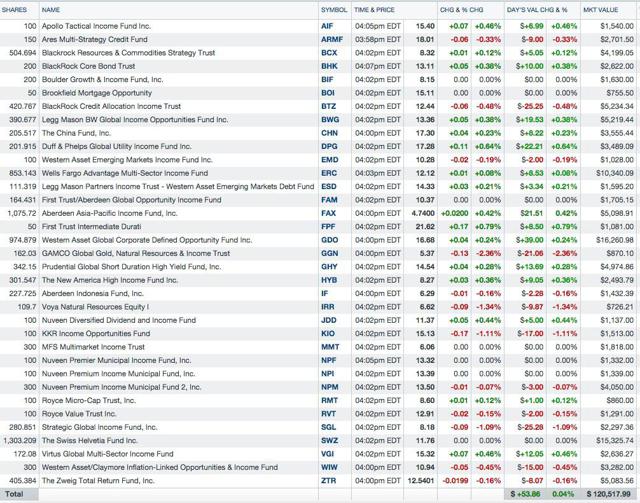 The CEF basket is my largest one and will generally range in the $100K to $250K range. I am near my bottom monetary exposure level now after significant selling over the past 2 years. I have moved up some since the last update, primarily in bond funds as I attempt to trade the recent downward movement in interest rates.
I now have the capacity to buy more, given my cash raises earlier this year.
The CEF basket strategy was last updated in this post: Update On Closed End Fund Basket Strategy As Of 7/28/15 - South Gent | Seeking Alpha (net realized gain=$2,604.98)
In my last two updates, I referenced selling activity that generated $6,678.68 in profits since November 2014. Update For Closed End Fund Portfolio As Of 4/8/15 - South Gent | Seeking Alpha (+$4,073.7)
I did not sell any CEF since the July update. While I have been a buyer since the July 2015 update, I have also started to run low on profits to harvest.
I have a lengthy discussion of leveraged bond CEF risks in the Appendix section below. Those risks include an overall assessment of interest rate risk, probably the most important macro type issue impacting total returns in the leveraged bond CEF sector.
Prior to buying a single share in a leveraged bond CEF, it is important to understand the risks IMO.
Look down before gazing longingly at the stars unmindful that you are about to step into a hole, fracturing an ankle into pieces and shortly thereafter suffering a concussion and a brand new hole in the old noggin when the head comes into contact with a sharp edged bolder, whereupon you turn withering in agony, crying for your mama, just in time to receive a rattlesnakes bite on your left eyelid. The next course of action, which goes without saying really, is to find someone else to blame for your predicament. Freedom from personal responsibility is after all enshrined in the penumbras emanating from the Bill of Rights or so I am led to believe through irrefutable and abundant observations for decades now.
I will be referring frequently in my CEF updates to my favorite website for this sector: CEF Connect Another good site for information about closed end funds is the CEFA, short for the Closed End Fund Association.
This document from R W Baird explores the "Opportunities and Challenges" in this "Unique Market" . I have been fooling with CEFs since at least 1983 which does not make me an expert. I am just used to their many foibles and idiosyncrasies.
I will be discussing one recent CEF purchase made late today in my next CEF basket update. I am attempting to dig myself out of one of those holes. I had traded that CEF profitably until the 2013 summer, and it has been mostly downhill since.
1. Bought Back 200 BHK at $12.65: I bought back the shares sold last April at $13.86. Pared Interest Rate Risk Exposure In Roth IRA: Sold 300 ACG At $7.81 And 200 BHK At $13.86 - South Gent | Seeking Alpha
I would refer to that post, and links therein, for a detailed discussion of the risks inherent in a leveraged bond CEF. I have dragged and dropped some earlier risk discussions into the "Appendix" section below. This risks need to be understood thoroughly before venturing into leveraged bond CEFs now IMO.
The Blackrock Core Bond Trust is a leveraged CEF that invests primarily in investment grade bonds.
Credit Quality as of 7/31/15: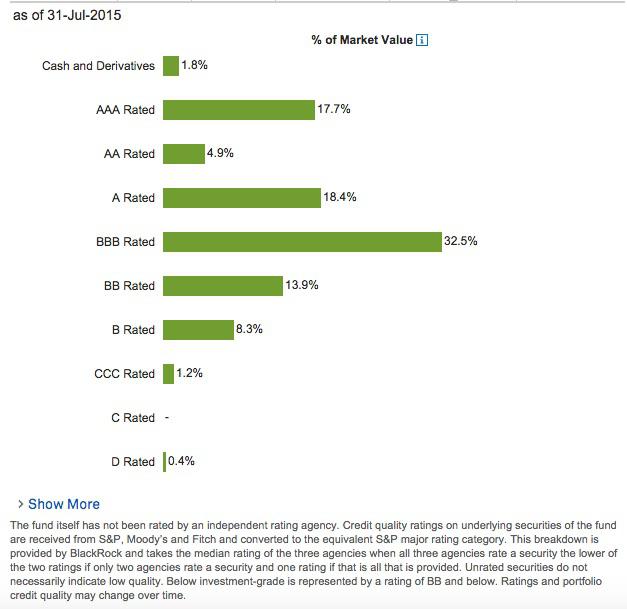 Sourced From Sponsor: Core Bond Trust | BHK
Effective Duration: 8.89 Years as of 7/31/15; Vanguard: Bond Fund Duration; Blackrock: Duration and Bond Funds
Holdings: 582 as of 7/31/15
Leveraged at 29.65% as of 7/31/15
Quote: BlackRock Core Bond Trust (NYSE:BHK)
Snapshot of Trade: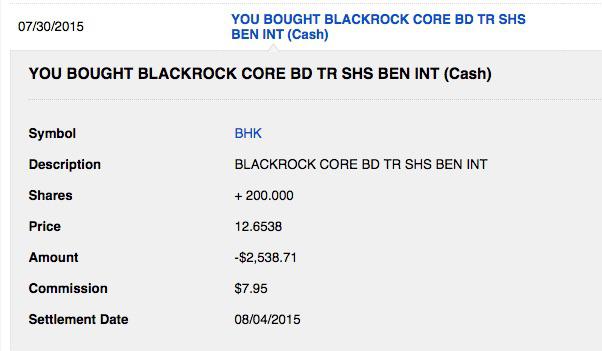 There was a pop in the share price on 8/13/15: BHK: $13.06 +0.25 (+1.95%) The ex dividend date was one day earlier, and I did not see any news to account for that unusual price surge.
Data From Date of Trade (7/30/15):
Closing Net Asset Value Per Share: $14.46
Closing Market Price: $12.69
Discount: -12.24%
Due to the price pop since purchase, which has not been matched by a net asset value per share increase, the discount closed today at -9.08%, based on a $13.11 closing price and a $14.42 net asset value. Adding back the one intervening dividend payment of $.0755 per share, the adjusted net asset value per share would be $14.495 or a .0024% increase. So far, I have received one of the CEF advantages with this last purchase.
Sourced: CEFConnect (click "pricing information" tab)
Dividends: Paid Monthly at $.0755 per share; Last ex dividend date 8/12/15
Dividend Yield: 7.16+% (assumes annual rate of $.906 per share and a total cost per share of $12.65)
Last SEC Filed Shareholder Report: Holdings as of 5/31/15 (net unrealized appreciation =$44.476M at page 15)
SEC Filed Semi-Annual Report Period Ending 2/28/15 ($5.935+M in capital loss carryforwards at page 75).
Rationale: I previously sold 200 BHK share at $13.86 that were purchased at $13.31.
The decline in the market price since last April was due in part to a widening of the discount.
With the dividend remaining constant, the dividend yield increased compared to that prior purchase. I am simply trying to generate income with bond CEFs and to escape at some point without losing money on the shares.
At a 7.16% yield, I am certainly generating more dividends than from a money market fund yielding .01% which was used as the funding source for this purchase.
The purchase at $13.31 was made on 11/7/2014 when the discount to net asset value was -10.52%. So the discount had expanded by 1.72% when I bought at $12.65. While that does not sound like much, it does improve my odds of selling shares profitably at a later time.
I had sold out of this CEF back in 2012: Item # 2 Sold All of the Bond CEF BHK at $14.058 (2/21/12 Post)(profit snapshot=$68.3 with all shares purchased with dividends sold profitably). I then bought 200 shares back in 2014 and sold that lot within a few months: Item # 1 Sold 200 BHK at $13.86-Taxable Account-Completes BHK Transition to Roth IRA (1/14/15 Post)(profit snapshot $75.23)-Item # 1 Bought 200 BHK at $13.4 (8/23/14 Post)
I mention these earlier BHK trades to highlight what I consider to be the potential disadvantage flowing from a long term hold. Needless to say, it is better to sell 200 at $13.86 that were bought at $13.4 and then to buy the shares back at $12.65.
The ten year treasury has been trending up, though in an uneven pattern, since hitting 1.43% on 7/25/12. Daily Treasury Yield Curve Rates
The spurt in the ten year treasury yield from 1.66% to 3.04% between 5/1/13 through 12/31/13 apparently caused some trauma to individual investors who dominate trading in bond CEFs.
As a general observation applicable to leveraged bond CEFs, the discount to net asset value per share expanded at approximately 2+ times the percentage decline in net asset value per share during that period. By year end 2013, bond CEFs were selling significantly above their 5 and 10 year historical discounts, and those higher than normal discounts persisted even when the ten year had returned back to the 5/1/13 interest rate levels earlier this year before going back up some.
An investor in CEFs needs to examine the long term historical discount to net asset value charts available at CEFConnect. That information can be found by clicking the "Pricing Information" tab at CEFConnect and expanding the time period to "since inception".
There have been periods when BHK has sold at a premium to net asset value per share. The 5 year average discount is currently 6.71%.
Excluding the Near Depression period when even investment grade corporate bonds were smashed, and the period since May 2013, this CEF has mostly traded under a 5% discount to net asset value per share. The three year discount to net asset value per share chart shows the take off in the discount's expansion as starting in May 2013. The discount was 3.89% on 5/1/13.
I may flip this one with another burst up in price. I would be looking to see whether BTZ is going down when and if that happens.
2. Bought Back 300 WIW at $11.06:
This leveraged bond CEF went ex dividend for its monthly distribution shortly after my purchase and has drifted down some adjusted for that dividend.
Quote: Western Asset/Claymore Inflation-Linked Opportunities & Income Fund (NYSE:WIW)
This leveraged bond CEF owns primarily U.S. inflation protected treasuries, but also owns non-U.S. treasury TIPs and other bonds with higher current yields: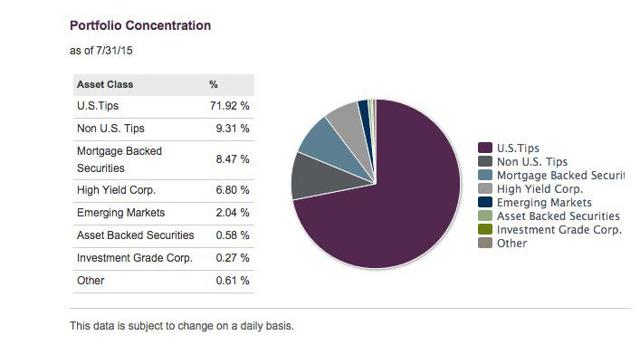 Effective Duration: 5.39 years as of 7/31/15
The largest position, weighted at 11.22%, is a 2% coupon TIP that matures on 1/15/16. The current yields on ten year TIPs are close to .5%. I view that as a negative given the likely reinvestment rates upon maturity.
Snapshot of Trade: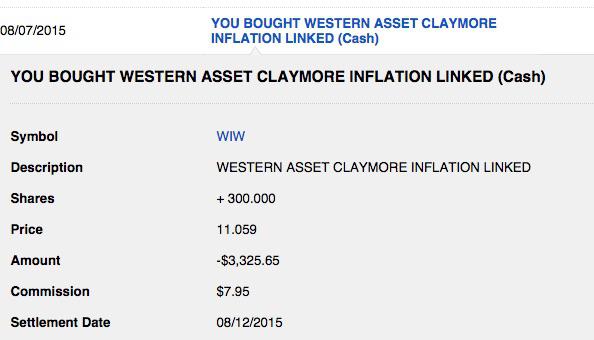 Data From Date of Trade 8/7/15
Net Asset Value Per Share: $12.75
Closing Market Price: $11.08
Discount: -13.1
Sourced: CEFConnect
Dividends: Monthly at $.0335 or $.402 annually per share
Dividend Yield at $11.06 Total Cost Per Share=3.63%
Last Ex Dividend: 8/12/15
The credit quality for this CEF is high, which is one reason why I will buy shares: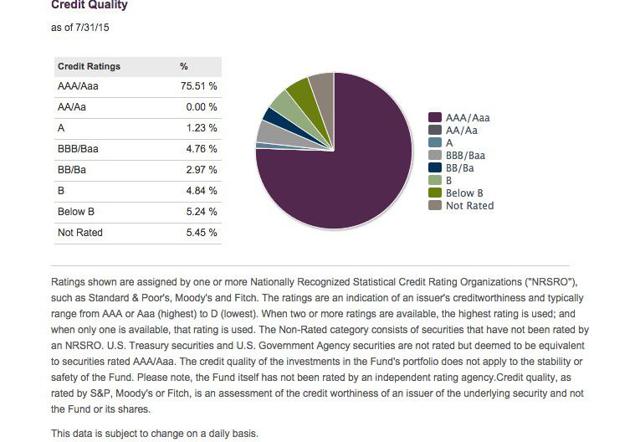 Sourced: WIW
The fund was leveraged at 29.37% as of 7/31/15.
In my opinion, given the low current yields of TIPs, that leverage needs to be removed when and if the FED ever raises short term rates. My best guess is that the FF rate will be raised by .25% this September and another .25% prior to the 2016 second quarter. The fund has been using reverse repurchase agreements as a loan funding source, and that type of instrument will be highly correlated with short term rates. The interest rates paid by the fund ranged from .12% to .25% in 2014 (page 35, 2014 Annual Report linked below).
Holdings as of 3/31/15: WESTERN ASSET/CLAYMORE INFLATION-LINKED OPPORTUNITIES INCOME FUND (WIW)
Last SEC Filed Shareholder Annual Report for Period ending 12/31/14 (risks are discussed in that report; no ROC support for the dividends paid in 2012-2014, at page 21)
I noted some exposure to junk E & P bonds which currently have extreme credit risks IMO.
Rationale: When looking at my WIW trading history, and the relatively paltry dividend given the risks, the natural question may be why bother?
There are only two reasons.
First, I have been able to trade WIW successfully and have consequently generated a total return in excess of the dividend yield. (see links to trades in the Appendix below)
Second, while the current yield for this CEF is low, the current yield paid by a newly purchased 10 year TIP is hovering near .5%: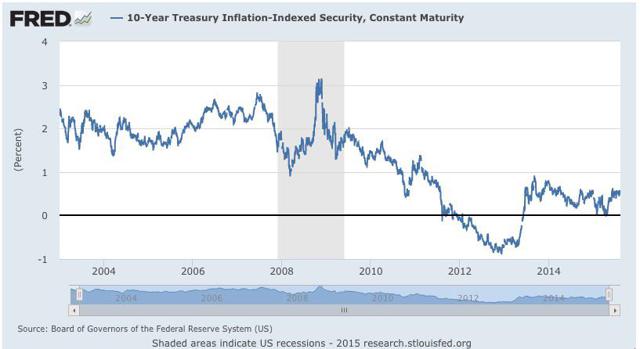 10-Year Treasury Inflation-Indexed Security, Constant Maturity-St. Louis Fed
Note the negative yield numbers in 2012 when I to my delight sold some 10 year TIPs at a negative .89% current yield to the buyer. I would like to thank that buyer once again.
And, even with my mind turning to mush, I still know that 3.63% is a better yield than .5% or .01%.
As to the .01% yield, which has prevailed in the money market universe for several years now, I could generate a somewhat material part of that yield by bending down and picking up the next penny that I see, something that I have not yet found necessary to do. At my age, and current weight which is not optimal, I may not be able to bend back up.
Rest assured, I will give our destitute Uncle Sam its fair share of that penny by cutting off a piece and attaching it to my next filed Schedule B.
The main reason for owning TIPs, directly or through a fund, is that the principal amount of those bonds are increased by the amount of CPI, as explained in an earlier post: Advantages and Disadvantages of Treasury Inflation Protected Securities.
The current break-even spread for the ten year TIP is low, near 1.6%: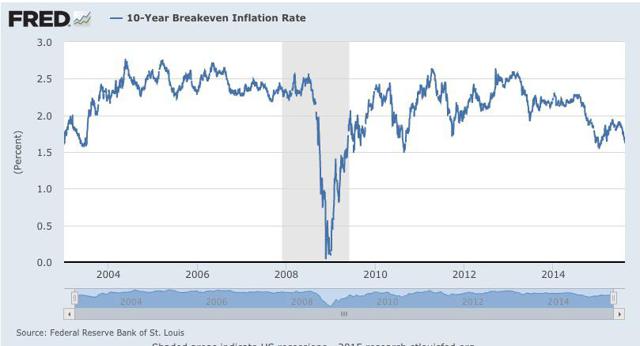 10-Year Breakeven Inflation Rate-St. Louis Fed
The break-even spread is the average annual CPI rate that will cause the buyer of the TIP to break-even with the buyer of the non-inflation protected security, given that the TIP starts with a much lower current yield.
The buyer of a ten year TIP will do better than the buyer of the nominal 10 year treasury with the average annual inflation rate exceeding the break-even number. So the TIP provides at least some protection, COMPARED ONLY TO THE NON-INFLATION PROTECTED TREASURY OF THE SAME MATURITY, against higher than anticipated inflation rates.
I have included links to prior trades in the "Appendix" section below to highlight the necessity for some kind of trading strategy. The risk discussion in the Appendix also applies to this CEF.
3. Bought 100 THQ at $19.88 and 50 THQ in a Roth IRA account at $19.81:
THQ is a new stock ETF.
Quote: Tekla Healthcare Opportunities Fund Stock (NYSE:THQ)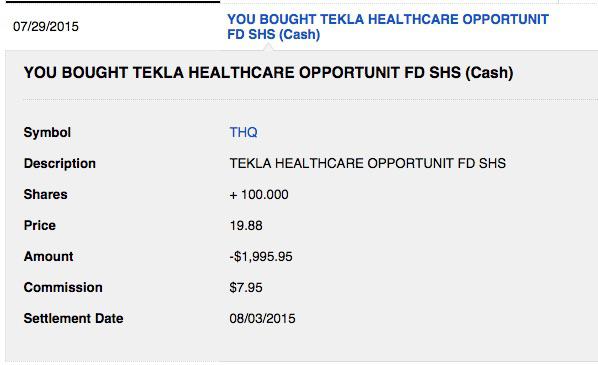 Data From Date of Trade
Net Asset Value Per Share: $22.07
Market Price: $19.89
Discount: -9.88%
Sourced: CEFConnect
Prior Trades: None
Sponsor's Website: Tekla Capital Management LLC
Last SEC Filed Shareholder Report: Period Ending 3/31/15
Dividends: Monthly at $.1125 per share
Yield: About 6.81% at a total cost of $19.81, higher at last Friday's closing price of
Rationale: I am adding to my healthcare sector exposure with this fund. THQ also has a significant exposure to hospital REITs that will likely benefit from Obamacare.
I have no direct exposure either to the top ten holdings as of 3/31/15:

Of those top ten companies, I have owned in the past Johnson & Johnson, Pfizer, Baxter, and Bristol Myers. I have taken my profits in those companies and no longer have a position. I have not owned Pfizer and Baxter since these trades:
Item # 4 Sold 50 BAX at $56.39 (1/31/12 Post)(profit snapshot=$314.04)- Item # 1 Bought 50 BAX at $49.79 (1/12/14 Post)
Item # 1 Sold: 100 PFE at $31.68 (3/17/14 Post)(profit snapshot=$282.12)-Item # 3 Bought 100 PFE at $28.7 (8/14/13 Post); and see also Pfizer: Wyeth acquisition as more proof of Pfizer's failures (1/25/09 Post)
I am not going to look for my last JNJ sell. It might cause trauma to the Old Geezer. The last purchase was made in the 50s somewhere. Best not to look.
In May 2010, I did do a worthwhile comparison showing why JNJ's common stock would be a better income investment, assuming the past trajectory of dividend growth, than would be likely from a 6.95% JNJ 2029 bond with make whole protection, though the bond has done well since then too. Item # 6 Common Stock Dividend Growth vs. Long Term Investment Grade Bonds (3/22/2010 Post)
(see also: Item # 3 Large Cap Valuation Strategy-A New Long Term Strategy discussing multiple compression during a secular bear market with JNJ used as example)
THQ's REIT exposure is shown at page 9 of the last shareholder report. I took a snapshot that includes both REIT and non-REIT positions:

Generally, I shy away from buying shares in non-dividend paying healthcare stocks. My largest individual in this sector is the Swiss giant Novartis (NYSE:NVS).
4. Bought Back FPF at $21.72-Satellite Taxable
Quote: First Trust Intermediate Duration Preferred & Income Fund (NYSE:FPF)
Snapshot of Trade: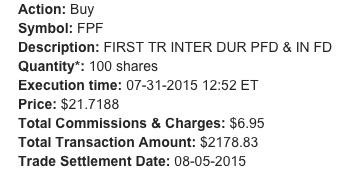 Data on Date of Trade:
Net Asset Value Per Share: $24.05
Closing Market Price: $21.6
Discount: -9.88%
New Fund: No 3 and 5 year historical discounts/ 1 Year average at -8.79%
Monthly Dividend Per Share: $.165
Paid $.325 per share last January
Last Dividend Raise/Cut: Raised from $.1575 to $.1625 per share
Last Ex Dividend Date: 8/3/15
Dividend Yield at $21.72: 9.12%
Last Transactions:
Item # 2 Sold Highest Cost 150 FBF at $22.42 Roth IRA (1/15/15)
Sold Remaining Shares 5/4/15 at $22.74- Profit Snapshot in prior Update:

Sponsor's Website: First Trust Intermediate Duration Preferred & Income Fund
Last SEC Filed Shareholder Report: Period Ending 4/30/15
Leveraged at 31.5% as of 8/13/15
Credit Quality as of 6/30/15: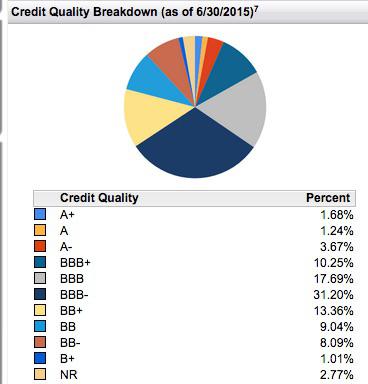 Sourced: First Trust Intermediate Duration Preferred & Income Fund (FPF)
I would just reference my earlier discussions for further details, along with the risk discussion contained in the Appendix below.
5. Bought 100 NPI at $13.27:
Trade Snapshot: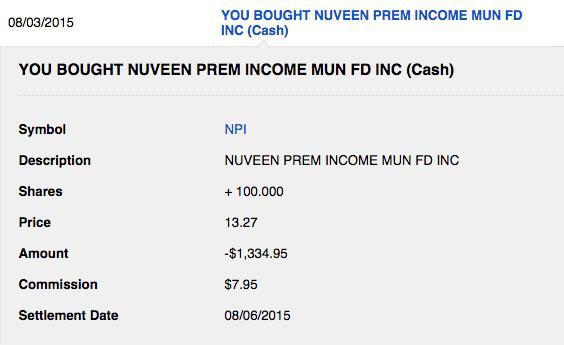 Quote: Nuveen Premium Income Municipal Fund (NPI)
Data on Date of Purchase:
NAV Per Share: $15.21
Market Price: $13.33
Discount to NAV Per Share: -12.36%
Historical 5 Year Discount as of 8/14/15: -5.8%
Last Ex Dividend Date: 8/12/15 (shortly after my purchase)
Monthly Dividend: $.0685 per share
Dividend Yield at $13.27: 6.195%
Sourced: CEFConnect
Last SEC Filed Shareholder Report: NPI
Duration: Lots of Interest Rate Risk at 12.78 years (leveraged adjusted)
Leveraged at 29.66% (cost .91% for July)
Holdings: 334 as of 7/31/15
Credit Quality as of 7/31/15: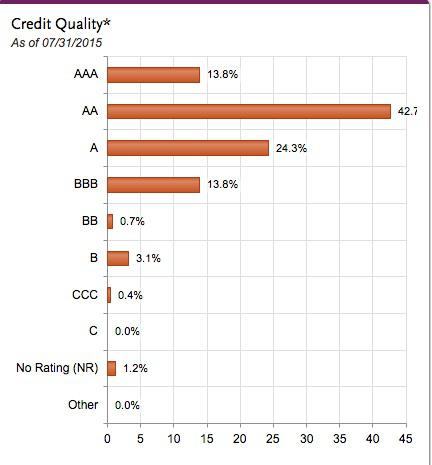 Sourced: NPI - Nuveen Premium Income Municipal Fund, Inc.
Rationale: Decent Tax Exempt Dividend Yield; Trade on Possible Continued Rally in Long Term rates; same as NPM discussed in the last update.
6. Swiss Helvetia (NYSE:SWZ) Reinvestment:

The total dividend per share was $.272. The Swiss Helvetia Fund, Inc. Declares Income And Capital Gains Distributions The 2014 year long term capital gains distribution was $2.195 per share: The Swiss Helvetia Fund, Inc. Declares Capital Gains Distribution
Quote: Swiss Helvetia Fund Inc. (SWZ)
Sponsor's website: Swiss Helvetia Fund
The third largest holding in that fund is Nestle at an 11.66% weighting as of 7/31/15. Nestle shares got a lift last week after reporting earnings. Press Release I own the Nestle ADR as well: Added To Nestle (OTCPK:NSRGY) At $68.8 - South Gent | Seeking Alpha
The decline in the CHF/USD exchange rate continues to be a headwind for this fund priced in USDs. CHF/USD Chart
7. Added to CHN Postion at $17.25:
Quote: China Fund Inc. (NYSE:CHN)
Trade Snapshot: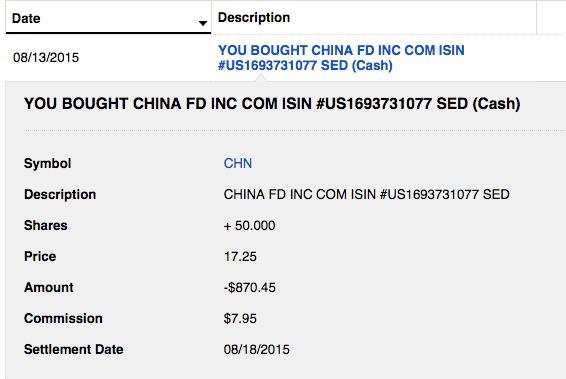 Data on Date of Trade (8/13/15):
Closing NAV Per Share: $20.36
Closing Market Price: $17.26
Discount: -15.23%
Average Discounts:
1 Year: 13.02%
3 Year: -11.78%
5 Year: -10.03%
Sourced: CEFConnect
Last SEC Filed Shareholder Report: China Fund
Sponsor's Website: The China Fund, Inc. - Home
CHN Page at Morningstar (rated 4 stars)
In my last CEF basket update, I discussed buying 50 CHN shares at $18.81, and will not be repeating here the details provided in that recent post: Update On Closed End Fund Basket Strategy As Of 7/28/15 - South Gent | Seeking Alpha China's market went into another tailspin shortly thereafter.
Rationale: Easier monetary policies by China's central bank and the Yuan devaluation may provide a lift to China's stock market and to their export driven economy. The market seems to have gotten over the yuan devaluation and is now attributing the reasons to non-fundamental factors (e.g. approval by IMF of the Yuan as a reserve currency)
I liquidated my position in the Matthews Asian Growth & Inc Investor Fund (MUTF:MACSX) that has almost a one-third weighting in China/Hong Kong. I am going to plow a small part of those redemption proceeds into CHN due to its strong dividend payment history, superior 10 and 15 year track record compared to MACSX, and CHN's higher than normal discount to net asset value per share. I will be discussing the elimination of MACSX in my portfolio positioning update.
China Fund Inc (CHN) Annualized Total Returns Based on Net Asset Value through 8/13/15:
10 Years: 12.78%
15 Years: 13.99%
Matthews Asian Growth & Inc Investor (MACSX) Total Annualized Returns: Fund Performance and Returns
10 Years: 7.67%
15 Years: 10.85%
Between 2011 through the year end dividend for 2014, CHN has paid $13.33 per share in dividends, mostly sourced from long term capital gains. The China Fund, Inc. - Distribution history
8. Bought Back 200 BIF at $8.18:
Quote: Boulder Growth & Income Fund Inc. (NYSE:BIF)
BIF is the surviving fund in a recent reorganization that involved the Boulder Total Return Fund, the Denali Fund, and the First Opportunity Fund: Rocky Mountain Advisers, LLC and Stewart Investment Advisers Announce Closing of Reorganization
I have previously bought and sold the First Opportunity fund that focused on regional banks, formerly trading under the symbol FOFI. Item # 2 Sold 200 FOFI at $7.73 (10/3/12 Post)(snapshot of 2012 trading profits=+$218.12)-Bought Back 200 FOFI at $7.02 (7/31/12); Item # 5 Sold 200 FOFI at $7.31 (4/27/12 Post)- Bought 200 FOFI at $6.77 (2/22/12 Post).
I have also bought and sold the Boulder Total Return fund, generating a $175.07 profit on a 100 share lot held for a few months back in 2010:

Item # 8 Bought 100 BTF at $13.65 (3/1/2010 Post)
Those old posts reference some of my concerns with these funds which I will also discuss briefly below.
Trade Snapshot: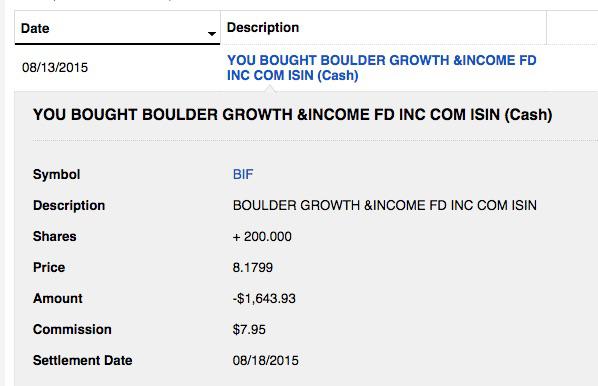 Prior Trade: Item # 6 Sold:200 BIF at $7.65 (profit snapshot=$180.07)(10/3/13 Post)- Item # 2 Bought 200 of the Stock CEF 200 BIF at $6.67 (1/22/13 Post)
Data as of 8/14/15 (Day after Trade-CEF Provides only Weekly NAV per share):
Closing Net Asset Value Per Share: $10.53
Closing Market Price: $8.15
Discount: -22.8%
Sourced: CEFConnect
Last Shareholder Report: Period Ending 5/31/15
In that shareholder report, the fund attempted to explain what it has done in response to the following negative article published by Morningstar back in 2012 (page 2 of report).
Morningstar Article Referenced in that Shareholder Report: "10 Reasons This CEF Should Remain Deeply Discounted and One Reason to Consider It" Published 2/21/12
Rationale: I have a generally favorable view of this fund's holdings, including its large weighting in Berkshire Hathaway which I do not currently own.
As of 5/31/15:

I did consider buying 100 shares of the Bid Daddy BRK shares at $16 during one of the periodic stock market meltdowns. That was some time ago, long before the advent of the Twitter Generation, 1974 to be precise. I was afraid that I would lose money and my fear turn out to be justified in a way which was not then envisioned:
Closing Price 8/14/15: BRK-A: $213,981.00 +796.00 (+0.37%)
Let's see 100 x. $213,981=$21,398,100.
Yes, I did lose money. That is a fact.
Small regional banks are a significant part of the portfolio, and those positions were probably acquired from one of the acquired CEFs.

Other significant positions as of 5/31/5 included WMT, JNJ, YUM, CSCO, IBM, PFE, VTS, and JPM. The only oil and gas exploration company was CVX at 3.84%.
Dividend History: Dividend History
Dividend income is not a reason for buying this fund at this prior to the current fiscal year, as noted below. Since the fund has to sell down its BRK position to 25%, as explained in the last shareholder report, there will likely be a large capital distribution in the fund's current fiscal year which ends in November.
Compliance has to be established by 6/30/15. The fund had sold some Berkshire shares during the six month period ending in May 2015. The fund shows a $16.535+M realized gain for that six month period (page 13), compared to just $7.932+M for the entire year ending 11/30/15. The fund had to sell a lot of shares to get down to 25% by 6/30. The fund had raised it cash level to $108.021+M as of 5/31/15.
One reason for a large CEF discount is a large unrealized gain number. As of 5/31/15, BIF reported a cost of investments at $738.934+M and a market value at $1.145+B (page 9).
New shareholders were not participants in the net asset growth resulting from those unrealized gains, yet they may be hit with a long term capital gains tax when the fund sells a position. So one theory for the large discount is to apply a 15% discount just to the unrealized gain and to reflect that discount in the market price along with other issues and factors. I seriously doubt that most individual investors are thinking along those lines but some may have concerns about buying into potential tax events.
Prior to this fiscal year, BIF has an erratic dividend history of negligible payments to shareholders, which is a negative IMO. The fund was paying a monthly dividend of $.10 per share (5/23/06 to 1/22/07). The fund then raised that monthly dividend to $.115 per share for 21 months before eliminating it altogether after the October 2008 payment. The fund then resorted to an annual dividend paying just $.10 per share in 2010; $.11 in 2011; and $.29 in 2012. The fund started a semi-annual payment schedule in 2013 at a slightly high annual rate than the $.29 per share paid in 2012.
The fund has a high expense ratio IMO at 1.74% before the interest expense paid on borrowings. I would juxtapose that expense ratio with the dividend history.
BIF Page at Morningstar (rated 3 stars)
The overall annualized total return performance of BIF versus SPY, the ETF for the S & P 500, is poor over the past five years but superior over 10 and 15 years.
BIF Total Return Based on NAV vs. ETF SPY Through 8/13/15
5 Years: 11.19%/ 16.3%
10 Years: 8.33%/ 7.58%
15 Years: 6.76%/ 4.27%
Boulder Growth & Income (BIF) Total Returns
The Ernest Horejsi Trust No. 1B owned 15.3% of the common shares as of 3/20/15:
The Mildred Horejsi Trust owned 5.23%.
The Stewart R. Horejsi Trust owned 2.27%.
Stewart R. Horejsi owned 1.01%.
The Lola Brown Trust owned 13.58%.
The Susan Ciciora Trust owned 4.7%.
Susan L. Ciciora owned .04%.
The Stewart West Indies Trust owned 5.21%.
Alaska Trust Company owned 5.215%.
Evergreen Atlantic L.L.C. owned 1.10%
Sourced: Just One Schedule 13D-All Related
Mildred and Ernest Horejsi were Stewart's parents. Mildred passed on in 1992 but apparently her trust still lives. Ernest died in 1982. Mildred Brown Horejsi (1912-1992) Lola Brown was Mildred's mother and she passed in 1967.
The foregoing are related parties with the most important one IMO being Stewart Horejsi. Unlike yours truly, Ernest had the bright idea to buy BRK and to actually implement that idea, as highlighted in this 2013 Businessweek article. As noted in that article, he is a firm believer in buy and hold which explains the lack of dividends sourced from capital gains over the years. Stewart Horejsi bought the Alaska Trust Company in 2008. He also the chief investment officer of one of BIF's external managers that is controlled by him through another trust for the benefit of his issue (see pages 32-33 and 36-37, Proxy Boulder Growth and Income Funds). The other investment advisor, Rocky Mountain Advisors, is controlled by a trust controlled by Susan L Ciciora, who is Stewart's daughter, for the benefit of her sibling John S. Horejsi and her issue.
Appendix:
Trading History WIW:
I am going to list links to my trading history for WIW to highlight and emphasis that I am not a long term owner of this security. Without trading WIW, I would be in the hole now for every purchased described below:
Profit Snapshots in these Posts: Item # 5 Sold 301+ WIW at $11.72 (11/6/13 Post)-Item # 6 Bought 300 WIW at $11.44 (8/31/13 Post)
Bought 300 of the CEF WIW at $11.94 March 2010 Post
SOLD 200 of 300 WIW at $12.5 May 2010 Post
Bought 200 WIW at $12.29 June 2010 Post
Sold 300 WIW at $12.53 September 2010 Post
Bought 300 of the Bond CEF WIW at $12.14 December 2010 Post
Sold 300 WIW at $12.43 December 2010
Bought Back 300 of the CEF WIW at $12.17 January 2011 Post
Sold 300 WIW at $12.61 February 2011 Post
Bought Back 300 WIW at $12.47 July 2011 Post
Sold 300 WIW at $12.85 August 4, 2011 Post
Bought 200 WIW at $12.63 September 2011 Post
Sold 200 WIW at $12.91 March 2012 Post
Bought 300 WIW at $12.75-ROTH IRA April 2012
Sold 300 WIW at $13.01-Roth IRA June 2012
My last transaction was to sell at a small loss ($11.69), as described in my last CEF basket update.
Total Trading Gains in WIW: $646.46 excluding dividends
I also flipped a similar fund, formerly traded under the symbol IMF, until the sponsor liquidated it. Sold 200 of the CEF IMF at $17.98-Roth IRA May 2012 (trading snapshots=$404.5).
Western Asset Inflation Management Fund Inc. Announces Results of Annual Meeting of Stockholders: Proposal to Liquidate and Dissolve the Fund is Approved
General Risk Discussion for Leveraged Bond CEFs:
(1) CEF Prices are Determined by Frequently Irrational Investors: This risk is applicable to all CEFs. Irrationality can result in a CEF selling at a significant premium to net asset value or at an increasing discount even when the net asset value per share is going up.
Another common occurrence is that the percentage decline in the market price will be significantly greater than the percentage decline in net asset value per share. For some investors with strong stomachs, that kind of scenario can present a buying opportunity, while others would throw up their hands and sell their CEFs.
It would not be unusual to have days when the market price goes down and the net asset value per share goes up. That would not happen with a bond mutual fund. On the flip side, a bond CEF does not face "redemption risk" that is a material risk for owners of bond mutual funds. When bond funds start to lose value during a prolonged period of rising interest rates, bond mutual funds will likely experience net redemptions that may require the managers to sell bonds into a declining market in order to meet redemption requests. That process locks in lower values for the bonds as unrealized bond profits turn into realized bond losses and unrealized bond losses turn into realized greater losses. This process will negatively and permanently adversely impact the remaining owners, notwithstanding the protestations of mutual funds to the contrary. The CEF bond manager has the option to sit tight and to wait for the bond to mature and then to reinvest the proceeds into a higher yielding bond.
(2) Rise in Interest Rates- Negative Impacts on Bond Prices and Borrowing Costs: When interest rates start to rise across the maturity spectrum, the leveraged bond CEF would be one of the worst investments to own. The fund's borrowing cost would be going up at a time when the bonds are going down in value. Most likely, the discount to net asset value would be widening in that scenario-The Infamous Triple Whammy!
The interest rate risk issue was highlighted with emphasis when the ten year treasury rose from a 1.66% to a 3.04% yield between 5/2/13 to 12/31/13. Daily Treasury Yield Curve Rates The decline in bond CEF markets prices was sufficient to offset well over one year of dividend payments.
A rise in short term rates, which may easily start to happen next year, will increase the borrowing costs for leveraged bond CEFs including BHK.
Frequently, I hear arguments from bond fund sponsors that investors need not fret about interest rates going up. The bond managers can hold the bonds to maturity and then invest the proceeds into higher yielding instruments.
There are several major flaws in that argument in my opinion.
First, current bond fund net asset values include a very large number of bonds selling at premiums. Today, those bonds could be sold for a profit and many are being sold. Those profits have already started to diminish for junk bonds. Now, if the bond manager sells or waits to sell during a period of rising rates, the proceeds will be lower and the net asset value would be negatively impacted and continue to be negatively impacted as the premium price melts to par at maturity. That is not even the major problem.
The major problem, applicable to bond mutual funds and bond ETFs, flows from the risks associated with investor redemptions. When prices start to decline in a non-temporary fashion, the funds will transition from net inflows to net outflows, causing the fund managers to sell something that locks in a lower price while the funds fly out the door and consequently can not be reinvested in a higher yielding bond. That process perpetually locks in lower net asset values per share due to selling bonds at ever lower prices, possibly at a loss rather than at a diminishing gain. At some point, the herd will change direction and start to pull money out of those funds.
This is a link to a 2015 study on mutual fund flows: 2015 Investment Company Fact Book The Figure 2.7 chart in that study shows significant bond fund outflows during that brief spike in interest rates during 2013. Net inflows returned when interest rates started back down in early January 2014. The current generation of bond investors have not even dreamed about a long term secular bear market in bonds and consequently bond funds have enjoyed net inflows for most periods over the 2000-2014 period shown in that chart. There is a high correlation between bond fund flows and returns. What happens when the returns turn significantly negative for a year or two?
Closed end funds do not have that type of redemption risk. With incompetent managers, the decline in bond prices may be met nonetheless with a lot of inopportune selling that has the same negative impact on net asset value per share as selling by mutual funds to meet redemptions when prices are declining.
(3) Situational Risks: I have highlighted throughout this blog another important risk.
The investment chosen by the investor will simply not produce the income needed to fund retirement, making it likely, even probable, that the individual will outlive their retirement savings.
Over $7.5 trillion dollars is gathering rays in savings accounts earning close to nothing.Total Savings Deposits at all Depository Institutions- St. Louis Fed; FRB: H.6 Releases
What exactly would a 2.3% ten year treasury generate in income before inflation and taxes? On a hefty one million dollars, the income would be about $23,000.
About 90+% of retirees do not have that million and $23,000 does not go very far nowadays anywhere. Maybe some people, who do not actually pay attention to the bills, may think otherwise.
In some jurisdictions, that amount after tax might be enough to pay property taxes on a middle class home with enough left off to pay the home and auto insurance premiums and to fill up a car a few times. Forget about the premiums for Medicare and supplemental health insurance, necessary repairs to the home, food, gas, nursing homes, new appliances, cable TV, etc. and so on.
An article in the NYT discussed the risk to retirees and those nearing retirement caused by the abnormally low interest rates now, aptly titled "Why Many Retirees Could Outlive a $1 Million Nest Egg"-NYTimes.com
It is a horrendous situation caused by the Federal Reserves Jihad Against the Saving Class that has first substantially reduced their incomes to practically nothing for risk free savings, but has now placed many of those retired seniors in a potentially precarious position of having to sell bonds to pay expenses as those bonds lose value due to interest rate normalization or a prolonged rise in rates caused by currently unanticipated inflationary pressures. Stocks, Bonds & Politics: The Difficult Path to Interest Rate Normalization
A return to normal rates, assuming that occurs within a few years, will cause significant losses in principal to those who own bond funds and have to sell shares to pay expenses, at least until the rate normalization period comes to an end. Last year's spike in interest rates was in my opinion the first salvo in the interest rate normalization process. Inflation expectations, as expressed in the break-even spreads of the ten year TIPs, were trending down last year as interest rates spiked for intermediate and long term maturities.
The more substantial risk for bond CEFs, assuming competent management, is that the discount to net asset value will increase substantially during periods of market turmoil, at a far greater rate than the percentage decline in net asset value per share. That phenomenon may cause individuals, who are the primary owners of those funds, to see at the worst possible times, either due to panic or to margin calls. Eventually, the expansion of the discount at a faster rate then the decline in net asset value will stop as more sophisticated investors see an opportunity to acquire a $1 worth of bonds for $.85 or $.8 or even in one of my buys in October 2008 at $.58 on the dollar. As the discount increases, the yield increases too.
(4) Default and Credit Risk: Junk bonds have a significant default rate and can go down significantly in price even without a default as shown by what happened in the last recession. The average yield for junk bonds spiked to over 22.5%. US High Yield Index
The credit risk is acute now for junk bonds issued by exploration and production companies. A significant number of those companies appear likely to bankrupt prior to 2017.
(5) Abnormally Long Bull Market in Bonds: I have noted here and in my blog that I am in a hyper trading mode for leveraged bond CEFs based on my concerns about interest rate risks and the balance of risks and rewards 33 years into a long term secular bull market in bonds.
Possibly, I am more sensitive to interest rate risks, having seen the devastation to bond investors caused by the last long term secular bond bear market.
The last long term bear market started out in 1949 and ended in 1982, as reflected in a ten year U.S. treasury chart.
The 1950s was a period marked by a persistent low inflation trend, except for one year during the Korean War, and significantly higher treasury note yields than now.
The Fed had manipulated intermediate and longer rates down in the 1941-1951 period. The 10 year treasury was hugging 2% during those years, even though inflation was averaging close to 6%:
CPI Percentage Increases: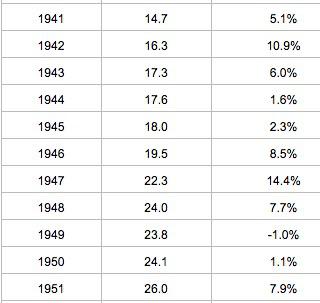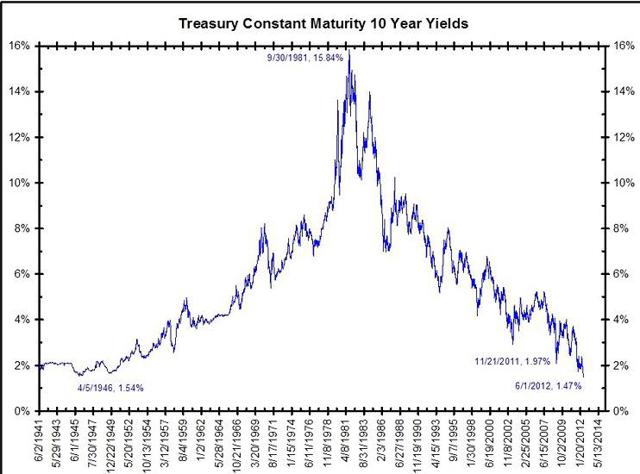 What does that chart say to you?
Yields Up-Prices Down
10 Year Treasury Rate Chart Since 1870
The ten year treasury produced a negative real rate of return between 1950 through 1959 with CPI increases remaining low except for 1951.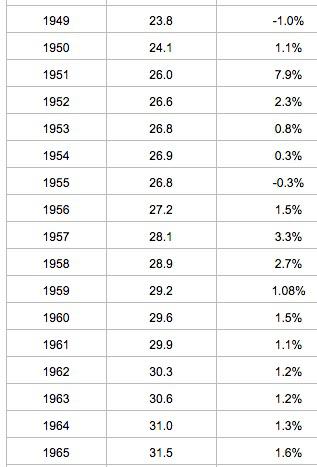 Sourced: Consumer Price Index, 1913- | Federal Reserve Bank of Minneapolis
The ten year treasury produced a -1.27% annualized real rate return in the 1950s, notwithstanding a low inflation trend.
Why?
I would submit for consideration that bonds entered a bear market prematurely in 1949, probably by close to 15 years, primarily due to the Federal Reserve's rate suppression that produced substantial negative real rate of returns for several years prior to 1951. In other words, vintage bonds did not properly reflect any real rate of return, let alone a normal spread to inflation or inflation expectations.
Sound familiar?
The issue then is whether history is about to repeat itself, at least in some meaningful way that warrants some attention now.
I would say that at least a repeat of something similar to 1949-1965 is probable due to the interest rate suppression by central banks. I think of it as a coiled spring that is being unnaturally compressed which makes the resulting burst forward worse once it pops. I am not now concerned about a repeat of the 1966-1982 problematic inflation history, at least for the foreseeable future.
6. Historically Low Interest Rates: This topic is related to the previous one. How much further down can intermediate and long term rates go to provide an investor with capital appreciation?
The flip side to that observation is that even a 1% rise in rates can cause a bond fund with a 10 year effective duration to slide 10%, wiping out the value of its dividend for a year or more.
Recently, interest rates are currently near all time historical levels for several developed nations. Yields are negative on short and intermediate term bonds issued by Switzerland.
Swiss Government Bond Yield Curve (negative yield as of 8/14/15 up to 10 years)
The German two year bond has a negative yield with its ten year bond yield below .7% currently: German Government Bonds - Bloomberg
The current yield for U.S. five year TIPs has been in negative territory most of the time since September 2010 and has only recently moved into positive yield territory:
Chart 5-Year Treasury Inflation-Indexed Security, Constant Maturity-St. Louis Fed
Back in 2012, I sold my remaining ten year TIPs, bought at auction and maturing in 2019, at a -.89% current yield to the buyer. (snapshot of profit and confirmation showing buyer's yield) I probably made more in profit than I would have received from seven years of interest payments plus the CPI accretion to the bond principal. In other words, that is not where bond bull markets start, but where they are more likely than not end.
Chart 10-Year Treasury Inflation-Indexed Security-St. Louis Fed
7. Inflationary Pressures and Historically Low Interest Rates Do Not Mix Well Together:
Inflationary pressures have started to build in the U.S. economy and have been masked by the parabolic spikes in both crude prices and the U.S.D. since early last summer. The decline in crude prices was primarily responsible for the deflationary trend late last year that was accelerated in the U.S. some by the parabolic spike in the dollar's value.
Both of those parabolas may be collapsing upon themselves now and will consequently add to, rather than subtract from the inflation that is already running above 2% when measured by the Cleveland Fed's Median CPI which has risen 2.2% over the past 12 months through March. Current Median CPI
Wage pressures are building from the bottom up, as shown by the widespread "voluntary" wage spikes occurring for unskilled employees.
Home prices have been steadily increasing after the 2002-2007 unsustainable parabolic rise collapsed and the balloon popped.
The annual inflation rates for several important categories were over 2.5% in 2014:
Food +3.4%
Meat, Poultry, Fish and Eggs: +9.2% (the largest annual increase since 2003)
Beef and Veal +18.7%
Shelter +2.9% (largest increase since 2009)
Medical Care + 3%
Rent +3.4%
Food Away from Home: +3%
Sourced: Consumer Price Index News Release
Wage gains have certainly had trouble keeping up with inflation over the past decade or so. That may be about to change.
Excess bank reserves, built up during the various QE programs, has started to decline some, as loan demand accelerates.
Excess Reserves of Depository Institutions-St. Louis Fed
Commercial And Industrial Loans, All Commercial Banks-St. Louis Fed
Net Percentage of Domestic Banks Tightening Standards for Commercial and Industrial Loans to Large and Middle-Market Firms-St. Louis Fed; Consumer Debt; Total Consumer Credit Owned and Securitized-St. Louis Fed
When discussing the abnormally low interest rates by historical standards, I have voiced an opinion, more than once, that the Bond Ghouls have lost their marbles. I argued that very point when discussing the purchase of the AllianceBernstein Income Fund (NYSE:ACG), one of the leveraged bond funds that was sold earlier this week. That fund has a boatload of treasuries and has a high leverage ratio of almost 40%. The prior link is to a Fidelity document explaining the risks and benefits of leverage.
Generating Tax Free Income In The Roth IRA: Bought Back AllianceBernstein Income Fund at $7.51 Roth IRA-Seeking Alpha
For bond investors now, the long term bond charts provide no comfort. The 30 year treasury does not yield 15% anymore, and it is a mistake to assume the next ten, twenty or thirty years will be like the past or even close to it.
Daily 30 Year Treasury Yields-St Louis FED
Daily 10 Year Treasury Yields Since 1962-St.Louis FED
I discuss these issues in a number of comments here as well as these two recent SA Articles:
An Analysis Of The Risk/Reward Balance For Intermediate And Long Term Treasuries | Seeking Alpha
A Word Of Caution About New Purchases In The Utility Sector | Seeking Alpha
8. Foreign Bonds: Currency and Country Risks: Since the U.S. traded bond CEFs are priced in USDs, their owners face significant currency risks when the fund owns foreign bonds. The worst performing bond CEF sector since the USD started its parabolic up move last year has been foreign bond CEFs. The decline in foreign currencies flows through into the value of those bonds when owned by a fund priced in USDs. Bonds issued by a large number of foreign sovereigns have heightened country and credit risks in addition to material currency risks.
9. More on Leverage Risks: As discussed above, leverage increases duration and adds downside risks when interest rates go up. A rise in rates throughout the maturity spectrum will increase borrowing costs and cause bonds and preferred stocks bought with borrowed money to go down in price. That will generally result, in addition, to an expansion in the discount.
I did not discuss above what may happen when the decline in owned securities is so severe that the fund has to reduce leverage by selling into a catastrophic type decline.
A CEF can create leverage by borrowing money through a variety of methods and issuing its own preferred stock There are maximum amounts of leverage imposed by the 1940 Investment Company Act, as discussed at page 4 of this Nuveen Publication.
During the last Near Depression, there were a few CEFs that had to sell securities at the worst possible time in a forced deleverage due to the horrific price declines in owned assets.
As I recall, those CEFs included those that had heavy ownership of REIT preferred stocks that were plastered in value. Prices for many REIT preferred stocks went from near par value in early 2007 to the single digits by October 2008.
You can see the devastation by comparing a shareholder report published before 2008 and the latest one.
I just looked at the Cohen & Steers Reit and Preferred Stock CEF (NYSE:RNR). First, I noticed that fund is still working off capital loss carryforwards even though its REIT and preferred stocks have done well since 2008. The preferred stocks have in most cases returned to near par value prices, or higher, or have been redeemed by their issuers at par value over the two or so years in response to declining interest rates. The existence of large capital loss carryforwards tells me that this fund had a forced deleveraging in 2008.
The long term chart confirms that observation:
The price topped out near $32 in January 2007. By May 9, 2009, the price had closed at $3:
The last annual report showed total investments at $1.372+B with borrowings at $337.66+M.
Page 20:
The shareholder report for the period ending 6/30/2006 had the total investment number of $2.128+B and the borrowings at $726M.
So a lot of assets were destroyed by the fund failing to reduce its leverage before the securities plunged in price, forcing the fund to sell at the most inopportune times. This unfortunate result does require a horrific decline and a lack of pro-active competent management. I view this firm to be extremely over-rated, but they do have the name recognition and the first mover advantage in the REIT CEF fund universe.
Disclaimer: I am not a financial advisor but simply an individual investor who has been managing my own money since I was a teenager. In this post, I am acting solely as a financial journalist focusing on my own investments. The information contained in this post is not intended to be a complete description or summary of all available data relevant to making an investment decision. Instead, I am merely expressing some of the reasons underlying the purchase or sell of securities. Nothing in this post is intended to constitute investment or legal advice or a recommendation to buy or to sell. All investors need to perform their own due diligence before making any financial decision which requires at a minimum reading original source material available at the SEC and elsewhere. Each investor needs to assess a potential investment taking into account their personal risk tolerances, goals and situational risks. I can only make that kind of assessment for myself and family members.
Disclosure: I am/we are long BHK, NPI, WIW, THQ, FPF, BIF, SWZ, CHN.