My prior update for portfolio management and positioning was published on 8/2/15: Update On Portfolio Positioning And Management - South Gent | Seeking Alpha
The VIX remains well within a Stable VIX Pattern as defined by my Vix Asset Allocation Model. The Stable Vix Pattern has historically been associated with major up moves in the stock market.
Vix Asset Allocation Model - South Gent | Seeking Alpha
Trading Strategy Under The Vix Asset Allocation Model: Part 1 - South Gent | Seeking Alpha
Close on 8/1/8/15: VIX: 13.79 +0.77 (+5.91%)
Volatility readings meandering in the 10-15 range are the most stable. With short duration and occasional spikes over the past two years, the dominant pattern has been movement between 10-15:
I label movement between 10-15 as a Phase 2, Stable Vix Pattern simply due to its progression from a Phase 1 Stable Vix Pattern, defined generally as a dominant movement between 15 and 20. Historically, an investor in the S & P 500 will make their money during the Stable Vix Pattern period.
When an Unstable VIX Pattern is formed by a Trigger Event, and the S & P 500 index falls 5% below its 200 day SMA line, I will then reduce my above average allocation to U.S. equities.
The last Trigger Event, which is a sell signal, occurred in August 2007: VIX Chart from 2007: Alerts and Triggers Major Disruption of Cyclical Stable Bull VIX Pattern
The Trigger Event ushers in a dangerous market for individual investors that I simply call the Unstable Vix Pattern. That pattern is marked by extreme up and down volatility with a potential for a catastrophic event, defined as a 45% decline in the S & P 500 over a relatively short period of time.
The Trigger Event signal is viewed by me as the most important signal given by the Model.
Vix Charts from 2004 2005 2006 Stable VIX Patterns Phase 1 and Phase 2
VIX and S & P Compared 1990 to 1997
Parallels to VXO 1987-1988 (sell signal before October 1987 crash)
The Vix Asset Allocation Model does not provide any assistance on sector, stock or index selections. I use other criteria to govern security selections.
I am trying to stay away from leaving comments to SA Articles including my own. For several weeks, I allowed SA to publish my Instablogs free of charge and have withdrawn that permission for the same reasons that I avoid leaving comments to SA articles.
I received recently a comment from someone who uses a drawing of Alfred E. Neuman as their profile picture. The commenter uses the moniker "GetRealHere".
Comment at:
Bought Back The Arrow DJ Global Yield ETF GYLD - Arrow Dow Jones Global Yield ETF (NYSEARCA:GYLD) | Seeking Alpha
Alfred argues what he calls a simple piece of advice: "the more you tinker with your investments, the worse your returns over time" and the "odds of you beating the market indexes are slim". Al believes that trading "should never be treated as a hobby...hobbies are cash negative".
He then states that he has generated an average 10+% return over 13 years without trading, owning only the mutual funds PONDX/LSBRX and FSEMX and has never sold a share.
PIMCO Income D Fund (MUTF:PONDX)(5 stars)
Loomis Sayles Bond Retail Fund (MUTF:LSBRX)(4 stars)
Fidelity Spartan® Extended Market Index Investor Fund (MUTF:FSEMX)
Alfred's comments are relevant to portfolio positioning and management, so I will reply to him here.
Random Comments on Alfred E. Neuman's 3 Fund Portfolio:
First, I will comment on his fund selection. He is apparently using two bond funds and one stock fund. He does not provide the overall allocation to those funds. I would characterize the bond funds as good ones with several caveats discussed below.
The Fidelity Extended Market Index Investor Fund holds virtually every stock that is not in the S & P 500. It is consequently a mid and small cap fund and is viewed by many investors as a compliment to a large cap portfolio. I would agree that this kind of fund is best used as a supplement rather than the only stock allocation position.
I would note that Alfred uses a 13 year period to claim his "10%+" annual average performance using those funds. That is important start date since it misses the meltdown in 2000-2002.
If I used a 15 year period, the total annualized return for the Loomis Sayles Bond fund and the Fidelity Extended Market Index are calculated by Morningstar as follows (using 8/14/15 as the end date which was the latest number when I wrote this section last weekend):
FSEMX Fund Performance and Returns= +6.78%
LSBRX Fund Performance and Returns= +7.89%
The PIMCO fund is a newer fund and does not have 10 or 15 year performance data.
Can an investor reasonably predict a 7.89% annualized return from LSBRX or PONDX over the next 15 years, considering that the bond market has been in a secular bull mode for 33 years now and yields are near historic lows?
The 30 SEC yield for LSBRX is now only 3.5% and that is with significant junk and foreign bond exposure. It would not take much of a decline in bond prices to wipe out that yield.
Morningstar, using the fund's own estimate, gives that fund a duration of 4.79 years. A 1% rise in rates would consequently cause about a 4.79% loss in value or about 1 1/3rd years of dividend payments just to generate a zero total return.
Here are the total return numbers for LSBRX, which is a good bond fund IMO, starting in 2013 through 8/14/15:
2013 +5.52%/CPI 1.5%
2014: +4.49%/CPI 1.6%
2015: -3.36% YTD/ CPI Estimated 1.2%
CPI Numbers Sourced From Consumer Price Index, 1913- | Federal Reserve Bank of Minneapolis
LSBRX did have what I would characterize as a horrific 2008 for a bond fund, falling -22.62% on a total return basis that year compared to +7.66% for the Vanguard Total Bond Market ETF (NASDAQ:BND) I say horrific, since 2008 was a year that individual investors really, really needed their bond fund to go up in value to cushion the heavy blows from stocks and other asset classes rather than add to the pain signficantly.
And what happens when the ten year treasury yield returns to a more normal 4% to 4.5% yield and CPI accelerates over 2%?
The extended U.S. stock market index, which excludes the stocks in the S & P 500, has outperformed the S & P 500 over the past 5, 10 and 15 years by a narrow margin. But, what does that really tell an investor about possible returns going forward? An investor needs to be careful about assuming the next 5, 10 or 15 years will be similar to the past 5, 10 or 15.
Total Annualized Returns FSEMX vs. SPY (End Date 8/14/15)
5 Years: 17.3% / 16.44%
10 Years: 9.11% / 7.63%
15 Years: 6.78% / 4.21%
Again, using 15 year data, the inflation adjusted returns for the S & P 500 through July 2015 was not too hot at +1.951% with dividends reinvested and .054% without reinvestment. S&P 500 Return Calculator
The same could be said for an extended market index fund with an adjustment for inflation.
If I had to pay a 15% qualified dividend tax, the real rate of return for SPY would have been negative for the cash option that generated only a .054% total return. So could a reasonably informed investor, basing decisions on objective material information rather than reality creations, outperform a negative real rate of return over that 15 year period. I would hope so.
Buy and Hold Low Cost Funds As a Long Term Investment Strategy:
The other aspect of Alfred's investment plan is to buy and hold only a few bond and stock index funds.
I have said many times here and elsewhere that most individual investors would be better off using low cost index funds with some kind of periodic rebalancing. I would add a kicker that the stock allocation needs to be reduced when the market is clearly overvalued as in the run up to 2000 and then increased again when there is a catastrophic stock market event defined as a fairly quick 45% plunge in the S & P 500 (e.g. 1974, 2000-2002, September 2008 to March 2009).
There have been times in my life when I simply did not have the time to pick individual securities. And, during those times, it was practically impossible, or at best extremely time consuming and difficult, to do original source research anyway. I first bought a computer and connected to the internet around 1995 and have been doing original source research since that time. I was also semi-retired in 1996 and had plenty of spare time.
For young investors, an alternative to mutual funds would be the very low cost ETFs that can be purchased now commission free at several brokerages.
If I was just starting out now, and I had about $1K when I first purchased a stock in the late 1960s (NYSE:HCA), I would open a Vanguard Brokerage Account and buy their low cost ETFs that can be bought commission free there.
The commission free feature allows cost effective purchases in small lots over time when funds become available for investment.
The equivalent Vanguard ETF to Alfred's Fidelity Spartan Extended Market Index fund is the Vanguard Extended Market ETF (NYSEARCA:VXF). Both the Fidelity mutual fund and VXF have .1% expense ratios. An investor could literally buy 1 VXF share with no commission using a Vanguard Brokerage account, whereas it takes a $2,500 minimum purchase to buy the Fidelity version. An investor can cut the Fidelity extended market fund expense ratio down to .07% by buying FSEVX which has a $10,000 minimum.
I would not use an extended market index fund for my entire stock allocation. Instead, I would want exposure to the entire U.S. publicly traded stock universe with the Vanguard Total Stock Market ETF (NYSEARCA:VTI) rated at 4 stars by Morningstar. That ETF could be the anchor in a young persons portfolio.
Average Annualized Returns Through 8/14/15:
5 Year: 16.75%
10 Year: 8.07%
The ten year period is lower since it includes the latest stock market meltdown that started shortly after Lehman's collapse and ended in early March 2009. Those events have happened and will continue most likely to happen. The catastrophic declines are simply an inextricable part of the risk territory for stocks. Deal with it. I view them as opportunities to increase wealth, though I would just as soon avoid another one. I learned about what to do from my Great Uncle Tom who became a stock investor in 1932. Stocks, Bonds & Politics: RB Wants to Tell a Story
Jason Zweig noted in a recent WSJ article that the S & P 500 declined 57% during that period. I would agree with him that many investors bailed out of stocks during that meltdown. It was difficult period even for the most experienced and level headed Stock Jocks just to avoid the panic selling and to do some buying. How many individual investors had backed up the truck in early March 2009? I was discussing my purchases daily in my blog.
So, anyone professing to be a buy and hold stock investor has to have the fortitude to stay with it during those inevitable events. I have lived through three of them, and I am not old enough yet to qualify for Medicare.
Fortunately, the buy and hold forever investors have not yet been tested by a prolonged downturn such as the 1966 to 1982 period when the S & P 500's inflation adjusted total return averaged almost -2% per year, a stomach churning roller coaster ride lasting 16 years.
The extended market index has powered ahead of the large cap index over the past 10 or so years due in large part to multiple expansion among small and mid cap stocks exceeding the expansion for large caps.
While good arguments could be made that stock valuations are stretched now, irrespective of whether one uses SPY, VXF, or VTI or their Fidelity equivalents, the small and mid cap indexes have much higher multiples than the large cap indexes due in large part to that recent historical out performance.
P/Es & Yields on Major Indexes: WSJ.com as of 8/14/15
Estimates Based on Forward 12 month NON-GAAP Estimates:
S & P 500: 17.65/2.04% Dividend Yield
Russell 2000 (roughly equivalent to an extended market index): 19.65 P/E; 1.45% Dividend Yield
Given those low dividend yields and relatively high forward P/E ratios using historical standards, I would not anticipate 10% annualized total returns over the next 13 years. Possibly, if I used as a start date as March 1, 2009 and an end date of 3/1/2024, I could hit that number, but unfortunately I am not able to cherry pick dates when meeting my financial goals. My time period started in the late 1960s and is likely to continue hopefully for at least another 20 years.
For most Americans, the time period to save and invest appreciable funds is relatively short, particularly for those families with children.
I would also not limit myself to just one stock fund and a bond fund. For my stock allocation, I would want some exposure to foreign stocks and to at least two U.S. stock sectors: REITS and Healthcare.
For bonds, I could do without foreign bonds that expose me to both currency and country risks. I have some exposure now, and I am not pleased with the results over the past two years.
However, I would want some mixed exposure to the U.S. bond market that would include TIPs and an intermediate investment grade corporate bond ETF like LQD or VCIT. The exposure to junk bonds can be through a multi-sector fund only. VCIT is a Vanguard intermediate investment grade corporate bond fund with a .12% expense ratio and a current average duration of 6.4 years as of 7/31/15.
Alfred uses the LSBRX (class E) fund that has a .91% expense ratio and is managed by the veteran bond fund manager Don Fuss.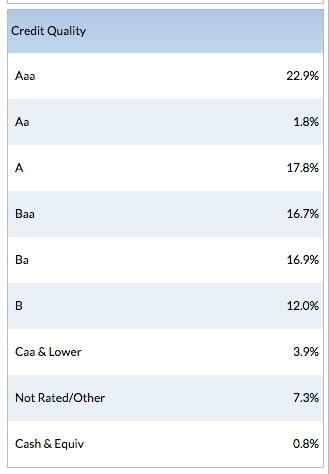 Loomis Sayles | Mutual Funds | Bond Fund
Articles About Fuss:
Dan Fuss' Loomis Sayles Bond Fund underperfoms, hit by dollar's rise (7/10/15 article in Investment News)
Bond market veteran is getting worried - MarketWatch (7/30/14);
Dan Fuss - The New Factor in the Bond Markets - Advisor Perspectives (3/13/15)(clearly worried about bonds)
That fund's weighting in junk bonds was a primary cause of the horrific 2008 performance. Junk bonds have been underperforming treasuries over the past year or so.
1 Year
High Yield Bond ETF (NYSEARCA:JNK): -4.34%
iShares 7-10 Year Treasury Bond (NYSEARCA:IEF): +3.69%
iShares 20+ Year Treasury Bond (NYSEARCA:TLT): +9.3%
When investing over the long term, one major fallacy is to equate the results during a bull market with a brilliant portfolio selection. It is without question an error to predict now an 8% to 11% total returns from bonds over the next 13 years when a ten year treasury is hovering just over 2% compared to over 15% when the bond bull market started 33 or so years ago.
I ditched the Loomis Sayles fund and the Vanguard Total Bond ETF (BND) and started selecting my own individual bonds. I have substantially outperform those funds through that selection process that included a wide variety of exchange traded bonds and $1,000 par value bonds purchased in the bond market.
I discuss the various categories of exchange traded bonds here:Stocks, Bonds & Politics: Exchange Traded Bonds: New Gateway Post In that Gateway Post, I have links to discussions of those categories where I also include snapshots of realized gains and losses. Snapshots of trades in the Trust Certificate niche, for example, can be found here: Stocks, Bonds & Politics: Trust Certificates: New Gateway Post Some recent trades are discussed in my last update for the bond and preferred stock basket: Update For Bond And Equity Preferred Stock Basket Strategy As Of 7/31/15 - South Gent | Seeking Alpha
My first problem with any bond now is that the yields are just paltry. The same is true for major stock index dividend yields.
A number of bond mutual funds and ETFs are likely in my opinion to produce negative real dividend yields over the next 5, 10 and 15 years. They have been barely positive over the past three years adjusted for the very low inflation numbers and before taxes. And, when the bond fund is held in a regular IRA, the current dividends are not taxed, but a tax is paid on their value when the investor withdraws it. What will the marginal tax rates be in the future, higher or lower than now?
Investors in bond mutual funds and ETFs will also face redemption risks when rates start to move up.
A prolonged rise in rates is highly correlated with net outflows from bond funds historically.
The current generation of bond investors have not yet been seared by that monster known as a long term secular bear market in bonds given the long longevity of the current bull.
We shall see how their plans hold up when that happens, even the relatively mild version similar to the 1950 to 1966 period rolls around again. It is possible, though not yet certain, that a bond bear market started in July 2012 and is following a similar trajectory to the first phase of that earlier secular bear market that lasted approximately 16 years (1950 to 1966) when the total return before taxes was negative but not yet a killer. The death spiral period started around 1/1/1966 and lasted into 1982. If anyone is counting, that is another 16 years. There is remarkable symmetry in these long term bond bull and bear cycles. The bond cycles tend to be far longer than the stock secular bull and bear markets.
You would have to have been a masochist to stay with an asset class through a 32 year bear market. Same for stock index exposure. Only a few investments actually provided real returns during the 1966-1982 bear markets in both bonds and stocks.
Staying the course through one of those LONG periods really makes no sense IMO, as I have discussed many times in the past here and in my blog. The S & P 500 produced a NEGATIVE REAL ANNUALIZED TOTAL RETURN OF -1.813 between 1/1/1966 and 7/31/1982.
THAT IS PER YEAR WITH DIVIDENDS REINVESTED and Adjusted for Inflation and Before Taxes (which were high during that period)
Sourced: S&P 500 Return Calculator
As an investment strategy, buy and hold makes sense only in long term secular bull markets which places a huge premium on identifying which one
Historically, the long term secular bear markets can outlast even the steadfast True Believers in buy and hold. Even a 16 year period is terribly long when living day to day, hour to hour, in an individual's life span. It is an exceptionally long period to have both major asset classes fail in a major way and would be devastating for many when it starts near retirement. I would never confuse a good investment plan, spanning an individuals entire lifespan, with a bull market in stocks and bonds.
For me, I have outlined my approach here: Portfolio Management Goals-Snapshots of Performance Numbers YTD, 3 and 5 Years Cumulative
I am no longer in an asset accumulation phase. My goal now is to just match the S & P 500 performance over a long period of time measured in years with far less volatility and risk and 2 to 3 times the income generation. I have a balanced worldwide portfolio with a large cash allocation earning zilch since late in 2008 when the FED commenced its Jihad Against the Saving Class. I take only measured risk in individual security selections, and a large part of my total return is derived from active trading.
As to Alfred's comments about GYLD and my successful trades of that ETF, with the last sell occurring at $25.49 earlier this year, that ETF has a place in my portfolio as an income generater that has a diversified portfolio of global stocks and bonds. It just not have a place now due primarily to its MLP exposure and exposure to foreign currencies through ownership of foreign bonds and stocks.
Item # 4 Sold 100 GYLD at $28.32 (8/9/14 Post)(total return +323.22 or 12.1%)
Item # 6 Sold 50 GYLD at $28.09-Roth IRA (7/19/14 Post)(total return +$154.9)
Sold 100 of the ETF GYLD at $25.49 (total return 7.1% in one month) (2/21/15 Post)
I am pleased with my trading in that ETF, including my non-ownership during the recent decline.
Closing Price 8/14/15: GYLD: $21.34 +0.03 (+0.14%)
The capital appreciation and dividend yield at the current price makes this ETF more attractive so I am looking at it for a possible re-entry point as a total return vehicle. I am not likely to buy anytime soon due to the USDs parabolic up move.
The extended market index requires mostly capital appreciation to create a return while GYLD can produce a good return with no capital appreciation in the shares now.
The sponsor calculated the distribution rate at 7.89% as of 8/14/15:
Sponsor's website: Welcome to Arrow Shares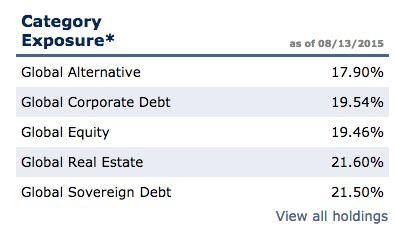 I have not owned any GYLD shares since I sold out last February at $25.49. That lot was bought at $23.84 (1/4/15 Post) after selling out at $28.32 last year. This ETF has some issues but that is not going to prevent me for trying again given the dividend yield at the current price:
Close on 8/18/15: GYLD: $20.84 -0.24 (-1.14%)
I am doing fine with GYLD right now by refusing to own it.
Alfred's View of Dividend ETFs in a Portfolio Allocation:
My response to another comment made by Alfred will be really brief for me:
"and as is the case with all these dividend style ETFs, the simple vanguard total international ETF outperforms. . . . The portfolio continually changes for these dividend ETFs, so how do you get dividend growth if the securities it holds are flipped 2 to 4 times a year!"
Comment at Added to Ishares International Select Dividend ETF - iShares International Select Dividend ETF (NYSEARCA:IDV) | Seeking Alpha
I am buying just a few IDV shares at a time and currently hold just 130 shares or so. I am reinvesting the dividend.
Alfred says that the Vanguard International ETF (no symbol provided) outperforms the international dividend ETFs.
I will use on occasions the Vanguard All-World ex-U.S ETF (NYSEARCA:VEU), but I do not have a position now. I could restart one in a Vanguard brokerage account at anytime. I have managed to harvest acceptable returns only through trading it.
My concerns include the huge downdrafts in foreign currencies, particularly several emerging market currencies that are cratering. EMs are in a bear market. This fund has a .14% expense ratio and currently owns 2484 stocks. I own individually its two top holdings: Nestle and Novartis with NVS being the larger of the two.
Has VEU outperformed IDV as Albert claims? Due to the issues with foreign stocks, particularly over the past year, neither fund is doing well compared to SPY or VTI. VEU has outperformed IDV over the past 1 and 3 years, but IDV wins over 5 years:
IDV:
1 Year: -14.77%
3 Years: +4.98% Annualized
5 Years: +6.76% Annualized
VEU:
1 Year: -5.01%
3 Years: +7.57%
5 Years: +6.06%
The five year period difference in favor of IDV is .7% per year. That mounts up over time.
Can I fairly make the same categorical statements as Alfred looking at the facts? The answer is clearly no. I view it as important to form an opinion after compiling and assessing the material facts.
The Royce funds published a study recently showing that the average annualized performance of dividend payers in the Russell 2000 was 11.2% compared to 8.1% for nonpayers between 1993-2014. The Importance of Dividends in Small-Cap Investing I was looking at that study in reference to a new dividend ETF for the Russell 2000.
Over the past five year bull run, the total annualized average for SPY and VYM are similar. I would expect VYM to outperform in a down market.
Vanguard High Dividend Yield ETF (NYSEARCA:VYM) Total Returns
The worm has yet to turn short term in IDV's favor compared to the broader VEU. The 3 month returns were -7.43% for VEU and IDV at -11.72% through 8/14/15. Without looking at the reasons why in detail, I would attribute IDV's recent problems to its larger exposure to energy/material stocks as well as Australian banks (beaten up due to recent capital raises required by their regulator).
I have been playing this game for a long time.
It does not take a genius to observe that a sector that goes down hard may be a better buy than one that has leaped into outer space. While I do not own Royal Dutch now, having sold out in early 2014, I would not be adverse to buying it now as a long term hold, and the same would be true for the Australian banks that have been smashed recently due to temporary factors caused by their regulator.
Longer term periods are more important for an investor than shorter ones IMO.
Again, I am using above Morningstar calculations through 8/14/15.
Is Alfred accurate with his factual statements here?
"The portfolio continually changes for these dividend ETFs, so how do you get dividend growth if the securities it holds are flipped 2 to 4 times a year!"
I would have to disagree with that claim.
There are rebalancings in all ETFs based on the criteria selected and summarized in their respective prospectuses.
When you look at the portfolio over time, the holdings remain mostly the same. Sure, with any dividend ETF, a stock could be removed altogether based on a dividend elimination, but who would complain about that ejection.
There will be weighting changes in any stock ETF based on market performance
The entire portfolio is not being "flipped 2 to 4 times a year!"
For all ETFs, the sponsor is buying or selling based on net inflows. So in market downturns, securities may be sold to meet investor redemptions willy nilly without regard to whether a particular company will do better or worse during an economic downturn. The lower volatility and higher income producing stocks owned by dividend ETFs will generally go down less and, the investor will be buying more shares with the dividends at lower prices too.
IDV Yield Information as of 7/31/15: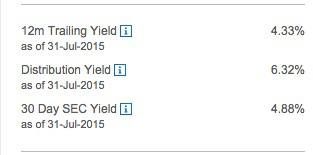 +++++++++++++++++++++++++++++++++++++
I continue to pare and eliminate stock positions and then slowly redeploying the funds.
In this post, I will be discussing the elimination of two stock mutual funds that raised together almost $20K.
Along with other recent dispositions, I have raised my cash allocation by close to $70K. I am slowly redeploying that cash into other stocks and stock funds in my typical slow mo fashion. Ideally, I would like for the market to down quickly by 20% now.
My overall cash allocation is currently slightly over 30% of investable risk assets.
My Sector Positioning Update:
A. Energy Infrastructure Sector:
1. Averaged Down: Bought 50 SE at $29:
Quote: Spectra Energy Corp. (NYSE:SE)
Snapshot of Trade: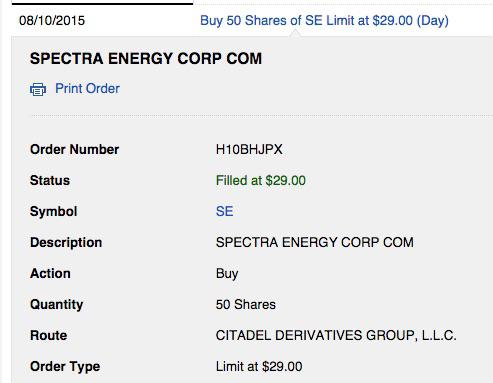 Closing Price Day of Trade: SE: $30.05 +1.22 (+4.23%)
This purchase lowered my average cost per share to $32.14.
Last Trade-Bought 50 Shares at $34.95: Initiated Position In Spectra Energy (SE) Based On Total Return Potential - South Gent | Seeking Alpha (3/5/15 Post)
I would refer to that post and other SA articles for more information on SE.
Last SEC Filed Earnings Release (the company has commodity risk exposure in its field services segment which reported a $27M loss)
Last SEC Filed 10-Q: SE-2015.06.30 10Q
2014 Annual Report: SE-2014.12.31 10K (risk summary starts at page 27; a good description of SE's businesses starts at page 4, which is a good starting point for any investor doing their due diligence)
Moringstar Rating for SE (4 stars with a consider to buy price at $27.2 or lower; "the field services segment, which includes SE's 50% interest in DCP Midstream, is grappling with weak NGL supply"/demand fundamentals; 88% fee based revenues not directly impacted by commodity prices)
I would emphasize also that SE has extensive Canadian operations and has consequently been negatively impacted by the CAD's decline against the USD in its GAAP accounting. That issues is generally noted by the company when it discusses its "Western Canada Transmission and Processing Business". It is difficult for the CAD to gain against the dollar for as long as commodity prices continue to decline. A widely used commodity index recently sank below levels hit immediately after Lehman's bankruptcy filing.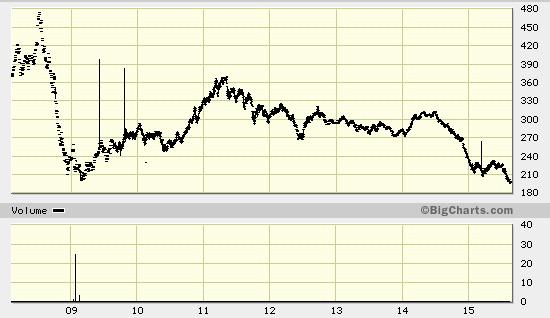 The current quarterly dividend is $.37 per share. Spectra Energy At a total cost per share of $29, the dividend yield is currently about 5.1%.
There are unnamed sources who claim that Spectra is eyeing Williams (NYSE:WMB), a much larger company than SE, for a potential acquisition. Reuters
An agreement to acquire WMB could knock SE's stock down. Maybe WMB will buy SE at a premium rather than succumb to the advances of Energy Transfer Equity (NYSE:ETE). Until there is some clarity on this issue, I will not be buying more SE shares. I am now up only to 100 shares.
WMB's long debt stood at $21.285B as 6/30/15:
Page 8: WMB_2015.06.30_10Q
Williams controls Williams Energy Partners (NYSE:WPZ), a publicly traded MLP.
Recent refinancing costs have been low:
"On March 3, 2015, WPZ completed a public offering of $1.25 billion of 3.6 percent senior unsecured notes due 2022, $750 million of 4 percent senior unsecured notes due 2025, and $1 billion of 5.1 percent senior unsecured notes due 2045. . WPZ retired $750 million of 3.8 percent senior unsecured notes that matured on February 15, 2015."
I would note that the 5.1% senior unsecured bonds maturing in 2045 have slipped to $84.31 as of last Tuesday creating a YTM of 6.265%: Bonds Detail
That bond was issued by Williams Partners, a MLP traded under the symbol WPZ. WMB was trying to buyout the WPZ units it did not own when it received the unsolicited offer from ETE.
Page 11: WMB_2015.06.30_10Q
Moody's WMB and WPZ bond ratings: Moody's
Moody's ratings of Spectra Capital and Spectra Energy Partners: Moody's
Spectra Energy Capital has a 3.3% coupon senior unsecured bond maturing in 2023 that closed Tuesday at $90.38 creating a YTM of 4.833%. Finra shows that Moody's rates this bond at Baa2 with S & P and Fitch at BBB-. Fitch and S & P are just one notch above junk now and that could change with a WMB buyout.
The SE 2023 debt is selling at a higher yield than other BBB- rated debt:
A Brandywine 2023 closed Tuesday at a 4.144% YTM and is rated lower by Moody's at Baa3 and Fitch at BB+, with S & P having the same BBB- grade for the BDN senior unsecured.
B. Utility Sector:
1. Sold 50 Southern Company at $45.8:
Quote: Southern Co. (NYSE:SO)
Profit $108.05 + 1 Dividend:

Closing Price Day of Trade: SO: $45.46 -0.07 (-0.15%)(intra-day high at $45.87)
I sold shortly before the ex dividend date which was on 8/13/15.
Rationale: This was a trade based on the steep decline in SO's share price, as reflected in this 1 year chart:
I bought 50 shares at $43.32 (5/12/15), collected 1 quarterly dividend, and sold the lot at $45.8.
I then bought 50 SE shares using the SO proceeds in part, expecting better dividend growth from SE and more potential capital appreciation over the next 1 to 3 years.
SO's annualized dividend growth rate over the past ten years is 3.93%. Stock Dividends It is hard for the Old Geezer to generate much excitement about that growth rate. It takes about 17.98 years for money to double at that rate before inflation and taxes. Estimate Compound Interest And inflation and taxes could send that annualized rate into a negative real rate of return for the cash dividend. Perhaps reinvestment may increase the rate of return compared to taking dividend distributions in cash (hypothetically investing the cash in a 5 year treasury bond each quarter).
I am currently anticipating a faster growth rate for SE over the next 1, 3 and 5 years.
Since the 2011 first quarter, SE quarterly rate has increased from $.26 to $.37 through the 2015 third quarter or +42.3%. Spectra Energy Dividend History
SO's rate of growth during that same period was 19.23% ($.455 to $.5425): Southern Company Dividend History That is roughly a 8.46% annualized growth rate. Money doubles in about 8.54% at that rate before taxes and inflation. I would not be lulled into believing the current low inflation numbers are part of some permanent new paradigm or the "new normal".
The core inflation rate in the U.S. between 1957 through 2014 averaged 3.72%: United States Core Inflation Rate | 1957-2015; Consumer Price Index Data from 1913 to 2015; Average Annual Inflation Rate by Decade
C. Asia Stocks:
1. Eliminated MACSX
Quote: Matthews Asian Growth & Income Fund;Investor Fund Price Today (MUTF:MACSX)
Morningstar Rating: 4 Stars
Snapshot of Profit: I reinvested the dividends to buy additional shares:

Rationale: I was thinking about selling this fund due to mediocre performance prior to China's currency devaluation. The one year total return through 8/11/15 was -7.23%
Annualized Total Return: (MACSX)
3 Years: 4.67%
5 Years: 5.81%
That five year number matched the benchmark index. There are been a number of headwinds over the past five years for a fund investing in the Asia Pacific region.
The Yuan devaluation was sort of the final nail in the coffin.
China's exporters will be a beneficiary of currency devaluation while exporters located in other Asian countries will be net losers. The fund had about a 33.1% weighting in companies located in China and Hong Kong as of 6/30/15, with the remaining allocation in countries that would be negatively impacted by that devaluation: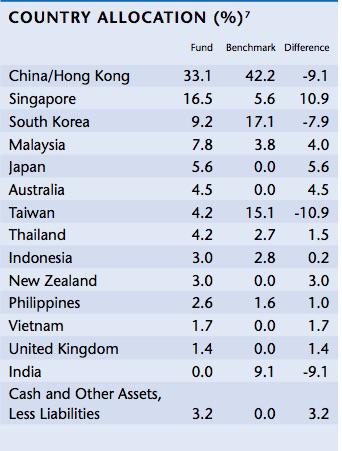 Sourced: Fact Sheet
In addition, those countries have currencies that are in secular bear markets against the USD. I suspect that those foreign currencies will be furthered pressured in a landscape peppered with competitive currency devaluations. The decline in those currencies flows through into the pricing of a USD priced mutual fund that owns stocks priced in those currencies.
Japan's central bank is also engaged in massive quantitative easing that is designed in part to devalue the Yen.
Singapore Dollar: SGD/USD Interactive Stock Chart
Malaysia's Ringgit: MYR/USD X Interactive Stock Chart (MYR is in free fall)
Australia's Dollar: AUD/USD Interactive Stock Chart
South Korean Won: KRW/USD Chart
Indonesia's Rupiah: IDR/USD Chart
D. Technology:
1. Bought Back 100 TDIV at $25.95:
Quote: NASDAQ Technology Dividend Index ETF (NASDAQ:TDIV)
Trade Snapshot:

Closing Price Date of Trade (8/13/15): TDIV: $25.86 -0.07 (-0.27%)
My last trade was to sell 100 shares last October:
Profit=$581.29

For the October 2012 buy, the total average annualized return without dividend reinvestment was 18.41%, compared to SPY at 17.65%. Either SPY or TDIV worked during this period of time. SPY has done better since I sold TDIV on 10/10/14. The annualized total return without reinvestment starting on 10/10/14 through 8/14/15 is just 3.82% for TDIV and 13.63% for SPY. To me, take is an argument for TDIV now over SPY. SPY has a built in advantage with a much lower expense ratio however.
Sourced: DRIP Returns Calculator
Holdings: 109 First Trust NASDAQ Technology Dividend Index Fund (TDIV)
Holdings with .5+% or Higher Weightings: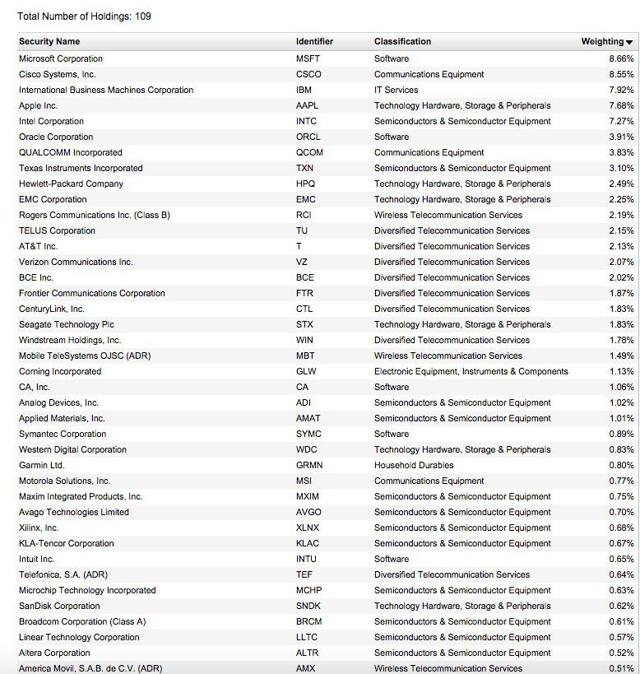 Several of the larger positions have been a drag on TDIV's performance to varying decrees since I eliminated my small position:
Corning and Apple have not helped over the past few weeks:
Those share price declines make those stocks more attractive, not less, particularly the GLW. I still own some Intel shares bought shortly after Lehman's failure. At current prices, I would be more interested in GLW than the others but I might buyback some Apple and have not owned IBM for a very long time. Buffet is still buying at lower prices. HPQ is just a no go for me.
Rationale: I will generally refrain from buying individual technology stocks other than the megacaps and then I need the risk/reward balance to be substantially tilting in my favor. I started to buy Intel for example in October 2008 when the price sank to $15. Item # 4 Snapshots of GE and Intel Purchases with Cash Flow (4/25/11 Post) I was buying MSFT when the price collapsed to below $20. Item # 5 Bought MSFT at $17.79 (1/27/09 Post)
I viewed favorably the recent earnings report from CISCO that has become a dividend growth company and is a component of this technology dividend index.
Cisco Reports Fourth Quarter and Fiscal Year 2015 Earnings
Forward P/E estimates are generally below the S & P 500 multiple:
Another reason is that many of these technology companies derive significant revenues for consumer products.
I expect consumer spending to remain a positive force for years to come for the reasons discussed in my last update. I also noted a pickup in consumer spending in the last GDP report, as real personal consumption expenditures increased by 2.9% with durable goods up 7.3%.
News Release: Gross Domestic Product
Revenue trends in several foreign countries, including China, are negative with or without a currency adjustment.
Given my goals, TDIV seems a better choice for me at the moment than SPY. I also view the dividend growth prospects for the TDIV components to be better than for the SPY components. The 12 month distribution rate for TDIV was 2.49% as of 7/31/15.
E. Eliminated PRPFX: Reduced Exposure to Sectors in Bear Markets
Snapshot of Profit: $590.26

Most of my profit was eaten up by large dividend distributions in 2013 and 2014 totaling $1,618.87 (snapshots in the Appendix below)
Rationale: This fund has significant exposure to Swiss government bonds, gold and silver bullion, natural resources stocks, and low yielding corporate and U.S. treasury bonds.
Gold and silver bullion are in a bear market. The corporate and government bonds pay negligible interest. The Swiss government bonds even have negative yields now and are losing value due to the CHF/USD conversion rate. The natural resource stocks are also in a bear market.
N-Q: Holdings as of 4/30/15
When I last discussed this fund, I was highly critical of several stock selections including Vale and Halcon. Added To The Permanent Portfolio (MUTF:PRPFX) Mutual Fund - South Gent | Seeking Alpha
The fund is just way too concentrated in assets that are clearly in bear markets of uncertain duration. I will need to see some light at the end of the current dark tunnel before starting a new position in this fund.
I have noted in the past that gold and silver started their bear market around September 2011. Their last secular bear lasted between 1980 and 2002. Fortunately, I sold gold and silver bullion for the first time back in September 2011 and in January 2012. (snapshots at The Road to Political Power: Lying Works/Recent Gold and Silver Sales (9/15/11 Post) and Snapshots of Coin Sales In January 2012)
I just grew tired of watching my PRPFX unrealized gain dissipate.
Appendix:
A. VEU Trades: I have not held on to VEU for very long and that has worked so far.
Closing Price 8/18/15: VEU: $47.13 -0.30 (-0.63%)
2007 100 Shares +$401.91

2010: 100 Shares +$862.98

2011 100 Shares +$144.55

2013 50 Shares $204.95

2015 25 Shares $52.75

Note that I have downshifted in the number of shares.
VEU Total Trading Profits: $1,667.14
I can buy VEU commission free in my Vanguard Brokerage Accounts.
B. PRPFX 2013 and 2014 Distributions: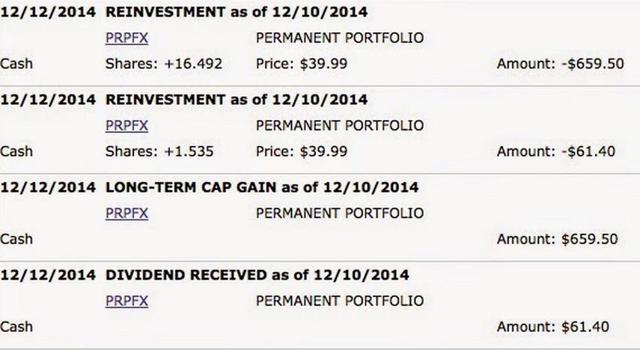 Disclaimer: I am not a financial advisor but simply an individual investor who has been managing my own money since I was a teenager. In this post, I am acting solely as a financial journalist focusing on my own investments. The information contained in this post is not intended to be a complete description or summary of all available data relevant to making an investment decision. Instead, I am merely expressing some of the reasons underlying the purchase or sell of securities. Nothing in this post is intended to constitute investment or legal advice or a recommendation to buy or to sell. All investors need to perform their own due diligence before making any financial decision which requires at a minimum reading original source material available at the SEC and elsewhere. Each investor needs to assess a potential investment taking into account their personal risk tolerances, goals and situational risks. I can only make that kind of assessment for myself and family members.
Disclosure: I am/we are long SE, TDIV.