My last update was published here: Update For REIT Basket Strategy As Of 8/11/15/Interest Rate Cycles And REIT Stock Prices - South Gent | Seeking Alpha (8/12/15)
In that prior post, I discuss the macro factors impacting the stock price and operating performance of equity REITs.
During last Friday's meltdown, REITs were negatively correlated with investment grade bonds.
The low cost Vanguard REIT ETF (NYSEARCA:VNQ) did better than the major market averages, but that was small consolation for an investor owning more than U.S. equity REITs.
Closing Prices 8/21/15:
DJIA: 16,459.75 -530.94 (-3.12%)
On 6/12/15, VNQ experienced what is called a Death Cross, where the 50 day moving average falls below the 200 SMA line. VNQ Interactive Stock Chart Last Friday, VNQ managed to close just above its 50 day SMA line which was then at 78.12.
Today, VNQ bliew through that 50 day SMA line to the downside and had a greater percentage loss than SPX:
S & P 500 1,893.21 -77.68 (-3.94%)
In a comment made a few weeks ago, I discussed that REITs will generally be positively correlated with major market moves to the downside and consequently will only contribute to the pain during those events. I was referring to how REITs performed when the market last corrected in the 2011 summer: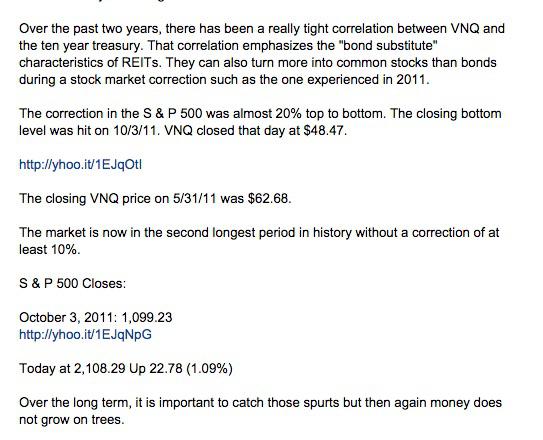 Sourced South Gent Comment at May 1, 2015 4:52 P.M.: Mr. Market Is Trying To Send Us A Message About Omega Healthcare - Omega Healthcare Investors, Inc (NYSE:OHI) | Seeking Alpha
A market meltdown will frequently sever the positive correlation between U.S. REIT stocks and the ten year treasury. There are generally few stocks that withstand powerful downdrafts in major stock indexes. Only a few stocks were supporting the S & P 500's rise earlier this year, and many of them have rolled over including Apple.
AAPL Interactive Stock Chart (death cross coming?)
All of the foregoing purchases were made before the market's meltdown last week.
I will continue to buy U.S. REITs notwithstanding the current turbulence. However, the purchases will be small lots and spaced out in time. I had two below market limit orders today and did not receive fills.
While a number of large U.S. corporations depend in part on China to generate growth that is hard to achieve in developed markets, most publicly traded U.S. based companies could care less about what is happening in that country.
It is not surprising to anyone reading the papers that China's demand for commodities has declined as unnecessary construction projects are no longer the primary fuel for GDP growth.
There are only so many bridges and trains to nowhere and uninhabited cities that can be built before a light bulb goes off and the astronomical misallocation of resources just slows down and comes to a halt.
The Canadian REITs continue to be a drag on this basket's performance.
REIT Basket as of 8/24/15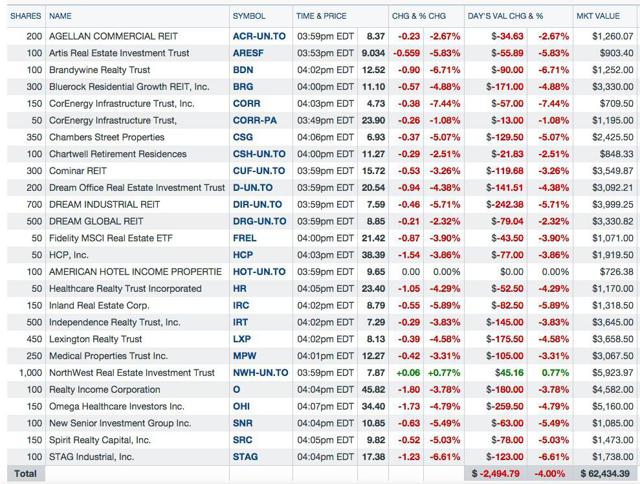 This table does not include reinvested dividends.
1. Bought 100 Stag Industrial at $19.19:
STAG Industrial is a REIT that focuses on single-tenant industrial properties throughout the U.S.
8/24/15: STAG: 17.38 -1.23 (-6.61%)
Investor Presentation June 2015
STAG is in a bear market and has an ugly looking chart, which does not bother me since I was born a contrarian. Those facts will however make me at best a cautious buyer.
The 52 week high was at $27.61. A 20% decline would take the price down to $22.09. STAG went below that price on 4/29/15.
The closing price last Friday was at $18.61 or a 32.6% decline from its 52 week high.
I thought that this REIT was clearly overvalued in the mid-20s. Even my purchase at $19.19 was viewed as being near the top of a fair valuation range.
The anticipated consensus FFO per share is currently $1.48 this year and $1.6 next year. STAG Analyst Estimates
When looking at REIT consensus estimates, those numbers are not based on GAAP earnings but on some measure of cash flow.
Quote: STAG Industrial Inc. (NYSE:STAG)
Company Website: STAG Industrial
Trade Snapshot: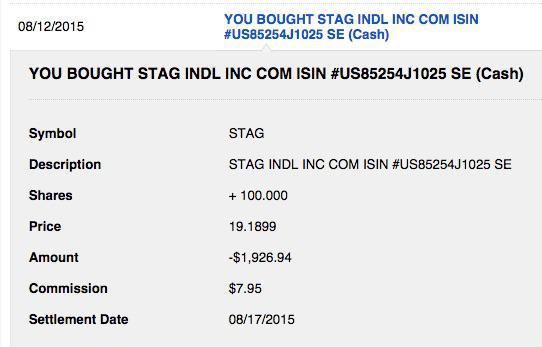 Rationale:
Monthly Dividend and Yield
The dividend yield improves with the price decline. STAG is currently paying a monthly dividend of $.115 per share or $1.38 annually. STAG Industrial- Dividends
So far, STAG has a history of dividend increases since starting to pay as a public company a quarterly dividend of $.26 per share back in 2011 or about $.0867 on a monthly basis. STAG switched to a monthly payout in October 2013.
At a total cost of $19.19 per share, the dividend yield is about 7.19%. That is a good spread to the 10 year treasury yield now. Daily Treasury Yield Curve Rates
As an income investor that wants to generate a stream of cash flow to invest in more income producing securities, the monthly dividend payment is viewed positively. The amount paid by each company is not important in isolation. The overall total and flow are the material considerations.
More Potential for Capital Appreciation After Price Decline:
It may take years for an investor buying STAG stock at $27 to see a positive capital appreciation number. Buying at $19 rather than at $27 improves my odds that a long term hold will improve my total return from both dividends and capital appreciation in the shares.
That sounds like a simpleton type of statement.
Yet, in practice, that observation is certainly ignored by many investors including those who contributed to the unsustainable stock price parabola in 1999. The statement is based on the premise that investors who pay attention to valuation improve their odds of creating acceptable total returns over long periods of time compared to those who do not.
Part of the price decline is attributable to a host of recent downgrades by brokerage firms.
I do not have access to those reports, but would add this general observation about the youngsters who write most of them. When the stock is going up, they will have buy ratings. When the stock goes down a lot, they will change their rating to neutral or sell. And, then when the price goes back up a lot, they will change their ratings back to buy. Some of them may have common sense, good judgment and extensive knowledge on the pertinent subject matter, but it is difficult for an individual investor to separate the wheat from the chaff. 19 Bible verses about Chaff
One concern was a $2.645M impairment charge announced in the last quarterly earnings report. There was a $2.8M impairment charge in the 2014 4th quarter. STAG Industrial Announces Full Year And Fourth Quarter 2014 Results (look under "expenses" in the consolidated balance sheet)
The general fear is the cockroach hotel syndrome. Where there is one, there must be others. Two of those pests have popped up in just the past year.
This table is the guts of the earnings release and shows the calculations of "core FFO" and AFFO: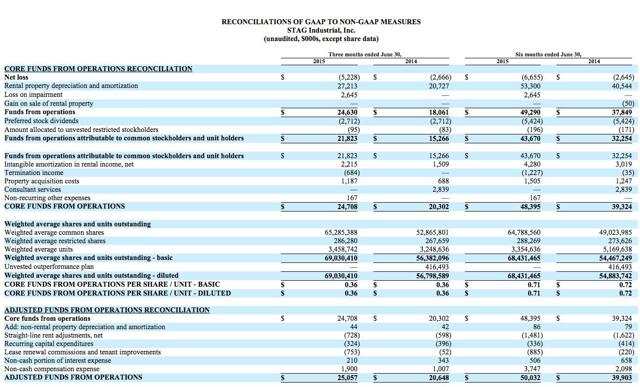 Sourced: SEC Filed Press Release; see also 10-Q for the Q/E 6/30/15
STAG Q2 2015 Results - Earnings Call Transcript | Seeking Alpha
I thought that this Motley Fool article was a good discussion of that second quarter report. One problem highlighted in that article is the constant stream of new share issuances through STAG's ATM program or in a public offering. STAG does report ATM sales periodically: STAG Industrial Announces ATM Activity For July 2015; STAG Industrial Announces ATM Activity For June 2015 And Second Quarter 2015
StAG has a public share offering in October 2014 at $21.2 per share: Prospectus After the underwriting discount, STAG received $20.299 in proceeds before its expenses. That was not an optimal time for a share offering.
Other Recent News:
STAG Industrial Announces Credit Rating Upgrade To BBB From Fitch Ratings
STAG Industrial Announces Acquisition Activity And Leasing Activity For July 2015
Brad Thomas published an article about STAG asserting his opinion that the shares were then "Grossly Mispriced". That article was published on 7/29/15. The shares closed at $19.05 that day: STAG Historical Prices I would not agree with him that $19.05 is a gross mispricing. I characterized it as the top end of what I would consider a fair value range. Somewhere around 8 times estimated 2015 core FFO would be grossly mispriced based on reasonably foreseeable economic conditions. That would be a $11.84 price. If I get a bit giddy, I might go up to 10 times for the "grossly mispriced" characterization, which would give me a $14.8 price. A fair valuation range in core FFO would be 12 to 14 times 1.48 or $17.76 to $20.72.
STAG discusses risks incident to its operations starting at page 12 of its 2014 Annual Report: 10-K
I will consider a 50 share average down in the $14 to $15 range.
2. Added 50 IRC at $9.56-Satellite Taxable
Inland Real Estate (NYSE:IRC) is a self-advised and managed small REIT that owns retail centers, primarily in the Chicago and Minneapolis MSAs. IRC owned interests in 135 properties with 15M square feet of leasable space as of 6/30/15. The company is expanding into the Southeast. Corporate Profile
Pictures of Recent Acquisitions
Pictures of Dispositions
Company Website: Inland Real Estate
Inland Real Estate Profile Page at Reuters
Inland Real Estate Key Developments Page at Reuters
Quote: Inland Real Estate Corp. (IRC)
Trade Snapshot-Satellite Taxable: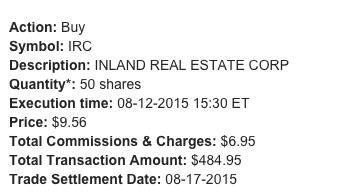 The 52 week high was at $11.73. A 20% decline from that price would be at $9.38. Last Friday's action established a new 52 week low at $9.24.
Both a five year and ten chart reveals a bottom formation in the $6.75 to $7 range during the 2009 spring and the 2011 stock market correction period.
The dividend is paid monthly at the current rate of $.0475 cents per share. Inland Real Estate Corporation Pays August and Declares September Cash Distribution to Common Stockholders
At that rate, and assuming a total cost per share of $9.56, the yield is about 5.96%. I am reinvesting the dividend.
I view this REIT's dividend history negatively for two reasons. First, there was a monthly dividend slash from $.08167 to $.0475, effective for the May 2009 payment. Second, the dividend has not been raised since that slash
If the stock decline to $8.5 to $8.75, which almost happened today, I will then consider another 50 share add. I may then sell my highest cost shares near the same price as my last liquidation: Item # 1 Sold 206+ IRC at $10.945 (12/11/14 Post)
I discussed this REIT when I bought those shares: Item # 3 Added 50 IRC at $9.93 (10/11/14 Post); Item # 6 Bought 150 IRC at $10.35 (3/3/14 Post)
I am now buying shares at below my previous lowest purchase price, with those shares sold at close to $11.
Closing Price 8/24/15: IRC: $8.79 -0.55 (-5.89%)
Last Earnings Report: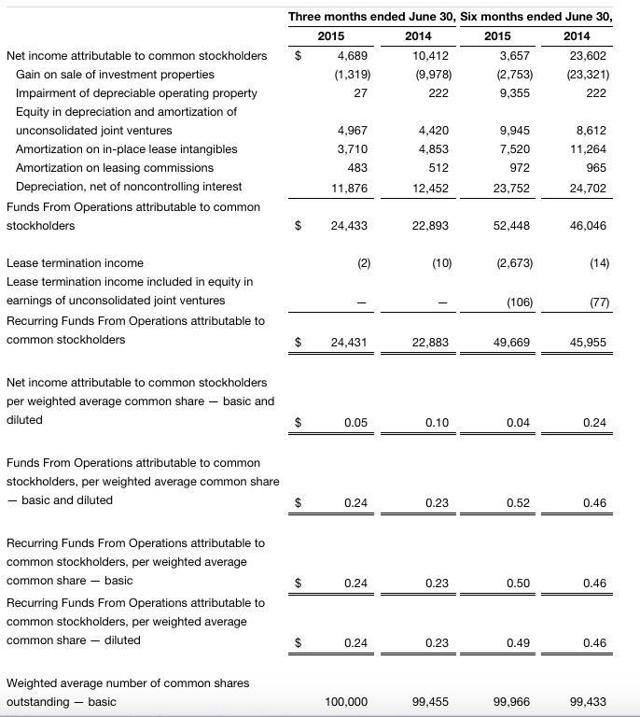 If I annualize the recurring funds from operations number, that gives me $.96 or less than 10 times that cash flow number at a $9.58 price.
Q2 2015 Results - Earnings Call Transcript | Seeking Alpha
Risks incident to IRC's operations are discussed starting at page 7 of IRC's 2014 Annual Report: IRC-12.31.2014-10K
3. Bought 100 SNR at $11.72:
This is a new stock for me.
Quote: New Senior Investment Group Inc. (NYSE:SNR)
SNR is an externally managed REIT that owns senior housing properties. As of 6/30/15, SNR owned 124 properties located in 32 states. The REIT is managed by an affiliate of the Fortess Investment Group.
The 52 week high was at $20.2, so the current price is well within bear market territory.
Again, that fact will not dissuade me from making a buy since I am after all Mr. Anti-Momentum to the Upside Investor-a natural born contrarian. It will make me cautious however.
Trade Snapshot:
Quote: New Senior Investment Group Inc (SNR)
Company Website: New Senior Investment Group
Property Map: New Senior Investment Group
SNR became a public late in 2014, as described at page 5 of this 10-Q.
Last June, the company sold 20.114+M shares of common stock at $13.75.
Rationale:
Dividend Yield: SNR is currently paying a quarterly dividend of $.26 per share or $1.04 annually. At that rate, and assuming a total cost per share of $11.72, the dividend yield is about 8.87%.
Some Potential For Capital Appreciation:
After the price was smashed, I became interested in starting a position.
The company reported "normalized" funds available for distribution at $19.1M for the second quarter or $.28 per share. If I assume 4 quarters at that rate or $1.12 per share, then Price to FAD (funds available for distribution) is 10.46. The normalized FFO per share number for the second quarter was higher at $.36 per share, as was the AFFO number at $.3. I will use the FAD number as the better real cash flow number. When buying a REIT, I participate in the FAD through dividend distributions and hopefully dividend growth. The payout of $.26 per share consumed about 93% of the second quarter's FAD. I would prefer a more comfortable margin.
SEC Filed Earnings Press Release
This is how the company calculates FFO, AFFO and FAD: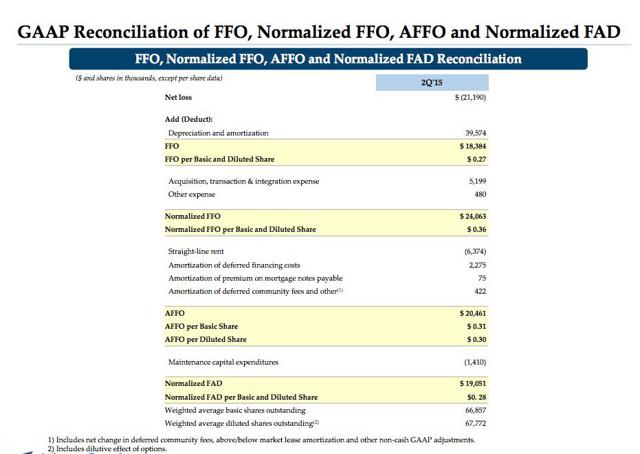 Properties: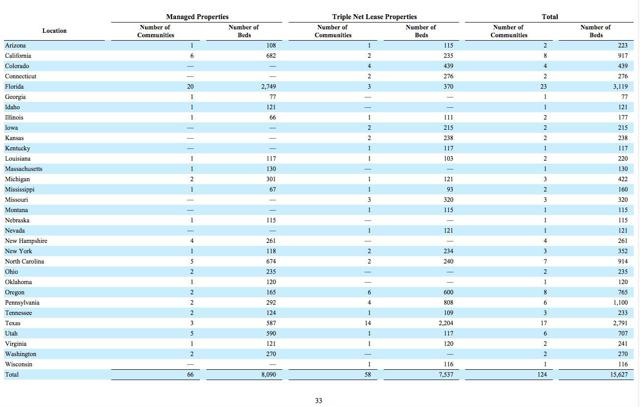 Mortgages:

Snapshots Sourced From: SNR-2015.6.30-10-Q and Second Quater Investor Presentation
The company discusses risk incident to its operation starting at page 43 of the previously linked 10-Q.
A Brad Thomas Seeking Alpha article about SNR was helpful and worth the read for anyone interested in this REIT.
There are concerns about a glut developing in senior housing: Senior Housing Forum Occupancy levels are trending down in the aggregate: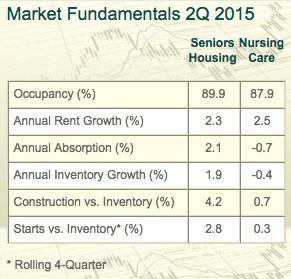 Senior Housing | National Investment Center for Seniors Housing & Care
Article Titled "Seniors Housing Occupancy Slips for Second Consecutive Quarter as Inventory Growth Exceeds Demand" (noting that the highest number of new units ready for occupancy was the highest in the past six years)
SNR is significantly below the aggregate occupancy number for its managed portfolio at 86.2%, and slightly above for its triple net lease portfolio as of 6/30/15 at 90.4%:

I have seen a large number of these communities built near HQ over the past few years. The closest one requires a $300,000 entrance fee (partly refundable based on subsequent events) and about $5,000 a month. When I read a story in the Nashville Tennessean about those numbers, I had to ask myself how many senior households can afford those payments over their life expectancies or possibly up to 10 or even 20 years beyond that average?
Links to other recent news items:
New Senior Announces Completion of $640 Million Acquisition of Independent Living Assets and related release Walker & Dunlop Closes $465 Million Financing for New Senior Investment Group
New Senior Announces Completion of $435 Million Senior Housing Acquisition and Closing of $670 Million Freddie Mac Financing
Levin Capital Strategies, L.P.: Schedule 13D: 5.38% Stake
My next purchase will be in the Roth IRA. I will consider buying a 50 share lot in the $9.75 to $10.5 range.
Close Today: SNR: $10.85 -0.63 (-5.49%)
We are now seeing one reason why I buy small lots rather than taking a full position in one purchase. None of recent stock purchases are working, which is an understatement, and not unexpected given the swiftness and the intensity of the current decline.
4. Medical Properties Trust: Quote: Medical Properties Trust Inc. (NYSE:MPW)
Brad also published an interview with the CEO of MPW.
Time To Capitalize On Mispriced Shares Of Medical Properties Trust? - Forbes
8/24/15: MPW: $12.27 -0.42 (-3.31%)
At least with equity REITs, I receive some monetary compensation for taking equity positions.
Disclaimer: I am not a financial advisor but simply an individual investor who has been managing my own money since I was a teenager. In this post, I am acting solely as a financial journalist focusing on my own investments. The information contained in this post is not intended to be a complete description or summary of all available data relevant to making an investment decision. Instead, I am merely expressing some of the reasons underlying the purchase or sell of securities. Nothing in this post is intended to constitute investment or legal advice or a recommendation to buy or to sell. All investors need to perform their own due diligence before making any financial decision which requires at a minimum reading original source material available at the SEC and elsewhere. Each investor needs to assess a potential investment taking into account their personal risk tolerances, goals and situational risks. I can only make that kind of assessment for myself and family members.
Disclosure: I am/we are long MPW, SNR, IRC, STAG.