Closing Prices 9/10/15: Bonds Drifted Down Some
PFF: $38.82 -0.05 (-0.13%) : iShares US Preferred Stock ETF
JNK: $37.08 +0.07 (+0.19%) : SPDR Barclays High Yield Bond ETF
LQD: $115.53 -0.24 (-0.21%) : iShares Investment Grade Corporate Bond ETF
PGF: $18.26 -0.02 (-0.11%) : PowerShares Financial Preferred ETF
PFXF: $19.77 -0.02 (-0.11%) : Market Vectors Preferred Securities Ex Financials ETF
VRP: $24.33 +0.01 (+0.02%) : PowerShares Variable Rate Preferred ETF (the fixed to floating rate preferred stock IBKCP, discussed in Item #3 below, would be an appropriate purchase for this ETF)
++++++++++++++
The last update was published here: Update For Bond And Preferred Stock Basket Strategy As Of 8/28/15 - South Gent | Seeking Alpha
The following table includes only exchange traded securities. I do not have a table showing my existing $1,000 par value bonds bought in the bond market: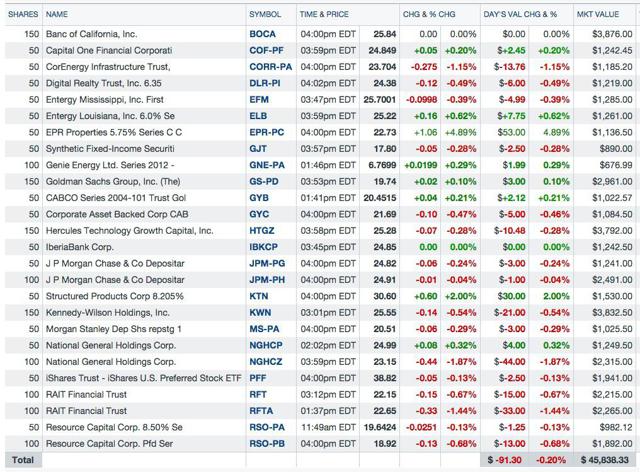 I briefly discuss the categories of exchange traded bonds in this Update: Update For Bond And Equity Preferred Stock Basket Strategy As Of 7/31/15 - South Gent | Seeking Alpha
I have become a slither more optimistic about interest rate risks and consequently have started to add a few fixed coupon preferred stocks and junior bonds with long maturities.
Most of that assessment is based on the crash in commodity prices, an emerging economic slowdown in emerging markets, and the significant loss in value of EM currencies against the USD which has the effect of exporting deflationary pressures into the U.S. Wage pressures are probably the most important countervailing force at the moment, but that could subside with the arrival of a modest recession within the next year or two.
The break-even spreads in U.S. 5, 10, 20 and 30 year TIPs show no indication of problematic inflation returning to the U.S. To the contrary, those spreads are predicting a prolonged period of below average inflation numbers.
The break-even spread is the market's prediction of the average inflation rate. It represents the annual average inflation number for the buyer of a TIP to break-even with the buyer of a non-inflation protected note with the same maturity.
5-Year Breakeven Inflation Rate-St. Louis Fed
10-Year Breakeven Inflation Rate- St. Louis Fed
20-year Breakeven Inflation Rate-St. Louis Fed
30-year Breakeven Inflation Rate-St. Louis Fed
Those future predictions will of course change based on incoming data and need to monitored by fixed income investors.
I am going to use my new account at Interactive Brokers to buy some income generating securities. The commission rate is $1. Importantly, once I build up the cash flow stream in that account, I can cost effectively reinvest the income to buy more of the same.
1. Bought 50 DLRPRI at $24.59-ROTH IRA: This security is an equity preferred stock issued by the REIT Digital Realty Trust Inc. (NYSE:DLR).

Quote: Digital Realty Trust Inc. 6.35% Cumulative Preferred Series I (NYSE:DLR.PI)
DLR owns and manages technology related real estate (e.g. data centers)
DLRPRI is an equity preferred stock that pays cumulative and non-qualified dividends at the fixed coupon rate of 6.35% on a $25 par value.
Digital Realty Announces Closing Of 6.350% Series I Cumulative Redeemable Preferred Stock (8/24/15)
At a total cost of $24.59 per share, the dividend yield is about 6.46%.
This preferred has an investment grade rating of Baa3 from Moody's and a high junk rating of BB+ from S & P.
Moody's reaffirmed its ratings in July: Moody's
The DLR senior unsecured bonds are one notch higher at Baa2.
An equity preferred stock is senior only to common stock in the capital structure. The owner of DLRPRI has a preference right to DLR's income compared to common share owners. That preference right is enforced by what I call a Dividend Stopper Clause in the Prospectus:

This typical Dividend Stopper Clause prevents DLR from deferring the cumulative preferred stock dividend while paying a cash common share dividend or using "any consideration" to buy common shares.
For as long as DLR pays any cash dividend to the common share owners, it has to pay the preferred stock dividends in full.
The REIT preferred shareholder will consequently be paid their dividend for as long as the common share owners receive any cash dividend.
If the DLRPRI dividend is legally deferred, it accumulates and no interest is paid on the deferred amount, unlike the trust preferred security that is a junior bond and senior in priority to equity preferred stocks.
In the event of a "change in control", as defined in the prospectus, DLR has the option to redeem the preferred stock at its $25 par value plus accrued dividends. (page S-32). A failure to redeem as provided in the prospectus will trigger the preferred share owner's right to convert into common shares. The formula is spelled out in the prospectus and occurs on the "Change of Control Conversion Date".
The Change of Control provision is for the preferred shareholder's protection. Preferred shares do not represent an ownership interest in the business. Without that provision, a leveraged buyout of the common shareholders would leave the preferred shareholders with no recourse except to sell their shares at whatever price is available in the open market or to keep them. The open market sell could be at less than par value due to the then prevailing interest rate environment or to the credit risks created by the Change of Control. The end result could be what happened to the Innkeepers Trust preferred shareholders who first saw their share delisted from the exchange and then become worthless after the company filed for bankruptcy. Change of control provisions became common in REIT preferred stock prospectuses after that chain of events.
I discuss the Innkeepers debacle here: REIT CUMULATIVE PREFERRED LINKS IN ONE POST/Advantages & Disadvantages
The Current Yield and Yield-To-Worst Comparisons:
DLR has several outstanding equity preferred stocks. All of them pay cumulative dividends, have $25 par values and equal priority in the capital structure, and an optional redemption date 5 years after their respective IPO dates.
How does an investor choose which one to buy?
The first two issue will be current yield at the investor's cost and a yield-to-worst ("YTW") which assumes the issuer will redeem the security on the first day when its optional redemption right comes into being (the earliest call date).
For purposes of this comparison, I will be using the closing prices as of 9/9/15 and the data found at this website: Preferred Stocks Sorted Alphabetically | The Yield Hunter A YTW lower than the current yield indicates that the market price is above par value. DLRPRE closed at $25.81. The 3.75% YTW tells me that the optional redemption date is near in time.
Symbol/Coupon/Current Yield/Yield-to-Worst-Optional Redemption Date
DLRPRE 7% Coupon/ 6.78% / 3.75%- 9/15/16
DLRPRF 6.625% Coupon/ 6.44% / 4.77%-4/5/17
DLRPRG 5.875% Coupon/ 6.08% / 7.33%-4/9/18
DLRPRH 7.375% Coupon/ 6.8% / 4.79%-3/26/19
DLRPRI 6.35% Coupon/ 6.48% / 6.82%- 8/24/20
The investor can not base the decision on the coupon rate since the yields at the market prices are different, as are the optional redemption dates.
The foregoing information presents a conundrum. For me, the best choice is the DLRPRI. Part of that judgment call is based on the likelihood of an optional redemption which makes the yield-to-worst number a more likely future yield than the current yield.
DLRPRI gives me a competitive current yield without the risk of losing principal. The current yield was higher than DLRPRF and DLRPRG.
The two DLR preferred stocks most at risk for a redemption have 7% and 7.375% coupons and have significantly lower YTW yields at 3.75% and 4.79% respectively. The DLRPRE probably has the most redemption risk, based on a reasonable interest rate forecast, since the optional redemption date is one year away and the coupon is 7%. For just an additional .3% in current yield compared to DLRPRI, the investor assumes the risk of a 3.75% YTW.
While the DLRPRG looks tempting from a YTW perspective, it is also the least likely to be redeemed given its low coupon rate of 5.875%. Consequently, I would use the current yield for that one rather than the YTW.
Interest rate risk is always a primary concern for preferred stock owners.
The following chart illustrates what happened to a vintage DLR preferred stock in 2013, when the ten year treasury leaped from 1.66% (5/1/13) to 3.04% (12/31/13). In April 2013, DLRPRG was sold to the public at $25 and this is what happened shortly thereafter: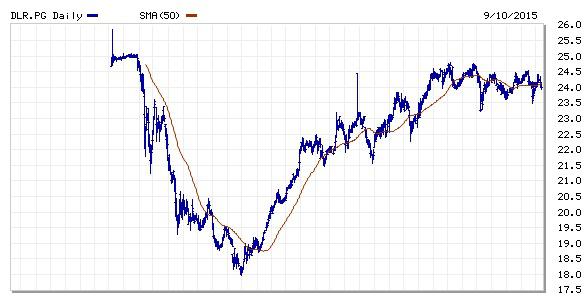 The bottom was hit in December 2013, near the apex of the interest rate spike that year. That downdraft was caused by interest rates moving from an historical extremely low number to a less abnormally low number!
I bought 100 DLRPRG at $19.95 (Item # 6 March 17, 2014 Post)
When I have heightened concern about interest rate risks, my inclination is to dump fixed coupon equity preferred stocks. And, I view all equity preferred stocks to be a disfavored asset category. Their "equity" characteristic is their potentially perpetual character which is not a plus since the equity preferred stock does not represent an ownership interest in the business. The equity preferred shareholder only has their dividend and a priority interest in income superior to common stock owners. The bond characteristics are far more dominant but these securities lack the protections and benefits of bonds, and are inferior to all bonds in the capital structure.
I sold out of DLRPRG too soon at $21.55 (May 2014). I also bought and sold the 7% coupon DLRPRE: Bought 50 DLRPRE at $23.36 (2/25/14). I did a little better on that right, selling out at $25.5:
Roth IRA: Profit $92.37 plus $48.86 in dividends
Total Return: $141.23 or about 12% (holding period 4+ months)

As with any fixed income security with an optional call date reserved to the issuer, usually five years after the IPO date, interest rate risk is asymmetric between the issuer and the owner in favor of the issuer, and the owner bears all of the credit risk. I discuss that risk in more detail in the Appendix.
I also flipped 30 common shares and do not presently have a position in the common. Item # 5 Sold 30 DLR at $64.06, 30 EPR at $55.22-Ongoing Stock Allocation Reduction (8/19/14 Post)(profit snapshot=$303.85)-Bought: 30 Digital Realty (DLR) at $53.4 (3/3/14 Post)
Closing Prices Today:
Recent Earnings Reports:
Digital Realty Reports Second Quarter 2015 Results; DLR 6/30/2015 10-Q
Digital Realty Reports First Quarter 2015 Results
Other Recent News Items:
Digital Realty Announces Pricing Of Common Stock Offering ($68 per share); Prospectus
Digital Realty Announces Pricing of 3.950% Notes Due 2022; Prospectus; FINRA Bond Detail
Digital Realty Announces Redemption of 4.50% Notes due 2015
Digital Realty to acquire Telx (transaction valued at $1.886B)
The company discusses risks incident to its operations starting at page 7 of the 2014 Annual Report. DLR 12.31.14 10K A list of properties as of 12/31/14 can be found starting at page 30.
DLR has a lot of debt that is more senior in priority than its equity preferred stocks. The total was $4.968B as of 6/30/15: Pages 29 and 30 DLR 6.30.2015 10-Q.
2. Paired Trade: Bought 50 NGHCZ at $23.75 (a Roth IRA account) and Another 50 at $23.2 (a new Taxable Account)-and Sold 50 NGHCP at $25 (a Roth IRA account)
Bought 50 of NGHCZ at $23.75:

Bought 50 NGHCZ at $23.2: (Commission $1)

Sold 50 NGHCP at $25:

I intended to sell NGHCP when I had a confirmation of the NGHCZ purchase. However, it took three trading days to sell NGHCP at my $25 limit price.
CLOSING PRICES 9/10/15:
NGHCZ: $23.15 -0.44 (-1.87%)(NGHCZ Historical Prices-Closing price on 8/20/15, first day of NYSE trading, was $24.22, with a high that day of $24.82)
Yield at $23.15=8.23% Junior Bond
NGHCP: $24.99 +0.08 (+0.32%)(NGHCP Historical Prices)
Yield at $24.99: 7.5% Equity Preferred Stock
Junior Bond: National General Holdings Corp. 7.625% Junior Note (NGHCZ)
Equity Preferred Stock: National General Holdings Corp. 7.5% Preferred Stock Series A (NGHCP:NASDAQ)
NGHCZ is a 7.625% junior bond issued by National General Holdings that matures in 2055. On or after 9/15/2020, the issuer has the option to redeem at the $25 par value plus accrued and unpaid interest. At $25, the equity preferred stock NGHCP has a yield equal to the 7.5% coupon rate.
Assuming a total cost per share of $23.75 , the junior bond's yield is about 8.03%. ($25 x. .07625%=$1.90625 annually for one share ÷ $23.75 assumed total cost per share=8.0263%)
When owned in an IRA, the junior bond was clearly mispriced in relation to the equity preferred stock from the same issuer. The difference in the tax rates for interest and qualified dividends is irrelevant when the transaction occurs in a Roth IRA. When the U.S. taxpayer has a greater marginal rate on taxable income than on qualified dividend income, the yield differential will shrink when these securities are owned in a taxable account. The amount will be dependent on the tax differential.
For example, assuming a 30% marginal rate and a 15% cap on qualified dividends, the after tax yield on the junior bond shrinks from 8.03% to 5.62%. The 7.5% yield on the equity preferred is reduced to 6.375% after a 15% tax. The higher priority of the junior bond may not be worth the lower after tax yield for high marginal tax rate investors who still qualify for the 15% qualified dividend rate.
On the other hand, the yield differential remains in favor of the junior bond when owned in a taxable account where the marginal rate is 20%: 6.424% vs. 6.375%. In this hypothetical, why would you buy the lower priority security with a lower yield?
The foregoing is relevant IMO to the initial decision on account ownership for a security and the swap value considerations when owned in a particular account type.
At an 8.03% rate, money doubles in about 8.97 years before inflation. Estimate Compound Interest
In May 2015, A.M. Best affirmed its rating for NGHC's senior unsecured bonds at BBB- and the equity preferred stock at BB.
The junior bond is rated BB+ by A.M. Best.
Quote From Prospectus Priority Status:
"The Notes will be our subordinated unsecured obligations and will rank (NYSE:I) senior in right of payment to any future junior subordinated debt, (ii) equally in right of payment with any unsecured, subordinated debt that we incur in the future that ranks equally with the Notes, and (NASDAQ:III) subordinate in right of payment to any of our existing and future senior debt, including amounts outstanding under our $135 million revolving credit facility (the "revolving credit facility") and our 6.75% senior notes due 2024 with an aggregate principal amount outstanding of $250 million"
Interest will be paid quarterly. However, there is no right to accelerate for a failure to pay interest: "If we default in the payment of principal or interest on the Notes or we fail to perform any other covenant in the indenture, the holders of the Notes have no right to accelerate the maturity of the Notes and declare the Notes immediately due and payable." The right of acceleration exists only for a "bankruptcy, insolvency, reorganization or receivership of us or a Significant Subsidiary."
Risks relating to the notes are discussed starting at page S-11 of the Prospectus. There is no right reserved to the issuer to defer payment. A failure to pay interest when due, which is not cured within 30 days, is a "default".
Company Description: I discuss National General recently when I purchased a 50 share lot of NGHCP, its 7.5% equity preferred stock.
Item # 2 Update For Bond And Preferred Stock Basket Strategy As Of 8/28/15 - South Gent | Seeking Alpha
I have nothing to add to that discussion here.
Rationale: The junior bond has a higher yield than the equity preferred stock based on the market prices. That is evident by simply looking at the coupons and the prices. The junior bond has a .125% higher coupon and a $1.25 per share lower price than the more junior equity preferred stock.
That is a pricing anomaly in favor of buying the junior bond and selling the equity preferred stock-at least in the Roth IRA account.
The dividend payable by the equity preferred stock can be deferred by the issuer after it eliminates a cash dividend and provided further the issuer avoids using cash to buyback common stock. The junior bond's interest payments can not be deferred short of a bankruptcy.
The junior bond has a higher claim to assets than the common and equity preferred stocks in the event of a BK, but will be junior in priority to senior unsecured and secured debt.
So, I picked up more yield from a security higher up in the food chain by switching to the junior bond from the equity preferred stock.
I still own 50 share of the equity preferred stock bought in a taxable account. Equity Preferred Stocks-Bought 50 NGHCP at $24.3- South Gent | Seeking Alpha (10/24/14 Post). I now intend to sell those shares when and if the price falls into a $25 to $25.25 range and to keep the NGHCZ shares bought in another taxable account at $23.2.
I sold the 50 NGHCP shares recently bought in a Roth IRA at $24.6, realizing an inconsequential gain on the shares ($5.98).
3. Bought 50 IBKCP at $24.86
I recently opened and funded an Interactive Brokers' account. IBKCP was bought in that account and a $1 commission was charged by that broker:

IBKCP is an equity preferred stock issued by IberiaBank (NASDAQ:IBKC) that pays non-cumulative and qualified dividends at a 6.625% fixed coupon rate on a $25 par value to 8/1/2025. If not redeemed on or after 8/1/2025, this security will then transition to a floating rate preferred stock whose coupon will be the 3 month Libor rate plus 426.2 basis points.
Dividends are paid semi-annually.
IBERIABANK Announces Pricing of $75 Million Preferred Stock Offering
Change of Control: None
Dividend Stopper Clause: S-6 summary; S: 24-25
IBKC did not cut its common share dividend during the recent Near Depression or its aftermath. The quarterly dividend rate of $.34 became effective in the 2007 second quarter and has remained unchanged since that time. IBKC Dividend History To eliminate a non-cumulative preferred dividend, IBKC would first have to eliminate its common share dividend.
Company Description: IBKC is a regional bank that is based in Lafayette, Louisiana. (HQ: 285 W Congress St - Google Maps). IKBC is the holding company for IBERIABANK that has 225 bank branch offices located in Louisiana, Arkansas, Tennessee, Alabama, Texas, Florida and Georgia. It also has 23 title insurance offices and 8 locations for its IBERiA Wealth Advisors. About IBERIABANK It has the #1 market share in "Acadiana" which is the cajun speaking region in Lousiana.
Recent Earnings Reports: IBKC reported second quarter net income available to common shareholders of $30.8M or $.79 per share.
"The Company completed the acquisition of Georgia Commerce Bancshares, Inc. ("Georgia Commerce") on May 31, 2015. On that date, Georgia Commerce had total assets of $1.0 billion, gross loans of $808 million, total deposits of $908 million, and nine bank offices serving the Metro Atlanta market."
NIM: 3.52%
Efficiency Ratio: 65.3%
ROA: .89%
ROTE: 11.14%
NPA Ratio: .54%
Past Due Loans to Total Loans: .78%
Tangible Book Value Per Share: $39
Total Capital Ratio (NYSE:LOW) at 11.47% (may explain the equity preferred share offering)
IBERIABANK Corporation Reports Second Quarter Results -- LAFAYETTE, La., July 22, 2015
Q2 2015 Results - Earnings Call Transcript | Seeking Alpha
The current consensus E.P.S. estimate is $4.24 this year and $4.86 next year. IBKC Analyst Estimates
The company discusses risks incident to its operations starting at page of the 2014 Annual Report.
I am not likely to buy more of IBKCP due to this bank's significant energy loan exposure:
Quote From Earnings Release:
"Energy-related loans outstanding totaled $788 million at June 30, 2015, down $32 million, or 4%, compared to March 31, 2015, and equated to approximately 5.6% of total loans. Loans to exploration and production companies accounted for 48% of energy loans outstanding and 54% of energy commitments at June 30, 2015. Midstream companies accounted for 18% of energy loans and 16% of energy commitments, and service company loans accounted for 34% of energy loans and 30% of energy commitments. At June 30, 2015, only $1.3 million in energy loans were on non-accrual status and one energy loan totaling $3.4 million that was past due greater than 90 days at quarter-end, but was subsequently brought current after quarter-end. The Company's outlook regarding the energy portfolio remains consistent with prior expectations. Additional information regarding the Company's energy loan and commitment exposure is provided in the supplemental investor presentation."
This is the link to the SEC Filed Investor Presentation: SEC
4. Bought 50 COFPRF at $24.84: COFPRF is a preferred stock issued by the large financial services company Capital One Financial Corp. (NYSE:COF).
Trade Snapshot:

Quote: Capital One Financial Corp. 6.2% Non-Cumulative Preferred Stock Series F (COF.PF:NYSE)
COFPRF is an equity preferred stock that pays non-cumulative and qualified dividends at a 6.2% fixed rate on a $25 par value. Capital One has the option to redeem at par, plus accrued and unpaid dividends, on or after 12/1/2020.
Prospectus: Prospectus Supplement
Dividend Stopper Clause: S-5 to 7
Risk factors relating to the preferred stock are discussed starting at page S-10 of the prospectus.
COFPRF has been trading on the NYSE since about 8/18/15. Sometimes, there is a pricing discrepancy between newer preferred shares and more vintage ones that provides a swap opportunity for an investor owning the older preferred stock.
In addition to a potential yield differential based on cost, another potential advantage may be the longer optional call date for the newer issue, which could come into play with further declines in interest rates from present levels when the optional dates come around or an improvement in Capital One's credit rating, or some combination of those two factors that would give COF an incentive to redeem at par when it can legally do so.
Capital One has several older preferred stocks outstanding.
The oldest one is the Series B, with a 6% coupon, a 2012 IPO date and consequently an optional call date in 2017. Capital One Financial Corp. Preferred Series B (COF.PP:NYSE). That one closed at $24.7 on 9/9 compared to a $24.8 close for COFPRF that has a 6.2% coupon and a 2020 optional call date.
The Capital One Series C preferred share has a 6.25% coupon and a September 2019 optional call date. It closed at $25.21 on 9/9.
Comparing those three preferred stocks issued by Capital One and using the 9/9 closing prices, I come up with the following yields:
Coupon/Symbol/Yield at 9/9 Closing Price
6.2% COFPRF 6.25%
6% Series B COFPRP 6.07%
6.25% COFFPRC 6.2%
I do not own COFPRC. If I had bought that one under its $25 par value, and it was selling at over par, I would at least occasionally consider a swap into COFPRF. However, the current yield differential would not be enough with only a 15 month difference in the optional call date.
I would want more of a yield differential than what exists as of 9/9, factoring into a judgment call my commission cost, the number of shares owned, the potential benefits of the differing optional call dates, the possible lower YTM than current yield when the preferred stock sells at a premium to par, and the potential tax liability resulting from selling COFPRC to buy COFPRF or any other swap of functionally equivalent preferred stocks issued by COF.
By functionally equivalent, I am referring to securities that have a common issuer, the equivalent place in the capital structure the tax character of the distribution, and whether the distribution can be eliminated or deferred under certain conditions.
All of COF's equity preferred stocks pay qualified and non-cumulative dividends and have the same status in the capital structure. The credit risk is consequently the same for all of them.
The only material differences between them is the YIELD at the Investor's Cost, the potential differences in current yield and yield to maturity depending on the exercise of the issuer's redemption right, and the length of time an investor is protected against an optional call when interest rates are declining. In the event rates are rising materially, and it would make no sense for the issuer to call, then the optional call provision would not come into play; and the preferred share owners would most likely be in the same sinking boat as the market price adjusts downward to account for the higher rates.
The swap trade requires less of a yield spread differential when the transactions occur in a IRA and the commission cost is $1 per transaction.
Recent Earnings Reports:
Capital One Reports Second Quarter 2015 Net Income of $863 million, or $1.5 per share
Commentary on Second Quarter: Market Realist; Bloomberg Business
Capital One Reports First Quarter 2015 Net Income of $1.2 billion, or $2 per share
Other Recent News:
Capital One to Acquire GE Capital's U.S. Healthcare Finance Unit 8/11/15
Capital One is currently paying a common share dividend, which would have to be eliminated before eliminating the non-cumulative preferred stock dividend.
Capital One Announces Quarterly Dividend ($.40 per share)
Capital One - Investor Relations - Dividend Information
COF's senior unsecured bonds are rated Baa1 by Moody's, BBB+ by S & P and A- by Fitch.
Quantumonline shows the COF preferred stocks rated at Baa3/BB. I did not attempt to confirm.
A low level investment grade or a high level junk grade for a COF equity preferred stock would be consistent with those senior unsecured bond ratings.
On the date of my trade, COF had a 2.3% senior unsecured bond maturing in June 2019 that closed at almost 101 creating a YTM of 2.09%: Bonds Detail
A 3.375% senior unsecured bond maturing in 2023 closed that day with a 3.95% yield. Bonds Detail
5. Linn Bonds: The closing prices today are consistent IMO with a near certain bankruptcy filing prior to May 2019 and a low recovery value for senior unsecured bond owners somewhere in the 15 to 30 cent range per dollar in par value.
Linn 6.5% Senior Unsecured Bond Maturing in March 2019 Bonds Detail YTM Almost 40% Per Year to Maturity-Priced at about 38 cents per $1 in par value.
Linn 8.625% Senior Unsecured Bond Maturing in 4/15/2020 Bonds Detail
The Berry Petroleum 6.375% maturing in 2022 remains way of whack with the bonds originally issued by Linn Energy: Bonds Detail
YTM assumes that LINN survives to pay off the principal at maturity and to make all interest payments. The bond bookies are saying loud and clear that is not going to happen and have assigned a very high probability to a BK and a low recovery in a BK for the senior unsecured bond owners.
The bond pricing is not consistent with the pricing of the common units. The bond bookies are in effect saying that the common units are highly likely to become worthless.
Closing Price 9/10/15: LINE: $3.50 -0.02 (-0.57%)
This is not to say that the bond ghouls have it right. Sometimes, they tend to be herd followers who engage in group think, just like stock investors. However, I would say that the odds favor that their directional opinion is at least more likely than not based on what is known now. 40% annual returns do not grow on trees.
I have about $2,500 invested in Linn bonds. I have not owned the common units since 2010. I had previously traded the Linn bonds successfully before buying the 4 that I currently own. Those transactions are discussed here: Update For Bond And Equity Preferred Stock Basket Strategy As Of 7/31/15 - South Gent | Seeking Alpha I have realized gains in Linn securities equal to about 1/2 of my current out-of-pocket exposure to the bonds.
Appendix:
1. Exchange Traded Bonds and Preferred Stocks: Asymmetric Interest Rate Risks:
These exchange traded securities have optional redemption rights reserved to the issuer. The price for redemption is par value plus accrued dividends or interest. That option can generally be exercised five years after the IPO data.
When interest rates are declining, and the issuer can refinance at a lower rate, then it becomes more likely that the security will be called away from its owners. A huge number of securities have been redeemed early over the past several years leaving investors with cash to invest at lower coupon rates.
Generally, the cash proceeds from a redemption could only be invested in a similar security with a lower yield due to the declining interest rate environment that sparked the redemption in the first place.
The optional call right caps the appreciation potential over par value when interest rates are declining.
The even more unfavorable scenario is probably a prolonged and persistent rise in rates.
In that scenario, the issuers of these exchange traded securities would be content to allow the owners to keep the securities that are declining in price. The investor is then faced with two undesirable options. The owner could sell the security at a loss or keep it and lose the opportunity to invest the funds tied up in the security at higher rates. I simply call that later risk the "risk of lost opportunity", which is a component of interest rate risk.
When evaluated properly, exchange traded fixed income securities which reserve to the issuer an optional redemption right have an inherent asymmetric division of interest rate risk between the issuer and the owner. The owner has all of the credit risk and most of the interest rate risk. The only interest rate risk assumed by the issuer is that rates may fall further after the IPO date, but that risk has a relatively short duration of no more than five years usually.
The optional redemption at par value is to be distinguished with longer dated $1,000 par value bonds that are traded in the bond market that have "make whole" provisions. In a pure make whole clause, the issuer would have to pay the bond owners the sum of all future interest payments and the principal amount discounted to the optional redemption date by using generally a small spread to a treasury security with the same maturity.
The current 20 year treasury rate is about 2.66%: Daily Treasury Yield Curve Rates If the bond matured in 20 years from today with a make whole provision, the penalty associated with an optional redemption would be so high that a redemption would be cost prohibitive. In that way, the bond owner is protected from an optional redemption when interest rates have fallen that would make it economical for the issuer to call without the make whole provision. The bond owner still bears the interest rate risk associated with a rise in rates that causes a decline in price and an increase in yield.
Consequently, a vintage bond with a make whole provision can sell a substantial premium to par value which would not occur when the issuer could take the security away from the owners at par value.
This is a typical make whole provision found in a JNJ prospectus for its 5.85% senior unsecured bond maturing in 2038 which I just selected at random. The most recent closing price was 126.65 creating a YTM of about 4.05%. Bonds Detail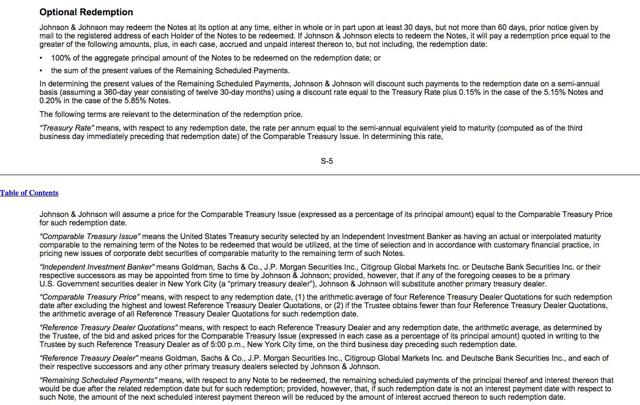 PAGES S: 5-6 Note that JNJ would have to pay the sum of the outstanding principal amount and all remaining interest payments discounted to present value using a .2% spread to the equivalent treasury rate as defined therein. When the discount formula is a small number, which is the case now, that makes the optional redemption sum much larger compared to say using a 5% rate. So, the penalty attached an optional redemption for this JNJ 2035 bond would be huge, making it unlikely that JNJ will elect to optionally redeem this bond in the foreseeable future. Most likely, it would not even become an issue until shortly before the maturity date.
A WMT 7.55% 2030 was sold in 2000 without an optional redemption provision: Prospectus It closed at 141 today. Bonds Detail
Disclaimer: I am not a financial advisor but simply an individual investor who has been managing my own money since I was a teenager. In this post, I am acting solely as a financial journalist focusing on my own investments. The information contained in this post is not intended to be a complete description or summary of all available data relevant to making an investment decision. Instead, I am merely expressing some of the reasons underlying the purchase or sell of securities. Nothing in this post is intended to constitute investment or legal advice or a recommendation to buy or to sell. All investors need to perform their own due diligence before making any financial decision which requires at a minimum reading original source material available at the SEC and elsewhere. Each investor needs to assess a potential investment taking into account their personal risk tolerances, goals and situational risks. I can only make that kind of assessment for myself and family members.