This basket strategy was last updated here: Update For CEF Basket Strategy As Of 9/9/15 - South Gent | Seeking Alpha
I have a lengthy discussion of leveraged bond CEF risks in the Appendix section to an earlier post: Update For Closed End Fund Basket Strategy As Of 8/14/15 - South Gent | Seeking Alpha I will not be repeating a discussion of those risks here.
I view the closed end portfolio to be a balanced worldwide portfolio within a larger portfolio that includes individual stock and bond selections.
I place an emphasis on income generation and own a number of CEFs that pay monthly dividends.
I will change the weightings in the CEF portfolio based on my opinions about the balance between risks and rewards.
I have tilted this portfolio some toward bonds this year, having sold a number of stock ETFs as chronicled in prior updates. It remains to be seen whether this shift will work. It may work simply by going down less than the far more heavily weighted stock CEF allocation from 2013-2014.
Basket as of 9/18/15: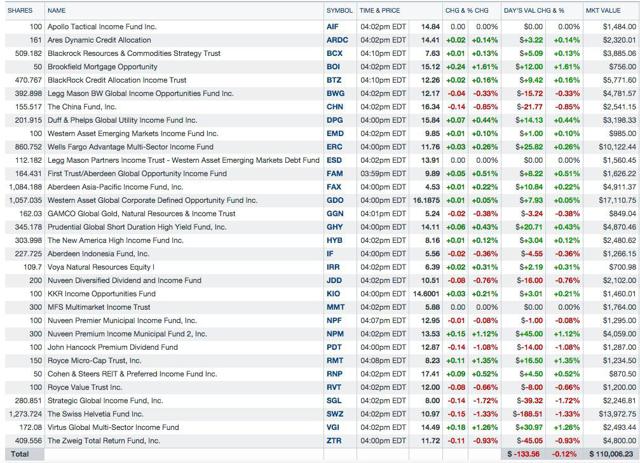 I was satisfied with Friday's performance given what happened in the market. I would have been up but for my significant exposure to the stock fund SWZ.
Closing Prices 9/18/15:
S & P 500 1,958.03 -32.17 (-1.62%)
VIX: 22.28 +1.14 (+5.39%) : VOLATILITY S&P 500
LQD: $116.25 +0.35 (+0.30%) : iShares Investment Grade Corporate Bond ETF
VNQ: $76.30 -0.13 (-0.17%) : Vanguard REIT ETF
LEMB: $40.27 -0.18 (-0.44%) : iShares Emerging Markets Local Currency Bond ETF
IBND: $31.84 -0.30 (-0.93%) : SPDR Barclays International Corporate Bond ETF
JNK: $36.75 -0.18 (-0.49%) : SPDR Barclays High Yield Bond ETF
1. Averaged Down: Bought 100 JDD at $10.75
This is an average down from a recent buy: Update On Closed End Fund Basket Strategy As Of 7/28/15 - South Gent | Seeking Alpha
In that post, I discussed buying back 100 shares at $11.45 with that purchase made just in time for the market's downdraft. I was then buying back shares sold at $12.44 last April and bought at $11.65 last January.
A more detailed discussion of this CEF can be found in a January 2015 Post: Increasing Cash Flow: Bought Back JDD At $11.65 - South Gent | Seeking Alpha
Rationale: Broad Exposure to Four Categories of Income Securities: Senior Floating Rate Loans, Dividend Stocks, REITs and Emerging Market Sovereign Debt; Increase in the Discount, Increase in the Dividend Yield, and Decrease in Price Since Last Transaction; Modestly Successful Prior Trading History (past may not be prologue); Recent Interest Rate Trend Down; Possible Flip Opportunity-SMALL BALL
Trade Snapshot (IB Account $1 commission):

Quote: Nuveen Diversified Dividend & Income Fund (NYSE:JDD)
Sponsor's Webpage: JDD - Nuveen Diversified Dividend and Income Fund
Last SEC Filed Shareholder Report: Nuveen Diversified Dividend and Income Fund (period ending 6/30/15)
As of 6/30/15, the total cost of investments was $342.789+M and the market value then was $381.48+M.
The fund had a foreign currency gain of $8.288+M.
Borrowing Costs:

Data from Date of Purchase:
Closing Net Asset Value Per Share: $12.54
Closing Market Price: $10.72
Discount: -14.51
Average Discounts:
1 Year -11.88%
3 Years -9.12%
5 Years: -8.41%
Sourced From: CEFConnect
The five year number above has been impacted by the higher than normal discount over the past two years.
The JDD discount closed last Friday at -15.79%.
The expansion in the discount is a known risk inherent in CEF ownership. The flip side is that the discount can narrow after purchase. For several months, the general trend in CEF land has been an increase in the discounts with many funds now selling at well above the averaged discounts for the past 1, 3 and 5 years which is the case now for JDD.
The worst discount expansions have been in USD priced CEFs that own emerging market and other foreign bonds. That is primarily due to their net asset value downdrafts caused by the U.S. Dollar's strength and an exodus from EM stocks and bonds due in large part to the decline in EM currencies.
One of JDD's four asset categories is emerging market sovereign debt. EM debt priced in USDs has been the best performing bond category over the past ten years ending in 2014. That data can be found at page 41 of J. P. Morgan's last quarterly market update which can be downloaded here: J.P. Morgan Funds - Guide to the Markets EM debt price in USDs or in local currencies have been the top category in 2005, 2006, 2007, 2010, 2012 but EM debt priced in local currencies has been at the bottom YTD and 3 out of the last four years. It is a feast or famine kind of thing.
JDD's exposure to REITs have been a plus most of the time but that category has had a tough 2014, though last week was a good one.
I use the low cost Vanguard REIT ETF (NYSEARCA:VNQ) as a proxy for REIT exposure:
Vanguard REIT ETF (VNQ) Total Returns
VNQ was up 3.11% over the past week ending last Friday but still down -4.28% YTD on a total return basis.
A proxy for senior bank loans, another JDD income category, is the ETF BKLN that has not been doing much of anything on a total return basis lately. PowerShares Senior Loan ETF (NYSE:BKLN) Total Returns
Dividends: The fund went ex dividend shortly after my purchase for a $.27 per share quarterly distribution.
At that rate, the dividend yield is about 10.05% at a total cost per share of $10.75.
Trading History:
The most recent disposition was not discussed in any post and that got me confused in my prior discussion about my JDD trading history. I have now straightened it out.
Sold 100 JDD at $12.44 (4/30/15)-Increasing Cash Flow: Bought Back JDD At $11.65 - South Gent | Seeking Alpha (1/7/15 Post)
Profit: $66.07

Continued Paring Interest Rate Risk: Sold 100 of the CEF JDD at $12.45-Roth IRA(snapshot of Profit $66.98)-Bought 100 JDD at $11.64 in Roth IRA (4/12/14 Post)
Item # 4 Sold 150 JDD at $12.25 (7/19/14 Post)(profit snapshot=$66.25 + one quarterly dividend)-Item # 3 Bought 150 JDD at $11.7 in Taxable Account (4/12/14 Post)(contains snapshots of prior trading gains of $430.98)
Bought 100 JDD at at $11.64 in Roth IRA (4/12/14 Post)
Item # 4 Sold CEF JDD at $11.28 (July 22, 2011 Post)-Item # 6 Bought 100 JDD in Roth at $8.4 (August 2009 )and Item # 5 Added to CEF JDD at $9.45 (October 23, 2009 Post)
Item # 4 Sold 70 of 170 of JDD-Roth IRA (2/26/2010 Post)(part of 100 share lot bought at $8.4 August 2009)-Item # 6 Bought 100 JDD in Roth at $8.4
Sold 300 JDD at $11.44 (December 6, 2010 Post)-Bought 300 JDD at $10.95 (September 10, 2010 Post)
Total Trading Gains: $630.28 plus dividends
Disclaimer: I am not a financial advisor but simply an individual investor who has been managing my own money since I was a teenager. In this post, I am acting solely as a financial journalist focusing on my own investments. The information contained in this post is not intended to be a complete description or summary of all available data relevant to making an investment decision. Instead, I am merely expressing some of the reasons underlying the purchase or sell of securities. Nothing in this post is intended to constitute investment or legal advice or a recommendation to buy or to sell. All investors need to perform their own due diligence before making any financial decision which requires at a minimum reading original source material available at the SEC and elsewhere. A failure to perform due diligence only increases what I call "error creep". Stocks, Bonds & Politics: ERROR CREEP and the INVESTING PROCESS. Each investor needs to assess a potential investment taking into account their personal risk tolerances, goals and situational risks. I can only make that kind of assessment for myself and family members.
Disclosure: I am/we are long JDD.