This basket strategy was last updated here: Update For Regional Bank Basket Strategy As Of 9/4/15 - South Gent | Seeking Alpha
On 6/26/15, the 10 year treasury closed at a 2.49% yield and has trended down since that recent high. The close today was at 2.28%.
Daily Treasury Yield Curve Rates
The net interest margin for banks will remain under pressure for the third quarter, a condition that will most likely continue in the 4th quarter as well. Net Interest Margin for all U.S. Banks-St. Louis Fed
I include two ETFs in this basket's table, which I do not own, for comparison purposes. QABA is the closest ETF to my basket. I may start nibbling on some super regionals which would draw me a tad closer to KRE.
First Trust NASDAQ ABA Community Bank Index ETF (NASDAQ:QABA)
SPDR S&P Regional Banking ETF (KRE)
My basket did slightly better today than QABA and slightly worse than KRE which is more heavily tilted in large regional banks.
With any basket strategy, I want to outperform on a total return basis. I can outperform simply by going down or up more based solely on price.
I also view the difference in yields between my bank stocks in my basket and those ETFs as important. The difference is significant. So, when the price appreciation for an annual period is close to those ETFs, I may outperform solely due to a higher dividend yield.
My unrealized gain increased by about $1,175 since my 9/4/15 update. I have pared this basket significantly YTD prior to that last update.
I am not tracking reinvested dividends in this table.
Regional Bank Basket as of 9/15/15: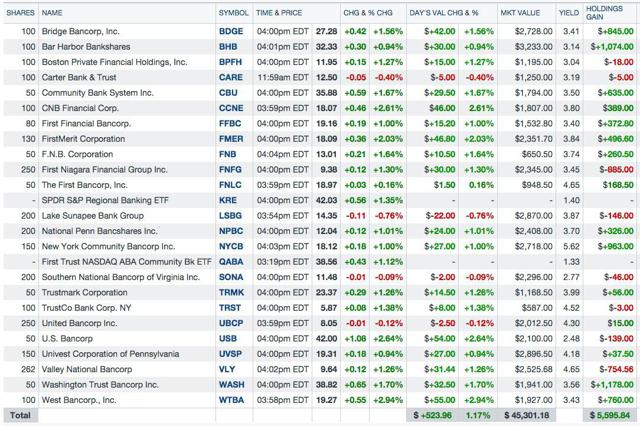 The dividend yield shown in the preceding table is calculated by Yahoo Finance based on today's closing prices. The dividend yield at my total average cost per share will be different. I currently have two banks in the basket that yield over 8% at my constant cost numbers (WASH and NYCB) and a few others that are over 5%.
I have had only one trade since my last update, which is discussed in Item #1 below.
My net realized gain in this basket strategy currently stands at $22,748.96 REGIONAL BANK BASKET STRATEGY GATEWAY POST Snapshots of round trip trades can be found at the end of that post. This basket has generated an annual average $1,917 in dividends over the past 3 years.
1. Averaged Down: Bought 50 BPFH at $11.78
Company Description: Boston Private Financial Holdings (NASDAQ:BPFH) owns Wealth Management and Private Banking affiliates with offices in Boston, New York, LA, San Francisco, San Jose, Atlanta and elsewhere. Our Profile | Boston Private Financial Holdings, Inc.
Boston Private Branch Locations
Mergers & Acquisitions | Boston Private Financial Holdings, Inc.
Trade Snapshot: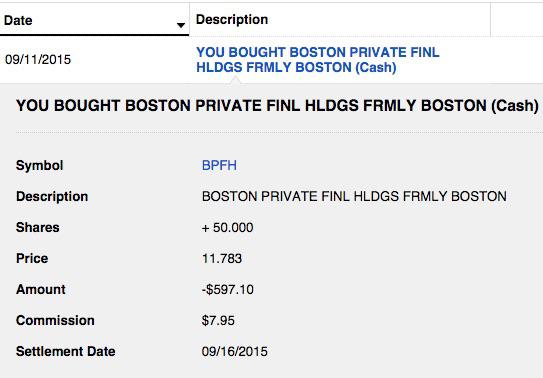 Closing Price Day of Trade: BPFH: $11.84 -0.05 (-0.42%)(day's range $11.67 to $11.91; 52 week range $10.55 to $13.82)
In my most regional bank basket tables, I had failed to include a 50 share purchase of BPFH. I discussed that purchase here: Item # 4 Update For Regional Bank Basket Strategy As Of 8/7/15 - South Gent | Seeking Alpha
This last 50 share lot brings me up to 100 shares as noted in the table reproduced above.
Given this bank's history, a 100 share purchase of its common shares is my maximum limit. Boston Financial also has publicly traded "TARP" warrants that were originally issued to the government in conjunction with the government's purchase of cumulative preferred stock back in 2009. Seeking Alpha; Prospectus SEC Form 424B5
How Does an Investor Judge Management and Board Competence:
For a bank, I want managers and a Board that take prudent risks when making loans and who have a thorough understanding of what has caused previous bank collapses just in my lifetime. The same mistakes are repeated over and over again.
I am not going to rely on some young analyst who had a conversation with the CEO and formed a positive opinion about their competence.
Instead, I will look at how the bank actually performed during the last economic downturn which will expose cowboy risk cultures and frequently reckless lending decisions that are revealed when the good times come to a halt.
BPFH's past problems are highlighted graphically in a long term chart: BPFH Interactive Stock Chart That Yahoo Finance chart starts in February 1994 when the stock was trading in a $2 to $3 price range adjusted for subsequent splits. This stock looks like a real winner until it topped out near $34 in April 2006 (the highest close appears to be $34.86 on 4/18/06).
Many bank stocks topped in 2006 rather than 2007, flashing an early warning signal about what was about to happen to this sector. BPFH then apparently decided to commit suicide jumped off that $34 cliff and crashed head first close to $2-Not Good!
Without even knowing the particulars, a round trip from $2 to $34 and back to $2 indicates an overall lack of competence among both managers and the Board of Directors. I wonder whether they have learned anything at all.
Besides looking at a long term chart, which just takes a few seconds, I will look at a SEC filed Annual Report, Form 10-K, for the period in question. The most recent banking debacle started in 2008 but the warning signals started to be sent in 2006.
SEC.gov | Company Search Page (enter Boston Private)
Click First Entry: SEC Filings for BPFH
Enter "10-K" in the "Filing Type" search box: 10-K Filings
The historical data that I want to see covers a five year period. So I chose to examine the 2012 Annual report filed on 3/12/13: 2012 10-K BPFH
I then simply scroll until I see the 5 year data table which can be found at pages 22 and 23: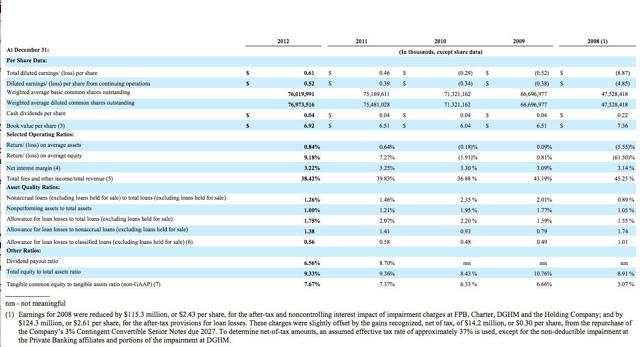 After looking at the long term chart, I am not surprised by what I see in the preceding snapshot. E.P.S. was ($8.97) in 2008; ($.52) in 2009 and ($.29) in 2010. Another problem which goes hand in hand with those losses, which has adverse future implications, is the surge in outstanding shares, going from 47.528+M in 2008 to 75.169M in 2011. And, without knowing the specifics, I already know from looking at the chart that those shares were sold at distressed prices.
The five year results for 2003 through 2007 can be found at page 29 here: FORM 10-K Net income grew from $19.445M in 2003 to $54.373M in 2006. Looks great, but then there is a drop off to $4.17M in 2007 which is at least a positive number and better than what was about to happen.
I will then check out the pricing of those offerings. That information can be found in Annual reports or through using the SEC numbers for prospectuses in the "Filing Type" search box.
The filing number for preferred stock is 424B2.
The filing number for common stock is 424B3 AND 424B5.
PROSPECTUS 7/2008: OFFERING PRICE to the Public=$6 per share (18.4M shares were sold at that price, page 126 Form 10-K)
Other common stock was issued due to a private placement of convertible preferred stock with a $5.52 exercise price. (page 124 Form 10-K)
Again, I am not surprised by the prices of those common share offerings that were prevailing during the mid-1990s. I will link the chart again here: BPFH Interactive Stock Chart
At the current price, however, the bank is a potential takeover target and is at least rationally priced based on its operating results. The dividend yield provides some share price support assuming it is not cut again. The $11.78 price was prevailing about 15 years ago which is not what the real owners want to see.BPFH Historical Prices
Total Annualized BPFH Returns With Dividends Reinvested:
2/14/1994 (earliest trade) to 4/18/06: +22.9% Looks Great ($1,000 becomes $12,321.86)
4/19/2006 to 9/11/15: -9.54% Not So Good ($1,000 becomes $389.75).
Sourced: Stock Dividends
BPFHP: Preferred Stock: I will periodically buy BPFH's 6.9% non-cumulative preferred stock as a pair for the lower yielding common stock.
I will also be looking for an opportunity to buy back its equity preferred stock last sold at $25.9 last May:

Boston Private Financial Holdings 6.95% Non-Cumulative Perpetual Preferred Series D (NASDAQ:BPFHP); Prospectus
Prior BPFHP Purchases: Item # 2 Bought: 50 BPFHP at $22 (12/10/13 Post); Bought Roth IRA: 50 BPFHP at $23.35 (5/10/14 Post); and one other 50 share lot bought at $22.45 (11/19/13) and sold at $24.84 (7/19/14 Post)(total realized trading gains to date: $335.12)
Dividends: The quarterly rate slashed from $.1 to $.01 effective for the 2008 4th quarter, a major negative that reflects poorly on management and the Board.
The current quarterly rate is $.09 per share or almost back up to the pre-slash rate.
Assuming a continuation of that penny rate, and a total cost per share of $11.78, the dividend yield is over my 3% bogey at 3.06%.
Dividends | Boston Private Financial Holdings, Inc.
Last Earnings Report: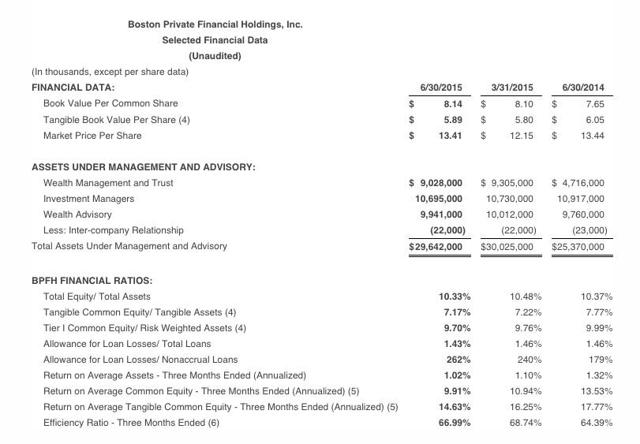 Sourced: SEC Filed Press Release
ROA was near the average for U.S. bank at 1.02%.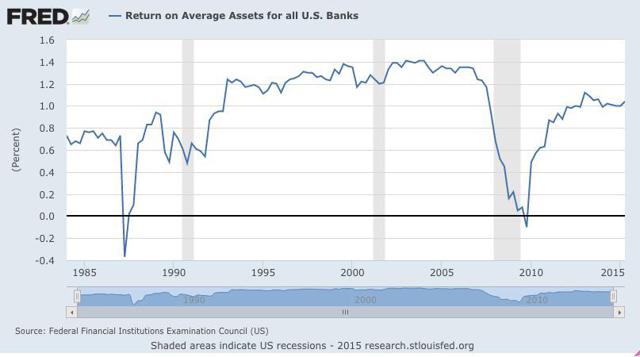 Return on Average Assets for all U.S. Banks-St. Louis Fed
Return on tangible equity was good at 14.73%. The return on average common equity was reported at 9.91%, slightly above the national average:
The bank had no charge-offs in the quarter and reported a net recovery. Charge-offs for the last quarter were consequently better than the national average which was .4% for the 2015 second quarter: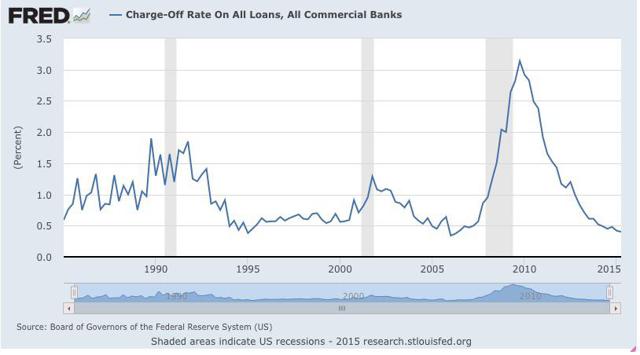 Charge-Off Rate On All Loans, All Commercial Banks-St. Louis Fed
NIM declined to 2.9% from 3.14% Y-O-Y.
Tangible book value was $5.89 per share, so the current price is close to 2x tangible book value per share. Tangible equity to tangible assets was reported at 7.17%.
The capital ratios are okay, neither bad nor good IMO:
It is a negative that the trend in those capital ratios is down.
This bank is a potential takeover target for an entity desiring to increase its wealth management business. The price spurted some based on a WSJ story, published 2/5/15, that two Canadian banks looked at Boston Private as a potential takeover target. 2 Canadian Banks Looked Into Buying Boston Private Bank-WSJ Possibly being on some bank's potential takeover list according to an anonymous source who might just be pumping the stock to a gullible reporter is not an investable thesis. All of these banks have lists.
| | | | | | | |
| --- | --- | --- | --- | --- | --- | --- |
| Feb 5, 2015 | 11.17 | 13.24 | 11.16 | 12.73 | 6,504,600 | 12.55 |
| Feb 4, 2015 | 11.32 | 11.59 | 11.05 | 11.16 | 1,381,700 | 11.00 |
Among the negative metrics IMO, the efficiency ratio is too high at 66.99% (calculated after excluding intangible amortization); and the NIM is low at 2.9% and continuing to move down. Both the NIM trend and the amount are negatives.
Assets under management decreased to $29.462+M from $30.025B as of 3/31/15.
Q2 2015 Results - Earnings Call Transcript | Seeking Alpha
The current consensus E.P.S. estimate is $.82 this year and $.88 next year. BPFH Analyst Estimates At $11.78 per share, the forward P/E based on the 2016 estimate is 13.39 and the E.P.S. growth rate is 7.32%, creating a P.E.G. of 1.83. The 5 year expected P.E.G. is about 1.66: BPFH Key Statistics
Definition of P.E.G.: Price/Earnings To Growth (PEG Ratio)
I have sold to date only 50 BPFH shares. I sold those shares at $13.34 (6/30/15). My lack of enthusiasm for the common was expressed when I bought those shares at $12.35 (5/10/14 Post). I have not had much luck yet with the common shares, for good reasons, as I wait for lightening to strike while I collect a barely adequate dividend.
A two year chart suggests a consider to buy between $11 to $11.4 and a consider to exit at $13 to $13.7 with a $14+ sell target being a push. Before commissions, a $13.5 exit point for a buy at $11.5 would represent a 17.39% gain prior to commissions and dividends. If realized have 6 to 8 dividend payments and between 18 to 24 months, that would be an acceptable outcome for me, but the acceptability diminishes once that price percentage return requires more than 2 years.
+++++
Appendix: I did not want to clutter up the main discussion with the following.
IMO, the bank needs a complete overall in its management and a new Board. I will vote "no" for all Board members and a "no" on the advisory vote on compensation. For 2014, the CEO Clayton G. Deutsch received compensation valued at $4.686+M, and the President Mark D. Thompson was paid $1.91+M. Clayton Deutsch apparently joined the company in 2010 and can not be held responsible for event occurring prior to that time. The operating performance since 2010 is not a recommendation for him IMO. Members of the Board of Directors and Our People | Boston Private Financial Holdings, Inc. I was not familiar with this company until 2011 or 2012. The CEO for 17 years prior to 2010 was Timothy Vaill who apparently was not forced out but retired.
There are a few problems with banks that grow by acquiring wealth management firms. Some advisors will walk out the door with their clients. That appears to have happened recently after the $60M acquisition of Banyan Partners. Boston Business Journal
One basic problem with the "wealth" management business is that assets under management will decrease during bear markets due to clients becoming dissatisfied and/or the decrease in fees associated with the decrease in values.
This is a link to the wealth management's third quarter outlook: Economic And Market Perspective.pdf
Disclaimer: I am not a financial advisor but simply an individual investor who has been managing my own money since I was a teenager. In this post, I am acting solely as a financial journalist focusing on my own investments. The information contained in this post is not intended to be a complete description or summary of all available data relevant to making an investment decision. Instead, I am merely expressing some of the reasons underlying the purchase or sell of securities. Nothing in this post is intended to constitute investment or legal advice or a recommendation to buy or to sell. All investors need to perform their own due diligence before making any financial decision which requires at a minimum reading original source material available at the SEC and elsewhere. Each investor needs to assess a potential investment taking into account their personal risk tolerances, goals and situational risks. I can only make that kind of assessment for myself and family members.
Disclosure: I am/we are long BPFH.