This basket strategy was last updated here: Update For Closed End Fund Basket Strategy As Of 9/18/15 - South Gent | Seeking Alpha
I have a lengthy discussion of bond CEF risks in the Appendix section to an earlier post: Update For Closed End Fund Basket Strategy As Of 8/14/15 - South Gent | Seeking Alpha (scroll to "General Risk Discussion for Leveraged Bond CEFs") I will not be repeating that discussion here.
I view the closed end portfolio to be a balanced worldwide portfolio within a larger portfolio that includes individual stock and bond selections.
I place an emphasis on income generation and own a number of CEFs that pay monthly dividends.
I will change the weightings in the CEF portfolio based on my opinions about the balance between risks and rewards.
I have tilted this portfolio some toward bonds this year, having sold a number of stock ETFs as chronicled in prior updates. It remains to be seen whether this shift will work. It may work simply by going down less on a total return basis than the far more heavily weighted stock CEF allocation from 2013-2014.
There are several reasons for reducing the stock CEF allocation and increasing the bond CEF allocation. I have been discussing those reasons in my Portfolio Positioning and Management Updates. I will summarize them again in my next update on that topic.
Basket as of 9/25/15: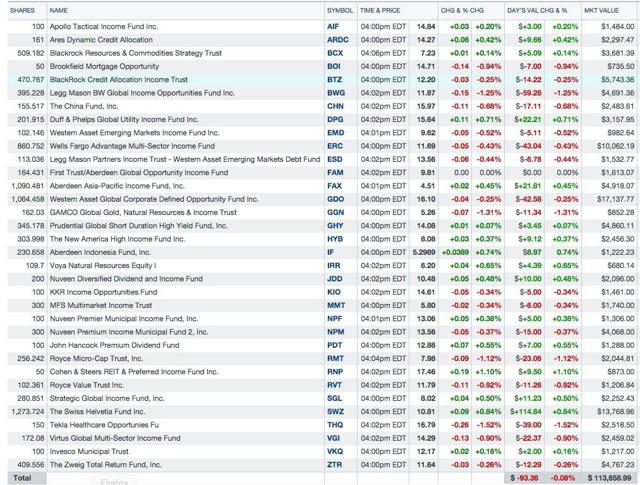 The recent addition of Tekla Healthcare (TKQ) has proven to be a mistake so far, given its weighting in biotechs and the freefall in that sector since my purchase. I changed today my dividend distribution option to reinvestment.
Part of the problem with biotech stocks is highlighted by this annual total return chart for IBB:

Sourced: Morningstar
IBB is down -17.65% for the past three months through 9/25, but is still up for the year after experiencing huge gains in 2012-2014.
The TKQ decline illustrates why I rarely take a full position in anything with one order. I am not in a position to average down at lower levels than my original purchase price.
I also added 100 shares of the Royce Micro-Cap Trust Inc. (NYSE:RMT), which I will not be discussing here.
Closing Prices Last Friday (9/25/15):
Overall I was satisfied with my basket's performance last Friday given these numbers:
SPY: $192.85 -0.05 (-0.03%): SPDR S&P 500
EMB: $106.80 -0.25 (-0.23%): iShares J.P. Morgan USD Emerging Market Debt ETF
JNK: $36.11 -0.13 (-0.36%): SPDR Barclays High Yield Bond ETF
LQD: $115.76 -0.35 (-0.30%): iShares Investment Grade Corporate Bond ETF
IBND: $31.53 -0.10 (-0.31%): SPDR Barclays International Bond ETF
I drew a chart comparing the performance of several bond ETFs over the past two years. Higher quality and longer durations have significantly outperformed junk and international bonds which have posted negative price returns: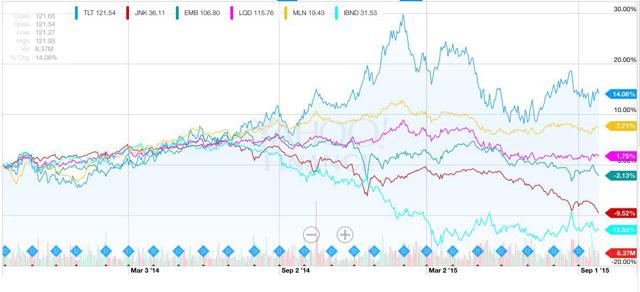 The SPDR Barclays International Corporate Bond ETF (NYSEARCA:IBND) was down the most at -12.93, largely due to the USD's strength against foreign currencies. The second worst performer, with a -9.52% price return, was the SPDR Barclays High Yield Bond ETF (NYSEARCA:JNK). Junk bonds became clearly overpriced when their spread to treasuries reached a post crisis low and their aggregate yield was less than 5%. Barrons.com (6/17/14). Over the past year, junk bond ETFs have also experienced a significant depreciation in E & P bonds.
The investment grade U.S. corporate bond fund (NYSEARCA:LQD) barely eked out a gain. While that ETF owns investment grade bonds, and does not have the currency headwind, its duration is shorter compared to MLN and TLT and the overall bond quality is less as well.
Leveraged CEFs that have exposure to junk and international bonds have consequently declined in net asset value per share and those declines have been magnified by expansions in their discounts to net asset values.
When an investor looks at the JPM chart of how bond categories have performed on an annual basis, one inescapable conclusion is that no category stays at the top or the bottom for long.
Download at J.P. Morgan Funds - Guide to the Markets (scroll to page 41)
The three best performing categories between 2005-2014 were emerging market debt priced in USDs, junk bonds, and emerging market debt priced in local currencies.
1. Bought 100 VKQ at $12.15:
Trade Snapshot ($1 Commission):

The Invesco Municipal Trust (NYSE:VKQ) is a leveraged closed end fund that owns tax free municipal bonds.
Prior Trades: None
Dividends: Monthly at $.0680 or $.816 annually
Yield at $12.15: About 6.72%
Tax Equivalent Yield at 35% Marginal Tax Rate= 10.31%
Quality as of 8/31/15: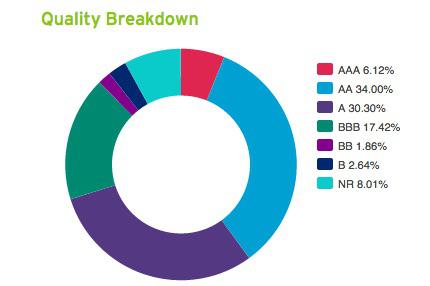 FACT Sheet June 2015: Leveraged at 39.04%; leveraged adjusted OAD or option adjusted duration adjusted for the effect of leverage=12.62 years.
Last Filed SEC Form N-Q for VKQ (holdings as of 5/31/15)(net unrealized appreciation +$87.325+M)
Last SEC Filed Shareholder Report: N-CSR - VKQ
Sponsor's Website: Invesco - Product Detail (contains discussion of risks)
VKQ Rated 2 Stars by Morningstar (no analyst report).
Data Date of Trade (Friday 9/25/15)
Closing Net Asset Value Per Share: $13.77
Closing Market Price: $12.17
Discount: -11.82%
Average Discounts:
1 Year: -10.59%
3 Years: -7.42%
5 Years: -3.73%
Sourced: CEFConnect
On 5/1/13, the closing market price and net asset value per share were $14.28 and $14.58 respectively, creating at that time a discount of -2.26%. Since that date to 9/25/15, the NAV per share has declined by 5.55% whereas the market price has fallen 14.78%. The percentage difference between the market and net asset value per share declines has flowed into an increase in the discount to net asset value per share.
With dividend reinvested, the total return of VKQ between 5/1/13 through 9/25/13 was .11%. An ETF which invests in municipal bonds, MUB, had a total return of 4.54% during that same period. (effective duration 4.7 years)
The long duration municipal bond ETF (NYSEARCA:MLN) had a total return of 5.29%. (effective duration 12.32 years as of 9/24/15)
The ETF, however, does not suffer either a significant return advantage or disadvantage due to a narrowing or expansion of the discount to net asset value.
A narrowing of VKQ's current discount closer to the five year average would probably give it a significant total return advantage over a similar duration municipal bond fund.
Returns Calculator | Dividend Channel
I also looked up the total return data for VKQ and those two ETFs based on net asset value, using the Morningstar calculations, which removes the discount expansion issue.
Total Annualized Returns for 3 years (end date 9/25):
MUB +2.23%
VKQ +4.42%
MLN: +2.86%
Based on market price however, the total annualized return for VKQ is a -.72%
Doug Kass recently noted the attractiveness of closed end municipal funds based on their discounts and yields: TheStreet. He also noted their dangers including the negative impacts of leverage when both short and long term rates rise in tandem.
Disclaimer: I am not a financial advisor but simply an individual investor who has been managing my own money since I was a teenager. In this post, I am acting solely as a financial journalist focusing on my own investments. The information contained in this post is not intended to be a complete description or summary of all available data relevant to making an investment decision. Instead, I am merely expressing some of the reasons underlying the purchase or sell of securities. Nothing in this post is intended to constitute investment or legal advice or a recommendation to buy or to sell. All investors need to perform their own due diligence before making any financial decision which requires at a minimum reading original source material available at the SEC and elsewhere. A failure to perform due diligence only increases what I call "error creep". Stocks, Bonds & Politics:ERROR CREEP and the INVESTING PROCESS. Each investor needs to assess a potential investment taking into account their personal risk tolerances, goals and situational risks. I can only make that kind of assessment for myself and family members.
Disclosure: I am/we are long VKQ.