The last update for this topic was published here: Update For Portfolio Positioning And Management As Of 10/9/15 - South Gent | Seeking Alpha
Closing Prices 10/16/15:
TLT: $123.93 +0.04 (+0.03%) : iShares 20+ Year Treasury Bond ETF
I had several sell orders filled at or near the close today. I will be discussing one or two of them in my next Portfolio Positioning Update. I will also discuss one more buy, made earlier this week, in that future update. I nibbled ever so slightly in a Canadian energy company that I had sold at a much higher price early in 2014. Sold 100 HUSKF at $29.39 (2/10/14 Post) I bought back 50 at $17.39, hardly a vote expressing enthusiasm.
I am going to highlight in this post some economic information that fits into the narrative that I have been discussing here for several weeks.
China: China reported only a 1.6% increase in CPI in September (down from 2% in August), with producer prices declining 5.9% which extended its "slide to a 43rd straight month, adding to concerns about deflationary pressures in the world's second-largest economy."Reuters China's producer price index declined 5.9% in September.
U.S.: Inflation-Deflation/Consumer Spending/Jobs/Third Quarter GDP/Manufacturing-Industrial Production:
A. Inflation/Deflation:
I am dragging and dropping in part earlier comments on these important topics and then expanding on this theme.
Inflation and inflation expectations remain abnormally low. Growth in the U.S. is slowing in the third quarter compared to the second quarter.
U.S. September CPI was reported at -.2% seasonally adjusted. Over the past 12 month and without seasonal adjustments, CPI was "essentially unchanged". "The 18.4 percent decline in the energy index over the past year offset increases in the indexes for food (up 1.6 percent) and all items less food and energy (up 1.9 percent)."
"The index for all items less food and energy rose 0.2 percent in September." Consumer Price Index Summary
It is energy that is driving down inflation. Core CPI is running close to the FED's goal of 2%.
U.S. producer prices declined in September, with the "the final demand index fell 1.1 percent for the 12 months ended in September, the eighth straight 12-month decline." Producer Price Index News Release
B. U.S. Third Quarter GDP
The Atlanta FED's GDP tracker is predicting a .9% increase in GDP for the third quarter: GDPNow - Federal Reserve Bank of Atlanta
C. Senior Income/Expenses
There will be no increase in SS benefits for the upcoming year. CNBC
Seniors have not been receiving any meaningful income on their risk free savings for over 7 years now. There is not likely to be any meaningful relief for savers in 2016.
A significant segment of the senior citizens will have much higher Medicare premiums for 2016 due to quirks in that law. Kiplinger, WSJ Possibly, Congress will do something about this increase.
D. Retail Sales: The September retail sales report was a disappointment. Monthly & Annual Retail Trade, Main Page - US Census Bureau; MarketWatch
E. Jobs/Unemployment: J P Morgan estimates that about 50,000 jobs are being lost each month now in industries that sell "a lot of" goods overseas. Bloomberg Business
Initial jobless claims for the week ending 10/10 fell to the lowest level in 4 decades. The 4 week moving average fell to 265,000 which "is the lowest level for this average since December 15, 1973" dol.gov/ui/data.pdf
F. Manufacturing-Industrial Production: I am anticipating that the U.S. manufacturing sector will contract in the current quarter.
The general business index for New York's manufacturing was reported at -11.4 in September, the third straight reading below -10%. The new orders index fell 6 points to -18.9%, which is a multiyear low. Any number below zero indicates contraction:
New York Federal Reserve Report.pdf
The Philadelphia Federal Reserve reported a -4.5% reading in its manufacturing survey. The new orders index went into negative territory for the first time since March 2013.
October 2015 Manufacturing Business Outlook Survey
Emerson Electric (NYSE:EMR) reported today that trailing "three-month orders decreased 16 percent as monthly orders continue to reflect low oil prices, a global slowdown in industrial capital spending, demand weakness in China, and strength of the U.S. dollar, which deducted 5 percentage points through currency translation. Underlying orders were down 11 percent reflecting slow market conditions in all segments." 8-K
Closing Price 10/16/15: EMR: $45.27 -$1.55 (-3.31%)
W.W. Grainger (NYSE:GWW) reported a 12% decline in earnings on Friday and lowered guidance, citing a "challenging industrial economy in North America". Grainger Reports Results For The 2015 Third Quarter Grainger is "expecting continued revenue deceleration given recent feedback from our customers and suppliers. A number of large customers have announced layoffs, and there are indications of extended year-end holiday shutdowns. We have begun the process of aggressively adjusting our cost structure to reflect the weaker economic environment."
Closing Price 10/16/15: GWW: $207.65 -$13.98 (-6.31%)
Schlumberger (NYSE:SLB) reported significantly lower earnings and revenues, warning that it will cut even more jobs as drilling activity declines further.
Closing Price 10/16/15: SLB: $74.51 -1.65 (-2.17%)
The Federal Reserve reported that industrial production decreased by .2% in September. The August number was revised up to a -.1%. "Capacity utilization for the industrial sector fell 0.3 percentage point in September to 77.5 percent, a rate that is 2.6 percentage points below its long-run (1972-2014) average." Industrial Production and Capacity Utilization
Long Term Charts: Capacity Utilization: Total Industry-St. Louis Fed; Industrial Production Index-St. Louis Fed
The industrial production index chart is still trending up. Capacity utilization may be starting to roll over.
GE's stock did respond favorably to its earnings report released earlier today: SEC Filed Press Release After recently paring my stake, I still own 291+ shares with a $14.1 average cost per share: Update For Portfolio Positioning And Management As Of 10/9/15 - South Gent | Seeking Alpha I sold 240 shares at $28.054.
Closing Price 10/16/15: GE: $28.98 +0.95 (+3.39%)
I was unable to generate any excitement.
The U.S. service sector is going to have to do some heavy lifting in the current quarter.
Brazil:
Brazil's Next Big Crisis Is Scaring Bankers and Wiping Out Jobs - Bloomberg Business
Brazil is in a deepening recession. GDP declined by 2.6% in the 2015 second quarter compared to the 2014 second quarter. The Y--O-Y decline in the first quarter was 1.6% and -.2%, -.6% and -1.2% in the last three quarters of 2014. Brazil GDP Annual Growth Rate | 1991-2015
Brazil's unemployment and inflation rates are both rising Y-O-Y.
Brazil Unemployment Rate | 2001-2015
Brazil Inflation Rate | 1980-2015
Portfolio Management: For the past several months, I am increasing my cash flow stream in a variety of ways.
For example, I recently sold 240 GE shares at $28.05 generating proceeds of $6,725. Those shares would produce $220.8 in annual income at GE's current quarterly dividend rate of $.23 per share.
The general idea would be to produce more than twice that income with just 50% of the $6,725 or $3,362.5.
While I am critical of externally managed BDCs, I have nonetheless bought small lots in several of them recently, including the two discussed below.
My reasons are simple:
1. Their discounts to net asset value have expanded to historically high levels.
2. Their stocks have been smashed and are trading at or near historic lows. I am consequently no longer extremely adverse to "gambling" with small amounts of money.
Income Investing Strategy:
A. Business Development Corporations
1. Bought 50 SUNS at $15.06
Trade Snapshot:

Closing Price Date of Trade: SUNS: $15.06 -0.09 (-0.59%)(range $15.05 to $15.22/52 week range: $14.02-$16.7/Volume 5,958)
Long Term Chart: SUNS Interactive Stock Chart (possible triple bottom in $14.8-$15 area)
Company Description: Solar Senior Capital Ltd (NASDAQ:SUNS) is a small externally managed BDC that went public at $20 back in 2011: Form 497 Of course, SLRC did not receive $20 per share to invest. After underwriting expenses, the company received $18.6 per share.
In January 2013, SLRC sold another 2.3M shares at $18.85 realizing a net of $18.6 per share after the underwriter's discount. Prospectus I did not find any subsequent public stock offerings.
This is my first purchase of this BDC.
The primary knock on this one is that SUNS has not been earning its payout, which has contributed to a decrease in its net asset value per share since its IPO. This did change in the last quarter due to new investments.
SUNS has a new investment vehicle called the First Lien Loan Program ("FLLP"), where SUNS coinvests with Voya Investment management to fund first lien loans. "The joint venture vehicle, structured as an unconsolidated Delaware limited liability company, is expected to invest primarily in senior secured floating rate term loans to middle market companies predominantly owned by private equity sponsors or entrepreneurs. Solar Senior and Voya have committed to provide $50,000 and $7,250, respectively, of capital to the joint venture."
FLLP Portfolio as of 6/30/15: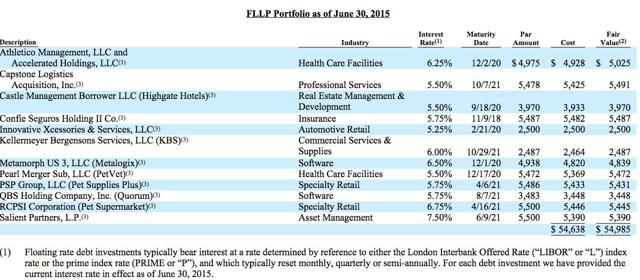 Another avenue for growth involves the September 2013 acquisition of Gemino Healthcare Finance, LLC (d/b/a Gemino Senior Secured Healthcare Finance). Later that year, SUNS "contributed our 32,839 units in Gemino to Gemino Senior Secured Healthcare LLC ("Gemino Senior Secured Healthcare"). In exchange for this contribution, we received 19,839 units of equity interests and $13,000 in floating rate secured notes of Gemino Senior Secured Healthcare bearing interest at LIBOR plus 7.50%, maturing on December 31, 2018." (page 26: Form 10-Q) SUNS owns 94% of Gemino Senior Secured Healthcare LLC and consolidates its results.
The net asset value per share history can be tracked by looking at the historical 10-Q filings: EDGAR Search Results
$18.78 6/30/11
$18.03 6/30/13
$17.65 9/30/14
$17.55 6/30/15
A Jack Silver filed a 13-G claiming an 8.7% ownership, through a variety of accounts and entities, as of 12/31/14.
Jack S. Silver CFA: Executive Profile
A John W. Jordan II filed a 13-G claiming a 7.43% ownership through a variety of accounts and entities as of 12/31/14.
John W. Jordan II: Executive Profile
Dividends: This BDC is currently paying a monthly distribution of $.1175 per share. At a total cost of $15.06, the dividend yield would be about 9.36% at that penny rate.
Solar Senior Capital Ltd. Announces Monthly Distribution of $0.1175 per Share for October 2015
Last Earnings Report: For the 2015 second quarter, SLRC reported net investment income, excluding non-recurring expenses, of $4.2 million or $.36 per share. The non-recurring expense was related to the amendment and extension of Solar's credit facility.

As of 6/30/15, this BDC had no energy loans and no non-performing loans.
The discount to net asset value, based on the $15.06 share price and the last reported $17.55 net asset value per share (6/30/15), is about 14.19%.
Solar Senior Capital Ltd. Announces Quarter Ended June 30, 2015 Financial Results; Declares Monthly Distribution of $0.1175 per Share for August 2015
The company lists its investments as of 6/30/15 starting at page 7 of its Form 10-Q. The floating rate loans are subject to various Libor floor amounts, usually 1% or 1.25% as shown in this partial snapshot: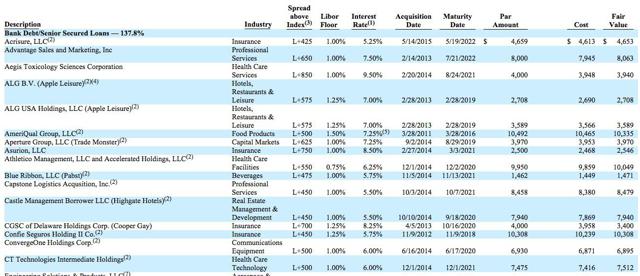 Risks:
The company describes risks starting at page 24 of its 2014 Annual Report. FORM 10-K The discussion continues through page 49.
I will drag and drop here some of the sentences that have bold type:
There are significant potential conflicts of interest, including Solar Capital Partners' management of Solar Capital, which could impact our investment returns; you will not be purchasing an investment in Solar Capital.
We may be obligated to pay our investment adviser incentive compensation even if we incur a loss.
Our incentive fee may induce Solar Capital Partners to pursue speculative investments.
Our investments are very risky and highly speculative.
Our portfolio may be concentrated in a limited number of portfolio companies and industries, which will subject us to a risk of significant loss if any of these companies performs poorly or defaults on its obligations under any of its debt instruments or if there is a downturn in a particular industry.
Our investments in securities rated below investment grade are speculative in nature and are subject to additional risk factors such as increased possibility of default, illiquidity of the security, and changes in value based on changes in interest rates.
Economic recessions or downturns could impair our portfolio companies and harm our operating results.
Our shares may trade at a substantial discount from net asset value and may continue to do so over the long term.
The net asset value per share of our common stock may be diluted if we sell shares of our common stock in one or more offerings at prices below the then current net asset value per share of our common stock.
We may need to raise additional capital to grow because we must distribute most of our income.
There will be uncertainty as to the value of our portfolio investments.
I suspect that most individual investors have never reviewed a single BDC risk disclosure which is why I will drag and drop some highlight sentences.
The external management company is paid a 1% base management fee "based on the average value of our gross assets at the end of the two most recently completed calendar quarters" which is low compared to many other external managers who receive. An incentive fee may also be paid as described more fully starting at page 17 of this Form 10-Q.
The long term chart also highlights risks: SUNS Interactive Stock Chart The high shown on that chart was near $19.4 in 2013. The activity in 2011 shows how a BDC reacts when the stock market goes into a correction. The SPX declined almost 20% during the 2011 summer. Figure 1 Yardeni/Pdf SUNS fell almost $5 per share during that period peak to trough. SUNS Historical Prices ($18.50 close on 6/24/11/ $13.7 on 10/3/11) I would not be asking anyone why a BDC stock was going down more than the S & P 500 during a market correction.
2. Bought 50 PFLT at $11.8
Trade Snapshot ($1 Commission):

Closing Price Day of Trade: PFLT: 11.80 -0.26 (-2.16%)
Company Description: PennantPark Floating Rate Capital Ltd. (NASDAQ:PFLT) is an externally managed small BDC that "primarily invests in U.S. middle-market private companies in the form of floating rate senior secured loans."
There was a recent Seeking Alpha published about this BDC.
Chart: This stock is showing no inclination to move above either its 200 or 50 day SMA lines: PFLT Interactive Stock Chart It rose to its 50 day SMA line on 10/9 and bounced off it to the downside. BDCs are appropriately characterized as falling knives at the current time.
Dividends: The company is currently paying a monthly dividend of $.095 per share. Assuming a total cost of $11.8 per share and a continuation of that rate, which is in no way assured, the dividend yield would be about 9.66%.
PennantPark Floating Rate Capital Ltd. Announces Monthly Distribution of $0.095 per Share
Acquisition of MCG Capital: PFLT recently acquired the BDC MCG Capital for .32044 shares of PFLT for each MCG share plus $.30595 per share in cash.
The external manager PennantPark Investment Advisers, LLC, paid approximately $11.3 of the cash payment. MCG was NOT an optimal investment for its shareholders.
The primary asset left after years of asset incinerations was cash, large capital loss carryforwards, and an insignificant number of outstanding loans. The last filed 10-Q showed a net asset value per share at $4.75. (page 1 MCGC 2015.06.30 10-Q) That was down from $12.62 as of 6/30/02. That kind of movement in net asset value per share will be the end game for a number of BDCs.
As of 6/30/15, MCG had $148.823M in cash and no debt. The company reported a $159.073M realized loss for the six month period ending 6/30/15 (page 3).
Just glancing at the last filed 10-Q, the primary disaster inflicted on MCG's shareholders appears to be an investment in a public company called Broadview Network Holdings (OTC:BVWN).
12/31/14:

"Exit of Equity Investment - We sold our last equity investment, Broadview Networks Holdings, Inc. for $0.2 million, an amount equal to our prior valuation." at page 25
MGC was an internally managed BDC: Page 32 MCGC 2014.12.31 10-K That highlights that internal management only cures some of the problems inherent in externally managed BDCs.
The 3 remaining non-cash investments had a "fair value" of $29.332M with a $27.956M cost basis as of 6/30/15. One of the three repaid the loan in full in July 2015 (page 7) That loan owed by the South Bay Mental Health Center had a principal amount of $9.145M.
Another borrower, Pharmalogic, indicated its intent to pay back its loan, which had a principal amount of $17.5M, during the third quarter. When and if that happens, that would leave a loan maturing in December 2016 in the principal amount of $3.702M as the sole surviving loan acquired by PFLT in the merger.
Quote From Page 18 of MCG's Last 10-Q:
"For the six months ended June 30, 2015 and for the tax years ended December 31, 2014, 2013, 2012 and 2011, we have total net capital losses of $267.9 million which have no expiration and will be carried forward indefinitely to offset future net capital gains. Capital loss carryforwards from tax years 2009 of $54.2 million and 2010 of $5.2 million will expire December 31, 2017 and December 31, 2018, respectively, unless utilized to offset future net capital gains prior to those expiration dates to the extent permitted by federal tax law."
I had a hard time seeing how PFLT shareholders will benefit from this acquisition, but the benefit to the external manager is crystal clear. PFLT now has more assets that will earn the 1% base management fee plus possible incentive fees down the road. The management fees are described starting at page 9 of the last filed 10-K.
It is conceivable that some benefits will flow to PFLT shareholders. I can not say how much at the moment. The management company did fork over some cash to seal the deal.
I never bought a share in MCG. It was just too awful for words to even describe.
PennantPark Floating Rate Capital Ltd. and MCG Capital Corporation Announce Closing of Merger Aug. 18, 2015
Recent Earnings Report: As of 6/30/15, the portfolio totaled $358.8M, consisting of $304.1M of first lien debt, $46.3M of second lien debt and $8.4 of subordinated debt. The portfolio consisted of 97% variable rate debt. The weighted average yield on debt investments was 8.3%. Net investment income was reported at $.28 per share. The company paid out $.285 per share in dividends.
Net asset value per share was reported at $14.33, down slightly from $14.4 as of 6/30/14.
At an $11.8 share price, the discount to net asset value was 17.65+% based on that 6/30/15 NAV number.
PennantPark Floating Rate Capital Ltd. Announces Financial Results for the Quarter Ended June 30, 2015
CEO Art Penn on Q3 2015 Results - Earnings Call Transcript | Seeking Alpha
Data for 9 Months Ending in June 2015: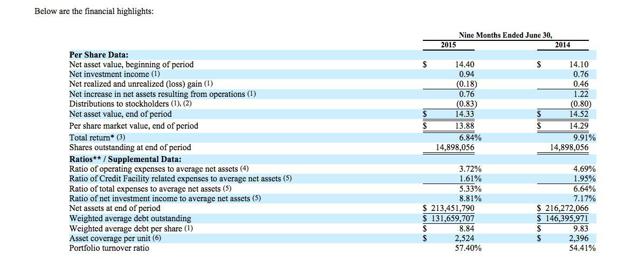 Page 21 Form 10-Q
PFLT's investments are summarized starting at page 8 of that 10-Q filing.
Most of the investments have Libor floors.
Voya: What Investors Need to Know About Libor Floor.pdf
Neuberger & Berman: Floating Rate Loans.pdf
SunAmerica: Floating Rate Senior Loans .pdf
If there is a footnote 9 number after the "coupon" number, then that loan does not have a Libor floor. You can see the amount of Libor floors by subtracting the coupon amount shown from the basis point spread. I took a snapshot to highlight this issue:

Most of the foregoing loans have 1% Libor floors. The loan to ARC Automotive shows a 6% current coupon and a basis spread of Libor +500 basis points. Since Libor rates are below 1%, that tells me that the ARC loan has a 1% Libor floor. When the Libor rate rises above that 1% floor, the coupon would increase to over 6% based on L+500 basis points.
Prior Trades: I bought some small lots back in 2013 at much higher prices: Item # 2 Bought 50 PFLT at $14.24 (6/2/13 Post); Item # 5 dded 100 PFLT at $14 (7/23/13 Post)
Frequently, and far too open IMO, I win by not losing.
I sold the 100 share lot at $14.21:

I generated a profit of $5.07 which is better than a $240 or so unrealized loss:

As to the 50 share lot, I sold those shares at $14.31, realizing a $10.51 share loss but a $97.89 total return number or 13.61+% based on the total cost of $719: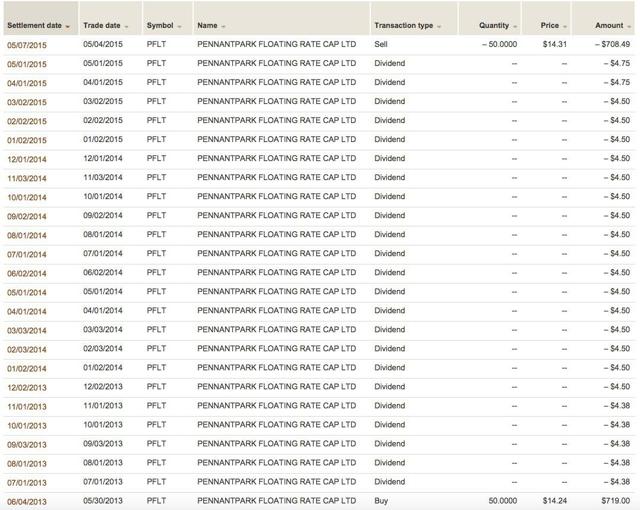 The company discusses risks incident to its structure and operations starting at page 19 of its 2014 Annual Report: 10-K That discussion ends at page 36.
Closing Price 10/16/15: PFLT: $12.17 +0.19 (+1.59%)
B. Canadian Dollar Income Strategy:
1. Added 400 of the Ishares Canadian Financial Monthly Income ETF
This brings me up to 1,000 FIE:CA shares.
Trade Snapshot: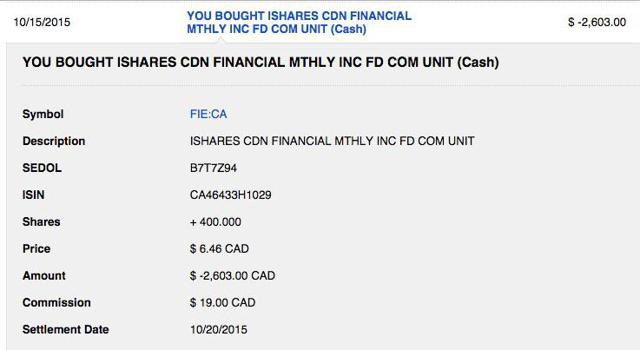 The iShares Canadian Financial Monthly Income ETF (FIE:TOR) is a Canadian ETF that owns mostly Canadian banks, REITs and insurance companies and two other Canadian income ETFs. The sponsor is Blackrock.
Dividends are paid monthly at C$.04 per share. I took this snapshot which shows the dividend yield and P/E ratio as of 10/14/15: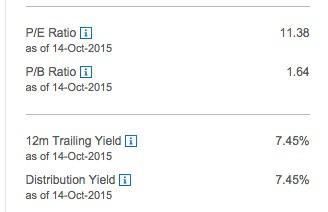 The annual distribution rate is C$.48 per share which gives me about a 7.43% yield at a total cost of C$6.46.
Holdings as of 10/14/15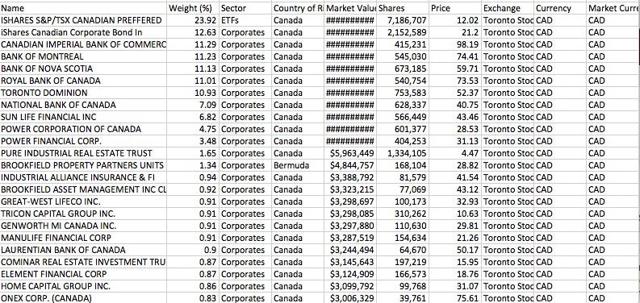 The top two holdings are two other Canadian ETFs: iShares 1-5 Year Laddered Corporate Bond Index ETF | CBO (corporate bonds rated "A" or better, staggered equal weightings 1 to 5 years, expense ratio at .28%. 244 holdings, and effective duration of 3.12 years as of 10/15/15); iShares S & P/TSX Canadian Preferred Share Index ETF | CPD (205 holdings as of 10/15/15; expense ratio .5%)
I have owned in the past those two Canadian ETFs, but no longer have a position.
The 3-8 largest weightings are in the Canadian banks, and I do not have a position in any of them. They appear to be reasonably priced now after correcting in price due largely to factors discussed in the risk section below. Two life insurance companies, SunLife (NYSE:SLF) and Power Corporation of America, round out the top ten.
I highlighted some risks relating to Canadian Banks when discussing a purchase of Toronto-Dominion (NYSE:TD) shares. Dividend Growth And Large Cap Valuation Strategies: Bought Toronto Dominion Bank (TD) - South Gent | Seeking Alpha I later averaged down by buying another 80 TD shares with 30 of those share bought in a Roth IRA account.
I flipped another 300 share earlier this year: Bought Back 300 of the Canadian ETF FIE:CA at C$6.91 (2/8/15 Post):
Profit +$30.31

I bought back another 600 shares thereafter.
I flipped another 300 share lot in 2014 after harvesting a few months in dividends: Item # 3 Sold Taxable Account: 300 FIE:CA at C$7.59 (8/16/14 Post)(profit snapshot in USDs=$58.07)-Item # 4 Bought 300 of the Canadian ETF FIE:CA at C$7.26 (3/31/14 Post)
I am attempting to generate income on my Canadian Dollar Position.
Closing Price 10/16/15: FIE.TO: C$6.51 +0.05 (+0.77%)
MarketWatch has the next ex dividend date as 10/23/15. BlackRock(NYSE:R) Canada Announces October Cash Distributions for the iShares(R) ETFs
Disclaimer: I am not a financial advisor but simply an individual investor who has been managing my own money since I was a teenager. In this post, I am acting solely as a financial journalist focusing on my own investments. The information contained in this post is not intended to be a complete description or summary of all available data relevant to making an investment decision. Instead, I am merely expressing some of the reasons underlying the purchase or sell of securities. Nothing in this post is intended to constitute investment or legal advice or a recommendation to buy or to sell. All investors need to perform their own due diligence before making any financial decision which requires at a minimum reading original source material available at the SEC and elsewhere. A failure to perform due diligence only increases what I call "error creep". Stocks, Bonds & Politics:ERROR CREEP and the INVESTING PROCESS. Each investor needs to assess a potential investment taking into account their personal risk tolerances, goals and situational risks. I can only make that kind of assessment for myself and family members.
Disclosure: I am/we are long SUNS, PFLT.