The REIT basket strategy was last updated here: Update For REIT Basket Strategy As Of 10/5/15 - South Gent | Seeking Alpha
Basket as of 10/19/15 (Snapshot During Trading Day 10/20/15)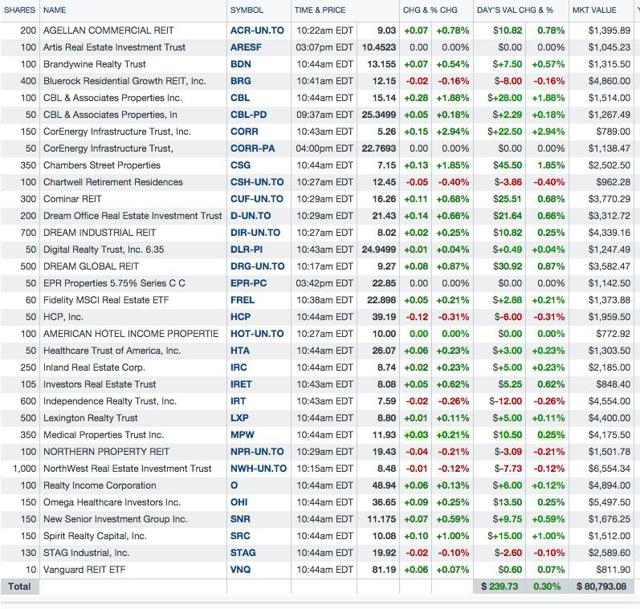 Bluerock Residential Growth REIT (NYSEMKT:BRG) recently issued a preferred stock with a 8.25% coupon. The symbol will be BRGPRA. Typically, trading on the NYSE will start within thirty days after the IPO.
Canadian REITs: All of my Canadian REITs make monthly distributions and I receive them at the same time.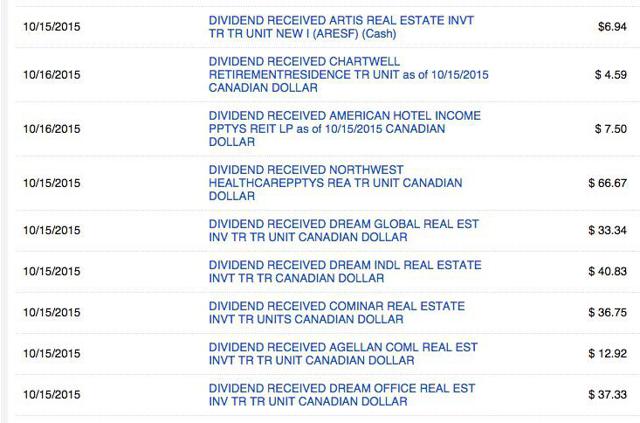 The Artis distribution was paid in USDs since I bought the ordinary shares priced in USDs traded on the pink sheet exchange. The other distributions were paid in Canadian Dollars.
I understand that the "liberals" won big in Canada last night. The author of a Bloomberg article opined that this decisive victory over the "conservatives" was good for building and marijuana stocks. Trudeau Win Signals Gains for Building and Marijuana Stocks - Bloomberg Business The Canadian stock market is up this morning so far. TSE Composite: 13,867.89 +109.51 (+0.80%)
What does Canada really need more than anything at the moment? The current recession was caused by a crash in energy prices and a recovery in those prices is what the Dr. South Gent believes to be the cure. That will happen irrespective of the political tribe in power.
A heavy dose of long term infrastructure spending is what the U.S. should have done in response to the Near Depression. That is what FDR would have done. Obama, on the other hand, showing weak leadership on the matter, permitted Nancy to design the stimulus package. So, there will be no website devoted to structures built with the Obama bucks, since there are none, while there is one devoted to the Living New Deal:Living New Deal | Still Working For America
In Tennessee, those structures include Nashville's Courthouse and city government headquarters, the Tennessee Supreme Court Building, the Great Smokey National Park, the Chickamauga Dam, and the John Sevier State Office Building. Tennessee New Deal projects | Living New Deal
++++++++++++
1. Bought 100 Northern Property REIT:
Northern Property REIT (NPR.UN:TOR) is a Canadian REIT that owns apartments. It is about to become much larger due to the pending acquisition of another apartment REIT True North with its 8,908 apartment suites and the acquisition of an apartment portfolio from Starlight Investments consisting of 4,650 apartment suites. When those acquisitions are completed, Northern Property will be renamed Northview Apartment Real Estate Investment Trust (with a new symbol) and will own 24,323 apartment suites throughout Canada. NPR also currently owns some commercial properties> Property List | Northern Property REIT The acquisitions add 13,558 apartments to NPR's current ownership. The combined entity would also own 1.2M square feet of commercial properties. I do not think the apartment numbers include properties under development.
Northern Property REIT to Create $3 Billion National Multi-Family REIT Through Acquisition of True North Apartment REIT and $535MM Multi-Family Portfolio from Starlight Investments Ltd.
The stock has been under selling pressure as these acquisitions move closer to fruition. Northview Apartment REIT
NPR has made a barebones investor presentation about the combination at Northview's new website: northviewreit.com/pdf
A map of the properties can be found at page 5 of that presentation. The map at page 8 shows how NPR has grown over time.
Trade Snapshot: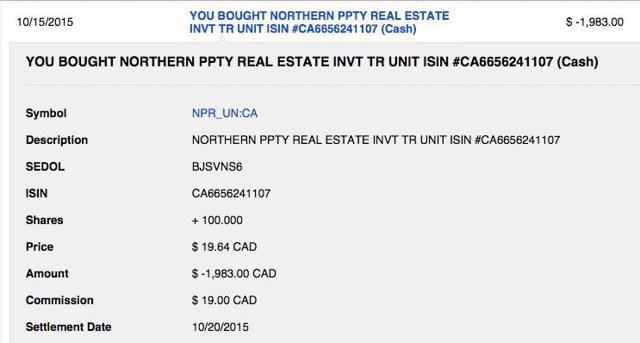 Closing Price Day of Trade: NPR-UN.TO: C$19.45 -0.66 (-3.28%)
I elected to buy this REIT since the price decline that day more than covered the C$19 commission cost. In addition, the price had fallen close to a 52 week low. After my purchase, the slide continued and the stock established a new 52 week low at C$19.44.
Long Term Chart: NPR-UN.TO Interactive Stock Chart
This REIT can currently be bought in the U.S. Grey Market using USDs. Northern Property Real Estate Investment Trust (OTC:NPRUF) The investor is buying the ordinary shares priced in USDs which is indicated by the symbol ending in the letter "F" rather than "Y". The Grey Market does not display bid/ask prices and typically has limited or no liquidity. Some brokers may have additional fees associated with orders placed in that market. I simply avoid it.
On 10/15, NPRUF shares closed at $15.27: NPRUF Historical Prices Those shares were mispriced that day, as shown in the following currency conversion chart.

Only 1,800 NPRUF shares traded that day and no shares traded on 10/14.
If I was forced to buy a Grey Market listed share, I would first determine whether the only broker charge would be my normal commission rate. Assuming no other charge was levied by the broker, then I would find out the ordinary share price in CADs, convert the CAD price into USDs, and then decide where to place a AON limit order. I would not place a limit order higher than the USD equivalent price for the then existing CAD price.
Distributions: NPR is currently paying a monthly dividend of C$.1338 per share. That rate has been in effect since the October 15, 2013 payment. The prior rate was C$.1275. There was a special distribution of C$56 in 2012. The C$.1275 penny rate started with the August 2010 distribution and was a raise from C$.1233. That later penny rate was effective with the December 2013 payment which was a raise from C$.115.
I checked the dividend going back to 2004 and did not see a distribution cut. The initial distribution was C$.0987 and was paid in February 2004.
I would anticipate that this rate may change after the aforementioned acquisitions are consummated. True North had a payout ratio close to 100% of FFO while NPR has traditionally maintained a less than 70% payout ratio and will continue using that guideline. For an apartment REIT, which has a lot of ongoing maintenance CapEx, a payout below 70% of FFO is more prudent as discussed below.
2015 Second Quarter Report True North: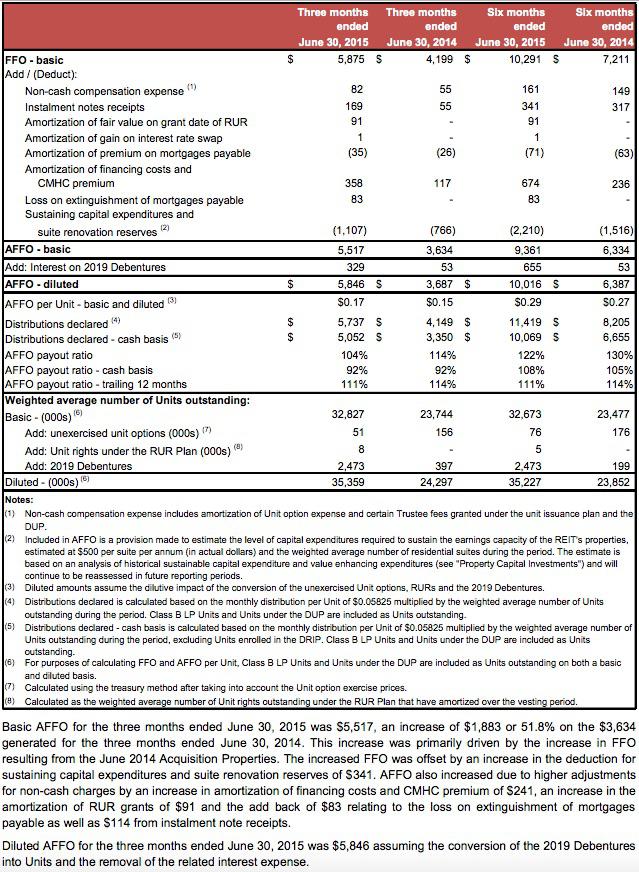 True North provides an AFFO calculation. Please note that maintenance CapEx is excluded from FFO to arrive at the better AFFO number. If NPR has such a calculation in its reports, I have yet to find it.
Recent NPR Earnings Report: This report will not be relevant once NPR consummates the two proposed acquisitions. Those reports can be accessed here: Financial Reports | Northern Property REIT
I took some snapshot of relevant material from the 2015 second quarter report:
FFO: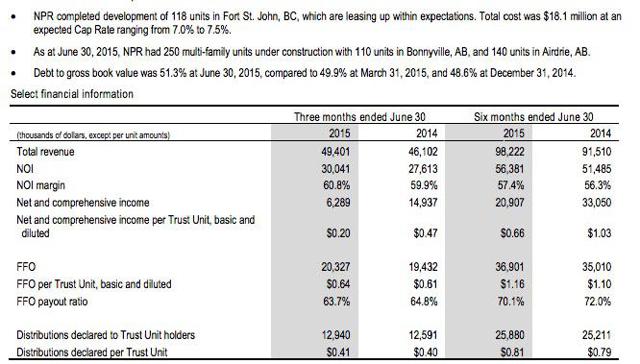 Reasons Given by NPR for Higher FFO:

Mortgages: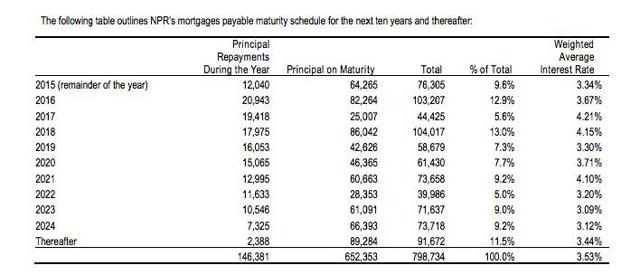 Maintenance CapEx: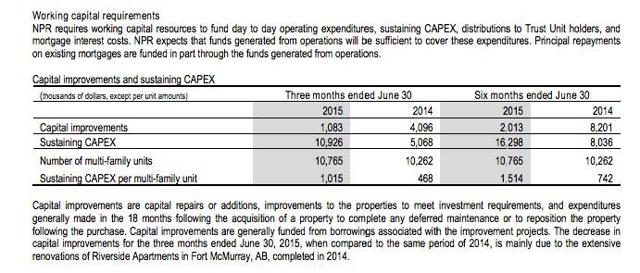 The problem with NPR over the past year is its concentration of properties in Canada's oil producing regions. The acquisitions will give the company much broader geographic diversity.
I did not see an AFFO calculation that would deduct maintenance CapEx from FFO. I regard that as deficient reporting by NPR. I do not recall another Canadian REIT failing to make those calculations.
I would deduct maintenance CapEx from FFO when evaluating the appropriate multiple and dividend coverage.
If I subtract the C$16.298M CapEx expenditure from the C$36.901 in FFO, and make no other adjustment to FFO, I am left with C$20.611 with the unitholders receiving the C$25.88M in distributions.
However, the last quarter had unusually high maintenance CapEx which was more than twice the amount spent in the comparable period in 2014.
The adjusted FFO amount becomes C$28.055 for the six months ending in June 2015, using the maintenance expenditures of C$8.036M for the 2014 comparable period, which would be a payout ratio of 92.25%. Then you also have the question of whether capital improvement, another cash expenditure item, are more maintenance CapEx or an expenditure that adds to the property's value. Both are cash expenses. If I deduct both from FFO, the payout ratio to real cash flow could be over 100%.
Since NPR is about to change in a major way, I am not going to place reliance on the historical numbers anyway. I will decide whether to hold, buy more or sell the 100 units when I have evaluated at least two full quarter reports from the combined entity.
2. Sold Lower Yielding HR at $26.33:
Trade Snapshot: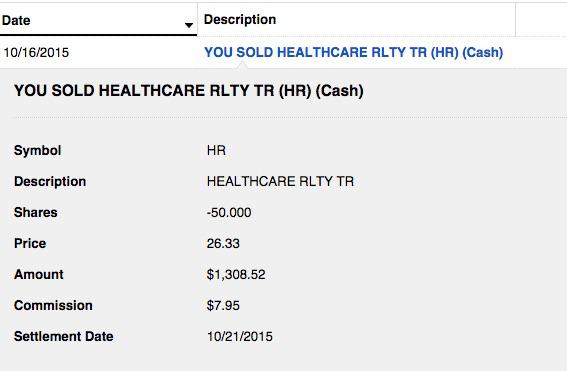 Closing Price 10/16/15: HR: $26.41 +0.42 (+1.62%)
Profit Snapshot: +$103.07

I received a $15 quarterly dividend in August.
I tossed these recently purchased shares that has a low dividend yield and a higher P/FFO compared to my average yield and P/FFO. That is part of the overall trading strategy in an Unstable Vix Pattern where I increase my yields, decrease my overall stock allocation, and harvest profits when the VIX returns to below 20 movement.
Yahoo Finance has the consensus FFO estimate at $1.54 in 2015 and $1.66 in 2016. The P/FFO based on the 2016 and a $26.33 price would be about 15.86. The yield at that stock price is about 4.56%. The predicted FFO growth rate between 2015 to 2016 is good for a REIT at 7.79%.
I will give special consideration to selling a stock bought just prior to the Trigger Event that can now be sold for a decent percentage profit. This 50 HR share lot was bought on 8/5/15.
I discussed buying this small lot here: Update For REIT Basket Strategy As Of 8/11/15/Interest Rate Cycles And REIT Stock Prices - South Gent | Seeking Alpha (scroll to 2. Bought 50 HR at $23.95)
I will consider buying back this lot in my IB account at less than $24.
Disclaimer: I am not a financial advisor but simply an individual investor who has been managing my own money since I was a teenager. In this post, I am acting solely as a financial journalist focusing on my own investments. The information contained in this post is not intended to be a complete description or summary of all available data relevant to making an investment decision. Instead, I am merely expressing some of the reasons underlying the purchase or sell of securities. Nothing in this post is intended to constitute investment or legal advice or a recommendation to buy or to sell. All investors need to perform their own due diligence before making any financial decision which requires at a minimum reading original source material available at the SEC and elsewhere. A failure to perform due diligence only increases what I call "error creep". Stocks, Bonds & Politics:ERROR CREEP and the INVESTING PROCESS. Each investor needs to assess a potential investment taking into account their personal risk tolerances, goals and situational risks. I can only make that kind of assessment for myself and family members.
Disclosure: I am/we are long NPRUF.
Additional disclosure: I own the CAD priced Northern Property REIT shares rather than the USD priced ordinary shares traded under the NPRUF symbol.