The pace of these posts will probably slow down in the coming weeks since my activity has slowed to a crawl as I wait for more data.
The regional bank basket strategy was last updated here: Update For Regional Bank Basket Strategy As Of 10/19/15 - South Gent | Seeking Alpha
I include two ETFs in this basket's table, which I do not own, for comparison purposes.
First Trust NASDAQ ABA Community Bank Index ETF (NASDAQ:QABA)
SPDR S&P Regional Banking ETF (KRE)
Basket Table as of 10/26/15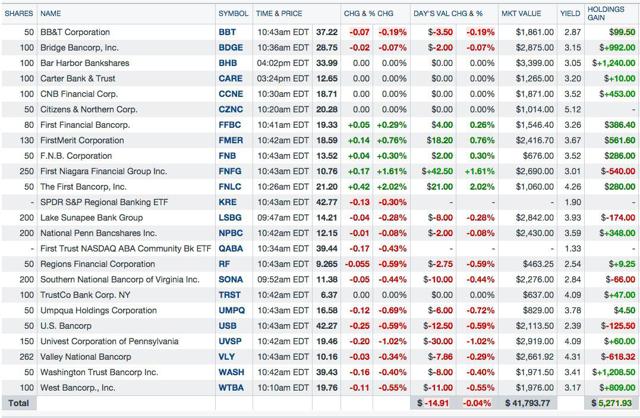 I took the foregoing snapshot near 9:43 on 10/27. SPX was then down about .3%. My basket was performing slightly better than the regional bank ETFs KRE and QABA as shown in this snapshot. The gains were entirely in the symbols starting with the letter "F".
I am not tracking in this table shares purchased with dividends.
The dividend yield shown in the preceding table is calculated by Yahoo Finance based on the market prices shown in the snapshot. The dividend yield at my total average cost per share will be different.
I also view the difference in yields between my bank stocks in my basket and those ETFs as important. The difference is significant.
With any basket strategy, I want to outperform on a total return basis. If I can go down less than a comparable ETF or up more, then I have added alpha through my selection process and see no reason to go with a managed or an index regional bank fund.
My net realized gain in this basket strategy currently stands at $24,685.44. REGIONAL BANK BASKET STRATEGY GATEWAY POST Snapshots of round trip trades can be found at the end of that post. This basket has generated an annual average $1,917 in dividends over the past 3 years.
Over the life of this basket strategy, I anticipate that dividends will generate about 40% of my total return.
I am currently about $3,500 below my minimum $40K out-of-pocket monetary exposure. If I start to see inflation perk up ex-energy, I may start to add stocks again. The Y-O-Y negative impact from energy prices will likely subside next spring. I will be focusing on inflation in other important categories over the next few months while attempting to gauge whether energy prices will turn neutral or contribute to inflationary pressures. I view it as unlikely that energy prices will continue to negatively impact inflation starting next Spring.
FACTORS IMPACTING REGIONAL BANK EARNINGS:
Regional bank earnings are impacted by a variety of variables.
Net Interest Margin is certainly important and has been the primary impediment to earnings growth.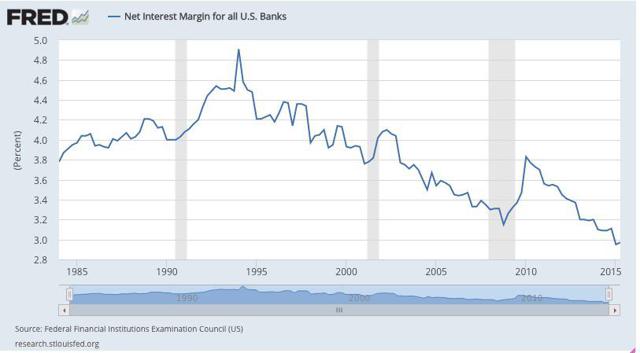 In the third quarter earnings reports released so far, net interest margin continues to contract Y-O-Y for most banks. Given the recent decline in intermediate and long term rates, I expect that most regional banks will continue to experience some NIM contraction this quarter and probably for the 2016 first quarter.
The initial increase in NIM starting in 2009 was largely due to deposit costs declining as higher yielding CDs matured and were rolled into lower yielding CDs or savings accounts.
The benefits to banks flowing from lower deposit costs are in the past now. Banks have been paying almost nothing for deposits for a long time now.
Yields on bank investments have continued to decline as higher yielding bonds and other securities mature, with the proceeds reinvested in lower yielding securities.
The yields on new loans have generally been lower than the ones refinanced or paid off.
As a conseqence of the foregoing trends, NIM has fallen to historical lows as shown in the preceding chart. That is just bad news for regional banks, pension plans and insurance companies.
Investors who are buying these stocks now have to have some confidence that banks will experience NIM expansion relatively soon due to a rise in interest rates. That may come to pass in 2016, provided inflation starts to perk up significantly. It is possible that inflation will rise to a 2% to 3% range Y-O-Y starting next Spring when the energy price decline turns neutral Y-O-Y and possibly becoming a contributor to inflation as we move deeper into 2016 and into 2017.
When the ten year treasury rose from a 1.66% yield to 3.04% back in 2013, the Regional Bank ETF (NYSEARCA:KRE) produced a total return of 47.5% based on its market price and 47.34% based on net asset value per share. The initial investor response to the rise in rates has been like the bell being rung in Pavlov's animal experiments.
A regional bank rally received a tailwind earlier this year when the ten year treasury rose from 1.68% (1/30/15) to 2.49% (6/26/15). Daily Treasury Yield Curve Rates
KRE Historical Prices | SPDR S&P Regional Banking ETF
1/30/15: $36.4
6/26/15: $45.36
Percentage Gain: +19.75%
That rally petered out when the ten year yield hit a brick wall at 2.5% and then preceded to turn back down, with the directional move change becoming more obvious by mid-July. KRE closed at $38.52 on 8/25 (Day 2 of the Trigger Event) and then started to stabilize and then move up as stocks rallied this month.
A directional change in interest rates is important for these stocks, even though the impact on bank earnings will have a time lag attached to it and will vary depending on how the bank is positioned for the change and other factors.
The regional bank rally in October is not correlated with a move up in rates. Instead, the rally is connected with the stock thundering herd changing direction.
It is also important, and this is a simple observation to make, that non-performing loans and charge-offs remain low and/or continue to trend down and that is an important tailwind for bank earnings.
I generally focus on banks that have better than average numbers for NIM, charge-offs and non-performing loans.
Charge-offs are already near historic lows.
Charge-Off Rate: .4% (to total loans annualized)
Nonperforming Loans (past due 90+ days plus nonaccrual) to Total Loans for all U.S. Banks: 1.69%
Net Interest Margin for all U.S. Banks: 2.97%
Those numbers are for the 2015 second quarter.
I am also seeing a slow and steady expansion of loans as charge-offs and non-performing loans have trended down for several quarters:
Net Percentage of Domestic Banks Tightening Standards for Commercial and Industrial Loans to Large and Middle-Market Firms - -St. Louis Fed
Net Percentage of Domestic Banks Tightening Standards for Prime Mortgage Loans-St. Louis Fed
Net Percentage of Domestic Banks Tightening Standards on Consumer Loans, Credit Cards-St. Louis Fed
Commercial And Industrial Loans, All Commercial Banks - St. Louis Fed
Total Consumer Credit Owned and Securitized, Outstanding- St. Louis Fed
In addition, community banks generally have a significant mortgage origination business. The rise in mortgage rates in 2013 crimped that profit center, so a rise in rates is not a one way street for these banks.
30-Year Conventional Mortgage Rate
As shown in that chart, the 30 year only went from 3.54% in May 2013 to 4.46% that December, but that move was sufficient to cause mortgage originations to go down significantly for a number of banks. Both of those rates are abnormally low by historical standards.
Banks will also suffer a devaluation in securities held for sale when rates rise. On the flip side, new investments would eventually be generating higher yields.
A potential matter of concern is the cost of deposits when and if the FED ever starts to raise the FF rate.
There is currently over $8 trillion in savings accounts earning almost nothing for those depositors.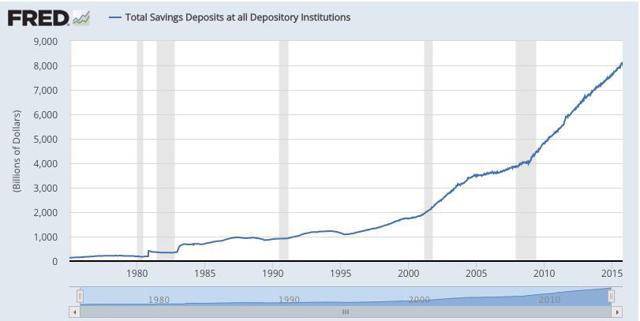 Total Savings Deposits at all Depository Institutions-St. Louis Fed
That number has more than doubled since 2008 (
1. Sold TRMK at $24.33
Trade Snapshot: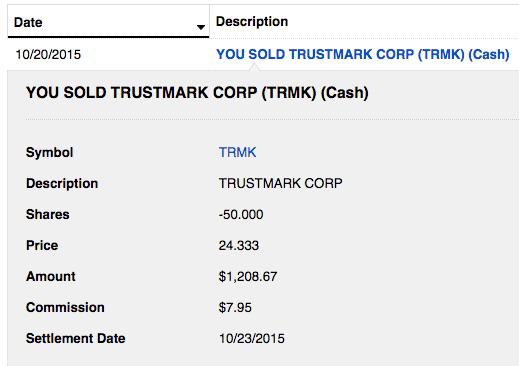 Closing Price Day of Trade: TRMK: $24.25 +0.30 (+1.25%)
Profit Snapshot: 50 Shares +$88.22

Rationale: I have typically sold TRMK shares after collecting one or more quarterly dividends when the price moved over $24.
The stock has been mostly range bound for several years.
TRMK 5 Year Interactive Stock Chart
The five year channel has mostly been a bobbing up and down between $22 to $26.
The dividend yield is decent at my purchase prices, but this bank has not raised its dividend since the 2007 4th quarter. TRMK: Dividend History The only positive note about this bank's recent dividend history is that the dividend was maintained during the Near Depression period and its aftermath.
Another issue is a lack of earnings growth, which is not uncommon among regional banks. The consensus E.P.S. estimate for TRMK currently has earnings falling from $1.72 this year to $1.57 next year. TRMK Analyst Estimates
As I explained when I purchased this small lot, some of that decrease is due to a gradual loss of interest accretion that has juiced NIM some. Item # 2 Bought Back TRMK at $22.25-Regional Bank Basket Strategy (1/24/15 Post)
That accounting issue results when a bank makes an acquisition, and TRMK has made several over the past decade. When a bank acquires loans from another bank, the discount on acquired loans are marked to market value and the difference is accreted to net interest income and hence to net interest margin over the loan's life.
Prior trade snapshots are in the Appendix below.
Total Realized Trading Gain=+$762.35 (mostly 50 share lots)
2. Sold 100 BPFH at $11.26
Closing Price 10/22: BPFH: $11.08 -0.60 (-5.14%)(2.1+M shares traded vs. average of 458+K)
Snapshot of Loss: -$111.03

This loss was partially offset with a prior gain plus dividends.
Rationale: I view the third quarter report as horrible. IMO, it called into question management's strategy and/or the implementation of that strategy as flawed and/or incompetent. I am referring to BPFH's acquisition of asset management companies.
Boston Private Financial Holdings, Inc. Reports Third Quarter 2015 GAAP EPS of $0.16 | Business Wire
Asset managers have a tendency to leave their employers and to take their clients with them, making the purchase price paid by an acquirer to be excessive based on what is left after that exodus.
+++++++++
Appendix:
2012 50 Shares Profit=+$240.57

Item # 3 Sold 50 TRMK at $24.7 (1/6/12 Post)-Item # 3 Bought 50 TRMK at $19.57 (8/21/2010 Post)
2013 50 Shares Profit=+$233.07

Item # 1 Sold 50 Trustmark at $26.52 (7/20/13 Post)-Bought 50 TRMK at $21.54 (11/26/12 Post)
2014 50+ Shares Profit= +$81.39 Satellite Taxable

Item # 1 Sold 50+ TRMK at $24.63 (7/19/14 Post)-Item # 6 Bought: 50 TRMK at $22.73 (5/10/14 Post)
2014 100 Shares Profit= +$119.1 Satellite Taxable

Sold 100 TRMK at $24.45 (10/28/14 Post)-Item # Bought 100 TRMK at $23.12 (8/9/14)
Disclaimer: I am not a financial advisor but simply an individual investor who has been managing my own money since I was a teenager. In this post, I am acting solely as a financial journalist focusing on my own investments. The information contained in this post is not intended to be a complete description or summary of all available data relevant to making an investment decision. Instead, I am merely expressing some of the reasons underlying the purchase or sell of securities. Nothing in this post is intended to constitute investment or legal advice or a recommendation to buy or to sell. All investors need to perform their own due diligence before making any financial decision which requires at a minimum reading original source material available at the SEC and elsewhere. A failure to perform due diligence only increases what I call "error creep". Stocks, Bonds & Politics:ERROR CREEP and the INVESTING PROCESS. Each investor needs to assess a potential investment taking into account their personal risk tolerances, goals and situational risks. I can only make that kind of assessment for myself and family members.