The robust jobs report makes a FF hike more likely this December. Job growth was reported at 271,000 in October, significantly higher than the consensus estimates. Employment Situation Summary
This is important as well:
"In October, average hourly earnings for all employees on private nonfarm payrolls rose by 9 cents to $25.20, following little change in September (+1 cent). Hourly earnings have risen by 2.5 percent over the year. Average hourly earnings of private-sector production and nonsupervisory employees increased by 9 cents to $21.18 in October."
Bonds will respond negatively to this report.
TLT Pre-Market: $119.47

1.30 (1.08%) 9:07AM EST
++++++++++++++++
I last updated this basket here: Update For REIT Basket Strategy As Of 10/28/15 - South Gent | Seeking Alpha
Basket as of 11/5/15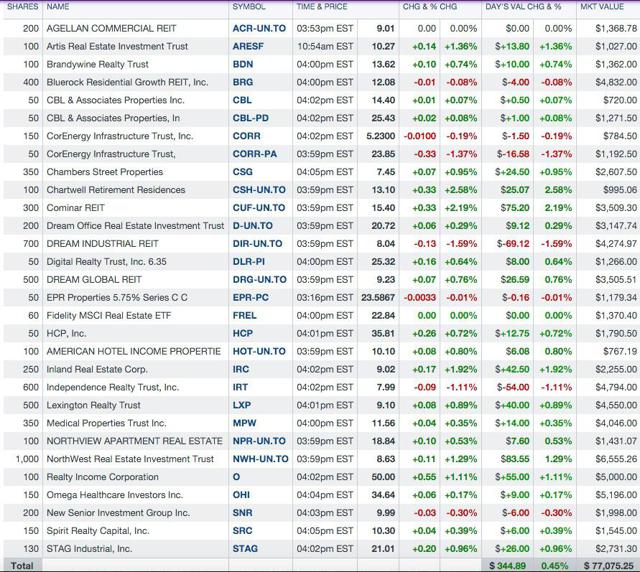 My basket performed slightly better than the Fidelity and Vanguard REIT ETFs yesterday:
VNQ: $80.73 +0.32 (+0.40%) : Vanguard REIT ETF
FREL: $22.84 0.00 (0.00%) : Fidelity MSCI Real Estate Index ETF
A basket strategy is in essence a mini-sector fund. The components are weighted based on a variety of factors unique to that basket, including valuations, dividend yields, dividend growth potential, and diversification objectives.
Reasons To Own Equity REITs:
I discussed several reasons for having an allocation to REIT common and preferred stocks in a prior update: Update For Equity REIT Basket Strategy As Of 7/24/15 - South Gent | Seeking Alpha (scroll to Why Own Equity REITs)
One reason is the role of REIT stocks as a portfolio diversifier given this sector's modest positive correlation with major stock indexes.
The following article contains information on the historical correlation between REITs and other stocks.
Listed REIT-Stock Correlation and Beta at 12-year Low | REIT.com (MAY 2015)
I would emphasize one observation made in that article. REITs will run with other stocks during market corrections.
"While it is often noted that correlations tend to "spike" during market crises, it is notable that during the 2008/09 liquidity crisis the REIT-stock correlation reached a maximum value of just 0.788."
In a comment made last May, I discussed that REITs will generally be positively correlated with major market moves to the downside and consequently will only contribute to the pain during those events. I was referring to how REITs performed when the market last corrected in the 2011 summer: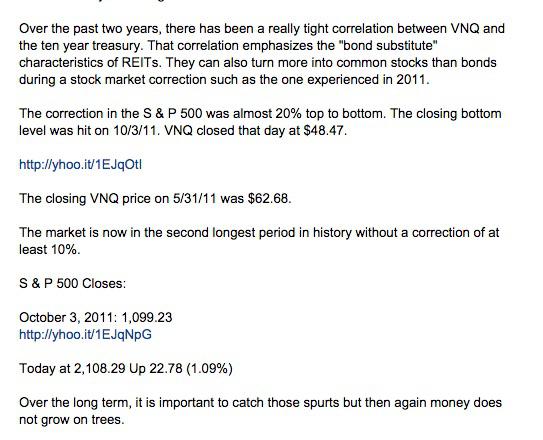 Sourced South Gent Comment at May 1, 2015 4:52 P.M.: Mr. Market Is Trying To Send Us A Message About Omega Healthcare-Omega Healthcare Investors, Inc (NYSE:OHI)
A market meltdown will frequently sever the positive correlation between U.S. REIT stocks and the ten year treasury. There are generally few stocks that withstand powerful downdrafts in major stock indexes. Only a few stocks were supporting the S & P 500's rise earlier this year, and many of them have rolled over including Apple.
Correlation data with other asset classes for 1 month to five years can be found here:
Correlations by symbol and date are available here:
I have linked below some other publications discussing the use of REITs as part of a portfolio allocation:
REITs-An Underutilized Portfolio Diversifier Fidelity (9/13)
Diversification Benefits of REITs-Morningstar (11/14)(noting that REITs behave more like stock investments than owing physical real estate; the NCREIF Property Index measuring the "appraised value" of commercial real estate has a .09 correlation with the SPX since 1976 and Shiller made a similar correlation analysis for residential real estate-As Stocks Fall, Real Estate May Be the Best Defense - Barron's )
The Role of REITs for Long-Term Investors (AAII 2012)
The Alternative Portfolio: Diversifying Away From a Traditional Allocation (AAII 2012)
Dynamic Correlations Among Asset Classes: REIT and Stock Returns-SSRN Download Link (technical academic paper published in 2009)
Another reason for owning REITs long term is this sector's total returns numbers.
The table at page 54 of JPM's Guide to the Markets, dated 6/30/15, shows that REITs have been the best performing stock category over the past 15 years through 2014.The returns are highly variable as shown in that table. Through 6/30/15, REITs were the worst performing stock category, and I doubt that has improved since that time. REITs were the worst performing category in 2007 and the best performing stock category in 2001, 2004, 2006, 2010, 2011, 2012 and 2014.
Again, I would recommend that investors spend at least one hour looking through the JPM quarterly reports. The latest report can be downloaded here: J.P. Morgan Funds-Guide to the Markets I will save them in a folder.
Expansion of REIT Positions During March-September Sell-Off-Reduction in Positions During October Rally
I am gradually reducing in small pieces my exposure to equity REITs that was built up over the past several weeks to my maximum out-of-pocket exposure.
I basically took what the market was giving me when equity REITs declined in price earlier this year. That decline made this sector slightly more attractive both in terms of valuation and yield.
The Lazard Real Estate Report for September showed that the aggregate P/FFO had declined from 20 earlier this year to 16.5 as of 9/30/15, which is at least close to its long term average. In my book, a P/FFO of 16.5 is still high, and the best opportunities in this sector have arisen in the past when the P/FFO is in the 12 to 13 range.
This link to that report will take you to the most recent monthly report: Lazard US Real Estate Indicators Report.pdf
The Lazard report for October has not yet been published.
The rise in prices over the past month or so makes REITs less attractive.
In addition, the risk of a greater than expected rise in interest rates next year is nowhere near priced into the stocks now IMO.
I am referring to my previous discussions about CPI once the Y-O-Y negative inflation impacts from energy prices are no longer masking some warm inflation numbers in other expense categories.
Consequently, I am pulling back a tad in my overall REIT allocation. I am not yet to the point of adding to my regional bank basket.
Part of that pullback is motivated by a directional change in interest rates.
I generally discuss interest rate risks in this post: Scroll to "Risks"
1. Sold 105 IRET at $8.16
Trade Snapshot: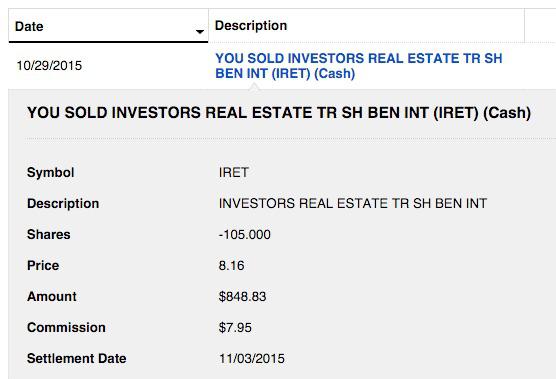 Profit Snapshot: +$94.09

I last discussed this REIT when I averaged down:
Update For REIT Basket Strategy As Of 9/17/15 - South Gent | Seeking Alpha (scroll to 3. Bought 70 IRET at $6.6-Elevation Out of Lotto Ticket Basket Strategy)
Rationale: I am paring my equity REIT exposure due to their robust rally in October that has carried into November and to the recent rise interest rates. I do not view IRET as a quality name in this space.
2. Bought Back 50 SNR at $10 (IB Account): I last discussed New Senior this REIT here: Update For REIT Basket Strategy As Of 10/5/15 - South Gent | Seeking Alpha (Scroll to 1. Averaged Down-Bought 50 SNR at $9.95-Roth IRA)
"New Senior owns 154 properties located across 37 states. New Senior is managed by an affiliate of Fortress Investment Group LLC"

This REIT is down almost 50% from its recent IPO price. I discussed some of the problems in the aforementioned linked post. The two primary ones IMO are the external management by a Fortress affiliate and the overbuilding in the senior housing property sector.
SNR claims that only 15% of its portfolio NOI will be impacted by "reported new supply":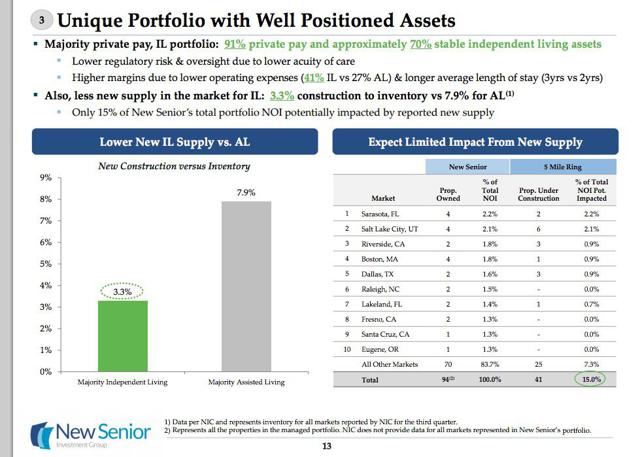 The most current FFO estimate for 2016 is $1.54 per share, up from $1 this year. SNR Analyst Estimates Assuming the 2016 consensus estimate proves prescient, the forward P/FFO would be 6.46.
Trade Snapshot ($1 Commission):

Closing Price 11/5/15: SNR: $9.99 -0.03 (-0.30%)
Prior Flip in IB Account: 50 Shares: +41.59

I view it as a victory that I sold 50 shares at $11.27 and bought them back at a lower price than my 9/28/15 purchase.
Dividend: The Board declared the regular quarterly dividend of $.26 per share.
At a total cost per share of $10, the dividend yield is about 10.4%.
3rd Quarter Earnings Report: This table is self-explanatory. IMO, the most important number is Funds Available For Distribution or just "FAD":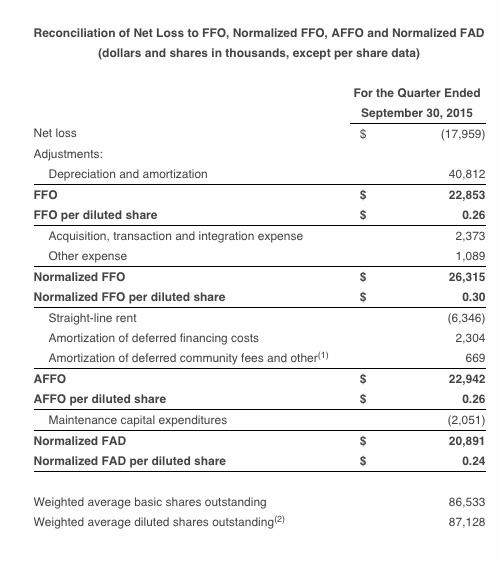 I would allow for the add back of "acquisition, transaction and integration expense" only when that item is extraordinary. The straight line rent adjustment removes non-cash revenues created by the accounting profession. Those revenues need to be removed to arrive at a real cash flow number. Maintenance expenditures are obviously a recurring cash drain for this REIT.
"During the third quarter, the Company closed a $640 million acquisition of 28 private pay, IL properties from affiliates of Holiday Retirement ("Holiday"). The portfolio is 100% private pay, contains 3,296 IL units located across 21 states and is expected to generate an initial cash NOI yield of approximately 6.4%. Occupancy for the portfolio has increased 330bps from 87.9% in May 2015 to 91.2% in September 2015. The acquisition was integrated into the Company's managed portfolio."
New Senior Announces Third Quarter 2015 Results
SNR claims that its pro forma AFFO was $.3 per share which would cover the payout after maintenance expenses. The pro forma number assumes a full quarter of revenues and expenses flowing from the Holiday acquisition and another one completed in the current quarter.

3. Sold 10 VNQ-Roth IRA (Commission Free):
Trade Snapshot:

I bought this lot at $74.2 on 9/14/15.
Update For REIT Basket Strategy As Of 9/17/15 - South Gent | Seeking Alpha
Profit: +$65.39

+++++++++++++
Appendix:
I took some snapshots of additional data relevant to the SNR purchase that was contained in the following supplemental package for the 2015 third Quarter. The reference to "NNN" refers to facilities that are subject to triple net leases.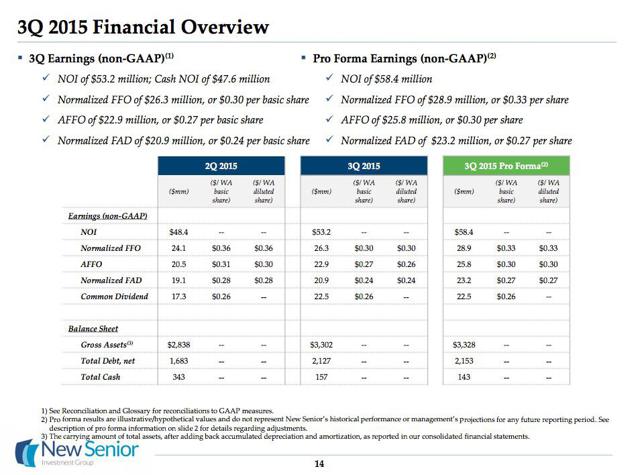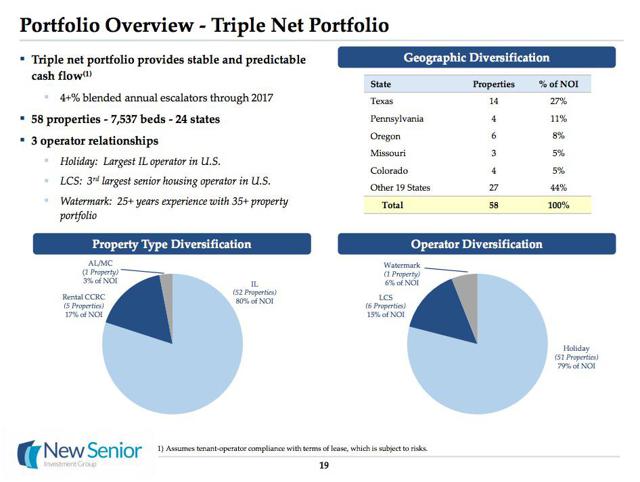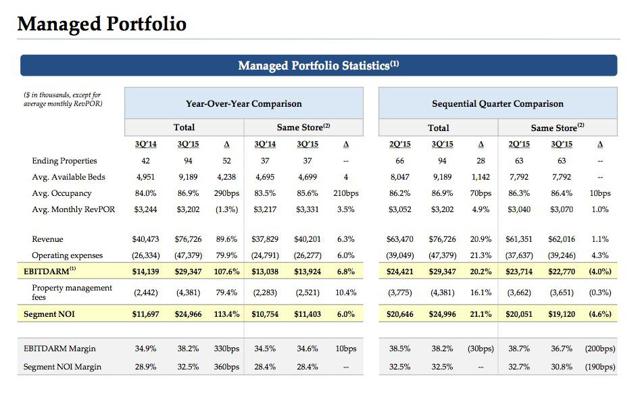 Sourced: Presentation
Disclaimer: I am not a financial advisor but simply an individual investor who has been managing my own money since I was a teenager. In this post, I am acting solely as a financial journalist focusing on my own investments. The information contained in this post is not intended to be a complete description or summary of all available data relevant to making an investment decision. Instead, I am merely expressing some of the reasons underlying the purchase or sell of securities. Nothing in this post is intended to constitute investment or legal advice or a recommendation to buy or to sell. All investors need to perform their own due diligence before making any financial decision which requires at a minimum reading original source material available at the SEC and elsewhere. A failure to perform due diligence only increases what I call "error creep". Stocks, Bonds & Politics:ERROR CREEP and the INVESTING PROCESS. Each investor needs to assess a potential investment taking into account their personal risk tolerances, goals and situational risks. I can only make that kind of assessment for myself and family members.
Disclosure: I am/we are long SNR.