This topic was last updated here: Update For Portfolio Management And Positioning As Of 11/1/15 - South Gent | Seeking Alpha
My portfolio management goals are described in this 2014 post: Portfolio Management Goals-Snapshots of Performance Numbers YTD, 3 and 5 Years Cumulative.
I currently view the major stock market indexes as overvalued and consequently raised my cash allocation.
My goals in order of importance are (1) capital preservation; (2) income generation; and (3) capital appreciation. I am retired and have no earned income. I am no longer in an asset accumulation phase. I am more concerned about protecting what I now have than expanding the pile.
ISM Services: Consumer spending and the services sectors dominated the U.S. economy. The October ISM PMI report for services was reported at a better than expected 59.1%, up from 56.9% in September. The new orders component leaped from 56.7 to 62.
The gap between ISM's manufacturing and services indexes is now at a 14-year high.
Jobs: The BLS reported much stronger than expected job growth in October. Employment Situation Summary Payroll employment increased by 271,000 vs. the consensus estimate of 185,000.
While that is important, I view the following as more important:
"In October, average hourly earnings for all employees on private nonfarm payrolls rose by 9 cents to $25.20, following little change in September (+1 cent). Hourly earnings have risen by 2.5 percent over the year. Average hourly earnings of private-sector production and nonsupervisory employees increased by 9 cents to $21.18 in October. (See tables B-3 and B-8.)"
I have previously identified stagnant real wage growth as a major problem for a consumer led economy. The most recent discussion can be found in this post: Update On Portfolio Positioning And Management As Of 9/21/15 - South Gent | Seeking Alpha (Scroll to ("Lack of Real Income Growth")
The unemployment rate fell to 5%: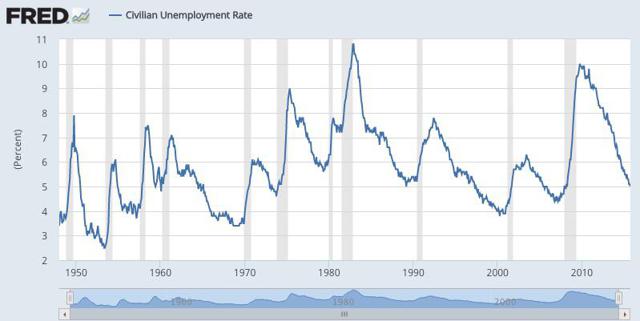 Civilian Unemployment Rate-St. Louis Fed
The U-6 rate declined to 9.8%: Table A-15. Alternative measures of labor underutilization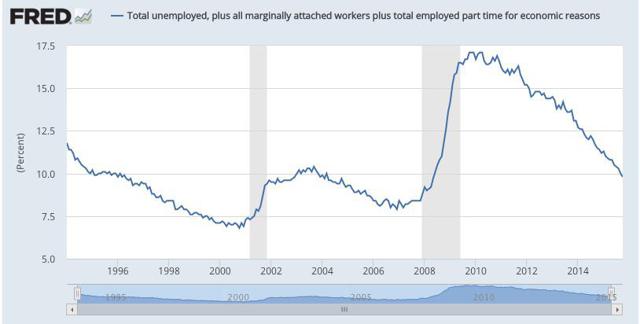 Total unemployed, plus all marginally attached workers plus total employed part time for economic reasons-St. Louis Fed
Brian Wesbury's Take: EconomicResearch
Manufacturing: The following manufacturers have significant exposure to energy markets.
Emerson Electric (NYSE:EMR): "General industrial capital spending was slow throughout the year, particularly in energy related markets. Emerging market growth was sluggish with weakening conditions as we exited fiscal 2015. .. It's been a very challenging year. And as we know, we are in a global industry recession for our businesses right now. We just incurred our third negative underlying sales growth and we will have two more" Earnings Call Transcript | Seeking Alpha and Emerson Reports Full Year and Fourth Quarter 2015 Results
Eaton (NYSE:ETN): " We expect our markets in 2016 compared to 2015 to be slightly negative. And our best thinking -- and please don't put a decimal point on this, this early time because we're in the process of trying to get all of this tuned up ourselves, is it's likely to be on the order of down to 1% to 2%. This year it was down 2% .... Page 6 Earnings Call Transcript | Seeking Alpha ... we don't see this very slow grinding recession that doesn't have a monetary crisis attached to it, we don't see a reason why that goes dramatically negative. But it is a difficult, frustrating, grinding environment" (page 8)
Now Inc. (NYSE:DNOW) : NOW, Inc. operates primarily under the DistributionNOW and Wilson Export brands. "Regarding the market environment, we are in a decline like no other I have experienced, not only in my 24 years in this business, but also as a kid growing up in the energy industry. I was born and raised in a small town in the Permian Basin where my parents owned an oilfield service company. I never thought the market could decline again as sharply and severely as it did in the 1980s while I watched my parents struggle to make payroll, but I have clearly been proven wrong. We continue to see rig counts being reduced, projects being canceled, budgets being slashed, and inventory being cannibalized." Page 2 Q3 2015 Results - Earnings Call Transcript | Seeking Alpha
World Trade: The CEO of A.P. Moeller-Maersk, which handles about 15% of consumer goods shipped by sea, stated that "global growth is slowing down. . . Trade is currently significantly weaker than it normally would be under the growth forecasts we see." Bloomberg; see also "Maersk Reports Sharp Fall in Profit" - WSJ (net profit delclined almost 50% "due to container freight rates deteriorating to a historically low level, especially in the later part of the third quarter" and to lower profit in Maersk Oil.) Freight weights on major routes are "well below $1,000 per container" and about $1,300 is needed to break-even. Shipping tonnage is about 30% above demand.
China reported that imports priced in local currency fell 16% in October Y-O-Y and 18.8% in USDs. Imports have now declined for 12 consecutive months. Exports declined 3.6% in local currency and 6.9% in USDs, marking the 4th consecutive month of declines.
Stanley Druckenmiller-Primary Bear Market Started in July 2015:
Druckenmiller was one of the best hedge fund managers. He believes that a "primary" stock bear market started in July. Dealbook Conference Interview
The use of "primary" is analogous to my references of cyclical trends rather than the dominant long term trend.
Technicians refer to three primary stages in bull and bear markets. Druckenmiller is referring to the market as being in a Stage 1 Bear Market that is marked by distribution rather than accumulation. The "smart money" starts to sell stocks based on a recognition that business conditions are not "as good as they seem". The public remains willing buyers and most forecasters remain bullish.
The three stages of primary bull and markets are outlined in this article at Investopedia.
Vix Asset Allocation Model: Unstable VIX Pattern-Currently in a Recovery Period after a Trigger Event
A Trigger Event In The Vix Asset Allocation Model 8/31/15 - South Gent | Seeking Alpha
As noted in prior comments, I did buy ProShares UltraShort S&P500 (NYSEARCA:SDS) as a hedge when the VIX had moved between 18-22 consecutive trading days below 20.
The VIX Model suggests that an investor consider buying hedges during the Recovery Period. My purchases were made on 10/29/15 and 11/2/15. SDS Historical Prices The later purchase was made on the 21st consecutive trading day where the VIX closed below 20 after the Trigger Event: VIX Historical Prices | VOLATILITY S&P 500
The VIX Model, which is based on history, anticipates that the below 20 movement in the VIX and the stock market rally accompanying that movement will be short lived and will end most likely within 40 trading days from the first movement below 20 after the Trigger Event, though a longer period may happen within the Model's rules explained here and in my blog many times.
I explained the reasoning for selecting 18-22 days in a prior comment:
Quote:
"The Model provides a general guide based on history. It does not provide precision. If X happens, then expect Y to happen.
It would be unusual for a Recovery Period to last for 40 trading days and 18 to 22 would be more of a normal range. It is impossible to pin the very best day or week down for establishing a hedge for my stock portfolio which is an obvious point. If anyone could let me know what will be the top level in the SPX before there is a serious decline, then please enlighten us all.
If the market continues up and crosses 2100 this week, for example, then I personally will either pull the trigger on a small hedge position or just rely on my cash build up as a hedge, which has occurred in conjunction with the purchase of some securities that yield two to three times more than the stocks sold so far. I may do that tomorrow or Friday or Monday of next week based on what SPX does in the next four trading days.
The recovery period that occurred after the August 2007 Trigger Event started on 9/21/2007 and ended on 10/18/2007.
There were 19 days of movement below 20 before there were five consecutive days of movement between 20.41 to 22.96.
The Confirmation Event started on 11/7/2007.
The SPX moved to new highs after the August 2007 TE, with the highest close being at 1,565.15 (10/9/07) which corresponded with a VIX close at 16.12 which happened to be the lowest VIX close during the Recovery period.
As I have said many times in the past, each Confirmation Event thereafter resulted in a lower high in the SPX.
Then after the TE in 1987, there was a Recovery Period but no Confirmation Event before the Crash.
The TE started on 4/9/1987 using the volatility data for the S & P 100 which is generally slightly less volatile than the VIX for the SPX.
I have strict guidelines about selling the SDS position, recognizing that this kind of security go
A recovery period started on 7/7/1987 and last 25 days before there was movement over 20.
A confirmation event did start on 10/14/87 but did not have enough days before the catastrophic event.
Oct 28, 1987 81.24
Oct 27, 1987 97.51
Oct 26, 1987 113.33
Oct 23, 1987 98.81
Oct 22, 1987 102.22
Oct 21, 1987 73.91
Oct 20, 1987 140.00
Oct 19, 1987 150.19
Oct 16, 1987 36.37
Oct 15, 1987 27.86
Oct 14, 1987 26.36
For events subsequent to the August 2015 TE, the SPX has already met the primary goal of a Recovery Period when it moved above 2035. A recovery to a new high in excess of 2134.75 is certainly possible since that happened after the prior TE in 2007.
Another possible course is shown by the market's response to the October/November 1997 TE which I have explored in prior posts.
There was in that case a several month period before the VIX returned to high elevations (26+) which was accompanied by a significant market drop. The VIX did not find stability until November 2003.
In that historical example, there were 24 days of movement below 20 before there was 5 consecutive days of movement over 20:
I elaborated on my reasoning in another comment:
Quote:
"As an investor, I will generally act when I have several reasons to act. I had several reasons for buying SDS last week.
(1) The VIX Model suggests that I consider buying a hedge during the Recovery Period after a Trigger Event.
(2) The market's valuation is stretched using any traditional valuation measure including the frequently unreliable estimated future "operating earnings".
(3) The future estimates of GAAP and operating earnings have been way off over the past year, with the actual numbers coming in about 20% or so below the estimates made at the start of 2015. I will have the numbers in my next portfolio positioning update.
(4) There has been some notable poor U.S. economic numbers in recent months, including new home sales and job growth. Both of those are potentially problematic.
(5) The market has shown an unwillingness earlier in the year to stay above 2100." Update For Portfolio Management And Positioning As Of 10/24/15 - South Gent | Seeking Alpha
I recognize that the double and triple short products will lose tracking over time. I consequently bought only small lots and will sell using the following criteria:
1. 40-45 days of continuous movement in the VIX below 20
2. a 20% unrealized loss
3. a move in the VIX to the high 20s or low 30s.
I have only cash accounts so I can not short stocks or ETFs. Cash in my primary hedge.
The general trading pattern in an Unstable Vix Pattern is described in this post. Trading Strategy Vix Asset Allocation Model Part 2: Hedging In An Unstable Vix Pattern - South Gent | Seeking Alpha
Generally, I will consider selling stock positions when the VIX moves below 20 and buying hedges. I will consider buying stocks when the VIX spikes into the high 20s and will sell any hedge positions bought during the below 20 movement.
+++++++++++++++++++++
Contrarian Income and Value Investing: Canadian Securities Priced In USDs/Rationale For Purchases Described Below:
The Power Corporation purchase is a play on a possible non-temporary rise in interest rates that the market currently assigns an extremely low probability.
With the two purchases discussed below, I am buying USD priced Canadian stocks that pay decent dividends. In part, I am playing a potential rebound in the CADs value against the USD.
The potential rebound in the CAD/USD exchange rate will likely depend on a significant recovery in energy prices. I do not see that happening anytime soon, but I may be wrong.
The market prices of these stocks, priced in USDs, have already been pummeled due to the decline in the CAD's value The risk is that the CAD could continue to fall. The decline is already near a recently established 10 year low as shown in the following chart.
10 YEAR CAD/USD Chart: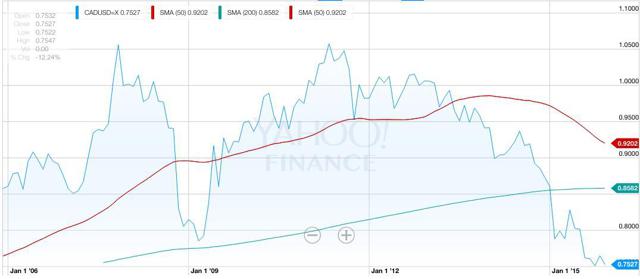 Since I am buying the USD priced shares, I will receive dividends after conversion from CADs to USDs, with the Canadian government taking 15% as a withholding tax. Both of these purchases were made in taxable accounts. A further decline in the CAD/USD after purchase has the same effect as a dividend decrease and an increase in the CAD's value operates as a dividend increase.
Claiming Foreign Taxes: Credit or Deduction?: Relevant only when held in a taxable account for a U.S. taxpayer.
Given what I would view as a heightened risk environment, I am carving even 100 share purchases into two 50 share buys with the second 50 lot purchase potentially occurring after another 5% to 10% decline in the market prices.
++++++++++++++++++++++++++
1. Bought 50 PWCDF at $22.44
Trade Snapshot: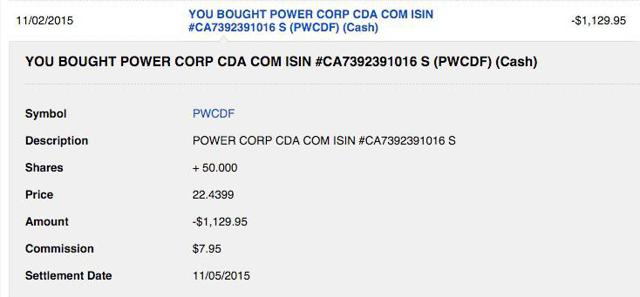 Closing Prices Day of Trade:
POW.TO: C$29.43 +0.04 (+0.14%)
Company Description Power Corp. of Canada (OTCPK:PWCDF) is the USD priced ordinary shares of the Toronto listed ordinary shares of Power Corp. of Canada (POW:TOR) priced in CADs.
Power Corporation is a Canadian holding company that has interests, directly and indirectly, in financial services, communications and other business sectors. Power Corporation of Canada | Home This company has economic interests, directly and indirectly, in a large number of other publicly traded companies in Canada and other foreign countries.
Profile Page at Reuters
The USD priced ordinary shares are traded on the U.S. pink sheet exchange and will reflect the ordinary share price converted into USDs.
A pink sheet listed foreign security that ends with the letter "F" is the USD priced ordinary shares rather than an ADR. PWCDF Power Corp. of Canada-OTCMarkets.com These shares are thinly traded and I will use a limit order after converting the CAD price into USDs.

As of 6/30/2015, Power Corporation of Canada (hereinafter POW) had a 65.6% interest in Power Financial (PWF.TO), another publicly traded company based in Canada. Most of POW's income is derived from its majority control over Power Financial. Power Financial Corporation | Home
Power Financial in turn owns 67.2% of Great West Lifeco's (GWO.TO) common shares and 59.8% of IGM Financial's stock (IGM.TO)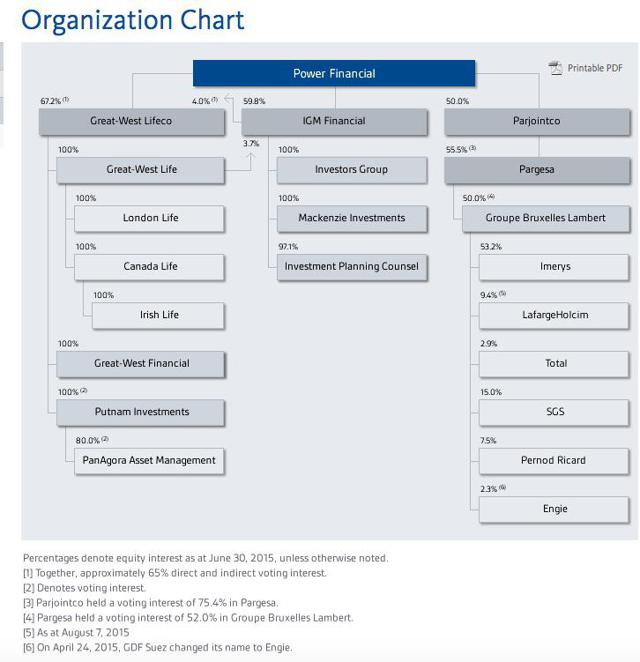 Power Financial Corporation | Organization Chart
IGM also owned 4% of Great West Lifeco's common shares; and Great-West Lifeco owned 3.6% of the IGM's common shares.
POW directly controls Power Financial and consequently has an indirect controlling interest in Great-West Lifeco and IGM Financial.
POW directly controls Power Financial and consequently has an indirect controlling interest in Great-West Lifeco and IGM Financial.
Great West Lifeco operates through a number of companies worldwide including 100% ownership interests in Great-West Life, London Life, Canada Life, Great-West Financial and Putnam Investments. Putnam in turn has a 80% interest in PanAgora Asset Management, Inc
Power Financial also has a 50% in a Parjointco which in turn owns 55.5% of Pargesa which owns 50% of Groupe Bruxelles Lambert SA, whose ordinary shares are traded on the U.S. pink sheets under the symbol GBLBF and in Belgium with the shares priced in Euros. GBLB.BR That company in turn owns stakes in other public companies as noted above. (Groupe Bruxelles' Investments: Asset classes | GBL)
In additional to its ownership interest in Power Financial, POW also owns the following: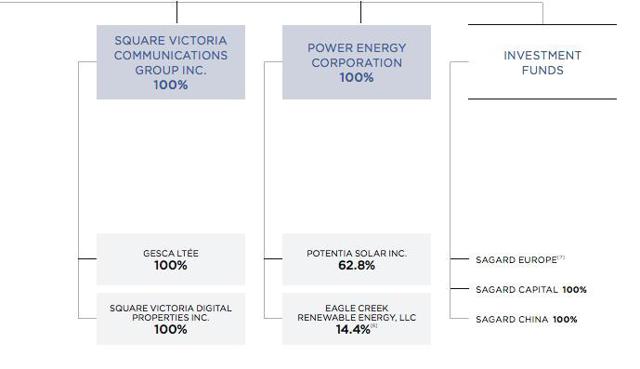 On the lower far right corner, there is a reference to Sagard China. The second quarter report has the following information about this investment:

Sagard's investment funds have interests in several operating companies:

Power Energy and Square Victoria are described at page A7 of the 2015 second quarter report.
POW is profiled in a Motley Fool Article published in June 2014.
POW's senior debt is rated "A" by S & P and its preferred stock is rated BBB+: Credit Ratings
Links to two SA articles published within the past year discussing this company:
Power Corp Of Canada: Great Dividend Yield, And Significant Discount To NAV (9/15/15 date)
Power Corp. Of Canada Trading At A Big Discount To NAV - Power Corp. of Canada (OTCMKTS:PWCDF) | Seeking Alpha (3/22/15 date)
Dividends: POW is currently paying a quarterly dividend of C$.31125 per share which was raised from C$.29 effective for the 2015 second quarter: Power Corporation of Canada | Dividends
Two Year Comparison Chart Through 11/2/15: CA:POW vs. PWCDF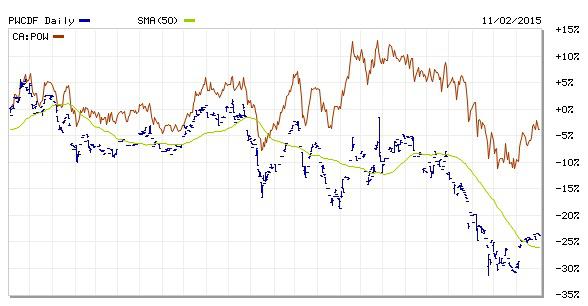 Both CA:POW and PWCDF are the same ordinary shares. The only difference is that PWCDF is priced in USDs. The decline in the CADs value has caused PWCDF to underperform the ordinary shares priced in CADs by almost 20% over the past two years.
Second Quarter Earnings Report: POW reported second quarter operating earnings of C$423M or C$.91 per share, up from C$.7 in the 2014 second quarter. Earnings were higher at C$615 including items.
Prior PWCDF Trades:
Item # 2 Sold 100 PWCDF at $28.07 (11/22/14 Post) (profit snapshot=+$210.03)-Bought Back Power Corporation Of Canada At $25.81 (OTCPK:PWCDF) - South Gent | Seeking Alpha
Item # 5 SOLD Taxable Accounts: 100 PWCDF at $28.83 (8/2/14 Post)(profit snapshot +$138.71)-Item # 4 Bought 100 PWCDF at $27.29 (7/12/14 Post)
I will probably average down on this one.
2. Sold 100 AEG at $6.28: I am once again concerned about the rise in the USD against the Euro.
Ordinary Shares Priced in Euros: Aegon N.V. (NL: AGN)
EUR/USD Chart (expand to five years)
AEG Profit ($1 Commission): +$61.9

Update For Portfolio Positioning And Management As Of 10/1/15 - South Gent | Seeking Alpha (Scroll to 1. Bought 100 AEG at $5.64)
This is the second time so far this year that I have eliminated my AEG position. I sold 283+ shares on 7/27 realizing a gain of $219.98. Those shares were sold at $7.79 and had declined 27.5% until I repurchased only 100 shares at $5.64.
EUR/USD Interactive Stock Chart
2 Year Comparison Chart: Shares Priced in USDs vs. Euros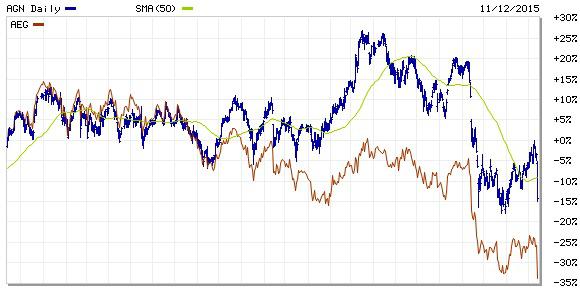 While I sold for one reason, the escape turned out to be well timed for another:
11/11/15 Intra-Day: AEG: $5.47 -0.68 (-11.06%) 10:11AM EST
Aegon Reports Third Quarter 2015 Results -- November 12, 2015
I will need some time to digest that earnings report before deciding now whether to buy back that 100 share lot.
3. Bought 50 PBA at $24.8:
Trade Snapshot: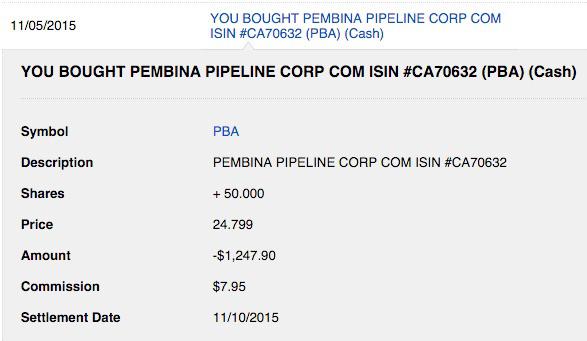 Pembina Pipeline Corp. (NYSE:PBA) is an energy infrastructure corporation operating in Canada. I bought the shares priced in USDs on the NYSE. The ordinary shares priced in CADs trade in Toronto under the symbol PPL: Pembina Pipeline Corp. (PPL:TOR)
The company owns a 8,938km pipeline network "that extends across much of Alberta and parts of British Columbia, Saskatchewan and North Dakota. Pembina - Our Operations
Map: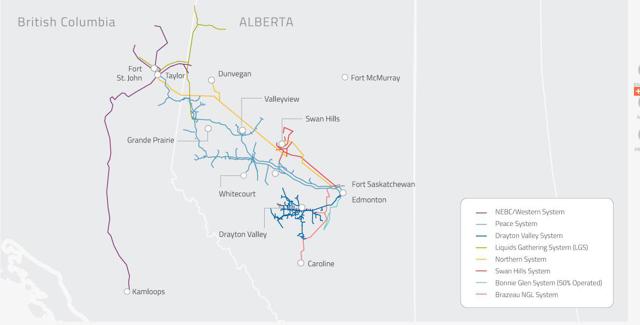 The company transports about 1/2 of Alberta's conventional crude oil production, 30% of NGL's produced in western Canada, and "virtually all of the conventional oil and condensate produced in B.C.".
The "gas services" business consists of natural gas gathering, compression and processing "primarily on a fee-for-service basis under long-term contracts" and is integrated with PBA's pipeline operations.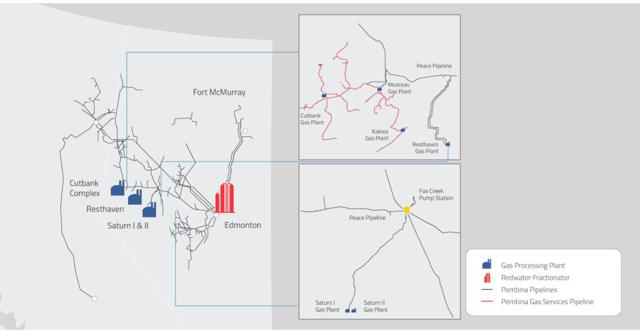 Other businesses are described in the previous link.
Dividends: PBA is currently paying a C$.1525 per share dividend. For a U.S. citizen who owns the USD priced shares, the dividend will be converted into USDs after a 15% withholding tax when held in a taxable account.
Pembina - Stock & Dividend Information
SEC Filed Press Release Last Dividend Declaration
That will result in a variable dividend before tax due to exchange rate fluctuations. PBA: Dividend Date & History
A decline in the CAD/USD after purchase results in a dividend cut while a rise in the CAD/USD operates as a dividend increase, both measured from exchange rate prevailing at the time of purchase.
I am just going to link here the last earnings report rather than discuss it. It is self-explanatory.
SEC Filed Earnings Press Release for Q/E 6/30/15
There are a few SA articles published within the past several months on this company: PBA
Two Year Chart: PPL:CA Priced In CADs vs. PBA Priced in USDs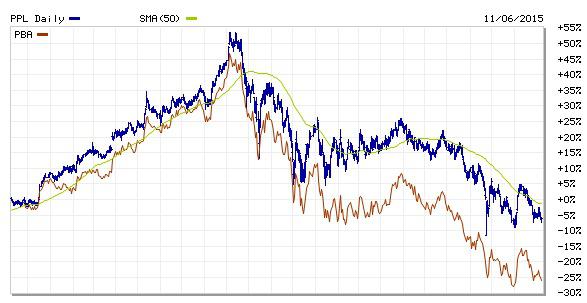 Pembina Pipeline Corp. Interactive Stock Chart
The preceding chart tells a story. The price of this Canadian pipeline company hit a brick wall in the 2014 summer and started to decline significantly in price. Why? Energy prices started their descent in the 2014 summer. The USD priced shares are down 25% over the past two years and consequently I am not buying a stock that has been hitting new 52 week highs as the SPX moves skyward.
Recent Earnings Report:
PBA reported its third quarter results shortly after my purchase. Pembina Pipeline Corporation Reports Strong Third Quarter 2015 Results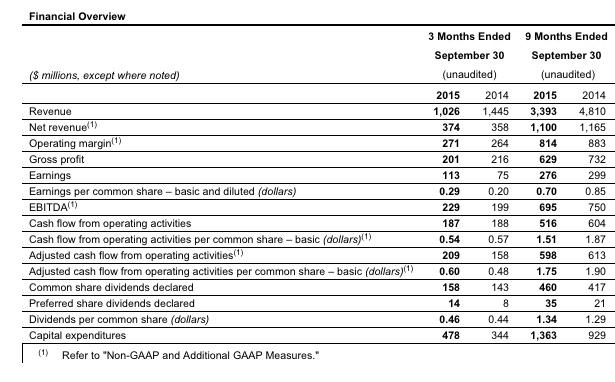 Quotes:
"The reduction in revenue is largely a result of the reduced commodity prices impacting the Company's Midstream business in the current year.
The Company's Conventional Pipelines and Gas Services businesses had an increase in revenue of 24 percent and 42 percent in the third quarter, respectively, and 27 percent and 32 percent year-to-date, respectively, over the same periods in 2014.
Prior Trade: I have only one prior trade.
Profit: +$383.72
Item # 5 Sold: 100 PBA at $33.19 (10/3/2013)-Item # 3 Bought 100 PBA at $29.21 (2/20/13 Post)
Needless to say, this was not a purchase made with much confidence in the outcome. I bought only 50 of the 100 shares previously sold. When and if the price sinks close to $20 or below, I will consider buying the other 50 share lot.
Disclaimer: I am not a financial advisor but simply an individual investor who has been managing my own money since I was a teenager. In this post, I am acting solely as a financial journalist focusing on my own investments. The information contained in this post is not intended to be a complete description or summary of all available data relevant to making an investment decision. Instead, I am merely expressing some of the reasons underlying the purchase or sell of securities. Nothing in this post is intended to constitute investment or legal advice or a recommendation to buy or to sell. All investors need to perform their own due diligence before making any financial decision which requires at a minimum reading original source material available at the SEC and elsewhere. A failure to perform due diligence only increases what I call "error creep".Stocks, Bonds & Politics:ERROR CREEP and the INVESTING PROCESS. Each investor needs to assess a potential investment taking into account their personal risk tolerances, goals and situational risks. I can only make that kind of assessment for myself and family members.
Disclosure: I am/we are long PWCDF, PBA, SDS.