I am skipping the regional bank basket update again since there has been no activity.
+++++++++++
I continue to nibble at REIT common shares that have already been smashed in price and that have dividend yields usually in excess of 8%.
This basket was last updated here: Update For Equity REIT Basket Strategy As Of 11/16/15 - South Gent | Seeking Alpha
Basket as of 11/24/15: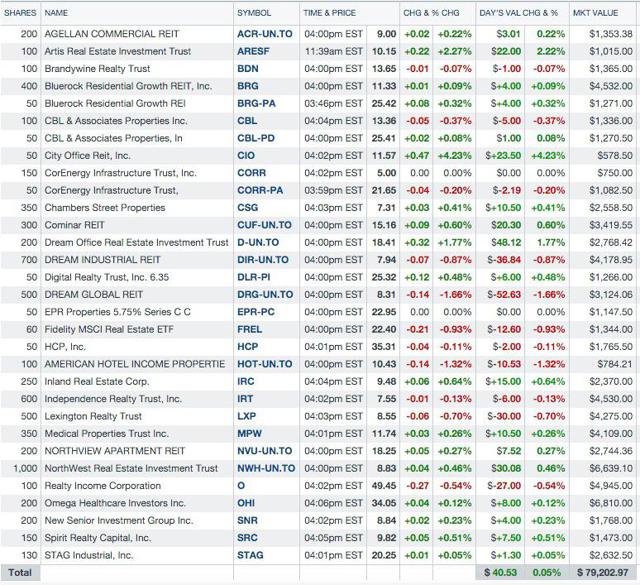 I am not tracking shares purchased with dividends in this table.
This basket slightly outperformed the REIT ETFs today:
VNQ: $78.96 -0.43 (-0.54%): Vanguard REIT ETF
FREL: $22.40 -0.21 (-0.93%): Fidelity MSCI Real Estate Index ETF
Retirement or Taxable Account IRA:
See generally: The Basics Of REIT Taxation; Taxes and REIT Investment | REIT.com; 26 U.S. Code § 857 - Taxation of real estate investment trusts and their beneficiaries
As a general rule-of-thumb, any pass through entity is going to pay non-qualified dividends, though occasionally a miniscule amount may receive the qualified designation.
The non-qualified dividend classification does not mean that the entire dividend will be taxed at the investor's highest marginal tax rate. I am assuming that non-qualified dividends and interest payments are the last incremental additions to income, which is how I have always looked at, and planned for this tax issue.
While REITs are required to pay out at least 90% of net income, most pay out to varying decrees more than 100% of GAAP net income. The dividend distribution is not based on the GAAP net income calculation, but on cash flow.
Consequently, REITs will generally support their dividends in part through return of capital ("ROC"). A Forbes article published in December 2014 has a list of REITs that had high ROC support for their 2013 dividend payments.
This information can usually be found at the REIT's website and/or in a press released before the tax filing date.
The portion of a dividend classified as ROC is not taxed when received, but the cost basis is reduced by the amount of the ROC. Most U.S. taxpayer can turn the ROC into a long term capital gain taxed at 15% by holding onto shares for a least one year. For those taxpayers, there is no difference between the qualified dividend and long term capital gains tax rates. Both are taxed at 15%.
Some of the dividend may be supported by long term capital gains taxed at 15% for most taxpayers.
When held in an IRA, the existence of ROC becomes irrelevant.
So the amount of ROC is just one factor that is relevant when deciding what type of account to use.
As a general rule, the tax issues become more important as the marginal rate increases beyond 15%. If I was in the 39.6% tax bracket and had to pay an additional 3.8% Obamacare surtax, then I would own REITs in retirement accounts.
Since I am retired and have no earned income, my tax bracket will have to struggle to hit 15% now due to the abnormally low interest rate environment and my unusually high cash allocation earning zilch. I can therefore base decisions primarily on where I have the cash to make investments and whether my taxable accounts are generating at least twice to three times normal expense outlays. My taxable accounts are far larger than my retirement accounts, and I need to generate income in them somehow to pay current expenses.
I do not view the account placement issue as relevant when the marginal tax bracket is 15% or less, since there would be no difference in the tax rates for "qualified" dividends and non-qualified dividends. If the investor is in the 12% marginal tax bracket, then the marginal tax rate would be the same for non-qualified and qualified dividends.
+++++++++++
Green Street Advisors: Definitions of REIT Terms.pdf
1. Bought Back 50 CBL at $13.1
CBL & Associates Properties (NYSE:CBL) owns, holds interests in or manages 146 properties, including 91 regional malls/open-air centers. The properties are located in 30 states and total 84.8 million square feet including 7.1 million square feet of non-owned shopping centers managed for third parties." That statement can be found in the most recent CBL press release.
This REIT is headquartered in Chattanooga Tennessee and has owned properties in middle Tennessee for a long time. I am consequently familiar with this company.
Website: CBL & Associates Properties, Inc.
CBL & Associates Properties announced last July that its Board had authorized a share repurchase program of up to $200M of its common shares.
S & P recently rated CBL's senior unsecured debt at BBB-, which is the lowest investment grade rating.
Trade Snapshot ($1 Commission):

On 10/23/15, I eliminated my 50 share position held in this account at $15.12. Update For REIT Basket Strategy As Of 10/28/15 - South Gent | Seeking Alpha (Scroll to "Sold 50 of 100 CBL at 15.12") I held those shares long enough to receive the 4th quarter dividend payment. The market price closed at $15.48 on 10/28/15 I had bought that lot at $14.7: Update For Equity REIT Basket Strategy As Of 9/25/15 - South Gent | Seeking Alpha (scroll to 1. Bought 50 CBL at $14.7)
The 50 share lot has now been bought back at $13.1 on 11/17. CBL traded in a $13.04 to $13.46 range that day.
On the day prior to my purchase, Cowen reduced its price target to $13.5 from $17.5 while maintaining its market perform weighting. That had no discernible impact on the stock.
When playing small ball, I view selling the highest cost lot profitably to be a victory, particularly when I buy the lot back shortly thereafter well below the purchase price of the lot sold.
I still own the 50 shares bought in the Roth IRA: Update For REIT Basket Strategy As Of 10/5/15 - South Gent | Seeking Alpha (scroll to 2. Bought 50 CBL at $13.58-A Roth IRA Account) I will consider buying another 50 shares in that account when and if the price falls 5%+ below the $13.58 purchase price.
I recently discussed this company in prior posts, linked above and will not be repeating those comments here.
My dividend yield has gone up playing small ball with this stock. The current quarterly rate is $.265 per share which results in about a 8.09% dividend yield at a total cost per share of $13.1.
CBL & Associates Properties, Inc. (CBL) Dividend Date & History (next ex dividend date is 12/28/15-CBL & Associates Properties Declares Common Stock Dividend and Preferred Stock Dividend)
I also own 50 shares of a CBL preferred stock, CBLPRD: Bond And Preferred Stock Basket Strategy As Of 9/18/15 - South Gent | Seeking Alpha (scroll to 2. Bought Back 50 CBLPRD at $25)
Last Earnings Report: CBL & Associates Properties
The "earnings estimates" provided by Yahoo Finance are based on AFFO rather than GAAP. The AFFO numbers have trended lower than the ones based on FFO. Profits from the disposition of properties and investments are subtracted from FFO to arrive at AFFO. For the nine months ending on 9/30/15, the FFO number includes a $16.6M gain "related to the sale of marketable securities" That type of item is not recurring.
The consensus estimate as of 11/17/15 was $2.29 for 2015 and $2.32 next year. At a $13.1 total cost per share, the P/AFFO based on the $2.32 estimate is 5.72.
CBL did not have ROC support for its 2014 dividend payments.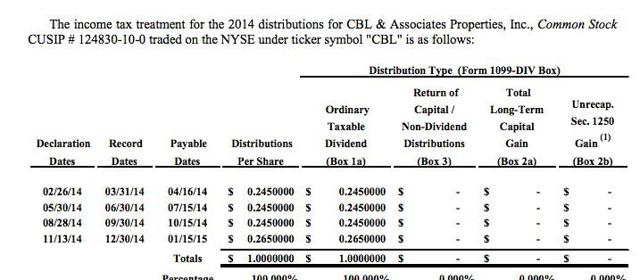 Death Knell For Box Retailers?
I am seeing more commentators asserting that box retailers are in a death spiral (e.g."What the death of the American mall means for investors" - MarketWatch)
Doug Kass argued that the recent decline in box retailer sales proves that online sales are eating their lunch. While it is just an observation of mine, I believe that most shoppers want to touch, feel and see before they buy clothing and most other products and need the social experience of being around other humans when they buy.
For the growing number of investors who are singing the death knell for box retailers, the new paradigm is Amazon. Currently, total E-Commerce sales, which includes sales from box retailers like WMT, TGT and Macy's, accounts for about 7.4% of total retail sales. US E-Commerce Sales as Percent of Retail Sales
Recent News:
CBL & Associates Properties, Inc. Announces Dispositions of Non-Core Properties | Business Wire
Cowen recently cut its price target to $13.5 from $17.5 and maintained its neutral rating.
Closing Price 11/14/15: CBL: $13.36 -0.05 (-0.37%)
2. BOUGHT CIO at $11.12
Snapshot of Trade ($1 Commission):

Close Day of Trade: CIO: 11.14 +0.07 (+0.63%): City Office REIT
Prior Trades: None
Company Description: City Office REIT (NYSE:CIO) was formed to "acquire, own and operate high-quality office properties within 12 target markets in the Southern and Western United States". Corporate Profile | City Office REIT Those markets are Seattle, Portland, Boise, Phoenix, Salt Lake, Denver, Dallas, San Antonio, Austin, Houston, Tampa and Orlando.
The company is currently externally managed which creates significant additional risks.
"Our Advisor and certain of its affiliates may have interests that diverge from the interests of our common stockholders;
Our management structure and agreements and relationships with our Advisor may restrict our investment activities and may create conflicts of interest or the perception of such conflicts;
The potential for conflicts of interest as a result of our management structure may provoke dissident stockholder activities that result in significant costs;
Conflicts of interest exist or could arise in the future between the interests of our stockholders and the interests of holders of units in our Operating Partnership, which may impede business decisions that could benefit our stockholders;
The consideration that we paid for the properties and assets acquired by us in the Formation Transactions may exceed their aggregate fair market value). Pages 26-29 Form 10-K (bold type face headings:
All of those risks relate specifically to the external management structure.
Properties as of 9/30/15: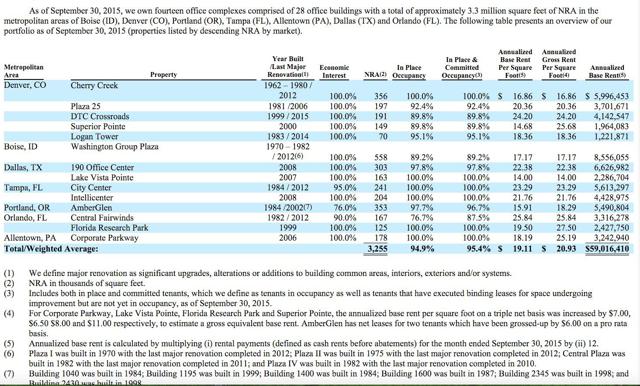 Quote on 2014 IPO and Follow-Up Stock Offering:
"On April 21, 2014, the Company closed the IPO, pursuant to which it sold 5,800,000 shares of common stock to the public at a public offering price of $12.50 per share. The Company raised $72.5 million in gross proceeds, resulting in net proceeds of approximately $63.4 million after deducting approximately $5.1 million in underwriting discounts and approximately $4.0 million in other expenses relating to the IPO. On May 9, 2014, the underwriters of the IPO exercised their overallotment option to purchase an additional 782,150 shares of the Company's common stock at the IPO price of $12.50 a share resulting in additional gross proceeds of approximately $9.8 million.... On December 10, 2014, the Company completed a follow-on public offering pursuant to which the Company sold 3,750,000 shares of common stock at a public offering price of $12.50 per share. The Company raised $46.9 million in gross proceeds, resulting in net proceeds to the Company of approximately $43.7 million after deducting approximately $2.6 million in underwriting discounts and approximately $0.6 million in other expenses relating to the offering. On December 23, 2014, the underwriters of the offering exercised their overallotment option to purchase an additional 512,664 shares of common stock at the public offering price of $12.50 a share for additional gross proceeds to the Company of approximately $6.4 million resulting in net proceeds to the Company of $6.1 million after deducting approximately $0.3 million in underwriting discounts. " Page 8 Form 10-Q
Dividends: CIO is currently paying a quarterly dividend of $.235 per share. At a total cost of $11.12, the dividend yield would be about 8.45% at that rate.
City Office REIT Announces Dividend for Third Quarter 2015 (paid on 10/19/15)
Recent Earnings Report:
Third Quarter Numbers FFO, Core FFO, AFFO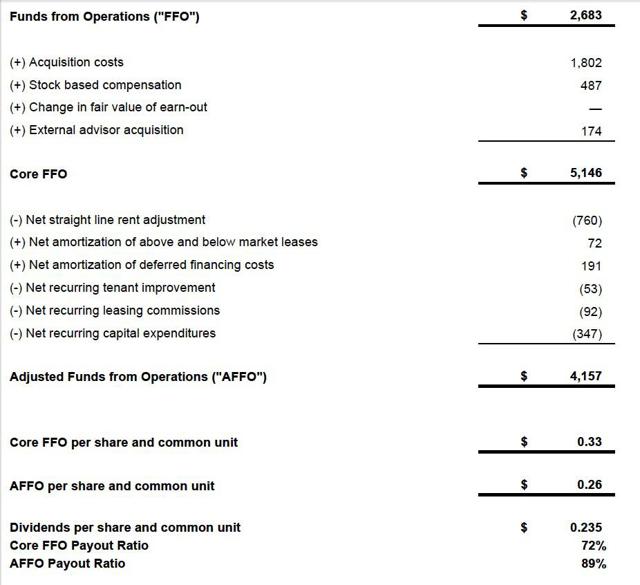 Of the those numbers, I would use AFFO which excludes the pretend revenue ("straight line rent") and net recurring capital expenditures.
City Office REIT Reports Third Quarter 2015 Results
Important Recent News Items:
City Office REIT Announces Management Internalization (REIT will acquire external manager for "297,321 shares of City Office common stock.")
City Office REIT Announces Closing of $101 Million of Properties in Dallas, Texas and Tampa Florida Sept. 3, 2015
ROC Distributions in 2014: IRS Form 8937
Closing Price 11/24/15: CIO: $11.57 +0.47 (+4.23%)
3. Medical Properties Trust (NYSE:MPW): Barron's published a favorable article: "A Hospital REIT on the Mend" "RBC Capital Markets analyst Michael Carroll thinks the stock is worth $15, based on 11.5 times his adjusted 2017 FFO estimate of $1.31 a share. "Medical Properties trades at a 20% discount to his net asset value.". I would probably be a seller at $15.
Disclaimer: I am not a financial advisor but simply an individual investor who has been managing my own money since I was a teenager. In this post, I am acting solely as a financial journalist focusing on my own investments. The information contained in this post is not intended to be a complete description or summary of all available data relevant to making an investment decision. Instead, I am merely expressing some of the reasons underlying the purchase or sell of securities. Nothing in this post is intended to constitute investment or legal advice or a recommendation to buy or to sell. All investors need to perform their own due diligence before making any financial decision which requires at a minimum reading original source material available at the SEC and elsewhere. A failure to perform due diligence only increases what I call "error creep". Stocks, Bonds & Politics:ERROR CREEP and the INVESTING PROCESS. Each investor needs to assess a potential investment taking into account their personal risk tolerances, goals and situational risks. I can only make that kind of assessment for myself and family members.
Disclosure: I am/we are long CBL, CIO, MPW.