This basket strategy was last update here: Update For Exchange Traded Bond And Preferred Stock Basket Strategy As Of 11/19/15 - South Gent | Seeking Alpha
The following table includes only exchange traded securities. I do not have a table showing my existing $1,000 par value bonds bought in the bond market.
Basket as of 12/1/15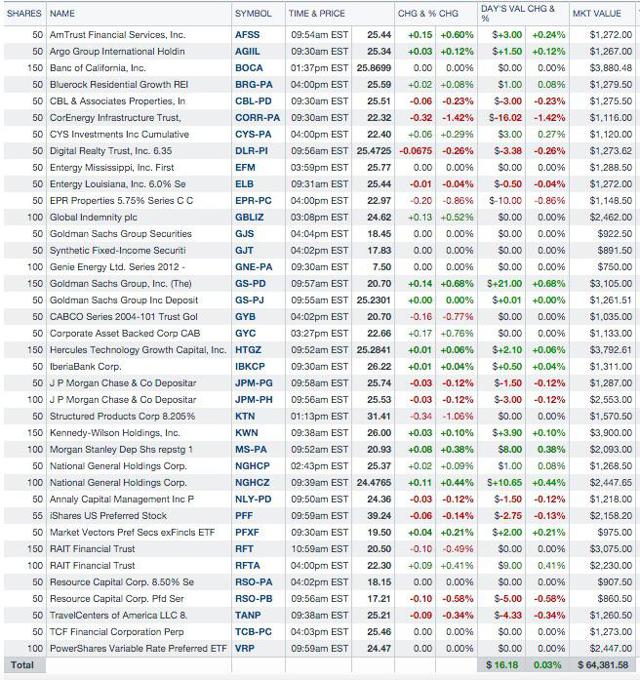 Several of these securities have recently gone ex-distribution.
Examples of Categories:
Senior Unsecured Baby Bonds:
Kennedy-Wilson Holdings Inc. 7.75% Senior Notes due 2042 (KWN:NYSE
Banc of California Inc. 7.5% Senior Notes due 2020 (BOCA:NYSE)
Argo Group International Holdings Ltd. 6.5% Senior Notes Due 2042 (AGIIL:NASDAQ)
Junior Baby Bonds:
AmTrust Financial Services Inc. 7.25% Subordinated Notes due 2055 (AFSS:NYSE)
National General Holdings Corp. 7.625% Subordinated Notes (NGHCZ:NASDAQ)
First Mortgage Bonds:
Entergy Mississippi Inc. 6.20% Series First Mortgage Bonds due 2040 (EFM:NYSE)
Trust Certficate-Junior Bond
Structured Products Corp. 8.205% Credit-Enhanced CorTS (KTN:NYSE)
Trust Certificate-Synthetic Floaters with Minimum Guarantees
Corporate Asset Backed Corp. CABCO Series 2004-101 Trust Goldman Sachs Capital I Floating Rate Certficates (GYB:NYSE)
Corporate Asset Backed Corp. CABCO Series 2004-102 Trust SBC Communication Inc Floting Rate Certificates (GYC:NYSE)
Fixed Coupon Equity Preferred Stock: Non-Cumulative
IBERIABANK Corp. 6.625% Series B Preferred Stock (IBKCP:NASDAQ)
TCF Financial Corp. 6.45% Preferred Stock (TCB.PC:NYSE)
National General Holdings Corp. 7.5% Preferred Stock Series A (NGHCP:NASDAQ)
JPMorgan Chase & Co. 6.15% Preferred Series BB (JPM.PH:NYSE)
Fixed Coupon Equity Preferred Stock: Cumulative
Digital Realty Trust Inc. 6.35% Cumulative Preferred Series I (DLR.PI:NYSE)
Bluerock Residential Growth REIT Inc. 8.25% Series A Preferred Stock (BRG.PA:NYSE)
Floating Rate Equity Preferred Stock with Minimum Guarantees: Non-Cumulative
Goldman Sachs Group Series D Preferred Stock (GS.PD:NYSE)
Morgan Stanley Non-Cumulative Preferred Series (MS.PA:NYSE)
Fixed to Floating Rate Equity Preferred Stock: Non-Cumulative
Goldman Sachs Group Series J Fixed-to-Floating Rate Preferred Stock Price Today (GS.PJ:NYSE)
++++++++
I have discussed the foregoing categories in several vintage posts.
Stocks, Bonds & Politics: Synthetic Floaters
Stocks, Bonds & Politics: Exchange Traded Bonds: New Gateway Post
Stocks, Bonds & Politics: Advantages and Disadvantages of REIT Cumulative Equity Preferred Stocks
Stocks, Bonds & Politics: Advantages and Disadvantages of Equity Preferred Floating Rate Securities
Stocks, Bonds & Politics: Trust Certificates: New Gateway Post
++++
Inflation expectations are currently abnormally low: 5-Year Breakeven Inflation Rate-St. Louis Fed; 10-Year Breakeven Inflation Rate-St. Louis Fed
A breakeven-even inflation rate for the ten year TIP is viewed by many investors as the market's prediction of the average annual CPI over the next ten years.
That number can easily be calculated as follows simply by subtracting the real yield from the nominal yield:
Daily Treasury Yield Curve Rates (non-inflation protected nominal yields)
Minus
Daily Treasury Real Yield Curve Rates
TIPs are available for 5, 10, 20 and 30 years. The break-even inflation rate for the ten year TIP was 1.59% as of 11/30/15. (2.21% nominal -.62% TIP current yield=1.59%).
The average annual U.S. inflation rate between 1914 and 2014 was 3.31%: United States Inflation Rate | 1914-2015
Consumer Price Index, 1913- | Federal Reserve Bank of Minneapolis
There is a meaningful risk in bond land now that the market has substantially underestimated inflation pressures building in the economy, the pace of a Fed's tightening cycle, and the likely real rate of returns over the next 5 to 10 years based on current bond yields.
One response to that possible material miscalculation is the purchase of securities that will likely rise in value when short term rates increase in a sustained upward cycle. Another risk mitigation technique is to construct an individual bond ladder.
I discuss the various categories of exchange traded bonds in this old post: Stocks, Bonds & Politics: Exchange Traded Bonds (5/30/12 Post)
I lump equity preferred stocks with exchange traded bonds since their bond characteristics are more dominant than their equity features which are generally unfavorable.
An equity preferred stock does not represent an ownership interest in the business and most pay a fixed rate coupon. Both of those features are bond characteristics. Unlike bonds, however, equity preferred stocks generally do not have maturity dates and can become perpetual. I am about to discuss an exception. The issuer generally reserves the right to redeem this type of security at par value, usually exercisable on or after a specific date. The call protection for the owner generally runs five years after the IPO settlement date. The equity preferred stock is senior only to common stocks and junior to all bonds.
While many equity preferred stocks pay qualified dividends, those issued by pass through entities including REITs pay entirely, or close to it, non-qualified dividends.
++++++++++++++
1. Bought 50 TANP at $25.19
Trade Snapshot ($1 Commission):

Prior Trades: None. This is a new issue.
Security Description: The TravelCenters of America LLC 8% Senior Note (TANP) is an exchange traded senior unsecured bond issued by TravelCenters of America LLC (NYSEMKT:TA) that makes quarterly interest payments at the fixed coupon rate of 8% on a $25 par value.
Unless redeemed early by the issuer, this security will mature on 10/15/2030.
The issuer may redeem at par plus accrued interest on or after 10/15/18. Prospectus (risk factors are discussed starting at page S-5 which include no financial covenants)
"The Notes will constitute senior unsecured obligations of TravelCenters of America LLC. They will not be secured by any of our property or assets and, as a result, you will be one of our unsecured creditors. The Notes will not be obligations of our subsidiaries. The Notes will be effectively subordinated to all of our existing and future secured indebtedness (including all borrowings under our credit facility) to the extent of the value of the assets securing such indebtedness and to all existing and future debt, other liabilities (including deferred rent obligations) and any preferred equity of our subsidiaries." Page S-3
This bond is in "pari passu in right of payment" with two other senior unsecured bonds issued by TA that are also traded on the stock exchange:
TravelCenters of America LLC 8.25% Senior Notes due 2028 (TANN)(closed at $25.48 on date of TANP trade)
TravelCenters of America LLC 8% Sr. Notes Maturing 12/15/29 (TANO)(closed at $25.34 on date of TANP buy)
As with other exchange traded bonds, TANP trades "flat", "meaning that purchasers will not pay, and sellers will not receive, any accrued and unpaid interest on the Notes that is not reflected in the trading price."
Company Description:

Relationship With RMR and HPT:
Hospitality Properties Trust (NYSE:HPT)
The RMR Group Website
Relationship with RMR (page 12: 10-Q)
TA "has relationships and historical and continuing transactions with HPT, The RMR Group LLC (formerly known as Reit Management & Research LLC), or RMR, and others related to them. ... As of September 30, 2015, HPT owned 3,420,000 of our common shares, representing approximately 8.9% of outstanding common shares. HPT is our largest shareholder. . ." (emphasis added)
Recent significant transactions with HPT are described starting at page 8 of the last filed 10-Q. I took a snapshot of just some of that information: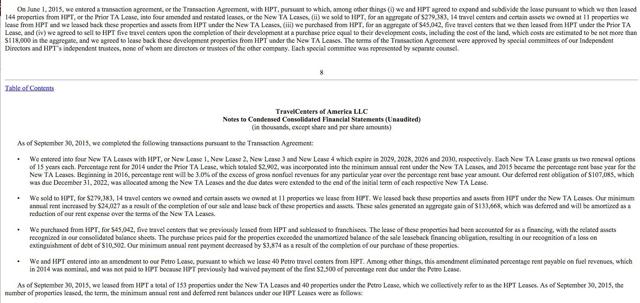 While it is just my opinion, the incest fostered by RMR, the external manager for both HPT and TA, is a huge risk and that is not limited just to TA and HPT. I would view the opinion of the "independent" trustees to be unworthy of any reliance given the involvement of RMR. I have discussed RMR in most unfavorable terms recently in a comment here: Update For REIT Basket Strategy As Of 11/24/15 - South Gent | Seeking Alpha
TA discusses risks starting at page 21 of its 2014 Annual Report. SEC Form 10-K
Among those risks are those involving the incestuous relationships. I will quote just some of the headers:
Pages 28-33:
"Our business is subject to possible conflicts of interest with HPT and Reit Management & Research LLC, or RMR.
We have significant commercial arrangements with RMR and HPT and we are dependent on those arrangements in operating our business.
Territorial restrictions placed on us by our leases with HPT and our franchise agreements with our franchisees could impair our ability to grow our business.
Our rights and the rights of our shareholders to take action against our Directors, officers, HPT and RMR are limited.
Disputes with HPT and RMR and shareholder litigation against us or our Directors and officers may be referred to binding arbitration proceedings.
(emphasis supplied)
Consequently, I view any security to be high risk when RMR is involved as the external manager. The senior unsecured bond has less risk than the common.
Recent Earnings Report: For the 2015 third quarter, TA reported net income of $9.826M or $.26 per share, down from $12.796 in the year ago quarter. Fuel revenues declined substantially Y-O-Y due to the decline in gasoline prices.
Q3 2015 Results - Earnings Call Transcript | Seeking Alpha
TA Key Developments | Reuters.com
TA Company Profile | Reuters.com
2. Sold 50 of 100 ELB at $25.59:
Entergy Louisiana, LLC announced the partial redemption of its 6% First Mortgage Bonds due March 15, 2040. That security is an exchange traded bond traded under the symbol ELB. Entergy Louisiana, LLC Announces Partial Redemption of First Mortgage Bonds, 6% Series Due 2040
Entergy Louisiana will redeem $32M in principal amount out of $150M. The redemption will be at the $25 par plus accrued interest. The redemption is scheduled to occur on 12/30/15.
The next ex interest date is December 10, 2015: Entergy Louisiana LLC First Mortgage Bonds 6.00% Series 2040 (ELB:NYSE)
A partial redemption is typically done on a pro-rata basis. So if 21% of the outstanding principal amount is redeemed, I would lose around 10 or 11 shares to the partial redemption.
I elected to sell the shares recently bought in my IB taxable account:

My total cost was $1,257.50, so I realized a $20 profit.
Bond And Preferred Stock Basket Strategy As Of 9/18/15 - South Gent | Seeking Alpha
In the Appendix to that post, I discussed some of my trading history for first mortgage bonds issued by Entergy's wholly owned distribution subsidiaries. (in the Appendix section, scroll to 2. Entergy Louisiana LLC First Mortgage Bonds 6.00% Series 2040 (ELB) and Recent ENTERGY Subsidiary 1st Mortgage Bond Flips)
I am keeping the 50 shares held in the ROTH IRA: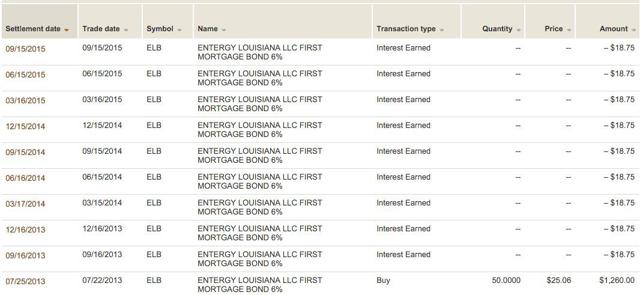 Entergy Louisiana is a wholly owned subsidiary of Entergy (NYSE:ETR). In that account, I am content to allow the bond to be redeemed in dribs and drabs. My commission cost was slightly higher than $1, the prevailing rate in my IB taxable account, and I can at least avoid the commission cost by allowing the issuer to redeem over time while collecting more interest payments on a diminishing share base. The interest payments are also tax free in the ROTH IRA which is not the case in my taxable account of course.
Disclaimer: I am not a financial advisor but simply an individual investor who has been managing my own money since I was a teenager. In this post, I am acting solely as a financial journalist focusing on my own investments. The information contained in this post is not intended to be a complete description or summary of all available data relevant to making an investment decision. Instead, I am merely expressing some of the reasons underlying the purchase or sell of securities. Nothing in this post is intended to constitute investment or legal advice or a recommendation to buy or to sell. All investors need to perform their own due diligence before making any financial decision which requires at a minimum reading original source material available at the SEC and elsewhere. A failure to perform due diligence only increases what I call "error creep". Stocks, Bonds & Politics:ERROR CREEP and the INVESTING PROCESS. Each investor needs to assess a potential investment taking into account their personal risk tolerances, goals and situational risks. I can only make that kind of assessment for myself and family members.