This basket strategy was last updated here: Update For Regional Bank Basket Strategy As Of 12/4/15 - South Gent | Seeking Alpha
Basket as of 12/28/15: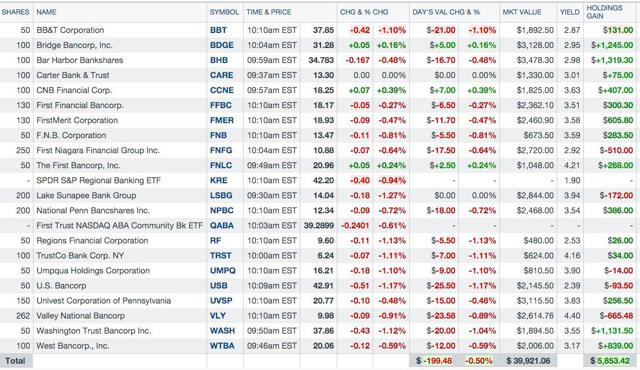 In this table, I am not tracking shares purchased with dividends.
A basket strategy is in essence a mini-sector fund. The components are weighted based on a variety of factors unique to that basket, including valuations, dividend yields, dividend growth potential, and diversification objectives.
I am in a holding pattern for regional bank stocks, waiting for more clarity on when net interest margins will improve.
Net Interest Margin for all U.S. Banks-St. Louis Fed
This basket has a minimum out-of-pocket exposure of $40K and a maximum of $80K. I am currently below my minimum level by around $6K. I am waiting for better opportunities.
I include two ETFs in the regional basket's table, which I do not own, for comparison purposes.
First Trust NASDAQ ABA Community Bank Index ETF (NASDAQ:QABA)
SPDR S&P Regional Banking ETF (KRE)
My net realized gain in this basket strategy currently stands at $24,998.64 REGIONAL BANK BASKET STRATEGY GATEWAY POST I started to build this basket in the 2009 Spring.
Snapshots of round trip trades can be found at the end of that post. This basket has generated an annual average $1,917 in dividends over the past 3 years.
Over the life of this basket strategy, I anticipate that dividends will generate about 40% of my total return.
The dividend yield of this basket is significantly in excess of the yields provided by the two regional bank ETFs noted above.
1. Eliminated SONA at $12.8 and $12.98-Two Taxable Accounts 100 Shares in Each
Trade Snapshot: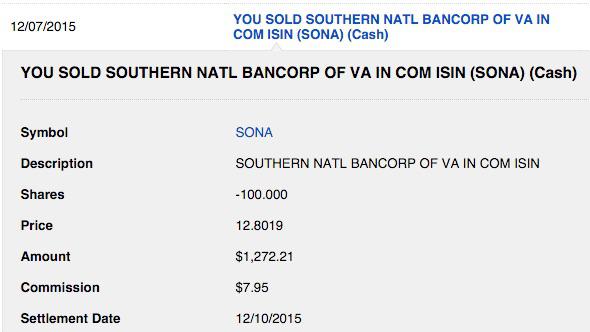 Profit Snapshot: +$86.26


Trade Snapshot:

Profit Snapshot:

History: Both 100 share lots earned $36 in dividend payments.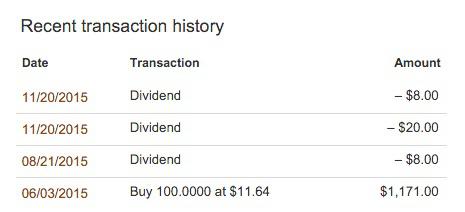 The regular quarterly dividend is $.08 per share and the $20 distribution was classified as a special dividend.
Rationale: I did not see much near term upside given the valuation. The one analyst providing earnings estimates predicts an E.P.S. of $.72 this year and $.75 next year: SONA Analyst Estimates
If those estimates prove 100% accurate, then the earnings growth rate is 4.1% Y-O-Y and the forward P/E at a $12.98 price is about 17.31. That P/E for the projected growth rate is outside of my fair value range, and that is after some slack based on SONA's intermediate term potential.
I bought more shares of the higher yielding FFBC with part of the proceeds. The yield differential was slightly over 1% per annum at the current penny rates.
2. Added 50 FFBC at $18.04
First Financial Bancorp (NASDAQ:FFBC) is a bank holding company that owns through its wholly owned subsidiary First Financial Bank 106 banking centers in Ohio, Kentucky and Indiana. "As of September 30, 2015, the Company had $7.9 billion in assets, $5.2 billion in loans, $6.1 billion in deposits and $813.0 million in shareholders' equity."
Map of Locations: Branch Locations & ATMs l First Financial Bank
Trade Snapshot: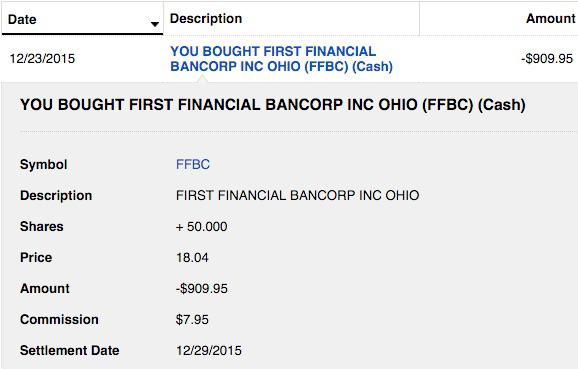 Existing Position Before Buy: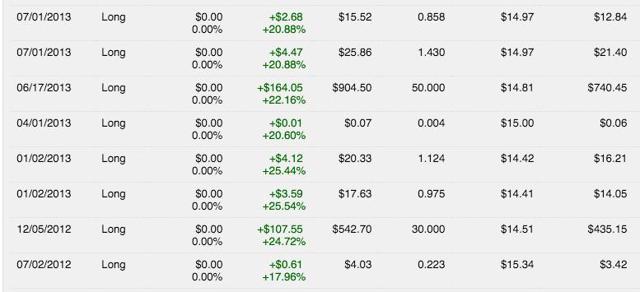 This last 50 share buy raised my average cost to $16 per share:

Earnings Estimates: The current consensus E.P.S. estimates, generated by 9 analysts, is $1.24 this year and $1.41 next year. FFBC Analyst Estimates
The 2016 estimate gives me a 12.71 P/E based on the $18.04 price. The projected E.P.S. growth rate Y-O-Y is 13.7%.
Dividend: And FFBC has a higher dividend yield than SONA by about 1% per annum at current penny rates.
As shown in the preceding snapshot, I quit reinvesting the dividend in 2013. I did recently change the dividend option from payment in cash to reinvestment.
Prior Trades: It was just as well that I sold my highest cost shares at a minimal profit, since the share price has not gone up much since those pares.
Item # 4 Sold 57 FFBC at $17.03-Highest Cost Shares (12/23/13 Post)(profit snapshot=$37.68)
Item # 3 Sold 50 FFBC at $17.511 (September 2012 Post)
I discussed purchases of the other currently owned shares here:
Item # 1 Added 50 FFBC at $14.8 (December 2011 Post)(to keep those shares, I could not use FIFO); Item # 2 Item # 2 Added 30 FFBC at $14.24 (December 2012 Post); Item # 2 Added 50 FFBC at $14.65 (June 2013 Post)
Needless to say, FFBC has been a less than optimal pick, though my total return to date has been acceptable given the dividend. During that earlier period, FFBC had been paying out 100% of its net income as dividends.
The last quarterly dividend that included 100% of net income was $.27 per share and was paid on 10/1/13. Cash Dividends | First Financial Bank Of that amount, the regular dividend was $.12 and the variable dividend was $.15 representing the remaining net income per share. When stopping the payout of the variable dividend, FFBC did increase its regular dividend from $.12 to $.15 and the regular quarterly distribution was subsequently increased to $.16 per share.
At the current quarterly rate, the dividend yield is about 3.55% at a total cost of $18.05 per share and 4% at a total cost of $16 per share which is my current total cost per share number.
Chart: The stock recently hit a high near $21 and has retreated more than 10% since that 52 week high. The stock was trading below its 50 and 200 day SMA lines when I made this last purchase.
Buying stocks after the piercing of those lines is a common occurrence here at HQ when it can be justified by valuation and yield.
Recent Earnings Report: For the third quarter, "net income was $20.9 million, or $0.34 per diluted common share, return on average assets was 1.09% and return on average tangible common equity was 13.77%" excluding pre-tax non-operating expenses primarily related to the Oak Street Financial acquisition discussed below.
Net Interest Margin: 3.67% (much higher than the average for banks with over $15B in assets: Net Interest Margin for U.S. Banks with average assets greater than $15B-St. Louis Fed)
ROE: 9.12% (prefer over 10%)
Return on Average Equity for all U.S. Banks-St. Louis Fed=9.22%
Return on Tangible Equity: 12.33%
Return on Assets: .97% (prefer over 1%)
Return on Average Assets for all U.S. Banks-St. Louis Fed=1.03%
The capital ratios are okay: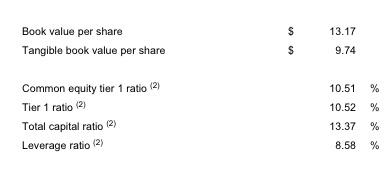 "During the quarter, the Company repurchased 148,935 shares at a weighted average price of $18.68 and has repurchased 1,399,835 of the 5,000,000 shares authorized in 2012."
The credit quality ratios are fine: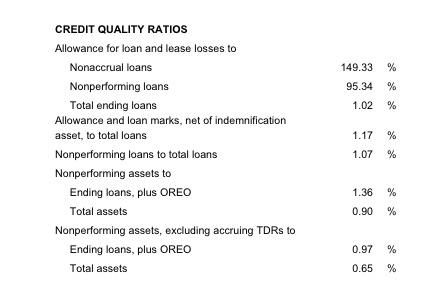 Nonperforming Loans (past due 90+ days plus nonaccrual) to Total Loans for all U.S. Banks-St. Louis Fed=1.6%
Charge-offs were .17% of average loans on an annualized basis, which is good:

Charge-Off Rate On All Loans, All Commercial Banks-St. Louis Fed=.39%
All of the national averages referenced above are from the 2015 third quarter.
Q3 2015 Results - Earnings Call Transcript | Seeking Alpha
Other Recent News: In August, First Financial completed its acquisition of Oak Street Financial, a nationwide lender that provides "loans, secured by commissions and cash collateral accounts, exclusively to insurance agents and brokers to maximize their book-of-business value and grow their agency business." The purhcase price was $110M in cash. First Financial Bancorp Reports Third Quarter 2015 Financial Results -Oct. 22, 2015
FFBC estimated that the Oak Street acquisition would have the following fianancial impacts:

This acquisiton announcement was made on 7/23/15. The market initially reacted positively to it.
The stock rose from an $18.07 prior to the announcment to $19.69 by 8/10. FFBC Historical Prices Then the stock market swooned, and the stock closed at $17.6 (8/25). The stock thereafter recovered with several closing prices over $20 in mid-November before drifting back down some.
Appendix: In this section, I have included some snapshots that contain material information relating to credit conditions and credit growth. Generally, credit standards start to tighten before the onset of a recession. There has been a slight tighening in commerical loans: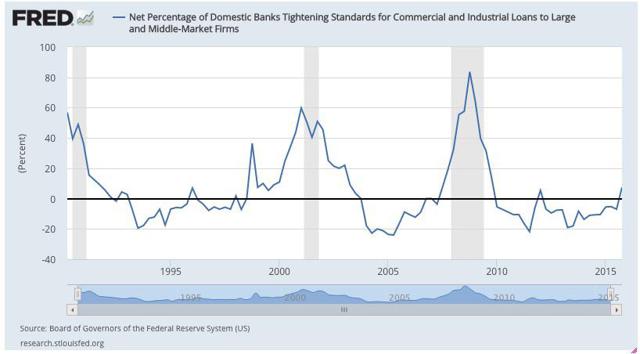 Net Percentage of Domestic Banks Tightening Standards for Commercial and Industrial Loans to Large and Middle-Market Firms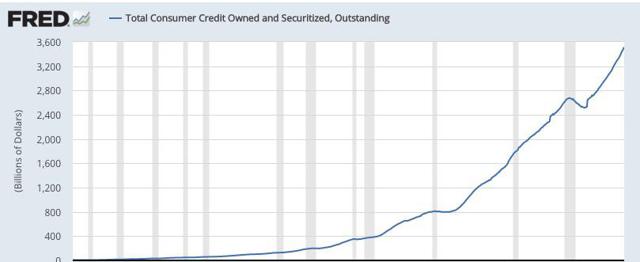 Total Consumer Credit Owned and Securitized, Outstanding- St. Louis Fed
While more banks have started to tighten, and the trend is defenitely up, I do not yet view the slight uptick above zero as material.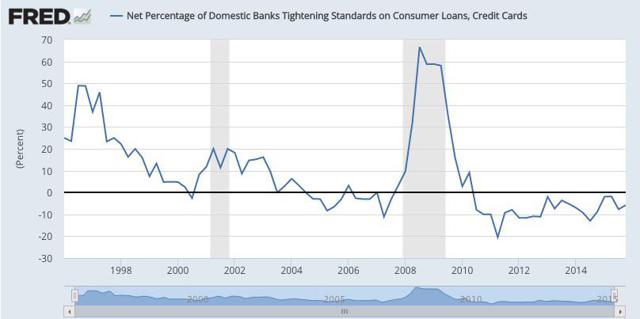 Net Percentage of Domestic Banks Tightening Standards on Consumer Loans, Credit Cards-St. Louis Fed
Bank loans are still increasing: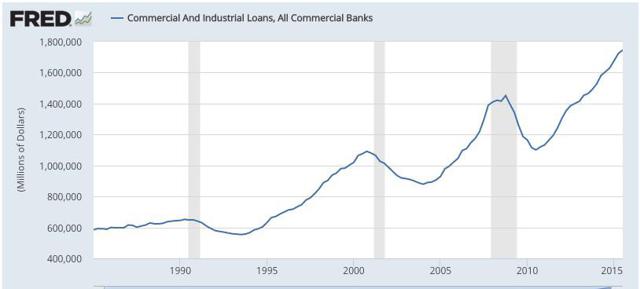 Commercial And Industrial Loans, All Commercial Banks-St. Louis Fed
Fed created money used in its QE programs has largely remained in excess reserves and has consequently been unused in the real economy: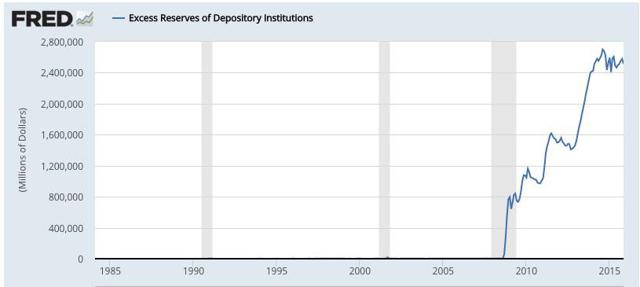 Excess Reserves of Depository Institutions-St. Louis Fed
There has been some recent drawdowns of excess bank reserves.
The velocity of money shows no signs yet of increasing as the amount of money has increased substantially: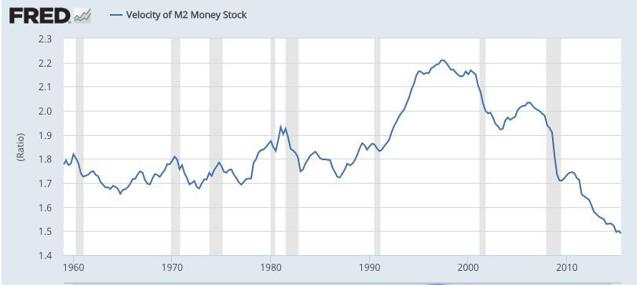 Velocity of M2 Money Stock-St. Louis Fed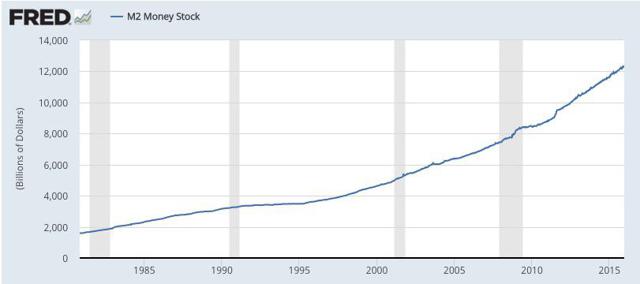 Quantitative Easing | CCIM Institute
Chart o' the Day: The (non) Velocity of Money: Reformed Broker
What Does Money Velocity Tell Us about Low Inflation in the US
Disclaimer: I am not a financial advisor but simply an individual investor who has been managing my own money since I was a teenager. In this post, I am acting solely as a financial journalist focusing on my own investments. The information contained in this post is not intended to be a complete description or summary of all available data relevant to making an investment decision. Instead, I am merely expressing some of the reasons underlying the purchase or sell of securities. Nothing in this post is intended to constitute investment or legal advice or a recommendation to buy or to sell. All investors need to perform their own due diligence before making any financial decision which requires at a minimum reading original source material available at the SEC and elsewhere. A failure to perform due diligence only increases what I call "error creep". Stocks, Bonds & Politics:ERROR CREEP and the INVESTING PROCESS. Each investor needs to assess a potential investment taking into account their personal risk tolerances, goals and situational risks. I can only make that kind of assessment for myself and family members
Disclosure: I am/we are long FFBC.