Closing Prices Today:
KRE: 40.35 -0.50 (-1.22%) : SPDR S&P Regional Banking ETF
S & P 500 1,990.26 -26.45 (-1.31%)
+++++++++
This basket was last updated here: Update For Regional Bank Basket Strategy As Of 12/28/15 - South Gent | Seeking Alpha
In this table, I am not tracking shares purchased with dividends.
Basket as of 1/6/16: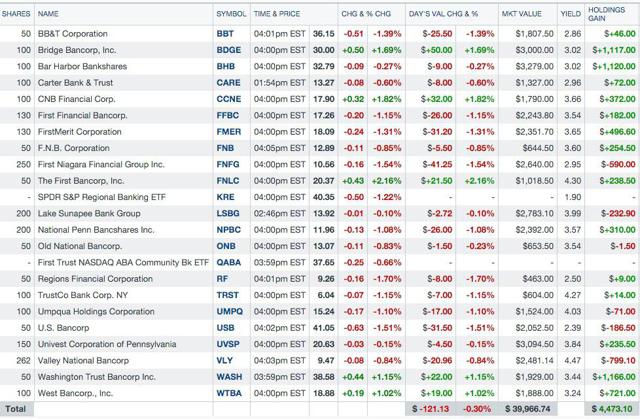 My unrealized gain has taken a hit over the past few weeks.
The larger banks are being hit harder in the market downdrafts, possibly due to their inclusion in the S & P 500. My two worst performers today were USB and BBT, and both of those stocks are in the SPX. Some of the smaller banks posted gains on a down day.
A basket strategy is in essence a mini-sector fund. The components are weighted based on a variety of factors unique to that basket, including valuations, dividend yields, dividend growth potential, and diversification objectives.
I am in a holding pattern for regional bank stocks, waiting for more clarity on when net interest margins will improve.
Net Interest Margin for all U.S. Banks-St. Louis Fed
This basket has a minimum out-of-pocket exposure of $40K and a maximum of $80K. I am currently below my minimum level by around $4.5K. I am waiting for better opportunities. I did make two small adds last Monday when regional banks were hit harder than the market.
Closing Prices Monday 1/4/15 (day of two small odd lot purchases)
KRE: Down 2.48%
S & P 500 Down 1.53%
I focused last Monday on a few banks whose share price had declined more than KRE (which declined far more than SPX) when I placed the order.
I averaged down by buying another 50 of Umpqua Holdings: UMPQ: $15.44 -0.46 (-2.89%) With that decline, the dividend yield went over 4%.
I re-initiated a 50 share position in Old National (NYSE:ONB): ONB: $13.14 -0.42 (-3.10%)
I include two ETFs in the regional basket's table, which I do not own, for comparison purposes.
First Trust NASDAQ ABA Community Bank Index ETF (NASDAQ:QABA)
SPDR S&P Regional Banking ETF (KRE)
My net realized gain in this basket strategy currently stands at $24,998.64 REGIONAL BANK BASKET STRATEGY GATEWAY POST I started to build this basket in the 2009 Spring.
Snapshots of round trip trades can be found at the end of that post.
This basket has generated an annual average $1,917 in the three year period ending 12/31/14. I have not yet compiled the total dividend number for 2015.
Over the life of this basket strategy, I anticipate that dividends will generate about 40% of my total return.
The dividend yield of this basket is significantly in excess of the yields provided by the two regional bank ETFs noted above.
I am doing most of my small odd lot trades in my IB account.
1. Averaged Down: Bought 50 UMPQ at $15.4
Trade Snapshot ($1 Commission):

I previously bought 50 shares at Update For Regional Bank Basket Strategy As Of 10/2/15 - South Gent | Seeking Alpha (scroll to 2. Bought 50 UMPQ at $16.49)
I will drag and drop some of the material from that post here.
Company Description: Umpqua Holdings (NASDAQ:UMPQ) is a bank holding company whose headquarters is located in Portland, Oregon and conducts its banking operations through its wholly owned subsidiary Umpqua Bank.
"Umpqua Bank has locations across Idaho, Washington, Oregon, California and Northern Nevada." Umpqua Bank Umpqua makes it extremely difficult to ascertain the exact number of branch locations. The bank has 342 branches located primarily in Washington, Oregon and California: Umpqua Bank Locations
The bank has grown through a series of acquisitions over the years: Mergers and Acquisitions The last acquisition was Sterling Financial Corporation that cost $1.951 billion in stock and $137M in cash. Sterling had its headquarters in Spokane, Washington with branches in Washington, Oregon, and Idaho. Sterling had $10.32B in assets and 173 branches as of 12/31/13: 12-2013 10-K
Umpqua Holdings Corporation and Sterling Financial Corporation Complete Merger (4/19/14 Press Release)
Umpqua did participate in TARP. Early in 2010, the bank purchased all of the government's preferred stock and bought back the government's stock warrants. (page 154, Form 10-K). The bank raised the necessary funds by selling 8.625M shares at $11. The bank raised $258.7M through a public offering of shares priced at $9.75.
The company discusses risks incident to its operations starting at page 18 of its 2014 Annual Report: UMPQ-2014.12.31-10K
Market share by county can be found starting at page 8 of that Annual Report.
SEC Filed Second Quarter Presentation
UMPQUA BANK Review: 4 Stars from Bankrate.com
Chart: A long term chart reveals a good run from around $7.5 (11/2000) to a top near $31 (November/2006). The prices of many regional bank stocks started to decline in 2006-2007 after hitting peaks during 2005 or 2006, which in retrospect signaled troubled ahead.
As shown in a five year chart, the price has been meandering up and down in a relatively tight range, mostly in the $16 to $19 range, but has recently broke below that range.
At the time of purchase, UMPQ was trading below its 50, 100 and 200 day SMA lines based on a one year chart: UMPQ Interactive Stock Chart
Dividend: Umpqua is currently paying a quarterly dividend of $.16 per share or $.64 annually: Umpqua Holdings Corporation (UMPQ) Dividend Date & History
At that quarterly rate, the dividend yield is about 4% at a total cost per share of $15.4.
The stock went ex dividend after my last purchase. Umpqua Holdings Announces Quarterly Dividend
Like many banks during the go-go years for regional banks, UMPQ was raising its dividend from 1993 to 2008. The quarterly rate was $.013 in 1995 and had reached 19 cents during the 2007 third quarter, staying at 19 cents until the 2008 third quarter when it was slashed to 5 cents. The bank raised the five cent quarterly dividend to 7 cents in the 2011 third quarter. The next increase was to $.09 and then to 15 cents which remained in effect for 10 quarters.
Investor Relations: Dividend History
One reason for considering a purchase was that Umpqua recently broke that 10 quarter $.15 penny rate with a 1 cent raise. Umpqua Holdings Raises Quarterly Dividend (9/15/15 Press Release)
The stock went ex-dividend for its quarterly distribution on 12/29.
Umpqua Holdings Corporation (NASDAQ:UMPQ) Dividend Date & History - NASDAQ.com
Prior Trade: I have had two prior trades and one of those was in my Lottery Ticket Basket Strategy which is no longer being updated anywhere.
LT Purchase: Item # 6 Bought 30 UMPQ as LT at $11.53 (5/4/11 Post)-Item # 2 Sold 30 UMPQ at $13.33 (snapshot of gain=$38.09)
Sold 50 UMPQ at $16.12 (7/23/13 Post)(profit snapshot=$187.58)-Item # 2 Bought 50 UMPQ at $12.05 (10/22/2012 Post)
Total To Date Trading Profit=+$225.67
Recent Earnings Report: SEC Filed Press Release
I recently discussed this bank.
2. Bought 50 ONB AT $13.1
Trade Snapshot ($1 Commission):

Company Description: ONB is "the holding company of Old National Bank, is the largest financial services holding company headquartered in Indiana and, with $11.9 billion in assets, ranks among the top 100 banking companies in the U.S.". ONB also "owns Old National Insurance, one of the 100 largest brokers in the U.S."
Prior Trades: I last sold a 50 share lot at $14.12 last July. My total realized gain for the two 50 share lots sold last year was $89.47.

I was slightly more successful in two earlier round-trip trades:
Item # 1 SOLD 100 ONB at $13 (8/22/12 Post)(snapshot of profit=$99.07)-Item # 4 Bought 100 ONB at $11.85 (5/29/2012 Post)
Item # 1 Sold 50 ONB at $14.12 (7/16/13 Post)(Profit snapshot=$95.13)-Item # 4 Bought Back 50 ONB at $11.9 (5/6/13 Post)
Total Trading Gains: $283.67
I am just working my way up slowly to playing with the house's money on this one.
Dividends: The bank is currently paying a $.12 quarterly dividend per share. Dividends - Old National At that penny rate and a total cost of $13.1, the dividend yield is about 3.66%. The dividend was last rasied from $.11 in the 2015 first quarter. The dividend was slashed from $.23 to $.07 in 2009 which is another reason for caution and a relatively low monetary exposure IMO.
Last Earnings Report: "Included in 3rd quarter 2015 results were $15.4 million in net pre-tax gains as well as $2.0 million in pre-tax charges relating to several strategic initiatives. These initiatives include branch sales and consolidations and integration activity. Excluding the impact of these items, Old National would have reported net income of $29.4 million, or $.26 per share. In addition, the Durbin Amendment to the Dodd-Frank Wall Street Reform and Consumer Protection Act of 2010 became effective for Old National beginning July 1, 2015, resulting in a 3rd quarter decline in interchange income of $2.7 million. . . . Impacting Old National's balance sheet in the 3rd quarter were the completion of two sales, totaling 17 banking centers, $193.6 million in loans and $555.8 million in deposits. These sales were both completed on August 14, 2015." (emphasis added)
ONB earned $.26 in the 2014 third quarter.
NPL's are too high but charge-offs are good: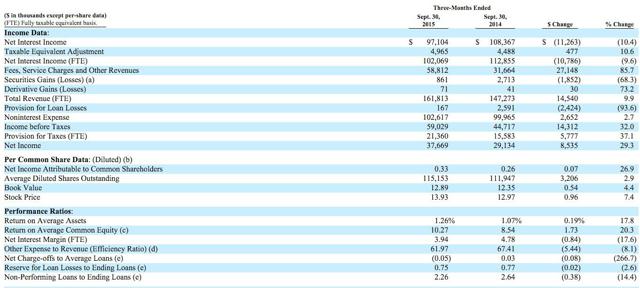 Capital ratios are okay:

Sourced: SEC Filed Press Release
Consensus 2016 E.P.S.Estimate as of 1/4/15: $1.05, up from $.99 in 2015 ONB Analyst Estimates
Forward P/E (2016) Based on $13.1 Price=12.48
Rationale/Risks: I will move into and out of this stock using small lots only. Before investing more, I want to see improvement in the NPLs, a core operating efficiency ratio lower than 60%, and earnings growth.
Net interest margin contraction remains a main risk for banks. Since the FED raised the FF rate, the spread between the 2 and 10 year treasury has contracted further.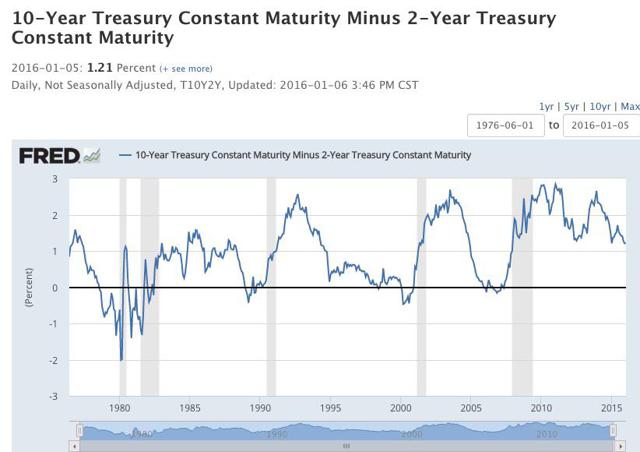 10-Year Treasury Constant Maturity Minus 2-Year Treasury Constant Maturity -St. Louis Fed
I discussed back in July slashing my regional bank basket just about in half based on an opinion that NIM contraction would continue into 2016 while the market was pricing in an expansion: Update On Regional Bank Basket Strategy As Of 7/17/15 - South Gent | Seeking Alpha
Some of my future predictions turn out to be on the mark. But, as the saying goes, when predicting the future, be sure to predict often since multiple scenarios will improve one's chance of being right once.
Disclaimer: I am not a financial advisor but simply an individual investor who has been managing my own money since I was a teenager. In this post, I am acting solely as a financial journalist focusing on my own investments. The information contained in this post is not intended to be a complete description or summary of all available data relevant to making an investment decision. Instead, I am merely expressing some of the reasons underlying the purchase or sell of securities. Nothing in this post is intended to constitute investment or legal advice or a recommendation to buy or to sell. All investors need to perform their own due diligence before making any financial decision which requires at a minimum reading original source material available at the SEC and elsewhere. A failure to perform due diligence only increases what I call "error creep". Stocks, Bonds & Politics:ERROR CREEP and the INVESTING PROCESS. Each investor needs to assess a potential investment taking into account their personal risk tolerances, goals and situational risks. I can only make that kind of assessment for myself and family members.
Disclosure: I am/we are long UMPQ, ONB.