I went ahead and added the recently inherited REIT common and preferred stocks to my basket. One reason was that I had already added the REIT preferred stocks to my exchange traded bond and preferred stock basket. I will also include the inherited healthcare stocks in that sector basket strategy.
The only new REIT added to the basket is Care Capital Properties (CCP). When and if I buy more, I will discuss that REIT.
I will not add the inherited CEFs and regional banks to those baskets.
I totaled up the dividends generated by the REIT basket that were paid in 2015, excluding dividends paid on the inherited positions.
The total came to $4,364.98. I suspect the total will go over $7K this year with the inclusion of the inherited positions. The number may go over $8K by continuing to increase my exposure some.
I have decided that all dividends paid by REITs this year will be invested in additional REIT shares. That will be accomplished either through dividend reinvestment or aggregating the cash to make additional open market purchases.
I may elect to continue doing that for up to five years. The primary rationale is income generation when I am maintaining an oversized cash position.
I am tracking realized gains and losses, along with annual dividend payments, here: Stocks, Bonds & Politics: Gateway Post: Equity REIT Common and Preferred Stock Basket Strategy
During the life of this basket, I believe that dividend income will swamp realized gains.
Total Net Realized Gains =$4,182.08
Total Dividends September 2013 through December 2015: $8,316.37
This sector basket strategy started in September 2013.
The amount of dividends paid by my Canadian REITs are expressed after conversion into USDs. That effectively lowers the amount received due to the CAD losing value against the USD.
With crude oil and other commodities in the crapper, and likely to remain so for months to come, the Canadian Dollar will likely fail to mount a sustained and significant rally against the USD, and the Canadian economy will continue to struggle. The worm will turn but I view the odds as slim for 2016 barring a conflagration in the Middle East.
++++++++
This basket strategy was last updated here: Update For Equity REIT Basket Strategy As Of 12/29/15 - South Gent | Seeking Alpha
This basket strategy is in essence a mini-sector fund. The components are weighted based on a variety of factors unique to that basket, including valuations, dividend yields, dividend growth potential, and diversification objectives.
I am buying equity REIT common stocks in small increments. I am focusing on those stocks that have been smashed in price and are undervalued IMO, taking into account some known negative issues that have probably contributed to their underperformance this year.
Basket as of 1/11/16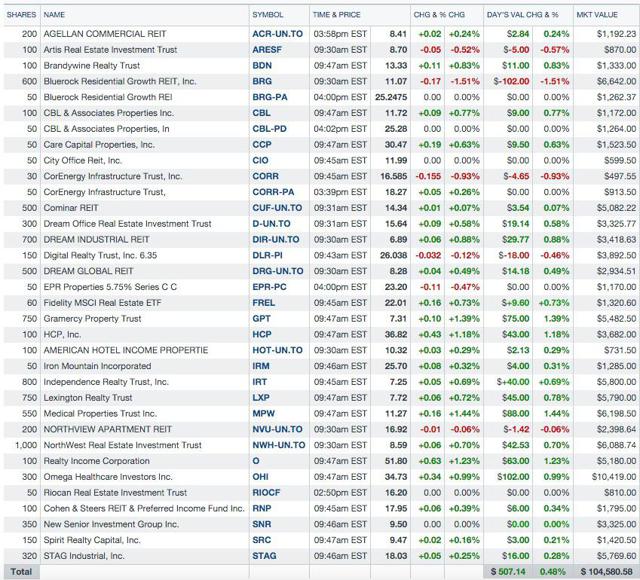 +++++++++
In my mental ledger book, I will be buying higher yielding REITs to replace IRC discussed below and the income generated by a bond that will mature on 2/1/16.
Bought 2 OfficeMax Senior Bonds at 97.494 (January 2011 Post)

That bond is now an Office Depot obligation.
FINRA Bond Detail: Office Depot 7.35% Senior Unsecured Maturing 2/1/16
So I can buy up to $4,169.74 in higher yielding REITs to replace the income previously generated by those 2 bonds and my low yielding for a REIT IRC shares.
++++++++
1. Sold 204+ IRC at $10.64-Satellite Taxable Account
Trade Snapshot: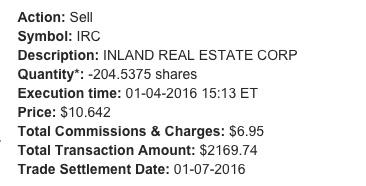 Profit: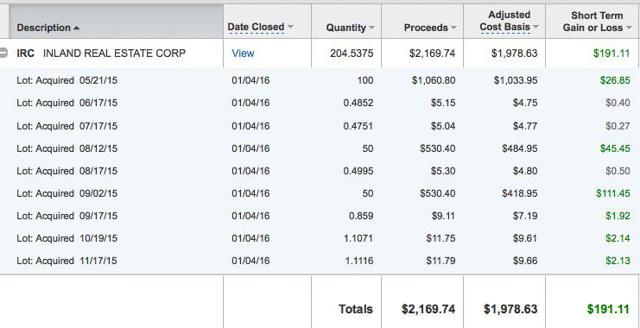 Update For REIT Basket Strategy As Of 8/24/15 - South Gent | Seeking Alpha (scroll to 2. Added 50 IRC at $9.56-Satellite Taxable);Update For REIT Basket Strategy As Of 9/8/15 - South Gent | Seeking Alpha (scroll to 1. Averaged Down: Bought 50 IRC at $8.24-Satellite Taxable)
The 100 share purchase on 5/21/15 was not discussed since it occurred during my vacation from blog writing.
Previous Round Trip: Item # 1 Sold 206+ IRC at $10.945 (profit snapshot=$122.13/total return at $189.91)- Item # 3 Added 50 IRC at $9.93 (10/11/14 Post); Item # 6 Bought 150 IRC at $10.35 (3/3/14 Post)
Total Realized Gains= $312.04 plus the monthly dividend
Rationale: Inland Real Estate accepted a cash offer of $10.6 per share. Inland Real Estate Corporation Enters into Definitive Agreement to be Acquired by Funds Managed by DRA Advisors LLC
I viewed that offer as inadequate. However, no betters offers have been disclosed publicly since the 12/15/15 announcement. I sold this low yielding REIT at slightly more the $10.6 per share acquisition price. I will received the $.0475 per share January dividend: Inland Real Estate Corporation Pays December and Declares January Cash Distribution to Common Stockholders
At $10.64 per share, the dividend yield is about 5.38%.
While "quality blue chip" REITs will have yields less than that, IRC is not in that class. LXP, discussed below, is not in that class either, but the dividend yield at $7.73 per share is about 8.8%. I also receive a 5% discount on the reinvestment price for shares held in my Fidelity Roth IRA which effectively increases the yield.
Many REIT investors view the following as "blue chips":
Realty Income (O): Yield of 4.48% at $51.17
Boston Properties (BXP): Yield of 2.14% at $121.48
Simon Property Group (SPG): Yield of 3.44% at $186.1
Alexandria Real Estate Equities (ARE): Yield of 3.6% at $85.57
Public Storage (PSA): Yield of 2.75% at $247.23
Avalonbay Communities (AVB): Yield of 2.79% at $179
Ventas (VTR): Yield of 5.19% at $56.26
Essex Property Trust (ESS): Yield of 2.47% at $233.67
This list is not meant to be comprehensive. I am using the dividend yield calculations provided by Marketwatch.
The REIT ETF weightings in the large "blue chip" REITs will cause a relatively low dividend yield:
Vanguard REIT ETF:
"The current unadjusted effective yield is 3.85% as of 11/30/2015, which is based on the full amount of REIT distributions (dividend income, as well as return of capital and capital gain).
The current adjusted effective yield is 2.61% as of 11/30/2015. The adjusted yield reflects a reduction in the income included in the yield based on the average return of capital and capital gain distributions received from the fund's REIT investments for the past 2 calendar years. (These percentages are 31.44% for 2014 and 30.29% for 2013.)"
Sourced: Vanguard - REIT Index
Of those stocks, I currently own Realty Income, bought at $36.96, and I view that one as overpriced currently.
2. ADDED 50 LXP AT $7.73 ROTH IRA and 100 in IB account at $7.8:
I will use bold type for section headings to make it easier for readers to navigate and skip over material which is already known to them.
The Lexington Realty Trust (LXP) is a self-administered equity REIT that "owns a diversified portfolio of equity and debt interests in single-tenant commercial properties and land". All of the land leases and a majority of its properties are subject to net leases, where the "tenant bears all or substantially all of the operating costs". Corporate Profile
Recent Brad Thomas Article: Perhaps The Third Time Is The Charm For Lexington Realty - Lexington Realty Trust (NYSE:LXP) | Seeking Alpha
Properties by Type: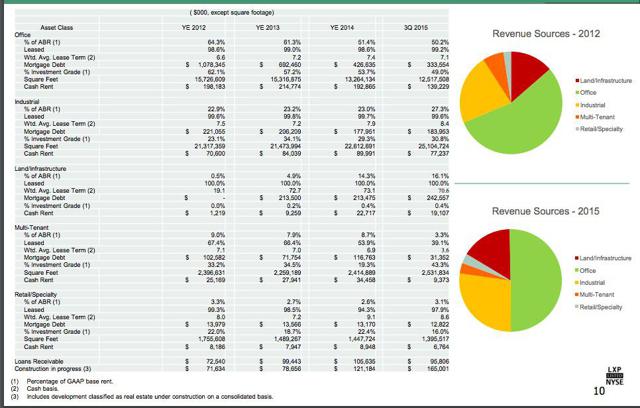 Sourced: LXP November 2015 Investor Presentation
LXP Website: LXP
Lexington Realty Profile Page at Reuters
Lexington Realty Key Developments Page at Reuters
Lexington Realty Trust Dividend History
The current quarterly dividend is $.17 per share. As previously noted, I view LXP's dividend history negatively: Update For REIT Basket Strategy As Of 9/8/15 - South Gent | Seeking Alpha (scroll to 4. Averaged Down: Bought 50 LXP at $7.89-A Roth IRA Account and then to Dividends)
The dividend yield at $7.73 is about 8.8%.
TRADE SNAPSHOT Roth IRA: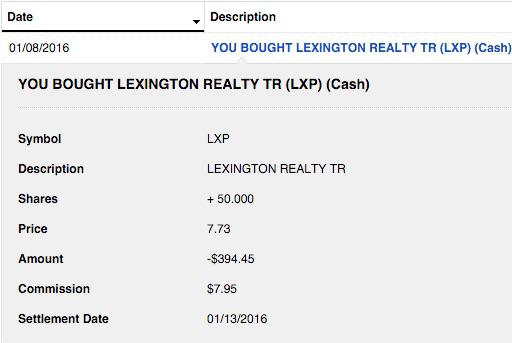 Closing Price Date of Trade: LXP: $7.66 -0.25 (-3.16%)(stock hit a new 52 low at $7.65; 52 week range $7.65 to $11.75)
Chart: The stock is trading well below its 50, 100 and 200 day SMA lines-LXP Interactive Stock Chart
IB Account Trade:
I also bought 100 in my IB account as a potential trade:

What would be an acceptable small ball trade to the Old Geezer? Given the dividend yield at the $7.8 price, selling this 100 share lot at $8.2 relatively soon after collecting four quarterly dividend payments would be viewed as a victory.
I am not doing so well with LXP after profitably selling higher cost shares. I still view LXP shares to be undervalued, but the money that counts apparently disagrees with my opinion.
I discussed earlier selling LXP in my Fidelity taxable account and my Vanguard Roth IRA as I transitioned the position to the Fidelity Roth IRA. Sold 54 LXP at $11.44 Vanguard Roth IRA (1/27/15 Post)-Transitioning Position to Fidelity Roth IRA (profit snapshot=$64.4)-Item # 6 Added 50 LXP at $9.95- Vanguard ROTH IRA (1/13/14 Post); Item # 1 Sold 101+ LXP at $10.65 (10/28/14 Post)-Item # 1 Bought: 100 LXP at $10.32 (12/3/13 Post)
Rationale for Fidelity Roth IRA Placement:
The Fidelity Roth IRA was my only account where I could receive a 5% discount on the dividend reinvestment price and avoid an income tax on both the taxable portion of the non-qualified dividend and the artificially created income created by the amount of the discount.
See, Lexington REIT (LXP) - South Gent | Seeking Alpha and Update For REIT Basket Strategy As Of 10/28/15 - South Gent | Seeking Alpha (scroll to 3. LXP 5% Discount on the Share Price for Reinvested Dividends)
I am receiving a 5% discount currently on the reinvestment price through Fidelity's indirect participation in the LXP DRIP plan through the Depository Trust Corporation.
By owning LXP in a Fidelity Roth IRA, I avoid the artificially created income generated by receiving a discounted rate on the reinvestment price. In my Fidelity taxable account, where I was also reinvesting the dividend, the amount of the discount was added to the actual dividend paid, creating artificial dividend income, and consequently the cost basis was also increased to reflect the artificially created dividend income. I was consequently losing part of the discount's value through that income creation.
For the purchase in my IB taxable account, I will not be reinvesting the dividend. I am less concerned about the non-qualified dividend status issue since I am retired and have zero earned income and no private pension. Update For REIT Basket Strategy As Of 10/5/15 - South Gent | Seeking Alpha (Scroll to Comparing Roth IRA or Taxable Account Placement for CBL and LXP)
In addition, LXP classified a significant portion of its dividends as return of capital in both 2013 and 2014:

Lexington Realty Trust Final Dividend Allocation for 2014

LEXINGTON REALTY TRUST Final Dividend Allocation for 2013
"Nondividend Distributions" are return of capital. Note that the "qualified dividends" are practically non-existent. A pass through entity will generally generate no or miniscule amounts of qualified dividends.
REITs will generally pay out more than their GAAP per share income in dividends. Consequently, there can be a significant return of capital classification which is not taxable until the investor sells the shares. The ROC reduces the cost basis. Once the shares are held for more than a year, the ROC would be recaptured upon sale at the long term capital rate which is 15% for most taxpayers. For those able to claim that 15% cap, there would be no difference in the qualified dividend and the ROC component of a REIT dividend recaptured at a 15% long term capital gains rate.
Most Recent Discussed Purchases:
Update For REIT Basket Strategy As Of 9/8/15 - South Gent | Seeking Alpha (4. Averaged Down: Bought 50 LXP at $7.89-A Roth IRA Account)
Update For Equity REIT Basket Strategy As Of 7/24/15 - South Gent | Seeking Alpha-Bought 50 at $8.49-Roth IRA
Added To LXP at $9.27-Roth IRA South Gent | Seeking Alpha
Added To LXP At $9.85-Roth IRA - South Gent | Seeking Alpha (3/17/15 Post)
I will be dragging and dropping some information from those discussions.
LXP Valuation: Many investors focus on Funds From Operations or "FFO" when valuing a REIT. A judgment about LXP's valuation, dividend sustainability and dividend growth prospects can not be evaluated IMO by using FFO numbers for the reasons discussed below.
I will use the Funds Available for Distribution, rather than FFO, when there is a material difference between FAD and FFO. The FAD number will exclude from FFO recurring expenses and other items that makes it a better number for determining dividend coverage. I have noted in previous blogs that dividend cuts often followed when the dividend payout exceeded FAD. Commonwealth REIT: FFO and CAD Distinction (10/15/12 Post)
Two examples were Washington REIT (NYSE:WRE) and Commonwealth REIT, with the later company renamed Equity Commonwealth (NYSE:EQC) after the external advisor was fired by the shareholders.
There is a material difference in LXP's FFO and FAD numbers.
2014 Per Share Numbers:
Diluted FFO: $1.05
Company FFO=$1.1
Company FAD=$.86
FAD 19% below Diluted FFO
2013 Per Share Numbers:
Diluted FFO: $.88
Company FFO= $1.02
Company FAD: $.72
Sourced: Page 11
The Company wide numbers are calculated "as if all securities that are convertible, at the holder's option, into our common shares, are converted", page 54 Annual Report 10-K.
Convertible Notes: "The conversion price of approximately $6.50 per common share."

Sourced Page 19 10-Q
The Company FFO also adjusts FFO by "debt satisfaction charges, net", "impairment loss-loan receivable" and "other/Transaction costs". Those adjustments were significant in 2013 and 2014: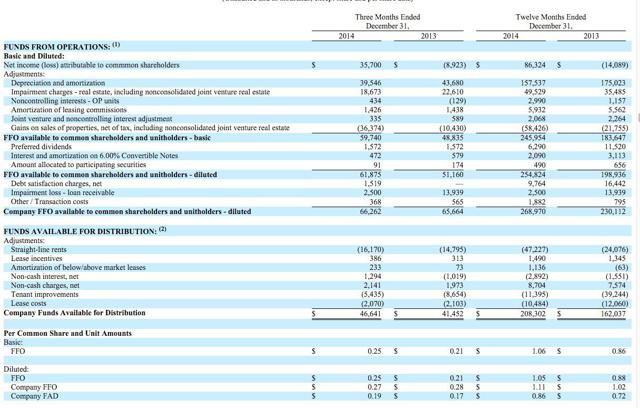 It is difficult to come up with a true, real cash flow number given the variety of adjustments.
2015 Third Quarter Report: I took a snapshot from LXP's last earnings release to show the adjustments made in FFO to arrive at FAD, which IMHO leads me to use FAD rather than FFO when valuing the company's shares: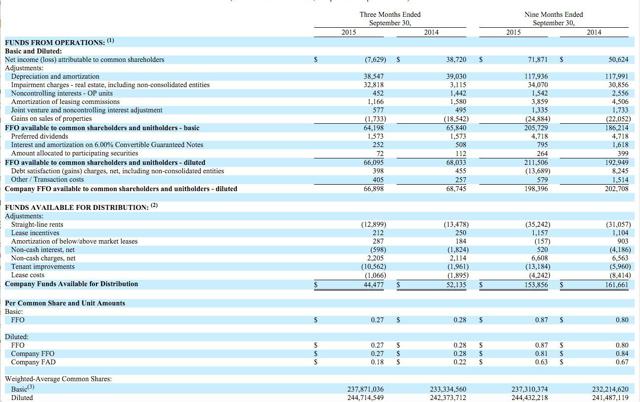 9 Months 2015:
Company FFO Per Share= $.81
Company FAD Per Share= $.63
Payout Ratio Based on FAD= 91.3% ($.63 ÷ $.69= 91.3%)
I would not expect much, if any, dividend raises given that FAD payout ratio.
Sourced from SEC Filed Press Release
SEC Filed Earnings Transcript or Earnings Call Transcript | Seeking Alpha ("We also had a good quarter of leasing, executing leases and lease extensions totaling approximately 800,000 square feet and ending the quarter with 96.5% of our square footage leased, excluding properties with mortgage loans that are in default, totaling 342,000 square feet.")
I am simply not going to place a multiple on recurring expense items or on pretend revenues (i.e. Straight-line Expense Recognition of Leases | Audit Blog) LXP has a number of long term leases with escalators including land leases. Lexington Realty Trust Acquires $302 Million Manhattan Land Portfolio Subject to Long-Term Leases There are three hotels sitting on that land (DoubleTree by Hilton; the Sheraton Tribeca NY; and Element New York Times Square West). The improvements on these three parcels are owned by the tenants under non-cancellable 99 year land leases. The annual initial rent under the leases is approximately $14.9M or 4.9% of the aggregate purchase price. The rent will increase at a minimum 2% per year and up to 3% based on CPI. Subsequent to that announcement, LXP sold 10M shares at $11.17 with an over allotment option of another 1.5M shares. Lexington Realty Trust Announces Pricing of Public Offering of Common Shares The net proceeds were use to pay down amounts outstanding under LXP's unsecured revolving credit facility, a portion of which was used to buy the aforementioned NYC land parcels.
The most important adjustment to FFO to arrive at cash available for distribution is for straight line rents which involves cash that is not actually received by LXP.
LXP apparently takes a different view, which I will ignore:
"We also present Company FFO, which adjusts FFO available to common shareholders and unitholders - diluted for certain items which we believe are not indicative of the operating results of our real estate portfolio."
Glossary of REIT Terms | REIT.com
I am also going to ignore SA authors who focus on LXP's valuation based on P/FFO.
Even using P/FAD rather than P/FFO, LXP is undervalued currently IMO. For the first 9 months of 2015, FAD per share was at $.63. Assuming $.18 per share for the 4th quarter, the same as the third, I arrive at $.81 per share or a P/FAD of 9.63 based on a $7.8 price.
FAD may improve when LXP completes its existing build-to-suite projects and starts collecting cash rent from those leases. Two of those projects were completed in the last quarter
LXP Recent Update:
("In the fourth quarter of 2015, Lexington repurchased 910,499 common shares at an average price of $8.12 per share, bringing the total common shares repurchased in 2015 to 2,216,799 common shares at an average price of $8.29 per share.")
Lexington Realty Trust Announces 2015 Fourth Quarter Activity
Two build-to-suit projects were completed in the 4th quarter:

Several other projects are scheduled for completion in 2016: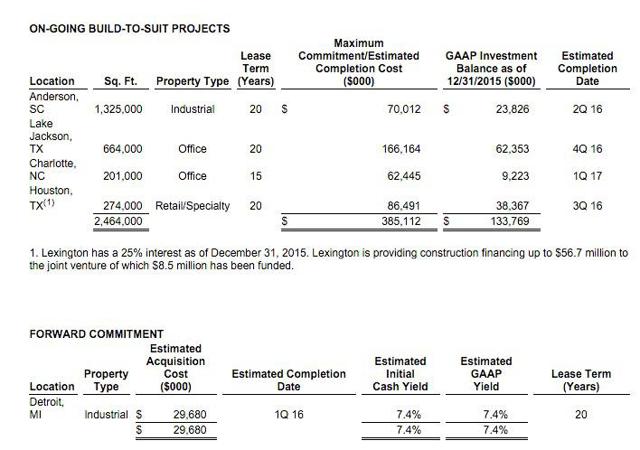 The company discusses risk incident to its operations starting at page 9 of the 2014 Annual Report: LXP 2014.12.31 10K
3. Bought 50 IRM at $25.7: This is first time purchase for me.
Trade Snapshot: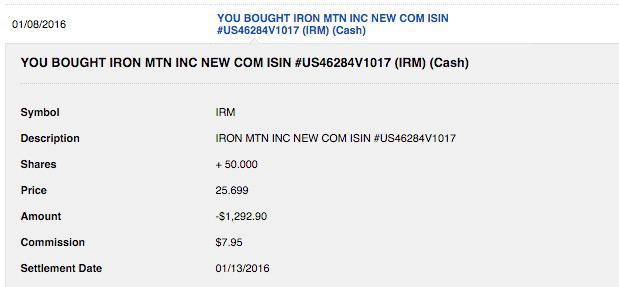 Company Description: Iron Mountain Inc. (IRM) used to be a regular "C" corporation and converted into the REIT structure effective for the taxable year beginning 1/1/2014.
IRM describes itself as "a leading provider of storage and information management services. The company's real estate network of more than 67 million square feet across more than 1,000 facilities in 36 countries allows it to serve customers with speed and accuracy." IRM has over 155,000 customers and stores approximately 530 million cubic feet of records. I view it as an annuity type business for as long as firm's need to store paper records.
December 2015 Investor Presentation .pdf ("durable business drives cash flow and supports dividend growth")
Company Website: Iron Mountain
Iron Mountain-Investors Overview
Brad Thomas: An Iron Mountain Blueprint For Dividend Investors (11/30/15)
The company discusses risks incident to its operations starting at page 13 of its Annual Report. (e.g. "Our customers may shift from paper and tape storage to alternative technologies that require less physical space ... As stored records become less active our service revenue growth and profitability may decline. .. Our substantial indebtedness could adversely affect our financial health and prevent us from fulfilling our obligations under our various debt instruments.")
The total debt and the shift away from paper records were the main reason for limiting my purchase to just 50 shares and holding my powder drive until the price was smashed from a $41.53 52 week high: IRM Interactive Stock Chart
Dividends: The current quarterly dividend is $.485 that raised from $.474 effective for the 2015 4th quarter payment. Iron Mountain - Company - For Investors - Stock Information - Historical Dividends
At the new quarterly rate, the dividend yield is about 7.55% assuming a total cost per share of $25.7.
There have been some large special distributions as reflected in the previous link. The special distribution were IRM's undistributed earnings and profits prior to 12/31/13 which were required to be distributed in connection with a REIT conversion. Iron Mountain - Iron Mountain Incorporated Announces Tax Treatment of 2014 Distributions
Last Quarterly Dividend Announcement: Iron Mountain Declares Quarterly Dividend
Debt: The size of debt in relation to IRM's long term organic growth prospects is problematic.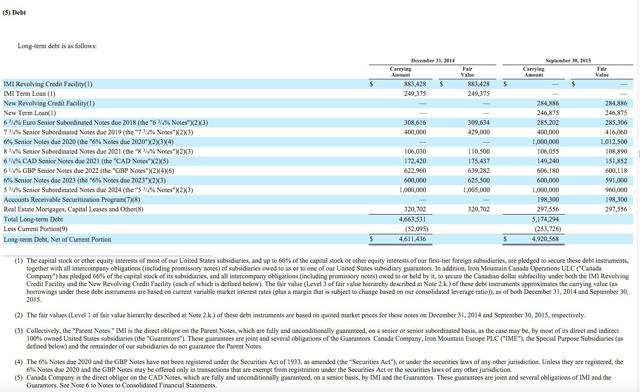 Sourced: Page 32 10-Q
Iron Mountain 6% Senior Unsecured Maturing 2024 Rated Ba3 by Moody's and B+ by S & P: FINRA Bond Detail
Iron Mountain's 5.75% Subordinated Bond Maturing 2023 Rated B2 and B- ($1B in principal amount)

To emphasize a point here, cash is flying out the door to common shareholders in order to maintain the REIT tax status.
Recent Earnings Report: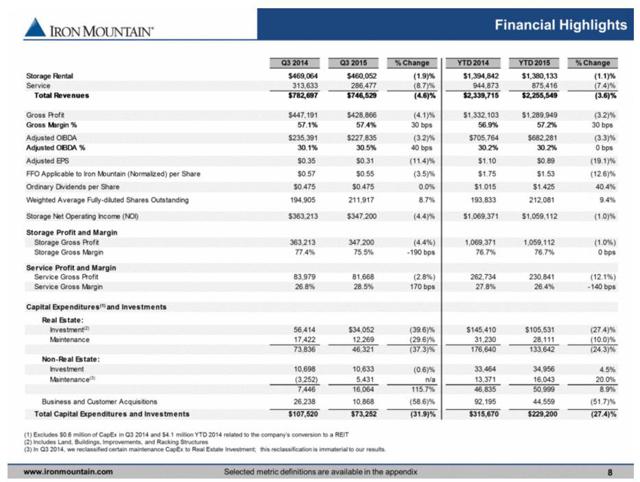 FFO and AFFO Calculations: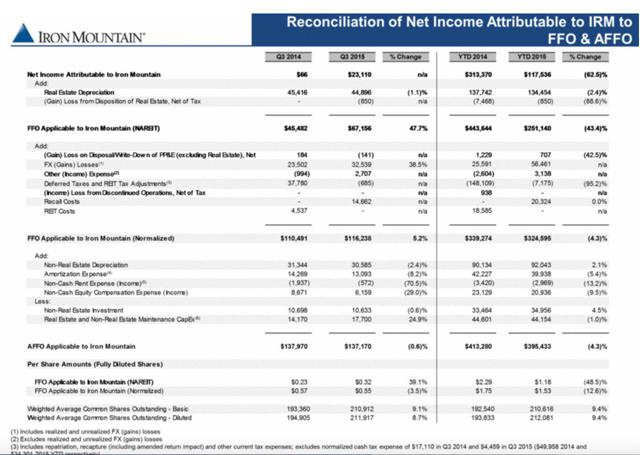 Sourced: SEC Filed Third Quarter Report and Supplemental Information
Other Material News:
Iron Mountain Will Offer Undertakings to UK Competition and Markets Authority To Address Concerns Over Proposed Acquisition of Recall
Iron Mountain Incorporated to Call 6¾% Euro Senior Subordinated Notes due 2018, 7¾% Senior Subordinated Notes due 2019 and 8.375% Senior Subordinated Notes due 2021 for Redemption (9/29/15)
Iron Mountain Incorporated Prices $1B Debt Offering (9/24/15)("a private offering of $1 billion in aggregate principal amount of its 6.00% Senior Notes due 2020")
Iron Mountain Incorporated Refinances Existing $1.5 Billion Revolving Credit Facility and $250 Million Term Loan
Disclaimer: I am not a financial advisor but simply an individual investor who has been managing my own money since I was a teenager. In this post, I am acting solely as a financial journalist focusing on my own investments. The information contained in this post is not intended to be a complete description or summary of all available data relevant to making an investment decision. Instead, I am merely expressing some of the reasons underlying the purchase or sell of securities. Nothing in this post is intended to constitute investment or legal advice or a recommendation to buy or to sell. All investors need to perform their own due diligence before making any financial decision which requires at a minimum reading original source material available at the SEC and elsewhere. A failure to perform due diligence only increases what I call "error creep". Stocks, Bonds & Politics:ERROR CREEP and the INVESTING PROCESS. Each investor needs to assess a potential investment taking into account their personal risk tolerances, goals and situational risks. I can only make that kind of assessment for myself and family members.