This topic was last updated here: Update For CEF Basket Strategy As Of 1/22/16 - South Gent | Seeking Alpha
I have not updated this portfolio until today since I had nothing to discuss until I made a small purchase last Friday.
Table as of 1/29/16: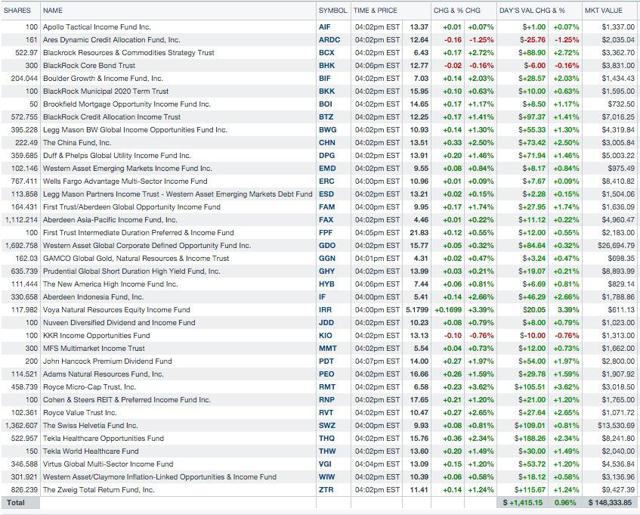 I view the closed end portfolio to be a balanced worldwide portfolio within a larger portfolio that includes individual stock and bond selections.
I place an emphasis on income generation and own a number of CEFs that pay monthly dividends.
I will change the weightings in the CEF portfolio based on my opinions about the balance between risks and rewards.
I have a lengthy discussion of bond CEF risks in the Appendix section to an earlier post:Update For Closed End Fund Basket Strategy As Of 8/14/15 - South Gent | Seeking Alpha(scroll to "General Risk Discussion for Leveraged Bond CEFs") I also discussed those risks here. I will not be repeating those discussions.
I discussed the factors impacting the dividend payout for leveraged closed end funds here:Update For CEF Basket Strategy As Of 10/14/15 - South Gent | Seeking Alpha (Scroll to APPENDIX: 1. Factors Impacting a Dividend Payout for Leveraged Closed End Bond Funds Using VKQ as an Example)
The CEF risk associated with a forced reduction in leverage at the most inopportune time, sort of like a margin call during a huge downdraft, is discussed in this post. Update For REIT Basket Strategy As Of 9/17/15 (scroll to RNP Presents a Good Historical Example of One Risk Inherent in Using Leverage)
For the remainder of this year, I will not make an open market purchase of a leveraged bond CEF that has less than 50% weighting in investment grade bonds. I have quit reinvesting the dividend in any CEF with a greater than 30% weighting in junk rated bonds except for GDO which had a 33.67% weighting in junk bonds as of 9/30/15. For that CEF, I am reinvesting the dividend in the position held in one taxable account while taking cash in two others including the Roth IRA.
+++++++++++
As of 1/26/16, the market was predicting three .25% federal fund hikes over a 2 year period while the latest FED "dot" chart predicts four increases this year. The pace of increases is very important to investors owning leveraged bond CEFs.
The 10 year treasury yield has drifted down so far in 2016. Daily Treasury Yield Curve Rates
Investment grade corporate bonds are not doing as well as treasuries this year however.
IEF Historical Prices | iShares 7-10 Year Treasury Bond ETF ($105.59 to $109.11)
LQD Historical Prices | iShares Investment Grade Corporate Bond ETF ($114.01 to $114.15)
I am using closing prices from 12/31/15 and 1/29/16.
In other words, the yield spread is widening between treasuries and investment grade corporate bonds which is not unusual during periods of market stress. The most extreme recent example was in October 2008.
++++++++++++++++
1. Added 100 BHK at $12.77: This purchase is most likely a trade.
Quote BlackRock Core Bond Trust (NYSE:BHK)
Snapshot of Trade ($1 Commission):

This brings me up to 300 shares. I last discussed this leveraged bond CEF here: Update For Closed End Fund Basket Strategy As Of 8/14/15 - South Gent | Seeking Alpha (Scroll to 1. Bought Back 200 BHK at $12.65)
I was then buying back the shares sold last April at $13.86. Pared Interest Rate Risk Exposure In Roth IRA: Sold 200 BHK At $13.86 - South Gent | Seeking Alpha.
The purchase of that 200 BHK share lot was discussed here: Closed End Bond Funds: Added 200 BHK At $13.31 - South Gent | Seeking Alpha (11/7/14 Post)
I had two trades in 2015:


I had one earlier trade: Item # 2 Sold All of the Bond CEF BHK at $14.058 (2/21/12 Post)(snapshot of profit in that post/Total Return: $293.25 or 10.63%) There was a special distribution paid by this fund of $.17 per share in October 2014 that was related to its merger with another Blackrock CEF.
Total BHK Trading Profits=$290.31
Security Description: The BlackRock Core Bond Trust (NYSE:BHK) is a leveraged bond CEF that is weighted in investment grade bonds, but has a significant exposure to junk rated securities. As noted by the sponsor, the fund will generally have at least 75% of its assets in investment grade bonds.
Duration: 9.39 years as of 12/31/15
Get to know your bond fund: Duration | Vanguard
Holdings: 720 as of 12/31/15
BLACKROCK CORE BOND TRUST: Holdings as of 11/30/15 (net unrealized appreciation then at $13.352+M)
Last SEC Filed Shareholder Report: BLACKROCK CORE BOND TRUST (period ending 8/31/15)
Leveraged at 33.68% as of 11/30/15
Credit Quality: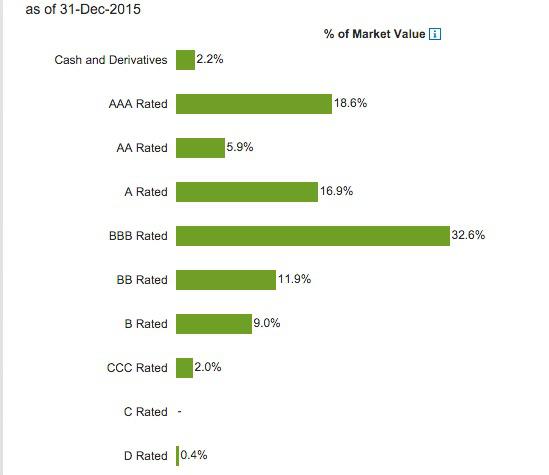 Sourced from Core Bond Trust | BHK
Data on Date of Trade 1/29/15
Closing Net Asset Value Per Share: $ 13.98
Market Price: $ 12.77
Discount - 8.66%
Average Discounts
1 Year: - 9.98%
3 Year: - 8.99%
5 Year: - 7.19%
CEFConnect Page for BHK
At CEFConnect, I would recommend clicking the "pricing information" tab which displays an historical chart of premiums and discounts to net asset value per share. I would then click "since inception". That chart reveals that BHK has at times sold at a premium to net asset value per share and at less than a 5% discount. The most recent surge in the discount started when interest rates rose starting in May 2013 and the discount level remained elevated through 2014 even though the ten year treasury returned to yields prevailing in early May 2013 by early February 2015: Daily Treasury Yield Curve Rates
The BHK BlackRock Core Bond CEF is currently rated 4 stars by Morningstar. (no analyst report however)
Dividends: The current monthly dividend is $.071 per share. BHK Dividend
Rationale: The primary reason for owning a leveraged bond fund now is to generate income. Assuming the $.071 penny rate continues, the dividend yield is about 6.68% at a total cost of $12.75 per share.
This kind of fund has provided historically some ballast when stocks tank. The total return for 2008 was -.34% based on price. The ten year annualized total return is okay for a bond fund at 6.41% based on price and 6.78% based on net asset value, both calculated through 1/29/16. Those numbers can be found under the "performance" tab at CEFConnect.
I have attempted to improve on the total return numbers through trading.
Another advantage of this fund is the weighting in investment grade bonds and the diversity of holdings.
With inflation trending down, interest rate risk is mitigated to some decree though it remains a material risk.
Another positive is the possibility that the discount to net asset value will return close to its 3 and 5 year average near 6% which would create a 4%+ gain in the shares with the net asset value remaining the same and more with an increase in the net asset value per share unadjusted for dividend payments.
Risks: When interest rates rose in 2013, leveraged bond CEFs saw their net asset values decline some as interest rates rose from an abnormally low level to a less abnormally low level.
While that decline was significant for many of them, the decline in the market price was at a faster rate.
When the market price declines at a faster percentage rate than the fall in net asset value per share, the discount to net asset value expands creating an even larger loss in value. A fairly typical result during periods of rising rates is for the market price to decline at nearly twice the rate of the net asset value per share decline. This phenomenon increases the yield, but that kind of decline can also easily wipe out the benefit of the dividend for a year or more.
At CEFConnect, an investor can explore this recent history for a particular CEF by clicking the "Pricing Information" tab and to change the one month history tab back to 5/1/13 when the 10 year treasury closed at a 1.66% yield. I will generally compare that data with 12/31/13 which was near the peak in that last interest rate spike.
BHK Historical Data:
5/1/13:
Market Price: $15.06
Net Asset Value Per Share: $15.67
Discount: -3.89%
12/31/13:
Market Price: $12.88
Net Asset Value Per Share: $14.1
Discount: -8.65
I can see right away that part of the market price loss was caused by an expansion of the discount from -3.89% to -8.65, more than a doubling.
Unadjusted for the dividends, the net asset value per share declined 10%, which should be a reminder to all investors that bond investing carries risks. The market price decline was greater at 14.48%. That additional loss is what I call a normal CEF risk. It can work both ways which gives investors both more risks than an ETF or a mutual fund investing in the same securities, and potentially greater benefits, depending on what happens to the discount after purchase. It is not a one way street.
Interest rate risks is a significant risk at present. With a duration at 9.39 years as of 12/31/15, a slightly more than 1% increase in rates could result in a 10% loss in net asset value per share. It would not take much of a rise in rates to wipe out a year's worth of dividends.
Investor Alert - Duration-What an Interest Rate Hike Could Do to Your Bond Portfolio - FINRA
This fund's leverage increases the risks. A rise in short term rates will cause the borrowing costs to rise. If intermediate and longer term rates are also rising, then the value of securities bought with that borrowed money would be going down in value. Anyone investing in leveraged bond funds needs to understand that risk which would likely be compounded by an increase in the discount in that scenario of rising short to long term rates.
The recent soft economic data, including the anemic preliminary 4th quarter GDP report, has caused investors to reduce their expectations for future Fed hikes and longer term interest rates have trended down recently.
The ten year treasury yield started 2016 at a 2.24% yield and closed at 1.94% last Friday:
Daily Treasury Yield Curve Rates
At the moment, short term rates are still near zero and high quality bonds have been doing well so far in 2016 due in significant part to a flight to safety as risk assets dropped quickly in price during January before recovering some of the losses at month's end. That is an ideal scenario for leveraged bond funds who can generate a higher dividend for their investors due to the spread compared to an unleveraged fund investing in the same securities. Conditions will change, possibly or even probably for the worse. So these funds are not viewed as long term holdings, but simply as trading vehicles that produce some income for funds otherwise earnings zero in my IB brokerage account and near zero in other brokerage accounts.
2. Swiss Helvetia Fund Reinvestment: This fund has been hurt by the CHF's decline against the USD and the price declines in both Novartis and Roche that are weighted at 25.45%: SWZ Fund

Disclaimer: I am not a financial advisor but simply an individual investor who has been managing my own money since I was a teenager. In this post, I am acting solely as a financial journalist focusing on my own investments. The information contained in this post is not intended to be a complete description or summary of all available data relevant to making an investment decision. Instead, I am merely expressing some of the reasons underlying the purchase or sell of securities. Nothing in this post is intended to constitute investment or legal advice or a recommendation to buy or to sell. All investors need to perform their own due diligence before making any financial decision which requires at a minimum reading original source material available at the SEC and elsewhere. A failure to perform due diligence only increases what I call "error creep". Stocks, Bonds & Politics:ERROR CREEP and the INVESTING PROCESS. Each investor needs to assess a potential investment taking into account their personal risk tolerances, goals and situational risks. I can only make that kind of assessment for myself and family members.
Disclosure: I am/we are long BHK.