This basket was last updated here: Update For Regional Bank Basket Strategy As Of 1/28/16 - South Gent | Seeking Alpha
This basket has a minimum out-of-pocket exposure of $40K and a maximum of $80K. For the last six months or so of 2015, I was hovering around $4K to $6 below my minimum level for the reasons discussed here:
Update On Regional Bank Basket Strategy As Of 7/17/15 - South Gent | Seeking Alpha
With several recent and small adds, I have moved slightly over my $40K minimum level.
My net realized gain in this basket strategy currently stands at $25,467.49: REGIONAL BANK BASKET STRATEGY GATEWAY POST I started to build this basket in the 2009 Spring.
Snapshots of round trip trades can be found at the end of that post.
Over the life of this basket strategy, I anticipate that dividends will generate about 40% of my total return. Over the past 4 years ending 12/31/15, dividends have averaged $1,939.37 per year.
The dividend yield of this basket is significantly in excess of the yields provided by regional bank ETFs that include a large number of low yielding stocks and several that pay no dividends.
I am doing most of my small odd lot trades in my IB account where my commission rate is $1.
Comparative Data From the St. Louis Federal Reserve:
Net Interest Margin for all U.S. Banks (abbreviated to "NIM")
Net Interest Margin for U.S. Banks with average assets under $1B
Net Interest Margin for U.S. Banks with average assets between $1B and $15B
Return on Average Equity for all U.S. Banks (abbreviated to "ROE")
Return on Average Assets for all U.S. Banks (abbreviated to "ROA")
Nonperforming Loans (past due 90+ days plus nonaccrual) to Total Loans for all U.S. Banks (abbreviated to "NPL Ratio")
Charge-Off Rate On All Loans, All Commercial Banks
Net Percentage of Domestic Banks Tightening Standards on Consumer Loans, Credit Cards-St. Louis Fed
Net Percentage of Domestic Banks Tightening Standards for Commercial and Industrial Loans to Large and Middle-Market Firms-St. Louis Fed (starting to increase over zero)
Net Percentage of Domestic Banks Tightening Standards for Commercial and Industrial Loans to Small Firms-St. Louis Fed
Basket as of 2/8/16: I do not own the regional bank ETFs KRE and QABA. I include their symbols in this basket for comparison purposes: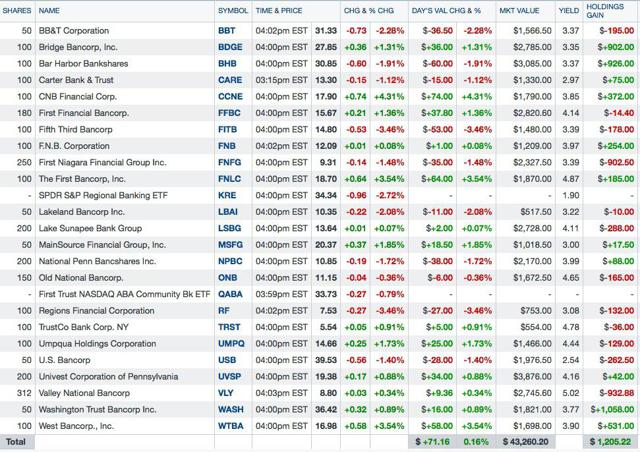 I have taken a hit in my unrealized gain number this year. The causes are a decline in unrealized profits, an expansion in prior unrealized losses, unrealized losses in new positions established this year and one $469 profit harvest. The last update published during 2015 showed a net unrealized gain of $5,835. Update For Regional Bank Basket Strategy As Of 12/28/15 - South Gent | Seeking Alpha
The regional bank ETFs are down more. The SPDR S&P Regional Banking ETF (NYSEARCA:KRE) fell 2.72% today and closed at $34.34, down 18.08% from the 12/31/15 close at $41.92.
1. Averaged Down: Bought 50 FITB at $15.55:
FITB is a falling knife.
Trade Snapshot: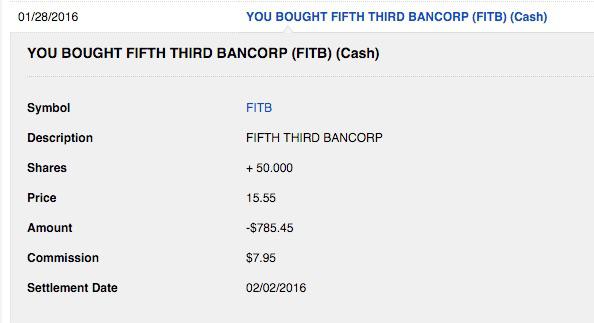 This stock was beaten up severly after the last earnings report. I thought that was overdone by the thundering herd.
I last discussed this bank here: Update For Regional Bank Basket As Of 1/19/16 - South Gent | Seeking Alpha (1. Bought Back 50 FITB at $17.6-Satellite Taxable Account)
Before the market opened on 1/21/16, Fifth Third announced its 4th quarter results. The reported 4th quarter net income of $634 million or $0.79 per diluted share. There were several extraordinary items including a large gain originating from selling some Vantiv shares, which I discussed in the preceding link. Those items had a positive $.38 per share impact so core E.P.S. for the quarter was about $.41.
Importantly, the NIM ticked down to 2.85% from 2.96% in the 2014 4th quarter.
"Net charge-offs were $80 million, or 34 bps of average loans and leases on an annualized basis, in the fourth quarter of 2015 compared with net charge-offs of $188 million, or 80 bps, in the third quarter of 2015 and $191 million, or 83 bps, in the fourth quarter of 2014."
NPL Ratio=.55%
Coverage Ratio for NPLs = 252%
NPA Ratio= .7%
Coverage Ratio for NPAs= 197%
Total Risk-Based Capital Ratio= 14.13%
Book Value Per Share= $18.48
Tangible Book Value= $15.39
Tangible Equity=9.55%
Other important ratios like ROA, ROE and the efficiency ratio were distorted by the extraordinary items.
"Average core deposits increased $1.0 billion, or 1 percent, sequentially and increased $3.4 billion, or 4 percent, from the fourth quarter of 2014."
The market may have focused its negative response on two core expense categories rising 5% Y-O-Y: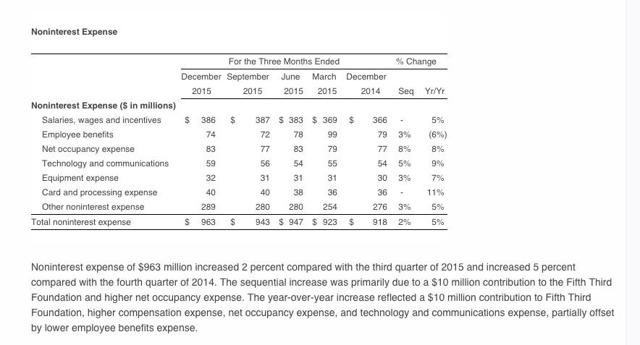 During the conference call management explained that certain increases in expenses were temporary as the company spent more on technology and that the goal continued to be a sub-60% efficiency ratio. (see also: Fifth Third CEO Greg Carmichael answers analysts by justifying higher expenses: EXCLUSIVE - Cincinnati Business Courier; Fifth Third Bancorp-Doug Kass' Views - TheStreet)
After hiitting a 52 week high of $21.93, the market has been knocking the price down, and that process accelerated shortly before and after this earnings report.
The energy portfolio "at the end of the quarter was $1.7 billion relatively small at 2% of the portfolio. . . The outstanding balances of roughly $300 million in oilfield services have a higher propensity for loss given default. . . In the fourth quarter, $22 million of the increase in NPLs came from the oilfield services sector . . . Should low oil prices persist through 2017, we will see continued reserve build and increased credit costs over that same period." Page 5 Q4 2015 Results - Earnings Call Transcript | Seeking Alpha
Overall, FITB's energy loans were less than 2% of total loans and the bank had set aside already 4.75% x $1.7B in reserves. The reserves are "good today at $30" per barrel. Page 15 of Earnings Call Transcript
Left to Right: Open/High/Low/Close
| | | | | | | |
| --- | --- | --- | --- | --- | --- | --- |
| Jan 25, 2016 | 15.78 | 15.88 | 14.90 | 15.01 | 24,337,000 | 15.01 |
| Jan 22, 2016 | 16.09 | 16.18 | 15.66 | 15.94 | 20,036,600 | 15.94 |
| Jan 21, 2016 | 16.76 | 17.25 | 15.72 | 15.73 | 21,766,400 | 15.73 |
| Jan 20, 2016 | 16.51 | 16.72 | 15.95 | 16.53 | 18,460,000 | 16.53 |
| Jan 19, 2016 | 17.41 | 17.44 | 16.72 | 16.88 | 9,327,700 | 16.88 |
| Jan 15, 2016 | 17.04 | 17.24 | 16.75 | 17.12 | 10,111,800 | 17.12 |
| Jan 14, 2016 | 17.49 | 17.82 | 17.09 | 17.65 | 15,342,000 | 17.65 |
| Jan 13, 2016 | 18.42 | 18.45 | 17.33 | 17.33 | 18,186,200 | 17.33 |
| Jan 12, 2016 | 18.41 | 18.41 | 17.94 | 18.27 | 8,673,500 | 18.27 |
Oppenheimer lowered its price target to $20 from $24 while maintaining an outperform rating.
2. Bought Back 50 MSFG at $20.02:
Trade Snapshot ($1 Commission):

Closing Price Day of Trade: MSFG: $20.00 -0.42 (-2.06%)(52 range $18.64 to $24.05/day's range $20 to $20.5)
Market Cap $431+M at $20
Consensus E.P.S Analyst Estimates (3 Analysts)
2016: $1.8 = P/E at 11.12 based on $20 per share
2017: $2.03 = P/E at 9.85 based on $20 per share
Current Estimated Growth 2017 over 2016=12.78%=P.E.G. at .9 PEG & ROI Calculator
P/B 1.17
TTM P/E: 12.35
PEG Ratio (5 year expected): 1.42
Sourced from MSFG Key Statistics
Company Description: MainSource Financial Group is a "financial holding company with assets of approximately $3.4 billion. The Company operates 85 full-service offices throughout Indiana, Illinois, Kentucky and Ohio through its banking subsidiary, MainSource Bank, headquartered in Greensburg, Indiana. Through its non-banking subsidiary, MainSource Title LLC, the Company provides various related financial services."
Last November, MainSource announced that it would acquire Cheviot Savings Bank for 0.6916 shares of MainSource common stock or $15 in cash for Cheviot share subject to proration. "MainSource expects the transaction to be accretive to 2017 diluted earnings per share by approximately $0.12. It is projected to be approximately 3.8% dilutive to tangible book value per share at closing, inclusive of $7.5 million in pre-tax restructuring charges, with an earnback period of approximately 4.2 years." Cheviot operates 12 full service offices in greater Cincinnati, Ohio metropolitan area. Branche Locations-Cheviot Savings Bank
Dividend: The quarterly dividend rate was recently increased to $.15 cents per share, up from $.14. With a payout ratio near 33%, there is room for dividend growth.
The bank was generating decent dividend growth until 2009 when it slashed the quarterly rate from $.145 to $.05, just for two quarters, and then to $.01 per share for 11 quarters. That record will limit my monetary exposure to no more than 50 shares. That kind of stain is not capable of coming out in the wash.
The bank suffered a huge loss of $3.03 per share in 2009: Page 18, 2011 10-K
Chart: Using a 1 year Yahoo Finance Chart, the stock is currently trading beneath its 50, 100 and 200 day SMA lines. MSFG Interactive Stock Chart That is due to a spike down from a $22.18 close on 1/29/16: MSFG Historical Prices The 4th quarter earnings report was released after the 1/26/16 close
Closing Price Today/Average Volume Day: MSFG: $20.37 +0.37 (+1.85%)
Recent Earnings Report: Mainsource Financial reported net income of $9.1M or $.42 per share. The results were impacted by $114K in costs relating to the acquiring 5 branches and $250K related to closing 4 others.
"Net revenue for the fourth quarter increased 7% from the same period one year ago and was 11% higher year over year. Loans grew at an annualized pace of 15% for the quarter . . . Most of the loan growth in 2015 was organic"
"For the year, checking account balances grew by 24%. .. For the quarter, non-interest income was up 9% over the fourth quarter of 2014. .. For the year, non-interest income was 17% higher than the prior year as we experienced large increases in most fee categories."
The bank is suffering some Y-O-Y NIM contraction.

NPA Ratio: .44%
Coverage Ratio: 171.46%
Net Charge-Offs to Total Loans= .16% (full year at .14%)
Tangible Common Equity to Tangible Assets: 9.10%
Tangible Book Value Per Share: $13.94
Source: MAINSOURCE FINANCIAL Press Release
The capital ratios are provided in the 10-Q filings. The last such filing was for the Q/E 9/30/15:

MSFG discusses risks incident to its operations starting at page 11 of its 2014 Annual Report.
Prior Trade: I owned this one briefly last year.
50 Shares: +$84.6

Disclaimer: I am not a financial advisor but simply an individual investor who has been managing my own money since I was a teenager. In this post, I am acting solely as a financial journalist focusing on my own investments. The information contained in this post is not intended to be a complete description or summary of all available data relevant to making an investment decision. Instead, I am merely expressing some of the reasons underlying the purchase or sell of securities. Nothing in this post is intended to constitute investment or legal advice or a recommendation to buy or to sell. All investors need to perform their own due diligence before making any financial decision which requires at a minimum reading original source material available at the SEC and elsewhere. A failure to perform due diligence only increases what I call "error creep". Stocks, Bonds & Politics:ERROR CREEP and the INVESTING PROCESS. Each investor needs to assess a potential investment taking into account their personal risk tolerances, goals and situational risks. I can only make that kind of assessment for myself and family members.
Disclosure: I am/we are long FITB, MSFG.