This topic was last updated here: Update On Healthcare Basket Strategy As Of 1/26/16 - South Gent | Seeking Alpha
Novartis pays an annual dividend. The ex dividend date was on 2/24/16. The share price rose adjusted for the dividend payment that day:
The dividend was 2.7 Swiss Francs per share: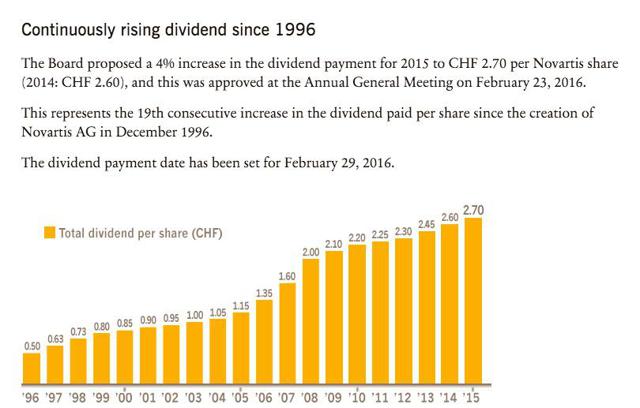 Dividend Information | Novartis
Dividend Growth Strategy: Novartis - South Gent | Seeking Alpha
For the ADR NVS, the dividend will reflect the value of Swiss Francs reduced by the Switzerland's withholding tax when converted into USDs. Consequently, the dividend yield for NVS will fluctuate up and down based on the CHF's conversion value into USDs. The Swiss Franc has been weak since the Swiss National Bank launched a Jihad against its own national currency in 2011. CHF/USD Interactive The Swiss Franc and the USD are close to parity now
I am going to make an effort to follow a buy and hold strategy in this basket.
I am in the very early stages of building this basket.
Basket as of 2/25/16:

1. Bought Back 50 SNY at $38.86:
Closing Price 2/26/16: SNY: $40.30 +$1.26 (+3.23%)
I did not see any SNY news explaining that rise.
The Euro priced ordinary shares rose more: SAN.PA: €72.09 +€2.79 (+4.03%)
2 ADRs = 1 Ordinary share
Trade Snapshot: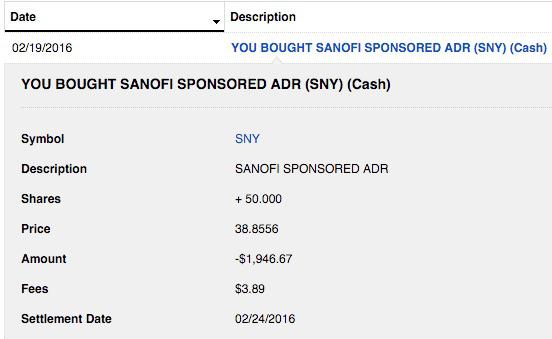 Due to the excruciatingly long wait to place a broker assisted order to buy 300 ENBPRP shares, caused by the unsupportable refusal to permit an online trade, Fidelity gave me 25 free trades, and this was one of them.
Closing Price on Day of Trade: SNY: $39.03 -0.17 (-0.43%)
Closing Price Ordinary Shares: SAN.PA: €70.35 -0.74 (-1.04%)
2 ADRs = 1 Ordinary share
$38.86 x. 2 = USD$77.72

Security Description:
Sanofi is a large pharmaceutical company based in France that owns the U.S. company Genzyme.
Sanofi also owns 23,108,570 shares of Regeneron Pharmaceuticals Inc. (NASDAQ:REGN) or about 22.46% of the outstanding shares. Regeneron Pharmaceuticals, Inc. - Ownership Profile
SNY currently has a 4 star rating from Morningstar with a consider to buy at $37.8 and a fair market value at $54.
Revenues by Products: A major concern is that Lantus sales are declining due to competition. Further declines are expected due to regulatory approvals for biosimilars.
The new competitive drugs were launched recently by Novo Nordisk: Tresiba® demonstrates significantly lower rate of hypoglycaemia than insulin glargine U100 in blinded phase 3b trial in people with type 1 diabetes; FDA approves two new drug treatments for diabetes mellitus
CER=Constant Exchange Rates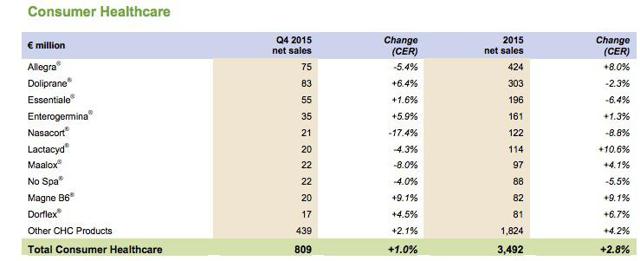 Generics and Oncology: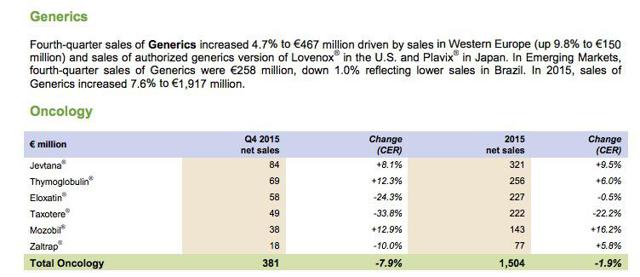 SNY is negotiating to swap its Animal Health business for Boehringer Ingelheim's consumer healthcare business. Sanofi
Praulent:
This is a new cholesterol lowering drug that was launched last year and is off to a slow start. FDA approves Praluent to treat certain patients with high cholesterol
Regeneron Pharmaceuticals discovered this compound. Sanofi - Commercial collaboration
Sanofi and Regeneron Announce 18,000-Patient ODYSSEY OUTCOMES Trial of Praluent® (alirocumab) Injection Fully Enrolled
Other Regeneron-Sanofi Collaborations: In addition to Praulent, Sanofi and Regeneron are collaborating on Dupilumab for atopic dermatitis and severe asthma and Sarilumab for Rheumatoid Athritis.
Sanofi and Regeneron Present Results from Pivotal Phase 3 Study of Sarilumab at American College of Rheumatology Annual Meeting - Nov 8, 2015; Sanofi and Regeneron Announce Sarilumab Biologics License Application Accepted for Review by US FDA
Sanofi : Sanofi and Regeneron Announce that Dupilumab Has Received FDA Breakthrough Therapy Designation in Atopic Dermatitis
Sanofi - R&D portfolio (download: R&D Pipeline - Pharma & Vaccines)
Morningstar's analyst expects "continued strength in the multiple sclerosis area with potential blockbusters Aubagio and Lemtrada emerging from the late-stage pipeline."
Most Recent Prior Trade: Sometimes I make money by not losing it. I sold my previous 50 share lot at $49.54: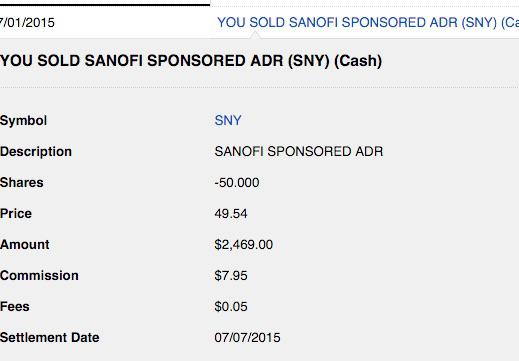 My reasoning at the time was that the USD appeared to be regaining upward mobility against the Euro.
The purchase at $38.86 was a replacement for the shares sold at $49.54, so I avoided over a $500 loss. Instead, I made a $121.93 profit on the shares and captured the annual dividend:

Dividend Growth in Euros: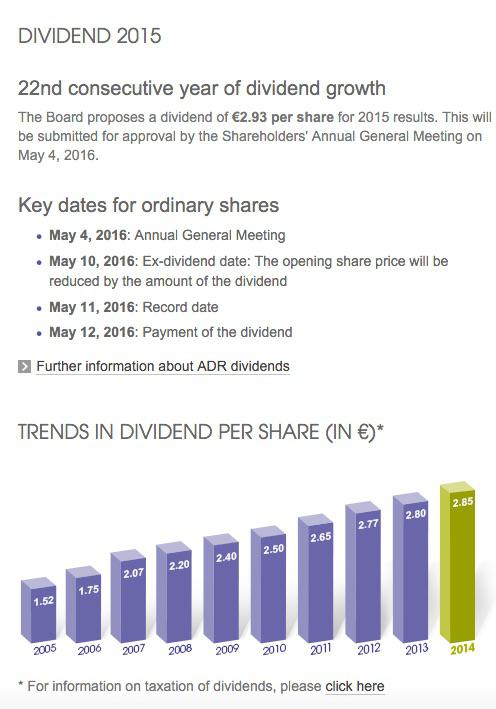 Dividend: I did hold the shares long enough in 2015 to receive the annual dividend payment: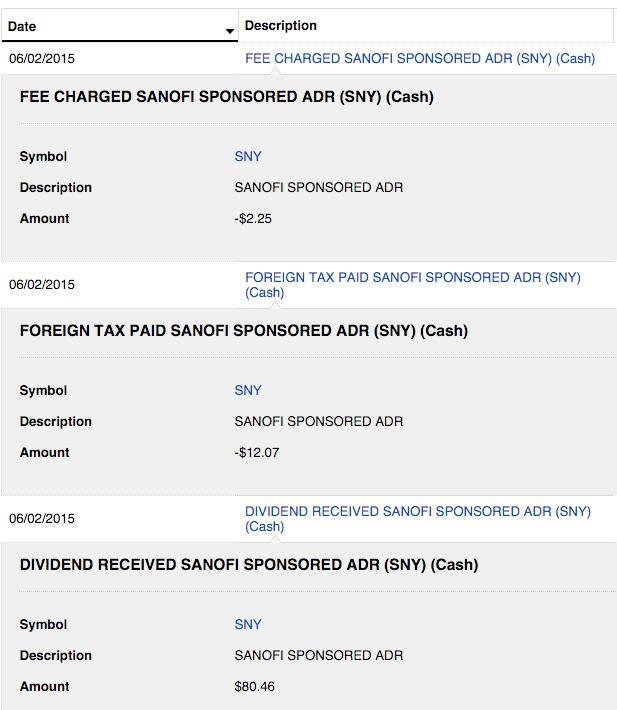 The withholding tax was 15%.
A broker's refusal to claim tax treaty benefits will result in 30% being withheld.
In the past, I have noted that several brokers will not assert U.S. citizen tax treaty rights for their customers. If France witheld 30% from a dividend payment, then the U.S. citizen knows that their broker did not claim treaty benefits. The 30% rate applies to citizens of countries who do not have a tax treaty with France, so it is the highest default rate when a broker does not claim U.S. citizenship on behalf of their customers.
Both Fidelity and Vanguard have been consistent so far in seeking the reduced rate.
Claiming Foreign Taxes: Credit or Deduction?
This is a link to the DTC notice sent to broker's regarding SNY's 2015 dividend payment: DTC SNY Notice for 2015 Tax Relief.pdf The filing to secure the 15% rate is called "relief at source".
The $2.25 fee which was deducted from my 2015 dividend payment probably consists of a $.005 per share (or $.25) to reimburse the broker for the relief at source claim and $2 to the ADR custodian for its annual fee.
Most Recent Prior Discussion: Bought Sanofi (NASDAQ:SNY) at $46.59: Dividend Growth Strategy - South Gent | Seeking Alpha
Those are the shares that I sold at $49.54.
I will not be repeating information discussed in that post here.
Dividends: The dividends will be paid in Euros after a deduction for the applicable withholding tax and the remaining sum will then be converted into USDs. Consequently, the dividend yield will fluctuate based on currency movements and dividend increases or decreases in the Euro denominated dividend.
Chart: In the following chart, I am comparing Sanofi's ordinary shares priced in Euros and the ADR SNY priced in USDs.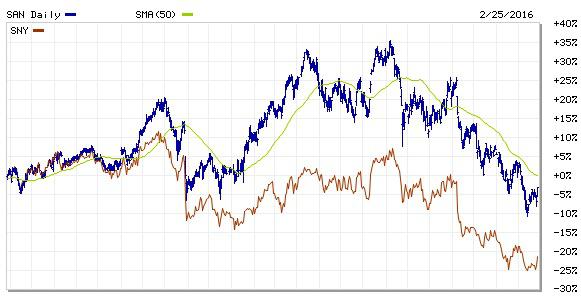 The overall decline in the Euro's value over the past two years has caused the ADR to underperform the ordinary shares.
Sanofi S.A. Interactive Stock Chart: FR:SAN
Recent Earnings Report:
Highlights:

Revenues by Category: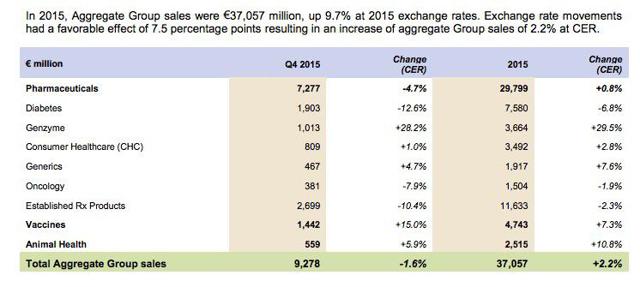 Sourced: Earnings Release
Shorter Version: Sanofi Delivered 2015 Business EPS up 8.5% on a Reported Basis and Stable at Constant Exchange Rates Consistent with Guidance
Other Prior Trades:
I have two minor prior trades that were apparently flips. I have no current memory of why I sold. I probably was just harvesting a trading profit on a small position. That seems to be confirmed in my discussion of the second small buy in 2010: "I sold those shares on a pop after the payment of the dividend." Bought 50 SNY at $34.21
I did realize a small profit after harvesting a dividend payment.

BOUGHT 50 SNY at $27.43 (4/1/2009 Post)
I held the shares long enough to receive the annual dividend ($71.95):

Total Return: $155.41 (11.72% annualized-holding period 3 months)
SNY shares have not kept pace with the total returns of SPY since I first bought shares on 4/1/2009. With dividends reinvested, SNY's total annual return from 4/1/2009 through 2/24/16 was 9.62% compared to 15.62% for SPY.
DRIP Returns Calculator-Dividend Channel
Other Recent News:
FDA Accepts Sanofi New Drug Application for Once-Daily Fixed-Ratio Combination of Insulin Glargine and Lixisenatide (2/22/16)
Sanofi and Regeneron Announce UnitedHealth Group Selects Praluent® (alirocumab) Injection for Preferred Access
Disclaimer: I am not a financial advisor but simply an individual investor who has been managing my own money since I was a teenager. In this post, I am acting solely as a financial journalist focusing on my own investments. The information contained in this post is not intended to be a complete description or summary of all available data relevant to making an investment decision. Instead, I am merely expressing some of the reasons underlying the purchase or sell of securities. Nothing in this post is intended to constitute investment or legal advice or a recommendation to buy or to sell. All investors need to perform their own due diligence before making any financial decision which requires at a minimum reading original source material available at the SEC and elsewhere. A failure to perform due diligence only increases what I call "error creep". Stocks, Bonds & Politics:ERROR CREEP and the INVESTING PROCESS. Each investor needs to assess a potential investment taking into account their personal risk tolerances, goals and situational risks. I can only make that kind of assessment for myself and family members.
Disclosure: I am/we are long NVS, SNY.