This basket strategy was last updated here: Update For Healthcare Basket Strategy As Of 2/25/16 - South Gent | Seeking Alpha
I am going to make an effort to follow a buy and hold strategy in this basket.
I am in the very early stages of building this sector basket.
Basket as of 3/21/16

VHT: $121.90 +0.69 (+0.57%): Vanguard Health Care ETF
+++++++++
1. Added 50 PFE at $29.7-Roth IRA Account:
Trade Snapshot:

Recent Prior Discussion: Update For Portfolio Positioning And Management As Of 1/4/16 - South Gent | Seeking Alpha (scroll to 1. Bought Back 100 PFE at $32.51)
I discussed the proposed merger into Allergan (tax inversion) and the recently completed acquisition of Hospira in that post.
Pfizer Allergan Merger Imposes Investor Tax Burden | Investopedia
The tax issue with a tax inversion is not an issue when PFE is held in an IRA.
2015 Annual Report: 10-K (risks discussed starting at page 20)
Major Patent Expirations: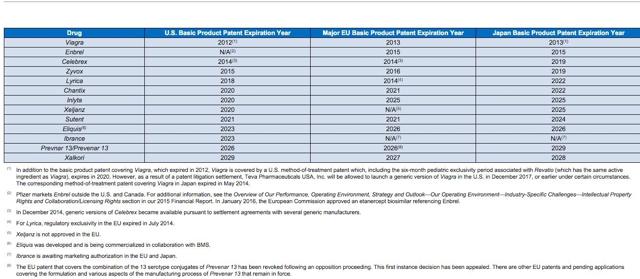 Last Earnings Report:
PFIZER REPORTS FOURTH-QUARTER AND FULL-YEAR 2015 RESULTS

"Major" Product Sales 2015 vs 2014: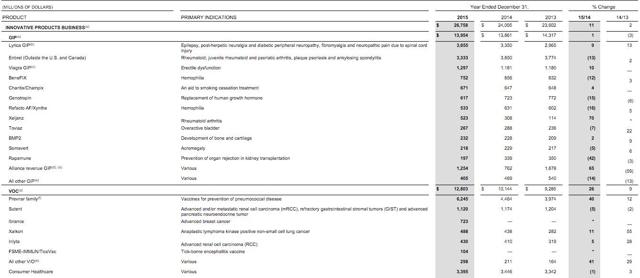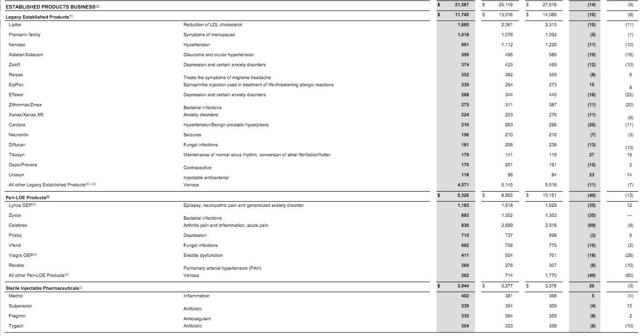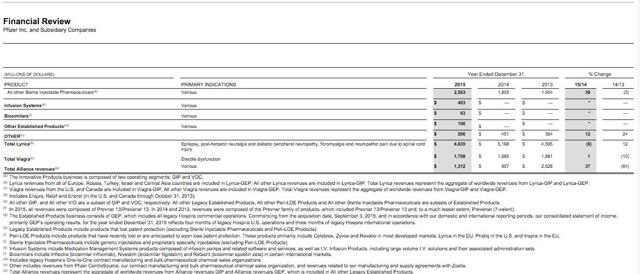 Sourced: Page 24-25 Exhibit
Other News Events Since Last Discussion:
Pfizer Celebrates a Year of Achievements in 2015 Annual Review
Pfizer Announces Oral Tofacitinib, an Investigational JAK Inhibitor, Meets Primary and Key Secondary Endpoints in Two Pivotal Phase 3 Ulcerative Colitis Trials
XALKORI® (crizotinib) Approved by U.S. FDA for the Treatment of Patients with ROS1-Positive Metastatic Non-Small Cell Lung Cancer
Pfizer Commences $5 Billion Accelerated Share Repurchase ("Pfizer Inc. (NYSE:PFE) today announced that it has entered into an accelerated share repurchase agreement with Goldman, Sachs & Co. (GS&Co.) to repurchase $5 billion of Pfizer's common stock. . . Approximately 136 million of the shares to be repurchased under the transaction will be received by Pfizer on March 10, 2016.")
Pfizer Receives Expanded FDA Approval For IBRANCE (palbociclib) In HR+, HER2- Metastatic Breast Cancer
Pfizer Commends The FDA Advisory Committee's Vote To Approve Proposed Biosimilar Infliximab, The First Biosimilar Monoclonal Antibody Reviewed, For All Eligible Indications ("Celltrion's proposed biosimilar infliximab, to which Pfizer holds exclusive U.S. commercialization rights, is the first biosimilar monoclonal antibody (NYSEMKT:MAB) therapy to be reviewed by the FDA for licensure in the U.S., and is only the second biosimilar to be recommended for approval by a U.S. FDA Advisory Committee.")
Inflixmab is currently sold as Remicade, a JNG drug.
Pfizer Acquires Treerly and Its Family of Products from Sirio Pharma
Pfizer Reports Top Line Results from a Phase 3 Study Evaluating Desvenlafaxine Succinate Sustained-Release Formulation in Pediatric Patients with Major Depressive Disorder
2. Bought 50 RHHBY at $30.85: I am willing to sit on this purchase, viewing the price as a decent long term entry point based on what is known now.
I used one of my Fidelity commission free trades.
Trade Snapshot: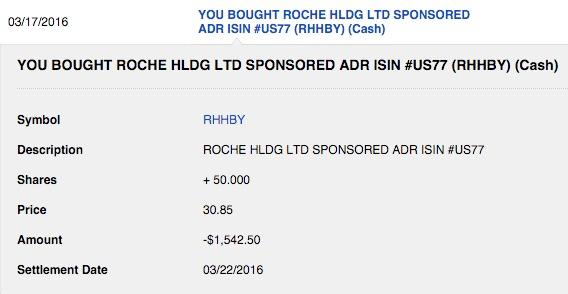 RHHBY is a USD priced ADR traded on the pink sheet exchange.
1 ADR=.125 Ordinary Shares (8 ADRs=1 ordinary share)
Last Discussed Here: Dividend Growth And Diversification Strategies: Bought 50 Roche (OTCQX:RHHBY) At $32.99 - South Gent | Seeking Alpha
I harvested the annual dividend and sold those shares at $34.825:

Company Description: Roche Holding AG ADS (OTCQX:RHHBY) is one of the world's largest pharmaceutical and diagnostic companies. "Roche is the world's largest biotech company". The company is based in Switzerland with a significant presence in the U.S. through its U.S. wholly owned subsidiary Genentech.
Some of the important Genentech drug discoveries include the following cancer drugs, many of which are well known to non-stock investors:
Avastin: metastatic colorectal cancer, metastatic kidney cancer, lung cancer,
Gazya: chronic lymphocytic leukemia,
Herceptin: breast cancer,
Rituxan: Non-Hodgkin's Lymphoma And Chronic Lymphocytic Leukemia,
Tarceva: Non-Small Cell Lung Cancer and
Zelboraf: (metastatic melanoma)
Other Genentech discoveries include Lucentis (wet macular degeneration), Tamiflu, and Xolair (allergies)
Recent Genentech Press Releases Since October 1, 2015:
FDA Grants Genentech's Cancer Immunotherapy Atezolizumab Priority Review for Advanced Bladder Cancer
FDA Files Genentech's Supplemental Biologics License Application of Xolair® (omalizumab) for Pediatric Allergic Asthma
FDA Approves Genentech's Gazyva (Obinutuzumab) for Certain People with Previously Treated Follicular Lymphoma
FDA Grants Breakthrough Therapy Designation for Genentech's Investigational Medicine Ocrelizumab in Primary Progressive Multiple Sclerosis
Genentech: Press Releases | FDA Grants Priority Review for Venetoclax New Drug Application
Pivotal Phase II Study Showed Nearly 80 Percent of People with Hard-to-treat Type of Chronic Lymphocytic Leukemia Responded to Investigational Medicine Venetoclax
FDA Grants Genentech's Alecensa® (Alectinib) Accelerated Approval for People with a Specific Type of Lung Cancer
New Results from CLL11 Study Show Gazyva® Provided People with Previously Untreated Chronic Lymphocytic Leukemia a Treatment-free Period of Nearly Four Years
Updated Data Showed That Cotellic™ (Cobimetinib) in Combination With Zelboraf® (Vemurafenib) Helped People With a Specific Type of Advanced Melanoma Live Significantly Longer Than With Zelboraf Alone
FDA Approves Genentech's Cotellic™ (Cobimetinib) in Combination With Zelboraf® (Vemurafenib) in Advanced Melanoma
Genentech's Ocrelizumab First Investigational Medicine to Show Positive Pivotal Study Results in Both Relapsing and Primary Progressive Forms of Multiple Sclerosis
Lucentis is sometimes to referred to as a cosmetic version of the Avastin molecule. Lucentis is about 50 times more expensive and both drugs cost about the same to manufacture. Eye doctors will often use avastin off-label to treat wet macular degeneration rather than Lucentis. It may be more profitable for the doctors to use Lucentis however. As noted in the preceding linked article published by the Washington Post, Medicare has to pay for both drugs. Lucentis has been approved for the treatment of wet macular while the company has refused the FDA's entreaties to seek approval for Avastin's use in that treatment. While I do not remember the details, Avastin was approved as a cancer treatment by the FDA, and its effectiveness was due to cutting off the blood supply growth to tumors. Patients who were taking the drug for cancer noted an improvement in their vision. Some eye doctors started to inject Avastin directly into the eye to shut down or reduce abnormal blood vessel bleeding that was destroying the macular (the center of the retina) and causing loss of eyesight.
Roche currently does not expect biosimilar competition for its Herceptin product before 2017.
A new drug for wet macular degeneration, Eylea, has been approved by the FDA.
Without Genentech, Roche would be off the radar screen for me.
As shown in the preceding table, two recently approved cancer drugs, Perjeta 2012) and Kadclya (2013) are rapidly increasing sales. Both are breast cancer drugs.
FDA approves Perjeta for type of late-stage breast cancer (2012)
FDA approves new treatment for late-stage breast cancer (2013)
FDA approves Perjeta for neoadjuvant breast cancer treatment (2013)
Sales of Pegasys, an approved treatment for hepatitis B and C, are declining due to competition from new treatments. (Peginterferon alfa-2a)
About 75% of Roche's revenues come from biologics which are not chemically synthesized drugs and are consequently less susceptible to traditional generic competition. Biologicsare manufactured "in a living system such as microorganism, or plant or animal cells".
Roche's in vitro diagnostic business has about a % global market share.
The annualized total return for the ADR shares was 12.24% starting on 8/20/2003 through 3/18/16. Total Return The annualized dividend growth rate has been 17.78% (preceding link calculation)
Chart: RHHBY is currently selling below its 50, 100 and 200 day simple moving average lines. RHHBY Interactive Stock Chart
Two Year Comparison Chart: CH:ROG vs. RHHBY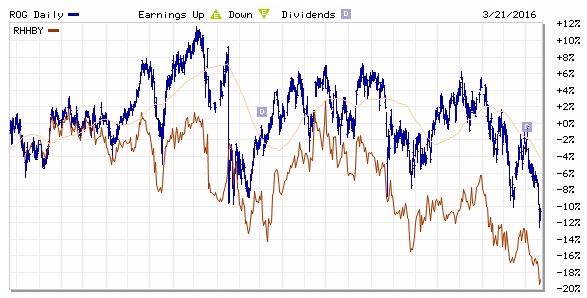 Roche Holding AG Interactive Stock Chart
Dividend History: I could only find at Roche's website a chart depicting its dividend history since 2002: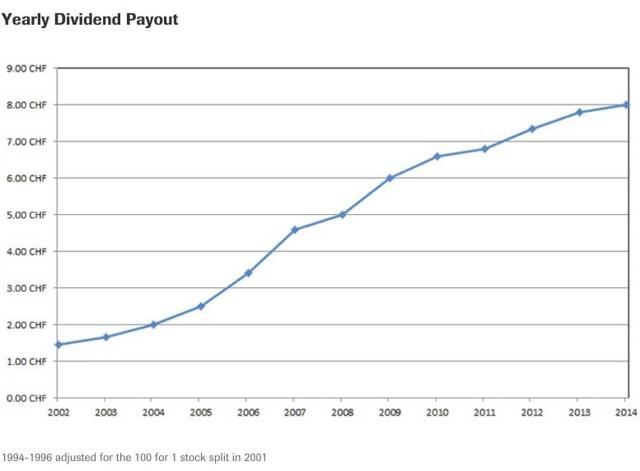 Sourced: Roche - Historical Overview
Like many European companies, Roche pays its dividend annually. The value of that dividend will be determined when the actual conversion from CHFs to USDs takes place.
The distribution for 2016 went ex dividend on 3/2/16.
The rate was CHF8.1, "the 29th year consecutive dividend increase". Roche Annual General Meeting 2016
Switzerland's Withholding Tax:
Switzerland will withhold a 15% tax on that amount. When held in a taxable account, a U.S. taxpayer can recover all or part of a foreign dividend tax as explained in this Schwabarticle.
A taxpayer may run into a problem recovering all of the foreign taxes when the amount of foreign tax paid exceeds $300 for a single person and $600 for a married couple. A credit can be claimed up to those amounts without filing out a somewhat complex IRS form 1116. Accountants may not mind filling out that form since it just adds to the bill. It gives me a headache.
That form has to be filled out when claiming more than those limits as a credit. The form will limit the foreign tax credit "to the lesser of the amount of foreign tax paid or the U.S. tax liability on the same income". This would become relevant for a taxpayer who wants to claim more than the foregoing limits, but who is in a marginal tax rate of less than 15% when the foreign dividend income tax rate was 15%. I would emphasize that I am just giving a common sense explanation of the material contained in that Schwab document. I am certainly not a tax expert, and I am not giving anyone tax advice here. It is important, however, to at least grasp the essential elements explained in that Schwab article to make an informed investment decision when buying dividend paying foreign stocks.
Recent Earnings Report:
Key Figures: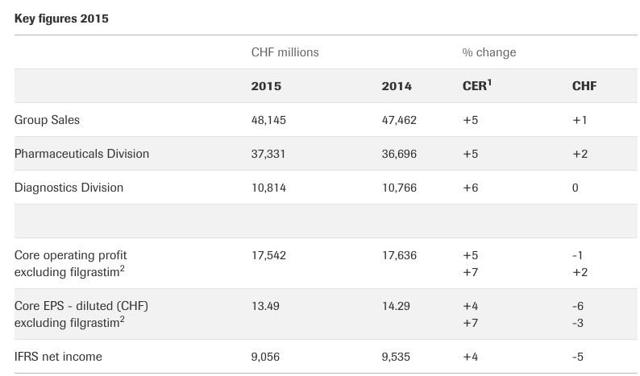 CER=Constant Exchange Rates
CHF=Swiss Francs
Top Drug Sales 2015: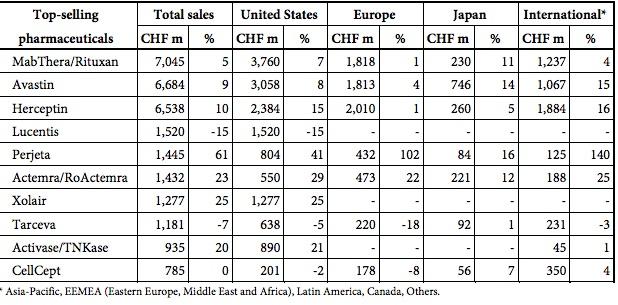 Diagnostic Division 2015: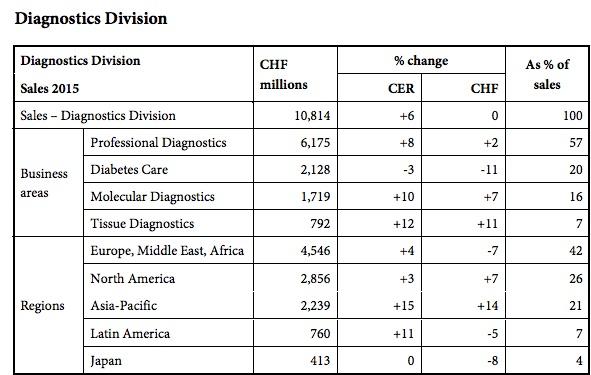 Sourced: Roche reports strong results in 2015
3. Continued Adding to VGHCX in Small Increments: I am gradually working my way up to 100 shares and may hit that number this year.
Recent History:
VGHCX currently has a 4 star rating from Morningstar. The expense ratio is .34%.
Health care stocks have performed worse than the overall market so far this year.
Since inception in 1984 through 12/31/15, this fund has generated a total average annual return of 17.28%. Vanguard Health Care Fund Investor Shares
I initiated a position in 2011: Item # 3 Exchanged VIPSX for VGHCX
The total annual returns starting in 2011 through 2015 were as follows:
2011: 11.45%
2012: 15.11%
2013: 43.19%
2014: 28.52%
2015: 12.65%
The fund owned 74 stocks as of 2/29/16.
Snapshot of Some Top Holdings: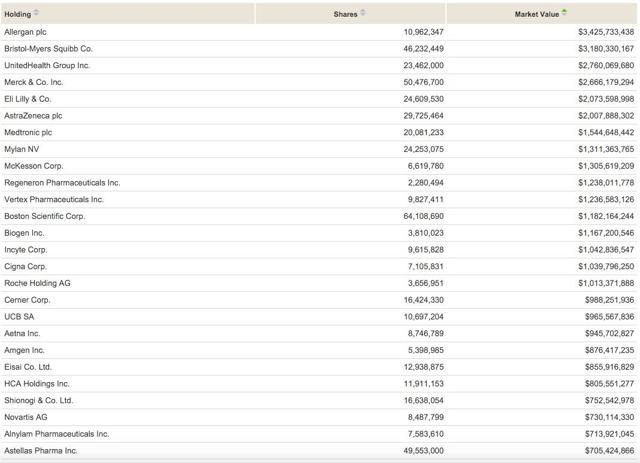 Most of the recent dividends have been sourced from long term capital gains: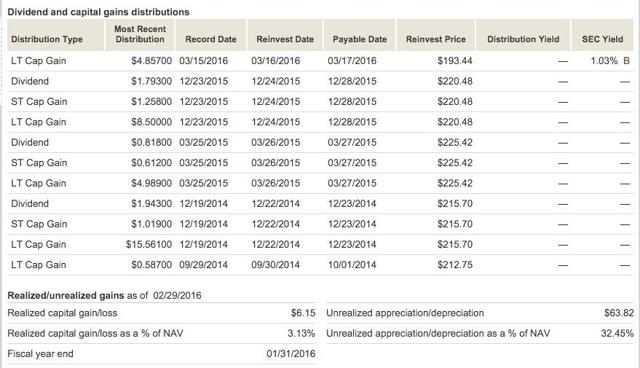 I am reinvesting the dividend.
Disclaimer: I am not a financial advisor but simply an individual investor who has been managing my own money since I was a teenager. In this post, I am acting solely as a financial journalist focusing on my own investments. The information contained in this post is not intended to be a complete description or summary of all available data relevant to making an investment decision. Instead, I am merely expressing some of the reasons underlying the purchase or sell of securities. Nothing in this post is intended to constitute investment or legal advice or a recommendation to buy or to sell. All investors need to perform their own due diligence before making any financial decision which requires at a minimum reading original source material available at the SEC and elsewhere. A failure to perform due diligence only increases what I call "error creep". Stocks, Bonds & Politics:ERROR CREEP and the INVESTING PROCESS. Each investor needs to assess a potential investment taking into account their personal risk tolerances, goals and situational risks. I can only make that kind of assessment for myself and family members.
Disclosure: I am/we are long PFE, RHHBY, VGHCX.