This topic was last updated here: Update For Portfolio Positioning And Management As Of 2/19/16 - South Gent | Seeking Alpha
My portfolio management goals are described in this 2014 post: Portfolio Management Goals-Snapshots of Performance Numbers YTD, 3 and 5 Years Cumulative.
Economic Data:
ADP reported that the private sector added 214,000 jobs last month.
CoreLogic reported that home prices increased 6.9% Y-O-Y.
Construction spending increased 1.5% in January compared to December: census.gov.pdf. The forecast was for a .2% increase.
While the ISM manufacturing PMI index for February was reported at 49.5, still in contraction, the index did gain from the prior month's reading of 48.2. Employment rose from 45.9 to 48.5. New orders remained slightly in expansion territory at 51.5.
The ISM Services PMI for February fell to 53.4% from 53.5, which I do not view as material. New export orders surged to 53.5 from 45.5. The Business Activity/Production component increased to 57.8 from 53.9. Employment fell into contraction territory which is material.
WardsAuto reported that light vehicle sales rose 7% Y-O-Y to a 17.43M SAAR (seasonally adjusted annual rate) last month. FORD (owned) had a particularly good February: Ford Posts Best February U.S. Retail Sales in 11 Years; Best-Ever Month for SUV Sales, Lincoln Sales Up 30 percent | Ford Media Center
Chart Light Weight Vehicle Sales: Autos and Light Trucks-St. Louis Fed
Inflation Rumblings and My Bond/Preferred Stocks and Funds:
The increases in CORE inflation and other inflation measures have caused me to lower my bond fund allocation and to move more funds into fixed income securities whose coupons may increase based on a spread to a short term rate like the 3 month Libor or an intermediate term rate like the 5 year Canadian government bond.
Core CPI: Up 2.2% Y-O-Y Consumer Price Index Summary
Core PCE Prices: 1.7% (the price index for personal consumption expenditures almost doubled in January, rising from December's .7% Y--O-Y increase to a Y-O-Y 1.3% rise last month.) Inflation Shocker May Force the Fed's Hand
Median CPI: +2.9% Median CPI: Latest News Release
Sticky Prices: +3% Sticky-Price CPI - Federal Reserve Bank of Atlanta
While the future is unknowable with any decree of certainty, there are certainly rumblings about a potential rise in inflation leading to a change in the current abnormally low inflation expectations. Leveraged bond CEFs would be bad investments when there is a sustained rise in interest rates throughout the maturity spectrum. The May-December 2013 period provides proof when intermediate and longer term rates increase from one extremely abnormal level to a less abnormal historical level, while short term borrowing costs remained anchored by ZIRP.
If anyone want to buy a ten year treasury yielding 1.84% before taxes and inflation, with inflation trending up and the economy still in expansion, then they can do so without my participation.
Daily Treasury Yield Curve Rates
10-Year Treasury Constant Maturity Rate-St. Louis Fed (move left cursor all the way to the left to see yields since 1962)
What could go wrong? 10-Year US Treasury Note Yield Since 1790 - Business Insider
And what is the benefit? It would take 38.02 years for money to double at 1.84% before taxes and inflation. Estimate Compound Interest
VIX Model Update:
Status Unstable Vix Pattern Created by the August 2015 Trigger Event
A Trigger Event In The Vix Asset Allocation Model 8/31/15 - South Gent | Seeking Alpha
Confirmation Event: One
Update For Portfolio Positioning And Management As Of 1/20/16: CONFIRMATION EVENT In My Vix Model - South Gent | Seeking Alpha
Stable Vix Pattern Day Count: 4
The market looks like it is moving into a longer Recovery Period than a day or two.
| | | | | | | |
| --- | --- | --- | --- | --- | --- | --- |
| Mar 2, 2016 | 17.98 | 18.41 | 16.78 | 17.09 | 0 | 17.09 |
| Mar 1, 2016 | 19.84 | 20.17 | 17.66 | 17.70 | 0 | 17.70 |
| Feb 29, 2016 | 20.49 | 20.81 | 18.38 | 20.55 | 0 | 20.55 |
| Feb 26, 2016 | 18.89 | 20.13 | 18.46 | 19.81 | 0 | 19.81 |
| Feb 25, 2016 | 20.54 | 21.26 | 19.10 | 19.11 | 0 | 19.11 |
VIX Historical Prices | VOLATILITY S&P 500
I will generally lighten up during Unstable Vix Patterns when the VIX returns to movement under 20 after a spike to 26 or higher. I may sell one or more securities bought during the last VIX spike.
I will also consider whether to buy back into SDS near my prior buys, preferably below, which were sold when the VIX spiked into the high 20s. My SDS buys were made in the $19.20 to $19.5 range during the First Recovery Period after the August 2015 Trigger Event.
SDS buys and sells are timed off the Vix Model.
Based on the length of prior First Recovery Periods, I made those buys between 18 and 22 trading days after the First Recovery Period started on 10/5/2015.
ProShares UltraShort S&P500 (NYSEARCA:SDS)
SDS Historical Prices
VOLATILITY S&P 500
+++++++
Examples of Portfolio Positioning in Response to Big Picture Macro Changes, Valuations and Yields:
An increase in interest rates will benefit insurance companies. With low interest rates trending lower, that has led to investment gains for securities owned by a life insurance company. The downside is premiums being collected are invested in securities that provide lower yields than the existing ones in the portfolio, unless the insurer takes on more risk for the same income generation. The situation is aggravated by higher yielding securities maturing.
Interest rate risk exposure increases significantly, and unhedged losses from the investment portfolio would be large, just by a return to normal rates.
A long term low interest rate cycle could result in losses or lower returns for vintage products that guarantee a particular investment return much higher than the insurance company can earn currently. (see generally: CIPR Newsletter, Insurance Whitepaper.pdf;Economic Impact of Prolonged Low Interest Rates on Insurance Companies.pdf)
When interest rates were rising between May 1, 2013 and December 31, 2013, sectors viewed as beneficiaries of higher rates performed better than the S & P 500 which had a robust up year.
For example, many investors believe that regional banks will be net beneficiaries from rising rates, due to an expansion of their net interest margins. The S&P Regional Banking ETF (NYSEARCA:KRE) had a 47.34% total return in 2013. The S&P Insurance ETF (NYSEARCA:KIE) had a 45.58% total return that year.
It is impossible to precisely time when the worm will turn with a sustained rise in interest rates.
There are still powerful deflationary forces in the U.S., including the collapse in commodity prices and a strong USD that lower the cost of imports. The Deflationists ignore or dismiss the rising inflationary forces. Those who form opinions without reference to the data will frequently be in error but never in doubt.
1. Bought AXA AT $21.74:
Quote: AXA: AXAHY - OTCMarkets.com
Company Website: AXA | Investors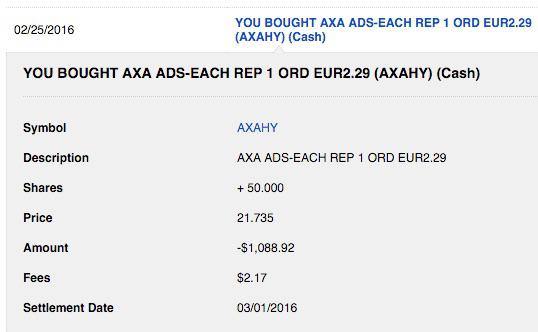 I used one of my Fidelity 25 commission free trades. The $2.17 fee is charged by France whenever the stock of a company domiciled in France is bought. France's Financial Transaction Tax is a 0.2 percent tax on stock purchases of French publicly traded companies with a market value over €1 billion. France is the only EU country that imposes that tax on stock purchases.
AXAHY is an ADR traded on the pink sheet exchange:
1 USD Priced ADR=1 Ordinary Share Priced in Euros
Ordinary Shares: CS.PA
I last discussed AXA here: Item # 3 Bought 100 AXAHY at $14.69 (6/10/10 Post).
Axa Full-Year Profit Rises 12% on Life-Insurance Premiums - Bloomberg; AXA 2015 profit lifted by Asia, exchange rates - MarketWatch
Chart: A two year comparison chart illustrates how the decline in the EURO/USD has caused the ADR to underperform the ordinary shares priced in Euros. The ADR is priced off the ordinary shares priced in Euros converted into USDs.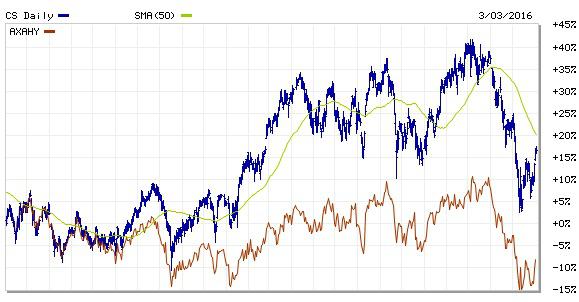 CS Stock Charts - AXA S.A. Interactive Stock Chart
While the ordinary shares are still up compared to 2 years ago, the share price percentage gain has recently been sliced from about +40% to +18%.
This chart also reflects when the ECB's Jihad against its own currency started.
Dividends: "AXA's dividend policy was reevaluated resulting in an increased dividend payout of between 45-55% of its adjusted earnings (according to French GAAP)."
The dividend is paid annually.
The following dividend amounts are in Euros.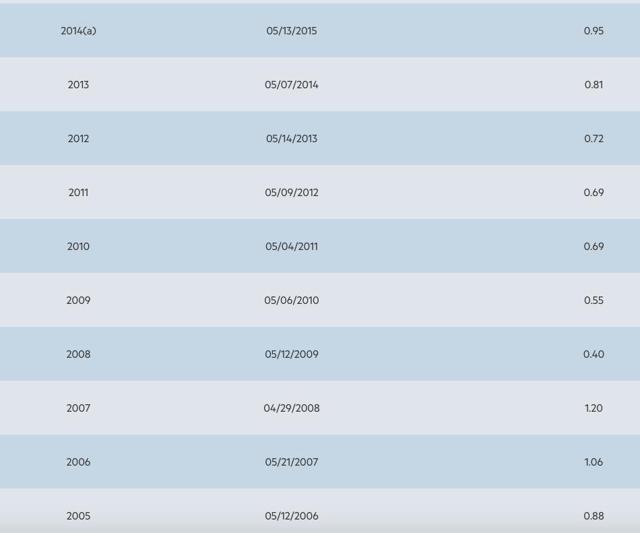 AXA will generally pay its annual dividend sometime in May. The dividend will be paid in Euros and then converted into USDs for the ADR owners. The value of the dividend will depend in part on the exchange rate.
AXA's management has proposed a €1.1 per share dividend this year subject to Board approval. AXA | FY15 Earnings That would be a 15.79% increase compared to last year's €.95.
The actual value for the ADR owner would depend on the currency exchange rate. EUR/USD
If I converted €1.1 into USDs on 2/25/16, the day of purchase, the value would be about $1.2 which would create a dividend yield before taxes of 5.52% at a $21.74 total cost per share.
The same issues about France's dividend withholding tax discussed in connection with Sanofi are applicable here as well: Update For Healthcare Basket Strategy As Of 2/25/16 - South Gent | Seeking Alpha (scroll to 1. Bought Back 50 SNY at $38.86 and then "Dividend")
A number of large European companies pay annual dividends. I will frequently attempt to harvest that dividend in a Dividend Capture Strategy and to sell the shares profitably at some point.
I am more inclined to pursue that strategy when two conditions are present:
(1) the ordinary shares have declined significantly in price; and
(2) the USD has significantly gained in value against the local currency at the same time.
Both conditions have been met in prior forays into AXA's ADR.
I got confused on Roche's ex dividend date which turned out to be 3/2/16. Otherwise, I would have bought a small lot again to capture that dividend as I did last year. Dividend Growth And Diversification Strategies: Bought 50 Roche (OTCQX:RHHBY) At $32.99 - South Gent | Seeking Alpha
AXA Historical Results: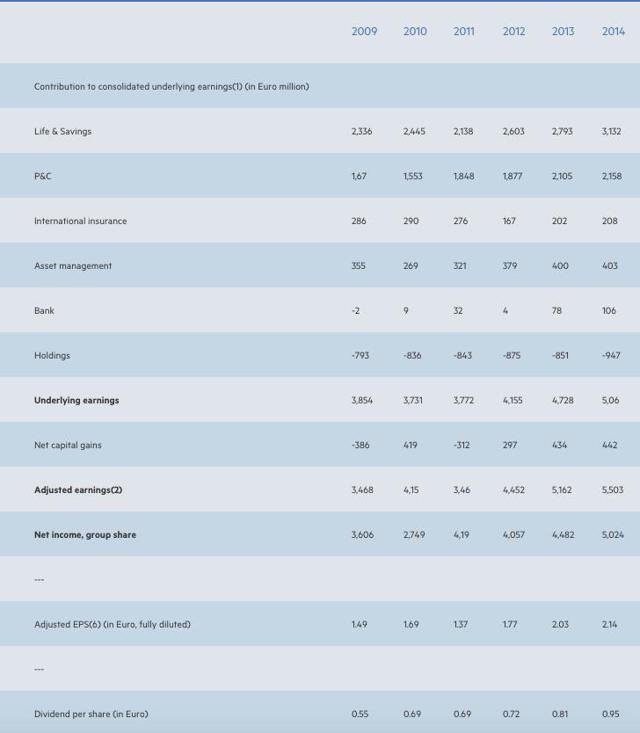 Sourced: AXA | Key Figures
Axa Full-Year Profit Rises 12% on Life-Insurance Premiums - Bloomberg; AXA 2015 profit lifted by Asia, exchange rates - MarketWatch
+++++++++++
The following two ETNs were purchased as part of a Contrarian Value Strategy that involves the following considerations and others: (1) market price decimation; (2) an opinion that the market has become too negative about a sector or stock; and (3) a significant increase in yield based on the price decline.
++++++++++
2. Bought 30 AMJ at $25:
Snapshot of Trade ($1 Commission):

Security Description: The J P Morgan Alerian MLP ETN (NYSEARCA:AMJ), as indicated by its name, an exchange traded note (NYSE:ETN) that tracks the Alerian MLP Index.
The Alerian MLP Index consists of MLPs involved in various aspects of the energy business, including pipelines, production, storage, gathering and processing.
I generally keep my exposure to ETNs limited, since that form of ownership exposes me to the issuer's credit risk, in addition to the numerous risks associated with the index being tracked by the ETN as well as other risks relating to this product. "Exchange-Traded Notes Avoid Unpleasant Surprises- FINRA; NYSE Publication: "What You Should Know about Exchange Traded Notes.pdf.
ETNs are unsecured senior notes. I am reasonably comfortable with the JPM credit risk, so I will buy 50 to 100 shares and will occasionally harvest profits when and if I have some to harvest.
I would simply explain the credit risk as follows. If JPM went bankrupt, the owners of AMJ are screwed. The investors who owned Lehman unsecured senior notes found out the hard way about the value of those notes in a bankruptcy.
Sponsor's Website: JPMorgan Alerian MLP Index ETN
The sponsor, J P Morgan, quit creating shares in this ETN back in 2012, and consequently this ETN has taken on some of the characteristics of a closed end fund.
The AMJ senior unsecured note matures on 5/24/24. The ETN structure has a complicated issue relating to the sponsor's redemption of the note. The calculation is difficult to comprehend and is explained starting at page PS-8 of the Prospectus. To deal with this kind of issue, I will simply avoid owning this security on or after 1/1/2022. I may flip this 30 share lot.
I believe that this is the quote for the Alerian MLP VWAP Level Index which appears to be used in that calculation. The Initial VWAP Level is shown as 190.36605. Amendment No. 11 to Pricing Supplement No. 152
This ETN does not own any of the securities that are components of the index. The last update shows the weightings as of 6/30/15. This has been an ongoing problem with the sponsor.
The investor has to go to the index provider to find current weightings: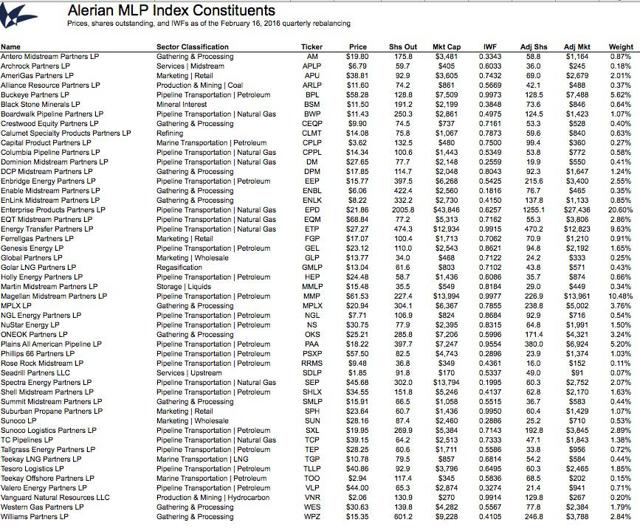 The sponsor discusses risks relating to AMJ in the Prospectus starting at page PS-17. A summary of the "main risks" can be found in the pricing supplement which can be downloaded at the sponsor's website: JPMorgan Alerian MLP Index ETN
A two year chart highlights the risks, as does my trading history: AMJ Interactive Stock Chart Before crude and natural gas prices started their slides, AMJ was trading at over $53.
AMJ Distributions: The distributions are paid quarterly at a variable rate that is linked to the distributions paid by the MLPs in the index less accrued tracking fees. The tracking fee is high at .85%.
Historical Coupons: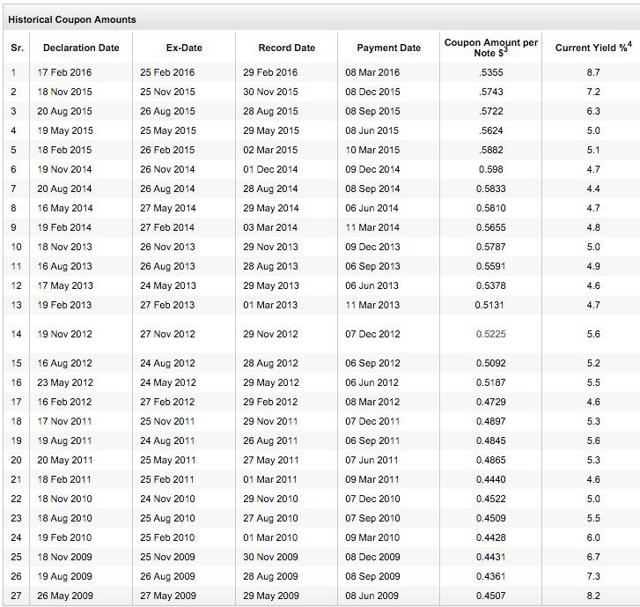 The last 4 distributions totaled $2.2444 per share. While the future distribution rates will be variable, the yield based on a total cost of $25 per share and the past four distributions would be about 11.14%. The financial websites mistakenly calculate yield as if the last coupon payment of $.5355 will persist for four quarters. If I made that clearly erroneous assumption, the dividend yield would drop to 8.568%.
Many of the infrastructure MLPs have a history of steadily rising distributions.
I will just link the dividend history webpages for the 6 largest weightings:
Enterprise Products (NYSE:EPD) -Distribution Payments
EnergyTransfer (NYSE:ETP)-Distribution History
Magellan Midstream (NYSE:MMP)-Distribution History
Buckeye Partners (NYSE:BPL) Distribution History
Plains All America Pipeline (PAA)-Distributions
Historical Distributions | MarkWest Energy
MarkWest was acquired by (NYSE:MPLX), a company created by Marathon (NYSE:MPC)
Marathon Petroleum Corporation (MPC)-Dividend History
As of 2/16/16, the Alerian MLP Index had a 55.29% weighting in those six MLPs.
Prior Trades: I was successful with two trades and have become an involuntary long term owner of another 50 share lot.
Item # 4 Sold 50 AMJ at $47.49-Roth IRA (4/26/14 Post)-BOUGHT ROTH IRA 50 AMJ AT $45.6 (11/12/14 Post)

Item # 6 Sold 50 AMJ at $47.99-ROTH IRA (5/13/13 Post)-Bought Roth IRA: 50 of the ETN AMJ at $37.89 (12/19/12 Post)
Total Realized Trading Gains: $569.39
The problem with the last purchase was that I failed to take a loss before it grew too large in percentage terms: Investing For Income In The Roth IRA: Bought Back 50 AMJ At $45.95 - South Gent | Seeking Alpha I noted in that post one of the risks: "(1) Income May be Devoured by a Loss on the Shares: MLPs have been volatile recently with a downside bias. The downside pressure has coincided with the precipitous decline in crude oil prices." Maybe I needed to listen to myself more.
Consequently, my unrealized loss on a 50 share lot is currently much higher than the realized gains on two 50 share lots.
I am receiving tax free income from the AMJ 50 share position held in a Roth IRA account as noted in the title to that preceding linked post. My total return number leaves something to be desired however.
Morningstar calculates the total return based on net asset value per share as -37.1% for one year through 3/2/16. The average annualized total return over 3 years was -10.83%.
I do not know whether this last 30 share purchase will dig me deeper into a hole or help me to dig out of the one created by inaction. I suspect the later.
3. Bought 50 AMU at $15.73: This purchase was made on the same day as AMJ, discussed in Item # 2, but in a different account.
Trade Snapshot:

Security Description: The ETRACS Alerian MLP Index ETN (NYSEARCA:AMU) is a similar security to AMJ, except that I am assuming the credit risk of UBS.
Sponsor's website: AMU | ETRACS Alerian MLP Index ETN | UBS ETRACS
UBS is not issuing any new AMU notes. UBS Releases Statement on UBS ETRACS ETNs and Launches Six New Products
The term is 30 years from July 2012 unless earlier redeemed by UBS as provided in the prospectus using a complicated formula. Anyone interested in that calculation is welcomed to read the prospectus linked at the sponsor's website. I did not try to figure it out.
The sponsor has a .8% tracking fee or .05% less than J P Morgan for AMJ.
Unlike JPM, UBS provides a current weighting (click "Index Components). I just took a snapshot of weightings greater than 1%:
Risks are discussed under the "Key Considerations" tab.
Risk is also highlighted by a two year chart: AMU Interactive Stock Chart
AMU has a 3 star rating from Morningstar in spite of its horrific performance over the past two years. Over the past one year through 3/2/16, AMU's total return was -40.01% which is one reason for buying it now. The average annual total return over three years is -10.79%. For those investing in energy infrastructure MLPs, the blood bath is already well known.
Distributions: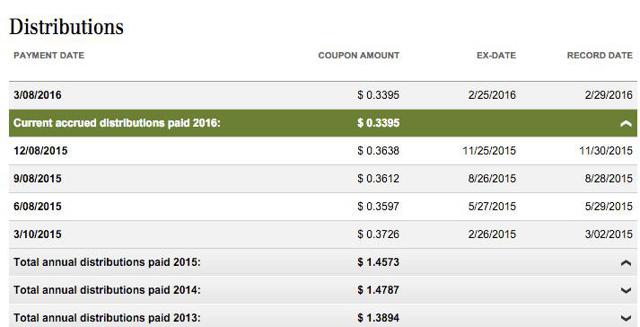 If I took the last four quarterly distributions, the total comes to $1.4242 per share. Note that the 2016 penny rate declined significantly compared to the 2015 first quarter. The percentage decline was a material 8.88%.
Disclaimer: I am not a financial advisor but simply an individual investor who has been managing my own money since I was a teenager. In this post, I am acting solely as a financial journalist focusing on my own investments. The information contained in this post is not intended to be a complete description or summary of all available data relevant to making an investment decision. Instead, I am merely expressing some of the reasons underlying the purchase or sell of securities. Nothing in this post is intended to constitute investment or legal advice or a recommendation to buy or to sell. All investors need to perform their own due diligence before making any financial decision which requires at a minimum reading original source material available at the SEC and elsewhere. A failure to perform due diligence only increases what I call "error creep". Stocks, Bonds & Politics:ERROR CREEP and the INVESTING PROCESS. Each investor needs to assess a potential investment taking into account their personal risk tolerances, goals and situational risks. I can only make that kind of assessment for myself and family members.
Disclosure: I am/we are long AMJ, AMU, AXAHY.