This topic was last updated here: Update For Portfolio Positioning And Management As Of 3/13/16 - South Gent | Seeking Alpha
My portfolio management goals are described in this 2014 post: Portfolio Management Goals-Snapshots of Performance Numbers YTD, 3 and 5 Years Cumulative.
Jobs:
The BLS reported this morning that the U.S. added 215,000 in March. The unemployment rate rose to 5% from 4.9% as more people entered the labor force.
Wages increased by $.07 per hour. The Y-O-Y increase was 2.3%.
"Construction employment rose by 37,000 in March.. . Employment in health care increased by 37,000 over the month, about in line with the average monthly gain over the prior 12 months."
The U-6 number was reported at 9.8%: Table A-15. Alternative measures of labor underutilization
Personal Income and Spending:
News Release: Personal Income and Outlays
The government reported that both personal income and disposable personal income increase .2% last month. Real disposable income increased by .3. The personal savings rate was 5.4%.
Personal consumption expenditures were disappointing at +.1%.
The PCE price index declined by .1%. Real PCE was consequently .2%.
The PCE price index increased 1% Y-O-Y.
Excluding food and energy, the PCE index rose 1.7%.
The core PCE price index is running at a 2% annualized rate over the past three months.
Overall, I view that report as a slight negative. I expect consumer spending will pick up soon.
Real GDP Growth: The government released it "third" estimate for 4th quarter GDP. Full Release with Tables
This last estimate revised real GDP growth to 1.4% from the +1% prior estimate. Current-dollar GDP increased 2.3 percent.
Personal consumption expenditures increased by 2.4%: Table 1, Line 2.
Adjusted pre-tax corporate profits declined at a 7.8% rate in the fourth quarter and were down 11.5% from a year ago. The decline was mainly due to losses from domestic petroleum and coal companies. Excluding these energy companies, profits were still down 1.7% in the 4th quarter.
Profits declined by 3.1% in 2015, the largest decline since 2008.
While the consumer spending number was a positive, the overall picture for corporate profits was a negative and is an additional factoid calling into question the current high market valuations.
Market Valuations:
The TTM P/E for the S & P 500 was 23.52 as of 3/14/16. The ex-item 12 month forward estimated P/E was then 17.55: P/Es & Yields on Major Indexes - Markets Data Center - WSJ.com
Historical Market Valuation Charts: Yardeni.pdf and Is the Stock Market Cheap? - dshort - Advisor Perspectives
Yellin: There is of course a Pavlovian response to the FED remaining exceedingly dovish with near zero interest rates.
The Fed Chief delivered more red meat to those who believe that extremely abnormal CB monetary policies for an extended period are beneficial rather than harmful.
Yellin provoked the predictable mindless herd response last Tuesday.
She is not only cautious about raising rates now, which was readily apparent to anyone listening to her, but that caution is now "especially warranted". Sort of a super duper dove now as inflationary pressures build.
With economic data remaining positive since Yellin was merely cautious, I guess something happened that took her caution to the "especially warranted" level. I submit that the something which turned her caution up a notch is the ongoing currency wars being conducted by the ECB and other CBs. Yellin does not want the dollar to appreciate while other CBs are moving deeper into negative interest rate territory. I at least can understand that issue.
By the way, the last U.S. recession officially ended in June 2009: nber.org/cycles
The Federal Funds rate is still hovering near zero almost seven years since the dated end of that recession. It has been near zero for so long that some may even believe that near zero federal funds is the norm and necessary to spur economic activity when unemployment falls below 5% with real GDP increasing by 2.45%, 2.47% and 1.98% over the past three years.
The FF rate has been as high as 20%: Historical Changes of the Target Federal Funds and Discount Rates Since 1971
Unemployment was last reported at 4.9%. The U-6 is normalizing to average levels from prior recoveries: Total unemployed, plus all marginally attached workers plus total employed part time for economic reasons-St. Louis Fed
The abnormal monetary policies of course extend beyond near zero short term rates.
The Fed is continuing QE by reinvesting the principal amounts of maturing securities and will continue to do for an extended period:
"The Committee is maintaining its existing policy of reinvesting principal payments from its holdings of agency debt and agency mortgage-backed securities in agency mortgage-backed securities and of rolling over maturing Treasury securities at auction, and it anticipates doing so until normalization of the level of the federal funds rate is well under way. This policy, by keeping the Committee's holdings of longer-term securities at sizable levels, should help maintain accommodative financial conditions." (emphasis added)
FRB: Press Release--Federal Reserve issues FOMC statement--March 16, 2016
The Fed's balance sheet is over $2.344 trillion. System Open Market Account Holdings - Federal Reserve Bank of New York
The excess money created by the FED has mostly found its way into excess bank reserves: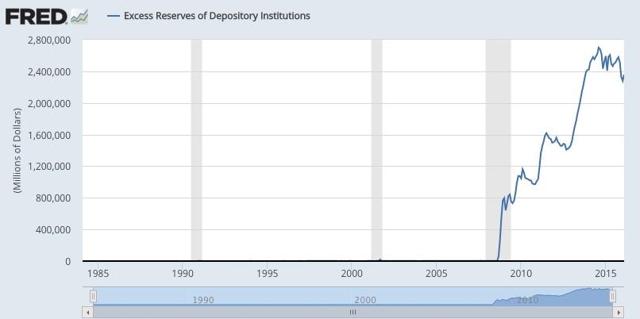 Excess Reserves of Depository Institutions-St. Louis Fed
The current policies are primarily helping the buyers of risk assets and are no longer providing net benefits to the U.S. economy IMO.
Over $8.249 trillion is in U.S. savings accounts that have paid practically nothing since 2008.
Several more trillion are held by U.S. households in money market accounts, certificates of deposit, treasury bills and other short term instruments that pay virtually nothing prior to inflation and tax adjustment.
Sourced: FRB: H.6 Release--Money Stock Measures, Release Dates
Latest Release 3/24/16: RB: H.6 Release (scroll to table 4)
The economy unquestionably grows less when consumers are denied income from their savings. This was predicted in a 2012 study: The Big Picture
Status of Vix Asset Allocation Model: Vix Asset Allocation Model - South Gent | Seeking Alpha
Current Status: Second Recovery Period in an Ongoing Unstable VIX Pattern
Confirmation Event: One Update For Portfolio Positioning And Management As Of 1/20/16: CONFIRMATION EVENT In My Vix Model - South Gent | Seeking Alpha
Trigger Event Declared in August 2015: A Trigger Event In The Vix Asset Allocation Model 8/31/15 - South Gent | Seeking Alpha
I am starting the Second Recovery Period on 2/25/16. The Stable VIX Pattern day count stands at 24 trading days (2/29/16 is not included in the count since the close was over 20).
| | | | | | | |
| --- | --- | --- | --- | --- | --- | --- |
| Mar 31, 2016 | 13.73 | 14.28 | 13.49 | 13.95 | 0 | 13.95 |
| Mar 30, 2016 | 13.69 | 13.89 | 13.06 | 13.56 | 0 | 13.56 |
| Mar 29, 2016 | 15.74 | 15.89 | 13.79 | 13.82 | 0 | 13.82 |
| Mar 28, 2016 | 15.65 | 16.04 | 14.89 | 15.24 | 0 | 15.24 |
| Mar 24, 2016 | 16.30 | 16.44 | 14.71 | 14.74 | 0 | 14.74 |
| Mar 23, 2016 | 14.57 | 15.03 | 14.33 | 14.94 | 0 | 14.94 |
| Mar 22, 2016 | 14.57 | 14.76 | 13.75 | 14.17 | 0 | 14.17 |
| Mar 21, 2016 | 14.57 | 14.73 | 13.79 | 13.79 | 0 | 13.79 |
| Mar 18, 2016 | 14.05 | 14.36 | 13.75 | 14.02 | 0 | 14.02 |
| Mar 17, 2016 | 15.34 | 15.38 | 13.82 | 14.44 | 0 | 14.44 |
| Mar 16, 2016 | 15.96 | 16.33 | 14.89 | 14.99 | 0 | 14.99 |
| Mar 15, 2016 | 17.60 | 17.85 | 16.84 | 16.84 | 0 | 16.84 |
| Mar 14, 2016 | 17.01 | 17.67 | 16.69 | 16.92 | 0 | 16.92 |
| Mar 11, 2016 | 17.09 | 17.27 | 16.28 | 16.50 | 0 | 16.50 |
| Mar 10, 2016 | 18.17 | 19.59 | 17.06 | 18.05 | 0 | 18.05 |
| Mar 9, 2016 | 18.56 | 19.11 | 18.31 | 18.34 | 0 | 18.34 |
| Mar 8, 2016 | 18.38 | 18.89 | 17.82 | 18.67 | 0 | 18.67 |
| Mar 7, 2016 | 17.98 | 18.04 | 16.87 | 17.35 | 0 | 17.35 |
| Mar 4, 2016 | 16.48 | 17.35 | 16.05 | 16.86 | 0 | 16.86 |
| Mar 3, 2016 | 17.25 | 17.56 | 16.32 | 16.70 | 0 | 16.70 |
| Mar 2, 2016 | 17.98 | 18.41 | 16.78 | 17.09 | 0 | 17.09 |
| Mar 1, 2016 | 19.84 | 20.17 | 17.66 | 17.70 | 0 | 17.70 |
| Feb 29, 2016 | 20.49 | 20.81 | 18.38 | 20.55 | 0 | 20.55 |
| Feb 26, 2016 | 18.89 | 20.13 | 18.46 | 19.81 | 0 | 19.81 |
| Feb 25, 2016 | 20.54 | 21.26 | 19.10 | 19.11 | 0 | 19.11 |
I have been buying SDS as a small hedge for my stock portfolio and to lighten up on my stock allocation on strong rally days. The buys have been in the $18.75 to $19.25 range.
I describe the trading rules for this flawed product in this post: Scroll to Vix Asset Allocation Model: Unstable VIX Pattern-Currently in a Recovery Period after a Trigger Event: Update For Portfolio Management And Positioning As Of 11/11/15 - South Gent | Seeking Alpha
As previously explained in several posts over the past 8 years, I will purchase of that flawed product as a hedge during an Unstable Vix Pattern period. The purchase and sell will be timed based on the VIX movements.
The purchase timing first requires VIX movement below 20 occurring after a spike into the high 20s.
After spiking into the high 20s, the VIX has returned to below 20 movement so that criteria has been met.
The VIX Model does not provide guidance as to when to buy hedges during the Second Recovery Period and it really comes down to feel for me.
I first started to publicly publish blogs back in October 2008.. My first public discussion of the Vix Model was in several posts published in November 2008:
Stocks, Bonds & Politics: Trading and Asset Allocation in Stable and Unstable VIX Pattern (11/29/2008)
Stocks, Bonds & Politics: More on VIX AND ASSET ALLOCATION (11/26/2008)
Further Discussion of Volatility and Asset Allocation (11/21/2008)
Stocks, Bonds & Politics: FALL BELOW 776.76: Stable and Unstable VIX Patterns Impacting Changes in Allocation to Stocks, Bonds and Cash (11/20/2008)
There was a Trigger Event in August 2007 that ushered in an Unstable VIX Pattern: VIX Chart from 2007: Alerts and Triggers Major Disruption of Cyclical Stable Bull VIX Pattern
That Trigger Event terminated the Stable Vix Pattern in effect since late 2003: Vix Charts from 2004 2005 2006 Stable VIX Patterns Phase 1 and Phase 2
Use of the VIX as a Timing Model
VIX and S & P Compared 1990 to 1997
The St. Louis Fed has an interactive VIX chart that allows the investor to easily move the cursors to focus on specific time frames:
CBOE VIX Volatility Index-St. Louis Fed
+++++++++++++++++++++++++
Second Recovery Period Profit Taking:
1. Sold 52+ GIS at $60.36:
Trade Snapshot: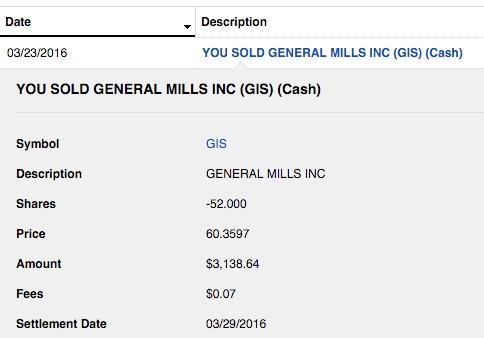 Profit Snapshot: +$1,285.31

Item # 1 Bought 50 GIS at $35.53 (1/5/11 Post)
I quit reinvesting the dividend in 2012.
That purchase was part of a paired trade where I sold 100 ETO at $20.75 to buy 50 GIS at $35.53.
Closing Price ETO as of 3/24/16: ETO: $21.24 -0.08 (-0.38%) : Eaton Vance Tax-Advantage Global
So that pared trade worked out.
Total Return GIS 1/3/11 through 3/24/16: 103.8%
Total Return ETO 1/3/11 through 3/24/16: 64.99%
Sourced: DRIP Returns Calculator | Dividend Channel
The total return numbers assume reinvestment of dividends. The total return with cash dividend payments would be slightly lower for both securities: 53.9% for ETO and 94.37% for GIS.
Rationale: Given my traditional valuation views, which have served me well over the past 40+ years, I just don't get the current multiples for GIS, particularly after the last earnings report. The TTM P/E was over 26 and the forward ex-item P/E was almost 21 using the analyst estimates for the F/Y ending in May 2017.
Over the past 9 months, revenues were flat on a constant currency basis and exluding a 1% decline due to netting divestitures and acquisitions. General Mills Reports Fiscal 2016 Third-Quarter Results In Line With Expectations, Reaffirms

At current prices, I prefer Nestle over GIS but am reluctant to buy more NSRGY at its current price. Nestle is at least growing revenues on a constant currency basis.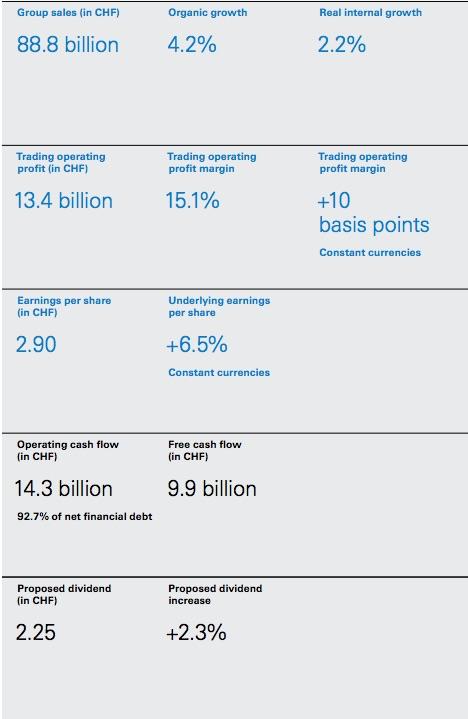 2. Pared GE: Sold 47 Shares (commission free): I used one of my Fidelity commission free trades to reduce this position.
I selected shares with a total cost basis in excess of $16 per share.
Position Before Trade: Average Cost Per share=$14.1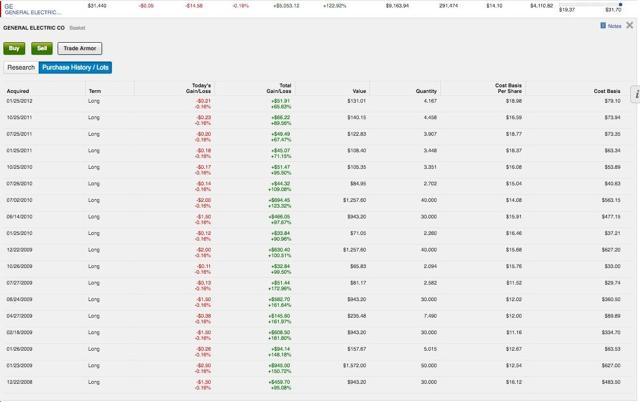 Position After Trade: Average Cost Per Share=$13.59

Profit Snapshot for 47 Shares= +$684.69

3. ELIMINATED Vanguard Equity Income Fund: Investor Class (MUTF:VEIPX).
I am about to inherit far more shares in the Vanguard Equity Income Fund: Admiral Class (MUTF:VEIRX)
Under the present circumstances, I viewed it as advisable and prudent to unload what I own before receiving a lot more.

VEIPX PROFIT SNAPSHOT: +$4,150.27
Of that amount, $4,142.63 will be classified as a long term capital gain.
I pared VEIPX during the First Recovery Period after the Trigger Event, selling more recently purchased and higher cost shares: Scroll to B. Some Trigger Event Motivated Sells: 1. Pared Vanguard Equity Income Fund Position: Update For Portfolio Management And Positioning As Of 10/24/15 - South Gent | Seeking Alpha (realized gain +$1,532.93)
I received $401.8 in dividends since the October 2015 pare. The dividends were used to purchase shares which were sold at a slight profit as shown in the preceding snapshot.
I initiated a position in June 2009 as part of an ongoing reallocation back into stocks.
As shown in the snapshot I have received several dividend payments since those shares were sold last October.
VEIPX currently has a 5 star rating from Morningstar.
Sponsor's Website: Vanguard - Vanguard Equity Income Fund Investor Shares (expense ratio: .26%)
4. Bought 100 AEG at $5.53
Trade Snapshot ($1 Commission)

AEG is an American Depository Receipt priced in USDs and traded on the NYSE. Each ADS represents 1 ordinary share priced in Euros. When I bought the ADR, the ordinary shares had closed at €4.83 in Amsterdam down 1.43% for the day: Aegon N.V. (AGN:EAM)
Company Description: Aegon N.V. (AEG) is a Netherland's based holding company that provides life, accident, and supplemental health insurance and has been growing its asset and pension management fee businesses.
Aegon acquired Transamerica in 2009 for $10.8B.
Aegon has formed several joint ventures to sell life insurance in China, Asia and Latin America.
In November 2014, Aegon agreed to sell its 35% stake in La Mondiale Participations for €350m. The proceeds will "be added to the company's excess capital buffer and will increase the group's IGD solvency ratio by approximately 5 percentage points".
In October 2014, Aegon agreed to sell its Canadian operations to Wilton RE for €423M and will use the proceeds to reduce outstanding indebtedness. Aegon will book an approximate book loss of €800M. That transaction will improve Aegon's ROE by 40 basis points, while reducing net underlying earnings by less than 1%. Aegon's Canadian operations were acquired through its 1999 acquisition of Transamerica.
Aegon's senior debt is currently rated at A- by S & P and A3 by Moody's: Ratings-AegonRatings reports are accessible at the preceding link. This is a link to Fitch's report dated 11/12/14.
Aegon designated a global systemically important insurer
Aegon completes share buyback program - Aegon
This is a link to the last Moody's Report: Moodys Financial Rating Aegon
Dividends:
The next dividend payment will be €.13 per share and is scheduled to go ex dividend on 5/13 payable in June 2016. As with other European companies, this dividend payment is connected to 2015 earnings and is labeled a final dividend for that year. The interim dividend paid in 2015 was for €.12 per share.
If I took €.25 as the annual rate and converted it into USDs yesterday, I arrive at $.285 per share for the ADR before any withholding tax. The dividend yield with those assumptions would be about 5.15% based on a $5.53 total cost per share.
Aegon did eliminate its common share dividend in response to the Near Depression. That led me to engage in frequent discussions about whether Aegon could defer dividend payments on its hybrids. (e.g. Stocks, Bonds & Politics: More on ING and AEGON Mandatory Payment Events/Alternative Payment Mechanism: August 27, 2009 Post)
Aegon Securities As Trading Vehicles Only: I have a tendency to flip this Dutch life insurance company. My rationale for buying it now is based on valuation, dividend yield, and a probable rise in interest rates that will benefit life insurance companies.
I last bought 100 shares at $5.64:
Scroll to Sector Positioning: Foreign Stocks- 1. Bought 100 AEG at $5.64: Update For Portfolio Positioning And Management As Of 10/1/15 - South Gent | Seeking Alpha
I sold that 100 share lot at $6.28, holding the position for about a month:
Scroll to 2. Sold 100 AEG at $6.28: Update For Portfolio Management And Positioning As Of 11/11/15 - South Gent | Seeking Alpha (profit snapshot=$61.99)
I eliminated earlier in 2015 a larger position, realizing a $219.98 which included a $14.28 loss on a 150 share position bought at $7.79 and discussed here: Added To AEGON (NYSE:AEG) - South Gent | Seeking Alpha I sold 283 shares on 7/27/15 at $7.79. So, it has not paid to be a long term holder-so far at least.
I have also traded Aegon hybrid securities and have snapshots of those trades here:Stocks, Bonds & Politics: Aegon Hybrids: Gateway Post (snapshots of realized gains= +$3,811.2)
Decline in the Euro/USD:
Part of the problem over the past two years or so is that AEG is an ADR and its ordinary shares are priced in Euros. The ADR priced in USDs will reflect the ordinary share price in Euros converted into USDs. The Euro has declined significantly in value against the USD but appears to have stabilized over the past several weeks and has turned up slightly in value. EUR/USD Interactive Stock Chart The Euro's weakness since May 2014 is due to the intensified Jihad by the European Central Bank against its own currency, implemented nothwithstanding protestastions to the contrary to improve the competitive position of European exporters against U.S. companies.
The Euro's weakness flows through into the Aegon ADR price as shown in this two year comparison chart: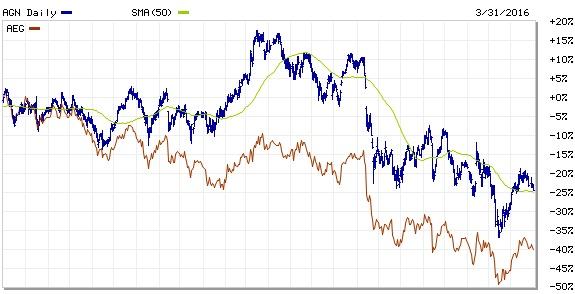 Aegon has disappointed investors with their recent earnings releases which has caused the ordinary shares to decline in value.
The most recent report was viewed by the market as unsatisfactory:
Aegon Falls as U.S. Drives Quarterly Pretax-Profit Decline - Bloomberg
Aegon Reports Net Income of EUR 478 Million in the Fourth Quarter of 2015
Q4 2015 Results - Earnings Call Transcript | Seeking Alpha
Aegon Soars on $432 Million Stock Buyback Plan, Cost Cutting (1/13/16 Bloomberg Story)
Only one analyst provides E.P.S. estimates for the ADR shares. That estimate is for $.58 this year and $.67 next year. AEG Analyst Estimates
Needless to say, a 100 share buy at $5.53 shows a lack of enthusiasm which is warranted until Aegon rids itself of problematic business lines and the macro economic environment for insurance companies improves.
Disclaimer: I am not a financial advisor but simply an individual investor who has been managing my own money since I was a teenager. In this post, I am acting solely as a financial journalist focusing on my own investments. The information contained in this post is not intended to be a complete description or summary of all available data relevant to making an investment decision. Instead, I am merely expressing some of the reasons underlying the purchase or sell of securities. Nothing in this post is intended to constitute investment or legal advice or a recommendation to buy or to sell. All investors need to perform their own due diligence before making any financial decision which requires at a minimum reading original source material available at the SEC and elsewhere. A failure to perform due diligence only increases what I call "error creep". Stocks, Bonds & Politics:ERROR CREEP and the INVESTING PROCESS. Each investor needs to assess a potential investment taking into account their personal risk tolerances, goals and situational risks. I can only make that kind of assessment for myself and family members.