I will publish an update for my regional bank basket next. I am waiting for information on how many shares of BBT will be acquired in exchange for my NPBC shares. BB&T closes National Penn acquisition; BB&T announces election and allocation results relating to the acquisition of National Penn
REIT index funds are doing better in 2016 than the S & P 500 as shown by the total returns for VNQ and SPY:
Vanguard REIT Index Fund ETF Shares (NYSEARCA:VNQ) Total Returns
S&P 500 ETF (NYSEARCA:SPY) Total Returns
The 2016 performance of VNQ is in line with the total return of the iShares 7-10 Year Treasury Bond ETF (NYSEARCA:IEF) so far.
The ten year treasury yield closed at 2.24% on 1/4/16 and at 1.76% today: Daily Treasury Yield Curve Rates
Interest rates have come down this year as the inflation numbers accelerated up. This makes a lot of sense to investors, but just flies over my head.
Since I am naturally contrarian or contrary, I am decreasing my REIT allocation and increasing my regional bank basket.
The banks are getting smacked down due to continued NIM compression concerns.
That concern appears to be rational going forward once an investor accepts as rational the likely negative real rate of return for a ten year treasury or who believes that a 1.76% coupon for ten years is some kind of deal when core CPI was last reported at +2.3% Y-O-Y: Consumer Price Index Summary. The sticky price CPI is running at +2.7%: Sticky-Price CPI - Federal Reserve Bank of Atlanta The median CPI was last reported up at a 2.8% annualized rate and 2.4% Y-O-Y. Median CPI: Latest News Release
It is only a question of time before the adverse consequences of CB massive manipulation in the market's normal price setting mechanisms become obvious.
+++++++++
This basket strategy was last updated here: Update For Equity REIT Basket Strategy As Of 3/21/16 - South Gent | Seeking Alpha
I discussed reasons for maintaining an allocation to REITs here: Update For Equity REIT Basket Strategy As Of 7/24/15 - South Gent | Seeking Alpha (scroll to "Why Own Equity REITs")
I discussed interest rate cycles and REITs here: Update For REIT Basket Strategy As Of 8/11/15/Interest Rate Cycles And REIT Stock Prices - South Gent | Seeking Alpha (scroll to "Interest Rate Movements and REIT Stocks")
I am tracking realized gains and losses, along with annual dividend payments, here:Gateway Post: Equity REIT Common and Preferred Stock Basket Strategy
Total Net Realized Gain Since September 2013 Inception: $7,157.95 (of which $1,356.09 has been in equity preferred stocks)
During the life of this basket, I believe that dividend income will swamp realized gains and will generate over 70% of my total return.
This basket strategy is in essence a mini-sector fund. The components are weighted based on a variety of factors unique to that basket, including valuations, dividend yields, dividend growth potential, and diversification objectives.
Basket as 4/6/16: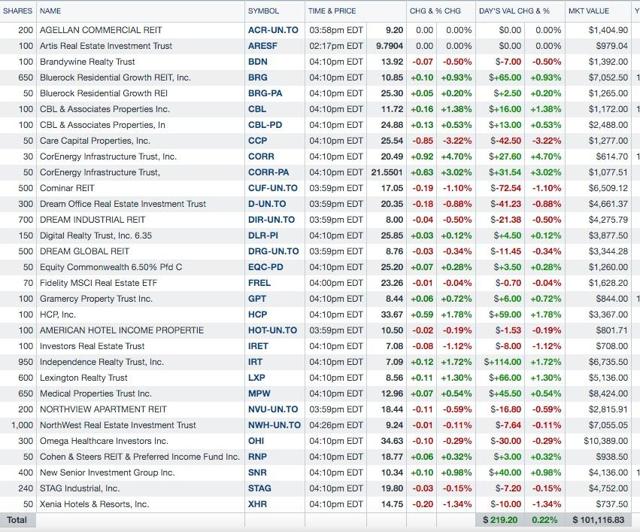 In this table, the value of the Canadian REIT positions are converted from CADs to USDs. A rally in the CAD/USD would increase the value of those positions shown in this table with the CAD price remaining the same.
For example, my 1000 shares of Northwest closed today at C$9.24. Northwest Healthcare Properties Real Estate Investment Trust (NWH.UN:TOR) The 1000 share value would consequently be C$9,240. That value is converted by Yahoo Finance into USDs which results in the $7,055 amount shown in the table.

A return to 1 CAD buying 1 USD would result in the value being USD$9,240 at a C$9.24 price.
++++++++++++++
1. Bought 50 Xenia Hotels and Resorts (NYSE:XHR) at $14.98-Roth IRA:
Trade Snapshot:

52 Week High: $24.39
52 Week Low: $12.1
Closing Price Day of Trade (3/24/16): XHR: $14.99 +0.03 (+0.20%)
The low was hit last January with the 52 high occurring last June: XHR Stock Chart
Morgan Stanley downgraded a number of hotel stocks in mid-March. Xenia was downgraded to neutral with a price target of $17 per share.
Company Description: Xenia Hotels & Resorts Inc. (XHR) is a U.S. REIT that owns upscale hotels.
Dividend: A recent dividend raise caught my attention. On 3/17/16, Xenia announced a 20% increase in the quarterly rate to $.275 per share. Xenia Hotels & Resorts Increases Quarterly Dividend 20% I noticed that increase when conducting my daily review of the WSJ's public page on dividend announcements. Dividends - Markets Data Center - WSJ.com
At a total cost of $14.98 per share, the current yield would be about 7.34%.
It was a combination of that dividend increase, the decline in the share price and the recent earnings report that caused me to take a nibble.
The stock went ex dividend shortly after my purchase.
Recent Portfolio Additions and Dispositions:
"In February 2016, the Company sold the 248-room Hilton University of Florida Conference Center Gainesville in Gainesville, Florida for a sale price of $36 million. In addition, the Company retained the approximately $2 million balance in the hotel's capital expenditure reserve account. Upon completion of the disposition, the Company paid off the $27.8 million mortgage loan collateralized by the hotel."
"In January 2016, the Company completed the previously announced acquisition of the 245-room Hotel Commonwealth in Boston, Massachusetts for a purchase price of $136 million, funded with proceeds from the Company's $125 million, seven-year term loan and cash on hand."
"In the fourth quarter, the Company sold the 656-room Hyatt Regency Orange County in Garden Grove, California for a sale price of $137 million. The sale price represented an 11.8x multiple on the hotel's 2015 forecast EBITDA. In addition, the Company retained the approximately $5.9 million balance in the hotel's capital expenditure reserve account. Excess proceeds from the disposition after repayment of the $62 million mortgage loan collateralized by the hotel were utilized to pay off the $73 million mortgage loan collateralized by the Company's Marriott Woodlands Waterway Hotel & Convention Center."
Recent Earnings Report: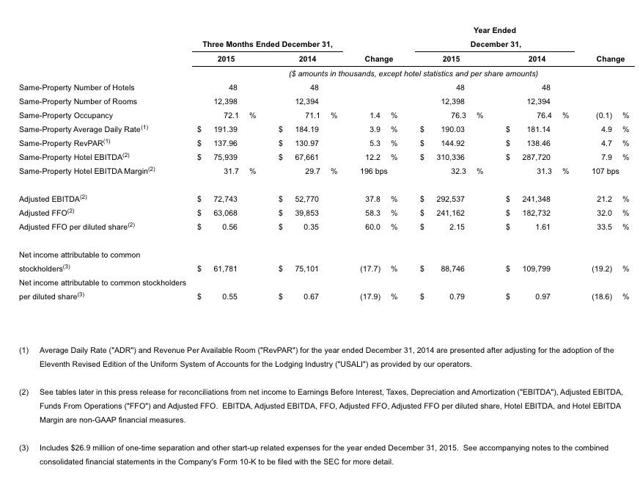 FFO to AFFO Calculations: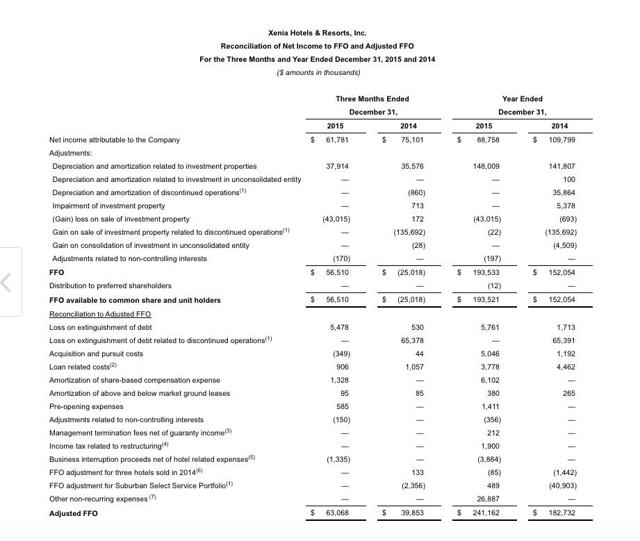 There is no adjustment to FFO for any cash expenses relating to routine and recurring maintenance.
2016 Guidance:
AFFO per diluted share was reported at $2.15 last year. The high end estimate for 2016 would constitute a Y-O-Y of about 10.7%. The low end estimate of $2.25 would be a Y-O-Y of approximately 4.65%.

Xenia Hotels & Resorts Reports Fourth Quarter And Full Year 2015 Results, And Provides 2016 Guidance
The capital expenditures contemplated in the foregoing 2016 guidance appear to be property improvements that add to value rather than maintenance expenses.
2. Sold 250 LXP on Ex-Dividend Date-Taxable Accounts: I eliminated my LXP positions held in two taxable accounts. I still own shares in two Roth IRA accounts.
I sold on the ex dividend date, so I will receive the $.17 quarterly dividend on the 250 shares.

Sold 150 at $8.43 ($1 Commission):
Profit Snapshot: $133.97

Scroll to 4. Added 150 to LXP (50 in IB account at $6.95): Update For Equity REIT Basket Strategy As Of 1/21/16 - South Gent | Seeking Alpha and
Scroll to 2. ADDED 50 LXP AT $7.73 ROTH IRA and 100 in IB account at $7.8: Update For Equity REIT Basket Strategy As Of 1/11/16 - South Gent | Seeking Alpha (still own the shares held in both ROTH IRA accounts)
And
Sold 100 at $8.46+ (Schwab Account-highest commission broker that I use)
Profit Snapshot: +$90.68

As shown by a two year LXP chart, it has been difficult to realize a gain on the shares: LXP Interactive Stock Chart I did buy the recent dip as shown in the preceding snapshots.
Prior Round Trips:
Sold 54 LXP at $11.44 Vanguard Roth IRA (1/27/15 Post)-Transitioning Position to Fidelity Roth IRA (profit snapshot +$64.4)-Item # 6 Added 50 LXP at $9.95- Vanguard ROTH IRA (1/13/14 Post)
Item # 1 Sold 101+ LXP at $10.65 (10/28/14 Post)(Profit Snapshot=$51.76)-Item # 1 Bought: 100 LXP at $10.32 (12/3/13 Post)
Total LXP Trading Profits: +$340.81
3. Sold 50 EPRPRC-Roth IRA:
Quote: EPR Properties 5.75% Cumulative Convertible Preferred Series C Stock (EPR.PC:NYSE)
Profit Snapshot: +$160.48

I sold on the ex dividend date.
I did not do the computation relating to the conversion into common stock prior to selling this security. It is too complicated to figure out for just a 50 share lot. Apparently, the spurt in the share price since my purchase may have something to do with the improving share price of EPR Properties (NYSE:EPR)
Prospectus "The conversion rate will initially be 0.3504 common shares per $25.00 liquidation preference, which is equivalent to an initial conversion price of $71.34 per common share." subject to mostly incomprehensible to me adjustments described starting at page S-25, with Item # 5 at page S-27 being potentially interesting to anyone willing to do the computation: " 5. cash distributions by us to all or substantially all holders of our common shares in excess of $0.6875, or the Initial Distribution Threshold, during any fiscal quarter other than distributions described in paragraph 6, based on the following formula: . . " The EPR current monthly dividend rate is $.32 per share or $.96 per quarter. The company was paying a quarterly rate until April 2013)
4. Sold 50 IRM at $33.82:
Quote: Iron Mountain Inc. (NYSE:IRM)
Trade Snapshot (used Fidelity commission free trade):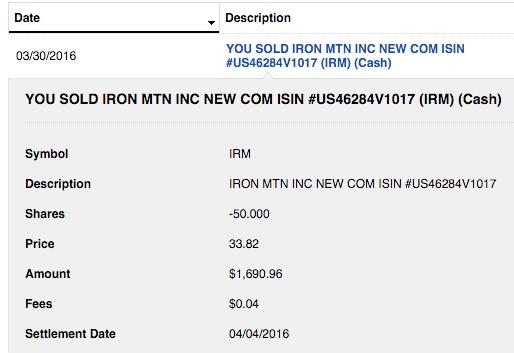 Profit Snapshot=+$398.06

Scroll to 3. Bought 50 IRM at $25.7: Update For Equity REIT Basket Strategy As Of 1/11/16 - South Gent | Seeking Alpha
I will receive the quarterly dividend payment which went ex dividend on 3/3: Iron Mountain Historical Dividends
This was pure profit taking. The shares jumped in price soon after my 1/8/16 purchase.
I am also trimming my REIT allocation due to valuation and interest rate concerns. I may be the only investor in the world who sees an inconsistency between the current and reasonably anticipated inflation numbers and the Fed's increasingly and excessively dovish monetary policies.
5. Bought 100 CIO at $11.4:
Quote: City Office REIT (NYSE:CIO)
Company Website: City Office REIT and Our Properties
Trade Snapshot ($1 Commission):

Closing Price Day of Trade: CIO: $11.40 -0.20 (-1.72%)
The shares had declined from a $12.78 close on 3/28/16: CIO Historical Prices The decline to my purchase price from that close was 10.8%.
The price decline was caused by a common stock public offering priced at $11.4. City Office REIT, Inc. Announces Pricing of Public Offering of Common Stock The underwriters sold 7.7M shares at $11.4 and may exercise an over allotment option for up to another 1.05M shares. The company is using the proceeds mostly to pay down debt:

Prior Trade:
1. Sold 50 CIO at $12.38: Update For Equity REIT Basket Strategy As Of 3/7/16 - South Gent | Seeking Alpha (profit snapshot $61.04 plus one dividend)
Scroll to 2. BOUGHT CIO at $11.12) Update For REIT Basket Strategy As Of 11/24/15 - South Gent | Seeking Alpha
Company Description: CIO is now an internally managed REIT that owns office buildings containing about 3.3M square feet "in high growth markets". CIO claims that it is focused on acquiring "well located Class A and B office properties" in central business districts and "transit oriented suburban locations". City Office REIT March 2016 Investor PresentationThe current portfolio is listed at page 10 of that presentation.
City recently "acquired its former external advisor, City Office Real Estate Management Inc., in exchange for an aggregate of 297,321 shares of City Office common stock." City Office REIT, Inc. Announces Closing of Management Internalization
The foregoing press release did not mention the $1M cash payment made to the external manager's owners. There is a blurb in the recent earnings report about that payment: "Pursuant to the terms of the Stock Purchase Agreement, a further $1 million payment was triggered by the Company achieving a $200 million fully diluted market capitalization based on its closing stock price on March 1, 2016. The Company expects this cash payment will be made to the sellers in March 2016." (emphasis added). That is a lot of money for such a small REIT and highlights one disadvantage of external management structures. The REIT's shareholders have to pay up to get out it.
Dividends: CIO is currently paying a quarterly dividend of $.235. The 2015 quarterly dividends were partially supported by a return of capital: City Office REIT Announces Tax Treatment of 2015 Distributions
The shares went ex dividend the day after my purchase. City Office REIT Dividend History
At at total cost per share of $11.4, the dividend yield is about 8.25%. A good result would be IMO harvesting 4 quarterly dividends and selling the shares for any profit unadjusted by ROC.
Recent Earnings Report: There is a material difference in CIO's FFO and AFFO numbers. Each individual investor needs to decide whether to accept line adjustments made by a REIT when arriving at a fair valuation range and an opinion about the sustainability and future growth of the dividend payout.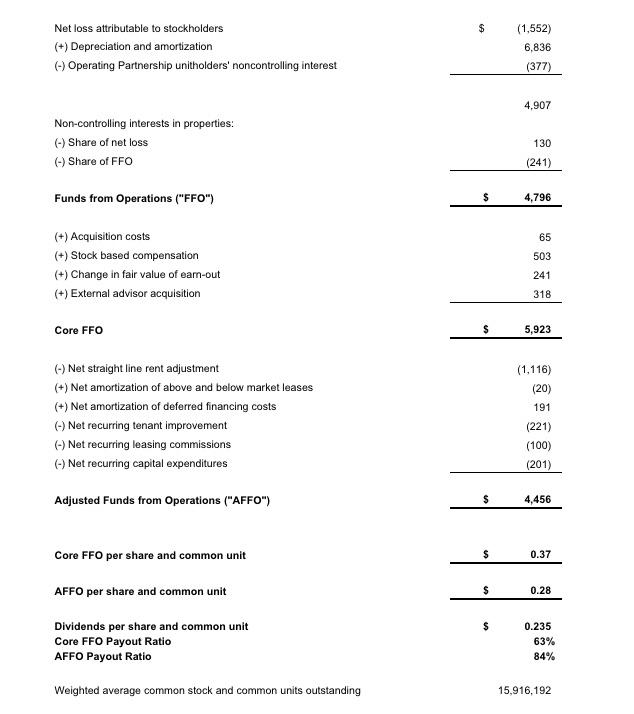 The AFFO number is closer to a current cash flow number than Core FFO. Acquisition cost can be a recurring expense. The more debatable additions occur to FFO to arrive at Core FFO. The deductions in Core FFO for the straight line rent adjustment and recurring expense items are appropriate IMO.
The following highlights some issues with office REITs in general:

City Office REIT Reports Fourth Quarter and Full Year 2015 Results March 3, 2016
Q4 2015 Results - Earnings Call Transcript | Seeking Alpha ("we remain confident that our $0.23.5 per share quarterly dividend remains well covered. We expect that our coverage levels will continue to grow over the long term as we benefit from contracted escalating rents as well as our below market in-place rents.")
I sold the 50 shares of this small office REIT based on the usual concerns. Competitive pressures for rent concessions, particularly in suburban office buildings and non-major central business districts is a recurring event. I would not classify Boise, Portland or Allentown as major metropolitan central business districts like NYC, Boston or San Francisco. I probably needed to add to that litany share offerings to finance expansion.
I believed then that this stock may have reached a temporary price plateau near $12.5 so I jettisoned it on 3/1/16. The price thereafter declined to $11.4 which gives me some wiggle room for a profitable trade and a dividend capture.
6. Sold 50 of 100 RNP at $18.95:
Quote: Cohen & Steers REIT & Preferred Income Fund (NYSE:RNP)
Trade Snapshot: ($1 Commission):

Profit Snapshot: +$88.48

Scroll to 4. Bought 50 of the CEF RNP at $17.14: Update For REIT Basket Strategy As Of 9/17/15 - South Gent | Seeking Alpha
The Cohen & Steers REIT & Preferred Income Fund (NYSE:RNP) is a leveraged closed end fund that owns REIT common and a variety of preferred stocks. Most of the preferred stocks are issued by financial institutions including large banks and insurance companies. REIT preferred stocks were a minor weighting in the preferred stock/junior bond allocation.
Data Date of Trade:
Net Asset Value Per Share: $22.21
Closing Market Price: $18.93
Discount: -14.38%
Average Discounts:
1 year -15.81
3 years -13.33%
5 years -10.51%
Sourced: CEFConnect
On the date of purchase, the discount was -16.67% based on the closing market price of $17.54 and a net asset value per share of $20.57. This is an example of potential benefits flowing from CEF ownership: the net asset value increased unadjusted for the dividend payments as the discount narrowed, plus the fund had a high dividend yield based on my cost per share.
The fund paid a $.37 per share quarterly dividend during my ownership period and I received $37 bringing the total return up to $128.48 or 18.47% in about 7 months.
Rationale: Profit Taking after run up in REITS and preferred stocks/Part of ongoing reduction in allocation to stocks and fixed coupon equity preferred stocks.
I still own 50 RNP shares in a Roth IRA. Scroll to 1. Bought 50 RNP at $17.6-Roth IRA: Update For CEF Basket Strategy As Of 11/30/15 - South Gent | Seeking Alpha
Disclaimer: I am not a financial advisor but simply an individual investor who has been managing my own money since I was a teenager. In this post, I am acting solely as a financial journalist focusing on my own investments. The information contained in this post is not intended to be a complete description or summary of all available data relevant to making an investment decision. Instead, I am merely expressing some of the reasons underlying the purchase or sell of securities. Nothing in this post is intended to constitute investment or legal advice or a recommendation to buy or to sell. All investors need to perform their own due diligence before making any financial decision which requires at a minimum reading original source material available at the SEC and elsewhere. A failure to perform due diligence only increases what I call "error creep". Stocks, Bonds & Politics:ERROR CREEP and the INVESTING PROCESS. Each investor needs to assess a potential investment taking into account their personal risk tolerances, goals and situational risks. I can only make that kind of assessment for myself and family members.
Disclosure: I am/we are long CIO, LXP, RNP, XHR.