This topic was last update here: Update For Equity REIT Basket Strategy As Of 4/6/16 - South Gent | Seeking Alpha
I discussed reasons for maintaining an allocation to REITs here: Update For Equity REIT Basket Strategy As Of 7/24/15 - South Gent | Seeking Alpha (scroll to "Why Own Equity REITs")
I discussed interest rate cycles and REITs here: Update For REIT Basket Strategy As Of 8/11/15/Interest Rate Cycles And REIT Stock Prices - South Gent | Seeking Alpha (scroll to "Interest Rate Movements and REIT Stocks")
I am tracking realized gains and losses, along with annual dividend payments, here:Gateway Post: Equity REIT Common and Preferred Stock Basket Strategy
Total Net Realized Gain Since September 2013 Inception: +$7,183.04 (of which $1,356.09 has been in equity preferred stocks)
During the life of this basket, I believe that dividend income will swamp realized gains and will generate over 70% of my total return.
This basket strategy is in essence a mini-sector fund. The components are weighted based on a variety of factors unique to that basket, including valuations, dividend yields, dividend growth potential, and diversification objectives.
I am not someone who succumbs to fads and group think. Some of the REITs that I follow are clearly overvalued IMO. They are overvalued even when I assume no material rise in interest rates which I view as a low probability scenario.
During the 2013 interest rate spike, I bought Realty Income at $36.96 and investors were still bailing on it. Item # 6 Bought: 100 Realty Income at $36.96 (12/10/13 Post) A little over two years later, investors are falling all over themselves to buy at $63+:
Closing Price 4/12/16: O: 63.74 +0.74 (+1.17%)
Basket as 4/12/16: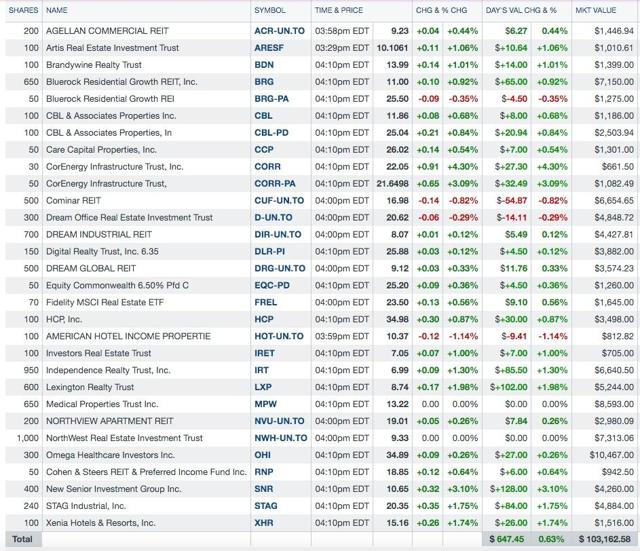 Some of the Canadian REITs dived in price near the close.
The CAD was strong against the USD today. You can see that looking at the CAD/USD (CAD higher) or the USD/CAD (dollar lower) or just by looking at the Canadian Dollar currency ETF:
+++++++++
1. Added 50 XHR at $14.55:
Trade Snapshot ($1 Commission):

I discussed this REIT in my last update and have nothing new to add.
Scroll to 1. Bought 50 Xenia Hotels and Resorts (NYSE:XHR) at $14.98-Roth IRA: Update For Equity REIT Basket Strategy As Of 4/6/16 - South Gent | Seeking Alpha
I did receive the quarterly dividend for that 50 share lot.
Based on a total cost of $14.55 per share, the dividend yield is about 7.56%, up from 7.34% for the previos purchased 50 share lot.
2. Sold 122+ GPT at $8.424-Roth IRA:
Trade Snapshot:

I originally bought 100 Chambers Street. CSG acquired Gramercy Property Trust (NYSE:GPT) and then changed its name to Gramercy and adopted the GPT symbol.
As the surviving company, Chambers Street shareholders saw no change in their share ownership but did suffer a dividend reduction. CSG was paying a monthly dividend of $.0425 per share. When the name changed to Gramercy, the dividend went to a quarterly rate of $.11 per share or a 13.73% dividend cut plus the change from monthly to quarterly payments.
I do not care for dividend cuts and like them less when masked like this one.
So I have been paring my GPT position which is a low yielding REIT for me. Update For Equity REIT Basket Strategy As Of 3/21/16 - South Gent | Seeking Alpha
At a $8.42 price, the dividend yield now is about 5.23%.
I only made a slight profit plus the dividends on this lot:
Total=$25.09 plus dividends

I will be inheriting GPT shares next month. I intend to keep those shares, probably for several more months at a minimum.
I have been eliminating other REIT positions held in that estate account.
Disclaimer: I am not a financial advisor but simply an individual investor who has been managing my own money since I was a teenager. In this post, I am acting solely as a financial journalist focusing on my own investments. The information contained in this post is not intended to be a complete description or summary of all available data relevant to making an investment decision. Instead, I am merely expressing some of the reasons underlying the purchase or sell of securities. Nothing in this post is intended to constitute investment or legal advice or a recommendation to buy or to sell. All investors need to perform their own due diligence before making any financial decision which requires at a minimum reading original source material available at the SEC and elsewhere. A failure to perform due diligence only increases what I call "error creep". Stocks, Bonds & Politics: ERROR CREEP and the INVESTING PROCESS. Each investor needs to assess a potential investment taking into account their personal risk tolerances, goals and situational risks. I can only make that kind of assessment for myself and family members.
Disclosure: I am/we are long XHR.