This basket has not been update for awhile since I am doing almost nothing.
The last update was published here: Update For CEF Basket Strategy As Of 3/21/16 - South Gent | Seeking Alpha
I view the closed end portfolio to be a balanced worldwide portfolio within a larger portfolio that includes individual stock and bond selections.
I place an emphasis on income generation and own a number of CEFs that pay monthly dividends.
I will change the weightings in the CEF portfolio based on my opinions about the balance between risks and rewards.
I have a lengthy discussion of bond CEF risks in the Appendix section to an earlier post:Update For Closed End Fund Basket Strategy As Of 8/14/15 - South Gent | Seeking Alpha(scroll to "General Risk Discussion for Leveraged Bond CEFs") I also discussed those risks here. I will not be repeating those discussions.
I discussed the factors impacting the dividend payout for leveraged closed end funds here:Update For CEF Basket Strategy As Of 10/14/15 - South Gent | Seeking Alpha (Scroll to APPENDIX: 1. Factors Impacting a Dividend Payout for Leveraged Closed End Bond Funds Using VKQ as an Example)
The CEF risk associated with a forced reduction in leverage at the most inopportune time, sort of like a margin call during a huge downdraft, is discussed in this post. Update For REIT Basket Strategy As Of 9/17/15 (scroll to RNP Presents a Good Historical Example of One Risk Inherent in Using Leverage)
I am concerned about duration and interest rate risk as well due to the recent uptick in Core inflation. The February 2016 core inflation number was up 2.3% over the February 2015 number. Consumer Price Index Summary
The government is scheduled to release March's CPI number tomorrow.
I will be looking at that number and the categories that show both deflationary and inflationary pressures which are available in TABLE 2. This is a link to the February Table 2.
The other relevant numbers are the Atlanta FED's Sticky-Price CPI and the Cleveland FED's Median CPI.
I doubt that investors pay enough attention to the Sticky Price CPI indicator which has been moving toward problematic territory since it crossed 2% back in October 2014.
Think of college tuition and medical costs as examples of sticky prices. The tuition for my first year was $2,200 (circa 1969) and is now at $51,100. If I simply adjusted the $2,200 by CPI, the cost would now be $14,213.74. Inflation Calculator: Bureau of Labor Statistics I do not believe that the university would accept a check in that amount for an incoming freshman.
Importantly, some of the strong deflationary forces have started to turn, though it remains to be seen whether the upturn in crude oil prices and the decline in the USD will continue, stagnate or reverse course.
U.S. Dollar Index (DXY) Interactive Index Chart
Bloomberg Dollar Spot Index - Bloomberg Markets (use one year chart)
Crude Oil Prices - Live Oil Price Chart (maybe a double top at $41.50?)
U.S. crude oil production fell to 8.977M barrels per say for the week ending 4/8, the lowest number since the W/E 10/24/14: Weekly U.S. Field Production of Crude Oil (Thousand Barrels per Day)
Since I see mainly downside risks for most bonds and stocks, I am likely to imbibe in the current euphoria for either major asset category. I am selling into it. I am just not selling CEFs to any significant degree-at the moment-given their income generation. That may turn on a dime however.
I did eliminate the low yielding WIW today.
Basket as of 4/13/16: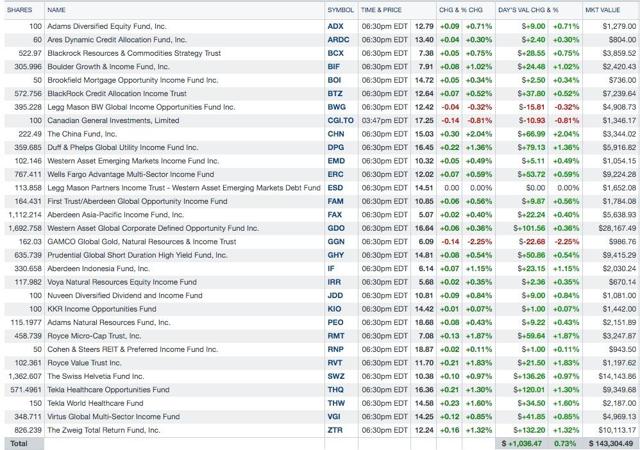 ++++++++
Bond ETFs Performance Numbers Today:
LQD: $119.14 +0.41 (+0.35%): iShares Investment Grade Corporate Bond ETF
IEF: $110.49 +0.08 (+0.07%): iShares 7-10 Year Treasury Bond ETF
IBND: $32.71 -.24 (-.73%): SPDR Barclays International Bond ETF
++++++++
1. Bought 100 CGI:TO at C$17.35:
Trade Snapshot ($1 Commission):

Closing Price 4/13/16:
Security Description: Canadian General Investments (CGI:TOR) is a Canadian stock CEF.
Sponsor's Website: Canadian General Investments | Morgan Meighen & Associates
The investment style is to hold for long periods. That has led to large unrealized gains in long standing positions.
The 2015 Annual Report shows a total cost of C$395+M and a then current value of C$640+M. 2015-CGI.pdf That report lists the costs and values of each investment and has a good discussion of risks.
The largest position is Dollarama with a C$4.5M cost and a market value of C$35.57M, both as of 12/31/15.
DOL.TO: C$90.21 +1.67 (+1.89%)
If the huge winners are not trimmed, eventually the fund will pay a price. Even large profits can be wiped out in long term bear markets, particularly during the catastrophic phase (e.g. 1929-1932; 1974; and 9/2008-March 2009).
While it may sound strange to some, most companies will go eventually bankrupt or be absorbed by another company in a never ending cycle of creative destruction. Have you ever looked at the historical components of the DJIA? Dow Jones Industrial Historical Components.pdf
As years pass into decades, the risks of unforeseen and potentially devastating events increase. Duality of Long Term Risks (March 2009 Post); Long Term Stock Risks and Situational Risk/Managing Lost Opportunity Risk in a Long Term Secular Bull and Bear Markets (March 2009 Post) CGI lost 55.9% of its value in 2008 but then gained 44.2% in 2009. Next time, the managers may not be so fortunate. I am just pointing out generally the benefits and potential perils of long term investing. For me this discussion is merely academic since I do not have much patience and have dumped all stocks once back in the late 1990s. I recently rated my patience on a scale of zero (no patience) to 100 (infinite patience) and gave myself a 25 currently. For most of my life the score would be between 5 and 10, and it has been a massive struggle to arrive at that 25. Any improvement will probably need to wait for the hereafter or the next life. I gave one of my nephews a -25 and his mother blames me apparently under some harebrained genetic theory. I would emphasize that I am certainly not the father.
Data From Date Of Trade:
Net Asset Value per Share: C$24.32
Closing Market Price; C$17.25
Discount to NAV Per Share: -29.07%
The discount has been historically very large compared to similar U.S. CEF stock funds.
The main problem with this CEF IMO is that it owns mostly Canadian stocks, and Canada's stock market has been in the crapper since crude started to decline.
Top 25 Holdings as of 3/31/16: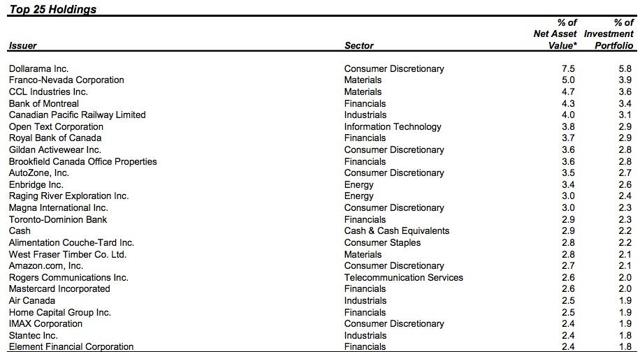 CGI - summary of investment portfolio.pdf
I had never heard of CCL Industries or Alimentation Couche-Tard so I looked them up: CCL-B.TO: C$231.70 +7.25 (+3.23%); ATD-B.TO: C$56.52 -0.12 (-0.21%)
There are some U.S. stocks.
Dividends: The fund pays a regular quarterly dividend, which is currently C$.16 per share and periodic capital gains distributions. Dividends
Leverage: The fund is leveraged with low coupon preferred stocks: Preferred Shares
Prior Trades: I have booked some profits in this Canadian CEF. I would not have gained anything by owning now the shares sold at C$20.66 back in September 2014.
2014: USD +$532.55

Item # 4 Sold: 200 CGI:CA at C$20.66 (9/13/14 Post)-Item # 3 Bought 100 of the CEF CGI:CA at C$15.78-Toronto Exchange (10/17/12 Post); Item # 1 Added 100 of the Canadian Stock CEF CGI at C$16.03 (4/2/13 Post)
When I bought the 100 lot in April 2013, the net asset value per share was then C$22.78 and the discount to NAV per share closed at -29.63%.
I bought those shares in Toronto using CADs but Fidelity which has been abandoned as my international broker shows the trades using the Grey Market symbol where shares are rarely traded in USDs. My profit has to be calculated using USDs. My CAD profit was C$911. The difference is due to the CADs decline against the USD measured from the date of purchase to the date sold.
2. Sold 301+ WIW at $10.97 (used commission free trade allowance at Fidelity): I have six reasons for selling now.
Snapshot of Profit: $15.97 (a reason for selling)

This brings my trading profits up to $662.43:
Snapshots in Appendix Section :Update For Closed End Fund Basket Strategy As Of 8/14/15 - South Gent | Seeking Alpha
The second reason for selling this CEF is the low dividend yield. The fund is currently paying a $.0335 monthly dividend per share or about 3.67% at $10.97. WIW was ex dividend today so I will receive one more dividend payment.
A third reason is that the discount to net asset value per share has contracted below the 1, 3 and 5 year average numbers. Those numbers can be found under the "Pricing Information" tab at CEF Connect.
The 4th reason is that this fund uses leverage and short term rates are likely to increase which would then like cause a decline in the penny rate, unless the fund can generate capital gains to offset the decline in net interest margins. "Interest rates on reverse repurchase agreements ranged from 0.18% to 0.56% during the year ended December 31, 2015".
The 5th reason is that the fund has a net unrealized and realized losses pages 41 WESTERN ASSET/CLAYMORE INFLATION-LINKED OPPORTUNITIES and INCOME FUND. I recently looked at that report, so I do not see dividend support coming from capital gains.
Lastly, taking all of those factors into account, none of which are positive, I would add that the shares closed at $10.17 on 12/14/15: WIW Historical Prices That kind of dive, if realized, would wipe out almost 3 years of dividends payments at 3.67% and possibly over 3 years with a dividend cut.
Disclaimer: I am not a financial advisor but simply an individual investor who has been managing my own money since I was a teenager. In this post, I am acting solely as a financial journalist focusing on my own investments. The information contained in this post is not intended to be a complete description or summary of all available data relevant to making an investment decision. Instead, I am merely expressing some of the reasons underlying the purchase or sell of securities. Nothing in this post is intended to constitute investment or legal advice or a recommendation to buy or to sell. All investors need to perform their own due diligence before making any financial decision which requires at a minimum reading original source material available at the SEC and elsewhere. A failure to perform due diligence only increases what I call "error creep". Stocks, Bonds & Politics:ERROR CREEP and the INVESTING PROCESS. Each investor needs to assess a potential investment taking into account their personal risk tolerances, goals and situational risks. I can only make that kind of assessment for myself and family members.