The stock market gave up yesterday's gains today:
S & P 500: 2,064.46 -19.93 (-0.96%)
TLT: $131.61 +0.74 (+0.57%): iShares 20+ Year Treasury Bond ETF (flight to "safety" trade still around)
REITs have gone up too much recently IMO and had a slight pullback today:
VNQ: $84.67 -1.85 (-2.14%): Vanguard REIT ETF
REITs that own skilled nursing facilities have been beaten up for the last two trading days. Who will want stock in a new REIT owning the SNF facilities operated by HCR Manorcare? HCP closed at $35.99 after announcing that spin-off and at $34.1 today. Omega Healthcare has fallen from $35.04 (5/4) to a $32.56 close today. The SNF segment continues to be the highest risk sector among REITs, IMO.
The recent roller coaster ride in stocks, highlighted in a one year SPX Chart, does not validate either a bullish or bearish thesis IMO. The two declines to 1820 or so do not validate the bear's case. The quick recoveries back to 2100 do not validate the bull's case. The whipsaw action does confirm the increased danger thesis IMO, which is justified by the facts. The inability too stay above 2100 over the past year after multiple crossovers is also relevant.
In the following discussion, I will touch on factors that drive my Big Picture views which significantly influence my asset allocations. Those allocations do not occur in a vacuum and will change based on the acquisition of new and material information.
I am currently sitting on about a 40% cash allocation which is my highest level since 2007.
++++++
This topic was last updated here: Update For Portfolio Positioning And Management As Of 4/29/16 - South Gent | Seeking Alpha
My portfolio management goals are described in this 2014 post: Portfolio Management Goals-Snapshots of Performance Numbers YTD, 3 and 5 Years Cumulative.
U.S. Company Profit Margins: Corporate profit margins peaked in 2014: Corporate profit margins Going Down: Goldman
The acceleration of wage growth coincided with a top in U.S. company profit margins which peaked in October 2014.
Secular economic forces are now on balance a headwind for net profit margins. Those forces include a tightening labor market where the bargaining power is shifting away from employers to employees and the rise in inflation and ultimately interest rates.
See Also: Yardeni Charts 23 and 24 at Yardeni.pdf; Barclays: Profit margin decline signals recession - Business Insider; Peak in Profit Margins No Death Knell for U.S. Stocks Since 1949 - Bloomberg ("On average, the peak in profit margins came four quarters before the market's top, the study shows" since 1949).
Productivity: U.S. productivity has turned negative for several quarters. Productivity declined at an annual rate of 1% in the first quarter and has been negative in 4 out of the past 6 quarters. BLS.pdf
Unit labor costs rose 4.1% in the first quarter: Productivity and Costs, First Quarter 2016, Preliminary
Jobs: The ADP private employment report for April was a disappointment. ADP-NATIONAL-EMPLOYMENT-REPORT-Apri l2016-Final-Press-Release.pdf
According to ADP, there were 156K jobs added in the private sector last month. The goods producing sector saw an 11k decrease while the service sector added 166,000 (a nation of paper shufflers). The consensus estimate was for 193K new private sector jobs.
The BLS reported a 160K increase in jobs last month. The consensus was close to 200K. Employment Situation Summary
The BLS also revised down the March and February numbers by 19K. I view the revisions up or down as material information as well. An expanding jobs market will frequently have increases in the previous numbers and vice versa.
" In April, average hourly earnings for all employees on private nonfarm payrolls increased by 8 cents to $25.53, following an increase of 6 cents in March. Over the year, average hourly earnings have risen by 2.5 percent."
Services PMI: The ISM services PMI for April was reported at 55.7%, up from 54.7% in March. The new orders component grew to 59.9 from 56.7. This was a good report.
Europe: Europe is looking slightly better.
Eurostat reported on 4/29 that seasonally adjusted GDP rose .6% in the Euro area (EA19) and .5% in the EU28. This is a flash estimate for the first quarter.
GDP up by 0.6% in the euro area and by 0.5% in the EU28
The EA19 country GDP was better than the U.S. flash estimate of .5%.
Compared to the 2015 first quarter, EA19 GDP rose 1.6%.
The EA19 countries include Germany, France, Italy, Spain, Belgium and the Netherlands.
There was also a decrease in the unemployment rate which fell to 10.2% in March compared to 11.2% in March 2015:
Euro area unemployment down to 10.2%-Eurostat
Regional unemployment rates vary widely ranging from 2.5% to 34%: ec.europa.eu
Overall, the data is pointing to continued though slow improvement in the aggregate EA19 economies.
The improving European data, coupled with some sluggishness in the U.S., is giving the EUR/USD a lift, but 1.15 may hold as a top looking at a one year EUR/USD chart.
China: China is looking worse and more worrisome.
China reported that exports fell last month by 1.8% in U.S. dollars Y-O-Y. The consensus expectation was for a .1% drop. March had showed an unexpected surge of 11.5%. "April's exports follow a March surge in both currencies, which may have been exaggerated by seasonal effects after the Lunar New Year holiday."
Several investors were pointing to the March number to reinforce their bullish scenario that everything was turning up roses in China.
Imports declined 10.9% Y-O-Y in April vs. the consensus forecast of -5%. Imports had declined 7.6% in March.
"Cumulative data for the year showed exports are weakening. Shipments declined 2.1 percent in yuan terms in January to April versus the same period a year earlier, while slumping 7.6 percent in dollar terms"
I would simply emphasize here that this overall weakness is occurring after an injection of $1 trillion in loans during the first quarter: China Total Social Financing | 2002-2016
CHINA's official manufacturing PMI for April was reported at 50.1, down from 50.2 in March. The consensus forecast was for 50.4. Reuters
This official manufacturing PMI survey was recently below 50 which indicates contraction.
The private Caxin/Markit manufacturing PMI for March increased only to 48 from 49.7. This private survey focuses more on small and medium sized companies.
Charts: China Caixin Manufacturing PMI
China Caixin Manufacturing PMI | 2011-2016
China Caixin Manufacturing PMI
The official services PMI for April fell to 53.5 from 53.9 in March.
Excessively bullish investors will refer to the improving government numbers without mentioning the private survey or other relevant information that places any recent or near future improvement in a worrisome context.
China's government injected almost $1 trillion of loans into the economy during the first quarter. That is a record surge in new credit: Why China's Economy Won't Land Softly - Barron's I have to judge the recent economic data in light of that huge capital infusion.
Since the Near Depression, China's debt to GDP has risen from "around 150% to well over 300%".
There are a couple of major points to be made.
Given the current size of China's economy, it takes a boatload of new debt to move the growth needle a little bit.
The sheer size of the liquidity injection highlights the problem of diminishing returns.
Then there are important points being made that a good portion of this new debt is being funneled to keep zombie companies alive rather than to productive enterprises: George Soros: China Looks Like America During the Financial Crisis - Fortune
And, there are limits to debt financed growth and occasionally investors need to be reminded of that mathematical fact.
The other point is how trustworthy are the government's numbers when private surveys show a continued contraction and export numbers to China, released by China's trading partners, are showing declines.
Korea reported that its exports to China in April fell 18.4% Y-O-Y, the 10th straight month of declines. S.Korea exports to China, US fall more sharply in April, EU also down
Taiwan's recession is deepening due in large part to the decline in exports to China. Taiwan's export decline continued at a double digit rate in March decline and has declined for 14 straight months.
The Philippines' exports declined 15.1% Y-O-Y in March, the 12th straight monthly decline.
Bad loans are growing in parabolic fashion which is one reason why Soros claims that China's economy resembles the U.S. as it approached the Near Depression caused in large part by an improvident extension of credit.
When discussing the reasons for the August 2015 Trigger Event, I identified China as one source.
Scroll to CHINA and Its Trading Partners:Update For Portfolio Positioning And Management As Of 9/1/15
Update For Portfolio Positioning And Management As Of 9/1/15 - South Gent | Seeking Alpha
I would have to say that the weight of the evidence still has China as a festering sore on sustainable worldwide growth. A resurgence of rational and fact based concerns remains a significant risk.
A Trigger Event In The Vix Asset Allocation Model 8/31/15 - South Gent | Seeking Alpha
Stanley Druckenmiller: The Stock Jocks, and I am a long standing member of that club, know that one of the best, if not the best hedge fund manager in history, Stanley Druckenmiller, is extremely bearish on stocks. His favorite investment currently is gold and he is not a gold bug by any means.
Druckenmiller: Get out of the stock market, own gold
Druckenmiller's reiterated his bearish thesis at the recent Sohn Conference, and ValueWalk has the slides that he used in his presentation: The End Game.pdf
That site also has a transcript of his speech: Sohn
Two of the charts, found at pages 5 and 6, show a decline in operating earnings and an increase in debt used mostly to buy back stock. E.P.S. looks better through this kind of financial engineering made possible through an abundance of cash available at extremely low rates at least for the time being. Those charts need to be read in tandem with the E.P.S. results discussed below. I would just call it the "The IBM Phenomenon". (just look at the buybacks, debt accumulation and net income over the past five years)
Here are the two charts: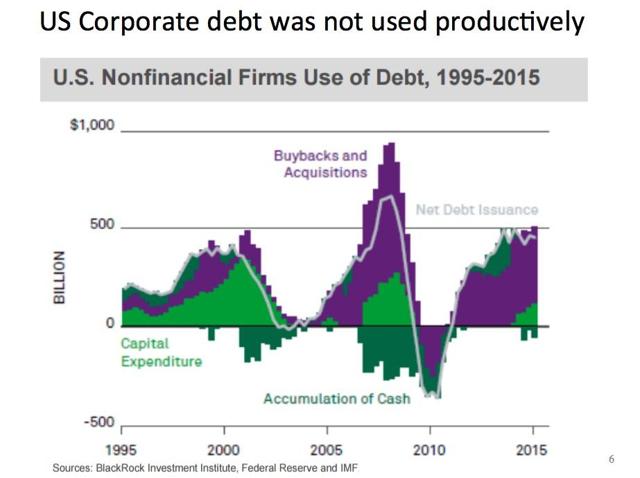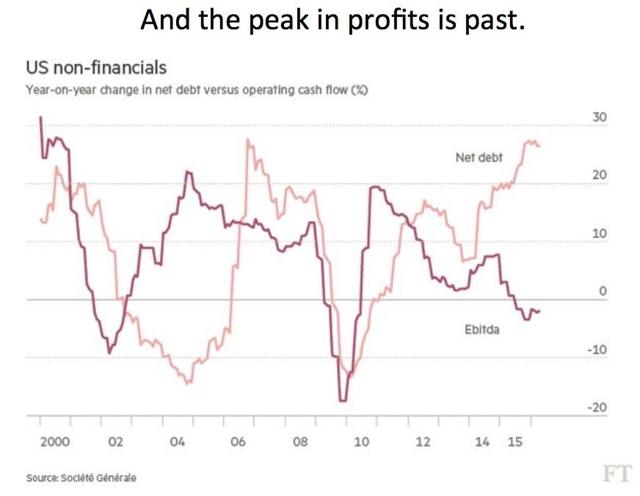 I would add a caveat to what Druckenmiller is saying here.
Increasing debt to buy back stock can work for a time and has worked to prop up earnings for a large number of companies.
The negative blowback will depend on the company and may not occur generally for several more years. I would not go out and sell stocks now based solely on the information provided in those two charts in other words.
Since stock prices are high now, there will be a large number of companies buying back stock at what will turn out to be much higher prices than the future average, and will have to refinance that newly acquired debt at significantly higher interest rates. Money used for stock buybacks are not being deployed to grow the business or to achieve higher profit margins through the acquisition of newer and more effective plant and equipment. The use of debt to buy stock is a non-productive use of capital in that sense.
An investor can either accept or reject factual information as material or to assign whatever weight their knowledge and experience dictates. It is not an alternative to simply ignore relevant information because it does not fit neatly into a pre-existing bearish or bullish thesis.
See also: Stanley Druckenmiller: Why the Bull Market Is Exhausting
SPX Valuation:
Some investors focus on the number of S & P components that beat or miss analyst non-GAAP earnings estimates. But how do those estimates compare to past earnings which is the relevant question? If companies have guided analysts low and the lemmings basically fall in line with that guidance, the important question remains how that estimate compares to the past. Are non-GAAP "operating earnings" growing or declining and at what rate?
In a recent comment, I provided the SP GAAP and Non-GAAP numbers for the past 3 years that show the same big picture pattern:
S & P 500 GAAP
2013: 100.21
2014: 102.31
2015: 86.53
S & P Non-GAAP "Operating Earnings":
2013: 107.3
2014: 113.01
2015: 100.45
I have previously discussed just how far off both estimates were for 2015 using the numbers as of 12/31/14: Update For Portfolio Positioning And Management As Of 4/15/16 - South Gent | Seeking Alpha
GAAP:
2015 Actual/Estimated 12/31/14
1st Q: $25.81 vs. $30.58
2nd Q: $26.14 vs. $32.27
3rd Q: $25.44 vs. $33.36
4th Q: $23.06 vs $34.8
Totals: $100.45 actual vs. $131.01 estimated 12/31/14
2015 NON-GAAP Estimated 12/31/14 135.83
Non-GAAP Actual $100.45
Difference in Non-GAAP 12/31/14 Estimate vs. Actual = 26%
A blindfolded monkey on drugs, throwing a dart at numbers between 90 and 140 ($1 intervals), would have probably done better.
This is what the estimates were as of 5/4/16:

The estimates are already lower than the ones made as of 12/31/15:

12/31/15: 2016 Operating Earnings Forecast = $125.56
5/4/15: 2016 Operating Earnings Forecast = $115.31
Difference: Down $10.25 or 8.16+%% in four months
Is that trend, as the rubber meets the road, more or less important than how many companies beat earnings during the first quarter, particularly given the recent past history described above since 2013?
As of 5/6/16, Birinyi Associates calculated the SPX TTM P/E at 23.66, up from 21.13 a year ago, while the estimated forward 12 month "operating earnings" P/E was17.59.
See also: Yardeni Charts on Valuations.pdf and Market Remains Overvalued, Up from Last Month - dshort - Advisor Perspectives
+++++++++++++++++++++
Portfolio Positioning Summary:
I am continuing to sell into rally but my selling is mostly exhausted with the S & P 500 near 2100 again. More selling would likely occur when and if there is a push past 2150 toward 2200 with no material change in the fundamentals.
I am using some cash to buy investment grade bonds maturing in the 2022-2024 time frame that have YTMs greater than 4%. Yield beggars can not be overly choosy. I am not sure what that means except that I do not like calling myself a yield beggar.
With the purchases of more shares in the Permanent Portfolio, I move slightly more into gold and silver bullion and secure indirectly exposure to Swiss government and U.S. treasury bonds. So that is what I would call "I am worried" fund.
+++++++++++
1. Moving Back into The Permanent Portfolio (MUTF:PRPFX):


I currently own this fund in two taxable accounts. It was bought with NTF. I currently own 256+ shares. I eliminated my position last August and have started to build it back for the reasons discussed below.
The Permanent Portfolio (PRPFX) is a mutual fund that maintains a relatively constant allocation to gold and silver bullion, Swiss and U.S. government bonds, investment grade U.S. corporate bonds, REITs, natural resource stocks and what the fund calls "aggressive growth" stocks.
The inspiration for this asset allocation is derived from the Talmud and Harry Browne's book published many years ago titled Fail-Safe Investing.
Quote from the Talmud (a record of debates among Jewish rabbis starting as early as 1200 B.C.): "Let every man divide his money into three parts, and invest a third in land, a third in business, and a third let him keep in reserve." That advice appears to be relatively simple, but is open to some interpretation and an innate human desire to change it, for better or worse.
The essence of this allocation is diversification in assets that are not highly correlated with one another and is ultimately based on the recognition that humans really can not predict the future even though many believe they have that power.
If I applied this advice literally, I would include the equity in my home as part of the investment in land, along with the equity in any other real estate including real estate stocks.
The "business" component would include the equity in a business including the present value of common stocks.
A modern interpretation of "reserves" would be treasury bills, FDIC insured savings accounts and short term certificates of deposit. I believe that the reference in historical context meant silver or precious metals.
If I was going to construct this allocation from scratch, and desired to keep it really simple with a modern interpretation, I would use gold and silver sparingly and rely on "safe" money as the reserve component.
For stocks, a low cost and broad stock ETF would be my substitute for business. That could be the Vanguard Total Stock Market ETF (NYSEARCA:VTI) or the Vanguard Total World Stock ETF (NYSEARCA:VT). If I wanted say a 80% weighting in the U.S. and 20% international, I could then go with VTI for the U.S. stock weighting and the Vanguard FTSE All-World ex-US ETF (NYSEARCA:VEU) for the international stock allocation.
The literal interpretation of land would include the equity in my home and other real estate holdings including REITs and other real estate companies. There are several real estate companies that are not organized as REITs.
The Permanent Portfolio does not follow a literal interpretation, similar in some respects to what Roger Gibson did in a 1989 paper that refined the Talmud's asset allocation plan. Gibson divided the asset allocation into 6 categories: foreign and U.S. stocks, hard assets, foreign and U.S. bonds, and short term safe money. The hard assets would include natural resource stocks, precious metals, and REITs. He later refined the allocation into 4 asset categories, Forbes.
If I was going to fit the Permanent Portfolio allocation into the Talmud' allocation plan, I would classify its gold and silver bullion along with its Swiss Franc assets as the "reserves". Coins made of precious metals were probably what the rabbis were talking about in that category. That is close to one-third.
The fund's stock allocation would be close to the Talmud's allocation for business.
I view the major departure to be in the land component. While there is a small allocation to real estate stocks, that is part of the "business allocation". In effect, this fund has substituted treasuries and investment corporate bonds for the "land" component in my opinion.
I took some snapshots showing some of this fund's holdings as of 1/31/16 from the SEC filed Annual Report: N-CSR
Gold and Silver Bullion Allocation: 27.61% Weighting:

This significant allocation to precious metals would have been a drag on performance since September 2011 when gold topped out at slightly over $1900 per ounce. Silver went back over $40 per ounce in September 2011 for the first time since the Hunt brothers attempted to corner the silver market in the 1970s, which ended badly for them.
I do not profess to know the "fair value" of gold and silver, and I doubt that anyone really has a clue. There is certainly no shortage of pundits who have charts and theories about the future direction in prices.
I really only know that human beings have placed a value on these metals for centuries and will likely continue doing so, even though the price will be unpredictable and is not moored by any tangible criteria such as earnings, interest, revenues, free cash flow, etc.What is Gold's "Fair Value"? (4/23/13 Post) Gold and silver has a place in my opinion in an asset allocation. My allocation is less than 1% overall.
U.S. Treasuries and Swiss Government Bonds: 27.82% Weighting


Intermediate and long term U.S. treasuries have been in a long term bull market since 1982, with occasional downdrafts such as the one experienced in 2013. Many pundits have been calling for the demise of that bull for several years, but it just keeps chugging along. I would remind the younger investors, who only remember the current long bullish cycle, that there is such an animal as a long term secular BOND BEAR market. The last one lasted roughly from 1949 to 1982, as shown in a long term 10-Year US Treasury chart.
The Swiss Franc assets would have been a positive until the 2011 summer when the Swiss National Bank started a Jihad against the CHF designed to drive down its value.
Basically, the SNB launched a QE program that resulted in the creation of Swiss Francs that were sold by the SNB to buy Euros. Consequently, before that intervention, the USD/CHF exchange rate was around 1.31 in August 2011 and is now around 103. CHF/USD Interactive Chart
The loss in the value of the CHF against the USD will negatively flow through into the net asset value of a USD priced fund that owns Swiss government bonds. While I have not done a computation, I suspect that the currency loss would have more than offset the interest payments made by those Swiss government bonds and any increase in their value denominated in CHFs.
The important point about the permanent portfolio allocation is that prices change, frequently in a major and unpredictable way, so the allocation percentages are maintained at relatively constant levels.
Real Estate and Natural Resource Stocks:

The selections in the natural resource sector have been extremely poor and frequently idiotic as I have pointed out in the past:

Remaining Stock Allocation: "Aggressive Growth": 16.4% weighting
Over the years, I would characterize this part of the portfolio, weighted at 16.4% of net assets, as following more of a value tilt. Some of the more recent additions, like Facebook, would be in the aggressive growth category.
Remaining Bond Allocation: Investment Grade Corporate Bonds: 10.46% Weighting:
The fund had a 10.96% weighting in investment grade corporate bonds. All of those bonds mature prior to 2017, so the yields would be paltry. One benefit of a short duration is that the fund will start to capture higher interest rates when and if rates starts to rise again.
PRPFX is currently rated two stars by Morningstar. The performance has been disappointing since 2011. The fund did much better when gold and silver prices were in a bull market.
I sold out of this mutual fund on 8/5/2015: Scroll to E. Eliminated PRPFX: Reduced Exposure to Sectors in Bear Markets Update On Portfolio Management And Positioning As Of 8/18/15 - South Gent | Seeking Alpha
I explained my reasons then as follows:
Quote: "This fund has significant exposure to Swiss government bonds, gold and silver bullion, natural resources stocks, and low yielding corporate and U.S. treasury bonds.
Gold and silver bullion are in a bear market. The corporate and government bonds pay negligible interest. The Swiss government bonds even have negative yields now and are losing value due to the CHF/USD conversion rate. The natural resource stocks are also in a bear market.
The fund is just way too concentrated in assets that are clearly in bear markets of uncertain duration. I will need to see some light at the end of the current dark tunnel before starting a new position in this fund. (emphasis added)
I have noted in the past that gold and silver started their bear market around September 2011. Their last secular bear lasted between 1980 and 2002. Fortunately, I sold gold and silver bullion for the first time back in September 2011 and in January 2012 (snapshots at The Road to Political Power: Lying Works/Recent Gold and Silver Sales (9/15/11 Post) and Snapshots of Coin Sales In January 2012)"
End of Quote
I had also been highly critical of several stock selections.
Why buy now?
I am seeing some light flickering for precious metal prices which started to turn up in November 2015
Gold Prices - 100 Year Historical Chart | MacroTrends
Silver Prices - 10 Year Daily Chart | MacroTrends
The CHF/USD has stabilized some at current levels and has moved up some from last year's lows near 90: CHF/USD Interactive Stock Chart
REITs are still doing well except today was a downer.
The short term corporate bond allocation could catch a rising rate cycle somewhere on the near horizon.
The treasury bonds could start to mature when there is an upswing in interest rates.
Energy stocks are doing better but the natural resource selections by the fund manager remain bizarre and inexplicable in some instances (e.g. Vail; bankrupt Peabody; Halcon; and a too large a weighting in metal stocks including Rio Tinto, FCX, Vail, BHP)
The fund has paid large annual distributions over the past three years:

I received $1,618.87 in dividends between 2013-2014 and realized a $590.26 profit on the shares.
I attribute those unusual distributions to forced liquidations caused by investor redemptions. Given this funds poor performance since gold and silver topped in 2011, investors had been pulling money out in droves. I just put a little back into it.
Disclaimer: I am not a financial advisor but simply an individual investor who has been managing my own money since I was a teenager. In this post, I am acting solely as a financial journalist focusing on my own investments. The information contained in this post is not intended to be a complete description or summary of all available data relevant to making an investment decision. Instead, I am merely expressing some of the reasons underlying the purchase or sell of securities. Nothing in this post is intended to constitute investment or legal advice or a recommendation to buy or to sell. All investors need to perform their own due diligence before making any financial decision which requires at a minimum reading original source material available at the SEC and elsewhere. A failure to perform due diligence only increases what I call "error creep". Stocks, Bonds & Politics:ERROR CREEP and the INVESTING PROCESS. Each investor needs to assess a potential investment taking into account their personal risk tolerances, goals and situational risks. I can only make that kind of assessment for myself and family members.
Disclosure: I am/we are long PRPFX.