The next important date for bonds and preferred stocks is the government's CPI estimate for April, scheduled for release tomorrow morning. Economic Calendar
So far today (near 11:15 E.S.T.), investment grade bonds are drifting down some in price and up in yields:
IEF: $110.51 -0.38 (-0.34%) : iShares 7-10 Year Treasury Bond ETF
LQD: $119.80 -0.22 (-0.18%): iShares Investment Grade Corporate Bond ETF
Junk bonds are up slightly: JNK: $34.97 +0.17 (+0.49%)
+++++++++++++
This topic was last updated here: Update For Exchange Traded Bonds And Preferred Stocks Basket Strategy As Of 5/10/16 - South Gent | Seeking Alpha
Fixed coupon exchange traded bonds and preferred stocks have what I call asymmetric interest risk between the owner and the issuer that clearly favors the issuer.
I discuss the asymmetric interest rate risk of exchange traded fixed coupon securities here: Update For Bond And Preferred Stock Basket Strategy As Of 9/10/15 - South Gent | Seeking Alpha
I discussed the interest rate risk and other material topics here: Update On Bond And Equity Preferred Stock Basket Strategy As Of 8/14/15 - South Gent | Seeking Alpha (scroll to following titles in the Appendix section: Interest Rate and Lost Opportunity Risks for Fixed Rate Coupon Equity Preferred Stocks; Credit Risks; Volatility Risk for Equity Preferred Stocks)
The following table includes only exchange traded securities. I do not have a table showing my existing $1,000 par value bonds bought in the bond market. I will discuss some of those trades here.
Basket as of 5/16/16 (intra-day snapshot):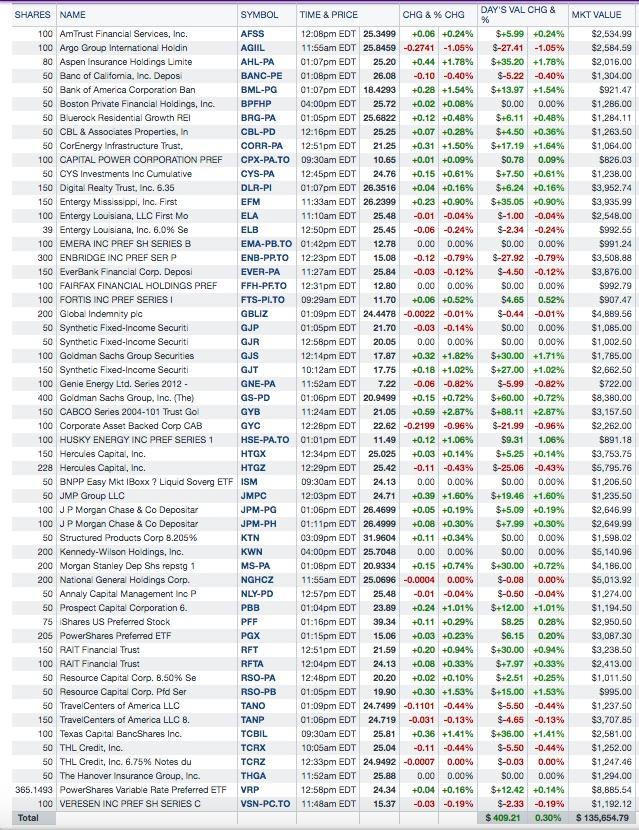 Several of the U.S. synthetic and equity preferred floaters are doing better (e.g. GYB)
+++++++
Rationale For Trades Discussed Below: I am going to deploy between $15K to $20K buying investment grade bonds maturing between 2022 and 2024 that provide YTM's greater than 4%. Another selection criteria is that the bond is capable of being purchased at less than par value.
The melded yield will be close to 5%. The weighted average maturity will be close to 7 years. The 7 year treasury is hovering around 1.5%. Daily Treasury Yield Curve Rates
There are not many investment grade bonds providing greater than 4% yields-to-maturity, trading at below par value, and maturing prior to 2025.
There are some investment grade rated bonds providing greater than 4% yields only because the rating agencies have not gotten around yet to downgrading their ratings to junk.
Here is a sampling of investment grade rated securities maturing in 2022-2024 that provide lower than 4% YTMs:
International Paper 2024; International Paper 2022
Thermo Fisher Scientific 2023; Thermo Scientific 2022
The YTM's for most BBB+ rated bonds maturing in 2024 are clustered mostly in a 2.5% to 3.25% range.
I can mitigate interest rate risk by holding these bonds until maturity and have the financial ability to do so. In other words, there is a zero chance that I will be a forced seller after a significant rise in interest rates, and that is a material point. Investors who face near or intermediate term situational risks may be forced to sell risk assets an inopportune times.
The bond issuers are well known other than perhaps CBL Properties, so I will only be providing links to information about the issuers.
The following bond buys are sort of a compromise between Left Brain's opinions about the future course of interest rates/inflation and the Bond Ghoul's opinions who believe that problematic inflation is dead and will never be resurrected again. Consequently, they believe that a move to say a 3% inflation rate later this year and 3.5% during 2017 are mere temporary aberrations probably due to some kind of measuring issue.
I have a monitor list of investment grade bonds maturing in 2020-2022. The yields are too unattractive to start a buying spree. Possibly, when and if the yields approach or pass 4%, I may start to buy. That could happen with a significant uptick in the five year inflation expectation as embodied in the 5 year TIP pricing which is abnormally low now.
I may discuss 2 or 3 more of the 2022-2024 maturity bond purchases in the next update.
++++++++++
1. Bought 2 CBL Senior Unsecured bonds ($1,000 par value) at 98.13:
The issuer is the REIT CB & L & Associates Properties (NYSE:CBL) that owns malls and other retail properties. Alphabetical List of Properties With Pictures
I last discussed this REIT here: Item # 1. Bought 50 CBLPRD at $24.25-ROTH IRA: Update For EQUITY REIT Basket Strategy As Of 1/29/16 - South Gent | Seeking Alpha
Trade Snapshot ($4 Commission):
Prospectus (make whole provision summarized at page S-2)
Risk factors are summarized starting at page S-7 of the Prospectus.
Risks incident to CPL's operations are discussed starting at page 9 of the 2015 Annual Report: 10-K Information about the properties owned in whole or in part can be found starting at page 26. The mortgage and other debt, including the unsecured senior notes, are described starting at page 42. There is a constant need to refinance the mortgage debt.
As of 3/31/16, CBL's long term debt stood at $4.683+B: Page 25 10-Q for Q/E 3/31/16
The chart at FINRA shows a high near $110 back in January 2015 and steady drift down since that time.
I currently own 50 CBLPRD, a 7.375% equity preferred stock, and 100 CBL common shares, both with significantly higher yields than the two 2023 bonds.
The bonds are "safer" than the equity preferred and common stocks due to their superior status in the capital structure. A common share dividend can of course be reduced or even eliminated. CBL's cumulative preferred share dividends can be deferred for as long as no cash payment is made to the common shareholders and no common stock is purchased with cash (the stopper clause contained in the preferred stock's prospectus implements the preferred stock's superior claim over common to cash).
Covenants: There are actually covenants in this bond prospectus:

Most investment grade rated bonds are covenant Lite now.
Yes, I know all about that mall and box retailing are dead and their rotting corpses will soon be buried by the Amazon Tour De Force.
Still, offline sales still manage to consume about 92.5% of retail spending so maybe the dinosaurs are not yet extinct.
E-Commerce Retail Sales as a Percent of Total Sales-St. Louis Fed
Recent Earnings Report: CBL reported a decent first quarter.
CBL & Associates Properties Reports Strong First Quarter 2016 Results | Business Wire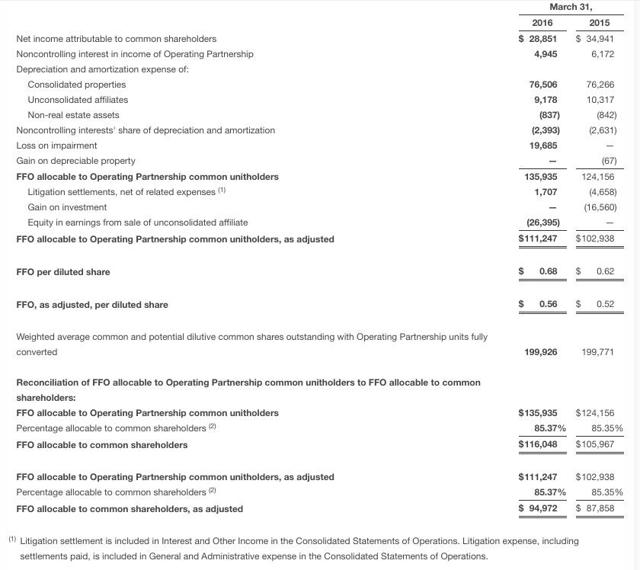 Occupancy: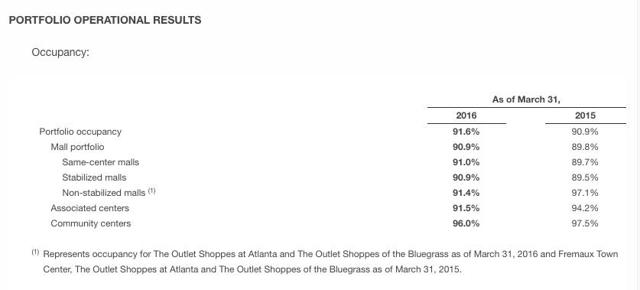 Based on recent earnings reports and forward guidances by well known retailers, CBL's common shares dived in price. Its bonds and equity preferred stocks were not impacted so far by those developments.
Macy's reported disappointing earnings on 5/11/16 and its stock cratered in price: M: $31.38 -5.61 (-15.17%). The report sent retail REITs down in price as well, hitting Mall REITs harder than REITs that own single tenant properties:
SPG: $203.24 -10.68 (-4.99%): Simon Property Group
O: $63.27 -0.95 (-1.48%): Realty Income Corporation
NNN: $46.60 -0.79 (-1.67%): National Retail Properties
2. Bought 2 Motorola Solutions 4% Senior Unsecured Bonds Maturing in 2024 at 97.598:
Company Profile at Reuters.com
Motorola Solutions Inc Key Developments Page at Reuters
Trade Snapshot:

The price chart at FINRA shows a top near 105 back in January 2015, followed by a long slide in price that bottomed near 85 and then a rise back to par value.
BOND PROSPECTUS (risk factor discussion starts ar page S-7; Make Whole Provision at S-14)
The company also describes risks incident to its operations starting at page 9 of its 2015 Annual Report: 10-K
10-Q for the Q/E 3/31/16 (long term debt at $5.023B)
Recent Earnings Report:

Consensus MSI Analyst E.P.S. Estimates
2016: $4.53
2017: $4.97
3. Bought 2 Xerox 3.8% Senior Unsecured Bonds Maturing in 2024 at 91.911
Prospectus Supplement: This bond was originally sold in May 2015 along with $400M of 2.8% senior notes maturing in 2020.
Ratings Per FINRA:
| | |
| --- | --- |
| Moody's Rating | Baa2 (05/07/2014) |
| Standard & Poor's Rating | BBB (05/12/2014) |
| Fitch Rating | BBB- (02/01/2016 |
Trade Snapshot: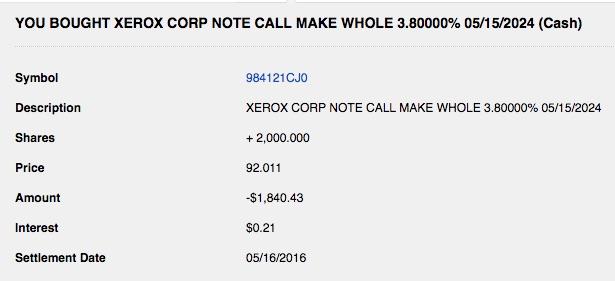 Fidelity is now charging a commission of $1 per bond, and the commission charge for this order is built into the price paid.
The YTM is 5.025% with the commission and 5.042% without that fee.

The price chart available at the Finra page shows a top near $104 back in April 2015, followed by a series of lower highs and lower lows until bottoming near $86 and then rising to the current prices.
10-K (risk discussion starts at page 13; long term debt at $6.382B-list of long term debt maturities starts at page 100)
The last bond offering was $500M in 3.5% senior notes maturing in 2020: Prospectus August 2015
In February 2015, Xerox sold $400M in 2.75% senior notes maturing in 2020 and $250M 4.8% senior notes maturing in 2035. Prospectus Supplement
Consensus XRX Analyst E.P.S. Estimates
2016: $1.1
2017: $1.14
Recent Earnings Report: Q/E 3/31/16

Xerox 2016 Guidance:

Xerox Separation into Two Entities: Xerox to Separate into Two Market-Leading Public Companies Following Completion of Comprehensive Structural Review | Xerox Newsroom

The plan involves splitting the company into two independent publicly traded companies. One would be the document technology business and the other will be composed of the business processing outsourcing segment ("BPO").
This plan caused Moody's to place Xerox under credit review for a possible downgrade: Moody's places Xerox's ratings on review for downgrade following separation announcement
Currently, I do not have enough information to fully assess the risk impact flowing from this separation. I would view it as credit negative. I am also unable to see any benefits flowing to either the Xerox common shareholders or the bond owners. Possibly, there is some benefit to those occupying the executive suite. If I do not like what I see, I will sell these two bonds.
See also: Xerox Settlement with California (cost $123+M to Xerox)
The common stock is rated 3 stars by Morningstar.
4. Added 50 HTGX at $24.92:
Quote: Hercules Capital Inc. 6.25% Senior Notes (HTGX:NYSE)
Trade Snapshot ($1 Commission):

Security Description: HTGX is a senior unsecured exchange traded bond issued by the BDC Hercules Capital Inc. (HTGC), formerly known as Hercules Technology Growth Capital, Inc.
HTGX will pay a 6.25% coupon on a $25 par value and will mature on 7/30/24 unless redeemed earlier by the issuer. The issuer has the option to redeem at par value, plus accrued interest, on or after 7/30/17: Page S-8 Prospectus (risks are summarized starting at pages S-13 and 11)
S & P currently has a BBB- rating on HTGC's senior unsecured notes. Hercules Receives Investment Grade Credit Rating From Standard & Poor's on Its Family of Unsecured Notes (HTGC)
I recently discussed this exchange traded bond and have nothing further to add:
Scroll to Item #3. Bought 100 HTGX at $24.98-Roth IRA: Update For Exchange Traded Bonds And Preferred Stocks Basket Strategy As Of 5/10/16 - South Gent | Seeking Alpha
5. Bought 2 Seagate Technology 4.75% Senior Unsecured Bonds Maturing in 2024 at $80.99:
YTM=8.336% (a per annum yield which assumes Seagate survives to pay off principal amount at maturity)
Current Yield: 5.87%
Rated Lowest Tier-Investment Grade (see snapshot below)

| | |
| --- | --- |
| Moody's Rating | Baa3 (05/04/2016) |
| Standard & Poor's Rating | BBB- (09/26/2013) |
| Fitch Rating | BBB- (04/15/2016) |
The chart at FINRA shows at 108.25 close on 4/20/15, followed by long slide of lower highs and lower lows. The lowest closing low so far was $77.25 on 5/2/16.
THE 4.75% senior unsecured note is described in this SEC filing.
Last SEC Filed Annual Report (risk summary starts at page 17)
The yield on this bond is not consistent with an investment grade rating. The Bond Ghouls are rating the bond fairly deep into junk territory based on the current yield and YTM.
Last Earnings Report: Q/E 4/1/16
"For the third quarter, the Company reported revenue of approximately $2.6 billion, gross margin of 20.2%, net loss of $21 million and diluted loss per share of $0.07. On a non-GAAP basis, which excludes the net impact of certain items, Seagate reported gross margin of 22.7%, net income of $66 million and diluted earnings per share of $0.22. For a detailed reconciliation of GAAP to non-GAAP results, see the accompanying financial tables."
Seagate Technology Reports Fiscal Third Quarter 2016 Financial Results
The non-GAAP consensus E.P.S. was for $.37.
The stock plummeted in response to this earnings report: TheStreet
JP Morgan Says Sell-Barrons.com
The common stock is currently rated 5 stars by Morningstar. (FV at $39)
10-Q for Q/E 4/1/2016 (long term debt at $4.13B; Cash at $1.193B)

Current STX Analyst Estimates:
2016: $1.71
2017: $1.93
I would not place much reliance on forecasts for this company.
Seagate Partners with China's Sugon to Tap Fast Expanding Data Center Market
Seagate Now Shipping 10TB Helium Enterprise Drive in Volume
Seagate Demonstrates Fastest-Ever SSD Flash Drive
Disclaimer: I am not a financial advisor but simply an individual investor who has been managing my own money since I was a teenager. In this post, I am acting solely as a financial journalist focusing on my own investments. The information contained in this post is not intended to be a complete description or summary of all available data relevant to making an investment decision. Instead, I am merely expressing some of the reasons underlying the purchase or sell of securities. Nothing in this post is intended to constitute investment or legal advice or a recommendation to buy or to sell. All investors need to perform their own due diligence before making any financial decision which requires at a minimum reading original source material available at the SEC and elsewhere. A failure to perform due diligence only increases what I call "error creep". Stocks, Bonds & Politics:ERROR CREEP and the INVESTING PROCESS. Each investor needs to assess a potential investment taking into account their personal risk tolerances, goals and situational risks. I can only make that kind of assessment for myself and family members.