This topic was last updated here: Update For Portfolio Positioning And Management As Of 5/11/16 - South Gent | Seeking Alpha
This topic was last updated here: Update For Portfolio Positioning And Management As Of 4/29/16 - South Gent | Seeking Alpha
My portfolio management goals are described in this 2014 post: Portfolio Management Goals-Snapshots of Performance Numbers YTD, 3 and 5 Years Cumulative.
++++++
NEW HOME SALES IN APRIL:
The government reported earlier today that new home sales increased to a 619,000 annualized rate last month. This number represents a 15.4% rise above the March annualized rate of 531K and 23.8% above the April 2015 number. The median sales price of new homes in April was $321,100 and the average price was $379.8K.
The previous three months were revised up by 44k.
The consensus estimate was for 523,000.
This may be the most important U.S. economic report this year.
The most important missing ingredient in the U.S. economic recovery since the Near Depression has been new home construction and everything that goes with it. That is understandable under the circumstances.
Maybe this report marks the end of the sluggishness.
U.S. housing starts climb 6.6% in April-MarketWatch
Pending Home Sales:
The National Association of Realtors reported that existing home sales rose 5.1% in April from an upwardly revised March number. The Y-O-Y increase was 4.5% above April 2015.
Pending home sales reached their highest level in a decade:
Pending Home Sales Lift Off in April to Over 10-Year High | realtor.org
Existing home sales in the first quarter were at the highest rate since 2007.
Inflation and Interest Rates: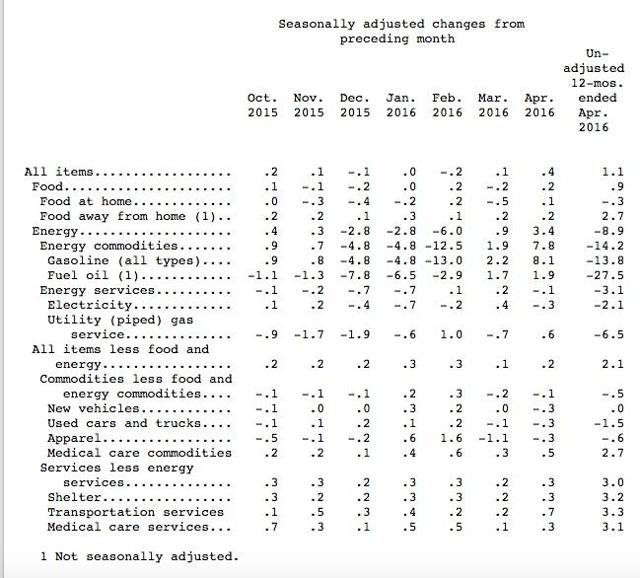 Shelter 33.253% +3.2%
Medical Care Services 6.626% +3.1% (health insurance is included in this expense category, weighted just .999%, and increased +5.8%)
Transportation Services 5.882% +3.3%
Recreation Services 3.897% +3.2%
Table 2. Consumer Price Index for All Urban Consumers (CPI-U): U. S. city average, by detailed expenditure category
The Atlanta Fed's Sticky Price Index rose at a 3.1% annualized rate in April. Sticky-Price CPI - Federal Reserve Bank of Atlanta
The Cleveland Fed's Median Price Index increased at a 3.4% annualized rate in April. Median CPI "Over the last 12 months, the median CPI rose 2.5%".
China: China continues to be a big question mark.
China April Slowdown Shows Debt Addiction Will Be Tough to Shake - Bloomberg
China's Economy Grinds Down a Gear as Heavy Industry Drags - Bloomberg
OIL: Goldman made a call that started a spike in crude oil prices.
Oil prices rise as Goldman Sachs says market is now in deficit - MarketWatch
WTI crossed over $50 earlier today: Bloomberg
The current EIA demand and production forecasts do point to balance next year: Short-Term Energy Outlook - U.S. Energy Information Administration (EIA) For 2017, EIA is currently forecasting worldwide production at 96.99M barrels per day and consumption of 96.78M.
U.S. crude oil production was reported at 8.767M barrels per day for the W/E 5/20/16, down from 9.61M high hit last June: Weekly U.S. Field Production of Crude Oil (Thousand Barrels per Day)
SPX Valuation:
Index valuations remain high.
As of 5/20/16, when SPX closed at 2,052.32, the TTM GAAP P/E was at 23.49 and the forward P/E based on estimated operating earnings ex items was at 17.51. Assuming the market closes this week at the current 2090 level as of 1:20 E.S.T. on 5/26, those numbers will increase for the W/E 5/27.
The Stock Jocks may be having some trepidation as SPX moves closer to 2100.
Miscellaneous:
A third of cash is owned by 5 U.S. companies
Shifts In Portfolio Design and Allocations:
In my ongoing nip and tuck allocation changes, I am mostly responding to increased inflation and interest rate risks. The Bond Ghouls do not see those risks as shown by U.S. treasury yields throughout the maturity spectrum; continued low inflation expectations embedded in the pricing of TIPs; and their current assessment that even one .25% FF hike to .5% is not a done deal this year, let alone in June or July.
Countdown to FOMC - CME Group (as of 5/26/16, only a .8% chance of one .25% hike on or before 2/1/2017)
Daily Treasury Yield Curve Rates (ten treasury yield at 1.87% on 5/25/16 and at 2.24% on 1/4/16)
10-Year Breakeven Inflation Rate-St. Louis Fed (at 1.55% as of 5/24/16)
30-year Breakeven Inflation Rate-St. Louis Fed (1.76% as of 5/24/16)
The average annual CPI rate from 1913 through 2015 was 3.3%.
The major design and allocation shifts include selling longer duration bonds and buying shorter maturity bonds using a 2020-2025 ladder approach with a slow mo build, buying more floating rate preferred stocks and bonds including a bunch of Canadian reset preferred stocks, paring my REIT basket, and buying more regional banks focusing on the really small and unknown ones this week where the P/E ratios are still low with >3% dividend yields.
Historically, the present reminds me what happened when the FED last manipulated rates to artificial levels. The result was a prolonged period of abnormally low interest rates compared to inflation. When the manipulation stopped, and the market was allowed to set rates free of massive FED intervention, interest rates started to rise and a long term bear market in bonds was born.
I discussed this period in a April 2015 post and will simply drag and drop that discussion here:
Start of Quote:
The last long term bear market started out in 1949 and ended in 1982, as reflected in a ten year U.S. treasury chart.
The 1950s was a period marked by a persistent low inflation trend, except for one year during the Korean War, and significantly higher treasury note yields than now.
The Fed had manipulated intermediate and longer rates down in the 1941-1951 period. The 10 year treasury was hugging 2% during those years, even though inflation was averaging close to 6%:
CPI Percentage Increases: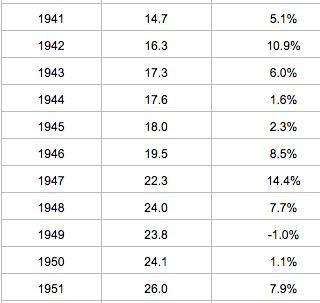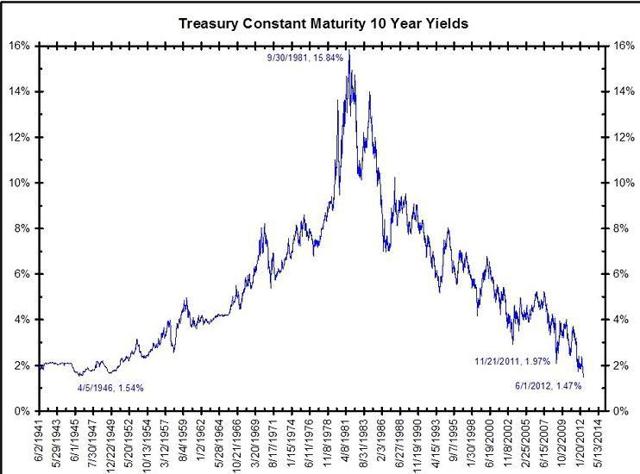 What does that chart say to you?
Yields Up-Prices Down
10 Year Treasury Rate Chart Since 1870
The ten year treasury produced a negative real rate of return between 1950 through 1959 with CPI increases remaining low except for 1951.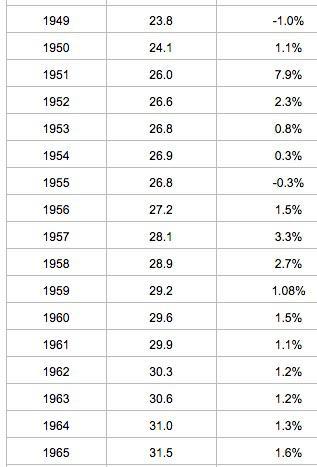 Sourced: Consumer Price Index, 1913- | Federal Reserve Bank of Minneapolis
The ten year treasury produced a -1.27% annualized real rate return in the 1950s, notwithstanding a low inflation trend.
Why?
I would submit for consideration that bonds entered a bear market prematurely in 1949, probably by close to 15 years, primarily due to the Federal Reserve's rate suppression that produced substantial negative real rate of returns for several years prior to 1951. In other words, vintage bonds did not properly reflect any real rate of return, let alone a normal spread to inflation or inflation expectations.
Sound familiar?
The issue then is whether history is about to repeat itself, at least in some meaningful way that warrants some attention now.
I would say that at least a repeat of something similar to 1949-1965 is probable due to the interest rate suppression by central banks. I think of it as a coiled spring that is being unnaturally compressed which makes the resulting burst forward worse once it pops. I am not now concerned about a repeat of the 1966-1982 problematic inflation history, at least for the foreseeable future.
Disclaimer: I am not a financial advisor but simply an individual investor who has been managing my own money since I was a teenager. In this post, I am acting solely as a financial journalist focusing on my own investments. The information contained in this post is not intended to be a complete description or summary of all available data relevant to making an investment decision. Instead, I am merely expressing some of the reasons underlying the purchase or sell of securities. Nothing in this post is intended to constitute investment or legal advice or a recommendation to buy or to sell. All investors need to perform their own due diligence before making any financial decision which requires at a minimum reading original source material available at the SEC and elsewhere. A failure to perform due diligence only increases what I call "error creep". Stocks, Bonds & Politics:ERROR CREEP and the INVESTING PROCESS. Each investor needs to assess a potential investment taking into account their personal risk tolerances, goals and situational risks. I can only make that kind of assessment for myself and family members.