This topic was last updated here: Update For Equity REIT Basket Strategy As Of 5/19/16 - South Gent | Seeking Alpha
I discussed reasons for maintaining an allocation to REITs here: Update For Equity REIT Basket Strategy As Of 7/24/15 - South Gent | Seeking Alpha (scroll to "Why Own Equity REITs")
I discussed interest rate cycles and REITs here: Update For REIT Basket Strategy As Of 8/11/15/Interest Rate Cycles And REIT Stock Prices - South Gent | Seeking Alpha (scroll to "Interest Rate Movements and REIT Stocks")
I am tracking realized gains and losses, along with annual dividend payments, here:Gateway Post: Equity REIT Common and Preferred Stock Basket Strategy
Total Net Realized Gain Since September 2013 Inception: +$8,141.7 (of which $1,638.1 has been in equity preferred stocks)
During the life of this basket, I believe that dividend income will swamp realized gains and will generate over 70% of my total return.
All of the Canadian REITs make monthly distributions as does BRG, IRT and STAG. The rest pay quarterly.
I do include REIT cumulative preferred stocks in this basket: Advantages and Disadvantages of REIT Cumulative Equity Preferred Stocks (9/25/2009 Post).
Over the past several weeks, I have reduced my allocation to REITs and increased my allocation to regional banks based on my opinion that increases in inflation will trigger a greater than currently anticipated rise in interest rates.
As I become more concerned about a rise in rates, I will shift money out of REITs into my regional bank basket and vice versa when I believe rates will remain stable at abnormally low levels or decline. I consequently manage these two baskets in tandem as natural, though imperfect, hedges for one another. REIT and Regional Bank Baskets (3/20/2014 Post). I am concerned about directional changes in interest rates, up or down, and the potential decree of directional changes.
REITS performed poorly when the ten year treasury spiked from 1.66% to 3.04% during 2013. The regional bank ETF KRE had a 47.5% total return that year. When interest rates came back down in 2014, KRE had a total return of 1.85% (generated by the dividend payments), whereas the REIT ETF VNQ had a 30.36% total return.
REIT Basket as of 6/1/2016: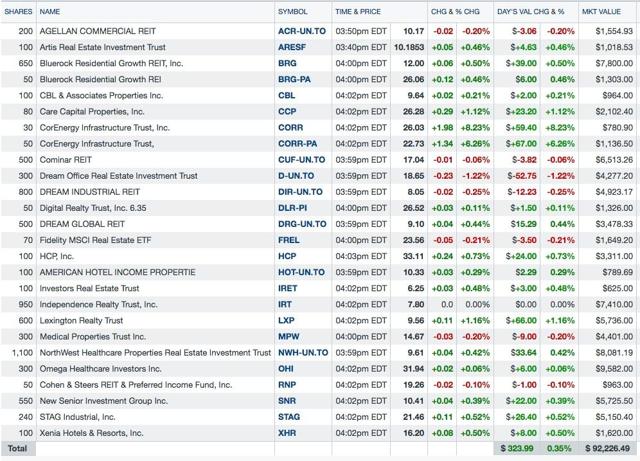 Closing Price 6/1/16 for VNQ: $83.74 +0.07 (+0.08%): Vanguard REIT ETF
+++++++++++++++
1. Sold 50 EQCPRD at $26.63:
Quote: Equity Commonwealth 6.5% Cumulative Preferred Series D (EQC.PD:NYSE)
EQCPRD is an equity preferred stock issued by the equity REIT Equity Commonwealth (NYSE:EQC) that pays non-qualified and cumulative dividends at a 6.5% fixed coupon rate on a $25 par value
This security is a busted convertible preferred stock. Quantumonline correctly notes that the original conversion price was 1.9232 shares at $13, but is now .4808 shares at $52 due to a subsequent 1 for 4 reverse stock split. The EQC common shares are currently trading mostly in the $20 to $30 range since 2013. EQC Interactive Stock Chart That chart shows the 1 for 4 reverse stock split as occurring in July 2010.
Trade Snapshot ($1 Commission):

Closing Price Day of Trade: EQC-PD: $26.80 +0.95 (+3.68%)
Profit Snapshot

Scroll to Item # 1. Bought 50 EQCPRD at $24.71: UPDATE For Equity REIT Basket Strategy As Of 2/12/16 - South Gent | Seeking Alpha
IB includes in this data both the transaction prices and the closing prices. So EQCPRD closed at $24.87 when I purchased the security on 2/2/16 and at $26.8 when I sold at $26.63.
The quarterly dividend penny rate is $.4063.
I received two quarterly dividend payments having bought the shares the day before the 2/3/16 ex dividend date: Dividends | Equity Commonwealth
The total dollar return was consequently $134.6 or about 10.89% in about 4 months.
For a purchaser at $26.63, the current yield would be about 6.1%.
Optional Redemption: This is the only preferred stock that I have owned where I can find no option to redeem at par value.
"Our Series D Preferred Shares have no maturity date. We are not required to redeem or repurchase the Series D Preferred Shares, and, except as described below under "Description of the Series D Preferred Shares-Special Conversion Right of Series D Preferred Shares upon a Fundamental Change; Company Repurchase Right" or "-Restrictions on Ownership and Transfer", may not elect to redeem or repurchase, the Series D Preferred Shares. On or after November 20, 2011, we have the right, in certain circumstances, to require you to convert your Series D Preferred Shares. See "Description of the Series D Preferred Shares-Company Conversion Option" below." (emphasis added)
The issuer's option is to cause a conversion into common stock, but that right is exercisable "only if the Closing Sale Price of our common shares equals or exceeds the then applicable conversion price of the Series D Preferred Shares for at least 20 Trading Days in a period of 30 consecutive Trading Days (including the last Trading Day of such period) ending on the Trading Day immediately prior to our issuance of a press release announcing our exercise of the Company Conversion Option" And that is not going to happen anytime soon.
2. Added 100 SNR at $10.2:
Trade Snapshot: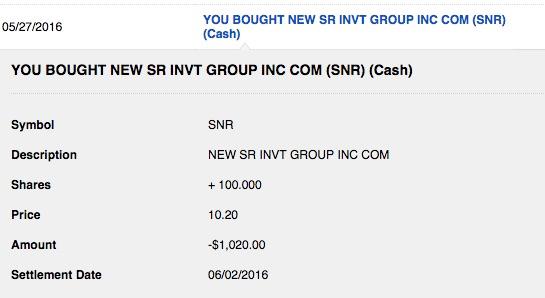 I placed this lot in my Fidelity taxable account where I have my highest cost lot bought at $11.72. 3. Bought 100 SNR at $11.72: Update For REIT Basket Strategy As Of 8/24/15 - South Gent | Seeking Alpha. When and if I can sell the higher cost lot profitably, I will do so and will consider keeping the 100 shares purchased at $10.2 based on the then existing circumstances.
For a stock with a high dividend yield, I am content with harvesting that dividend and exiting the position down the road at whatever profit can be had.
Recent Discussions:
Item 5. Added 50 SNR at $8.41+: UPDATE For Equity REIT Basket Strategy As Of 2/12/16 - South Gent | Seeking Alpha
Item # 1. Added 50 SNR at $9.1: Update For Equity REIT Basket Strategy As Of 11/16/15 - South Gent | Seeking Alpha
The most comprehensive discussion can be found here: Item # 2. Bought Back 50 SNR at $10: Update For Equity REIT Basket Strategy As Of 11/5/15 - South Gent | Seeking Alpha I had previously sold my highest cost 50 share lot profitably at $11.27. That lot was bought at $10.4, and I then bought back that 50 share lot at $10. 2. Bought Back 50 SNR at $10 (IB Account): Update For Equity REIT Basket Strategy As Of 11/5/15 - South Gent | Seeking Alpha
Dividends: This REIT is currently paying a quarterly dividend of $.26 per share: New Senior Investment Group Dividend History Assuming a continuation of that rate, and a total cost per share of $10.2, the dividend yield would be about 10.2%.
The entire dividend paid in 2015 was classified as a return of capital. New Senior Announces Tax Treatment of 2015 Dividends
Earnings Report Q/E 3/31/16: New Senior Announces First Quarter 2016 Results
SNR reported normalized FFO of $26.5M or $.32 per share, up 19% from the 2015 first quarter. AFFO was reported at $23.9M or $.29 per share, up 32%. Normalized Funds Available for Distribution ("FAD") was reported at $21.8M, up 30% vs. the 2015 first quarter.
Average occupancy increased 460 basis points to 88.3%.
Q1 2016 Results - Earnings Call Transcript | Seeking Alpha ("Our target demographics, individuals age 70 and older, is the fastest growing cohort in the U.S. population and is expected to grow six times faster than the total population over the next 20 years. . . We think we're uniquely positioned to benefit from this imbalance because we have the largest concentration of private pay assets among our peers. Over 90% of our NOI is comprised of private pay, independent living, and assisted living properties, with limited exposure to Medicaid or other government funding."
Normalized FFO/Normalized AFFO/Normalized FAD Calculations: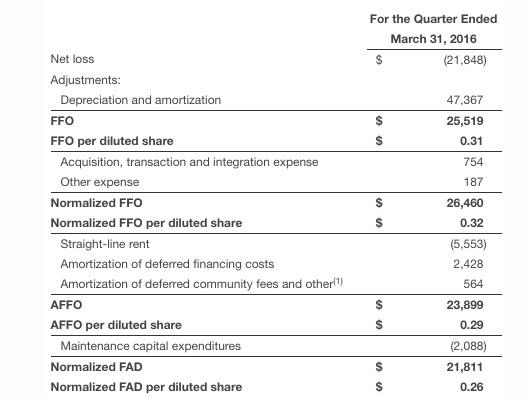 "The Company defines Normalized FFO as FFO excluding the following income and expense items (which may be recurring in nature) as applicable: (A) acquisition, transaction and integration related costs and expenses; (B) the write off of unamortized deferred financing costs, or additional costs, make whole payments, penalties or premiums incurred as the result of early repayment of debt (collectively, "Loss on extinguishment of debt") and (C) amounts reported in "Other expense" in the Consolidated Statements of Operations"
With a quarterly dividend at $.26, SNR paid out 100% of its Funds Available for Distribution last quarter.
The current consensus FFO per share is for $1.32 this year and $1.39 next year: SNR Analyst Estimates I believe those numbers are "normalized FFO", a higher number than AFFO or FAD.
Disclaimer: I am not a financial advisor but simply an individual investor who has been managing my own money since I was a teenager. In this post, I am acting solely as a financial journalist focusing on my own investments. The information contained in this post is not intended to be a complete description or summary of all available data relevant to making an investment decision. Instead, I am merely expressing some of the reasons underlying the purchase or sell of securities. Nothing in this post is intended to constitute investment or legal advice or a recommendation to buy or to sell. All investors need to perform their own due diligence before making any financial decision which requires at a minimum reading original source material available at the SEC and elsewhere. A failure to perform due diligence only increases what I call "error creep". Stocks, Bonds & Politics:ERROR CREEP and the INVESTING PROCESS. Each investor needs to assess a potential investment taking into account their personal risk tolerances, goals and situational risks. I can only make that kind of assessment for myself and family members.