This basket was last updated here: Update For CEF Basket Strategy As Of 5/20/16 - South Gent | Seeking Alpha
I view the closed end portfolio to be a balanced worldwide portfolio within a larger portfolio that includes individual stock and bond selections.
I place an emphasis on income generation and own a number of CEFs that pay monthly dividends.
I will change the weightings in the CEF portfolio based on my opinions about the balance between risks and rewards.
I have a lengthy discussion of bond CEF risks in the Appendix section to an earlier post:Update For Closed End Fund Basket Strategy As Of 8/14/15 - South Gent | Seeking Alpha(scroll to "General Risk Discussion for Leveraged Bond CEFs") I also discussed those risks here. I will not be repeating those discussions.
I discussed the factors impacting the dividend payout for leveraged closed end funds here:Update For CEF Basket Strategy As Of 10/14/15 - South Gent | Seeking Alpha (Scroll to APPENDIX: 1. Factors Impacting a Dividend Payout for Leveraged Closed End Bond Funds Using VKQ as an Example)
The CEF risk associated with a forced reduction in leverage at the most inopportune time, sort of like a margin call during a huge downdraft, is discussed in this post. Update For REIT Basket Strategy As Of 9/17/15 (scroll to RNP Presents a Good Historical Example of One Risk Inherent in Using Leverage)
Basket as of 6/3/16: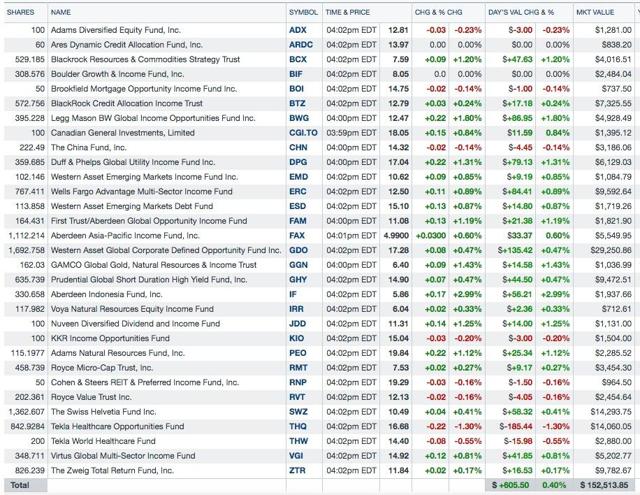 1. Added 100 BIF at $7.85: I used one of my commission free trades at Fidelity.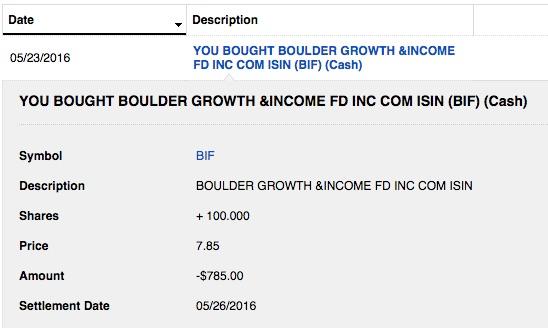 Quote: Boulder Growth & Income Fund Inc. (NYSE:BIF)
Last Discussed: Item # 8. Bought Back 200 BIF at $8.18: Update For Closed End Fund Basket Strategy As Of 8/14/15 - South Gent | Seeking Alpha
BIF is the surviving fund in a recent reorganization that involved the Boulder Total Return Fund, the Denali Fund, and the First Opportunity Fund: Rocky Mountain Advisers, LLC and Stewart Investment Advisers Announce Closing of Reorganization
Prior Trade: Item # 6 Sold:200 BIF at $7.65 (profit snapshot=$180.07)(10/3/13 Post)- Item # 2 Bought 200 of the Stock CEF 200 BIF at $6.67 (1/22/13 Post)
Data as of 5/20/15 (Friday Before Monday's Purchase-This CEF Provides only Weekly NAV per share):
Closing Net Asset Value Per Share: $10.04
Closing Market Price: $7.86
Discount: -21.71%
Sourced: CEFConnect
Last SEC Filed Form N-Q: Holdings as of 2/29/16
The most interesting fact about this fund is its concentrated ownership in just one stock:

Disclaimer: I am not a financial advisor but simply an individual investor who has been managing my own money since I was a teenager. In this post, I am acting solely as a financial journalist focusing on my own investments. The information contained in this post is not intended to be a complete description or summary of all available data relevant to making an investment decision. Instead, I am merely expressing some of the reasons underlying the purchase or sell of securities. Nothing in this post is intended to constitute investment or legal advice or a recommendation to buy or to sell. All investors need to perform their own due diligence before making any financial decision which requires at a minimum reading original source material available at the SEC and elsewhere. A failure to perform due diligence only increases what I call "error creep". ERROR CREEP and the INVESTING PROCESS Each investor needs to assess a potential investment taking into account their personal risk tolerances, goals and situational risks. I can only make that kind of assessment for myself and family members
Disclosure: I am/we are long BIF.