This basket was last updated here: Update For Regional Bank Basket Strategy As Of 5/18/16 - South Gent | Seeking Alpha
My net realized gain in this basket strategy currently stands at $27,159.26 (small lot trades): REGIONAL BANK BASKET STRATEGY GATEWAY POST I started to build this basket in the 2009 Spring.
Snapshots of round trip trades can be found at the end of that post.
Over the life of this basket strategy, I anticipate that dividends will generate about 40% of my total return. Over the past 4 years ending 12/31/15, dividends have averaged $1,939.37 per year.
The dividend yield of this basket is significantly in excess of the yields provided by regional bank ETFs that include a large number of low yielding stocks and several that pay no dividends.
Charge-offs for regional banks are near historical lows in the aggregate and NPL's are trending below 1% for the banks that I will buy as part of this basket strategy. Loans and deposits are increasing at favorable percentages. The problem remains NIM contraction.
FRB: FEDS Notes: Why Are Net Interest Margins of Large Banks So Compressed?
Basket as of 6/6/16: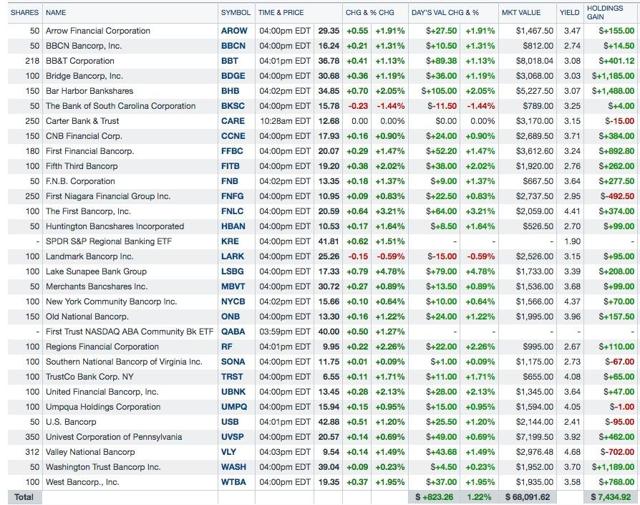 After harvesting the gains discussed below, the unrealized gain is above where it was in the last update by $397.44; so that is one way to look at what turned out to be premature profit harvesting since the last update.
I will soon be rid of First Niagara. I will be receiving "0.68 KeyCorp shares and $2.30 in cash for each First Niagara common share." KeyBank (NYSE:KEY) announces plans to acquire First Niagara (NASDAQ:FNFG). I will need KEY to gain a few dollars per share after the merger consummation just to break even. Another loser, Valley National, is not likely to go much of anywhere anytime soon but the dividend is good even after it was slashed from an adjusted $.1625 to $.11 effective for the 2013 4th quarter. The adjustments relate to a 5% stock dividend that used to be paid by Valley National Bank.
FNFG and VLY are referred to here at HQ as less than optimal selections. FNFG's Board and former CEO are responsible for blowing that stock up after I purchased shares through an idiotic, totally boneheaded and unjustifiable $1B cash purchase of HSBC branches in slow growing markets in upstate N.Y. and then selling securities, including common stock, at unfavorable prices to generate enough cash to honor the signed contract. First Niagara: Just Another Incompetent Bank Board of Directors (12/9/11 Post)
Univest was ex dividend today: Univest Corp. of Pennsylvania Stock (NASDAQ:UVSP) The correct UVSP numbers are provided by Marketwatch: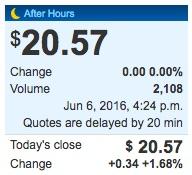 While Yahoo Finance has the correct closing price of $20.57, it has failed to make an adjustment for the ex dividend. YF has UVSP up $.14 but the actual gain today was $.34 as shown in the preceding snapshot taken from Marketwatch's website. The quarterly dividend of $.2 has caused YF to make this easily corrected mistake.
Univest - Stock Splits & Dividends
++++++++++
Rationale For Transactions Discussed Below:
The lousy unemployment report caused me to pare my regional bank exposure slightly based on the belief that the FED will maintain its excessively accommodative monetary policies for longer than I previously expected. I am not dismissing that report as having no substance like the Stock Jocks did last Friday and again today with even more nerve.
Bank stocks went down last Friday as bond prices rallied in response to that jobs report.
Today, regional banks had a good day as interest rates rose.
This kind of activity is indicative of some kind of mental disorder whose name escapes me at the moment. Right Brain came up with the name Bipolar Disorder.
While I am not calling the jobs report a trend-yet, even though it does encompass 3 months, I am not going to call it good news justifying a stock market jaunt to new highs or to dismiss it as a one-off event that will soon be replaced by a juggernaut job creation machine.
The dispositions-using this rationale-were small 50 share lots in ONB, MSFG, LBAI and CZNC. I eliminated the last three and still own 100 ONB in my IB account.
I sold 200 LSBG for the reasons previously mentioned.
I was simply waiting for a recovery in Bar Harbor's stock price to reduce my LSBG position to 100 shares held in my Fidelity taxable account where I now own 150 BHB shares. I will then exchange those LSBG shares for almost 50 more BHB shares when the merger is consummated later this year.
The 200 LSBG shares that were sold were held in Vanguard and Schwab taxable accounts and I did not want to exchange a 100 LSBG lot for 49 BHB shares in those accounts. Instead, I previously bought 50 BHB when the share price fell after the merger announcement: Item # 1. Added 50 BHB at $31.61: Update For Regional Bank Basket Strategy As Of 5/18/16 - South Gent | Seeking Alpha That was an average up and raised my total cost per share to $25.03 for 150 BHB shares.
Overall, I reduced my regional bank exposure by $6,663.
I harvested $520.6 in profits.
I would have been better off waiting until today to sell LSBG and to a less extent the other four.
LSBG is moving up with BHB's stock price since the merger offer is entirely an all stock transaction.
++++++++++
1. Sold 200 of 300 LSBG (100 at $16.26; 102+ at $16.25)
Profit Snapshots=+$223.85


I mentioned earlier that I would sell 200 LSBG shares and allow 100 shares, held in a Fidelity account where I own 150 Bar Harbor (NYSEMKT:BHB) shares to be exchanged for 49 BHB shares.
Bar Harbor Bankshares Expands Into New Hampshire and Vermont with Lake Sunapee Bank Group Merger
Closing Prices 6/6/2016:
LSBG: $17.33 +0.79 (+4.78%) : Lake Sunapee Bank Group (ouch!)
2. Sold 50 MSFG at $22.76:
Quote: MainSource Financial Group Inc. (NASDAQ:MSFG)
Trade Snapshot ($1 Commission):

Profit Snapshot: $134.98

Item # 2. Bought Back 50 MSFG at $20.02: Update For Regional Bank Basket Strategy As Of 2/8/16 - South Gent | Seeking Alpha
Trading Profits to Date: $219.58
Closing Price 6/3/16: MSFG: $23.21 +0.02 (+0.09%)
3. Sold 50 LBAI at $11.36:
Quote: Lakeland Bancorp Inc. (NASDAQ:LBAI)
Trade Snapshot ($1 Commission):

Profit Snapshot: +$66.99

Item # 4. Added 50 LBAI at $9.98: Update For Regional Bank Basket Strategy As Of 3/17/16 - South Gent | Seeking Alpha
Trading Profits to Date: $280.07
5. Sold 50 CZNC at $20.29:
Quote: Citizens & Northern Corp. (NASDAQ:CZNC)
Trade Snapshot ($1 Commission):

Profit Snapshot: $25.28

Item # 4. Bought Back 50 CZNC at $19.74: Update For Regional Bank Basket Strategy As Of 4/8/16 - South Gent | Seeking Alpha
Trading Profits to Date: $787.92
6. Sold 50 ONB at $13.05-Roth IRA:
Quote: Old National Bancorp (NYSE:ONB)
Trade Snapshot:

Profit Snapshot: +$69.5

Item # 5. Bought in Roth IRA: 50 ONB at $11.38: Update For Regional Bank Basket Strategy As Of 1/28/16 - South Gent | Seeking Alpha
Trading Profits to Date: $279.25
I still own 100 ONB shares bought in my IB account. Item # 2. Averaged Down: Bought 50 ONB at $12.25: Update For Regional Bank Basket As Of 1/19/16 - South Gent | Seeking Alpha
Closing Price 6/3/16: ONB: $13.30 +0.16 (+1.22%)
With the exception of LSBG, the other dispositions may be bought back depending on the circumstances, including a better comfort level than now about NIM expansion.
Disclaimer: I am not a financial advisor but simply an individual investor who has been managing my own money since I was a teenager. In this post, I am acting solely as a financial journalist focusing on my own investments. The information contained in this post is not intended to be a complete description or summary of all available data relevant to making an investment decision. Instead, I am merely expressing some of the reasons underlying the purchase or sell of securities. Nothing in this post is intended to constitute investment or legal advice or a recommendation to buy or to sell. All investors need to perform their own due diligence before making any financial decision which requires at a minimum reading original source material available at the SEC and elsewhere. A failure to perform due diligence only increases what I call "error creep".ERROR CREEP and the INVESTING PROCESS Each investor needs to assess a potential investment taking into account their personal risk tolerances, goals and situational risks. I can only make that kind of assessment for myself and family members
Disclosure: I am/we are long ONB, LSBG, BHB.