This topic was last updated here: Update For The Healthcare Basket Strategy As Of 5/9/16 - South Gent | Seeking Alpha
I am including the following recently inherited shares in this basket:
50 Sanofi (NYSE:SNY)
50 Novartis (NYSE:NVS)
24.194 Vanguard Health Care Investor Class (MUTF:VGHCX)
260+ Tekla Healthcare Opportunities (NYSE:THQ)
SNY and NVS were recently bought in my mother's Estate account and will have a carryover cost basis.


The two funds have a stepped-up cost basis. Schwab Publication at pages 3-4
+++++++
Basket as of 6/2/16: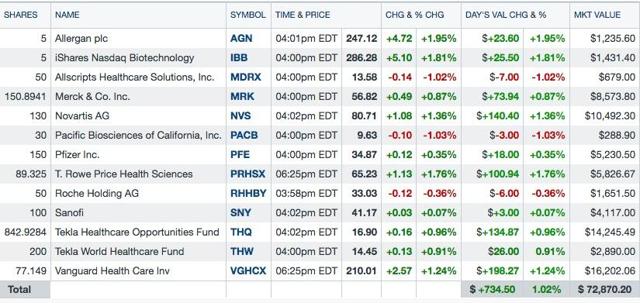 Big Pharma underperformed today, except for Novartis which was up 1.36%.
++++++++++++++
1. Bought 5 Shares of IBB at $280.87:
Trade Snapshot ($1 Commission):

Security Description: The iShares Nasdaq Biotechnology ETF (NASDAQ:IBB) is a stock fund that attempts to track the Nasdaq Biotechnology Index before fees and expenses.
As of 6/1/2016, the fund owned 189 stocks. The expense ratio was .47% as of 3/31/16: iShares Nasdaq Biotechnology ETF | IBB
I took a snapshot of stocks that have a 1%+ weighting in the fund: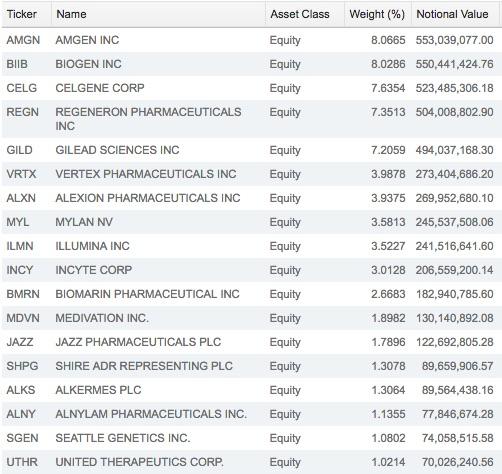 The other companies are mostly unknown to me. I may know something about 10% of them.
The sponsor claims that the P/E ratio is 22.33, which does not sound unreasonable for this particular sector given that a large percentage of the companies are losing money. By clicking the "i" next to the P/E ratio, one learns that those companies are excluded in the P/E ratio calculation.
IBB has had a tough 52 weeks. The 52 week high was near $400 last July: IBB Interactive Stock Chart
Valuations became excessive in this sector with the caveat that current P/E ratios may not be relevant for several companies whose future earnings will depend on products still in the developmental stage. And, without question, IBB owns stocks in biotech companies that have only one or two pipeline products that will fail and the stocks are currently priced as if one or two will become successful new products. With a fund, I can only hope that the successes are significantly higher than the failures, and that a few stocks will be Tenbaggers+, a term originally coined by Peter Lynch.
If someone can foretell the future with 100% certainty, and knows now which stocks will be Tenbaggers+, then please enlighten us.
Larger companies will conduct a lot of new drug development by going through the list of companies owned by this ETF and then making an acquisition offer.
While I do not have the precise numbers, I believe that most of the new drug discoveries come from the biotechs rather than the large, established companies like Merck, Sanofi, Roche, Pfizer, and Glaxo. Pfizer has been a practitioner of drug discovery through acquisitions since 1999, when it acquired Warner-Lambert.
Where would Roche be now without Genentech, the Grand-Daddy of Biotechs?
A corollary of the foregoing observation is that growth will likely be hard to generate for most companies over the next decade or so. Healthcare is one sector where new innovations and patent protection can lead to pricing power. I am assuming when making that statement that the U.S. government does not embark on drug price fixing that discourages or even penalizes innovation through mandating inadequate returns on risk capital devoted to those new compounds.
IBB dividends will be either non-existent or miniscule, so this is atypical investment for me. The 2015 dividend payments totaled less than $.1 per share.
Miscellaneous:
1. Sanofi Annual Dividend 50 shares:

15% Tax Withheld
$2.25 Annual Fee for ADR Custodian
Disclaimer: I am not a financial advisor but simply an individual investor who has been managing my own money since I was a teenager. In this post, I am acting solely as a financial journalist focusing on my own investments. The information contained in this post is not intended to be a complete description or summary of all available data relevant to making an investment decision. Instead, I am merely expressing some of the reasons underlying the purchase or sell of securities. Nothing in this post is intended to constitute investment or legal advice or a recommendation to buy or to sell. All investors need to perform their own due diligence before making any financial decision which requires at a minimum reading original source material available at the SEC and elsewhere. A failure to perform due diligence only increases what I call "error creep". Stocks, Bonds & Politics:ERROR CREEP and the INVESTING PROCESS. Each investor needs to assess a potential investment taking into account their personal risk tolerances, goals and situational risks. I can only make that kind of assessment for myself and family members.
Disclosure: I am/we are long IBB.