This topic was last updated here: Update For Portfolio Positioning And Management As Of 5/26/16 - South Gent | Seeking Alpha
My portfolio management goals are described in this 2014 post: Portfolio Management Goals-Snapshots of Performance Numbers YTD, 3 and 5 Years Cumulative.
Overall, I would describe the recent economic news as a pick up in inflation and inflationary pressures coupled with stagnating and anemic growth.
JOBS: The jobs report released last Friday morning was disappointing overall and raises the odds of a recession within the next 12 months.
Only 38K jobs were added last month, compared to the 160K estimate. The Verizon strike impacted that number by about 35K.
Importantly, the two prior months were revised down:
"The change in total nonfarm payroll employment for March was revised from +208,000 to +186,000, and the change for April was revised from +160,000 to +123,000. With these revisions, employment gains in March and April combined were 59,000 less than previously reported. Over the past 3 months, job gains have averaged 116,000 per month." (emphasis added)
Unemployment did decline to 4.7% and "the civilian labor force participation rate decreased by 0.2 percentage point to 62.6 percent."
Unemployment declined because 458,000 people left the work force.
The most positive data point was that hourly earnings increased by .5% on top of last months .9% increase. This is occurring as higher wage owners are retiring and are being replaced by younger folks who are paid less.
The sector showing the best positive gains in employment continues to be healthcare which added 46K in jobs.
Mining lost 10K jobs last month and has lost 207,000 jobs since September 2014.
Hiring in the important service sector declined to an anemic +10K from +55K in April.
The slowdown in hiring was broad based as the diffusion index showed that 51.3% of the 278 industry groups increased jobs, the lowest rate since early in 2010.
The U-6 rate remained unchanged at 9.7%: Table A-15. Alternative measures of labor underutilization
The number of persons who were employed part time-involuntary-increased by 468,000 to 6.4M. There were 1.185M individuals who have been unemployed for more than 26 weeks and who still wanted a job.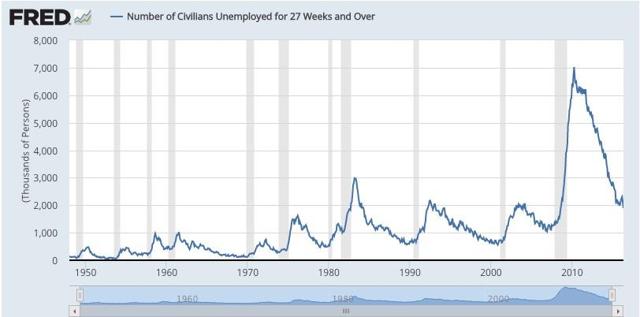 Number of Civilians Unemployed for 27 Weeks and Over-St. Louis Fed
The possibility of a recession within the next 12 months has increased from 30% on May 5th to 36% last Friday based on JPM's model. MarketWatch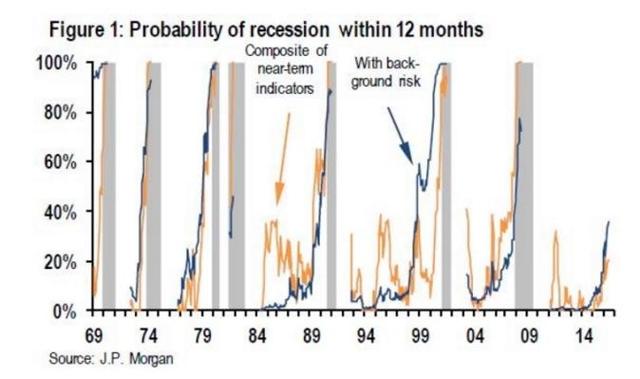 See also, Three Charts From Friday's Jobs Report That Are Ominous for the U.S. Economy - Bloomberg
So far, the Stock Jocks have dismissed this report as having any relevance whatsoever. There was a barely noticeable and temporary response last Friday. Today, the jobs report is Ancient History:
S&P 500: 2,109.76

10.63(0.51%) 11:42AM EDT
The closing high from the First Recovery Period was 2,109.79 on 11/3/15.
We could be entering into a melt up phase similar, though not as insane, as the one experienced in 1999 and into 2000 before the chicken's came home to roost. I would view as predicates for a melt up a take out of that 2,109.76 first, followed soon thereafter by a convincing piercing through butter kind of move of the previous all time high of 2,130.82 (5/21/2015). The SPX 2100 level would be about the inflation adjusted high from 2000: Inflation Adjusted S&P 500; The S&P 500, Dow and Nasdaq Since Their 2000 Highs - dshort - Advisor Perspectives So it is an important milestone for that index. The Nasdaq is nowhere close to its inflation adjusted high.
As noted previously, I will be a net seller into a melt up, and I have a lot of inventory that I can sell. There may come a point, as in 1999, where I have no inventory left to sell.
ISM Services Index: ISM reported that its services PMI declined to 52.9 in May from 55.7 in April. New orders fell to 54.2 from 59.9. Employment declined to 49.7, indicating contraction, from 53 in April. This poor employment number was consistent with the anemic 10K increase in services job reported by the BLS noted above.
GDP: On 6 /1/2016, the Atlanta FED decreased its estimate for real GDP growth in the current quarter to 2.5% from 2.9%.
"After this morning's construction spending release from the U.S. Census Bureau and this morning's Manufacturing ISM Report On Business from the Institute for Supply Management, the forecast for real residential investment growth decreased from 7.9 percent to 4.2 percent, the forecast for real nonresidential structures investment growth decreased from -2.8 percent to -6.5 percent, and the forecast for real government spending growth decreased from 1.2 percent to 0.4 percent."
GDPNow - Federal Reserve Bank of Atlanta
There was a 1.8% decrease in construction spending during April. The April 2016 number was 4.5% above April 2015, and the March 2016 number was revised higher.
Valuations: As of 6/3/16, Birinyi Associates calculated SPX's actual TTM GAAP P/E at 24.22 and non-GAAP estimated forward P/E at 17.81. P/E on Major Indexes
The GAAP and non-GAAP estimates for 2016 have been coming down since 12/31/15.
12/31/15 Estimates for 2016
GAAP at $118.5
Non-GAAP "operating earnings" at $125.56

6/1/16 Estimates for 2016
GAAP at $106
Non-GAAP at $114.72

In other words, estimates are back-end loaded and come down as reality proves that the rosy earlier estimates are facetious.
At 2100 and as of 6/1/16, SPX is selling at 19.81 times estimated 2016 GAAP earnings and at 18.31 times estimated ex-items earnings.
I would also note that SPX has crossed over 2100 "more than 30 times only to retreat short thereafter". MarketWatch I have never seen anything like it.
You get a lower forward P/E now by using the current estimates for the 2017 first quarter which show the typical robust gain. The 2015 first quarter estimated Non-GAAP earnings made on 12/31/14 was 36.24 and the actual number turned out to be 25.81:
Estimated 12/31/14:

Actual 2015:

I am simply downloading S & P's own calculations and saving them in a folder. For those who worship at the alter of non-GAAP estimates, you would think that this history would be somewhat sobering. You either drink Wall Street's Kool-AID or remain skeptical of it when justifying current market levels.
Any investor can monitor these estimates over time by going to S & P's website: S&P 500® - S&P Dow Jones Indices
Click "Additional Info" Tab
Click "Index Earnings" which triggers an automatic download in Excel's format. I then place a label on the download and place it in a folder after reviewing it.
I am particularly interested in the perpetual back-end loading of earnings increase (farther away is harder to contradict); whether the estimates are increasing or decreasing throughout the year (decreasing recently); and how close are the estimates to the actual numbers (recently, way, way way off)
+++++++++++
A. Canadian Income Securities:
I own and have been buying a number of Canadian stocks, preferred stocks and ETFs that pays good dividends.
I am avoiding the Canadian fixed coupon preferred stocks due to their currently low yields and have instead focused on Canadian reset preferred stocks whose dividend yields are generally good given their large discounts to par value while providing a measure of rising interest rate protection through the reset provisions which the fixed coupon preferred stocks lack.
I do indirectly pick up a stack in Canadian fixed coupon preferred stocks through my ownership of the Ishares Canadian Financial Monthly Income ETF discussed below. That ETF had a 22.18% weighting in another Canadian ETF that owns both fixed coupon and reset coupon Canadian preferred stocks as noted in this fact sheet presentation:

+++++++++++
1. Added 200 FIE:CA at C$6.69: This brings my total position up to 1,700 shares. The other 1500 shares are held in a Fidelity account.
Quote: iShares Canadian Financial Monthly Income ETF
Trade Snapshot (C$2 Commission):

Recent Discussions:
Item # 1 Added 400 of the Ishares Canadian Financial Monthly Income ETF at C$6.46: Update For Portfolio Management And Positioning As Of 10/16/15 - South Gent | Seeking Alpha
Bought Back The Canadian ETF iShares Canadian Financial Monthly Income ETF (FIE:CA) at C$6.91 - South Gent | Seeking Alpha (2/8/15)
Security Description: The iShares Canadian Financial Monthly Income ETF (FIE:TOR) is a Canadian ETF that owns mostly Canadian banks, REITs and insurance companies and two other Canadian income ETFs. The sponsor is Blackrock.
TOP Holdings: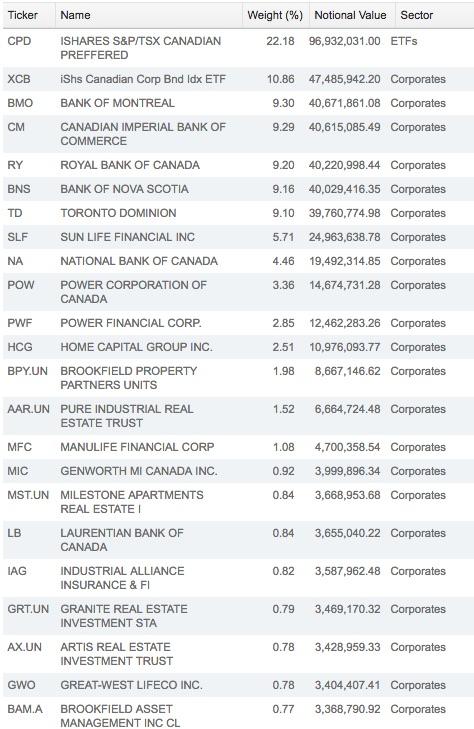 The top two holdings are two other Canadian ETFs that pay monthly dividends.
iShares Canadian Corporate Bond Index ETF | XCB (787 holdings as of 6/2/16: and
iShares S & P/TSX Canadian Preferred Share Index ETF | CPD (231 holdings, effective duration 6.22 years, weighted average maturity 8.78 years, all as of 6/2/16)
When I first started to invest in this Canadian ETF, the fund was using the iShares 1-5 Year Laddered Corporate Bond Index ETF rather than XCB.
The only Canadian bank that I currently own is a 130+ share position in Toronto Dominion (NYSE:TD). I also own 50 shares of ManuLife.
Item # 1. Bought 50 MFC at $13.78: Update For Portfolio Positioning And Management As Of 3/13/16 - South Gent | Seeking Alpha
Dividends: Dividends are paid monthly at C$.04 per share. At that rate and a total cost per share of C$6.69, the dividend yield would be about 7.17%.
I recently reduced my exposure to the Canadian financial sector by selling 400 shares of Power Corporation which is the 10th largest weighting in this ETF.
Item # 1. Sold 400 POW:TO at C$31.05: Update For Portfolio Positioning And Management As Of 4/29/16 - South Gent | Seeking Alpha
I discussed several dispositions in that post as part of an ongoing selling into strength strategy. Part of the strength for Canadian stocks was a topping out action near .8 in the CAD/USD. I sold CAD priced securities and immediately converted the proceeds back into USDs.
Closing Price as of 6/3/16: POW.TO: C$29.30 -0.18 (-0.61%): POWER CORPORATION OF CANADA
2. Bought 100 CJREF at USD$9.68 (using commission free trade at Fidelity) and 100 CJR.B at C$11.99 (C$1 Commission in IB account)
Company Description: "Corus Entertainment Inc. (TSX: CJR.B) is a leading media and content company that creates and delivers high quality brands and content across platforms for audiences around the world. The company's portfolio of multimedia offerings encompasses 45 specialty television services, 39 radio stations, 15 conventional television stations, a global content business, digital assets, live events, children's book publishing, animation software, technology and media services. Corus' roster of premium brands includes Global Television, W Network, OWN: Oprah Winfrey Network Canada, HGTV Canada, Food Network Canada, HISTORY®, Showcase, National Geographic, Q107, CKNW, Fresh Radio, Disney Channel Canada, YTV and Nickelodeon Canada."
Our Brands - Corus Entertainment
I bought earlier 100 shares of Corus Entertainment Inc. Cl B NV (CJR.B:TOR) at C$11.99 and discussed that trade in a comment:

I bought last week the ordinary shares priced in USDs that trade on the U.S. pink sheet exchange. That purchase is a play more on the CAD possibly gaining value against the U.S. and being paid a handsome dividend while I wait for that to happen.
Quote: Corus Entertainment Inc. Cl B NV (OTCPK:CJREF)-Ordinary Shares Priced In USDs
Trade Snapshot: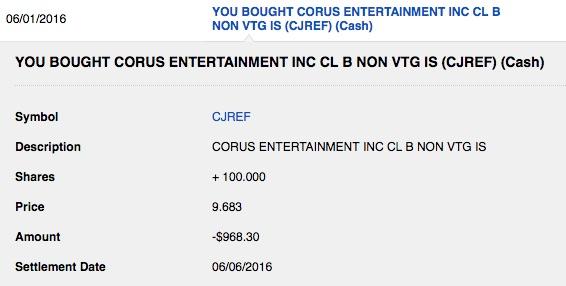 Dividends: The current monthly dividend is C$.095 per share. Corus Entertainment Declares Monthly Dividend for Class A and Class B Shareholders
Dividends - Corus Entertainment
Dividends are paid in Canadian Dollars. For owners of the USD priced shares, the dividend will be converted into USDs after a 15% Canadian withholding tax. The dividend yield of USD priced shares will depend on the conversion rates. In effect, I will receive a dividend cut when the CAD/USD declines and a dividend raise when the CAD/USD rises in value.
If the CAD/USD rose to parity, where 1 CAD buys 1 USD, then a C$.095 dividend would convert into $.095. The annualized dividend yield would then be about 11.68% at a total cost of $9.68 per share.
If the CAD/USD fell back to the 1/19/16 conversion rate of .6875, then the USD penny rate falls to $.0653 and the annualized yield becomes about 8.1%%.
The bottom line is that the monthly dividend yield for the USD priced shares will fluctuate depending on the then existing CAD/USD conversion rate.
For the CAD price shares purchased at C$11.99, the dividend yield would be about 9.51%. While I will receive the dividends in CADs, my tax liability will depend on the CAD/USD conversion rate. I am a U.S. taxpayer and the I.R.S. requires me to report income in USDs. The broker will report the USD value of the CAD dividend which means that my tax liability goes down as the CAD/USD declines and up with a rise in the CAD/USD.
Recent Earnings Report: shareholdersreport.pdf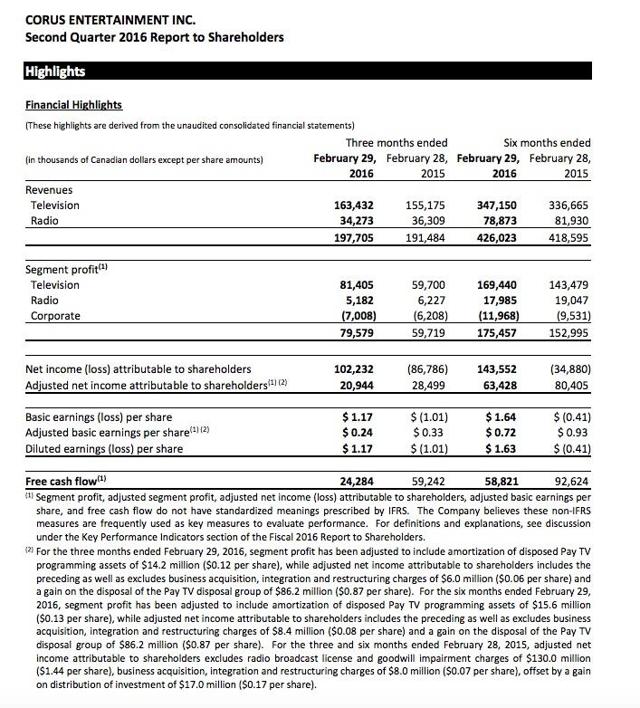 2nd Q 2016 Results - Earnings Call Transcript | Seeking Alpha ("We reach over 30 million Canadians every single week. . . On April 1, 2016 we acquired 100% of Shaw Media from Shaw Communications for 2.65 billion, which was paid through a combination of 1.85 billion of cash and the issuance of approximately 71.4 million Corus Class B non-voting shares. ")
This report is briefly discussed by Reuters
A negative article on Corus is titled Corus Entertainment: A Failing Company In A Failing Industry-Seeking Alpha.
++++++++++
B. Brexit: Maybe investors are hyperventilating too much about the possibility that the U.K. would leave the EU. A vote is scheduled later this month. While I am sitting at a desk here in Tennessee as I type this missive, I suspect that the vote will be in favor of staying. I am not confident in that prediction so I only bought 50 shares.
+++
1. Added 50 EWU at $16.13: This is an average down from my last purchase: Item # 2. Bought Back 50 EWU at $17.04: Update For Portfolio Management And Positioning As Of 11/20/15 - South Gent | Seeking Alpha
Quote: iShares MSCI United Kingdom ETF Fund (NYSEARCA:EWU)
Sponsor's Website: iShares MSCI United Kingdom ETF | EWU (116 holdings; expense ratio .48%)
Top Holdings as of 6/3/16: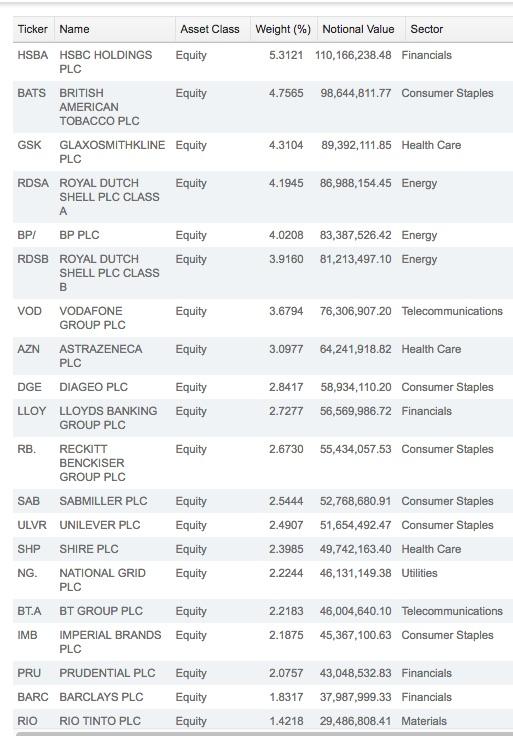 Trade Snapshot

Both the GBP and some U.K stocks may gain in value when and if my prediction comes into being.
GBP/USD Interactive Chart (5 years)
The U.K. stock market has a high weighting in energy and material companies that have had more serious problems over the past two years. Possibly, the big energy names, BP and Royal Dutch, are turning a corner.
It is far too early to make a call one way or the other about the material companies BHP and Rio Tinto whose stocks are near ten year lows now:
BHP Interactive Stock Chart (ADR); BHP Billiton PLC Interactive Stock Chart (ordinary shares priced in GBP)
RIO Interactive Stock Chart (ADR); Rio Tinto PLC Interactive Stock Chart (ordinary shares priced in GBP)
One of the two major drug companies, Glaxo, has been going nowhere for a decade or so: GlaxoSmithKline PLC Interactive Stock Chart (ordinary shares priced in GBP) The other, AstraZeneca, has been treading water since 2014: AstraZeneca PLC Interactive Stock Chart
The U.K. stock market also has a low Shiller 10 Year CAPE P/E as calculated here: Global Stock Market Valuation Ratios (Shiller PE, CAPE, PB...) That is largely due to several large components having much better earnings within the ten year time frame than now. So the current P/E for the U.K. stock index will be higher than the Shiller 10 Year CAPE.
C. Gold and Silver:
Added to Permanent Portfolio (MUTF:PRPFX) Last Week: This fund maintains a relatively constant allocation to gold and silver bullion, as more fully described here: Item # 1. Moving Back into The Permanent Portfolio :Update For Portfolio Positioning And Management As Of 5/11/16 - South Gent | Seeking Alpha
Gold and silver have been trending up since last November. It remains to be seen whether this upturn is just a cyclical bull move in a bear market that started in 2011 or something more enduring. Since my allocation to gold and silver is light one way to increase my allocation is to commit some money to this mutual fund.
Gold Prices - 100 Year Historical Chart | MacroTrends (uncheck adjusted for inflation box to see unadjusted spot prices and limit period to five years):
What is gold's fair value? I have no idea and neither does anyone else though many pontificate on the subject with God like certainty. (see my earlier discussion from 2013: Scroll to "Gold's Price: Is There a Fair Value?" at Stocks, Bonds & Politics: What is Gold's "Fair Value"?)
Gold is 33% overpriced, by this measure - MarketWatch
Is Gold's Fair Value Really Only $800 Per Ounce? - Bloomberg
This fund also has exposure to Swiss government bonds that is primarily a play on the CHF/USD exchange rate IMO. The manager probably views the Swiss Franc and Swiss government bonds as a "store" of value in turbulent times. Swiss government bonds have negative interest rates up to 20 years now. SIX Swiss Exchange - Yield Curves
The fund also owns natural resource stocks that have been doing better over the past few weeks and maybe they have already bottomed.
Disclaimer: I am not a financial advisor but simply an individual investor who has been managing my own money since I was a teenager. In this post, I am acting solely as a financial journalist focusing on my own investments. The information contained in this post is not intended to be a complete description or summary of all available data relevant to making an investment decision. Instead, I am merely expressing some of the reasons underlying the purchase or sell of securities. Nothing in this post is intended to constitute investment or legal advice or a recommendation to buy or to sell. All investors need to perform their own due diligence before making any financial decision which requires at a minimum reading original source material available at the SEC and elsewhere. A failure to perform due diligence only increases what I call "error creep". Stocks, Bonds & Politics:ERROR CREEP and the INVESTING PROCESS. Each investor needs to assess a potential investment taking into account their personal risk tolerances, goals and situational risks. I can only make that kind of assessment for myself and family members.
Disclosure: I am/we are long CJREF, EWU, PRPFX.