This topic was last updated here: Update For Equity REIT Basket Strategy As Of 6/1/2016 - South Gent | Seeking Alpha
I discussed reasons for maintaining an allocation to REITs here: Update For Equity REIT Basket Strategy As Of 7/24/15 - South Gent | Seeking Alpha (scroll to "Why Own Equity REITs")
I discussed interest rate cycles and REITs here: Update For REIT Basket Strategy As Of 8/11/15/Interest Rate Cycles And REIT Stock Prices - South Gent | Seeking Alpha (scroll to "Interest Rate Movements and REIT Stocks")
I am tracking realized gains and losses, along with annual dividend payments, here: Gateway Post: Equity REIT Common and Preferred Stock Basket Strategy
Total Net Realized Gain Since September 2013 Inception: +$8,317.02 (of which $1,638.1 has been in equity preferred stocks)
During the life of this basket, I believe that dividend income will swamp realized gains and will generate over 70% of my total return.
All of the Canadian REITs make monthly distributions as does BRG, IRT and STAG. The rest pay quarterly.
I do include REIT cumulative preferred stocks in this basket: Advantages and Disadvantages of REIT Cumulative Equity Preferred Stocks (9/25/2009 Post).
I may warm up to REITs based on the FED and other central banks continuing that massive manipulation of interest rates for longer than I previously expected, but my focus will be on smaller, higher than average yielding ones.
+++++++++
Gramercy Property Trust (NYSE:GPT)
I sold my position in Gramercy Property (GPT) to make way for a position that I received as an inheritance last week. Item # 2. Sold 122+ GPT at $8.424-Roth IRA: Update For Equity REIT Basket Strategy As Of 4/12/16 - South Gent | Seeking Alpha; Item # 1. Sold 699+ Gramercy REIT (NYSE:GPT) in Two Accounts: Update For Equity REIT Basket Strategy As Of 3/21/16 - South Gent | Seeking Alpha
I now own this lot: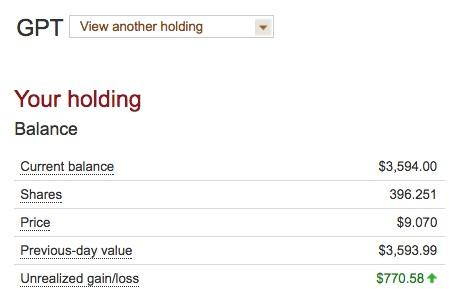 I do not want to own more shares than I currently own. GPT is a low yielding REIT.
These shares were originally issued by Chambers Street Property.
I have never bought GPT shares and have never bought them for a family member. Instead, I and other family members owned Chambers Street Property. Gramercy merged into Chambers and then the name and symbol were changed to Gramercy and GPT.
I discussed Chambers one time here: REIT Basket Strategy Added 100 CSG At $7.74 - South Gent | Seeking Alpha
As the surviving company, Chambers Street shareholders saw no change in their share ownership, but did suffer a dividend reduction.
CSG was paying a monthly dividend of $.0425 per share. When the name changed to Gramercy, the dividend went to a quarterly rate of $.11 per share or a 13.73% dividend cut plus the change from monthly to quarterly payments.
I do not care for dividend cuts and like them less when masked like this one.
+++++++++++
Basket as of 6/7/16: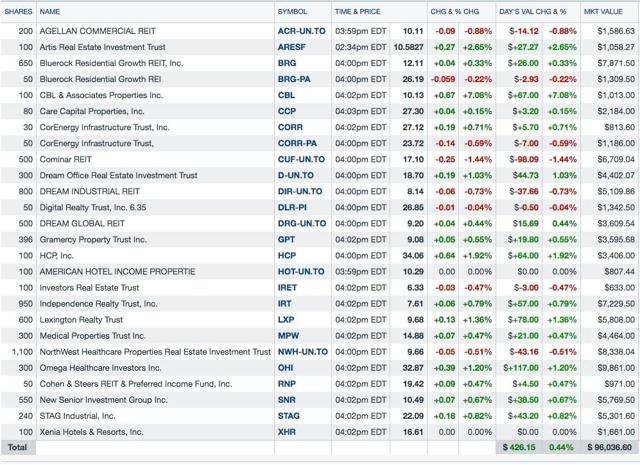 The Canadian REITs, all of which make monthly distributions, retreated some today, but have been doing better over the past two months or so.
++++++++
1. Sold FREL at $23.84 (a Commission Free ETF at Fidelity):
Quote: Fidelity MSCI Real Estate Index ETF (NYSEARCA:FREL)
Trade Snapshot: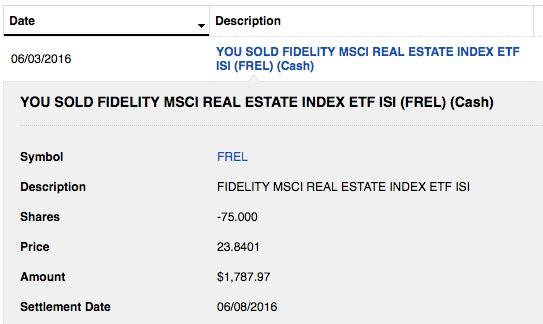 Profit Snapshot: +$144.26

I will rent REIT ETFs for short periods.
While some REITs remain undervalued IMO, the REIT ETFs are weighted in large capitalization REITs that I view as overvalued and they have relatively low dividend yields as well.
The Lazard report for April calculated the aggregate P/FFO at 18 as of 4/29/16. VNQ closed at $81.83 that day and at $84.57 today. I would expect a higher P/FFO number when Lazard issues its report for May.
Investors have piled into those blue chip REITs looking for yield in a world without risk free yield. The 10 Year German government bond closed at a .05% yield today. The yield of that bond was over 4.5% as late as June 2008: 10-year Germany Government Bond Chart 1956-. A Bloomberg article is really just talking about an all time low from a recent all time low.
We are now seeing yields in several developed foreign countries that are well below the yields hit during their entire history as a nation including all prior Depressions.
The Swiss government bonds now have a negative yield out to 20 yields. SIX Swiss Exchange - Yield Curves
The Netherland's ten year is generous in comparison at .24%: Netherlands 10-Year Bond Yield
This is going to end badly IMO.
Eurostat, the EU's statistical agency, reported today that real GDP grew .6% in the Euro area during the first quarter. Germany's GDP was up .7% from the prior quarter which was up .7% and so on.
The Euro has been strengthening of late against the USD, but is still well below the levels when the ECB started its Jihad against its own currency.
With crude oil rising in price, and is priced in USDs, the Europeans will soon see the impact of higher energy prices Y-O-Y and maybe they will soon have more inflation than they want. There is no serious question in my mind that the real rate of return on those sovereign European ten year bonds will be deeply in negative territory when the final tally is made.
$9 Trillion of Negative Yields- Bloomberg 5/11/16 (more now)
This will not end well. It is causing a massive mispricing of risk assets IMO including what investors are will to pay for low yielding and slow growing bond substitutes.
Disclaimer: I am not a financial advisor but simply an individual investor who has been managing my own money since I was a teenager. In this post, I am acting solely as a financial journalist focusing on my own investments. The information contained in this post is not intended to be a complete description or summary of all available data relevant to making an investment decision. Instead, I am merely expressing some of the reasons underlying the purchase or sell of securities. Nothing in this post is intended to constitute investment or legal advice or a recommendation to buy or to sell. All investors need to perform their own due diligence before making any financial decision which requires at a minimum reading original source material available at the SEC and elsewhere. A failure to perform due diligence only increases what I call "error creep". ERROR CREEP and the INVESTING PROCESS Each investor needs to assess a potential investment taking into account their personal risk tolerances, goals and situational risks. I can only make that kind of assessment for myself and family members
Disclosure: I am/we are long GPT.