This topic was last updated here: Update For Healthcare Basket Strategy As Of 6/2/16 - South Gent | Seeking Alpha
The Healthcare basket is one of my sector mini-funds where I attempt to generate a higher total return than a comparable ETF.
The sector baskets will have a higher dividend yield than an ETF that owns similar securities.
The two healthcare mutual funds that I own have distributed significant capital gains distributions over the years, which I will invest to buy more shares.
T. Rowe Price Health Sciences Fund (MUTF:PRHSX):

My most recent mutual adds have been to PRHSX: Item # 3. Added $1K to PRHSX: Update For The Healthcare Basket Strategy As Of 5/9/16 - South Gent | Seeking Alpha; Item # 2. Add $1K to PRHSX: Update For Healthcare Basket Strategy As Of 4/22/16 - South Gent | Seeking Alpha
Vanguard Health Care Inv Fund (MUTF:VGHCX):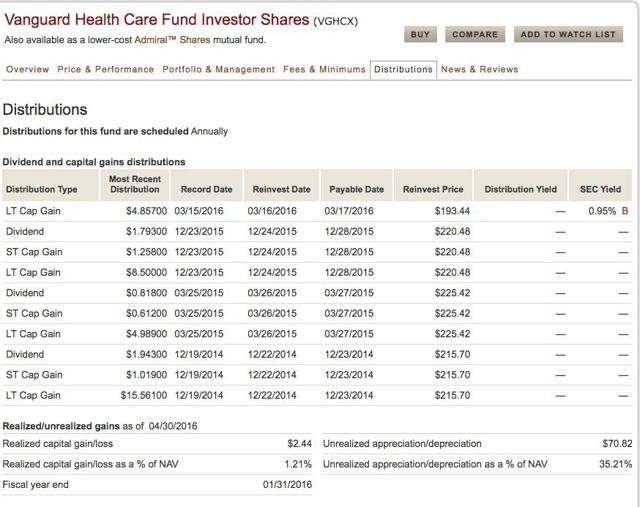 I started my VGHCX position in 2011, liquidating the Vanguard Inflation-Protected Securities Investors Fund (VIPSX and using the proceeds to buy shares of VGHCX. Item # 3 Exchanged VIPSX for VGHCX
The total return numbers for these two mutual funds will in part be dependent on the share price when significant distributions are reinvested to buy more shares (expensive, average or below average valuations) which can be an important random variable impacting total returns. These two funds are also less tax efficient than the ETFs.
There are 2 ETFs that I use as benchmarks for this sector:
Vanguard Health Care ETF (NYSEARCA:VHT)
iShares Global Healthcare ETF | IXJ
I have to include a global healthcare ETF since I will own foreign pharmaceutical companies like Novartis, Roche, Allergan and Sanofi.
I will use funds in this basket as long term holds.
Total Annualized Average Returns 5 and 10 Years:
VGHCX: 17.73%/11.94%
PRHSX: 21.57%/16.2%
VHT: 17.54%/11.31%
IXJ: 14.23%/8.83%
++++++++++++++++
Basket as of 6/14/16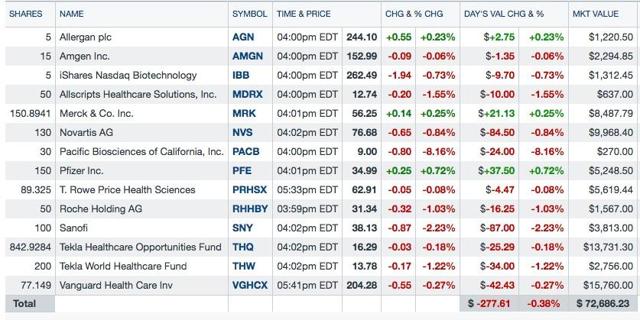 The European pharmaceutical stocks were the main drain on this basket today.
The European markets were under pressure due to Brexit fears. I will be on the look out for a potential buy.
VGK: $45.58 -0.85 (-1.84%): Vanguard FTSE European ETF
+++++++
1. Bought 5 AMGN at $160.33 and 10 at $156.75: I may buy up to 100 shares, but will only average down in 5 or 20 share lots using my IB account to make purchases.
Today's Closing Price (6/14/16):
Before going over 50 shares, I would want to see positive trial results for KYPROLIS® (carfilzomib), a drug acquired in Amgen's $10B acquisition of Onyx Pharmaceuticals and substantially better revenues from the cholesterol lowering drug Repatha. FDA approves Repatha to treat certain patients with high cholesterol
Kyprolis is currently approved only in combination with another drug in relapsed multiple myeloma. FDA approves Kyprolis for some patients with multiple myeloma
Trade Snapshots ($1 Commission):


The next purchase will likely be 5 or 10 shares between $145 to $150.
Company Description:
Morningstar recently raised AMGN to 5 stars based on the share price decline, with a fair value at $194. A five star rating currently starts with a price below $155.2. Morningstar considers AMGN to have a wide economic moat. Free cash flow as a percentage of sales "hovers near 40%".
The anemia and neutropenia, drugs Epogen and Aranesp, have seen revenues decline since 2007 due to safety concerns and reimbursement issues.
Biosimilars already exist for Neupogen and may be in existence later this year for Epogen and Neulasta. The later is currently more important than the former as shown in the data below.
Prolia and Xgeva were launched in 2010.
Enbrel is currently the most important AMGN product and its was acquired through AMGN's acquisition of Immunex. Amgen Completes Acquisition of Immunex That acquisition was well worth what AMGN paid back in 2002.
2015 Annual Report 10-K (risk summary starts at page 22)
Amgen has a division devoted to developing biosimilars of drugs that have lost their patent protection: Our Pipeline The Amgen product named ABP 501 is the biosimilar for HUMIRA (adalimumab) sold by AbbVie (NYSE:ABBV). Amgen Announces FDA Advisory Committee Meeting To Review ABP 501, A Biosimilar Candidate To Adalimumab
Key Products: Sourced from Page 26 10-Q
Enbrel® (etanercept)(multiple uses: rheumatoid arthritis, plaque psoriasis, psoriatic arthritis, Ankylosing spondylitis ("AS"), juvenile idiopathic arthritis)
Neulasta® (pegfilgrastim) (infections in chemotherapy)
XGEVA® (denosumab)(serious bone problems resulting from cancers)
Sensipar® (cinacalcet) (secondary hyperparathyroidism (NASDAQ:HPT) in adult patients with chronic kidney disease (CKD)on dialysis.)
Prolia® (denosumab) (postmenopausal osteoporosis at high risk for fracture)
Aranesp (anemia due to chemotherapy)
EPOGEN® (epoetin alfa)(lower than normal red blood cells)
Neupogen® (filgrastim)(strengthen natural defenses during chemotherapy)
Other Products: Sourced from Page 30 10-Q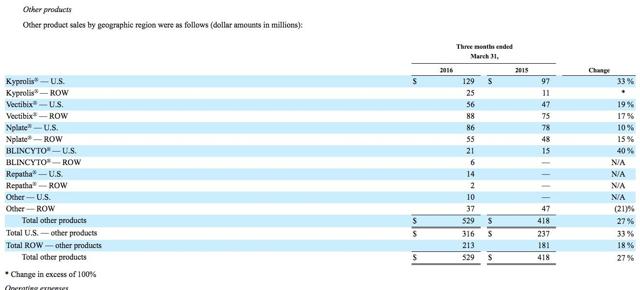 The two products that I would want to see do a lot better are Repatha™(evolocumab) for high cholesterol and the cancer drug KYPROLIS® (carfilzomib). The latter drug is a proteasome inhibitor.
New Analyses From Pivotal Phase 3 Studies Show Kyprolis® (Carfilzomib) Allows Patients With Relapsed Multiple Myeloma To Live Longer Without Disease Progression
September 2006 Press Announcement > FDA Approves a New Drug for Colorectal Cancer, Vectibix
2008 FDA Approves Nplate for Long-Term Treatment of Adult Chronic ITP
December 2014 Press Announcement> FDA approves Blincyto to treat a rare form of acute lymphoblastic leukemia; BLINCYTO® (Blinatumomab) Improved Overall Survival In Patients With B-Cell Precursor Acute Lymphoblastic Leukemia
Debt and Cash: Long term debt stood at $32.060B as of 3/31/16. Amgen had marketable securities then valued at $31.844B and cash at $2.896B. A description of available for sale securities can be found at page 8:10-Q Debt maturities and coupons are described at page 13.
FINRA has the following rating information as of 6/10/16 (which do not reference the most current reports):
| | |
| --- | --- |
| Moody's Rating | Baa1 (04/28/2015) |
| Standard & Poor's Rating | A (04/28/2015) |
| Fitch Rating | BBB (10/08/2015) |
Fitch Affirms Amgen Inc.'s Ratings at 'BBB'; Outlook Revised to Stable (July 2015); Fitch Rates Amgen Inc. Swiss Franc Notes 'BBB'; Outlook Stable (February 2016); Moody's assigns Baa1 to Amgen's notes; stable outlook (May 2016);
Dividends: Amgen started paying a quarterly dividend in 2011: Amgen - Investors-Dividend Information The penny rate was then $.28 per share and is at $1 per share currently.
Recent Earnings Report: Amgen's First Quarter 2016 Revenues Increased 10 Percent To $5.5 Billion And Adjusted Earnings Per Share Increased 17 Percent to $2.9
Quotes from Press Release:
2016 Guidance
For the full year 2016, the Company now expects: Total revenues in the range of $22.2 billion to $22.6 billion and adjusted EPS in the range of $10.85 to $11.20. Previously, the Company expected total revenues in the range of $22.0 billion to $22.5 billion and adjusted EPS in the range of $10.60 to $11.00.
"Adjusted EPS grew 17 percent versus the first quarter of 2015 to $2.90 driven by higher revenues and higher operating margins.
Free cash flow was $1.8 billion compared to $1.4 billion in the first quarter of 2015 driven by higher revenues and higher operating income.
GAAP EPS were $2.50 compared to $2.11 and GAAP operating income was $2,402 million compared to $2,022 million.
During the first quarter, the Company repurchased 4.7 million shares of common stock at a total cost of $690 million. At the end of the first quarter, the Company had $4.2 billion remaining under its stock repurchase authorization
The adjustments related primarily to non-cash amortization of intangible assets acquired in business combinations."
The consensus E.P.S. forecast is currently $11.13 this year and $12.14 next year. AMGN Analyst Estimates That consensus estimate is based on ex-items.
At today's closing price of $152.99, the P/E based on the $12.14 estimate for 2017 is 12.6.
An important risk now for drug companies is political.
Disclaimer: I am not a financial advisor but simply an individual investor who has been managing my own money since I was a teenager. In this post, I am acting solely as a financial journalist focusing on my own investments. The information contained in this post is not intended to be a complete description or summary of all available data relevant to making an investment decision. Instead, I am merely expressing some of the reasons underlying the purchase or sell of securities. Nothing in this post is intended to constitute investment or legal advice or a recommendation to buy or to sell. All investors need to perform their own due diligence before making any financial decision which requires at a minimum reading original source material available at the SEC and elsewhere. A failure to perform due diligence only increases what I call "error creep".ERROR CREEP and the INVESTING PROCESS Each investor needs to assess a potential investment taking into account their personal risk tolerances, goals and situational risks. I can only make that kind of assessment for myself and family members
Disclosure: I am/we are long AMGN, PRHSX, VGHCX.