This topic was last updated here:Update For Portfolio Positioning And Management As Of 6/6/16 - South Gent | Seeking Alpha
My portfolio management goals are described in this 2014 post: Portfolio Management Goals-Snapshots of Performance Numbers YTD, 3 and 5 Years Cumulative.
Interest Rates:
After briefly flirting with a slightly less dovish stance, the Federal Reserve shelved that approach after a few weeks and adopted a dovish monetary policy on steroids: Federal Reserve issues FOMC statement--June 15, 2016
The Fed started this year anticipating up to 4 FF rate hikes and is now barely predicting one.
Last March, a majority cut that estimate down to 2 with only one Fed policymaker believing there would be only one .25% increase. As of June, 6 out 17 are predicting only one.
The FED also downgraded its real GDP growth forecast (top left hand corner):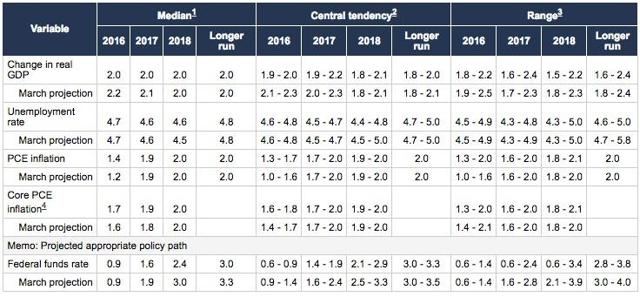 FRB: June 15, 2016: FOMC Projections materials
The Bond Ghouls lowered the odds of one .25% increase on or before February 1, 2017 at 27% as of last Friday.
U.S. treasury rates have been trending down during 2016. The ten year treasury was at 2.24% as of 1/4/16 and at 1.62% last Friday: Daily Treasury Yield Curve Rates
My response to this trend has been to buy about 2 investment grade corporate bonds per day over the past three weeks or so (criteria set out in several posts including in Item # 2. Bought 2 Enbridge 4% Senior Unsecured Bonds Maturing in 2023:Update For Exchange Traded Bond And Preferred Stock Basket Strategy As Of 6/17/16 - South Gent | Seeking Alpha)
At a 1.62% rate, money will double in about 43.3 years. That is the good news. The bad news is that it takes 43.3 years to double before taxes and unadjusted for inflation.
Inflation:
CPI increased .2% in May on a seasonally adjusted basis and was up 1% Y-O-Y without seasonal adjustments. Core CPI rose 2.2% Y-O-Y.
While energy costs are moving up monthly now, the headline number is still being dragged down heavily by energy prices Y-O-Y which is about to change: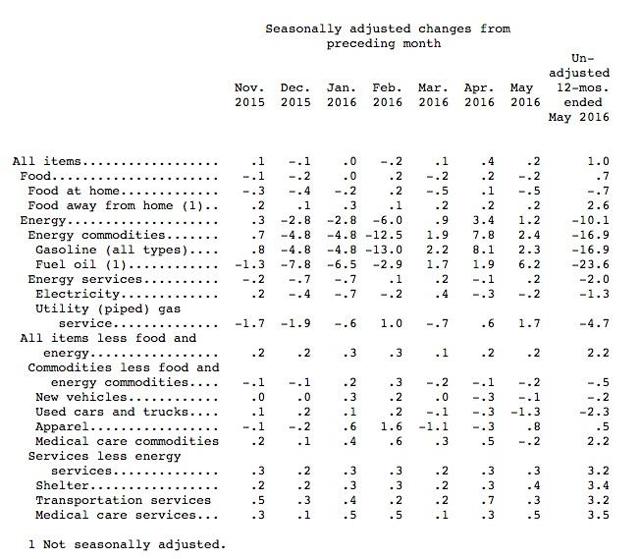 Consumer Price Index - May 2016
A number of important categories continue to show 3%+ annual rates of inflation:
Medical Care Services: 3.5% (Health Insurance: +6.3%; nursing homes +3.7%; hospital and related services +3.3%)
Rent of Primary Residence: +3.8% & Water, Sewer Trash Collection: +4.1% (part of shelter's 3.4% increase)
Transportation Services +3.2%
Recreation Services: +3.1%
College Tuition: +3.1%
Other Personal Services: +3.1% (financial services +3.9%; legal services 3.1%; haircuts and other personal care services +3.2%; laundry and dry cleaning services +3.15%)
Sourced: Table 2. Consumer Price Index for All Urban Consumers (CPI-U): U. S. city average, by detailed expenditure category
According to the Federal Reserve Bank of Cleveland, the median Consumer Price Index rose 0.3% (3.2% annualized rate) in May. The 16% trimmed-mean Consumer Price Index rose 0.2% (2.1% annualized rate) during the month.
Over the last 12 months, the median CPI rose 2.5%. Median CPI
The Sticky-Price CPI rose at an annualized rate of 2.7% last month. Sticky prices have been trending up since February 2014.
The Wage Growth Tracker shows that the three month average median wage growth was 3.5% through May.
Overall, U.S. inflationary pressures are increasing as interest rates decline to near historical lows.
Chart 10-Year Treasury Constant Maturity Rate 1962 to Present- St. Louis Fed
10 Year Treasury Rate by Year and Month Sinc 1871
The German 10 year government bond went into negative territory last week before climbing back above zero late in the week. Germany Generic Govt 10Y Yield
Swiss government bonds have negative yields out to almost 30 years: SIX Swiss Exchange - Yield Curves
Short term real interest rates remain solidly in negative territory in developed countries, and that is before taxes.
My response to increasing inflation and decreasing inflation expectations was implemented over a few days through the purchase of TIPs, with the first of many discussed here: The Mechanics Of Purchasing A TIP In The Secondary Market - South Gent | Seeking Alpha
I also made a purchase of an IBOND that does not have the TIP tax issue, as explained here: Buying IBonds Through Treasury Direct - South Gent | Seeking Alpha
These plays are in part dependent on inflation increasing at a meaningfully faster rate than the then current TIP break-even spreads (abnormally low) and the nominal treasury yields remaining subdued for awhile longer. Stocks, Bonds & Politics: Advantages and Disadvantages of Treasury Inflation Protected Securities (9/25/2009 Post)
If a 10 year treasury rises from a 1.6% to 3% rate, then the 10 year vintage TIP would decline in price and rise in its real coupon yield. The advantage of owning an individual TIP rather than a TIP fund is that I can hold onto maturity and receive the inflation accretion to principal amount.
China: I am not seeing any improvement in China or evidence that its problems are being allayed to any meaningful decree.
China Dumping More Than Treasuries as U.S. Stocks Join Fire Sale - Bloomberg
'Smoldering Bonfire' Shows Where Kyle Bass May Be Right on China - Bloomberg
China's Debt Bomb - Bloomberg QuickTake
I am seeing growing government protectionism being implemented that is designed to favor China's companies and to impede foreign companies competing for mainland China sales.
The latest example, which impacts Apple, is the bogus ruling finding that the design of the IPhone 6 infringes on a competitor's product which appears to be modeled on Apple's designs going way back in time. Apple Inc. Facing iPhone Sales Ban In China After Infringing Design Copyright The other recent actions undertaken by China to hobble Apple include the forced closure of ITunes Movies and Books. Apple Responds After China Shuts Down Its Film and Book Services | Billboard
There is no independent judiciary in places like China and Russia. The legal system is merely an instrument of state policy.
See also: Malicious: China Unplugs Apple And Disney - Forbes
Industrial Production:
"Industrial production decreased 0.4 percent in May after increasing 0.6 percent in April. Declines in the indexes for manufacturing and utilities in May were slightly offset by a small gain for mining. The output of manufacturing moved down 0.4 percent, led by a large step-down in the production of motor vehicles and parts; factory output aside from motor vehicles and parts edged down 0.1 percent. . . total industrial production in May was 1.4 percent below its year-earlier level. Capacity utilization for the industrial sector decreased 0.4 percentage point in May to 74.9 percent, a rate that is 5.1 percentage points below its long-run (1972-2015) average." Industrial Production and Capacity Utilization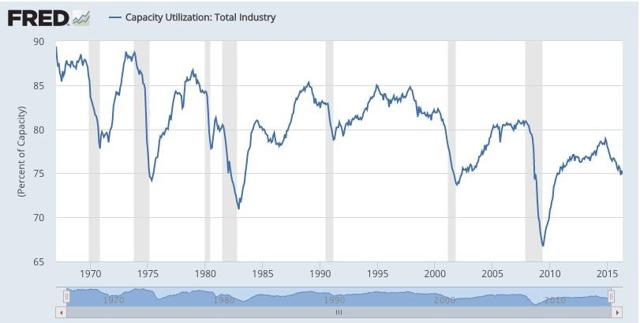 Capacity Utilization: Total Industry-St. Louis Fed
Brexit:
The European stock markets are surging this morning in response to polls showing that "remain" is slightly ahead of "leave" . Brexit polls show resurgence in 'remain' support - MarketWatch
I would note that the polls show only a slight edge in favor of remain.
I mentioned in my last portfolio update that I expected the U.K. to remain in the EU. Scroll to B. Brexit: Update For Portfolio Positioning And Management As Of 6/6/16 - South Gent | Seeking Alpha
I made there the following comment in response to a reader's question:
"The "leave" vote originates primarily from the EU immigration policies and could be viewed as the U.K. version of Donald Trump's immigration positions. There has been a strong influx of EU residents into the U.K, particularly from Eastern Europe, to take advantage of the U.K.'s welfare state and perceived better opportunities.
The problem about leaving is that trade and finance arrangements are tied up in EU treaties with other countries and the U.K. would have to start negotiating new agreements with just about everybody and that is potentially disruptive. The negative blowback would fall mostly on the U.K., but exporters to the U.K. could suffer as well.
I suspect that the stock market reaction to a successful leave vote will be based on fear and emotion. While the world's economy does not need a shock from any major country now, I see more serious problems than Brexit on the horizon."
++++++++++
Diversification and Ongoing Currency Debasement Scenario:
Precious metals are viewed by many investors as a worldwide currency that can not be devalued and debased by central banks and governments.
Central Banks in developed nations have adopted monetary policies specifically and intentionally designed to devalue their currencies in order to gain an export trade advantage.
Several CBs have implemented negative interest rate monetary policies that are in effect a government tax on deposits. It is a tax imposed by non-elected officials.
Depositors pay governments for the privilege of lending them money.
CB monetary policies are increasing the stature of precious metals among many investors as alternative currencies that are not subject to government debasement, devaluation or confiscation. Taxing deposits through the adoption of negative interest rates is merely one form of government confiscation of private savings.
Recently, I have been committing some funds to the Permanent Portfolio, a mutual fund that maintains a constant allocation to gold and silver bullion, as discussed in several recent posts:
Item # 1. Moving Back into The Permanent Portfolio (MUTF:PRPFX): Update For Portfolio Positioning And Management As Of 5/11/16 - South Gent | Seeking Alpha
Scroll to "C. Gold and Silver": Update For Portfolio Positioning And Management As Of 6/6/16 - South Gent | Seeking Alpha
On an inflation adjusted basis, gold is still below its peak hit in January 1980: Gold Prices - 100 Year Historical Chart | MacroTrends The parabolic price spike that started in 1971 and ended in 1980 ushered into being a 22 year bear market. The last bull cycle started in 2002 and ended in the 2011 summer after another parabolic price spike.
I last sold both silver and gold in September 2011 and January 2012.
The Road to Political Power: Lying Works/Recent Gold and Silver Sales (September 2011 with snapshots)
Snapshots of Coin Sales In January 2012
I last bought gold when the price was less than $400. My last silver bullion purchases were made when I bought one ounce U.S. Silver Eagles from a dealer at $7 per coin. I am partial to the Walking Liberty design of those coins that was originally used on the U.S. 90% silver half dollars minted between 1916-1947.
I have now elected to buy a really small amount of platinum through an ETF rather than a bullion purchase which requires more effort to sell and requires storage in a bank lock box.
The P.M. London fix for one Platinum once was at $968 last Friday:
Historical London Fix Prices - 2016 | Kitco
Canada produces a one ounce Maple Leaf platinum bullion coin: Platinum Maple Leaf Coin
Platinum ETF: Bought 10 PPLT at $93
Quote ETFS Physical Platinum Shares Fund (NYSEARCA:PPLT)
This ETF owns platinum bullion stored in a vault. ETFS Physical Platinum Shares (management fee=.6%)
Platinum Tax Data 12-31-15.pdf
PPLT SEC Filings; Platinum Trust 10-Q Original 2010 Prospectus (risk factors discussion starts at page 6); Platinum Trust S-3
Kitco: Live Gold Price, Silver Price and Spot Precious Metals Quotes and charts
Trade Snapshot: ($1 Commission)

I may buy more shares at lower prices but doubt that I will own more than the ETF equivalent of 5 platinum ounces.
The current platinum price is significantly below gold after being higher for several years. (April 2012 Forbes Article Titled:"Gold Becomes Pricier Than Platinum, That's Rare And Scary") As noted in that article, about 2/3rds of annual platinum production is consumed in industrial uses including catalytic converters. So platinum is more useful than gold but alas investors are not as fond of it as a currency alternative and is not as pretty as gold.
A recent article in ETF Trends that South Africa is the largest producer of platinum and has about 80% of the world's reserves. Investments in platinum production there have fallen from $3B (2008) to $1B in 2015 according to one report cited in that article.
The discount to gold's price has rarely been this high.
Gold P.M. London Fix 6/17/2016: $1290.7
Platinum P.M. London Fix 6/17/2016: $968
Difference: $322.7 per ounce
Platinum would have to increase 33.33% to equal gold's closing price from last Friday.
Historical London Fix Prices - 2016 | Kitco
The platinum spot price went over $2000 late in 2007 and went above $1800 when gold created at over $1900.
2. Prairie Sky Royalty: Rounded up to 50 shares at $18.33
Quotes:
CADs/Toronto: PrairieSky Royalty Ltd. (PSK:TOR)
USDs/U.S. Grey Market: PrairieSky Royalty Ltd. (OTC:PREKF)
Company Website: PrairieSky Royalty Ltd. (PrairieSky Royalty "owns the sub-surface mineral rights" and receives royalty revenues "from third-party development of petroleum and natural gas produced from its properties. It does not directly conduct operations to explore for, develop or produce petroleum or natural gas. As a result, PrairieSky Royalty incurs minimal or no operating costs, capital costs, environmental liabilities or reclamation obligations associated with petroleum and natural gas development." Royalty Revenues and Fee Simple Lands)
The shares started to trade in 2014 and went over C$42 during the 2014 summer: PrairieSky Royalty Ltd. Interactive Stock Chart Since then, the stock has seen a series of lower highs and lower lows. Hopefully, a bottom was put in near C$18 last February.
The CAD/USD was near .7785 when I bought the USD priced shares. Any rise in the CAD/USD above that level would cause the USD priced ordinary shares to outperform the ordinary shares priced in CADs.
I recently received one share of PrairieSky Royalty that was formerly owned by Canadian Resources (NYSE:CNQ) which had a legal obligation to lower its stake in PrairieSky. I currently own over 50 shares of CNQ.
What do you do with one share?
After researching the company, I decided to take the position up to just 50 shares by buying 49 shares.
I did not receive the Prairie Sky shares priced in CADs and traded in Toronto, possibly due to the fact that I owned the USD priced CNQ.
Instead I received one ordinary share priced in USDs that is traded on the U.S. Grey Market which is where I bought the other 49: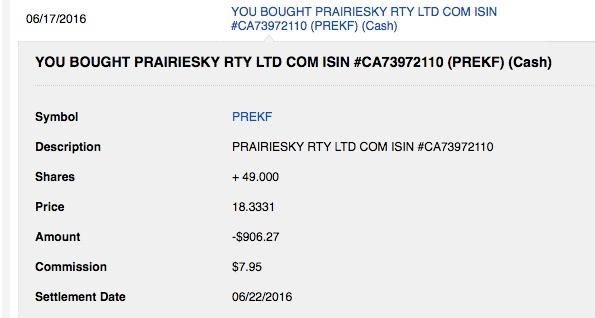 CNQ had sold a substantial portion of its fee simple royalty interests to PrairieSky for 44,444,444 of its shares and C$680M in cash. Canadian Natural Resources and PrairieSky Royalty Complete Royalty Business Combination As noted in that press release, CNQ was obligated to distribute to CNQ shareholders a sufficient number of shares to bring CNQ under a 10% ownership stake in PrairieSky.
The cash portion of the acquisition was funded by selling stock at C$25.2 in a private placement last December, slightly in excess of where the stock is selling now:
Closing Price 6/17/16: PSK.TO: C$23.65 +0.19 (+0.81%)
This company pays out most of its cash flow in monthly shareholder distributions. The current rate is $.06 monthly or at a $.72 annualized rate. Dividend Schedule
At that rate the yield is about 3.04% based on the C$23.65 price.
The Company paid out C$1.3 per share in 2015: 2015 Annual Report.pdf (page 3)
The dividend will be variable and will depend on energy prices and production.
Last Earnings Report: Q1-2016.pdf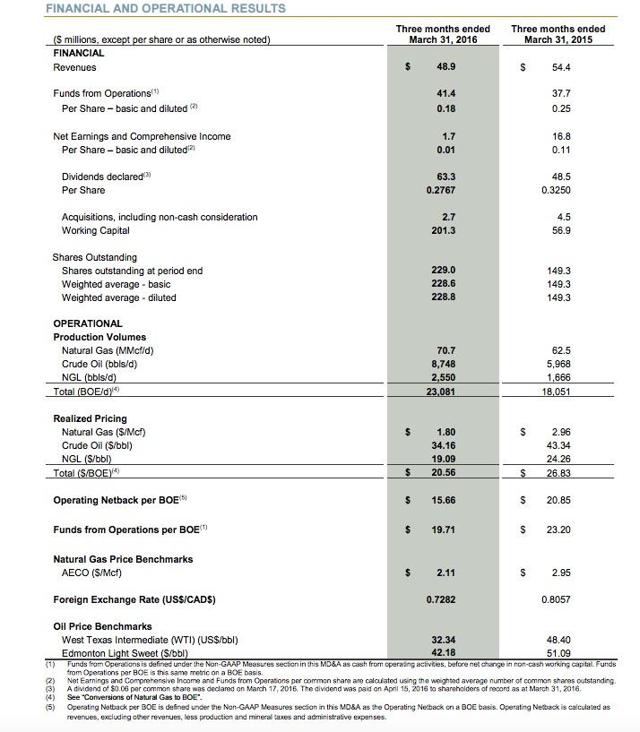 Besides giving my 1 share some company, this purchase is in part a play on the CAD rising in value against the USD and an improvement in energy prices and production (timing uncertain!).
Disclaimer: I am not a financial advisor but simply an individual investor who has been managing my own money since I was a teenager. In this post, I am acting solely as a financial journalist focusing on my own investments. The information contained in this post is not intended to be a complete description or summary of all available data relevant to making an investment decision. Instead, I am merely expressing some of the reasons underlying the purchase or sell of securities. Nothing in this post is intended to constitute investment or legal advice or a recommendation to buy or to sell. All investors need to perform their own due diligence before making any financial decision which requires at a minimum reading original source material available at the SEC and elsewhere. A failure to perform due diligence only increases what I call "error creep". Stocks, Bonds & Politics:ERROR CREEP and the INVESTING PROCESS. Each investor needs to assess a potential investment taking into account their personal risk tolerances, goals and situational risks. I can only make that kind of assessment for myself and family members.
Disclosure: I am/we are long PREKF, PPLT.