This topic was last updated here: Update For CEF Basket Strategy As Of 6/3/2016 - South Gent | Seeking Alpha
I view the closed end portfolio to be a balanced worldwide portfolio within a larger portfolio that includes individual stock and bond selections.
I place an emphasis on income generation and own a number of CEFs that pay monthly dividends.
I will change the weightings in the CEF portfolio based on my opinions about the balance between risks and rewards.
I have a lengthy discussion of bond CEF risks in the Appendix section to an earlier post:Update For Closed End Fund Basket Strategy As Of 8/14/15 - South Gent | Seeking Alpha(scroll to "General Risk Discussion for Leveraged Bond CEFs") I also discussed those risks here. I will not be repeating those discussions.
I discussed the factors impacting the dividend payout for leveraged closed end funds here:Update For CEF Basket Strategy As Of 10/14/15 - South Gent | Seeking Alpha (Scroll to APPENDIX: 1. Factors Impacting a Dividend Payout for Leveraged Closed End Bond Funds Using VKQ as an Example)
The CEF risk associated with a forced reduction in leverage at the most inopportune time, sort of like a margin call during a huge downdraft, is discussed in this post. Update For REIT Basket Strategy As Of 9/17/15 (scroll to RNP Presents a Good Historical Example of One Risk Inherent in Using Leverage)
Basket as of 6/15/16: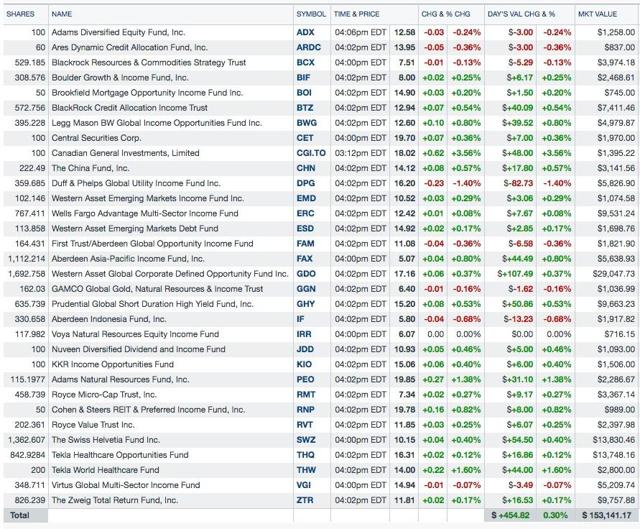 GDO was ex dividend today for its monthly $.1135 per share distribution. The Prudential Global Short Duration High Yield Fund (NYSE:GHY) was also ex dividend today for its monthly distribution of $.11 per share.
FAX, THQ and THW are ex dividend tomorrow (6/16) for their monthly distributions.
Other monthly dividend CEFs went ex dividend earlier this week or last week:
E.G.
Wells Fargo Multi-Sector Income Fund (NYSEMKT:ERC)
BlackRock Credit Allocation Income Trust (NYSE:BTZ)
BlackRock Resources & Commodities Strategy Trust (NYSE:BCX)
RVT and RMT were ex dividend for their quarterly distributions last week.
+++++++++++
With interest rates declining and the FED moving back to a super duper dovish on steroids monetary policy after flirting with a slightly less dovish stance, leveraged closed end bond funds continue to be a hold for me. Best just to go with the flow for now.
The Bond Ghouls now have the odds of one .25% FF increase on or before 2/1/2017 at 49%: Countdown to FOMC - CME Group
The USD lost value after the FED's announcement as one would expect but pared its losses later in the afternoon.
The Stock Jocks were mostly confused today with stocks rising and then tumbling into the close as the VIX spiked from a 18.63 intra-day low. Perhaps a less stellar economy is not so good for corporate profits after all, assuming one buys into the Fed's assessment.
Did Janet and Uncle Ben see the Near Depression coming until it was already upon the world? No.
DoubleLine's Gundlach: 'Rate-hike cycle has left the building' | Reuters
Closing Prices 6/15/16 (benchmarks for owned CEFs):
S & P 500 2,071.50 -3.82 (-0.18%)-VIX: 20.14 -0.36 (-1.76%): VOLATILITY S&P 500
TLT: $135.80 +0.52 (+0.38%): iShares 20+ Year Treasury Bond ETF
LQD: $120.92 +0.43 (+0.36%): iShares Investment Grade Corporate Bond ETF
JNK: $34.92 -0.04 (-0.11%): SPDR Barclays High Yield Bond ETF
TIP: 115.87 +0.50 (+0.43%): iShares TIPS Bond ETF - Yahoo! Finance
IBND: $32.85 +0.06 (+0.19%): SPDR Barclays International Corporate Bond ETF
EMB: $111.93 +0.44 (+0.39%): iShares J.P. Morgan USD Emerging Market ETF
EMHY: $48.06 +0.32 (+0.67%): iShares Emerging Markets High Yield ETF
EWL: $29.53 +0.11 (+0.37%): iShares MSCI Switzerland Capped ETF
IWC: $70.84 +0.07 (+0.10%) : iShares Microcap ETF & IWM: $114.56 +0.08 (+0.07%): iShares Russell 2000 ETF
+++++++++
1. Bought 100 CET at $19.68:
Trade Snapshot ($1 Commission-IB taxable account):

Security Description: Central Securities (NYSEMKT:CET) was one of the Closed End Funds formed prior to the October 1929 crash and managed to survive that Crash and the Great Depression. The leveraged CEFs perished including several that owned other leveraged CEFs, which is of course crazy, as recounted in J.K. Galbraith's seminal book The Great Crash 1929.
The fund will generally hold positions for a very long time. It is also unique in that its largest position is in the shares of a private company called Plymouth Rock, acquired for $.7M in 1982 and valued by CET at $113.7M as of 3/31/16. The fund has been paring that position starting in 2013 by selling shares back to Plymouth as discussed below in the dividend section.
Top Ten Holdings as of 3/31/16: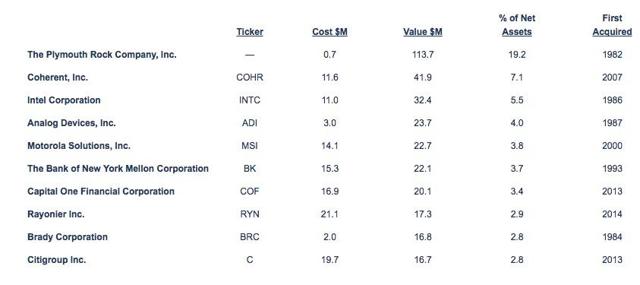 The expense ratio is .69%. The fund does not use leverage.
SEC Form N-Q (holdings as of 3/31/16)(cost= $360+M/Market Value=$592+M; "On March 31, 2016, the Corporation's only restricted security consisted of 28,424 shares of Plymouth Rock Class A stock that were acquired on December 15, 1982 at a cost of $710,600. This security had a value of $113,696,000 at March 31, 2016, which was equal to 19.2% of the Corporation's net assets. The Corporation does not have the right to demand registration of the Plymouth Rock shares.")
CET owns positions in Amazon (13K shares) and Alphabet (10K shares)
For the Amazon position, 3K were acquired in the 2014 4th quarter (page 9) and 10K shares were bought in the 2014 second quarter. AMZN Interactive Stock Chart
The 10K shares of Google were acquired in the 2015 second quarter. GOOG Interactive Stock Chart
Last SEC Filed Shareholder Report Period Ending 12/31/15: Form N-CSR (page 3: paid $45.43 per share in dividends since 1990/"Central's investment objective is long-term growth of capital. Our philosophy continues to be based on value investing combined with a policy of remaining generally fully invested." However, the fund held 9.4% in cash as of 12/31/15: page 11)
Dividends: Central Securities sold 35,000 shares back to Plymouth Rock in 2013 that netted $92,750,000 and led to a $3.4 per share long term capital gains distribution that year. 2013 Tax Notice.pdf
Dividends are paid semi-annually in June and December. The June dividend payment has been $.2 per share with December including capital gain distributions.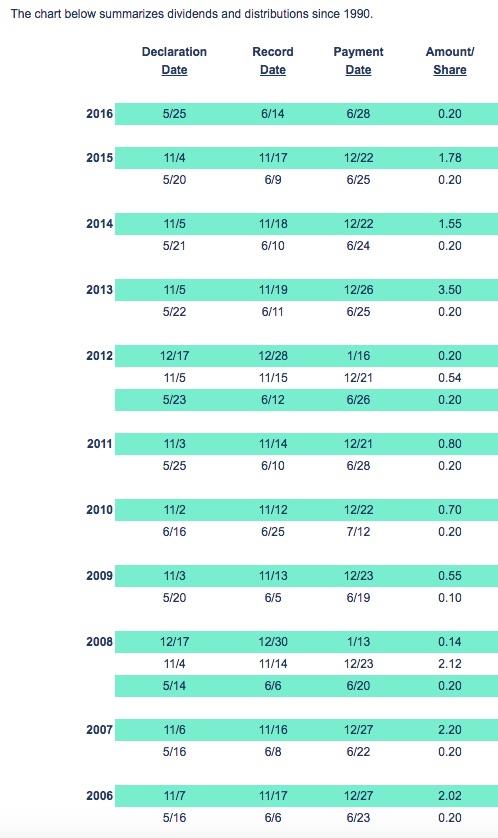 Tax Characterization of Historical Dividend Payments
CET reduced itst "Plymouth Rock holding in 2015, selling 6,000 shares back to the company."
These links provide more information about Plymouth Rock:
The Plymouth Annual Reports are interesting: 2015 Annual Report.pdf
Company Website: Central Securities Corporation
Discounts To Net Asset Value Per Shares: CET provides quarterly information on its discount going back to 1993. Central Securities Corporation
There have been times when this fund sold at greater than a 20% discount to net asset value while a purchaser in 1997 may have bought shares at a premium or a slight discount. There is just no way to predict reliably whether an investor may suffer an unrealized depreciation due solely to an expansion in the discount. This risk is mitigated some by buying at historically high discounts or at a greater discount than the three year average.
Data as of 6/14/16
Average Discounts:
1 Year: -19.34%
3 Year: -17.7%
5 Year: -17.72%
Sourced: CEF Connect
CET has the NAV based on last Friday's closing numbers. The then NAV per share was $24.59. Based on a closing price of $19.87, the discount was then -19.19%.
Morningstar Page for CET (rated 2 stars/no analyst report)
PRIOR TRADE: Item # 2 Sold 50 CET at $23.58 (10/3/13 Post)- BItem # 5 Bought 50 CET at $19.04 (11/21/2012)

I received $20 in dividends paid by that 50 share lot.
Disclaimer: I am not a financial advisor but simply an individual investor who has been managing my own money since I was a teenager. In this post, I am acting solely as a financial journalist focusing on my own investments. The information contained in this post is not intended to be a complete description or summary of all available data relevant to making an investment decision. Instead, I am merely expressing some of the reasons underlying the purchase or sell of securities. Nothing in this post is intended to constitute investment or legal advice or a recommendation to buy or to sell. All investors need to perform their own due diligence before making any financial decision which requires at a minimum reading original source material available at the SEC and elsewhere. A failure to perform due diligence only increases what I call "error creep". Stocks, Bonds & Politics:ERROR CREEP and the INVESTING PROCESS. Each investor needs to assess a potential investment taking into account their personal risk tolerances, goals and situational risks. I can only make that kind of assessment for myself and family members.
Disclosure: I am/we are long CET.