This topic was last updated here: Update For Portfolio Positioning And Management As Of 6/20/16 - South Gent | Seeking Alpha
My portfolio management goals are described in this 2014 post: Portfolio Management Goals-Snapshots of Performance Numbers YTD, 3 and 5 Years Cumulative.
Brexit: This vote will have some impact on my asset allocations as a U.S. based investor.
Brexit will make a FED increase in the FF rate unlikely through 2016 and into 2017. Interest rates will likely remain abnormally low for longer than even the Bond Ghouls expected prior to the vote.
Bonds, preferred stocks and leveraged bond CEFs become slightly more attractive to me under this scenario over the short term.
Over the past several weeks, I have maintained a steady allocation to leveraged bond CEFs and have rotated funds into investment grade corporate bonds (4 to 9 year maturities), TIPs and Canadian preferred stocks.
I have been buying investment grade corporate bonds maturing between 1/1/2020 and 12/31/2025. In that time frame, I am at least able to find investment grade corporate bonds with greater than 4% yields-to-maturity which is about as low as I will accept.
I would nornally be unwilling to accept a 4% to 5% YTM bonds maturing in 4 to 9 years, but my resistance has been worn down eight years into a CB Jihad Against the Saving Class.
Brexit Adds $380 Billion to Global Negative-Yielding Bond Pile - Bloomberg
I would be fine now, as in the pre-2008 days, with a 2 year treasury bill yielding 4% to 5%. Alas, that instrument has a yield significantly under 1%: Daily Treasury Yield Curve Rates Nothing is accomplished by complaining about low yields, and the investor has no choice but to play the hand that is dealt.
Given the increased risks of U.S. stagflation due to rising inflationary pressures and slower growth, however, I am not willing to go out further than 2025 given the interest rate risks longer term. I also have the ability to hold every bond that I bought to maturity and may be able to sell some bonds bought at discounts for profits well before the maturity dates in any event.
I am not likely to buy more TIPs, given their low current yields, but will continue to buy more intermediate term investment grade corporate bonds along with a few BB+ rated bonds as well. I will consider buying more Canadian preferred stocks on a downdraft as I did recently when buying back ENBPRF: 3. BOUGHT BACK 100 ENBPRF at C$13.45: Update For Exchange Traded Bond And Preferred Stock Basket Strategy As Of 6/17/16 - South Gent | Seeking Alpha
The lower for longer interest rate forecast and a slower growth world places a premium now on reasonably priced dividend growth stocks. The recent purchases of Amgen fall into that category.
What are the EU and UK implications?
Soros believes that Brexit makes an EU dissolution "practically irreversible". While I disagree with the certainty expressed in that opinion, the odds that the EU will not exist in its current form five years from now have increased substantially and may be somewhere near 50/50.
I would place a likely label on Scotland leaving the U.K., but that probably requires an another agreement between the U.K. and Scotland permitting a new referendum. Agreement between the Scottish Government and the United Kingdom Government on the referendum on independence for Scotland; Could Scotland inherit the UK's EU membership? - BBC News
The uncertainty created by Brexit will likely translate into more volatility caused by growing fears about the unknown and unknowable consequences.
The uncertainty about the future does have a factual basis. It remains to be seen whether the fear engendered by the uncertainty is overblown or even not fearful enough.
When people become nervous and apprehensive about the future, there is a natural tendency to move into a bunker type mentality, which results in less spending and more saving.
Over the short term, this will negatively impact GDP growth in a world where real GDP increases have been hard to generate. Slowing growth causes countries to favor domestic companies and to implement measures to disfavor foreign ones.
The competitive currency devaluations have been and continues to be one such technique used to bolster domestic exporters.
The more traditional measures would be the adoption of tariffs and legal or other measures to penalize foreign competitors and to favor domestic producers. China's recent efforts to hobble Apple are examples of the later.
This trend back toward 17th and 18th Century Mercantilism will at a minimum be unsettling and will become increasingly so when and if that trend gains more momentum. I have now included this trend as one of the underlying causes of the Unstable Vix Pattern.
We are now seeing in full bloom a populist reaction to the previous trend toward globalization and interconnectedness.
For the U.K. this will lead to more inflation, less growth, less influence, lower status for London as a world financial capital, and a lower currency over the next five years. And, it would be a really wild guess thereafter whether Little Britain will be better or worse off.
The British Pound suffered its worse one day drop in history last Friday.
It would be fitting now for the Conservative party to nominate Boris Johnson, one of the forces behind the leave vote, as PM. One of my deeply held convictions is that people are responsible for dealing with the consequences of their own actions. In a democracy, if the majority wants to jump off a cliff, they will take everyone else with them.
Another recent minor change in asset allocations was to increase my precious metal allocation. I own gold and silver bullion, so I will be hanging onto those assets. I did pare those assets in September 2011 and January 2012, and may opt to use the proceeds to buy back what I sold. That is still up in the air, however.
The net proceeds from those sales was $10,168.15, so that amount is available for new bullion buys. I could buy more silver and gold bullion with those proceeds than the bullion sold. Gold was over $1900 and silver around $42 when I sold in September 2011.
The Road to Political Power: Lying Works/Recent Gold and Silver Sales (snapshots=$4,845.9)
Item # 8 Snapshots of Coin Sales In January 2012 (snapshots=$5,322.25)
I am not a gold bug by any means. However, when I was 13, I bought my first U.S. minted gold piece when the spot price was $35 per ounce and the London fix from last Friday was $1315.8: Historical London Fix Prices - 2016 | Kitco
While everyone can argue about gold's "fair value", it is certain that a large number of human beings with money place a significant value on it.
And, by the way, what is the true value of a $20 bill acquired in 1964 now? Using my App developed by the Federal Reserve Bank of Minneapolis, it would take $153.53 to buy goods or services costing $20 in 1964 or one could use a daily calculator: Inflation Calculator: Daily CPI since 1913 Without trying to depress myself too much, I entered my birth date in that calculator and learned that it would take over $92K now to buy $10K worth of goods and services on the date of my birth.
Why gold may hit $1,500 by year's end-and it's not just about Brexit - MarketWatch
Gold is 33% overpriced, by this measure - MarketWatch
Gold's Fair Value: Bear Says $800, Bull Says $5,000 | ETF.com
Prepare for gold prices to plunge...as low as $350 - Jul. 30, 2015
Kass and Schiff Feud About Gold
I did buy gold, silver and platinum ETFs shortly before the Brexit vote, and have increased my allocation to the Permanent Portfolio that owns gold and silver bullion. Two of the bullion ETF buys are discussed below. I previously discussed the recent buys of the Platinum ETF PPLT and adding to the Permanent Portfolio mutual fund.
Platinum ETF: Bought 10 PPLT at $93: Update For Portfolio Positioning And Management As Of 6/20/16 - South Gent | Seeking Alpha
Item # 1. Moving Back into The Permanent Portfolio (PRPFX): Update For Portfolio Positioning And Management As Of 5/11/16 - South Gent | Seeking Alpha
Scroll to "C. Gold and Silver": Update For Portfolio Positioning And Management As Of 6/6/16 - South Gent | Seeking Alpha
Last Friday, PRPFX did decline but only by .13%. I view its portfolio allocations as a disaster tilted type portfolio design. In addition to gold and silver bullion, the fund has large allocation to U.S. treasuries, short term investment grade corporate bonds, REITs, and Swiss government bonds. I do not expect the fund to do well in stock bull markets unless gold, silver, and high quality bonds are moving up with stocks.
NEW HOME SALES:
New home sales declined to a seasonally adjusted annual rate of 551,000 in May. This was 6% below the revised April number of 586,000 but 8.7% above the May 2015 estimate. The adjusted median price of new houses was reported at $290,400. new home sales.pdf
Income Generation:
1. Added 50 ARCC at $14.15:
Business Development Corporations have been one of the most hated "bond-like" sectors over the past few years. The discounts to net asset values for externally managed BDCs have expanded to historically high levels. Investors have soured on those BDCs, in part due to a parade of dividend cuts and a persistent decline in net asset values per share among many of them even with the economy growing. What happens when the next recession comes back? Will the destruction in net asset values per share likely accelerate when the inevitable downturn happens? The only rational answer to that question is "YES".
It is no secret among long time readers that I view externally managed BDCs with disdain. Nonetheless, I will play occasionally in that sandbox hoping to harvest their dividend payments and to escape with a profit on the shares. That has been a most difficult task over the past year.
I simply view ARCC as one of the best externally managed BDCs. By "best", I am referring to the best of a bad bunch or one of the least rotten apples.
Trade Snapshot:

Vanguard Roth IRA History for ARCC: The following snapshot highlights my trading strategy for BDCs. The goal is to harvest several dividend payments and to sell the position at whatever profit is available thereby adding to my total return.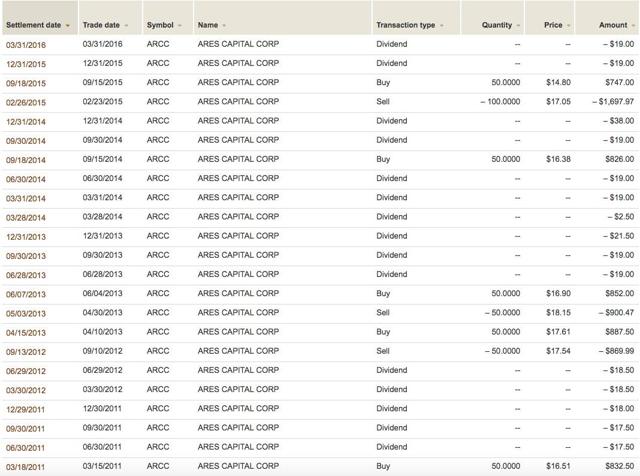 The last two purchases were made at the lowest prices since I started to buy ARCC in this account. Lower is better than higher.
This last purchase was an average down. My prior purchase, as shown in this snapshot, was at $14.8 and was discussed here:
Item # 1. Bought 50 ARCC at $14.8-Roth IRA: Update On Portfolio Positioning And Management As Of 9/21/15 - South Gent | Seeking Alpha
2015 Annual Report (risk discussion starts at page 31 and ends at 56)
Net Asset Value Per Share Trends (Better than most externally managed BDCs and some internally managed ones):
3/31/05: $14.96
9/30/2007: $15.74
6/30/2008: $12.83 10-Q
6/30/2010: $14.11
3/31/12: $15.47
9/30/13: $16.35
12/31/14: $16.82
3/31/16: $16.5
Sourced: EDARCC 10-Q Filings (randomly selected periods)
Last Earnings Report: SEC Filed Press Release


10-Q for Q/E 3/31/16 (list of investments start at page 5)
Prior Round-Trip Trades: So far, I have been successful generating a profit on the shares.
I eliminated by ARCC position in April 2015 by selling 100 shares at $17.2: SOLD 100 ARCC at $17.195 (4/28/15 Post)(profit snapshot=$116.36)- Bought 50 ARCC at $15.41-A Typical Small Lot Purchase Of An Externally Managed BDC Stock - South Gent | Seeking Alpha and Item # 3 Bought: 50 of the BDC ARCC at $16.17 (1/21/11 Post)
Other "successful" trades are discussed in these posts: Sold 100 ARCC at $17.54-IRAs in Two 50 Share Lots (9/13/12 Post)-Item # 4 Added 50 ARCC at $16.9-Regular IRA (5/21/11 Post) and Item # 3 Bought 50 ARCC at $16.89 (12/3/2010 Post); Item # 3 Sold100 ARCC Roth IRA at $17.05 (2/25/15 Post)(profit snapshot=$17.05 plus $157 in dividends).
This last purchase at $14.15 is the lowest price that I have paid for ARCC shares. I am pleased that I did not ride down those other purchases to $14.15. I at least have a better chance now to escape at a profit.
Recent News: Ares Capital Corporation to Acquire American Capital, Ltd in Transaction Valued at $3.4 Billion; Ares Management to Provide Financial Support to Ares Capital Corporation for Its Acquisition of American Capital, Ltd.
Ares Capital Corporation to Lead First $1 Billion Unitranche Credit Facility to Support Thoma Bravo's Acquisition of QLIK Technologies; Qlik Announces Agreement to be Acquired by Thoma Bravo for $30.50 Per Share
Moody's: Energy exposures could present capital and liquidity challenges for business development companies
Recent SA Articles: Ares-American Capital Merger Positive For Long-Term Investors; Shaking Things Up: Ares Capital And American Capital Combine
2. SOLD 100 CJR.B at C$13.19:
Profit Snapshot: C$118

I am keeping the ordinary shares priced in USDs.
Item # 2. Bought 100 CJREF at USD$9.68 (using commission free trade at Fidelity) and 100 CJR.B at C$11.99 (C$1 Commission in IB account): Update For Portfolio Positioning And Management As Of 6/6/16 - South Gent | Seeking Alpha
Since I am not willing to increase my stock allocation at the moment, I had to sell something in the IB account to buy 5 more AMGN shares last Friday.
3. Added 50 REM at $10.02: This ETF owns mortgage REITs. I am not a fan.
Trade Snapshot ($1 Commission):

Quote: iShares Mortgage Real Estate Capped ETF (REM)
REM Still A Good Source Of Double-Digit Yields, But There Are Some Risks - iShares Mortgage Real Estate Capped ETF (NYSEARCA:REM) | Seeking Alpha
Sponsor's website: iShares Mortgage Real Estate Capped ETF | REM (expense ratio=.48%/38 holdings)
Top Holdings and Weightings as of 6/23/14: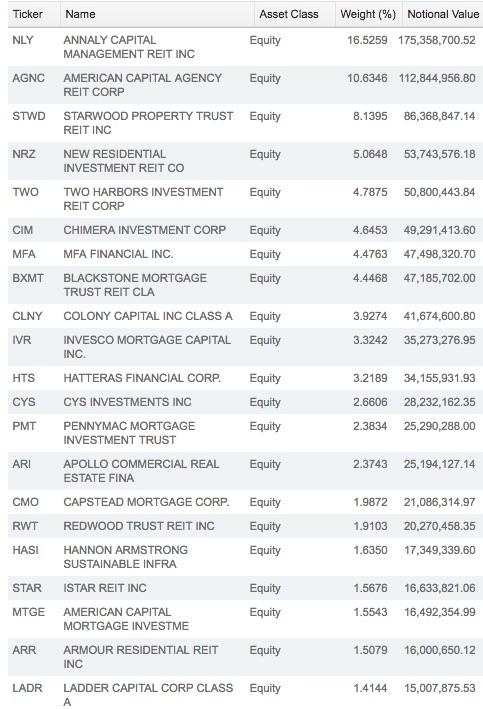 I own a minor amount of NLY shares in a Roth IRA where I am reinvesting the dividend. I am up to about 150 shares originating from a 100 share purchase.
The dividend amount has trended down due to the well known dividend cuts by mortgage REITs. REM's quarterly was $.527+ per share in the 2013 second quarter and the last quarterly dividend was $.274+ per share.
If I assumed that the quarterly penny rate will be $.27 per share over a one year period, the dividend yield would be 10.78% based on a constant cost per share of $10.02. There is really no way to know whether that penny rate will be close to the actual number, too low or too high.
As with BDCs, I will rent mortgage REITs to generate income and to hopefully escape at some point with any profit on the shares which I view as a good result. And, that is no easy task, far easier said than done, for mortgage REITs.
10 Year Charts:
TWO Interactive Stock Chart (since 2009)
++++
Gold, Silver and Platinum:
The precious metal bullion ETFs provided a cushion last Friday for long stock investors.
GLD: $126.01 +5.90 (+4.91%): SPDR Gold Trust
SLV: $16.89 +0.40 (+2.43%): iShares Silver Trust
PPLT: $94.53 +1.75 (+1.89%): ETFS Physical Platinum Shares
I expected gold to go up more than silver or platinum in response to Brexit. I do view platinum as undervalued in relation to gold. However, platinum has more of an industrial use and consequently its price may be influenced by investor perceptions that industrial demand may slacken due to weakening growth.
1. Bought 20 GLD at $120.79 and 50 SLV at $16.43:
Trade Snapshots ($1 Commissions):


Note the dollar weighting in favor of GLD which I expected to outperform SLV in the event of a successful leave vote.
+++++++++
Regional Banks:
Carnage was visited on bank stocks last Friday. The European banks were smashed far worse their U.S. counterparts:
RBS: $5.43 -2.06 (-27.50%): Royal Bank of Scotland Group
BCS: $8.89 -2.29 (-20.48%): Barclays PLC
ING: $10.18 -2.37 (-18.88%): ING Group, N.V.
DB: $14.72 -3.12 (-17.49%): Deutsche Bank AG
SAN: $3.83 -0.97 (-20.21%): Banco Santander, S.A
CS: $11.51 -2.21 (-16.11%): Credit Suisse Group
BNP.PA: €39.40 -€8.30 (-17.40%): BNP PARIBAS
That is just amazing. Maybe the OG will buy 20 or 30 share in the IB account of this or that as an alternative to a casino visit this month.
As chronicled in my regional bank basket updates, I have been selling U.S. regional stocks for a few weeks now. My selling was due to an opinion that net interest margins would remain under pressure through 2016. It would be reasonable to forecast continued NIM pressure into 2017 now.
The wild card remains whether inflation will increase sufficiently to cause the FED to increase rates significantly faster and higher than currently anticipated by the market which is now predicting no rate increase. The Bond Ghouls currently place a 24.1% chance of one .25% increase on or before 2/1/17, down from 42.6% last Thursday: Countdown to FOMC - CME Group
While the spreads between the cost of funds and yields on investments will remained constrained, several bank stocks were smashed in price last Friday. Some bank stock went down over 10%, with 6% to 10% one day declines being relatively common common. The regional bank ETF KRE declined by 7.25% in just one day.
Valuations are consequently more reasonable, even with a tough operating environment, and dividend yields increased significantly.
I will consequently be looking around for adds starting next Monday, but would like to see further declines.
When faced with increasing uncertainty and risk, I generally fall back on my usual trading strategy where I attempt to play volatility by buying in small increments (usually 50 share lots) into significant declines and then selling my highest cost shares on pops.
As I mentioned in a comment to my last regional bank update, I will focus on buying back lots recently sold at higher prices. Last Thursday, I sold 100 UVSP at $21.08 and would be looking for an opportunity to buy back 50 within a $19 to $19.5 range and the other 50 at lower than $18.5.
Similarly I recently sold a 50 share lot of ONB and would consider buying that lot back at less than $11.75:
ONB: $12.19 -0.83 (-6.37%): Old National Bancorp
6. Sold 50 ONB at $13.05-Roth IRA: Update For Regional Bank Basket Strategy As Of 6/6/16 - South Gent | Seeking Alpha (I also discuss here selling CZNC, LBAI, MSFG, LSBG-regrettable)
I usually play this kind of volatility on a day to day basis as I go with the flow.
Amid the carnage last Friday, I did have two small Maine based banks increase in price:
BHB: $36.10 +0.63 (+1.78%): Bar Harbor Bankshares
The First Bancorp (NASDAQ:FNLC) increased its dividend last week: The First Bancorp Increases Quarterly Dividend to 23 Cents per Share
FNLC Last Discussed Here: 6. Added 50 FNLC at $18.1-Update For Regional Bank Basket Strategy As Of 1/28/16 - South Gent | Seeking Alpha
BHB Last Discussed Here on the Merits: 1. Added 50 BHB at $31.61: Update For Regional Bank Basket Strategy As Of 5/18/16 - South Gent | Seeking Alpha
Disclaimer: I am not a financial advisor but simply an individual investor who has been managing my own money since I was a teenager. In this post, I am acting solely as a financial journalist focusing on my own investments. The information contained in this post is not intended to be a complete description or summary of all available data relevant to making an investment decision. Instead, I am merely expressing some of the reasons underlying the purchase or sell of securities. Nothing in this post is intended to constitute investment or legal advice or a recommendation to buy or to sell. All investors need to perform their own due diligence before making any financial decision which requires at a minimum reading original source material available at the SEC and elsewhere. A failure to perform due diligence only increases what I call "error creep". Stocks, Bonds & Politics:ERROR CREEP and the INVESTING PROCESS. Each investor needs to assess a potential investment taking into account their personal risk tolerances, goals and situational risks. I can only make that kind of assessment for myself and family members.
Disclosure: I am/we are long ARCC, CJREF, GLD, SLV, REM, UVSP, ONB, FNLC, BHB.