This topic was last updated here: Update For Regional Bank Basket Strategy As Of 6/22/16 - South Gent | Seeking Alpha
My net realized gain in this basket strategy currently stands at $27,532.6 (small lot trades): REGIONAL BANK BASKET STRATEGY GATEWAY POST I started to build this basket in the 2009 Spring.
Snapshots of round trip trades can be found at the end of that post.
Over the life of this basket strategy, I anticipate that dividends will generate about 40% of my total return. Over the past 4 years ending 12/31/15, dividends have averaged $1,939.37 per year.
The dividend yield of this basket is significantly in excess of the yields provided by regional bank ETFs that include a large number of low yielding stocks and several that pay no dividends.
Charge-offs for regional banks are near historical lows in the aggregate and NPL's have been mostly trending below 1% for the banks that I will buy as part of this basket strategy. Loans and deposits are increasing at favorable percentages. The problem remains NIM contraction and that problem is likely to get worse based on recent interest rate movements.
As noted in my last update, I have been paring my exposure to regional banks some given the near term outlook for net interest margins.
FRB: FEDS Notes: Why Are Net Interest Margins of Large Banks So Compressed?
For comparison purposes only, I have included two regional bank ETFs in the following snapshot. I will occasionally trade KRE, but I do not currently own it or any other regional bank ETF. The ETFs in this sector have low dividend yields.
KRE closed at $40.57 on 6/23, the day before the Brexit vote, and declined to a $37.99 close last Friday.
The ten year treasury note closed at 1.74% on 6/23 and at 1.46% last Friday. Daily Treasury Yield Curve Rates The ten and thirty year treasuries hit all time lows last week. Fox Business
Bond like stocks went up in price and down in yield as well.
Both the Vanguard Utilities ETF (NYSEARCA:VPU) and the Vanguard REIT ETF hit all time highs last Friday.
The dividend yield shown in the table below is based on the then current market price rather than my total cost per share.
I am not tracking shares purchased with dividends in this table. When I sell shares, the profit and/or loss numbers will include any shares purchased with dividends, as shown in Item # 1 below.
Basket as of 7/1/16: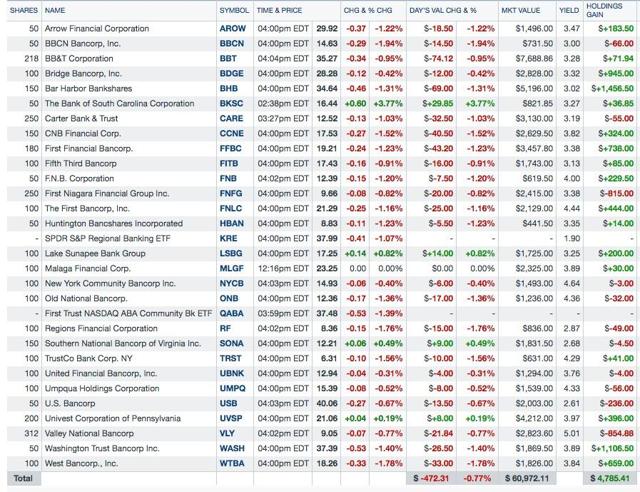 Closing Price for KRE 7/1/16: KRE: $37.99 -0.41 (-1.07%): SPDR S&P Regional Banking ETF
My unrealized gain took a hit since my last update and remains concentrated in 5 positions: 50 shares of WASH; 100 shares of BDGE, 100 shares of FNLC, 180 shares of FFBC, and 150 shares of BHB.
Rationale for Trades: The decline in interest rates over the past few months means that the operating environment for banks has gotten tougher. Net interest margins will likely remain under pressure through 2016 and into 2017. I am anticipating that credit conditions will continue to tighten for businesses due in large part to NIM contraction.
Net Percentage of Domestic Banks Tightening Standards for Commercial and Industrial Loans to Large and Middle-Market Firms - -St. Louis Fed
Net Percentage of Domestic Banks Tightening Standards for Commercial and Industrial Loans to Small Firms-St. Louis Fed
Tightening of loan standards generally precedes a recession as shown in those charts.
I am responding by downsizing the size of this basket.
In the same vein, I eliminated my recently acquired 40 share stake in the Vanguard Financials ETF (NYSEARCA:VFH):

There are several countervailing considerations. Almost nothing is either black or white, but more of A continually changing shades of grey.
The most important is the dividend yields shown in the preceding basket snapshot that significantly exceed U.S. treasury note yields, and some bank stocks have some dividend growth prospects notwithstanding the tough and growing tougher operating environment.
Last week, several banks received approval from the Federal Reserve to increase their quarterly dividends. The large banks have to submit annually a Comprehensive Capital Analysis and Review ("CCAR") for the FED's approval.
I will just note the ones that I currently own:
U.S. Bancorp Receives Results of Comprehensive Capital Analysis and Review; Federal Reserve Did Not Object to Company's Capital Distribution Plan ("The Company expects to recommend a third quarter dividend of $0.28 per common share, a 9.8 percent increase over the current dividend rate.")
BB&T announces Federal Reserve's response to its CCAR capital plan (" The capital actions include a recommendation to increase the quarterly dividend $0.02 to $0.30, a 7 percent increase. This action will be considered by the board at its July 26 meeting.")
Huntington Bancshares Receives No Objection From the Federal Reserve for Proposed Capital Actions, Including an Increase of the Quarterly Dividend to $0.08 per Common Share in the 2016 Fourth Quarter ("These actions included a 14% increase in the quarterly dividend per common share to $0.08, starting in the fourth quarter of 2016")
Fifth Third Announces 2016 CCAR Capital Plan ("increase in the quarterly common stock dividend to $0.14 in 4Q 2016").
I would note that the dividend increases noted in the capital plans are expectations.
I am also reluctant to pare more since the U.S. economy and loan demand are still growing. And, interest rates could conceivably surprise (shock?) the market by increasing materially due to higher than currently expected GDP and inflation growth.
At the current time, I am more reluctant to buy due to the increasing risks of further NIM contraction and a cyclical low in net-charge offs and non-performing loans.
+++++++
1. Sold 101+ of 300+ UVSP at $21.08:
UVSP closed its acquisition of Fox Chase: Univest - Mergers & Acquisitions.
Quote: Univest Corp. of Pennsylvania (UVSP:NASDAQ)
Last Discussed: Item # 1. Sold 50 of 350 UVSP at $20.63: Update For Regional Bank Basket Strategy As Of 6/22/16 - South Gent | Seeking Alpha
Trade Snapshot:

Profit Snapshot: $146.8

This leaves me with 200 shares bought in the open market plus shares purchased with dividends. Those shares are held in a satellite taxable account:
Item # 1. Added 50 UVSP at $19.15-Satellite Taxable Account: Update For Regional Bank Basket Strategy As Of 2/20/16 - South Gent | Seeking Alpha
Bought 50 UVSP at $18.8 (7/28/14 Blog)
I did not discuss the purchase of a 100 share lot, which I still own:

That purchase was made during my long vacation from blog writing in 2015.
Total Trading Gains= +$453.88
More than half of my total UVSP trading gains originated from a 50 share flip: Item # 3 Sold UVSP at $20.5 (July 2013 Post)(snapshot of profit=$253.1)-Bought 50 UVSP at $15.1 (March 2012 Post)
I currently have a positive view of the Fox Chase bank acquisition and will continue holding my remaining UVSP position.
2. Eliminated LARK: I owned 50 shares in two different taxable accounts.
Quote: Landmark Bancorp Inc. (NASDAQ:LARK)
Sold 50 at $25.27: IB Account
Profit: $37.62

Sold 50 at $25.40: Vanguard Taxable

Item # 1. Bought Back LARK at $24.48 and $24.15: Update For Regional Bank Basket Strategy As Of 4/8/16 - South Gent | Seeking Alpha
Company Description: Landmark Bancorp Inc. (NASDAQ:LARK) is a bank holding company that operates through its wholly owned subsidiary Landmark National Bank.
Landmark National Bank has 29 branches in 23 Kansas communities. Corporate Profile
LARK owns its main office building and 25 of its branches. The market cap at a $25.27 share price is almost $91.7M.
Trading Profits to Date= $469.13
Prior Trades:
Item # 3 SOLD 52 LARK at $18.75 (1/9/2012 Post)(profit +$91.89)-Item # 5 Bought 50 LARK @ 16.6 (5/2/2011 Post)
Item # 4 Sold: 50 LARK at $23.5 (6/28/14 Post)(+$174.07 Post)-Item # 3 Bought 50 LARK at $19.7 (1/13/14 Post)
Sold 50 LARK at $22.42 (9/14/2014 Post)(Profit $117.08)-Bought 50 LARK at $19.76 (7/28/14 Post)
Disclaimer: I am not a financial advisor but simply an individual investor who has been managing my own money since I was a teenager. In this post, I am acting solely as a financial journalist focusing on my own investments. The information contained in this post is not intended to be a complete description or summary of all available data relevant to making an investment decision. Instead, I am merely expressing some of the reasons underlying the purchase or sell of securities. Nothing in this post is intended to constitute investment or legal advice or a recommendation to buy or to sell. All investors need to perform their own due diligence before making any financial decision which requires at a minimum reading original source material available at the SEC and elsewhere. A failure to perform due diligence only increases what I call "error creep".ERROR CREEP and the INVESTING PROCESS Each investor needs to assess a potential investment taking into account their personal risk tolerances, goals and situational risks. I can only make that kind of assessment for myself and family members
Disclosure: I am/we are long UVSP.