This topic was last updated here: Update For CEF Basket Strategy As Of 6/15/16 - South Gent | Seeking Alpha
I view the closed end portfolio to be a balanced worldwide portfolio within a larger portfolio that includes individual stock and bond selections, ETFs, ETNs and mutual funds.
I place an emphasis on income generation and own a number of CEFs that pay monthly dividends. The CEF basket is currently bond heavy.
I will change the weightings in the CEF portfolio based on my opinions about the balance between risks and rewards.
I have a lengthy discussion of bond CEF risks in the Appendix section to an earlier post:Update For Closed End Fund Basket Strategy As Of 8/14/15 - South Gent | Seeking Alpha(scroll to "General Risk Discussion for Leveraged Bond CEFs") I also discussed those risks here. I will not be repeating those discussions.
I discussed the factors impacting the dividend payout for leveraged closed end funds here:Update For CEF Basket Strategy As Of 10/14/15 - South Gent | Seeking Alpha (Scroll to APPENDIX: 1. Factors Impacting a Dividend Payout for Leveraged Closed End Bond Funds Using VKQ as an Example)
The CEF risk associated with a forced reduction in leverage at the most inopportune time, sort of like a margin call during a huge downdraft, is discussed in this post. Update For REIT Basket Strategy As Of 9/17/15 (scroll to RNP Presents a Good Historical Example of One Risk Inherent in Using Leverage)
With interest rates declining and the FED moving back to a super duper dovish on steroids monetary policy after flirting with a slightly less dovish stance, leveraged closed end bond funds continue to be a hold for me. Best just to go with the flow for now.
Even after the robust jobs report released last Friday, the Bond Ghouls have the odds of one .25% FF increase on or before 2/1/2017 at 1.1%: Countdown to FOMC - CME Group
Bonds rallied along with stocks last Friday:
LQD: $124.39 +0.68 (+0.55%): iShares Investment Grade Corporate Bond ETF
IEF: $113.83 +0.25 (+0.22%): iShares 7-10 Year Treasury Bond ETF
BABS: $67.59 +0.22 (+0.33%) SPDR Nuveen Barclays Build America Bonds ETF
IBND: $32.62 +0.03 (+0.08%): SPDR Barclays International Corporate Bond ETF
JNK: $36.08 +0.49 (+1.38%) : SPDR Barclays High Yield Bond ETF
EMB: $116.31 +0.87 (+0.75%): iShares J.P. Morgan USD Emerging Market Bond ETF
EMHY: $49.53 +0.19 (+0.39%): iShares Emerging Markets High Yield Bond ETF
Basket as of 7/8/16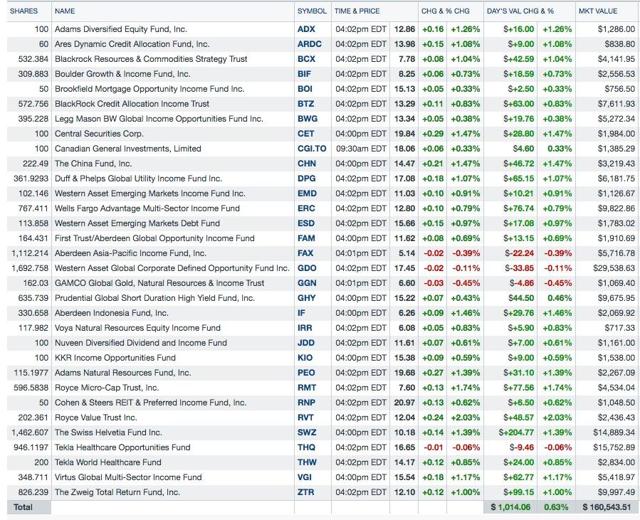 I intend to pare my largest CEF position, the Western Asset Global Corporate Defined Opportunity Fund Today (NYSE:GDO), within the next year. While the fund was down last Friday, the position did gain almost $500 since my last update and is paying a $.1135 per share monthly dividend. GDO-CEF Connect GDO is a term bond and will liquidate on or about 12/2/2024. WA Global Corporate Defined Opportunity Fund Inc. | Legg Mason
1. Added 100 THQ at $16.66:
Quote: Tekla Healthcare Opportunities Fund (NYSE:THQ)
Tekla is a leveraged closed end fund that owns securities issued by healthcare companies including common and traditional preferred stocks, convertible preferred stocks and bonds, and plain vanilla bonds. It is a balanced fund.
Trade Snapshot: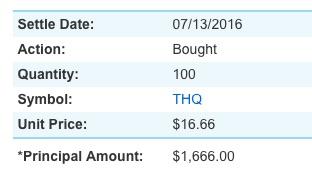 It has been awhile since I last discussed this balanced CEF that is weighted in healthcare stocks.
Last Purchases: 2. Added 100 THQ at $17.02: Update For CEF Basket Strategy As Of 12/30/15 - South Gent | Seeking Alpha and Update For CEF Basket Strategy As Of 10/30/15 - South Gent | Seeking Alpha (Scroll to 4. Added 50 THQ at $17.09)
After those purchases, THQ went ex dividend for a year end distribution of $.4149 per share. Tekla Healthcare Opportunities Fund Declares Monthly Cash Distribution
The fund has also been paying a monthly dividend of $.1125 per share. The next ex dividend date is 7/14/16: Tekla Healthcare Opportunities Fund Declares Monthly Cash Distribution I have been reinvesting the dividend.
The fund will need short and long term capital gains to support most of that payout.
Data Date of Trade (Friday 7/8/16)
Closing Net Asset Value Per Share: $18.82
Closing Market Price: $ $16.65
Discount: - 11.53%
Sourced: THQ Tekla Healthcare-CEF Connect
The net asset value per share went up $.2 or 1.07+%, while the market price declined by one cent.
Last SEC Filed Shareholder Report: Semi-Annual for the Period Ending 3/31/16

One Year Charts of TOP 5 Holdings Identified Above:
Weightings by Asset Category as of 3/31/16:
Convertible Preferred Stock: .6%
Preferred Stock: 1.6%
Mandatory Convertible Preferred Stock: 2.1%
Convertible Notes: 6.3%
Plain Vanilla Bonds: 13.8%
Common Stocks and Warrants: 94.1%
Cash/Short Term Instruments: 11.5%
The weightings as of 3/31/16 exceed 100% due to the fund's leverage.
The common stock allocation includes REITs that own healthcare properties (prices as of 3/31/16):

The fund had a net unrealized loss as of 3/31/16 of $76.274M largely due to the biotech stocks being shellacked prior to that date. There was then an accumulated net realized gain of $18.12+M.
Disclaimer: I am not a financial advisor but simply an individual investor who has been managing my own money since I was a teenager. In this post, I am acting solely as a financial journalist focusing on my own investments. The information contained in this post is not intended to be a complete description or summary of all available data relevant to making an investment decision. Instead, I am merely expressing some of the reasons underlying the purchase or sell of securities. Nothing in this post is intended to constitute investment or legal advice or a recommendation to buy or to sell. All investors need to perform their own due diligence before making any financial decision which requires at a minimum reading original source material available at the SEC and elsewhere. A failure to perform due diligence only increases what I call "error creep". Stocks, Bonds & Politics:ERROR CREEP and the INVESTING PROCESS. Each investor needs to assess a potential investment taking into account their personal risk tolerances, goals and situational risks. I can only make that kind of assessment for myself and family members.
Disclosure: I am/we are long THQ.