This topic was last update here: Update For Healthcare Basket Strategy As Of 7/6/16 - South Gent | Seeking Alpha
In a world that finds anemic growth hard to achieve and where trillions are tied up in instruments guaranteed to lose money, the healthcare sector provides some opportunities for growth at reasonable prices.
The healthcare sector will benefit from an aging population coupled with a growing pot of money made available by governments and insurance companies to pay for healthcare.
It is no accident that healthcare costs started to increase at a faster rate than inflation when the cost of healthcare services was de-linked from an individual's responsibility to pay for that cost. (e.g. passage of Medicare/Medicaid and widespread adoption of private employer funded health insurance)
Health Care Inflation: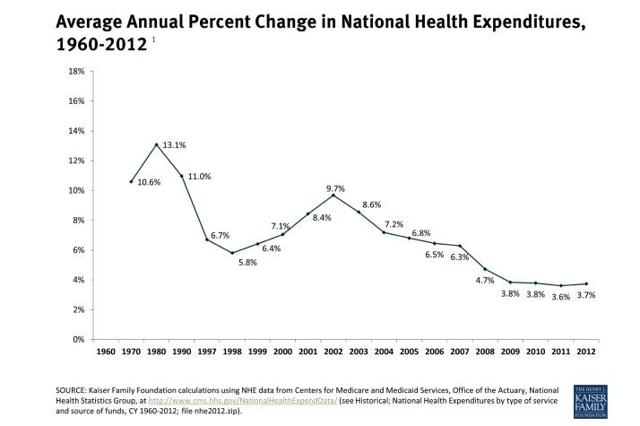 The government reported that health insurance premiums rose 7% Y-O-Y through last June. Table 2. Consumer Price Index for All Urban Consumers (CPI-U): U. S. city average, by detailed expenditure category (scroll to "medical services" category)
I have been selling financial stocks and rotating the proceeds into healthcare stocks and funds over the past several weeks. The paring of my regional bank basket started in late May and has continued to date.
Basket as of 7/15/16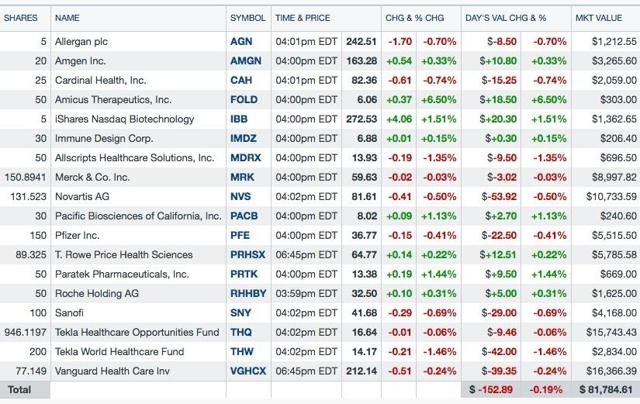 I am gradually taking this basket up to $150K.
+++++++++++
I have previously mentioned that I will be buying small lots of several speculative issues as part of this basket. My total out-of-exposure for each speculative stock will be less than $1K.
Currently, I am focusing on microcap biotech companies whose share prices have been shellacked and who at least have a chance to succeed with one or more pipeline drugs. In other words, a primary pipeline drug has not yet failed in trials.
These companies are unprofitable now and are likely to remain so for the foreseeable future. They are burning cash in their research and development activities and may need to raise cash through equity offerings at prices lower than the current ones. Paratek, discussed in Item # 1, recently sold stock that knocked the market price down.
I have no training or knowledge that would enable me to even make an educated guess whether the pipeline drugs will be approved by the FDA or the potential revenues and profits flowing after such approval.
A failure of one or two pipelines drugs could result in a bankruptcy filing and a zero price for the stock. If I buy NVS or MRK, my downside risk is far from zero.
Each of these companies have something cooking that interested me however.
These stocks are crapshoots, a gamble with small amounts of money that I can afford to lose. I will probably need one to become a 10 bagger to realize a net gain on the bunch. Which one may become that 10 bagger? I have no idea and anything that I could say on that subject would be wild speculative guesses.
I have decided to take this portion of the healthcare basket up to $5K.
This speculative component of my healthcare basket resembles my old Lottery Ticket Basket Strategy except the stocks bought in that previous version had earnings. Lottery Ticket Basket Strategy That particular basket strategy was created in 2009 after I had "bought about $200 worth of powerball tickets without winning a dime. One day, I thought that I hit pay dirt when I matched the powerball number and two others. And I went to claim my prize, thinking about that new car that I would buy with my winnings, and the clerk said "here is your $7". Well, as you can imagine, I said to myself that I may be able to improve my winning percentages by taking that powerball money and buying lottery tickets on the stock exchange."
The old LT basket strategy had a $300 limit per security. That limit is now at $1K given my current financial circumstances.
This is a form of entertainment for me.
1. Bought 50 PRTK AT $13.20: I am going to discuss some of the scary stuff before briefly mentioning what I found to be interesting.
Quote: Paratek Pharmaceuticals Inc. (NASDAQ:PRTK)
SEC Filed June 2016 Corporate Overview
Website: Paratek Pharmaceuticals
Trade Snapshot: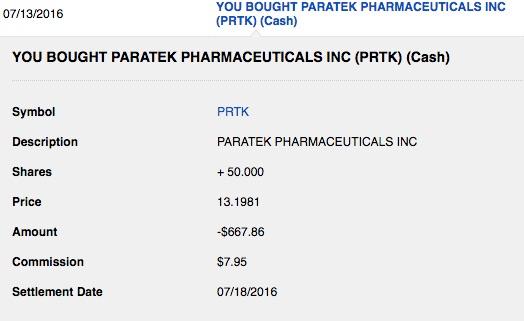 Closing Price Day of Trade: PRTK $13.20 -0.65 -4.69%
Looking at the wild intra-day price swings of this stock, I surmised that this stock may have an unusual amount of day trader and/or short seller interest.
The consensus E.P.S. estimates are for significant losses in 2016 and 2017. PRTK Analyst Estimates
The five year chart is ugly: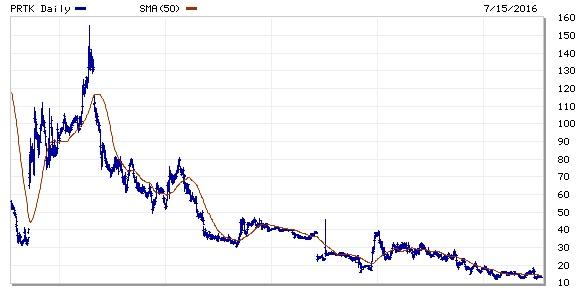 An ugly stock chart is a precondition for a Lottery Ticket purchase.
The risk summary found in an Annual Report provides the expected scary reading. The first risk summary is noteworthy: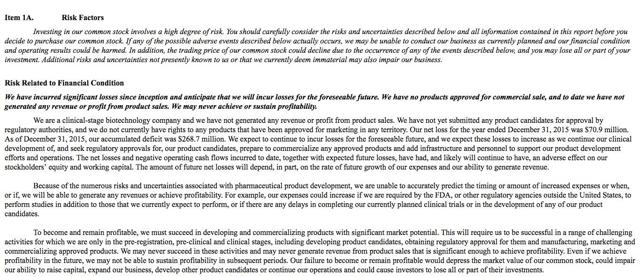 Page 31: PRTK 10-K
The company then proceeds to describe more risks over the next 26 single spaced pages.
A review of PRTK's 26 page discussion of risk factors is analogous to reading the insert in a drug prescription. When that insert is read and digested, many more or less rational individuals would just flush the drug down the toilet.
Another risk is the need to replace the cash that is being burned in research and development projects.
Paratek announced after the market closed on 6/20/16 that it intended to sell 3.75M shares in a public offering and expected to grant the underwriter's an option to acquire an additional 15% of that number. The share priced closed that day at $16.54.
The underwriters initially sold 4.25M shares to the public at $13, but Paratek only received $12.22 per share or $51.935 in proceeds after the underwriting discount. Prospectus Another 637,500 were sold as part of the standard Greenshoe option: Paratek Announces Closing of Common Stock Offering and Exercise in Full of Underwriters' Option to Purchase Additional Shares
It is at least a small positive that the company was able to upsize the offering.
The company has two drug candidates in Phase 3 trials: Omadacycline and Sarecycline.
To make the following chart understandable, the definition of a few abbreviations is necessary:
ABSSSI= Acute bacterial skin and skin structure infections
CABP= Community-acquired bacterial pneumonia
UTI= Urinary tract infection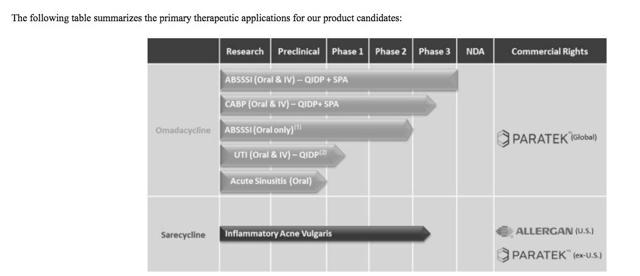 The company believes that omadacycline "has the potential to become a primary antibiotic choice of physicians for use as a monotherapy antibiotic" for ABSSSI, CABP, UTI, and other serious community-acquired bacterial infections, where resistance is of concern. (page S-2 Prospectus)
"On November 4, 2015, the FDA granted omadacycline Fast Track designation for the development of omadacycline in ABSSSI, CABP, and complicated urinary tract infection, or cUTI. Fast Track designation facilitates the development, and expedites the review of drugs which treat serious or life-threatening conditions and fills an unmet medical need. In February 2016, we reached agreement with the FDA on the terms of the pediatric program associated with the Pediatric Research and Equity Act."
In June 2016, PRTK "announced that the Phase 3 registration study known as OASIS, or Omadacycline in Acute Skin and Skin Structure Infections Study, comparing our once-daily, IV-to-oral broad spectrum antibiotic, omadacycline, to twice-daily IV-to-oral narrow spectrum linezolid in the treatment of ABSSSI met the FDA-specified primary efficacy endpoint of early clinical response. In addition, the study met the EMA-specified co-primary efficacy endpoints at the post-treatment evaluation, or PTE, visit.
The results from the OASIS study demonstrate that omadacycline is effective in the treatment of ABSSSI. In addition to demonstrating non-inferiority to linezolid, omadacycline was generally safe and well tolerated. The positive OASIS study is the first of two Phase 3 registration studies designed to support regulatory marketing applications for the FDA and EMA" (page S-4, Prospectus)
Paratek Announces that Omadacycline Met All Primary and Secondary Efficacy Outcomes Designated by FDA and EMA in a Phase 3 Study in Acute Bacterial Skin Infections; Omadacycline was Generally Safe and Well-Tolerated
Sarecycline has been exclusively for U.S. development and commercialization rights for the treatment of acne to Allergan plc, or Allergan. PRTK has retained development and commercialization rights in the rest of the world. "Sarecycline entered Phase 3 clinical studies in December 2014 for acne vulgaris. Allergan has informed us that data from the Phase 3 study of sarecycline is expected to be available in the second half of 2016."
The next market moving event will likely be Allergan's report of the phase 3 trial data for sarecycline.
PRTK's market cap at last Friday's closing price of $13.38 was $301+M.
In this sector, a small market cap usually indicates a lack of investor confidence and investors have a tendency to be wildly optimsitic in this sector as a general rule based on their pricing decisions.
2. Bought 50 FOLD at $5.72:
Trade Snapshot ($1 Commission):

Quote: Amicus Therapeutics Inc. (FOLD)
Website: Amicus Therapeutics: Advancing Therapies to Treat Rare Diseases
This is another wild one. Shares rose 6.5% last Friday, but the overall stock price trend is both ugly and exciting in a way:
5 Year Chart: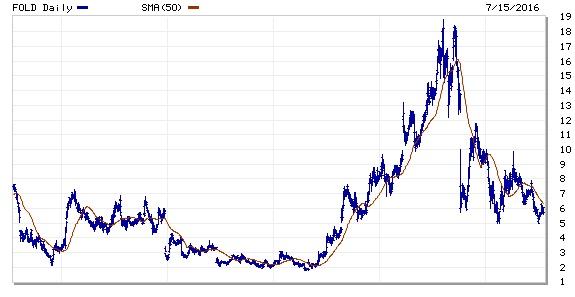 I am paying $286 for FOLD to entertain the Old Geezer. Have to get my kicks somewhere.
10-K (risk factors discussion starts at page 32)
10-Q for the Q/E 3/31/16 (net loss $43.691M or -$.35 per share; "as of March 31, 2016, the Company held $23.5 million in cash and cash equivalents and $142.3 million of available-for-sale securities which are reported at fair value on the Company's balance sheet.")
Amicus is "a global, late-stage, patient-focused biotechnology company engaged in the discovery and development of a diverse set of novel treatments for patients living with devastating rare and orphan diseases. Our lead product candidate, migalastat HCl is a small molecule that can be used as a monotherapy and in combination with enzyme replacement of therapy ("ERT") for Fabry disease. SD-101, a product candidate in late-stage development, is a potential first-to-market therapy for the chronic, rare connective tissue disorder Epidermolysis ("EB"). We are also leveraging our Chaperon-Advanced Replacement Therapy ("CHART™") platform technologies to develop next-generation ERT products for Fabry disease, Pompe disease and other lysosomal storage disorders ("LSDs"). We believe that our platform technologies and our advanced product pipeline uniquely position us at the forefront of advanced therapies to treat a range of devastating rare and orphan diseases."
The Epidermolysis drug was acquired through the acquisition of the privately held Scioderm last year:
Amicus Therapeutics Completes Acquisition of Scioderm, Inc. ("The acquisition of Scioderm strengthens Amicus' pipeline significantly with the addition of a novel, late-stage, proprietary topical cream and potential first-to-market therapy for EB (SD-101). This investigational product was granted FDA breakthrough therapy designation in 2013 based on results from Phase 2 studies for the treatment of lesions in patients suffering with EB. SD-101 is currently being investigated in a Phase 3 study to support global regulatory submissions and was the first-ever treatment in EB clinical studies to show improvements in wound closure across all major EB subtypes."); Amicus Therapeutics to Acquire Rare Disease Company Scioderm, Inc. ("Amicus will acquire Scioderm in a cash and stock transaction. At closing, Amicus will pay Scioderm shareholders $229 million, of which $125 million will be paid in cash and $104 million will be paid through the issuance of 7 million newly issued Amicus shares. Amicus has agreed to pay up to an additional $361 million to Scioderm shareholders in cash or stock upon achievement of certain clinical and regulatory milestones and $257 million to Scioderm shareholders in cash or stock upon achievement of certain sales milestones. If Zorblisa is approved, EB qualifies as a rare pediatric disease and a Priority Review Voucher will be requested. If the Priority Review voucher is obtained and subsequently sold, Amicus will pay Scioderm shareholders the lesser of $100 million or 50% of the proceeds of such sale.
Pompe disease - Genetics Home Reference
Lysosomal Storage Disorders - NORD (National Organization for Rare Disorders)
Amicus Therapeutics Introduces Proprietary "CHART" Platform Technology (NASDAQ:FOLD)
That is interesting which is all that I can say about it.
Amicus Therapeutics Announces European Commission Approval for Galafold™ (Migalastat) in Patients with Fabry Disease in European Union 5/31/16 Press Release
The approval by the EU was expected after receiving a favorable CHMP opinion: European Medicines Agency- Galafold
However, approval by FDA appears to be in a state of flux. It is still an open question whether or not another Phase III study will be required for approval in the U.S. (Page 2)
Q1 2016 Results - Earnings Call Transcript | Seeking Alpha; Amicus Therapeutics Announces First Quarter 2016 Financial Results and Corporate Updates
Based on the ownership data reproduced at YF, hedge funds dominate ownership based on data as of 3/30/16: FOLD Major Holders. The largest owner at that time was Redmill Group with a 8.44% stake.
Recent SA Articles:
The market cap at last Friday's closing price of $6.06 is about $819+M. The shares sold short as a percentage of the float is shown by YF at 28.94%: FOLD Key Statistics
3. Bought 30 IMDZ at $6.95:
Trade Snapshot ($1 Commission):

Stock Quote: Immune Design Corp (NASDAQ:IMDZ)
The consensus E.P.S. for the current fiscal year is currently -$2.7 that is expected to increase to -$3.03 in the next fiscal year. IMDZ Analyst Estimates
10-K (risk factors summary starts at page 25)
10-Q for Q/E 3/31/16 ("cash and cash equivalents and short-term investments totaling $100.8 million"; IPO at $12 per share back in July 2014).
I view this one to be the highest risk of the stocks discussed in this post which explains the 30 share buy.
The pipeline drugs are in the early stages of trials:

Immune Design Releases New PFS, OS and TME Data from Trials of Three Immuno-Oncology Product Candidates
Immune Design Announces Positive Topline Data From Three Phase 1 Clinical Trials of Immuno-oncology Product Candidates
CMB305 is currently in Phase 2 trials as a combo drug for treatment of soft tissue sarcoma and is being used with and without a Genentech investigational cancer drug known as "atezolizumab (anti-PD-L1)". Immune Design Announces Start of Randomized Phase 2 Cancer Immunotherapy Combination Trial in Patients With Soft Tissue Sarcoma
Soft Tissue Sarcoma-Patient Version - National Cancer Institute
Immune Design Reports First Quarter 2016 Financial Results and Provides Corporate Update
I have no idea whether any of these compounds will succeed or whether the company will survive long enough to even submit a FDA drug approval application for one of them. It just looks interesting to the OG.
The market cap is only $136M+ at a $6.88 price. IMDZ Key Statistics
Disclaimer: I am not a financial advisor but simply an individual investor who has been managing my own money since I was a teenager. In this post, I am acting solely as a financial journalist focusing on my own investments. The information contained in this post is not intended to be a complete description or summary of all available data relevant to making an investment decision. Instead, I am merely expressing some of the reasons underlying the purchase or sell of securities. Nothing in this post is intended to constitute investment or legal advice or a recommendation to buy or to sell. All investors need to perform their own due diligence before making any financial decision which requires at a minimum reading original source material available at the SEC and elsewhere. A failure to perform due diligence only increases what I call "error creep". Stocks, Bonds & Politics:ERROR CREEP and the INVESTING PROCESS. Each investor needs to assess a potential investment taking into account their personal risk tolerances, goals and situational risks. I can only make that kind of assessment for myself and family members.
Disclosure: I am/we are long PRTK, FOLD, IMDZ.