The techical problems in writing and publishing an Instablog here at SA are becoming extremely tedious.
++++++++
This topic was last updated here: Update For Healthcare Basket Strategy As Of 7/15/16 - South Gent | Seeking Alpha
In a world that finds anemic growth hard to achieve and where trillions are tied up in instruments guaranteed to lose money, the healthcare sector provides some opportunities for growth at reasonable prices.
The healthcare sector will benefit from an aging population coupled with a growing pot of money made available by governments and insurance companies to pay for healthcare.
Basket as of 7/29/16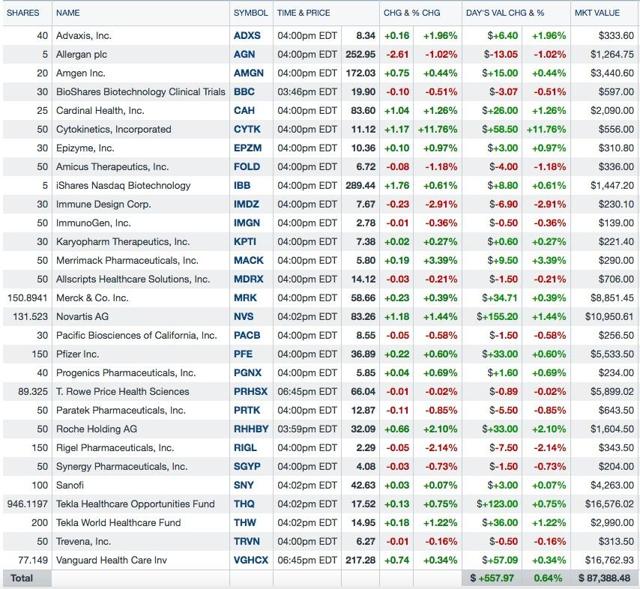 The big winner on Friday from the speculative biotech component was CYTK, up 11.76%. I will discuss my 50 share purchase in the next update. This move is apparently linked to this news release but you never really know what is going through anyone's mind out there in the Big Casino or any whether or not the buyers have a single coherent thought:
"Cytokinetics and Astellas Announce Option Right for Tirasemtiv and Expansion of Global Collaboration for CK-2127107 in ALS Cytokinetics to Receive $65 Million in Upfront Payments and $30 Million in Additional Sponsored R&D; Potential for More than $100 Million in Payments Associated with the Exercise of the Option"
Cytokinetics and Astellas Announce Option Right for Tirasemtiv and Expansion of Global Collaboration for CK-2127107 in ALS Nasdaq:CYTK (market cap at today's close about $440.59M)
++++++++
I have previously mentioned that I will be buying small lots of several speculative issues as part of this basket. My total out-of-exposure for each speculative stock will be less than $1K.
Currently, I am focusing on microcap biotech companies whose share prices have been shellacked and who at least have a chance to succeed with one or more pipeline drugs. In other words, a primary pipeline drug has not yet failed in trials.
These companies are unprofitable now and are likely to remain so for the foreseeable future. They are burning cash in their research and development activities and may need to raise cash through equity offerings at prices lower than the current ones. Paratek, discussed in Item # 1, recently sold stock that knocked the market price down.
I have no training or knowledge that would enable me to even make an educated guess whether the pipeline drugs will be approved by the FDA or the potential revenues and profits flowing after such approval.
A failure of one or two pipelines drugs could result in a bankruptcy filing and a zero price for the stock. If I buy NVS or MRK, my downside risk is far from zero.
Each of these companies have something cooking that interested me however.
These stocks are crapshoots, a gamble with small amounts of money that I can afford to lose. I will probably need one to become a 10 bagger to realize a net gain on the bunch. Which one may become that 10 bagger? I have no idea and anything that I could say on that subject would be wild speculative guesses.
I have decided to take this portion of the healthcare basket up to $10K.
This speculative component of my healthcare basket resembles my old Lottery Ticket Basket Strategy except the stocks bought in that previous version had earnings. Lottery Ticket Basket Strategy That particular basket strategy was created in 2009 after I had "bought about $200 worth of powerball tickets without winning a dime. One day, I thought that I hit pay dirt when I matched the Powerball number and two others. And I went to claim my prize, thinking about that new car that I would buy with my winnings, and the clerk said "here is your $7". Well, as you can imagine, I said to myself that I may be able to improve my winning percentages by taking that Powerball money and buying lottery tickets on the stock exchange."
The old LT basket strategy had a $300 limit per security. That limit is now at $1K given my current financial circumstances.
I will be using this ETF as a benchmark for the speculative biotech component of this basket strategy: Biotechnology Clinical Trials Fund (NASDAQ:BBC) That fund went public at an inopportune time and was down 49.84% for the one year period ending 6/30/16. I may trade that ETF in small lots as part of this speculative strategy given its volatility. A volatility strategy would be to sell the highest cost shares after a 15% to 20% pop in price and to average down in 3% to 6% incremental declines. I would use my IB account where I incur a $1 commission that will make a churning trading strategy more cost effective. This kind of strategy is mechanical in its implementation. I am not supposed to think.
This is a form of entertainment for me. I will discuss five purchases at a time. The basket snapshot will reflect some purchases that will be discussed in future updates.
The FiercePharma website is a good one for updates on pharmaceutical companies.
+++++++++
1. Bought 40 ADKS at $7.9:
Quote: Advaxis Inc. (NASDAQ:ADXS)
Trade Snapshot:

Closing Price Day of Trade (7/18): ADXS $7.80 -$0.34 -4.18%
At that $7.8 market price, the current market capitalization is about $268M.
The stock had a bad day on 7/18 after the European Medicines Agency's Committee for Advanced Therapies classified ADXS' lead Lm immunotherapy candidate, axalimogene filolisbac (AXAL) "as an advanced-therapy medicinal product (NYSEARCA:ATMP) for the treatment of cervical cancer".
"Advaxis' immunotherapies, including AXAL, are designed to capitalize on the body's ability to recognize and attack bacterial infections. Advaxis' core technology - Lm Technology(NYSE:TM) - alters a live strain of Listeria monocytogenes bacteria to generate cancer fighting T-cells directed against a cancer antigen and neutralizing factors that protect the tumor microenvironment from immunologic attack and contribute to tumor growth. AXAL has Orphan Drug Designation in Europe for treatment of anal cancer.
Axalimogene filolisbac (AXAL) is Advaxis' lead Lm Technology(TM) immunotherapy candidate for the treatment of HPV-associated cancers and is in clinical trials for three potential indications: invasive cervical cancer, head and neck cancer, and anal cancer. In a completed randomized Phase 2 study in recurrent/refractory cervical cancer, AXAL showed apparent prolonged survival, objective tumor responses, and a manageable safety profile alone or in combination with chemotherapy, supporting further development of the Company's Lm Technology(TM). AXAL has Orphan Drug Designation in the U.S. for the treatment of invasive cervical, head and neck and anal cancers." (emphasis added)
Quoted From: European Medicines Agency Committee Classifies Advaxis' Axalimogene Filolisbac as an Advanced-Therapy Medicinal Product
I am quoting the company above since my description of their drug pipeline would serve no useful purpose. It just sounds interesting to me.
FDA Grants Special Protocol Assessment to Advaxis' Phase 3 Study of AXAL in Patients with Cervical Cancer ("A successfully concluded SPA provides a binding agreement with FDA's review division that a pivotal trial design, conduct, and planned analysis adequately address the scientific and regulatory objectives in support of a regulatory submission for drug approval. Final marketing approval depends upon the efficacy results, safety profile and an evaluation of the risk/benefit of treatment demonstrated in the Phase 3 clinical trial. In the 10-year period ending in 2013, only 25 percent of the requests for a SPA of oncology trials concluded with an FDA agreement.")
Advaxis Announces Updated Data at ASCO from a Phase 2 Study of AXAL in Advanced Cervical Cancer Showing Promising Survival Rates Consistent with Earlier Reports
Advaxis Announces First Patient Dosed in Phase 2 Trial Evaluating AXAL in Anal Cancer
FDA Grants Advaxis Fast Track Designation for ADXS-HER2 for Patients with Newly-Diagnosed, Non-Metastatic, Surgically-Resectable Osteosarcoma
Advaxis Combination Trial with Merck Completes First Two Dose-Escalation Cohorts
Advaxis Combination Trial with MedImmune Completes First Dose-Escalation Cohort
I have linked above some news releases issued since March 29th when the stock price closed at $8.7. My response, as ignorant as it may be, was that it is a lot of activity which at least holds some promise, but the market does not care as judged by the stock price.
2. Bought 50 PETX at $6.43:
Quote: Aratana Therapeutics Inc. (NASDAQ:PETX)
Trade Snapshot ($1 Commission):

Closing Price Day of Trade: PETX $6.47 -$0.23 -3.43%
The market cap at a $6.47 price is about $229M. Key Statistics
Company Description: PETX develops drugs for pets. It focuses "in the areas of osteoarthritis, post-operative pain management, inappetence, allergy, lymphoma and osteosarcoma, viral diseases and other unmet pet health needs".
Perhaps the company needs to narrow its focus some. The general idea is to make money rather than to burn cash into infinity.
Two of its drugs have received FDA approval for marketing.
Pipeline and FDA Approved Products: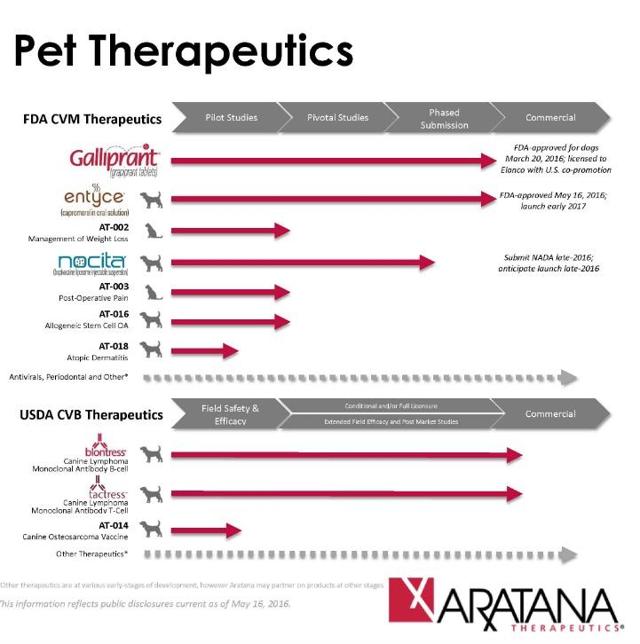 Galliprant is now an FDA approved therapeutic for the control of pain and inflammation associated with osteoarthritis in dogs. Aratana gramted Elanco Animal Health, a division of Eli Lilly, an exclusive license to manufacture and market this drug globally. In return, PETX received an upfront payment of $45M, co-promotion fees and royalty payments, and additional payments of up to $85M upon achieving certain regulatory and sales milestones. Aratana, Elanco Announce Global Strategic Collaboration - Apr 25, 2016; Aratana | Osteoarthritis Pain Therapeutic; Aratana Therapeutics Files for First European Approval "Under the terms of the Co-Promotion Agreement, Elanco has agreed to pay the Company, as a fee for services performed and expenses incurred by the Company under the Co-Promotion Agreement, (i)25% of the gross margin on net sales of Product sold in the United States under the Collaboration Agreement prior to December 31, 2018 (unless extended by mutual agreement), and (ii) a mid-single digit percentage of net sales of the Product in the United States after December 31, 2018 through 2028 (unless extended by mutual agreement)." The royalty payments are described as being a percentage of net sales "in the mid-single to low-double digits" PETX is responsible for manufacturing the product. (sourced page 15: 10-Q)
The second FDA approved drug is ENTYCE, a new chemical that treats inappetence in dogs. The drug is a liquid prescription product that mimics "ghrelin, the hunger hormone, to stimulate appetite". PETX expects to commercially launch this drug in conjunction with the North American Veterinary Conference in February 2017.
On 6/30/2016, PETX filed for FDA approval of NOCITA for post-operative pain control.
I came across PETX when researching Advaxis and noticed this discussion about ADXS licensing a compound to PETX:

Sourced: Advaxis 10-Q for the Q/E 3/31/16 at page F-5
PETX has milestone payments that it has to pay as well which are discussed in its SEC filings. PETX needs to be acquired by a large drug company that has an animal health division. My impression is that PETX has far too many development programs and start-up manufacturing operations for such a small company that is burning cash. Eli Lilly would be the obvious candidate. Lilly Finalizes Novartis Animal Health Acquisition (NYSE:LLY)
Another stock offering is a material risk IMO. The company last sold shares at a public offering price of $9.25 back in 2014: Prospectus The IPO was at $19 in February 2014: 10-Q at page 20
2015 Annual Report (risks discussed starting at page 24)
Q/E 3/31/16 (cash $13.814M and short term investments of $58.999M; loss of $.52 per share or $18.067M; loan payable of $39.83M)
The one year PETX Stock Chart illustrates a risk. The stock was trading for around $19 during September 2016 when the bottom fell out. By February 2016, the stock was hovering near $3.
I was curious what happened so I looked for an SEC filing shortly before the waterfall decline. Two of its drug candidates for canine lymphoma failed in trials: 8-K 9-24-2015
Consensus EPS Estimates: 6 analysts
2016: -$1.02
2017: -$1.18
Hard to see light at the end of this loss tunnel with so many balls in the air.
3. Bought 150 RIGL at $2.15:
Quote Rigel Pharmaceuticals (NASDAQ:RIGL)
Trade Snapshot: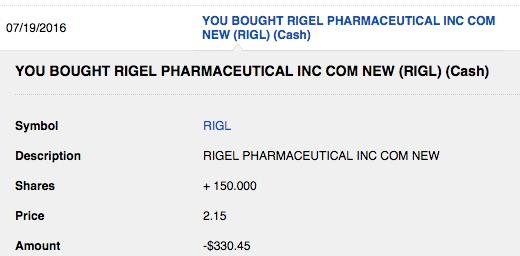 Closing Price Day of Trade: RIGL $2.23 (UNC)
The market cap at a $2.23 price is about $205+M. RIGL Key Statistics
Company Description: A few days before my purchase, I just happened to notice that H.C. Wainwright started this company with a buy rating and $6 target. I researched the company and thought that it was worth a $330 gamble for me.
While this company has multiple trials ongoing, its main product is fostamatinib that is currently being tested in three of those trials.
I would just note that the market is not impressed with this company, nor do investors place much faith in the ongoing trials, based on the current market price and market capitalization. On the other hand, several pharaceutical companies have partnered with Rigel on specific compounds other than fostamatinib: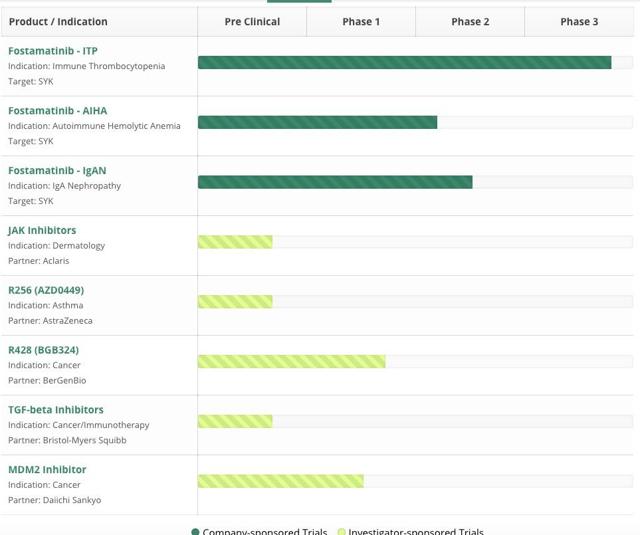 I would draw the conclusion that investors would be surprised that the Phase 3 fostamatinib ITP trial will be successful and/or will then be followed by the FDA's stamp of approval. The results are expected later this year.
I found it interesting that the Fidelity Biotechnology Fund did not have a stake, based on the last report, while the 5* rated Fidelity Growth Fund owned shares. RIGL Major Holders; FDGRX
10-Q for the Q/E 3/31/16 (cash of $14.269M and short term investments of $89.363M-total $103.632M and down from $126.276M as of 12/31/16
Some quotes from this 10-Q filing:
"In August 2015, the FDA granted our request for Orphan Drug designation to fostamatinib, our oral SYK inhibitor, for the treatment of ITP. On April 1, 2016, we announced that we have completed enrollment for both studies in the FIT Phase 3 clinical program of fostamatinib in ITP. The first study in this program completed enrollment at the end of January and the second study has now completed enrollment. The results from the first study are expected in the middle of 2016, with the results for the second study expected shortly thereafter. We plan to submit a New Drug Application to the FDA in the first quarter of 2017, subject to the positive results of the program")."
In the following quote, BMS refers to Bristol Myers (NYSE:BMY).
"In February 2015, we entered into a collaboration agreement with BMS for the discovery, development and commercialization of cancer immunotherapies based on our extensive portfolio of small molecule TGF beta receptor kinase inhibitors. Under the collaboration agreement, BMS will have exclusive rights and will be solely responsible for the clinical development and commercialization of any products. Pursuant to the collaboration agreement with BMS, we received a noncreditable and non-refundable upfront payment of $30.0 million in March 2015. We are also entitled to receive development and regulatory contingent fees that could exceed $309.0 million for a successful compound approved in certain indications. In addition, we are also eligible to receive tiered royalties on the net sales of any products from the collaboration. BMS shall also reimburse us for agreed upon costs based on a contractual cost per full-time equivalent employee in connection with the performance of research activities during the research term."
"In August 2015, we entered into a license agreement with Aclaris, pursuant to which Aclaris will have exclusive rights and will assume responsibility for the continued development of certain JAK inhibitor compounds for the treatment of alopecia areata and other dermatological conditions. Under the license agreement, we received a noncreditable and non-refundable upfront payment of $8.0 million in September 2015. We are also entitled to receive development and regulatory contingent fees that could exceed $80.0 million for a successful compound approved in certain indications."
Some other agreements with other companies are discussed only briefly in this filing.
"Under these agreements, which we entered into in the ordinary course of business, we received or may be entitled to receive upfront cash payments, progress dependent contingent payments on events achieved by such partners and royalties on any net sales of products sold by such partners under the agreements. Total future contingent payments to us under all of these current agreements could exceed $533.6 million if all potential product candidates achieved all of the payment triggering events under all of our current agreements (based on a single product candidate under each agreement). Of this amount, up to $150.5 million relates to the achievement of development events, up to $345.6 million relates to the achievement of regulatory events and up to $37.5 million relates to the achievement of certain commercial or launch events. This estimated future contingent amount does not include any estimated royalties that could be due to us if the partners successfully commercialize any of the licensed products. Future events that may trigger payments to us under the agreements are based solely on our partners' future efforts and achievements of specified development, regulatory and/or commercial events."
2015 Annual Report 10-K (risks are discussed starting at page 13).
In the 2014 annual report, some of the other licensing agreements are discussed in more detail. The AZ references refers to AstraZeneca (NYSE:AZN)

Pages 5-6
I would not hazard a guess whether any of these projects will be successful. The market certainly entertains considerable doubts.
If that assessment is proven wrong, then those willing to lose whatever is ventured buying shares at $2+ will win.
4. BOUGHT 50 PGNX AT $5.94
Quote: Progenics Pharmaceuticals Inc. (NASDAQ:PGNX)
Trade Snapshot: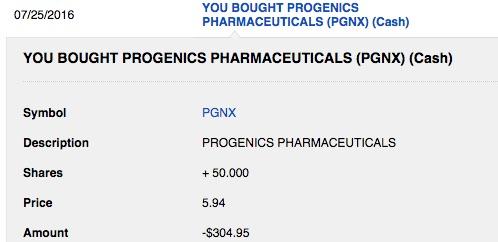 Closing Price Day of Trade: $5.92 -$.09 or -1.5%
Market Cap at $5.92 = $414M (rounded)
Website: Progenics Pharmaceuticals | Developing Innovative Cancer Therapies
Company Description: Progenics just received FDA approval for its constipation drug:
Progenics Receives $50 Million Milestone Payment Following FDA Approval of RELISTOR® Tablets for the Treatment of Opioid-Induced Constipation in Adults with Chronic Non-cancer Pain ("Under a 2011 collaboration with Salix Pharmaceuticals, Inc. (acquired by Valeant in April 2015), Progenics is also entitled to receive up to $200 million of sales milestone payments based on specified U.S. sales targets. The sales milestone payments range from $10 million when calendar-year U.S. net sales first exceed $100 million, to $75 million when such sales first exceed $1 billion. Each sales milestone payment is payable one time only, and one or more, or all, sales milestones could become payable within the same calendar year if the specified sales levels are met. Progenics also earns tiered royalties on total RELISTOR U.S. net sales, as follows: 15% on U.S. net sales up to $100 million, 17% on the next $400 million in U.S. net sales, and 19% on U.S. net sales over $500 million. Outside of the U.S. Progenics is entitled to receive 60% of any up-front milestone, royalty and other revenue, net of certain costs, as specified in our license agreement with Valeant.")
Website for RELISTOR (Methylnaltrexone Bromide) for Opioid-Induced Constipation
Competition is likely to be acute from an AZN drug: FiercePharma
FDA Approved Prescribing Information: Label
Pipeline: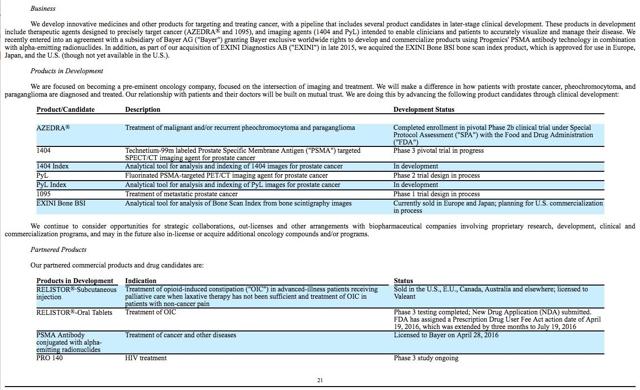 Sourced Page 21 10-Q
Other Recent News Items:
Progenics Licenses PSMA Antibody Technology to Bayer for Development of Alpha-Radiolabeled Therapeutic Antibodies
Progenics Pharmaceuticals Commences Pivotal Phase 3 Study of PSMA Targeted Imaging Agent 1404 for Prostate Cancer
Progenics Pharmaceuticals Achieves Target Enrollment in its Phase 2b Pivotal Trial of Azedra™
Consensus E.P.S. Estimates:
2016: $.12
2017: -$.29
2015 Annual Report (risk discussion starts at page 18)
10-Q for the Q/E 3/31/16 (loss of $12.655 or $.18 per share
5. Bought 50 MACK at $5.35:
Quote: Merrimack Pharmaceuticals Inc. (NASDAQ:MACK)
Company Website: Merrimack | Bringing an engineering approach to the fight against cancer
Merrimack Announces U.S. FDA Approval of ONIVYDE™ (irinotecan liposome injection) for the Treatment of Patients with Metastatic Pancreatic Cancer ("Baxalta Incorporated (NYSE: BXLT) is responsible for the development and commercialization of ONIVYDE outside of the United States and Taiwan under the exclusive licensing agreement that Merrimack and Baxalta entered into in September 2014")
Trade Snapshot ($1 Commission):

Closing Price Day of Trade: MACK $5.36 -$.13 or -2.37%
Market Cap at $5.35: $680M (rounded)
E.P.S. Consensus Estimates MACK Analyst Estimates
2016 -$.75
2017 -$.51
2015 Annual Report: Form 10-K
Drugs in Pipeline: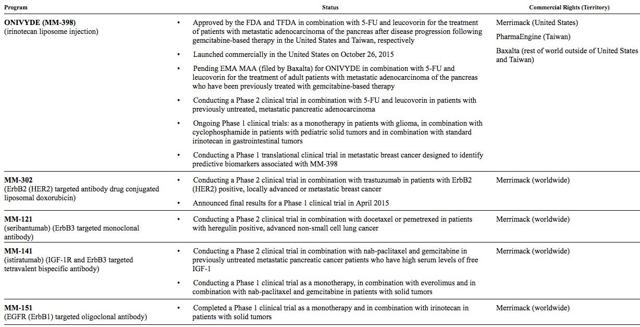 More on ONIVYDE ("ONIVYDE is a prescription medicine used to treat pancreatic cancer which has spread to other parts of the body. ONIVYDE can be used in patients who have already received gemcitabine treatment for their pancreatic cancer. ONIVYDE is given in combination with 2 other medicines, fluorouracil (also known as 5-FU) and leucovorin (which is often abbreviated as LV), and is not given alone.")
FDA approves new treatment for advanced pancreatic cancer
Click to Enlarge: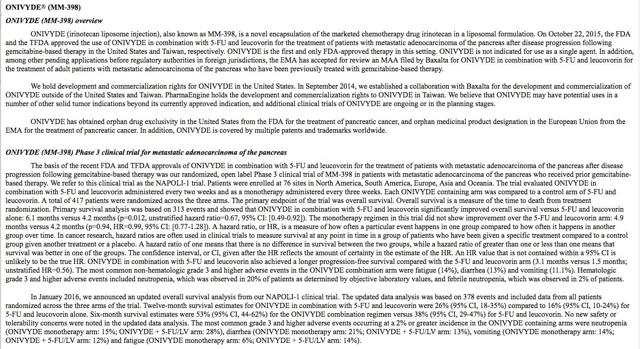 Loss Report Q/E 3/31/16: SEC Filed Press Release (cash and marketable securities at $132.39M, down from $185.606 as of 12/31/16; "in March 2016, the ONIVYDE regimen was added to the National Comprehensive Cancer Network (NCCN) 2016 Clinical Practice Guidelines in Oncology as a Category 1 Treatment Option for patients with metastatic pancreatic adenocarcinoma who have previously been treated with gemcitabine-based therapy.." )
Merrimack Announces Inclusion of ONIVYDE® (irinotecan liposome injection) as a Category 1 Treatment for Pancreatic Adenocarcinoma
"The most common type of cancer of the pancreas is an adenocarcinoma of the pancreas. 85% of all cancerous tumors of the pancreas are adenocarcinomas. Pancreatic adenocarcinoma is the 4th leading cause of cancer deaths in men and women in the United States. The American Cancer Society estimates that each year 29,000 American are diagnosed with adenocarcinoma of the pancreas and approximately 28,000 die of pancreatic cancer." Diagnosis, staging and treatment for adenocarcinoma of the pancreas
ONIVYDE was launched in the U.S. on 10/26/15. U.S. commercial sales in the 2016 first quarter were $11.3 with net product revenues at $10M. The net product revenue number is after discounts, allowances and reserves. (A reserve is set up for the returns of products that are not sold by the purchaser and that have expired or about to expire) Sales need to improve a lot.
Merrimack Announces ONIVYDE® Regimen Receives Positive CHMP Opinion in European Union
FDA Grants Merrimack Fast Track Designation for Seribantumab (MM-121) in Non-small Cell Lung Cancer
Merrimack Presents Expanded Analysis from Seribantumab (MM-121) Phase 2 Breast Cancer Study
6. Bought 30 BBC at $19.51:
Trade Snapshot ($1 Commission):

This ETF popped in price the day after purchase:
7/27/16 Closing Price: BBC $20.23 +$0.77 or 3.98%
And then fell for the next two days.
Last Friday (7/29), a stock with a 1.45% weighting as of 7/28 blew up after its lead drug unexpectedly failed in a Phase 2 trial:
Seres Therapeutics, Inc. (NASDAQ:MCRB): $10.94-24.83 (-69.42%)
"Seres Therapeutics Announces Interim Results from SER-109 Phase 2 ECOSPOR Study in Multiply Recurrent Clostridium difficile Infection"
Failures and massive stock price declines are part of the risk landscape in this sector without question!
Security Description: The BioShares Biotechnology Clinical Trials ETF (BBC) invests in "clinical trials stage biotechnology companies. Clinical Trials stage companies are typically younger, smaller companies which do not have a drug approved, but instead focus on testing their experimental drug candidates in human clinical trials."
This ETF debuted in 2014 which was an inopportune time to start a biotech clinical trials ETF. The one year total return through 6/30/16 was -49.84%. Even in a more favorable environment for this sector, it remains open to question whether the successes will outweigh the failures. I will accordingly use this fund as a trading vehicle for clinical stage biotech companies under pre-set trading rules.
Sponsor's website: Biotechnology Clinical Trials Fund
Receiving FDA approval for a lead drug candidate is grounds for removal from the fund in a semi-annual rebalancing which occurs on 6/15 and 12/15. Prospectus for BBC and BBP
BioShares Biotechnology ETFs Complete Semi-Annual Rebalance and Recomposition
Prospectus Snapshots: Inclusion and Exclusion Criteria: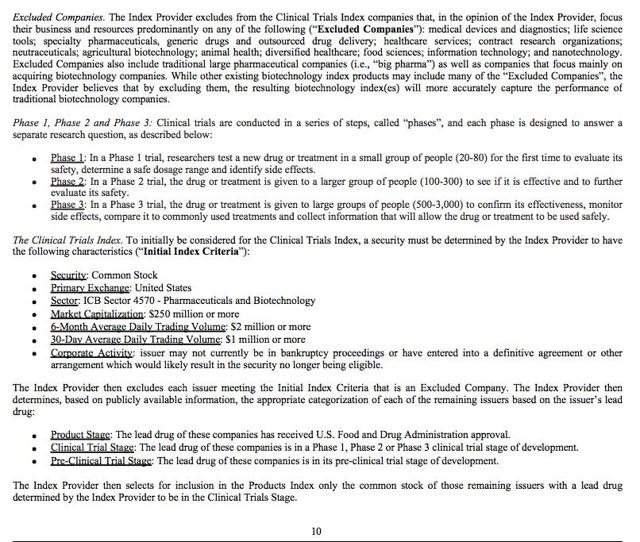 Upon removal after receiving FDA approval for a lead drug candidate, the stock can then join the Biotechnology Products ETF (NASDAQ:BBP).
Holdings and Weightings as of 7/26/16: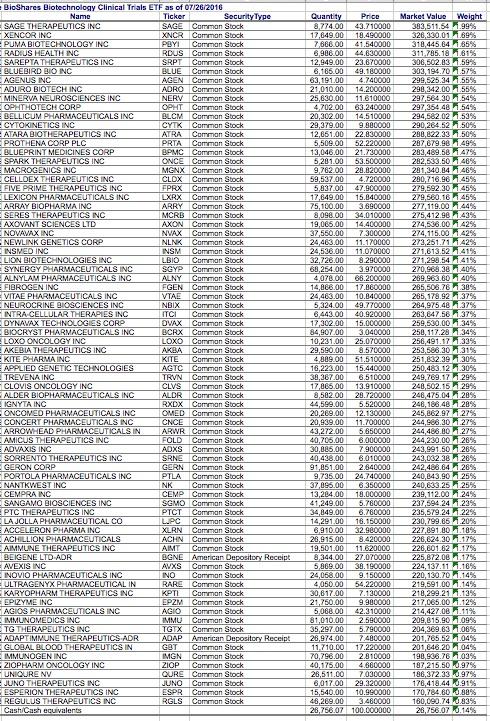 Disclaimer: I am not a financial advisor but simply an individual investor who has been managing my own money since I was a teenager. In this post, I am acting solely as a financial journalist focusing on my own investments. The information contained in this post is not intended to be a complete description or summary of all available data relevant to making an investment decision. Instead, I am merely expressing some of the reasons underlying the purchase or sell of securities. Nothing in this post is intended to constitute investment or legal advice or a recommendation to buy or to sell. All investors need to perform their own due diligence before making any financial decision which requires at a minimum reading original source material available at the SEC and elsewhere. A failure to perform due diligence only increases what I call "error creep". Stocks, Bonds & Politics:ERROR CREEP and the INVESTING PROCESS. Each investor needs to assess a potential investment taking into account their personal risk tolerances, goals and situational risks. I can only make that kind of assessment for myself and family members.
Disclosure: I am/we are long ADXS, PETX, RIGL, PGNX, MACK, BBC.