I finished compiling on Monday a monitor list for small and micro cap biotech stocks. I took a snapshot of this list earlier today: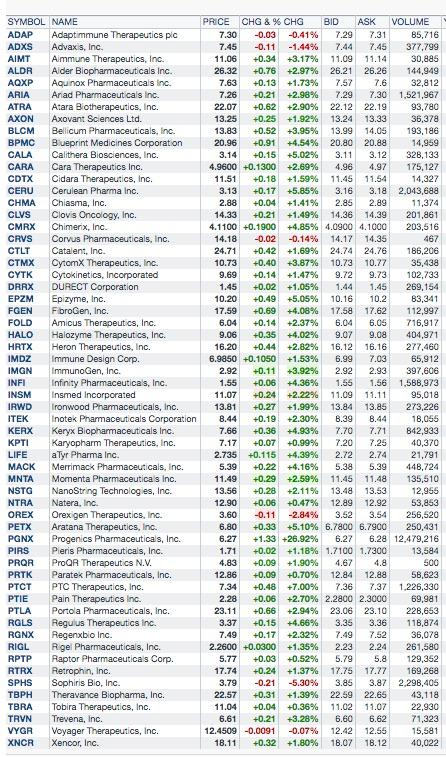 In case anyone knows anything about one or more of these companies, you are invited to share your knowledge in the comment section.
I am a neophyte gambler in this sector and have added small positions in 7 so far. I discussed 3 in my last healthcare basket update: Update For Healthcare Basket Strategy As Of 7/15/16 - South Gent | Seeking Alpha
I am not deterred when the analysts have a negative opinion, as shown by a 50 share purchase of PETX yesterday at $6.43 in my IB account. Fidelity shows the following analyst summary recommendations for that one: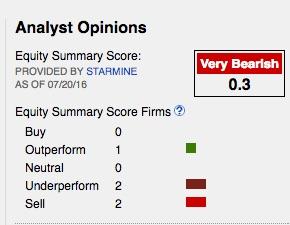 My approach is to go against the grain when I see something that I find interesting.
When compiling this monitor list, I sifted through a much larger number of stocks and gradually whittled the number down based on reading a limited amount of information. If some piece of information perked my interest, the stock was added to the monitor list where I would later conduct 30 minutes to 1 hour of research. Since I have no training or knowledge in this sector, the purpose of the research is just to gain a lay person's feel about potential. In most cases, the market's adverse judgment about potential is reflected in the share price and market capitalization, so one criteria for a purchase is to make an ignorant guess that the market's opinion may turn out to be wrong, recognizing that it may be months or years before I know whether my ignorant guess is better or worse than the opinions of most "informed" analysts that follow the company.
Another purchase was 150 shares of RIGL at $2.15 yesterday that is hardly a screaming buy according to the analyst consensus opinion: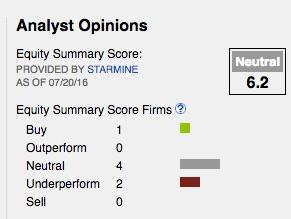 I am using mostly limit orders below the then current bid prices. That was the case for the RIGL purchase yesterday.
Anyone investing in this unprofitable small biotech companies needs to be willing to lose their entire investment.
I will be discussing my most recent purchases in more detail when I next update my healthcare basket, probably in two weeks or so.
I noted in a recent comment that I have made the following observations about these stocks during my very brief history as a gambler in this sector.
When the big biotechs that have revenues and profits are having a bad day, the small cap biotechs with no revenues and significant losses are likely having a worse day. Conversely, the small cap names in the aggregate will move up when the big caps are doing well which is the case so far today:
IBB $276.23 +$6.24 or 2.31%: iShares Nasdaq Biotechnology ETF
There is at least one biotech ETF that follows a different approach than IBB which is concentrated in the major biotechs:
XBI $58.06 $1.63 2.89%: SPDR Series Trust SPDR S&P Biotech ETF (as of 1:22 E.S.T 7/20/16)
Top XBI Holdings (part of 88 stocks):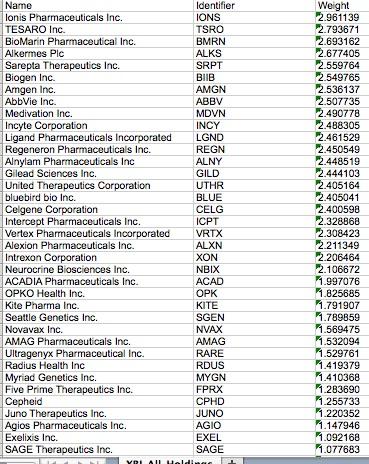 XBI - SPDR S&P Biotech ETF | State Street Global Advisors (SSGA)
IBB Top Holdings (part of 187 stocks):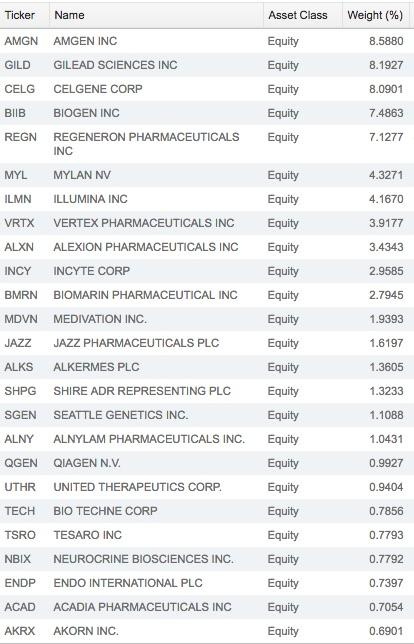 The second observation is the frequent large intra-day percentage swings from highs to lows.
Lastly, it does not take much to turn the herd into a jubilation dance from all is lost, woe is me attitude toward the stock. Frequently, that jubilation, when it is based on some event in an early trial, will dissipate.
++++++++++++
Appendix: Monitor List Update as of 8/4/16 Mid-Day
As usual, a monitor portoflio list that I create at Yahoo Finance expands and contracts over time. Any company that blows up with a key drug failure is likely to be added while others will be added over time. Usually, I will add a name based on some news item that generates some interest. I will then at some point do some research and monitor both news and price.
Investors have turn positive on the biotech space over the past few weeks that has lifted most boats. Earlier in the year, investors were suicidal after a long bout of boundless enthusiasm. In other words, this sector IMO is infected with and influeced by wild emotional mood swings, short term traders and other non-fundamentally based decision-making.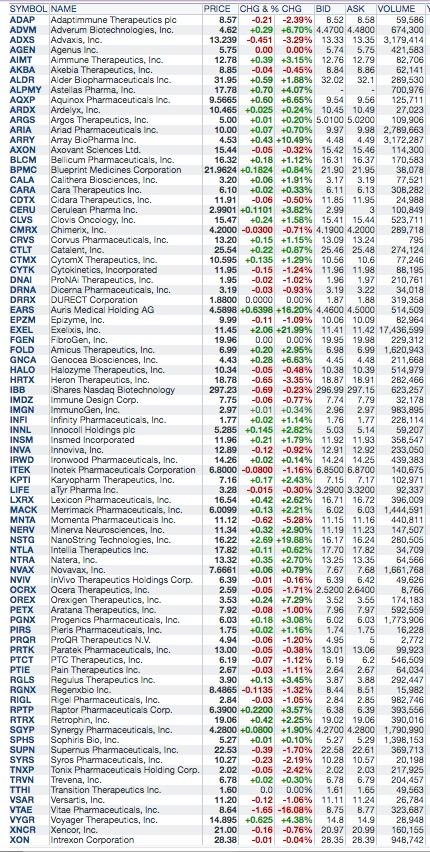 Disclaimer: I am not a financial advisor but simply an individual investor who has been managing my own money since I was a teenager. In this post, I am acting solely as a financial journalist focusing on my own investments. The information contained in this post is not intended to be a complete description or summary of all available data relevant to making an investment decision. Instead, I am merely expressing some of the reasons underlying the purchase or sell of securities. Nothing in this post is intended to constitute investment or legal advice or a recommendation to buy or to sell. All investors need to perform their own due diligence before making any financial decision which requires at a minimum reading original source material available at the SEC and elsewhere. A failure to perform due diligence only increases what I call "error creep". Stocks, Bonds & Politics:ERROR CREEP and the INVESTING PROCESS. Each investor needs to assess a potential investment taking into account their personal risk tolerances, goals and situational risks. I can only make that kind of assessment for myself and family members.
Disclosure: I am/we are long IBB, PETX, RIGL.