I took a snapshot of the new me, having gone to the same plastic surgeon as Sleepless in the Alps's.
Old Geezer's New Look: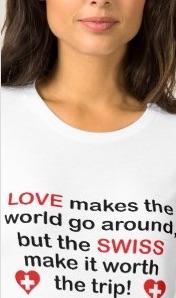 Using the same plastic surgeon as Sleepless gave me an identical look, but I decided to wear another T Shirt so that readers will be able to tell us apart.
What a difference a few nips and tucks, here and there, have done for my appearance. Yes, I have had a sex change operation that has turned me into an attractive 20 something female. And, I lost something like 20 inches plus around the waist (will not disclose the sum in "plus") and 40 something years off my former Old Geezer look.
I am ashamed that I have done this to regain my spot ahead of Sleepless In the Alps's in the Instablog rankings here at SA so I have decided to keep my profile picture and South Gent moniker rather than changing it to Swiss Babe.
There is nothing that I can do to catch with such luminaries like Mad Hedge Fund Trader (currently at # 14, who is according to his ad "the top performing trade mentoring and research service in the industry, averaging a 34.84% annual return since inception for subscribers". I take my hat off that kind of performance. Just incredible, isn't it.
I was thinking about joining him for his upcoming "Global Strategy Update" in San Francisco, where apparently I can get some free food. I changed my mind when I saw a link about buying tickets at $229 per person. Well, if anyone wants to join me for my Global Strategy Session at Taco Bell that day, you can pay for my meal in addition to your own. I prefer the gut burgers at Krystal though if you are trying to get on my good side. A 3 Krystal combo meal with drink costs $6.99, so be sure you can cover it.
+++++++
This topic was last updated here: Update For Exchange Traded Bonds And Preferred Stock Basket Strategy As 7/29/2016 - South Gent | Seeking Alpha
Fixed coupon exchange traded bonds and preferred stocks have what I call asymmetric interest risk between the owner and the issuer that clearly favors the issuer.
I discuss the asymmetric interest rate risk of exchange traded fixed coupon securities here: Update For Bond And Preferred Stock Basket Strategy As Of 9/10/15 - South Gent | Seeking Alpha
I discussed the interest rate risk and other material topics here: Update On Bond And Equity Preferred Stock Basket Strategy As Of 8/14/15 - South Gent | Seeking Alpha (scroll to following titles in the Appendix section: Interest Rate and Lost Opportunity Risks for Fixed Rate Coupon Equity Preferred Stocks; Credit Risks; Volatility Risk for Equity Preferred Stocks)
The following table includes only exchange traded securities. I do not have a table showing my existing $1,000 par value bonds bought in the bond market. I will discuss some of those trades here.
As noted earlier, I am building a bond ladder concentrating on maturities between 2020 to 2025. I will trade these bonds.
I do not have the inclination to discuss all trades $1K par value trades. The issuers are well known, and any bond investor needs to become familiar with the company in order to independently assess credit risks.
Some transaction made prior to the publication of this post will be included in the next update.
++++++++
The Entergy Louisiana LLC 1ST Mortgage Bond Series 2041 (ELA:NYSE) and the Entergy Louisiana LLC First Mortgage Bonds 6.00% Series 2040 (ELB:NYSE) are about to be called by the issuer.
Entergy Louisiana has the right to call these exchange traded bonds at par value plus accrued interest. I know that it will soon issue a redemption notice after looking at a recent SEC filing:
In a recently filed bond prospectus, there is a section in the table of contents that states "use of proceeds", which contains the following information:
"We will use the net proceeds we receive from the issuance and sale of the bonds, together with other available funds, (NYSE:I) to redeem prior to maturity $268 million in aggregate principal amount of our first mortgage bonds maturing between 2040 and 2041 and bearing interest at 5.875% - 6% per year, and (ii) for general corporate purposes. This prospectus supplement shall not constitute a notice of redemption of such first mortgage bonds to be redeemed prior to maturity."
The only bonds maturing in 2040 and 2041 bearing coupons of 5.875% and 6% are ELA and ELB.
ELA apparently has $150M outstanding Prospectus Entergy Louisiana did a $32 partial redemption of ELB late last year, leaving $118M in principal amount. The total outstanding for those two bonds is $268M, the specific sum mentioned in the "Use of Proceeds" section. The Entergy distribution subsidiaries do not mention the security being redeemed by name or symbol but clearly identify it by the coupon and the total redemption amount.
The new Entergy Louisiana First Mortgage Bond was priced with a 4.875% coupon: Final Terms
The issuer is doing what it is in its interest to do. Entergy Louisiana is extending the maturity dates and lowering the coupon. I will not be enticed to buy that new 4.87% bond maturing in 2066 with my redemption proceeds. That is the point. What is beneficial to the issuer is not beneficial to me. Tails the issuer wins, heads the owner loses kind of deal.
The new First Mortgage bond matures on 9/1/2066 unless redeemed early by the issuer. The issuer has the option to call at par value on or after 9/1/2021, which is a standard 5 year period after the IPO generally used for exchange traded bonds and preferred stocks.
This is what I call asymmetric interest rate risk. At most, the issuer assumes the risk that rates will continue to fall. Entergy Louisiana addresses that de minimis risk by staggering the issuance of first mortgage bonds under the same bond indenture.
The owners lock in a low coupon for five years and that is what they get.
On or after the call date, the issuer will call when it is advantageous to it and disadvantageous to the owners or the issuer will allow the owners to keep the bond given a rise in rates which is advantageous to the issuer and disadvantageous to vintage owners.
At some point just prior to a peak in a long term interest rate rise cycle, the decline in the bonds value will make it advantageous for a new buyer.
I would also question the credit risk for an electric utility going too far out into the future, given the technological advances being made with distributed power. Distribution lines may become passé in 20 or 30 years, possibly earlier.
List of outstanding preferred stocks and exchange traded bonds issued by ETR distribution subsidiaries as of 12/31/15:
Quantumonline, a free site which does require registration, provides links to prospectuses and basic details about each security: QuantumOnline.com Home Page
I used one of my free trades to lighten up on EFM: Entergy Mississippi Inc. 6.20% Series First Mortgage Bonds 2040 (EFM:NYSE). I will briefly discuss that trade in my next update on this basket.
+++++++
Basket as of 8/18/16: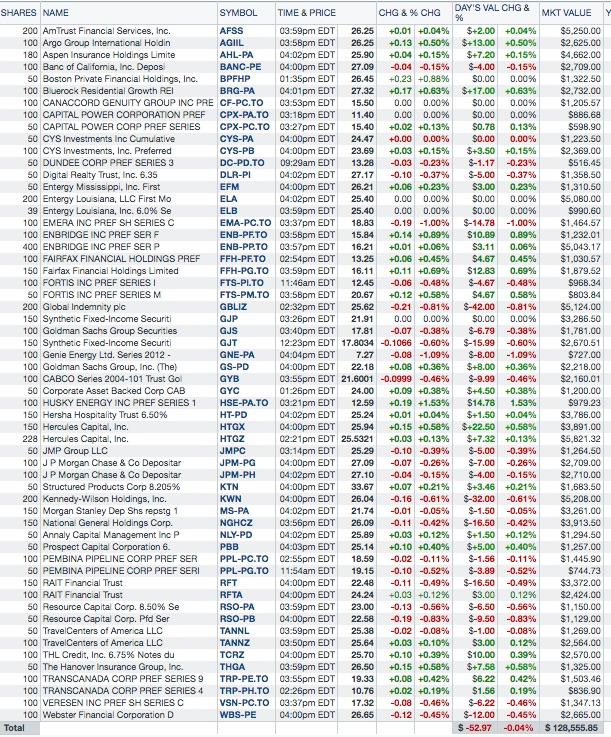 I think that I need to spend a couple of hours to figure out my yield.
The Canadian reset preferred stocks have done well.
I intend to sell the 300 ENBPRP held in my Fidelity account when I can do so at a price greater than today's closing price and when the CAD/USD conversion rate is over .8. I will immediately convert the proceeds from CADs to USDs as part of my transitioning to IB for international trades.
Close Today: ENB-PP.TO C$16.21 0.01 0.06%
Item # 1. Bought 300 ENBPRP:CA at C$12.39: Update For Exchange Traded Bond And Preferred Stock Basket Strategy As Of 2/29/16 - South Gent | Seeking Alpha
CAD/USD= 0.7771 As of 6:18 PM EDT 8/16/16
+++++++++++++
1. Pared Trade: Sold 2 Xerox 3.8% Senior Unsecured Bond Maturing on 5/15/2024 and Bought 2 Xerox 2.75% Senior Unsecured Bonds Maturing on 9/1/20:
Trade Snapshot on 2024: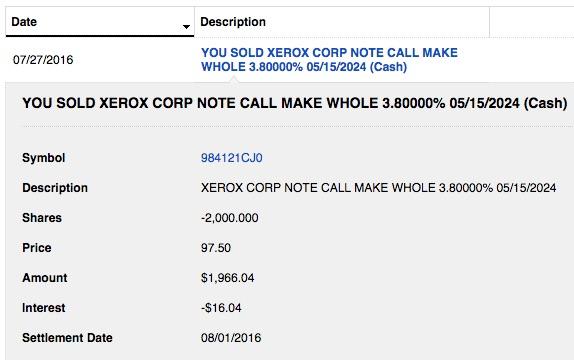 Profit on 2024: +$109.78

Item #3. Bought 2 Xerox 3.8% Senior Unsecured Bonds Maturing in 2024 at 91.911: Update For Exchange Traded Bond And Preferred Stock Basket Strategy As Of 5/16/16 - South Gent | Seeking Alpha
Net Interest Received: +$15.83
Total Return=$125.61 or 6.82% with a 3+ month holding period
Trade Snapshot on 2020:

| | |
| --- | --- |
| Moody's Rating | Baa2 (02/26/2015) |
| Standard & Poor's Rating | BBB- (01/29/2016) |
| Fitch Rating | BBB- (02/01/2016) |
YTM: 3.191%
Xerox sold this note in February 2015: Prospectus Supplement
Xerox Separation into Two Entities: Xerox to Separate into Two Market-Leading Public Companies Following Completion of Comprehensive Structural Review | Xerox Newsroom
Moody's places Xerox's ratings on review for downgrade following separation announcement
Morningstar Common Stock Rating: XRX ★★★ (FV $10)
2015 Annual Report: 10-K (risk discussion starts at page 13)
10-Q for the Q/E 3/31/16
Last SEC Filed Earnings Press Release: Q/E 3/31/16
Rationale: I shortened the maturity by 44 months and realized a decent annualized return on the 2024 bond while sacrificing some current yield through shortening the duration.
2. Sold 10 VCIT: Commission Free at Vanguard
Quote: Vanguard Intermediate-Term Corporate Bond ETF (NASDAQ:VCIT)
Trade Snapshot:
Profit Snapshot: $53.98

Rationale: I am just not interested in a bond fund with such a low yield, though I will trade just about anything in a taxable account.
I would not be the end of the world to buy an individual investment grade corporate bond with a similar yield to VCIT.
I may buy this one back when and if bonds are whacked by a persistent rise in interest rates. If I buy, it will be in my Vanguard Roth IRA where I at least turn an otherwise non-favored taxable dividend into a tax free one.
3. PARED GYC: Sold 50 at $24.01-Taxable Account:
Quote: Corporate Asset Backed Corp. CABCO Series 2004-102 Trust SBC Communication Inc. Floating Rate Trust Certificates (GYC:NYSE)
I am keeping the 50 shares owned in a Roth IRA account where I at least turn the low coupon into a tax free one.
Trade Snapshot:

Profit Snapshot: +$89.07

I still own 50 shares in an IRA: Item # 1 Bought Back 50 of the Synthetic Floater GYC at $21.67 (3/22/15 Post)
Security Description: GYC is a Synthetic Floater in in the Trust Certificate form of legal ownership.
For this security, UBS created a grantor trust, administered by an independent trustee, and sold to that trust senior unsecured SBC Communication bonds (now AT & T). Those bonds are commonly referred to as the underlying security. The AT & T bonds mature on 6/15/2034 and have a 6.45% coupon.
The grantor trust raised the funds to pay UBS through the public sale of trust certificates, each with a $25 par value.
UBS also entered into a swap agreement with the trustee. As a result of that agreement, the trustee delivers to the swap counterparty, originally identified in the GYC prospectus as UBS, the interest paid by AT & T, and the swap counterparty delivers to the trustee the amount owed to the GYC owners.
The owners of the trust certificate bear the credit risk of the underlying bond which is currently rated as follows:
| | |
| --- | --- |
| Moody's Rating | Baa1 (02/02/2015) |
| Standard & Poor's Rating | BBB+ (02/02/2015) |
| Fitch Rating | A- (04/21/2016) |
For as long as the swap agreement remains in effect, the owners of GYC are entitled to receive quarterly interest payments at the greater of 3.25% or .65% over the 3 month Libor rate, with a 8% per annum cap, on a $25 par value. GYC Prospectus
Assuming no early termination of the swap agreement and/or the trust, GYC matures at the same time as the underlying bond which is 6/15/34.
GYC Trading Profits To Date: +$676.61
Item # 2 Bought GYC at $15.5: Synthetic Floating Rate Bond (May 2009 Post); Item # 3 Added 50 GYC at $21.60 in Roth IRA (2/10/11 Post)- Sold 100 GYC at $22.22: Ongoing Reassessment of Synthetic Floaters (7/28/12 Post)(profit snapshot $357.45)
I also had a 40 share flip in the regular IRA: Item # 4 Sold GYC at $22.3 in regular IRA (11/22/2010 Post)-Bought TC GYC at $21
I have flipped more flipped some shares in the Roth IRA:Item # 8 Sold 50 of 100 GYC at $20.8 (10/31/13 Post) and Item # 5 Sold Roth IRA: 50 GYC at $22.3 (12/31/13 Post)(snapshot of profit on 100 shares, two 500 share lot positions=$167.98)-Item # 1 Bought Roth IRA: 50 GYC at $20 (9/7/13 Post) and Added 50 GYC at $18.66 (10/24/13 Post)
4. Eliminated EVERPRA:
Quote: EverBank Financial Corp. 6.75% Non-Cumulative Preferred Series A (EVER.PA)
Security Description: The EverBank Financial 6.75% Non-Cumulative Preferred Stock (EVER.PA:NYSE) is an equity preferred stock issued by EverBank Financial Corp (NYSE:EVER) that pays non-cumulative and qualified dividends at the fixed coupon rate of 6.75% on a $25 par value.
Profit Snapshots:
IB Taxable Account: 50 Shares +$74.47

I used a commission free trade when selling the lot held in my Schwab taxable account:
Profit: $82.52

Rationale: Everbank has agreed to be acquired by TIAA, a non-public company. The following statement was made in the press release announcing this acquisition.
"The holders of the EverBank's Series A 6.75% Non-Cumulative Perpetual Preferred Stock will have the right to receive the liquidation preference of $25,000 plus accrued and unpaid dividends on a share in cash at closing." TIAA Enters into Definitive Agreement to Acquire EverBank
Once the merger is consummated, EVERPRA is likely to be delisted and may or may not trade thereafter in the Grey Market. While TIAA is a better credit risk than Everbank, the potential lack of liquidity and access to financial information are major negatives for me.
The only ways to avoid those negatives are to sell now or receive less per share by tendering the preferred stock for $25 plus accrued dividends. I elected to sell now.
Last Discussed Purchases: 1. Added 50 EVERPRA at $24.65 (IB account) and Another 50 at $24.29 (Schwab account average down): Update For Exchange Traded Bonds And Preferred Stock Basket Strategy As Of 1/22/16 - South Gent | Seeking Alpha
Prior Sales: 2. Pared EVERPRA by Selling Highest Cost 50 Share Lot at $25.41: Update For Exchange Traded Bonds And Preferred Stocks Basket Strategy As Of 3/19/16 - South Gent | Seeking Alpha
My only other prior sale was discussed here: Item # 3 Sold: 50 EVERPRA at $24.9 (6/28/14 Post) (profit snapshot=$128.47/total return=$170.65 or 15.38%)-Item # 5 Bought: 50 EVERPRA at $22.05 (10/31/13 Post)
Total EVERPRA Trading Profits: $294.03
Given my low expectations for this kind of security, any profit on top of the 6.75% coupon is viewed as satisfactory. For this last 100 share lot, I went over a 10% annualized return with a 6.39% profit based on total cost numbers and a 8 month holding period.
5. Bought 1 Discover Financial 3.85% Senior Unsecured Bond Maturing on 11/15/2025 at 99.5-ROTH IRA:
At least I turn this low yielding taxable bond into a tax free one when buying it in an IRA. I was unwilling to buy more than 1 bond given the low yield and 9+ years to maturity. I guess that I am officially now a Yield Beggar. I only now need to find a suitable cup for the pennies and nickels that I am allowed to have in exchange for loans to less than stellar credits.
This bond is thinly traded, and I will likely have no choice but to hold a 1 bond lot to maturity.
Trade Snapshot:

FINRA Bond Detail (prospectus link can be found there)
Discover Financial Services SEC Filings
As noted in the confirmation, there is no rating from Moody's according to Finra. S & P rates the bond at BBB-.
DFS does show ratings from Moody's and Fitch in its last filed 10-Q at page 67:

Common Stock quote: Discover Financial Services (NYSE:DFS)
Consensus E.P.S. Estimates:
2016= $5.73
2017= $6.08
Last Earnings Report: Discover Financial Services Reports Second Quarter Net Income of $616 Million or $1.47 Per Diluted Share
Heck, at least card companies are earning some interest: " Net interest margin was 9.95%, up 32 basis points from the prior year. Card yield was 12.42%, an increase of 38 basis points from the prior year due to portfolio mix and the prime rate increase."
Disclaimer: I am not a financial advisor but simply an individual investor who has been managing my own money since I was a teenager. In this post, I am acting solely as a financial journalist focusing on my own investments. The information contained in this post is not intended to be a complete description or summary of all available data relevant to making an investment decision. Instead, I am merely expressing some of the reasons underlying the purchase or sell of securities. Nothing in this post is intended to constitute investment or legal advice or a recommendation to buy or to sell. All investors need to perform their own due diligence before making any financial decision which requires at a minimum reading original source material available at the SEC and elsewhere. A failure to perform due diligence only increases what I call "error creep". ERROR CREEP and the INVESTING PROCESS Each investor needs to assess a potential investment taking into account their personal risk tolerances, goals and situational risks. I can only make that kind of assessment for myself and family members