Right Brain has been "thinking" about how to improve the SA ranking of this blog and has studied the crowd pleasing methods used by Sleepless in the Alps and others, which includes using pictures of a dachshund, food that does not look healthy, and scantily clad super models as blog ornaments.
After much consultation with Staff here at HQ, with Left Brain dissenting vigorously, the Old Geezer wanted to try that approach here since nothing else was working.
My Allegedly Unhealthy Food Snapshot: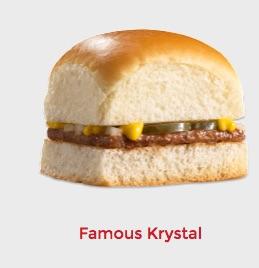 I have been eating Krystals since I was about 5 and have yet to see one that looks like that picture. The bottom layer is generally soaked in a substance that is dark in color. While that substance may be grease, I have never had a laboratory run a test and can not be 100% certain. I suspect that most of that substance, whatever it may be, can still be found somewhere in the digestion tract which may come in handy as a durable food source someday.
I am not going to reproduce a snapshot of a beautiful model here. No, I will not sink to that level.
Instead, I will just link all of the Daniella Sarahyba in a bikini images that can be found on the internet.
I am not interested in Ms. Sarahyba because of her looks. Instead, I was looking for someone to teach me Portuguese in case I was ever at a RIO gas station with Ryan Lochte and needed to speak Portuguese to some security guards. Something like this sentence: Eu nunca conheci esse cara na minha vida. Eu só estava esperando por esse táxi para chegar. Esse cara é louco.
Since I do not currently know any Portuguese words, that sentence was written by a member of my Mexican yard crew who reportedly was fluent in Portuguese.
I now need to relate this to an investment theme.
Daniella Sarahyba -> Brazil -> iShares MSCI BRIC ETF | BKF (Brazil, China, Russia, India)
TRADE SNAPSHOT (commission free at Fidelity)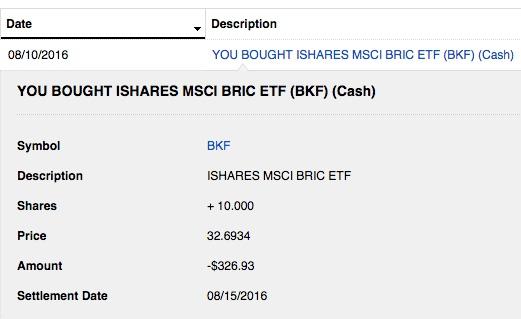 The consensus opinion now is that the BRIC investment concept is a Loser and Dead to Everyone That Matters. Consequently I bought 10 shares in this currently unpopular investment theme. BRIC Investments
BKF has a 1 star rating from Morningstar and a five year annual average total return of -.72% based on net asset value through 8/19/16. So it has been a loser, but has been is not a future tense.
So, I just tied everything together.
And, lastly, my last dachshund picture did not work, so I will try two others, looking for the right mix here of dogs, food and sex to improve the desirability of this blog.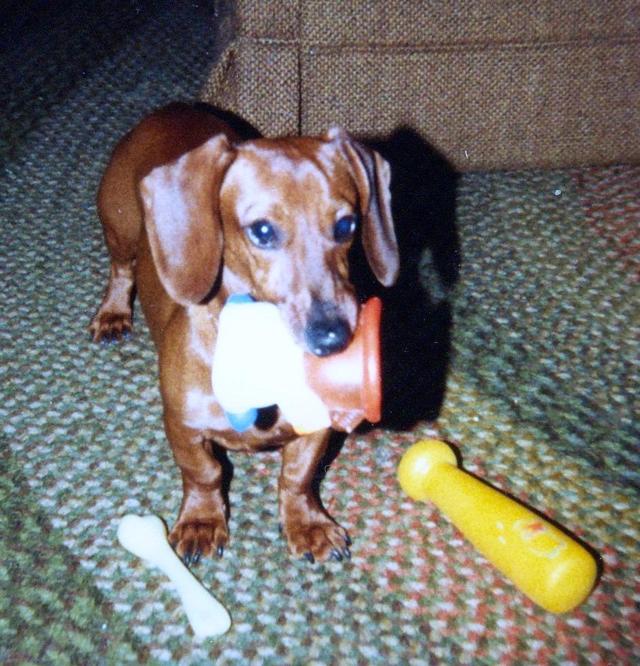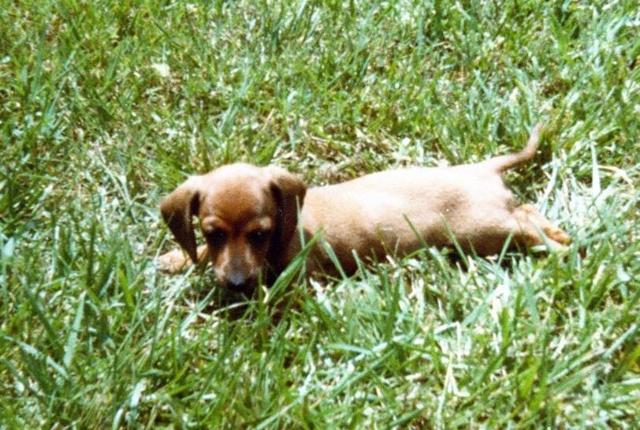 I can, just like Sleepless in the Alps, relate these pictures to an investment theme. My dachshunds consumed Purina Dog Chow, a U.S. company acquired several years ago by Nestle, and I own Nestle stock: Added To Nestle (OTCPK:NSRGY) At $68.8 - South Gent | Seeking Alpha The crowd seemed to be confused about Nestle's earnings report, released last Thursday: Half-Year 2016: good growth based on volume, with margin improvement | Nestlé Global
Thursday 8/18/16:
Nestlé S.A. (OTCPK:NSRGY) ADR Nestle (NESN.VX)
$82.98+$1.44 (+1.77%) CHF 79.5 +1.15 (+1.47%
Friday 8/19/16
NSRGY $81.9 -$1.08 NESN.VX CHF 78.9 -.75%
That is already too much information for the Twitter Generation to absorb.
Lastly, while I am not using the SA Instablog service as an advertisement for a paid subscription service, I will shamelessly advertise now my next Global Strategy Luncheon that will be held at Whitt's Barbecue in Franklin, Tn. The timing of this Global Strategy Session is up in the air and will occur whenever I have a hankering for some barbecue. The Mad Hatter can attend free of charge.
In the event anyone shows up, and Daniella has a standing invitation as my Portuguese instructor, please bring enough moolah to pay for my meal. I have already spent all of my money market dividends for the year filling up my 2007 Saturn and paying last month's electric bill. I do not want to spend my few remaining years living under a bridge crossing the Cumberland River in downtown Nashville, Tn. So I will be carrying a bowl at the next Global Strategy Session for anyone who has some spare change.
+++++++
This topic was last updated here: Update For Portfolio Positioning And Management As Of 7/24/16 - South Gent | Seeking Alpha
My portfolio management goals are described in this 2014 post: Portfolio Management Goals-Snapshots of Performance Numbers YTD, 3 and 5 Years Cumulative.
Summary of Portfolio Management and Positioning:
1. I have been selling my highest cost lots into market strength. My REIT sector basket has been significantly pared by selling my highest cost lots where I bought multiple lots (e.g. LXP, STAG, MPW, SNR, OHI, BRG, IRT). I have kept the lowest cost lots, particularly those bought during the August-September 2015 and January-February 2016 downdrafts.
2. I have made no changes in my leveraged bond CEFs that provide me with monthly dividend payments. In a recent blog, I provided details on the income received from CEFs that pay monthly dividends. Update For CEF Basket Strategy As Of 7/18/16 - South Gent | Seeking Alpha
1. GDO-Western Asset Global Corp Defined Opportunity Fund
1,692.758 Shares x. $.1135=$192.13
2. THQ-Tekla Healthcare Opportunities Fund
946.1197 Shares x. $.1125=$106.44
3. ZTR-Zweig Total Return Fund
826.239 Shares x. $.1120=$92.54
4. ERC-Wells Fargo Multi-Sector Income Fund
767.411 Shares x. $.0923= $70.83
5. GHY-Prudential Global Short Duration
635.739 Shares x. $.11=$69.93
6. VGI-Virtus Global Multi-Sector Income Fund
348.711 Shares x. $.156= $54.4
7. BTZ BlackRock Credit Allocation Income
572.756 Shares x. $.076=$43.53
8. FAX-Aberdeen Asia-Pacific Income Fund
1,112.214 Shares x. $.035=$38.93
9. BWG-Legg Mason BW Global Income Opportunities Fund
395.228 Shares x. $.09+$35.57
10. BCX-BlackRock Resources & Commodities Strategy
532.384 Shares x. $.0446= $23.76
11. THW-Tekla World Healthcare Fund
200 Shares X. $.1167=$23.34
12. KIO-KKR Income Opportunities Fund
100 Shares x. $.125= $12.5
13. FAM-First Trust/Aberdeen Global Opportunity Income Fund
164.431 Shares x. $.075= $12.25
14. ESD-Western Asset Emerging Markets Debt Fund
113.858 Shares x. $.105=$11.96
15. GGN-GAMCO Global Gold Natural Resources & Income Trust
162.03 Shares x. $.07= $11.34
16. BIF-Boulder Growth & Income Fund
309.883 Shares x. $.033 = $10.23
17. BOI-Brookfield Mortgage Opportunity Income Fund
50 Shares x. $.1271 = $6.36
18. ARDC -Ares Dynamic Credit Allocation Fund
60 Shares x. $.1025=$6.15
Total Monthly Dividends From Above: $823.19
$823.19 x. 12 months+$9,878.28
I have quit reinvesting the dividends in all leveraged bond CEFs. The rational is that discounts to net asset values have narrowed considerably this year, market prices are viewed as generally unfavorable for new purchases, and concerns that interest rates, including short term borrowing costs, may start to rise later this year.
I may start to trim some leverage bond CEFs later this year. I am overexposed to GDO and need to knock that exposure down.
3. In a de-risking move for my Roth IRA accounts, I have sold some risk assets and bought individual TIPs. I can buy TIPs in the secondary market commission free at Fidelity and Vanguard which is another material consideration. This is a snapshot of those purchases made in one Roth IRA account starting in June 2016: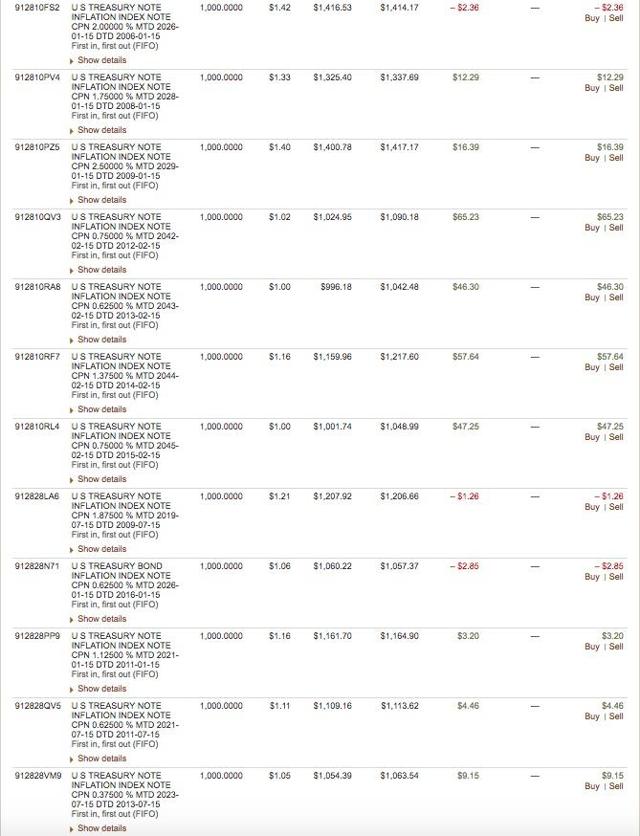 4. I have become far more aggressive in lowering my commission costs which will increase my profits or decrease my losses. I responded to both the Schwab and Fidelity free commission offers and now have 500 free commission trades in my taxable accounts at both of those brokers. I opened an IB account last year where the commission costs and currency conversion fees are much lower than my other discount brokers.
5. I have shifted some funds into healthcare stocks, one sector where meaningful earnings growth is still possible.
6. I have become far more active in short term trading based on my opinions that the stock market is currently overvalued. I am also buying some income stocks in sectors that have been beaten down. That would not include REITs and Utility stocks.
Big Macro Issues Relevant to Portfolio Positioning:
Jobs/Wage Growth/Labor Market Tightening: The BLS reported another blockbuster increase in new jobs.
"Total nonfarm payroll employment rose by 255,000 in July": Employment Situation Summary
June was adjusted upward by 5K to 292K. May was revised upward by 18K.
Wage gains are picky up as well: "In July, average hourly earnings for all employees on private nonfarm payrolls increased by 8 cents to $25.69. Over the year, average hourly earnings have risen by 2.6 percent."
The average work week expanded by .1 hour. While that does not sound like much, it is a big dollar figure given the size of the labor force.
The Bond Ghouls barely reacted to this news.
On the day of the release, the odds of just one .25% increase in the FF rate on or before July 26, 2017 rose to 40.8% from 35.3% the previous day. The probability is now at %. Countdown to FOMC - CME Group
What we are seeing is just extraordinary. A FED scared to raise the FF rate range to .5% to .75% over seven years into an economic recovery, with unemployment tracking at below 5%, core CPI running consistently above 2%, wage increases accelerating as the labor pool shrinks to or near full employment, and real GDP hovering at an annual average rate of 2%+.
Why are interest rates lower now than during the Great Depression or any other prior Depression for that matter?
SPX Valuation:
According to Birinyi Associates, the S & P 500 closed last Friday at a TTM GAAP P/E of 24.85 and an estimated forward 12 month P/E of 18.6 based on Non-GAAP operating earnings: P/Es & Yields on Major Indexes - Markets Data Center - WSJ.com
As of 8/1/16, the Shiller P/E 10 Ratio was almost at the 94% percentile going back to the 19th century. Excluding the tech bubble, the highest P/E 10 ratio was hit at 97% before the 1929 crash and was "72% above its geometric mean" dshort - Advisor Perspectives
Current E.P.S. GAAP and Non-GAAP earnings forecasts show a pronounced and substantial increase in the back half of 2016 and into 2017: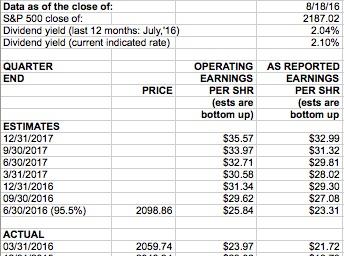 Estimates generally start out high in a year and then come down as reality collides with the hopium.
8/8/16 Non-GAAP Estimate for Q/E 6/30/16 = $25.84 with 95.5% reporting
12/31/15 Non-GAAP Estimate for Q/E 6/30/16 = $31.02

Growth is then discovered as occurring further out into the future.
Comments on Barron's Interview with Stephanie Pomboy:
I am going to discuss Barron's usual puff interview with Ms. Pomboy, whose observations and comments have rarely proved prescient and whose readily apparent data distortions and inconsistencies are never challenged by the fawning Barron's interviewer.
Stephanie Pomboy: A Grim Outlook for the Economy, Stocks - Barron's
I will start by comparing two fundamentally inconsistent thoughts expressed a few seconds apart:
Compare
"Over the last four years, U.S. nominal GDP growth has gone from 4.3% to 4.1% to 3% to 2.4%. The deflator, the inflation we are supposed to be targeting, went from 1.9% to 1.6% to 1.5% to 1.1%. What greater proof do you need that lower rates aren't helping and, to the contrary, are making things worse?
Current policy is setting us backwards.
They've pushed rates to and below zero in an effort to boost growth. But they did so against a population that is aging and needs more than ever to get returns on what they've set aside. By lowering rates, they've actually intensified the saving urge."
With
"The markets anticipate another Fed rate hike. We never should have raised rates in the first place."
One of her central themes is that consumers are not spending and the savings rate has doubled.
Did Barron bother to challenge either assertion or put those assertions in context?
Sure the Savings Rate has doubled from an all time historic low around 2.5% shortly before the Near Depression to slightly over 5% now:

Personal Saving Rate-St. Louis Fed
The savings rate has come down since 2012, when the average was over 7%: Historical Data Series.pdf
The current Savings Rate is significantly below the long term averages prior to 2000. The decline to 2.5% was actually a sign of an economically challenged consumer who was spending ever increasing amounts of borrowed money creating negative savings rates for a large segment of the population.
One reason for a higher savings rate now is simply that consumers have more disposable income to spend, save or to pay down higher cost debt due to home mortgage refinancing tsunami at historically low rates.
DEBT SERVICE PAYMENTS as a percentage of Disposable Personal Income are at historic lows:

Household Debt Service Payments as a Percent of Disposable Personal Income- St. Louis Fed

30-Year Fixed Rate Mortgage Average- St. Louis Fed
This "analyst" will never incorporate positive data into her thinking or even attempt to explain how it undermines her arguments about spending and saving levels.
So consumers can save more and spend more in the aggregate because they have more disposable income after servicing their mortgages.
Are consumers really spending less, which is also a bald assertion that she makes.
The Personal Consumption Expenditure index captures consumer spending in all categories:
See Table 5.1: List of PCE Categories BEA.gov.pdf
Here is the percent annual change in PCE expenditures starting in 2010:
2010: 3.6%
2011: 4.8%
2012: 3.4%
2013: 2.8%
2014: 4.4%
2015: 3.5%
While those numbers are not as robust as during the Age of Leverage when U.S. households started to max out multiple credit cards and to use their homes as ATM machines, it is still good growth.
PCE expenditures were 12,283.7 in billions last year, up from $9,847 in billions in 2009.
Page 3 BEA Data.pdf
PCE increased at a .4% rate in both May and June after a winter lull.
Why not talk about the PCE numbers when claiming that consumer spending is in the toilet and likely to get worse, and why does Barron's never challenge any statement that allegedly supports her persistently dire forecast. Barron's has elevated her to some kind of Guru and apparently does not want to undermine her in any way. She was a favorite of the late Alan Abelson who was bullish for about five seconds in 1982 ( a slight exaggeration)
She says the credit care delinquency rate "is picking up".
The S & P/Experian Consumer Default Credit Index is near ten year lows:S&P/Experian Consumer Credit Default Composite Index
The S & P/Experian Bankcard Default Index is also near ten year lows and has declined from 3.11% in May to 2.92% in July.S&P/Experian Bankcard Default Index
Are any of the following factual statements made by her accurate?
"The July payroll number was a barnburner on the upside. But that report is the exception. Jobless claims, the NFIB small business survey, the employment component of both the ISM manufacturing and nonmanufacturing surveys-they all suggest things are rolling over [getting worse]."
Was the July payroll number an exception?
Apparently she has already forgotten about the June report. The BLS reported 287K new jobs in June and that number was revised up in July. Employment Situation News Release
Smoothing out ups and down since data is invariably lumpy and volatile on a monthly basis, "payrolls are up 204,000 per month while civilian employment is up 221,000 per month" over the past year. nonfarm-payrolls-increased-255,000-in-july ("Meanwhile, civilian employment, an alternative measure of jobs that includes small-business start-ups, rose 420,000" last month) Are those numbers consistent with her statement that employment is rolling over.
She has apparently forgotten the following data from the July release: "Average hourly earnings, which exclude fringe benefits and irregular bonuses/commissions, grew 0.3% in July and are up 2.6% versus a year ago. Hours worked rose 0.5% in July and are up 1.6% in the past year. Combined, total cash earnings are up 4.3% from last year, giving workers plenty of purchasing power." Sourced from: nonfarm-payrolls-increased-255,000-in-july
She also suggests that everything is rolling over as shown in just the employment component of the ISM surveys.
The ISM surveys bob up and down during every expansion.(Click Max Chart: United States ISM Non Manufacturing PMI | 1997-2016 | Data | Chart)
The ISM services PMI was reported at 55.5% in July, comfortably in expansion territory, and the new orders index was a robust 60.3%. ISM July 2016 Non-Manufacturing
Instead of discussing those numbers, Ms. Pomboy chooses to mention only the employment component to support her everything is getting worse thesis. That component fell to 51.4% from 52.7% in June, which still indicates expansion as the following 12 industries increased employment: "Arts, Entertainment & Recreation; Real Estate, Rental & Leasing; Health Care & Social Assistance; Accommodation & Food Services; Management of Companies & Support Services; Mining; Educational Services; Finance & Insurance; Construction; Retail Trade; Wholesale Trade; and Public Administration"
The five industries showing a decrease in employment are as follows: "Other Services; Information; Agriculture, Forestry, Fishing & Hunting; Utilities; and Transportation & Warehousing."
I am not going to draw any conclusions about rolling over from those facts.
I would also emphasize that the ISM and NFIB reports are surveys. Why not refer to the hard payroll data provided monthly by ADP. The reasons is that data does not support her conclusions about small business job creation.
I am not going to discuss every monthly ADP report. Recent historical data for small business hiring can be downloaded into Excel here: ADP Small Business Employment Report | June 2016 (top right corner) That data shows that small business job growth is accelerating in the service sector and holding steady in manufacturing!
In June, small businesses with 1 to 19 employees create 52,000 new jobs while businesses with 20 to 49 employees added 43,000 jobs. The service sector hiring increased by 102,000 that month. July's report did show a slowdown to 61,000 new small business jobs. ADP Small Business Employment Report | July 2016
The employment component of both the services and non-manufacturing indexes also move up and down during expansions. ISM Non-Manufacturing Employment Index If a short term trend favors a bearish thesis, then a Perma Bear will focus on that data and create a long term trend from it. Then, when that negative data improves, it is forgotten and something else is grabbed to support the pre-existing opinion that rarely, if ever, changes. There is always negative short term trends in any data series.
With the nation nearing full employment, it would be natural for job growth to slow and for wages to increase, a relatively simple fact that she ignores as well. Over the past 12 months, average hourly wages increased 3.4% through July according to the Atlanta Fed's Wage Growth Index and has been trending up since December 2009: Wage Growth Tracker - Federal Reserve Bank of Atlanta
The four week moving average of initial unemployment claims is near the prior expansion lows:

4-Week Moving Average of Initial Claims-St. Louis Fed
Why on earth would anyone say that jobless claims show that everything is rolling over? It is just an asinine argument and nothing more.
Her forecast for the second half of 2016 is far the economy to grow no faster than the first half or slower:
"The consensus is forecasting GDP to more than double in the second half, from 1% to roughly 2.5%. We are far more likely to stay in the 1% area or go lower."
We shall see. The current GDPNow forecast for the third quarter is for 3.6% REAL GDP Growth as of 8/16/16: GDPNow - Federal Reserve Bank of Atlanta
Ms. Pomboy is a reality creator on steroids IMO and Barron's is her enabler.
If her persistent dire forecasts prove accurate, it will be the broken clock being right twice a day. It will not be due to her correctly evaluating all material current and past data and then making a reasonable future forecast that proves accurate. A BlackJack player may win two hands splitting 10s, but that does not mean that the player knows what he is doing. Just the opposite.
I do agree with her opinion that Central Bankers are making things worse now with their abnormal monetary policies. And, I do believe that the negative interest rate component of those policies will prove to be one of the many ill-advised central bank policies that may ultimately be up there with the credit tightening after the 1929 stock market crash.
++++++++++++
A. Profit Harvesting of Risky High Yielding Securities :
1. Sold 102+ ARCC at $15.32-Taxable Account and 50 at $15.26-Roth IRA
Taxable Account Trade Snapshot:

Profit Snapshot: +$53.73

Roth IRA Account Profit Snapshot: +$8.99

I sold my highest cost lot in that Roth IRA account that had been purchased at $14.8 back in September 2015.
I still own 50 shares in that Roth IRA account. Item #1 Added 50 ARCC at $14.15 Roth IRA: Update For Portfolio Positioning And Management As Of 6/26/16 - South Gent | Seeking Alpha
The history of my positions in that Roth IRA account highlight the difficulty in achieving a total return in excess of the dividend yield which is my goal for all BDC positions. And, ARCC is one of the better externally managed BDCs.: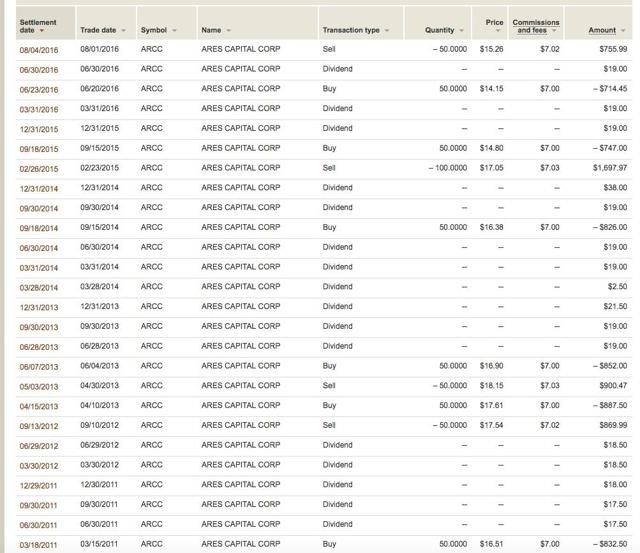 Note that my prior sell in this account was at $17.06 on 2/26/15.
BDCs have a religious cult following here at SA due to their high dividend yields. I am not a member of that cult.
I still own another 50 share lot recently bought in my IB taxable: 1. Added Another 50 ARCC at $14: Update For Portfolio Positioning And Management As Of 7/9/16 - South Gent | Seeking Alpha
So, I have pared my overall exposure some, while keeping my lowest cost lots. I will consider buying back some or all of the shares sold when and if the purchase lowers my average cost per share which will require a purchase at <$14.
ARCC Net Asset Value Per Share Trends (Better than most externally managed BDCs and some internally managed ones):
3/31/05: $14.96
9/30/2007: $15.74
6/30/2008: $12.83 10-Q
6/30/2010: $14.11
3/31/12: $15.47
9/30/13: $16.35
12/31/14: $16.82
3/31/16: $16.5
6/30/16: $16.62
Sourced: ARCC 10-Qs
2015 Annual Report (risk discussion starts at page 31 and ends at 56)
Last Earnings Report: SEC Filed Press Release

Realized gains were required to bring core E.P.S. up to $.39 per share or just one cent above the current quarterly dividend rate.
Q2 2016 Results - Earnings Call Transcript | Seeking Alpha
Prior Trades: I eliminated by ARCC position in April 2015 by selling 100 shares at $17.2: SOLD 100 ARCC at $17.195 (4/28/15 Post)(profit snapshot=$116.36)- Bought 50 ARCC at $15.41-A Typical Small Lot Purchase Of An Externally Managed BDC Stock - South Gent | Seeking Alpha and Item # 3 Bought: 50 of the BDC ARCC at $16.17 (1/21/11 Post)
Other "successful" trades are discussed in these posts: Sold 100 ARCC at $17.54-IRAs in Two 50 Share Lots (9/13/12 Post)-Item # 4 Added 50 ARCC at $16.9-Regular IRA (5/21/11 Post) and Item # 3 Bought 50 ARCC at $16.89 (12/3/2010 Post); Item # 3 Sold100 ARCC Roth IRA at $17.05 (2/25/15 Post)(profit snapshot=$17.05 plus $157 in dividends).
2. Sold 50 BDCL at $18.44:
Quote: 2xLeveraged Long E-TRACS Linked to Wells Fargo Business Development Co. Index (NYSEARCA:BDCL)
Trade Snapshot:

Profit Snanpshot: +$67.48

See Item # 1. Added 50 BDCL at $17.05: Update For Portfolio Positioning And Management As Of 7/9/16 - South Gent | Seeking Alpha
The 2xLeveraged Linked to Wells Fargo BDC Index ETN (BDCL) is one dicey security for an Old Geezer. This ETN is an unsecured debt obligation issued by UBS that provides a monthly compounded two times leveraged long exposure to the Wells Fargo BDC Index
Sponsor's webpage: BDCL | 2xLeveraged Long Wells Fargo | UBS ETRACS (click the key considerations tab for a risk summary)
I received one $.71 per share quarterly dividend or $35.5.
Total Return: $102.98 or 12.07% (holding period 43 days)
Rationale: My first foray into this risky and high yielding product taught me that a quickie trade is probably the way to go.
The YTD total return was 34.01% through 8/19 but the annual average total return over the past three years was 5.97%. That indicates that the value of substantial dividends paid by this ETN have been diminished by share price depreciation over that 3 year period, which is confirmed by looking at a 3 year chart: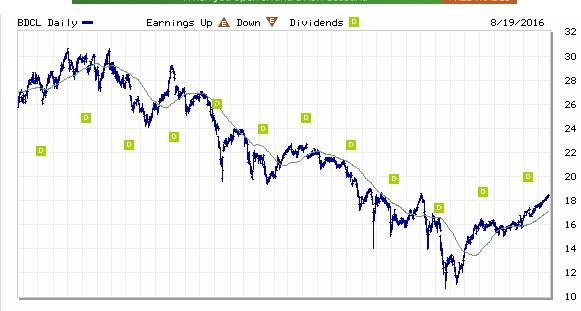 B. De-risking ROTH IRA Accounts: I manage my Roth IRA with the paramount objective being preservation of capital.
1. Sold Highest Cost OHI Lot at $37.15 and Bought 1 TIP Maturing in 2026:
Quote: Omega Healthcare Investors Inc. (NYSE:OHI)
Profit On 50 OHI Shares = +$73.05

My purchase of this lot was discussed here under the heading "Healthcare Reits".
I received $2.86 per share in dividends since my 7/14/15 purchase or $143: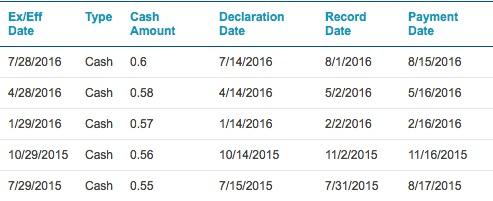 Total Tax Free Return: $216.05 or 12.17% (about a 13 month holding period)
For most of my ownership period, I had an unrealized loss on this lot.
I still own 50 OHI shares bought at $32.5: Item # 2. Added 50 OHI at $32.5 Roth IRA Update For Equity REIT Basket Strategy As Of 11/16/15 - South Gent | Seeking Alpha
Overall, my total position is down to 200 OHI shares and 4 intermediate term OHI senior unsecured $1K par value bonds.
Part of a de-risking strategy is to sell higher cost shares after a price surge.
Last February, OHI's stock fell to $27: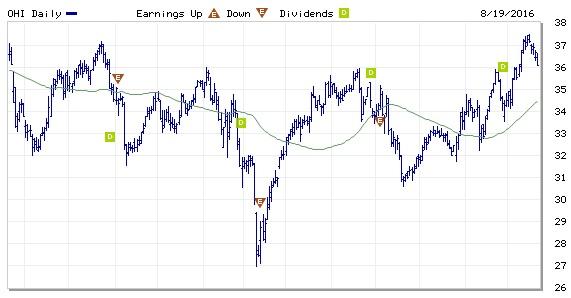 One Year Interactive Stock Chart
For a period where REIT stocks have surged in price, the considerable amount of extreme up and down chop that ends up going nowhere indicates to me that institutional investors do not have the same favorable opinion of this company as individual investors.
Virtually every week, I read one or more positive and glowing SA article about this company Omega Healthcare Investors, Inc Stock | Seeking Alpha Brad Thomas calls the stock a Blue Chip.
More emphasis needs to be made about the concerns that underlie the erractic up and down going nowhere price action. I will discuss some of those issues in my next REIT update.
With the TIP maturing in 2026, I will receive far less in income, but I acquire safety of principal. The current swap of 50 OHI shares for a 2026 TIP would not be consistent with an investor that needs to grow funds in their retirement accounts. It is consistent with a strong capital preservation objective, particularly after OHI's stock has surged in price and based on its recent price history.
I discuss buying TIPs in two recent posts: Update On Buying TIPs In The Secondary Market - South Gent | Seeking Alpha (reference selling 1 recently bought TIP maturing on 2/15/16 for $60.2 profit); The Mechanics Of Purchasing A TIP In The Secondary Market - South Gent | Seeking Alpha
Needless to say, I am concerned about bond and stock valuations and have been shifting in my IRA accounts to a strategy where the return of my money is more important than the return on my money. I do take measured risks in the IRA accounts but now seems like a good time to de-risk.
I started buying TIPs in my two ROTH IRA accounts in June.
The break-even spread for the ten year TIP was at 1.44% on 8/10/16. I will need CPI to have a better than 1.44% annual average increase over the next ten years to produce a better total return than the 10 year nominal treasury. I am willing to take that bet. Whatever the result, I will receive my money back plus some inflation accretion to the principal and ten years of interest.
The original issue date for this particular TIP was on 1/29/16. The security was sold at auction on 1/15/16. The coupon is .625%. Since this was a new issue and the inflation adjustment so far has been minor, I did not have to pay much in accreted principal to the seller.
The referenced CPI number on the dated date was 237.61129:

I did pay a premium price since the real yield of a ten year TIP has fallen from the .625% on the auction date to less than .1% when I purchased this TIP. I would have been better off buying at auction.
The inflation factor is applied to the price to arrive at the principal amount paid to the seller. (104.938 x. 1.1214=106.211947 x. 10=$1,062.11947 round to $1,062.12 in principal plus accrued itnerest)
See also: Institutional - TIPS/CPI Query Results; CPI and Index Ratios for August 2016.pdf
The principal amount of a TIP bond is adjusted, up and down, by the CPI numbers and the semi-annual coupon is applied to that adjusted principal amount.
C. Bond Like Stock-Nowhere Price Action For Five Years-Possible Turnaround in Motion and/or Possible Acquisition:
1. Bought 100 OB at $13.83:
Trade Snapshot (Used Commission Free Trade At Fidelity)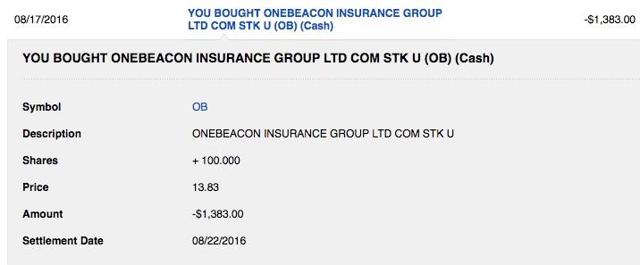 Quote: OneBeacon Insurance Group Ltd. Cl A (NYSE:OB)
Company Website: OneBeacon Insurance Group: Specialty Insurance
"OneBeacon's underwriting companies offer a range of specialty insurance products sold through independent agencies, regional and national brokers, wholesalers and managing general agencies. . . OneBeacon's solutions target group accident; architects and engineers; commercial surety; entertainment; environmental; excess property; financial institutions; financial services; healthcare; management liability; ocean and inland marine; programs; public entities; technology; and tuition refund."
Dividend Yield: The general idea for this type of investment is to harvest several dividend payments and attempt to squeeze a profit sufficient to generate a 10% or higher annual total return.
The current quarterly dividend rate is $.21 per share. The dividend yield at a total cost of $13.83 per share is about 6.07%.
The regular quarterly dividend rate has remained constant at $.21 per share for a long time. The company did pay out special dividends of $2.03, $2.5 and $1 and in 2008, 2010 and 2011 respectively. OB Dividend History
My dividend yield is currently higher than the following composite bond rates:
BofA Merrill Lynch US Corporate BBB Effective Yield = 3.23%
BofA Merrill Lynch US High Yield BB Effective Yield = 4.47%
Chart: This stock has not participated in the stock market rally since 2009. The stock was trading near current levels in late 2009: OB Stock Chart
However, with the dividends reinvested, the annual average total return since 11/1/2009 through last Friday was 12.28% with $9.17 per share paid in dividends.
Using dividends to buy shares consistently has lowered the average cost per share due to periods when the price was below current levels, to no time periods when the price was substantially higher than now which is important as well, and to the compounding nature of dividend reinvestment.
Turnaround?: One mutual fund manager believes an earnings upturn is in the cards.
I discovered this company recently by reading the 2015 annual report of the T.Rowe Price Financial Services Fund (MUTF:PRISX) which I own. Part of a due diligence exercise is know what you own, and reading fund reports is just small part of that DD. Mutual fund reports are available at the SEC, the sponsor's website and can be found under the "Filings" tab at Morningstar: T. Rowe Price Financial Services PRISX Prospectus | SEC Filings
I will just take a snapshot of the commentary:

I did spend an hour looking into those assertions, and changes have been made.
OneBeacon Completes Sale Of Runoff Business
"With the closing of the Runoff Transaction, we completed our transformation into a specialty insurance company and our balance sheet and risk profile have changed significantly. Our exposure to claims from policies related to the Runoff Business, such as commercial general liability, including asbestos and environmental exposures, and workers compensation policies, is now limited to the value of the surplus notes issued in conjunction with the transaction, which have a fair value of $51.5 million as of December 31, 2015. Our total outstanding reserves as of December 31, 2015 for 2004 and prior accident years total $0.1 million and for 2006 and prior accident years total $7.1 million." 10-K at page 1
It remains to be seen whether those changes will result in an earnings acceleration.
The three analysts provided earnings estimates have a consensus E.P.S. forecast of $.78 this year and $.65 next year, so they do not collectively see a turnaround. OB Analyst Opinion
Insurance companies invest heavily in bond and mortgages and income from those sources has been trending down. So that is a headwind. As of 6/30/16, OB owned $2.1198B in fixed maturity bond, mortgages and mortgage backed securities, $114.5M in short term investments; $237.1M in common stocks and $133.8M in other investments: Page 19 10-Q The company had outstanding $275M in senior unsecured debt that matures on 11/9/2022. The coupon is 4.6%.
Recent Earnings Report: There were a number of unusual income items in the first two quarters of 2016: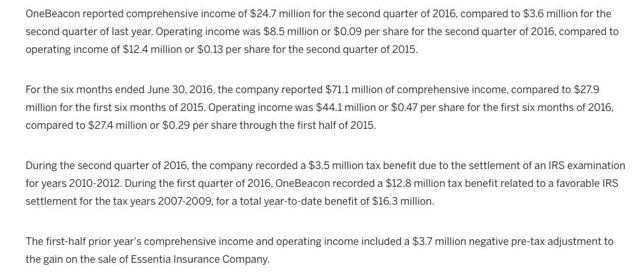 OneBeacon Reports $10.83 Book Value Per Share
White Mountain Insurance (NYSE:WTM) and affiliated companies Lone Tree Holdings and Bridge Holdings own 71,754,738 shares of the Class B shares or 100% of the total as of 4/18/16: SEC Form 13G White Mountain effectively owns about 75.5% of OB as of 12/31/15. 10-K at page 1; FINAL AMbest online report.pdf
"White Mountains Insurance Group, Ltd. ("White Mountains") is the indirect beneficial owner of the 71,754,738 Class B common shares ("Class B Shares") that are currently held directly by Lone Tree Holdings Ltd. and Bridge Holdings (Bermuda) Ltd., as presented herein. . .Lone Tree Holdings Ltd. ("LTH") is a wholly owned indirect subsidiary of White Mountains. LTH holds 57,327,289 Class B Shares directly and is the indirect beneficial owner of 14,427,449 Class B Shares held directly by Bridge Holdings (Bermuda) Ltd."
White Mountains is effectively the parent company.
If OB is to be acquired, White Mountain will have to approve a transaction with a third party or be the acquiring party.
"On April 18, 2016, White Mountains completed the sale of Sirius Group to CMI for approximately $2.6 billion. $161.8 million of this amount was used to purchase certain assets to be retained by White Mountains out of Sirius Group, including shares of OneBeacon. . . Assets held for sale do not include White Mountains's investment in OneBeacon". Page 8 White Mountain 10-Q for the Q/E 6/30/16
Disclaimer: I am not a financial advisor but simply an individual investor who has been managing my own money since I was a teenager. In this post, I am acting solely as a financial journalist focusing on my own investments. The information contained in this post is not intended to be a complete description or summary of all available data relevant to making an investment decision. Instead, I am merely expressing some of the reasons underlying the purchase or sell of securities. Nothing in this post is intended to constitute investment or legal advice or a recommendation to buy or to sell. All investors need to perform their own due diligence before making any financial decision which requires at a minimum reading original source material available at the SEC and elsewhere. A failure to perform due diligence only increases what I call "error creep". Stocks, Bonds & Politics:ERROR CREEP and the INVESTING PROCESS. Each investor needs to assess a potential investment taking into account their personal risk tolerances, goals and situational risks. I can only make that kind of assessment for myself and family members.
Disclosure: I am/we are long ARCC, BDCL, OHI, OB.