I have been trying to figure out why a U.S. based company with a Canadian website is selling T Shirts with Swiss Emblems, one of the perplexing issues that Right Brain has been pondering today. Swiss T-Shirts & Shirt Designs | Zazzle
I can't decide which is the best look for me.
This photo-the new me-expresses my feelings and current opinion about stocks: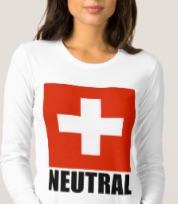 But I am torn. I am partial to blond hair whether natural or not: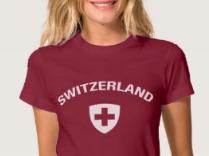 As long time readers know, Right Brain has been plotting the purchase of Switzerland for many years, all of it. The purpose is unclear, possibly it may have something to do with getting a date with one of these American Models.
Here's my dog picture for the day: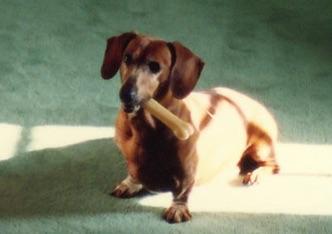 I am not pandering here.
I have thrown my hat into the ring for the Presidency of the United States and have provided America with a Clear Vision for the Future: Update
And we were all born poor, which will be a focus point in my campaign, as proved by this ancient unretouched photograph which includes the Old Geezer when he was a younger Old Geezer: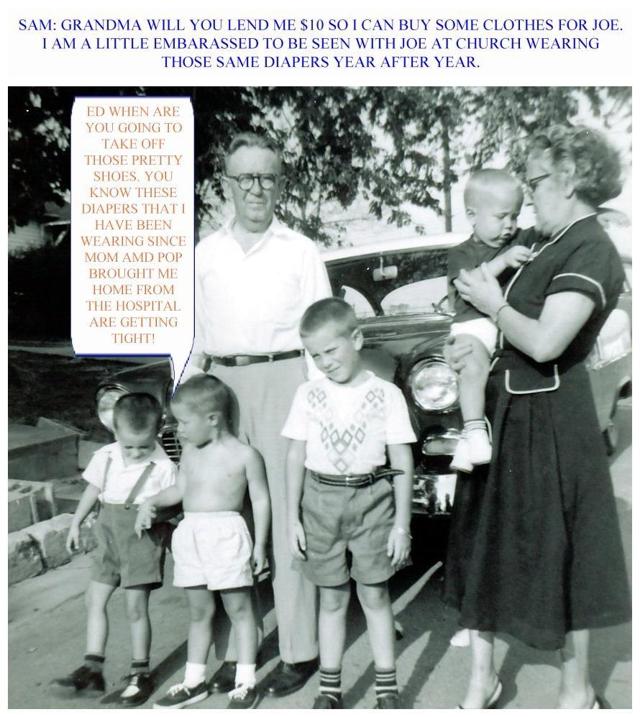 Just amazing that the old Kodak could capture the words and picture!
Isn't this a lot more fun than discussing bonds, just another term for some kind of Old Man's Disease.
++++++++
This topic was last updated here: Update For Exchange Traded Bonds And Preferred Stock Basket Strategy As Of 8/16/16 - South Gent | Seeking Alpha
Fixed coupon exchange traded bonds and preferred stocks have what I call asymmetric interest risk between the owner and the issuer that clearly favors the issuer.
I discuss the asymmetric interest rate risk of exchange traded fixed coupon securities here: Update For Bond And Preferred Stock Basket Strategy As Of 9/10/15 - South Gent | Seeking Alpha
I discussed the interest rate risk and other material topics here: Update On Bond And Equity Preferred Stock Basket Strategy As Of 8/14/15 - South Gent | Seeking Alpha (scroll to following titles in the Appendix section: Interest Rate and Lost Opportunity Risks for Fixed Rate Coupon Equity Preferred Stocks; Credit Risks; Volatility Risk for Equity Preferred Stocks)
The following table includes only exchange traded securities. I do not have a table showing my existing $1,000 par value bonds bought in the bond market. I will discuss some of those trades here.
I have built, mostly this year, a bond ladder concentrating on maturities between 2020 to 2025. I will trade these bonds. Most of them are rated BBB-, though some are higher grade junk bonds.
I do not have the inclination to discuss all trades $1K par value trades. The issuers are well known, and any bond investor needs to become familiar with the company in order to independently assess credit risks.
Some transaction made prior to the publication of this post will be included in the next update.
+++++++++++++++
Basket as of 8/25/16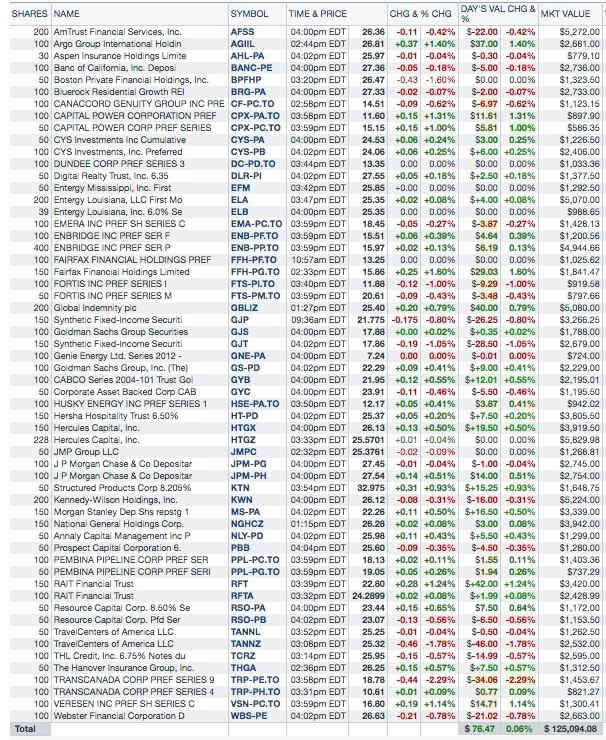 I have made a material transition to Canadian reset preferred stocks starting in February 2016 with this purchase:

++++++++++++
Closing Prices 8/25/16:
TLT: $139.17 -$.53 iShares 20+ Year Treasury Bond ETF
TIP 116.15 -$0.06: iShares TIPS Bond ETF
VCIT $89.73 -$0.11 Vanguard Intermediate-Term Investment Grade Corporate Bond ETF
BABS $66.97 -0.23 SPDR Nuveen Barclays Build America Bond ETF
++++++++++
1. Sold 100 of 150 EFM at $26.19:
The Entergy Mississippi Inc. 6.20% Series First Mortgage Bonds 2040 (EFM) is a first lien bond on substantially all of Entergy Mississippi's assets. Interest is paid quarterly based on a fixed coupon rate of 6.2% on a $25 par value. The issuer has the option to redeem at par value plus accrued interest on or after 4/15/2015. Unless the issuer elects to redeem this bond early, it will mature on 4/15/2040.
Preliminary Prospectus Supplement
Trade Snapshot (commission free trade at Schwab)

Profit Snapshot:

Rationale: After a spat of redemptions by other Entergy distribution subsidiaries, I decided to harvest a profit on this lot while I still had it. The issuer of this First Mortgage has the option now to redeem at par value plus accrued interest.
I will keep the 50 EFM shares held in a Roth IRA account until Entergy Mississippi gets around to calling it. Item # 2 Paired Trade: Sold 50 EMQ at $26.49 and Bought 50 EFM at $24.9 Roth IRA (11/16/13 Post)
Roth IRA History (50 share lot-Vanguard account):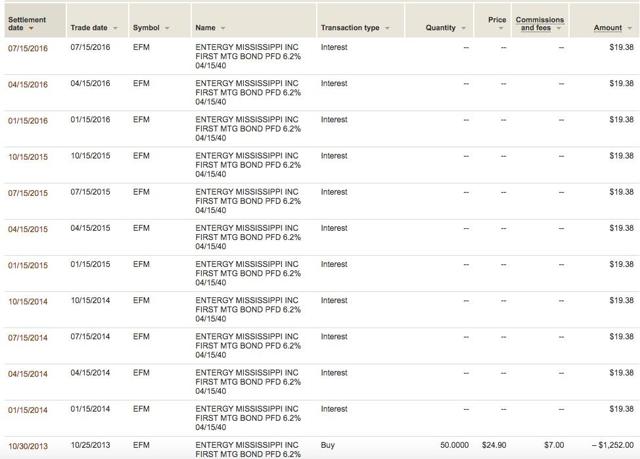 My last sell transaction was discussed here: Item # 3 Sold 100 EFM at $25.96 (2/11/15 Post)(total return 9.86%)-Bought 100 EFM at $24.88 (2/17/14 Post)
2. Sold 2 Icahn Enterprises 4.875% Senior Unsecured Note Maturing on 3/15/19 at $99.625:
Issuer: Icahn Enterprises L.P (NYSE:IEP)
Trade Snapshot:

Profit Snapshot: +$45.78

5. Bought 2 Icahn Enterprises 4.875% Senior Unsecured Bonds Maturing on 3/15/19 at 96.78: Update For Exchange Traded Bonds And Preferred Stocks Basket Strategy As Of 6/29/16 - South Gent | Seeking Alpha
Rationale: Icahn is a debt junky whose standing as an investment guru has increased with the number of his Twitter followers. Does Carl write his own tweets that he bought some stock which is then levitated in price after the tweet? He probably has an expert twitterer to write those tweets. And, who says you can't teach an old dog new tricks.
I do not have any Twitter followers since I do not have a Twitter account. And I have no debt which is two strikes against me, not that I am comparing myself to any well known investment guru. The third strike is that I tend to go over 140 words in these blogs of mine. Maybe I need a Twitter coach.
I understand the gimmicks however. I just have not been able to make them work for me here. Can you attach pictures of scantily clad super models to a tweet discussing Icahn bonds? I am just thinking out loud here.
I still own 2 Icahn 6% bonds, maturing in 2020, that were bought at a lower price: 3. Bought 2 Icahn Enterprises 6% Senior Unsecured Bonds Maturing on 8/1/2020 at 96.728-ALL IN: Update For Exchange Traded Bond And Preferred Stock Basket Strategy As Of 5/26/2016 - South Gent | Seeking Alpha
For now, I am going only with the bond that pays me more and matures in August 2020.
UBS recently downgraded the common stock to sell and lowered the price target to $30: Barrons.com
3. Sold 100 AHLPRA at $25.95 and 50 at $25.93:
Profit Snapshot # 1: +$261.66

Profit Snapshot # 2: +$92.43:

Security Description: AHLPRA is a fixed-to-floating rate equity preferred stock issued by the reinsurance company Aspen Insurance (NYSE:AHL) that currently pays a non-cumulative and qualified dividend at the fixed coupon rate of 7.401% on a $25 par value.
As described in earlier posts, the problem is that the transition to a floater occurs on 1/1/2017 and that will result in a significant cut.
I decided to go ahead and harvest most of my unrealized gains before the transition occurs.
AHLPRA Trading Profits to Date: $836.24
Prior Trades:
2010 Roth IRA 100 Shares +$167.1

Item # 4 Sold 50 AHLPRA at 24.25 (10/1/2010 Post) Item # 1 Added 100 AHLPRA at $22.54 (9/7/2010)
2011 Taxable 100 Shares +$315.05

Item @ 2 SOLD 100 AHLPRA at 24.44 (3/16/11 Post)-Item # 6 Bought 50 AHLPRA at $19.75 (10/8/2009 Post) and Item # 7 Bought 50 AHLPRA at $22.35 (7/26/2010 Post)
I discuss in this blog why this security may have some appeal after the dividend cut compared to METPRA, an equity preferred floater that pays the greater of 4% or 1% above the 3 month Libor on a $25 par value. Item 2. Bought Back AHLPRA at $23.9 and Another 50 at $24.35 in the IB account: Update For Exchange Traded Bonds And Preferred Stocks Basket Strategy As Of 1/28/16 - South Gent | Seeking Alpha
METPRA was then priced at $24.37 and is now trading mostly over $25.5. MetLife Inc. Floating Rate Non-Cumulative Preferred Series A (MET.PA:NYSE). Investors are just begging on their hands and knees for yield now.
I still own a few AHLPRA shares. I will wait to see what develops in 2017 before considering a purchase somewhere below par value.
4. Added 50 CYSPRB at $23.7:
Last Discussed: Item # 1. Bought 50 CYSPRB at $23.52: Update For Exchange Traded Bonds And Preferred Stocks Basket Strategy As Of 7/22/16 - South Gent | Seeking Alpha
Quote: CYS Investments Inc. 7.5% Cumulative Preferred Series B (CYS.PB:NYSE)
Issuer: CYS Investments Inc. (NYSE:CYS)
2015 CYS Annual Report: 10-K (risk discussion starts at page 6)
This was one weird order fill.
Trade Snapshot (used a commission free trade at Schwab):

CYSPRB pays cumulative and non-qualified dividends at a fixed coupon rate of 7.5%. Par value is $25. The issuer has the option to redeem on or after 8/3/17.
The tax characterizations of prior dividend payments can be found at CYS Investments Preferred Stock Dividend Taxation. For 2015, 100% of the dividend payments were taxable at the non-qualified ordinary dividend rate. For planning purposes, I view that rate as my highest marginal tax rate.
CYS is a Mortgage REIT and has to pay out at least 90% of its net income to maintain its tax status as a flow through entity.
The preferred shareholder has a preference right to income over the common shareholders. This preference is enforced by a "stopper clause" in the prospectus that prevents CYS from paying a cash common share dividend while deferring the preferred share dividend payments.

Analysts argue that CYS is one of the Mortgage REITs that will benefit from a rising 3 month Libor rate: Barrons.com
I decided to add another 50 shares to replace some of the income being lost through the early optional redemption of ELA and ELB.
I will lose 200 shares of ELA on 9/16/2016: Entergy Louisiana, LLC Announces Redemption of First Mortgage Bonds, 5.875% Series due June 15 Those ELA shares generated $293.75 in annual interest payments.
If I owned 200 shares of CYSPRA, I would generate only $375 in annual dividend payments which would have the same tax status as interest payments.
Needless to say, an equity preferred stock issued by CYS or any other Mortgage REIT has substantially more credit risk than an A2 First Mortgage Bond issued by Entergy Louisiana.
This last purchase brings me up to 100 shares of CYSPRA.
With the FED's Jihad Against Responsible Americans now approaching its 8th anniversary date, this kind of income substitution has been the norm for several years as higher quality bonds mature or are redeemed early, and the reinvestment options for the proceeds generate less income or require the assumption of considerably more risk for similar income.
The options for reinvestment now are not good.
I have a Yahoo Finance monitor portfolio list of about 200 exchange traded bonds and preferred stocks issued by U.S. companies. I infrequently open it for viewing now since the results displayed are depressing and provide inadequate compensation for the risks including interest rate, volatility, credit, loss opportunity, and redemption risks. Most sell at premiums to par value and the issuer has now or soon will have the right to call at par.
Note: I also bought 100 of the common shares at $8.92 in a Roth IRA and will soon sell my smaller position held in a taxable account:

CYS 2nd Quarter Financial Report:

5. Bought 100 DCPRD: 50 at C$13.45 and 50 at C$13.1-IB Taxable Account:
I was charged a C$1 Commission for both trades.


Average Total Cost Per Share = C$13.295
Security Description: The Dundee Corporation Cumulative Preferred Series 3 (DC.PR.D:TOR) is an equity preferred stock issued by the Dundee Corporation that pays quarterly dividends at a 4.1% spread to the 3 month Canadian Treasury Bill rate.
This security is the Series 3 preference shares referenced below.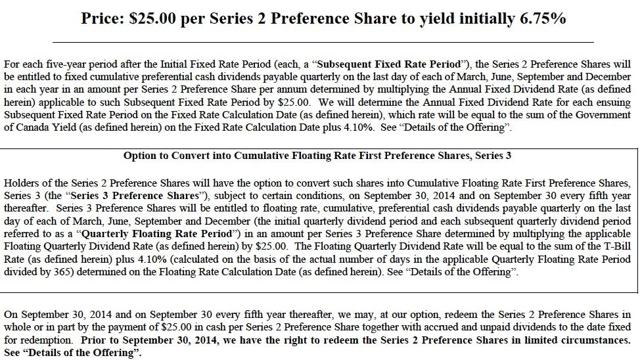 The Series 2 preference shares, DCPRB, reset for five years in September 2014 at a 4.1% spread to the 5 year Canadian treasury note on 9/2/14. That rate is currently 5.688% and will reset again on 9/30/19. 2014-09-02-Div-Rates-pref-shares.pdf
The 3 month Canadian T. Bill is lower now than during the Great Depression:

Treasury Bill Auction - Average Yields - 3 Month
Currently, the 3 month Canadian T Bill is hovering near .5%.
Central Bankers believe that negative interest rates and negative real yields produce growth and provide incentives for bank lending to fuel growth.
Notwithstanding the currently low T Bill rate, I pick up a decent yield by combining the 4.1% spread to that rate and applying that coupon to a C13.3 price, a 46.8% discount to the $25 par value.
The quarterly dividend will be variable.
Dundee did declare the next quarterly dividend at a C$.293014 penny rate per share. That would be about a 8.81% yield at C$13.3 per share.
At a 4% T Bill rate during a quarterly reset, the coupon for that quarter would become 8.1% and that translates into a 15.23% annualized yield.
It is hard to envision the coupon going much lower than 4.5%, the spread plus a .4% T Bill rate, given that Canada had higher 3 month rates during the Great Depression. I am told that conditions are much better in Canada now compared to then. It is easier to see the coupon going higher.
Dundee's preferred stocks are clearly a junk credit risk. I do not believe that they are rated.
Since the company has investments in real estate, natural resources (gold and oil) and other real assets, results may improve when and if commodity prices surge again.
The company has been losing money lately: Q2-2016-MDA and Financials.pdf
Some Recent Press Releases:
Dundee Corporation Acquires Further Interest in Dundee Precious Metals Inc. ("Dundee Corporation (TSX:DC.A) announces that, through its wholly owned subsidiary, Dundee Resources Limited, it has acquired 840,000 common shares ("Shares") of Dundee Precious Metals Inc. (the "Issuer") at the price of $3.00 per Share for aggregate consideration of $2,520,000. Immediately prior to the acquisition of securities described in this report, Dundee owned 35,541,552 Shares representing an approximate 25% interest in the Issuer.")
Dundee Corporation Acquires Further Interest in Formation Metals Inc.
Dundee Sustainable Technologies' Cyanide-Free Gold Extraction Process Receives Canadian Environmental Technology Certification by ETV Verification Program
Dundee Securities Ltd. Announces Closing of the Sale of Certain Assets of Dundee Goodman Private Wealth
6. Pair Trade: Bought 1 TIP Maturing in 2024 at 104.28+ and Sold 1 TIP Maturing in 2044 at 119.34766:
Bought on 8/23/16:

The preceding confirmation contains two contradictory pieces of information: "YIELD WILL VARY BASED ON INFLATION" and "Yield .044% TO MATURITY".
The YTM shown in any TIP purchase confirmation can not reflect further inflation adjustments to the principal amount or the additional interest earned by applying the coupon to increases in the principal through future CPI adjustments.
I can not calculate the TIP's YTM until all of the inflation adjustments are made to principal. If owned in a taxable account, the accretion to principal would be taxed as interest and would necessarily be part of an accurate YTM calculation.
The YTM will likely end up being in the low single digits.
The seven year treasury had a 1.4% yield on 8/23/16. Daily Treasury Yield Curve Rates The seven year TIP closed that day with a negative .08% yield. Daily Treasury Real Yield Curve Rates The break-even inflation rate was 1.48%.
While this TIP has slightly more than 7 years remaining until maturity, the 7 year break-even inflation is simply easier to calculate with the data that I have.
I will need the annual average CPI rate to be about 1.5% until the 1/1/24 maturity to break-even with the alternative purchase of a 1.4% seven year treasury on the same day.
Sold on 8/24/16:

Inflation Factor 1.03346 x. 119.34766 Price= 123.341 x 10=$1,233.41 in principal plus buyer paid $.39 in accrued interest
Tax Free Profit in Roth IRA: $72.95 or 6.29%

Rationale: As explained in my earlier posts, the long maturity TIPs will be more sensitive to changes in interest rates compared to those maturing in the 2020s.
Update On Buying TIPs In The Secondary Market - South Gent | Seeking Alpha; The Mechanics Of Purchasing A TIP In The Secondary Market - South Gent | Seeking Alpha
When I bought the 2044 TIP, the 30 year treasury closed at a 2.43% yield and at 2.24% on 8/24/16: Daily Treasury Yield Curve Rates The thirty year TIP had a real yield of .84% when I purchased this 2044 TIP and was at .59% when I sold it for a 6.29% profit. Daily Treasury Real Yield Curve Rates That profit could dissipate quickly with a rise in nominal long term rates and turn into a significant percentage loss with a return to the 1.25% real yield on 1/4/2016.
It is a mistake to believe that TIPs protect an investor from interest rate risk. Their function is to protect investors from higher than currently expected inflation risks. Some interest rate risk is afforded through CPI accretions to the principal amount provided those accretions result in a greater return than the purchase of a non-inflation protected treasury with the same maturity and at the same point in time.
While TIP purchases in a Roth IRA are consistent with my preservation of capital objectives through the removal of credit and inflation risk, I still have interest rate risks including the risk of lost opportunity which I view as a component of interest rate risk. If I have $1K tied up in a thirty year TIP bought at a .59% real coupon, then I can not use that $1K to buy one when interest rates rise and the real coupon becomes 1.25% (1/4/16) or 1.64% (12/31/13) or buying a 20 TIP with a 2.76% real coupon (7/6/2007)
Is the new normal a .59% real yield on a thirty year TIP or is that merely abnormal and temporary with the new normal being the old normal before the Near Depression?
TIP prices will be influenced by the movement up and down in nominal rates.
Having recognized the interest rate risk, I will attempt to manage it to some decree.
I did shorten my duration by swapping a 2044 maturity for a 2024 maturity while harvesting a good 2+ month gain for a TIP purchase. This is just another example of small ball.
Disclaimer: I am not a financial advisor but simply an individual investor who has been managing my own money since I was a teenager. In this post, I am acting solely as a financial journalist focusing on my own investments. The information contained in this post is not intended to be a complete description or summary of all available data relevant to making an investment decision. Instead, I am merely expressing some of the reasons underlying the purchase or sell of securities. Nothing in this post is intended to constitute investment or legal advice or a recommendation to buy or to sell. All investors need to perform their own due diligence before making any financial decision which requires at a minimum reading original source material available at the SEC and elsewhere. A failure to perform due diligence only increases what I call "error creep". Stocks, Bonds & Politics:ERROR CREEP and the INVESTING PROCESS. Each investor needs to assess a potential investment taking into account their personal risk tolerances, goals and situational risks. I can only make that kind of assessment for myself and family members.
Disclosure: I am/we are long CYS.