Rather than writing long posts, which are rarely read anyway as proven by my Instablog ranking, I am now leaving comments to my latest Instablog discussing selected bond, preferred stock and common stock trades. The discussions will be much closer in time to the actual trades compared to my previous blog discussions.
When I discussed a specific security, I will start off with the symbol.
I will then add the symbol at some point to the "about stocks" list that can be found at the top.
When clicking on the South Gent's Instablog link, the left hand side has a list of stocks discussed in my blogs arranged by symbol.
As I have been discussed in comments since the election, I have harvested some profits in my regional bank basket strategy, yet my unrealized profit has gone up by about $5700 since I last published a table. The current table is reproduced below:
This table reflects the closing market price's from last Friday and do not include shares bought with reinvested dividends. The yields shown are based on those prices rather than my constant cost numbers. For example, my WASH average cost per share is $15.34. Comments On Washington Trust's (NASDAQ:WASH) Earnings Report - South Gent The current quarterly dividend rate is $.37 per share which produces a dividend yield of 9.65% based on the total cost per share number of $15.34. WASH Dividend History
I wil acquire more BHB shares as a result of its acquition of LSBG when it is consummated.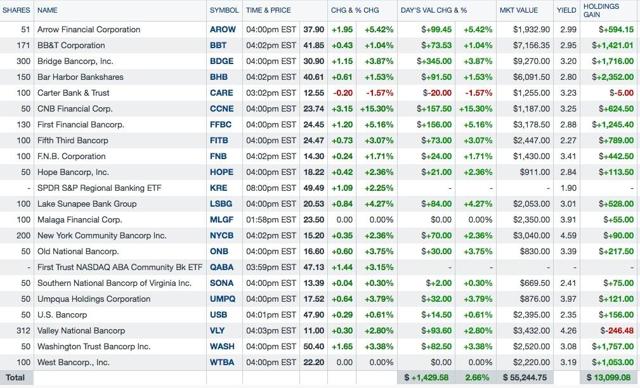 Disclaimer: I am not a financial advisor but simply an individual investor who has been managing my own money since I was a teenager. In this post, I am acting solely as a financial journalist focusing on my own investments. The information contained in this post is not intended to be a complete description or summary of all available data relevant to making an investment decision. Instead, I am merely expressing some of the reasons underlying the purchase or sell of securities. Nothing in this post is intended to constitute investment or legal advice or a recommendation to buy or to sell. All investors need to perform their own due diligence before making any financial decision which requires at a minimum reading original source material available at the SEC and elsewhere. A failure to perform due diligence only increases what I call "error creep". Stocks, Bonds & Politics:ERROR CREEP and the INVESTING PROCESS. Each investor needs to assess a potential investment taking into account their personal risk tolerances, goals and situational risks. I can only make that kind of assessment for myself and family members.