Rather than writing long posts, which are rarely read anyway, I am now leaving comments to my latest Comment Instablog discussing selected bond, preferred stock and common stock trades. The discussions will be much closer in time to the actual trades compared to my previous blog discussions. I will be discussing about 10% of my trades in the Comment Blogs.
When I discussed a specific security, I will start off with the symbol.
I will then add the symbol at some point to the "about stocks" list that can be found at the top.
When clicking on the South Gent's Instablog link, the left hand side has a list of stocks discussed in my blogs arranged by symbol.
I am leading off this comment blog with my last comment from # 5 summarizing a change in my bond and preferred stock strategy.
Among my sector basket strategies, the regional bank basket is performing the best. The unrealized gains continue to grow even as I harvest some of those gains.
My first stock purchase was Hospital Corporation of America soon after it went public for the first time (1969), funding the purchase with money earned during the summer mowing lawns at $2 per lawn and working for my father:
Stocks, Bonds & Politics: Learning the Value of a Dollar (the exercise and sun tan was free of charge)
My portfolio management goals are described in this 2014 post: Portfolio Management Goals-Snapshots of Performance Numbers YTD, 3 and 5 Years Cumulative.
I am no longer in the asset accumulation phase and have no debt.
I am more concerned now with capital preservation than capital appreciation.
For risk assets, I am primarily focused on income generating securities which includes dividend growth common stocks, equity preferred stocks, above average yielding common stocks, closed end funds, and individual bonds bought either on the stock exchange or in the bond market.
I am a fact based, unemotional investor. I have been an investor through countless market corrections and dips, way too numerous to even recall now, two long term secular bear markets in stocks, and three catastrophic bear markets marked by relatively quick 45%+ market declines (1974/2000-2002/2008-March 2009). I am not going to be ruffled by anything thrown at me.
Most positions are bought in small lots, with a lot of averaging down and occasionally averaging up, using commission free trades or trading in my Interactive Brokers' account where the brokerage commission is negligible ($1 minimum and up to .5% of trade value, Commissions | Interactive Brokers)
I will generally manage positions by selling the rips and buying the dips as a risk management technique.
This trading approach frequently involves selling my highest cost lots profitably and keeping my lowest cost lots.
The general goal is to reduce my average cost per share over time while harvesting some profits along the way including profits on shares bought with dividends. By selling the highest cost shares, I reduce my tax liability in addition to lowering my average cost per share and increasing my dividend yield based on the lower constant cost per share number.
The general goal is arrive at a point where a less at-risk money generates more income.
I am retired and spend a lot of time researching securities using original source material.
I own securities throughout the capital structure worldwide.
One risk management technique is that I will not risk more than $15K in the securities issued by one company.
I will use a basket strategy in some stock sectors. The basket strategy is similar to a sector mutual fund and is intended as a risk dispersal strategy.
My regional bank basket has skyrocketed in value since the election based on two perceptions. I use the word perception rather than fact for a reason. The first perception is that Trump will radically ease regulations that negative impact earnings. The second perception is a belief that the long drought in net interest margin compression will soon end as the yield curve expands. NIM expansion has been the missing ingredient in regional bank earnings for several years due in large part to the Federal Reserve's Jihad Against the Savings Class which started in late 2008. The result of the extremely abnormal monetary policies maintained for eight years is a compression in the yield spread between the cost of money and loan/investment yields.
I have sold into the bank rally and my regional bank basket is now a shadow of its former self. The basket was started in the Spring of 2009 and my net realized gain through today stands at $32,162.38.
Trade Snapshots at Stocks, Bonds & Politics: REGIONAL BANK BASKET STRATEGY GATEWAY POST
Basket as of 12/22/16: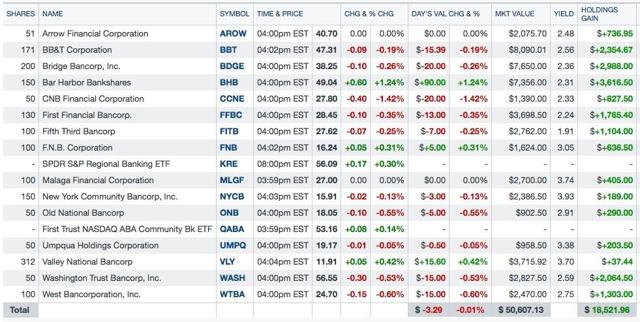 The yield shown in this table is based on the closing market price today. My current yield based on my cost would be higher. WASH, for example, is close to a 10% yield based on my constant total cost per share number which is slightly over $15 per share.
A few positions listed above were bought this year, including an additional 250 shares of Bridge Bancorp (150 later sold) last October when the price was in the $27.65 to $28.25 range; 50 shares of BHB; 50 shares of Arrow; 50 shares of BBT (plus BB&T shares through its acquisition of National Penn); 50 shares of FNB; 100 shares of Malaga, what remains of the ONB and UMPQ positions. Those purchases were discussed mostly in my Comment blogs.
The Malaga, BBT, BHB, and Arrow were discussed in blog posts published before I quit writing blog updates to stock positions due to a lack of interest.
Item # 1. Added 50 BHB at $31.61: Update For Regional Bank Basket Strategy As Of 5/18/16 - South Gent | Seeking Alpha
Item # 3. Added 50 BBT at $32.35-Satellite Taxable: Update For Regional Bank Basket Strategy As Of 2/20/16 - South Gent | Seeking Alpha
Item # 3. Bought 50 AROW at $26.25: Update For Regional Bank Basket Strategy As Of 3/17/16 - South Gent | Seeking Alpha
Item # 2. Bought 100 MLGF at $22.95: Update For Regional Bank Basket Strategy As Of 6/22/16 - South Gent | Seeking Alpha
BDGE Purchase Discussions Primarily in Comment Blog #3
UMPQ was discussed in Comment Blog when I pointed out early on 11/09 that regional banks would be a primary beneficiary of the election results.
Comment Link: South Gent's Comment Blog # 4: REITs, Preferred Stocks And Bonds, Regional Banks, Healthcare & Biotechs, CEFs, Currencies And International Trading - South Gent | Seeking Alpha
Who acted on that observation? Anyone?
Last ONB Blog Discussions: Item # 5. Bought in Roth IRA: 50 ONB at $11.38: Update For Regional Bank Basket Strategy As Of 1/28/16 - South Gent | Seeking Alpha;
Item # 2. Averaged Down: Bought 50 ONB at $12.25: Update For Regional Bank Basket As Of 1/19/16 - South Gent | Seeking Alpha
FNB was discussed in the first comment to Comment Blog # 3 where I briefly mentioned buying 50 shares when the price fell below $12 (October 20, 2016).
Disclaimer: I am not a financial advisor but simply an individual investor who has been managing my own money since I was a teenager. In this post, I am acting solely as a financial journalist focusing on my own investments. The information contained in this post is not intended to be a complete description or summary of all available data relevant to making an investment decision. Instead, I am merely expressing some of the reasons underlying the purchase or sell of securities. Nothing in this post is intended to constitute investment or legal advice or a recommendation to buy or to sell. All investors need to perform their own due diligence before making any financial decision which requires at a minimum reading original source material available at the SEC and elsewhere. A failure to perform due diligence only increases what I call "error creep". Stocks, Bonds & Politics:ERROR CREEP and the INVESTING PROCESS. Each investor needs to assess a potential investment taking into account their personal risk tolerances, goals and situational risks. I can only make that kind of assessment for myself and family members.