Based on very strong momentum breakout signals there is a clear technical move to the upside for Energy stocks in the Independent Oil & Gas sector.  This is illustrated in the Sector ProShares Ultra Oil & Gas ETF DIG below: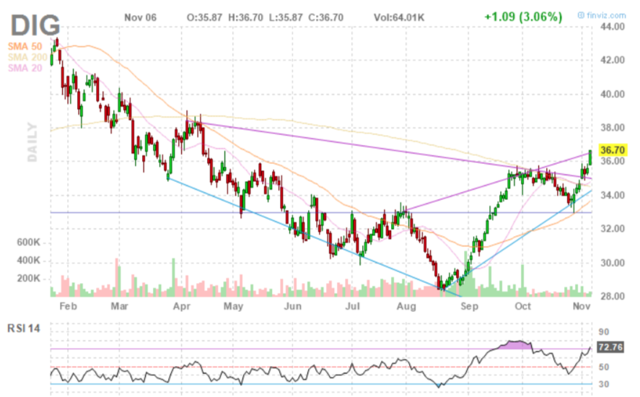 Current breakout stocks from my forecast screener this morning show 10 of 15 stocks in the Oil & Gas sector have triggered a breakout signal.  Many of these stocks are currently and have been previously profiled in the Weekly Breakout forecast articles including: (CHK) (DNR) (BTE) (ERII) (GST) (HLX) (WLL) and others.  

This is an excellent time to consider this sector for continued breakouts.  As the monthly relative performance chart clearly shows, energy has made a move from record lows the past year or more.

Thank you for following my reports!  If you enjoy receiving my free Breakout Forecast updates each week, please also consider receiving the complete breakout selections every week with a subscription today! Subscribers now also receive live momentum charts with continuous buy/sell signals updated intraday and intraweek.  
Thank you!

JD
Disclosure: I am/we are long DNR WLL MRNS BTE.